The Thule Versant 60 is the durable, adaptable backpack you need.
This style wins the top pick in our book for a simple pack you can take anywhere. Slide it into the overhead compartment with ease or wear it for hours in the backcountry without feeling the weight (check out our backpacking tips). It fills a much-needed niche in the backpacking community and transitions anywhere with ease. Those seeking a multipurpose pack will find that that the Versant 60 from Thule is not only durable and waterproof but also highly versatile.
Thule Versant 60 Features and Benefits
The aforementioned features when paired with the pack's comfortable frame and well-thought-out design, make it our top pick for travel. At first glance, the suspension system seems very low profile. But upon testing it out, we were happy to find it one of the most comfortable packs that we have worn.
While it is classified as a men's backpacking pack by the company, it comfortably fits both men and women. The straps are narrow yet padded to suit all body shapes and sizes. It's also sleek and can be compressed into small spaces. With all the features this bag has, it's hard not to want to snag a few extra for friends and family who love to hit the road.
Weight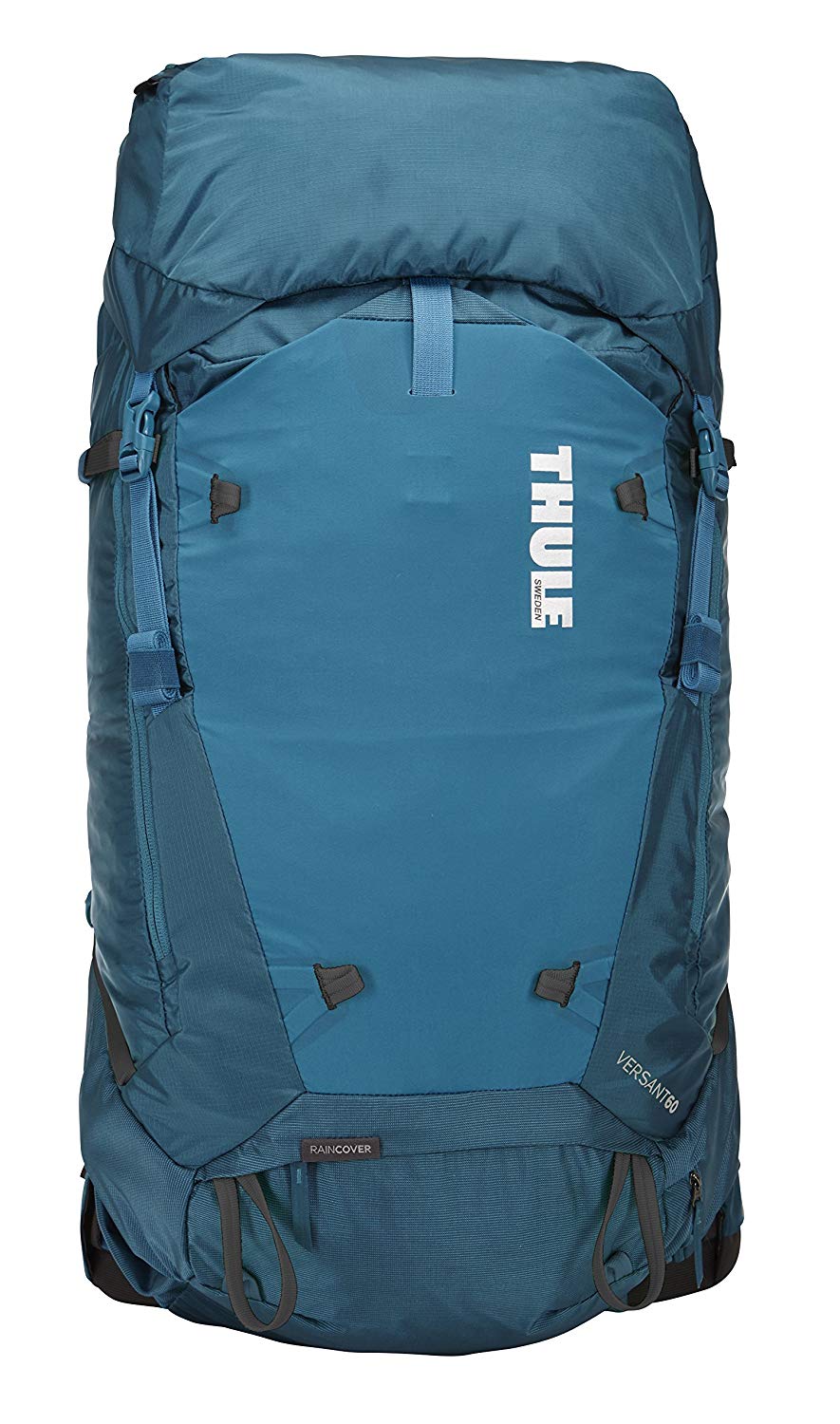 Credit: Amazon
The frame of the Thule Versant 60 allows it to be much lighter than the average backpacking pack. It weighs in at only 4.38 pounds on its own. When you are out exploring the backcountry and have a ten-mile trek to see the waterfall of your dreams, every pound you can shave off your load counts. Backpackers will appreciate how light this pack is; it won't weigh you down.
Weight limits are also essential when you fly nowadays. Budget airlines like RyanAir and EasyJet are very strict when it comes to carry-on weight limits. By buying a lighter bag, you will have the liberty to pack a little more for your carry-on. And you will save money from skipping checking a bag. It's a win-win situation, really. Last but certainly not least, the waist belt and shoulder straps are low profile and easy to tuck away for storage on buses and planes.
Suspension System
Does it look low profile? Sure. Does it also work like magic? Yes. We swear you'll forget you are even wearing this pack. While some backpacks can cut into your shoulders and put extra weight on your back, the Thule Versant 60 does quite the opposite. Instead, it shifts the weight off of your back and shoulders and moves it towards your hips. This not only gives you more stability but is better for your overall posture and movement.
While the pack is not made to perform well with very heavy loads, it works beautifully with mid-sized loads. It distributes weight well, even when it is loaded up with heavier items like water and food. Since the back of the pack is very well padded, you will have much better lumbar support than those found in competitor brand bags. Sometimes those land on the overpadded side of the spectrum, which won't help posture. You need a bag that adjusts to the natural curvature of your back and the Thule Versant 60 does just that and more.
Ease of Use
We have yet to find a more ergonomic backpacking pack. In terms of ease of use, the Thule Versant 6o checks all of the necessary boxes. It offers just the right amount and type of organization to keep you sane on the go. Some backpacks have too many storage compartments and others offer far too few. Now, you won't have to play go fish and try to figure out where you put your energy bars or car keys.
The only complaint we have here is in regards to the waist belt. At first, adjusting it was a little hard to figure out. The adjustments are a little bulky and there are many overlapping layers of fabric and velcro. However, after the initial adjustment to your body, you won't have to mess with this feature again. Knowing that makes the short-term hassle worthwhile. And after your pack fits to perfection, we are sure you won't mind.
Loading and Interior Space
Like some of our other favorite internal frame backpack styles, the Thule Versant 60 also features a top-loading style. However, it also offers a U-Zip feature making it easy to work like a duffel bag as well. The lid of the bag is large and two oversized zippers make it simple to access the interior. So, no matter what your preference is for packing up the bag, you can rest easy knowing you have options. In addition, the lid detaches and can be carried on its own. The only major concern we had with the loading features is that the side water bottle holders are a little bit small. This makes it easy for your bottle to fall out when you are taking off or putting on the backpacking pack.
Tech Specs:
Durable 420D Cordura Nylon Fabric

Customizable hip belt

Waterproof roll-top pocket

Top lid can be taken off and converted into a sling

¾ rain liner to keep bag waterproof

Torso adjustability for a perfect fit

Padded back and shoulder straps

Top loading and U-zip packing options
What Travelers Are Saying About the Thule Versant 60 Men's Backpacking Pack
There are so many features about the Thule Versant 60 that travelers like. First and foremost, users love how lightweight, durable, and highly adjustable it is. The shoulder straps are a nice width. They are not so wide that the interfere or cut into you as you move, and not so narrow that that put too much stress in a small area. If you really carry a lot of weight, they may not be quite as comfortable as wider, thicker ones.
Adjusting torso length is easy and even better they actually have measurements so you can know exactly where you are. Surprisingly, most packs don't bother with that. The sternum strap can adjust vertically, a good small touch that a surprising number of packs don't' bother with. In addition, the weight balance and distribution is good. When it comes to capacity, you can pick your size. It'll hold enough for your multi-nighters.
In terms of access, you can go from the top or the side, which is nice depending on how you're using it and what you need to get (assuming you've planned ahead in your packing). In other words, you can open it like a top-loader or like a duffel bag.It has a good number of compartments. You have a small side pocket that will fit a snack bar or the like. The other side has a removable waterproof bag which is a nice touch for a phone, GPS, or small camera. The top part is removable if you want to carry it as a separate bag (there's a strap).
As we mentioned earlier, the water bottle holders are small (and somewhat slanted). This makes it too easy for your bottle to fall out. The other problem is if you like to carry your tent poles lashed to the side with the compression straps or have them held up by a bottom pouch. And if you have a non-standard size bottle, you might be concerned about them falling out. It seems to that this is an over-engineered aspect where it cuts down on what you can do with the pack for what seems like a very narrow benefit. Finally, the built-in rain cover is another nice touch as is the overall water resistant/waterproof construction.
Alternative Internal Frame Backpacks You May Like Better
Are you still looking to shop around a little before you settle on your purchase? Check out some of our other favorite internal frame backpack styles.
TETON Sports Oasis 1100-2 Liter Hydration Backpack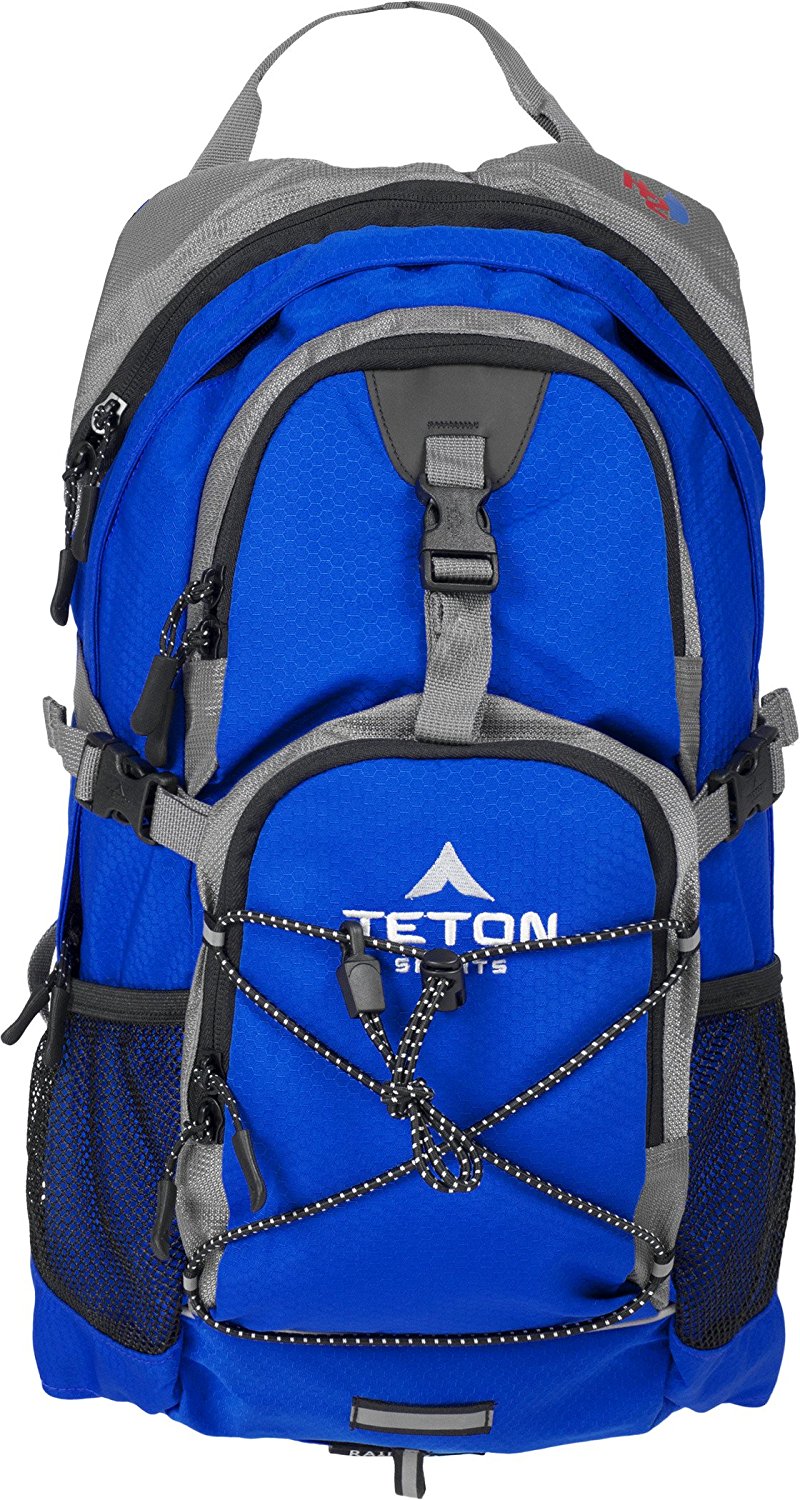 The Oasis 1100 from Teton Sports is perfect for all your day hikes. This 18-liter daypack comes with its own 2-liter hydration bladder and so much more. Since it's designed with a low-profile cut, it fits comfortably just like the Teton Sports Explorer 4000 does. If you're looking for a lighter bag, this is the style you need. The shock absorbing chest strap works with the rest of the design to reduce bouncing of your pack. Take this little day pack hiking, camping, backpacking, bicycling, or simply exploring a new city. It's geared up to become your favorite.
Tech Specs:
2-liter hydration bladder included

Compression straps

Sewn-in rain cover

Comfortable to wear

18-liter storage capacity

Durable, kink-free sipping

Plenty of internal space
Mountaintop Internal Backpack Hiking Cover 5822III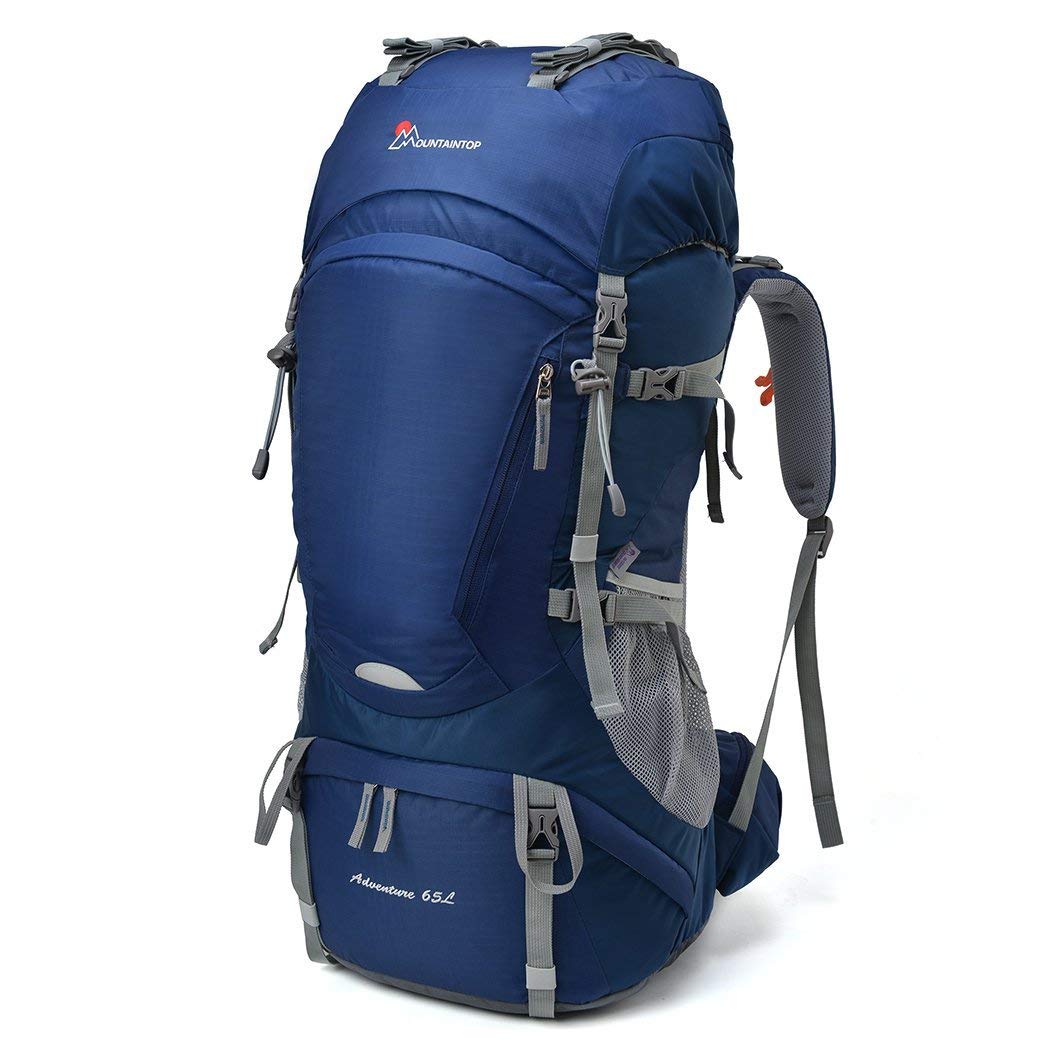 Here's yet another great backpack under the $100 mark. One of our favorite things about it is its water resistance. It's sturdy, durable, and extremely comfortable. With this backpack, you will get about 65 liters of storage capacity. While the fabric is thin, this mountain hiking style is a perfect quality product. We can't believe it only weighs 3 pounds. It's ideal for outdoor activities, offering highly breathable fabric, a light structure, and a good amount of storage space.
Tech Specs:
Weighs 3 pounds

65-liter capacity

Durable design

Highly breathable fabric

Water resistant

Zippers open and close with ease
Make Your Next Trip Easier and More Comfortable with the Thule Versant 60 Backpacking Pack
The next time you pack up for the backcountry, do it right. The Thule Versant 60 is just the versatile, durable pick you need. Made to withstand the ups and downs of travel, it offers the perfect amount of packing space and a lightweight body so you won't feel weighed down while you're on the go. The suspension system and smart features like padded back and shoulder pads help to distribute weight well and spare your back and shoulders. This is one of our favorite styles for internal frame backpacks.
Related Article: 13 Best Laptop Backpacks And Messenger Bags For The Efficient Traveler