Wondering what travel outfits to pack and wear? Check out these must-have staples.
We've all been there. Packing can be hard. How do you know what to narrow down and what to bring with you? It's easy to get grubby looking during travel. To keep you looking fresh and on your game, we've gathered a list of the best travel outfits for women to wear on the plane and on the road. These easy staples will help you look put together even when you feel like a hot mess. To keep it easy, make sure you invest in staple pieces that you can pair with anything. A good go to is a standard tee, pair of dark, straight-line jeans, and minimalist shoes.
Back to Basics
Let's start with the basics. More often than not when we have a hard time putting an outfit together it's because it's too busy looking. When you're picking out clothing items, avoid bright colors and crazy prints. Stick to neutrals and staple items and you will have mix and match items galore.
First, to be prepared for temperature changes, you will need layers. Versatile pieces will help you to be able to reuse items on your trip without looking like you're wearing the same outfit on repeat. To make sure your feet stay warm and comfortable, make sure to bring a pair of walking shoes that you have already broken in a bit. When it comes to style, use Pinterest and put together a mood board of your favorite looks to emulate. This is one of the best life hacks to looking put together. It doesn't require as much work as you think that it would.
One of the most essential pieces you need is a soft, loose-fitting and plain tee. Personally, we love black, white, or gray v-necks that you can pair with anything. Asos is one of our favorite brands for tees.

You'll also need a warm jacket or cardigan. We're big fans of anything oversized, chunky, waffle, or cable knit. A classic fisherman's sweater never gets old. And you'll appreciate it so much when you're cozy instead of cold on the plane.

Fitted pants or jeans with stretch. While many people opt for fitted sweats or chinos, we prefer denim jeans with a bit of elastane. They are still comfortable and will make your outfit look seamlessly put together.

Comfortable, stylish shoes help to complete the look. Opt for loafers, cute sneakers, or a low kitten heel.

Last but not least, add in a signature accessory to make the outfit feel like "you." This could be some small earrings, a necklace, infinity, scarf, or bandana. The options are endless. A large scarf is a smart add-on since it can also double as a blanket or pillow on the plane.
Here Are Our Picks for the Most Trendy and Comfortable Travel Outfits for Women
1. Cute and Cozy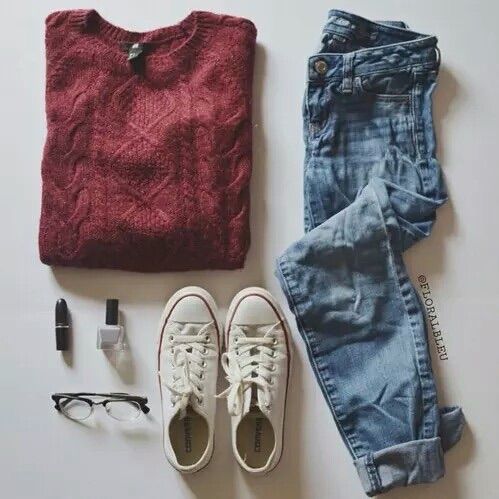 Your signature style is your personal brand. And sometimes, you just want to be cute and cozy? Is that too much to ask. When it comes to travel outfits, there is a way to get the best of both worlds. Pair a colored chunky knit sweater with a classic pair of denim. The oversized sweater will be balanced out with your more tailored jeans.
We like to wear this look with a cute pair of simple sneakers. You can never go wrong with a classic pair of converse. Finally, add in some cute accessories like large framed glasses or a leather watch and some stud earrings. And just like that, you are comfortable and travel ready.
2. Spring Outfit Inspiration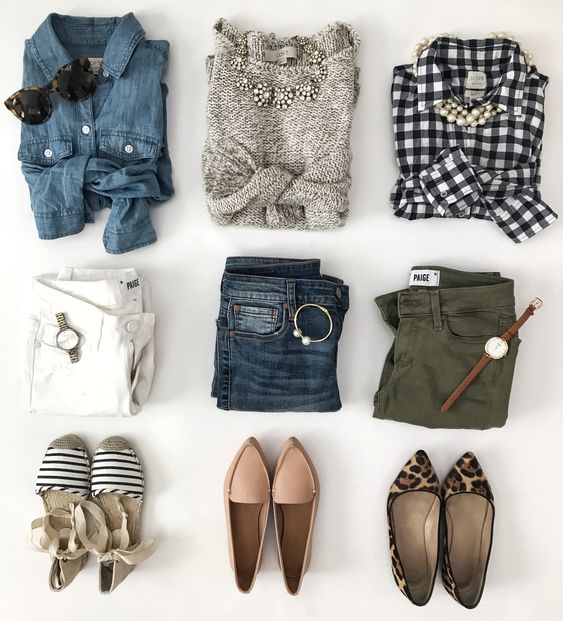 Okay, we know it's just the start of the new year. But spring is still right around the corner and we bet anything it will creep up faster than you would think. Get ready by investing in some of the best travel outfits. Here are a few ideas to put together your look. Again, we're big fans of denim. Don't be afraid to mix up your neutral colors here. Blue isn't the only shade of denim you should wear. White and deep green are fun hues to play with. Paige is one of our favorite brands for jeans.
When it comes to the top, you can opt for the Canadian tuxedo look. By pairing a light blue denim chambray shirt with white jeans, you can put a whole new spin to denim on denim. It's not as overt and it's very trendy. To avoid looking like you're about to board a yacht, add some fun prints and textures to your outfit. These striped espadrilles and tortoiseshell glasses do just the trick.
Moving on to the next look, you'll see a touch of texture. The sweater is such a fun take on a classic gray tone. Paired with a statement necklace, you take a simple piece and turn it into something really special. Since you are going bolder on the jewelry, it is best to keep your jeans and shoes simple. These nude loafers offer the perfect pairing. Plus, you will stay warm and comfortable throughout your travels. It sounds like a win-win situation to us.
Last but certainly not least, we see the checked blue and white shirt. Since pairing this with standard blue denim would be too plain, we decided to add a pop of color with these olive green jeans from Paige. Add in some leopard print flats and a chic leather watch and you will be that person in line who looks all put together.
3. The Chic Minimalist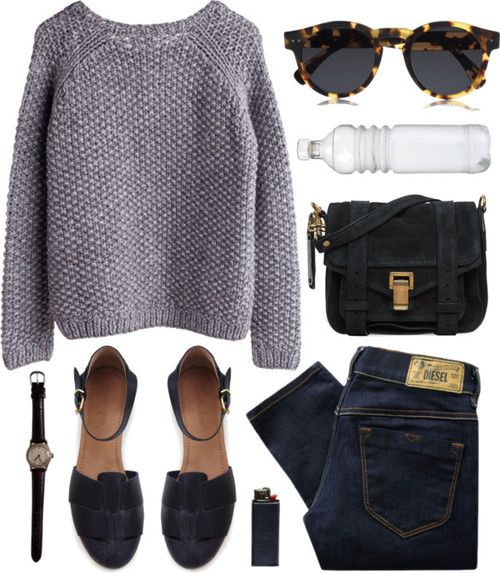 If you're anything like us, you're a minimalist. There is nothing we love more than clean simple wardrobe staples. That's why this look makes us so happy. The gray waffle knit sweater pairs with just about anything. To make the most of your look, opt for dark blue denim. Diesel is a good brand and makes plenty of comfortable jeans that accommodate a variety of body types. For a simple and sweet touch, these black mary jane flats go a long way. Polish off the look with enviable staples like this crossbody purse, thin watch, and tortoise-print sunnies.
4. Playful Stripes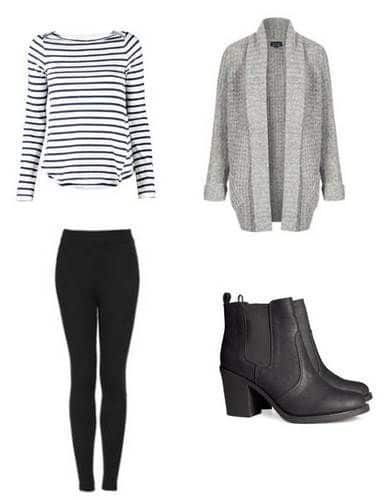 There's nothing more fun than a striped top. While we're not going to go wild with patterns, it's a fun way to add a little something extra to your wardrobe. Pair this long-sleeved cotton tee with a pair of tailored black skinny jeans or leggings. These bottom layers will tuck easily into a pair of ankle boots. You don't want your pants bunching around the ankles in pirate-like fashion! Adding a cardigan like the one pictured above will keep you warm whether you're cozying up on the plane with a good book on your Kindle or exploring the streets of a new city. It's always important to put your best foot forward and dress to impress.
5. Sporty with a Slight Edge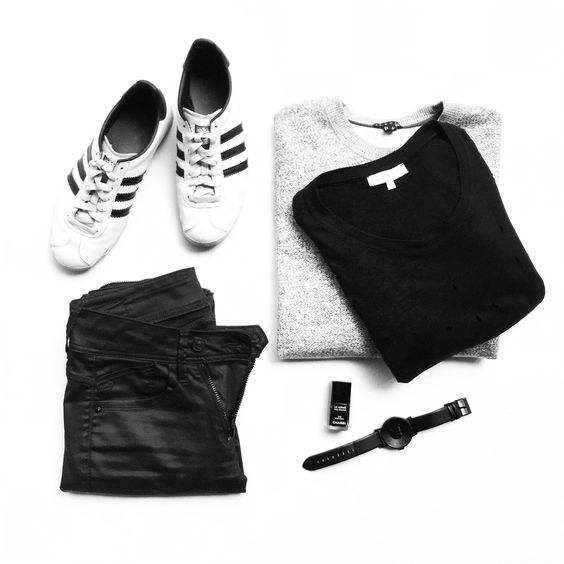 Here is another one of our favorite styles. When it comes to trendy and comfortable travel styles for women, you can't go wrong with a sporty look. These black jeans have a slight patent look, giving off an edgy vibe. Mix and match colors with gray and black. The soft black cotton tee is perfect to layer with this slightly oversized gray sweatshirt. Sweats don't have to look sloppy you know.
For the shoes, we opted for striped Adidas. They give the look that nice sporty touch without being over the top. To make sure your look isn't too plain, don't forget to accessorize. A thin, minimal watch style and a pair of stud earrings will do the trick. You will often see celebrities like Kendall Jenner, Gigi Hadid, and Hailey Bieber sporting this look. If you're comfortable with it, wearing a cropped sweatshirt with denim is a fun way to give your sporty outfit a different look.
Invest in the Most Comfortable Walking Sandals for Your Next Trip
There you have it. These styles will get you from point A to B without the stress of last-minute outfit planning. To remember the styles, save this to your Pinterest board if you would like. Over the years of our travels, we have found that planning out your travel outfits in advance saves a lot of time and energy. Besides, it's fun waking up and putting on the looks that you styled. Just make sure that you check the weather app ahead of time in each location before you travel. You don't want to get caught in the rain in a sweater and flats!
These styles are comfortable and warm. If you get a little too hot or cold, that's what layering is for. Besides, you will get a lot of wear from mixing and matching these staple pieces. It will make you look like you have a lot more outfits with you than you really do.
If you don't already have some comfortable walking shoes, we highly recommend making the investment. The best walking shoes and boots are lightweight, comfortable, easy to style, and offer great shock absorption. Our list offers the best shoes on the market that check all the boxes. The best part is that they are all affordable too. When you're ready to start shopping for spring, we have just the thing. A sturdy pair of sandals with a supportive toe box and good treads will work out well. In addition, it is also a good idea to make sure the shoes are non-slip on wet or uneven surfaces.
We hope you enjoyed reading our article on the most trendy and comfortable travel outfits for women. As you can see, women's travel outfits can be cute and comfortable. You don't have to sacrifice style to be warm and cozy. Investing in staple pieces (including accessories like watches) will get you through trips both long and short. Classic pieces like a white tee, neutral colored knit cardigan, a good pair of denim, and flats goes a long way. Do you have a favorite outfit from our list of the most trendy and comfortable travel outfits for women? Let us know in the comment section below.
Related Article: Ten Tips for Your First Time Flying: An Air Travel Guide