Throw out your cheap flip flops. It's time to invest in some comfortable walking sandals for your next trip.
Whether you're booking that end of summer trip or heading to the tropics for winter, you're going to need some comfortable walking sandals. Whether you're wandering cobblestone streets in Stockholm or wrangling the kids in Disney World, there's nothing quite as bad as having tired, blistered feet while you're on vacation. Sure you could wear running shoes but who wants all that heat trapped in?
Plus, you'll only get a few months out of a standard pair of tennis shoes at best. Skip the fuss and invest in shoes that last. We've scoured the web, tested out pairs, and consulted the experts (aka podiatrists) to help you find the best shoes. These styles run the spectrum and check the box of being not only comfortable but fashionable too. They feel so good, you'll want to wear them all year long.
1. Birkenstock Arizona Unisex Leather Sandal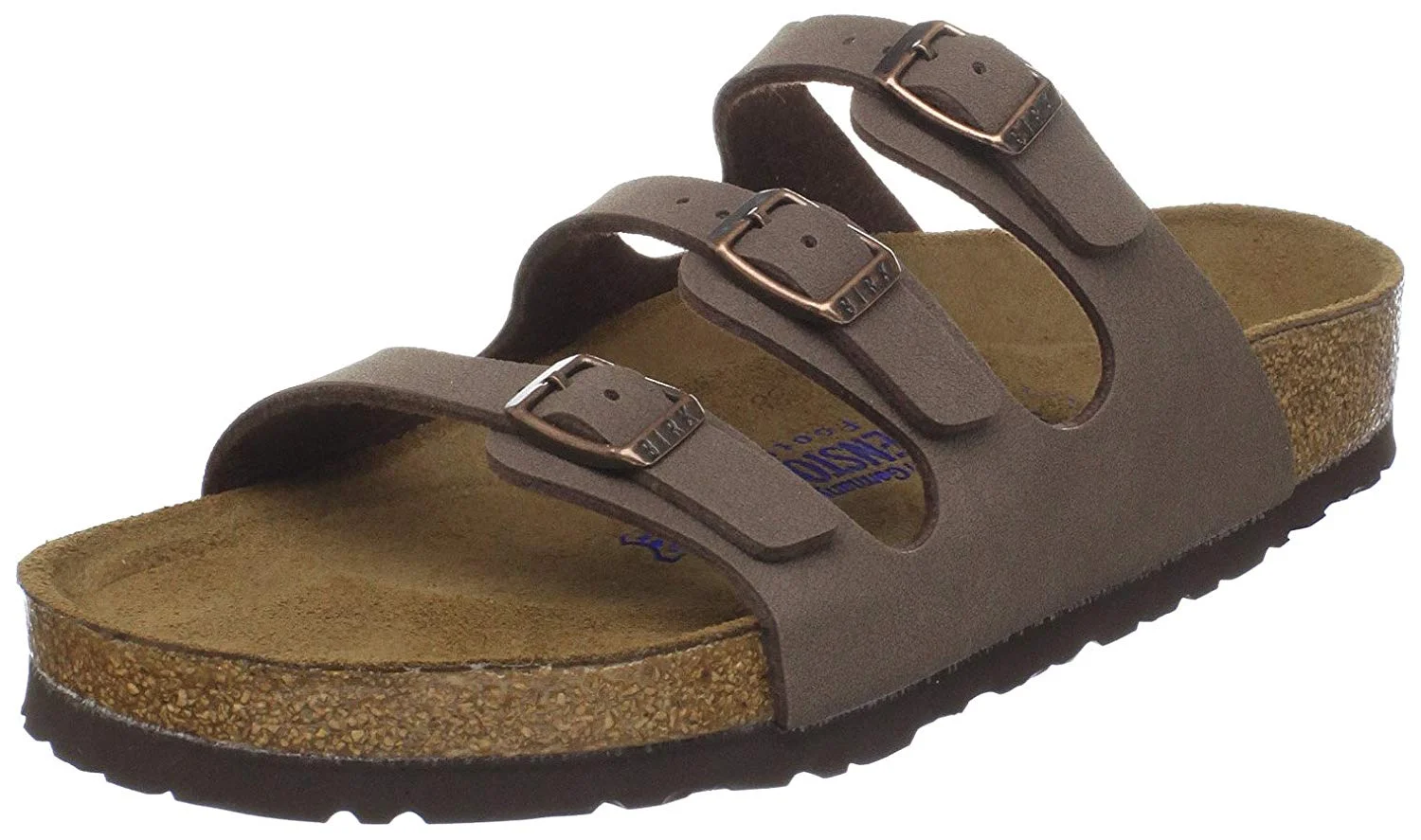 Whether you love them or hate them, the Birkenstock trend isn't going away any time soon. They are available in a variety of colors and let's just be honest, they're easy to style. Slide them on with a pair of jeans, shorts, or maxi skirt and you're ready to go.
Plus, even though they are a little expensive initially, they are made to last. It's no surprise that they've been a fan favorite in fashion for years, even among big-name celebrities. When you're traveling, these shoes are a great choice. You can walk for hours before your feet get tired. There's no doubt they are some of the most comfortable walking sandals on the market.
Tech Specs:
Genuine leather

Cork sole

Suede lined, comfortable and contoured footbed

check

Flexible EVA outsole

check

Made in Germany
2. Viakix Hiking Sandals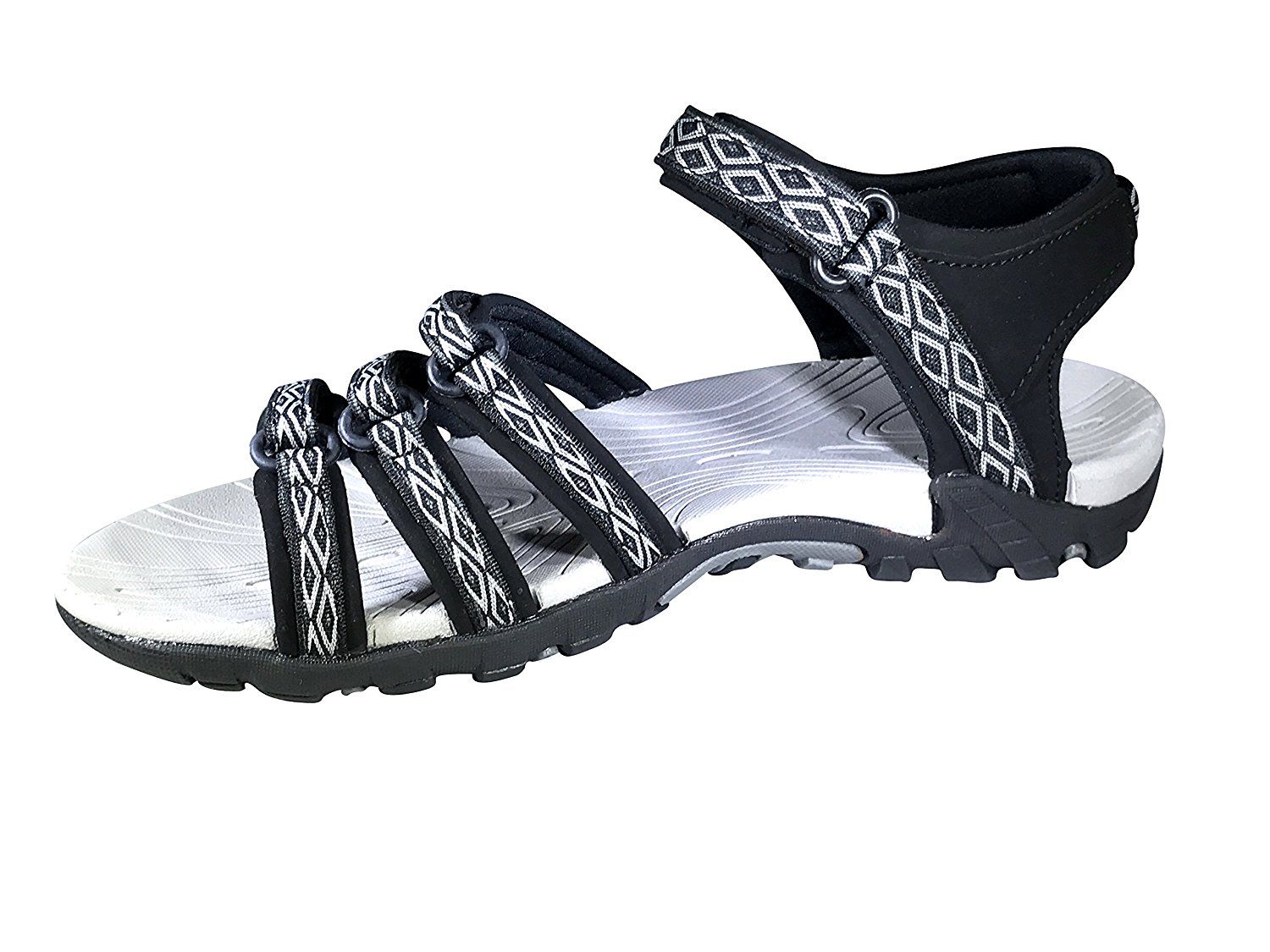 The Viakix hiking sandals are fit for any adventure. Offering a comfortable, customizable style, they come with four adjustable straps so they'll fit perfectly every time you wear them. For those who need the extra room, the sandals can accommodate a little extra width. We love how lightweight they are too. Whether you plan on hitting the trail for a day hike or the streets to explore, these shoes have got you covered.
But that's not all. Viakix realizes that the functions of footwear are often lost in the name of fashion. But why should you have to lose one to the other? With these cute shoes, you'll be getting compliments left and right. As a small family-owned company, Viakix takes pride in their design, manufacturing, and care of each pair of shoes.
Tech Specs:
Classic style

Comfortable, customizable fit (comes with four adjustable straps)

Water resistant

check

Durable webbing
3. ECCO Footwear Womens Damara Ankle Gladiator Sandal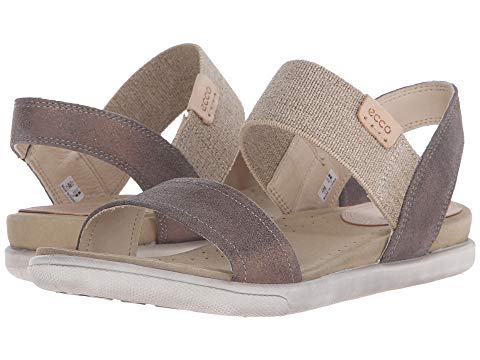 Experience a fit like no other with the Ecco women's Damara Ankle Gladiator Sandal. Whether you're running to catch the subway, scrambling over rocky slopes on a hike you thought would be easy, or just exploring a new city, these shoes offer everything you need. Ecco's advanced construction techniques and durable materials add up to comfort you can count on. You'll notice the difference.
While conventional shoes are tight across the toes, restricting movement, this style from ECCO does just the opposite. With a roomy toe box, these shoes are suitable for most types of foot width styles. Your toes are allowed to spread naturally to support your weight, fostering a better wearing experience.
When it comes to the sole, ECCO has thought of everything. Designed with a vegetable tanned leather surface, they're great to wear from the moment you slip them on. There's no breaking in needed. Underneath, a layer of moisture-absorbent foam offers just the right amount of cushion. The foam's pumping effect when you walk helps to push air through. So, your feet get all the air circulation they need to keep cool and dry in the heat of the summer (or just wherever you're traveling).
Moving on to the soles, it's clear they are made to last. The polyurethane construction lasts two to three times longer than that of traditional materials. With the Damara Ankle Gladiator Sandal, the PU is designed for thickness and shock absorption. There's no break-in period and you will be able to wear the shoes so much longer. In addition, PU also retains its memory longer, allowing you to keep the shape of the shoes for max comfort. It's easy to see why these are some of the most comfortable walking sandals for women.
Tech Specs:
Leather and textile materials

Polyurethane soles for shock absorption

Moisture wicking footbed

check

1.25" heel

check

Lightweight, flexible, and comfortable

check

Stylish
4. Crocs Women's Isabella T-Strap Sandal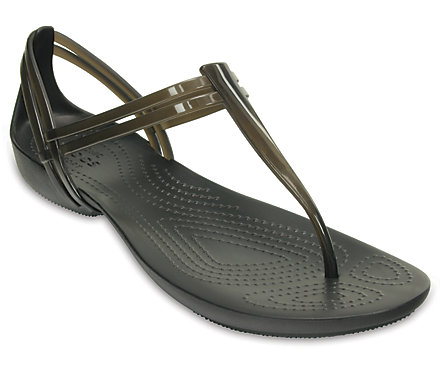 We've got to say, we're loving this T-strap style from Croc's Isabella collection. Soft Gem Lite cross-straps and uppers feel good on your feet from day one. Savvy and versatile, you can wear them anywhere from lunch at a cafe in Italy to lounging poolside at the hotel. They're playful, feminine, and always easy on the feet.
First things first though. We've got to talk about the iconic Croc's comfort. The sole of the shoes isn't made from rubber. They're made from foam resin. This means that with every step you take, you get to enjoy soft, flexible, and lightweight shoes. Even better, they offer great support for all-day, every-day wear. But Crocs takes it a step further. They've added an extra helping of shock absorbing material for that extra spring in your step.
Tech Specs:
Soft, translucent straps

Foam resin soles

Flexible and lightweight shoes

check

Shock absorbing material
5. Teva Women's Verra Sandal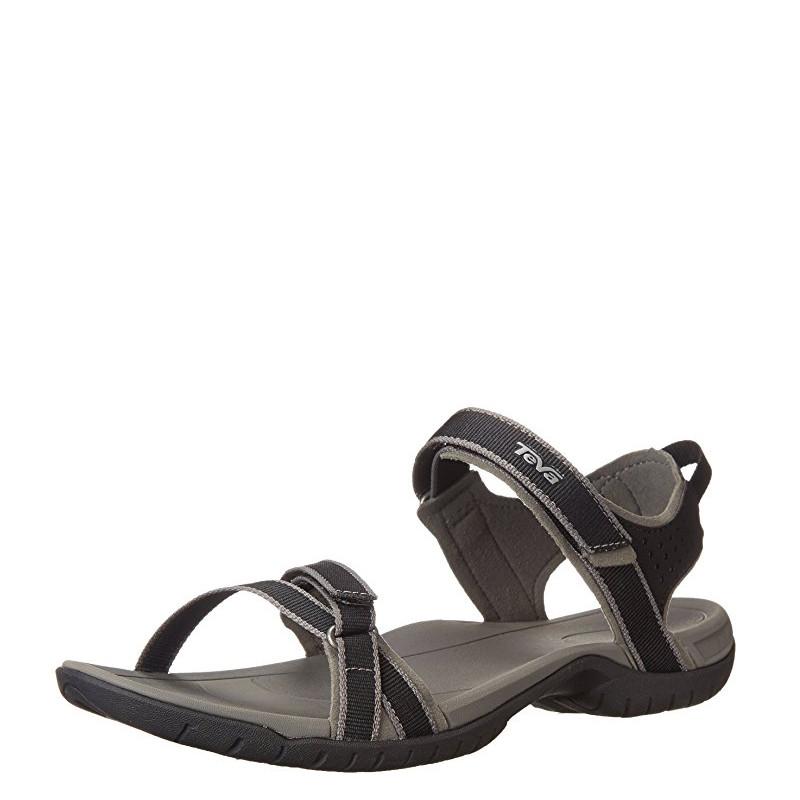 Enjoy function and fashion with the Women's Verra Sandal by Teva. These comfortable walking sandals are sure to become your new favorites. Crafted with a flexible webbing upper, they offer convenient hook and loop closures for a snug and adjustable fit. With a nylon shank and an EVA foam midsole, they also offer maximum shock absorption.
The rubber outsole offers a shock pad in the heel for long-lasting comfort and stability. It's easy to see why these shoes are a definite buy for the season. After all, Teva is a brand you can trust. As an icon in the travel industry, they support an outdoor athletic lifestyle and remain committed to bringing innovation to the everyday performance footwear they design. Where these shoes wherever and whenever. They are more than prepared to handle your next big adventure.
Tech Specs:
Synthetic and textile fabric

Flexible webbing upper

Convenient hook and loop closures

check

Nylon shank material

check

EVA foam midsole

check

Maximum shock absorption

check

Shock pads in heel for added comfort
6. OLUKAI Upena Slipper

There's no doubt about it. Olukai is one of our favorite brands on the market. When it comes to comfortable walking sandals, the Upena Slipper has everything you need. It's all in the name, right? An adjustable metal ankle strap offers a customizable fit while the leather toe post is a great example of a comfortable construction.
These shoes are the next best thing to being barefoot. Crafted by hand, they are designed to emulate the natural movements of the foot with unparalleled flexibility. With this said, the material is made from the finest full-grain leather straps and bonded seamlessly to offer just the right feel. The footbed supports every step you take with a PU footbed and a non-marking rubber insole for enhanced grip and durability.
Tech Specs:
Customizable fit

Full grain leather straps

PU footbed

check

Non-marking rubber insole

check

Enhanced grip and durability
7. Ecco Women's Yucatan Sandal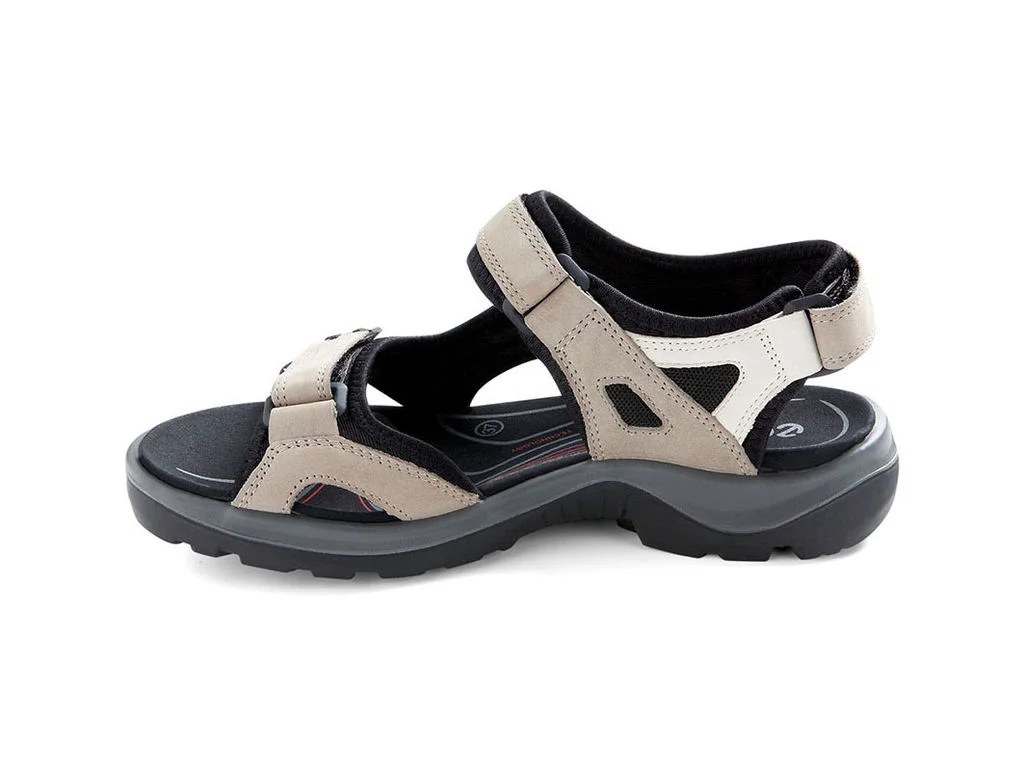 Ecco has done it again. With over 10 million pairs sold, there's no doubt these are among the most comfortable walking sandals. Thanks to their versatile design, the Yucatan Sandal offers a sturdy fit for nearly every activity. The lightweight build and specially-designed tread pattern make for optimum comfort. Better yet, your feet will stay fresh thanks to the stretch-fit material lining.
Moving on to the footbed and sole, receptor technology offers excellent stability and dynamic support. From the ground impact to the tip of your toes, the cushioning reigns supreme. The PU midsole offers long-lasting cushioning for everyday comfort. And finally, the strong rubber outsole provides excellent grips on nearly every terrain.
Tech Specs:
Upper body made from Nubuck

Rubber sole

Sporty style

check

Lightweight EVA footbed

check

PU midsole foam

check

Receptor technology
8. Blowfish Women's Granola Fisherman Sandal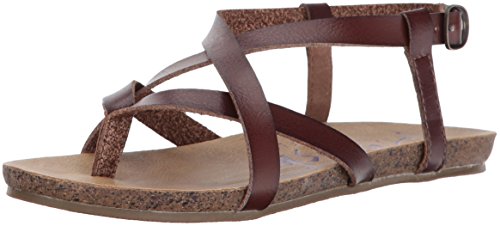 Have you been looking for a stylish sandal with a twist? Pick up a pair of the Blowfish women's Granola Fisherman Sandals. This style features an ethical alternative to leather with adjustable straps. Added comfort comes in the form of a lightly padded faux-cork footbed. We bet anything that the Granola will soon become your go-to style for warm weather, vacations, and all your adventures.
Wearing these shoes feels like a breath of fresh air. They're some of the most comfortable walking sandals for women that we've tried. So what sets the brand Blowfish apart from the rest? Each collection is made to reflect the carefree laid-back lifestyle of California. Surely this is something travelers identify with. From their creative process, it's easy to see how they champion adding quality and style to everything they design.
Tech Specs:
Faux leather

Imported

Faux cork sole

check

Fisherman-inspired sandal

check

Textile lining

check

Stylish
9. Teva Women's W Sanborn Universal Sandal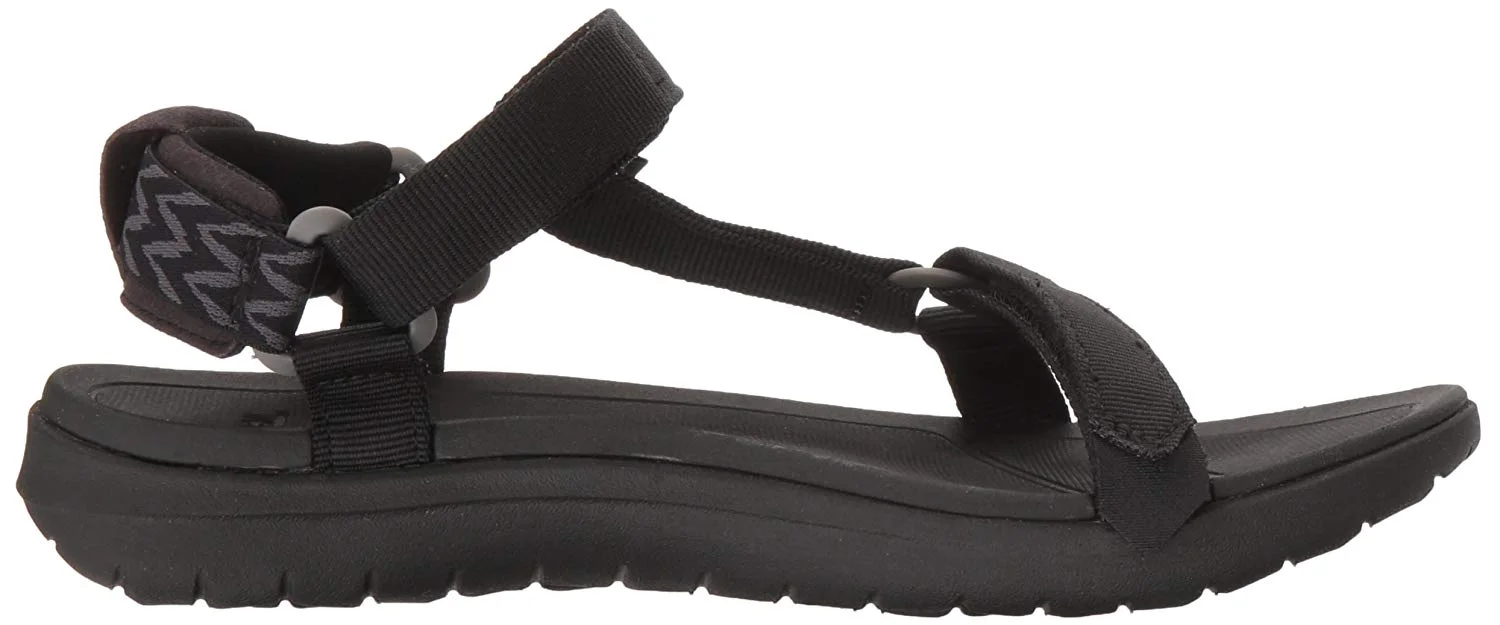 When it comes to making the best shoes for travel and adventure, Teva never disappoints. Their Sanborn Universal style is one of the most stylish and comfortable walking sandals for women. Slim and minimalistic, this flattering style offers just the right amount of cushion, shock absorption, and breathability for the great outdoors. Furthermore, you have your pick when it comes to colors. This style comes in Tiger Lily, Walnut, Nautical Blue, and Black.
Tech Specs:
Textile

Thick rubber sole

Shock absorption

check

Comfortable fit

check

Made for breathability
Invest in the Most Comfortable Walking Sandals for Your Next Trip
We hope you enjoyed reading our article on the most comfortable walking sandals for women. As you can see, women's travel sandals are moving away from large, bulky styles and more towards sleek, lightweight ones that are more easy to manage. Unless you are embarking on an extremely difficult hike out in the elements, more often than not, you do not need heavy duty shoes.
The best walking shoes are lightweight, comfortable, easy to style, and offer great shock absorption. Our list offers the best shoes on the market that check all the boxes. The best part is that they are all affordable too.
A sturdy pair of sandals with a supportive toe box and good treads will work out well. In addition, it is also a good idea to make sure the shoes are non-slip on wet or uneven surfaces. Do you have a favorite pair from our list of the most comfortable walking sandals for women? Let us know in the comment section below.
Common Questions:
Are you interested in learning about more women's travel gear as well as some tips and tricks for travel? Check out these articles below for additional information:
Questions and Comments
Do you have any questions or comments for us? If so, feel free to leave us a message below. We will be sure to get back with you soon.
Related Article: Most Comfortable Sneakers For Fashion-Conscious Travelers