Don't mess around when it comes to winter boots. The Men's SOREL Conquest Boot is a win-win.
Have you been seeking out the best pair of lightweight winter boots? You've come to the right place. We've been scoping out the best boots on the market to keep us warm in the colder season. SOREL is a brand we know and love so it's easy to see why this style was a must-try. We're happy to say that the Men's SOREL Conquest Boot checks all the right boxes. And it comes at a good price point, too.
What we appreciate the most about this style is that it is an all-around winter boot. Whether you're seeking boots for snow or rain, this boot covers both and everything in between (hello winter slush). Not only that but they are also comfortable to wear and sturdy. Durable and designed for any kind of weather, you can rest easy knowing that you can stay cozy even when it's cold outside.
Take them on your next day trip, easy hike, or city exploration. We have a feeling you're going to love them just as much as we do. Without further ado, let's dive in a little deeper. In this review, we will take you through all the product details you want to know.
The Men's SOREL Conquest Boot Features & Benefits
You have to admit it. The Men's SOREL Conquest Boots are stylish looking. That's just one point in their favor. We all know how hard it is to find winter gear that not only looks good but feels good. SOREL has figured out how to do both and do them well. While they are a little difficult to put on due to the lacing, the warmth is worth the trouble.
Tried and True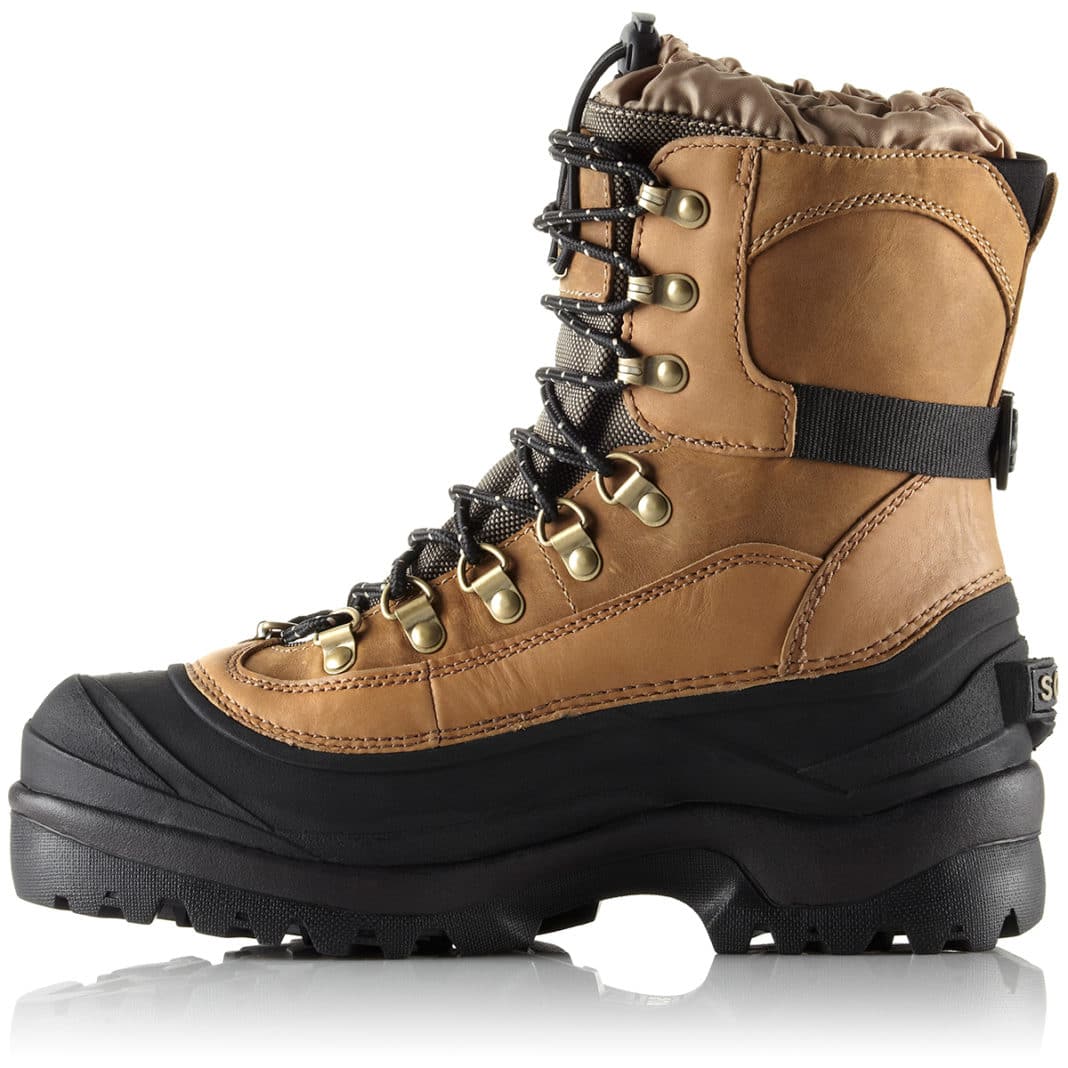 When you are seeking out a pair of winter boots on your computer, what's the first thing you do? After looking at pictures, you hit up the online reviews. One of the things that made us the most confident in the Men's SOREL Conquest Boot is it has been around for a long time. We remember this style from back in 2005, in fact. There's a reason why it has been around for so long. Users love them; they are a shoe you can count on.
Design
Obviously, these shoes aren't just for fashion. With that said, they run a bit long in both length and width. While this could be seen as a con for those who prefer a super snug fit, you should remember that winter socks take up a good deal of space inside the shoe. More often than not, we would typically recommend going up a half size in winter boots for this very reason. But with the Men's SOREL Conquest Boot, you won't have to worry about that. They run very true to size.
Something to acknowledge is that there is a little bit of a pressure point where your foot flexes at the ankle. While it isn't painful, it's worth mentioning. A pair of gel insoles can fix this problem easily though. If you have higher arches, this is a worthwhile investment.
Made for Movement
Even though the Men's SOREL Conquest Boot has been around for a while, the style itself hasn't remained stagnant. After all, SOREL is a brand marked by their knack for innovation. Throughout the years, the product has become nothing if not more adaptable. These shoes are meant to keep your feet warm while you're active. As multi-sport boots, you can wear them hiking, snowshoeing, winter road trips, and just playing around in the great outdoors. They accommodate your foot's movements well for a pair of heavy duty winter boots.
Lacing System and Fit
While the overall fit is good, the top 3 laces can be a little frustrating unless you double tie them. Picture them like ice skating laces. If you don't know how to hook them properly, they can end up dangling easily. The overall lacing style is good but the top three hooks leave something to be desired. All in all, though, the D rings at the bottom of the laces provide plenty of support and a good fit.
Top Features
Ready to face the outdoors, the Men's SOREL Conquest Boot is equipped with several key features. First, a seam-sealed upper offers complete waterproof qualities. Second, the signature Thinsulate insulation keeps your feet warm and comfortable even in temperatures down to -40 degrees Fahrenheit. A built-in gator and Achilles heel strap give you a customized fit and keep out the sleet and snow.
It is important to note that the Thinsulate lining is not breathable. This means that after an afternoon of walking around the city or snow, you may feel some perspiration in your socks and the inside of the boots but not uncomfortably so. We imagine that this will be a minor issue for those whose feet do not sweat often.
Practical Application
Users who took the Men's SOREL Conquest Boot out snowshoeing were pleasantly surprised at how well they function. Throughout the process, they provide plenty of support for your feet and ankles. One user even mentioned wearing them while he walked for four miles in the snow pulling a heavy sled. The shoes are completely waterproof and supportive. The lug soles provide very good traction on snow and ice.
What Travelers Are Saying About the Men's SOREL Conquest Boot
Right out of the box, you will enjoy a great fit without having to break them in. If you looking to add a bit more durability to your shoes, consider swapping out the skinny stock laces for some kevlar ones. They are not only thicker but also easier to handle with cold fingers. For us, the big test was if we could drive a car well while wearing them. What was the result? Absolutely.
Driving in these shoes do not differ substantially from doing so with heavier hiking boots. We love that these boots are not too clunky for everyday wear. While we've tested these out, we haven't quite made it very far north – yet. Let's just say that if the Men's SOREL Conquest Boot can survive the winters of Siberia, you can take them anywhere. Yes, you read that right.
This traveler took them for two weeks in Tomsk, Russia where the temperature was -20 degrees Fahrenheit with snow. While they did a lot of walking, the shoes offered complete waterproof protection, warmth, and support for his feet. The removable EVA footbed does wonders for shock absorption and general arch support. For their price point, they are a great value. Pair them with some great hiking socks (preferably merino wool) and your feet will stay warm while you brave the cold. All in all, the Men's SOREL Conquest Boot is a great find for the winter season at an affordable price point (check out our picks for additional affordable men's and women's boot styles).
Tech Specs:
Leather and synthetic materials

Rubber sole

Cold-weather boot rated to -40 degrees Fahrenheit

check

Waterproof leather

check

400g thinsulate insulation

check

Built-in gaiter bootie

check

Barrel lock snow collar

check

Removable EVA footbed
Alternative Winter Boots for Men You May Like
Columbia Men's Bugaboot Plus III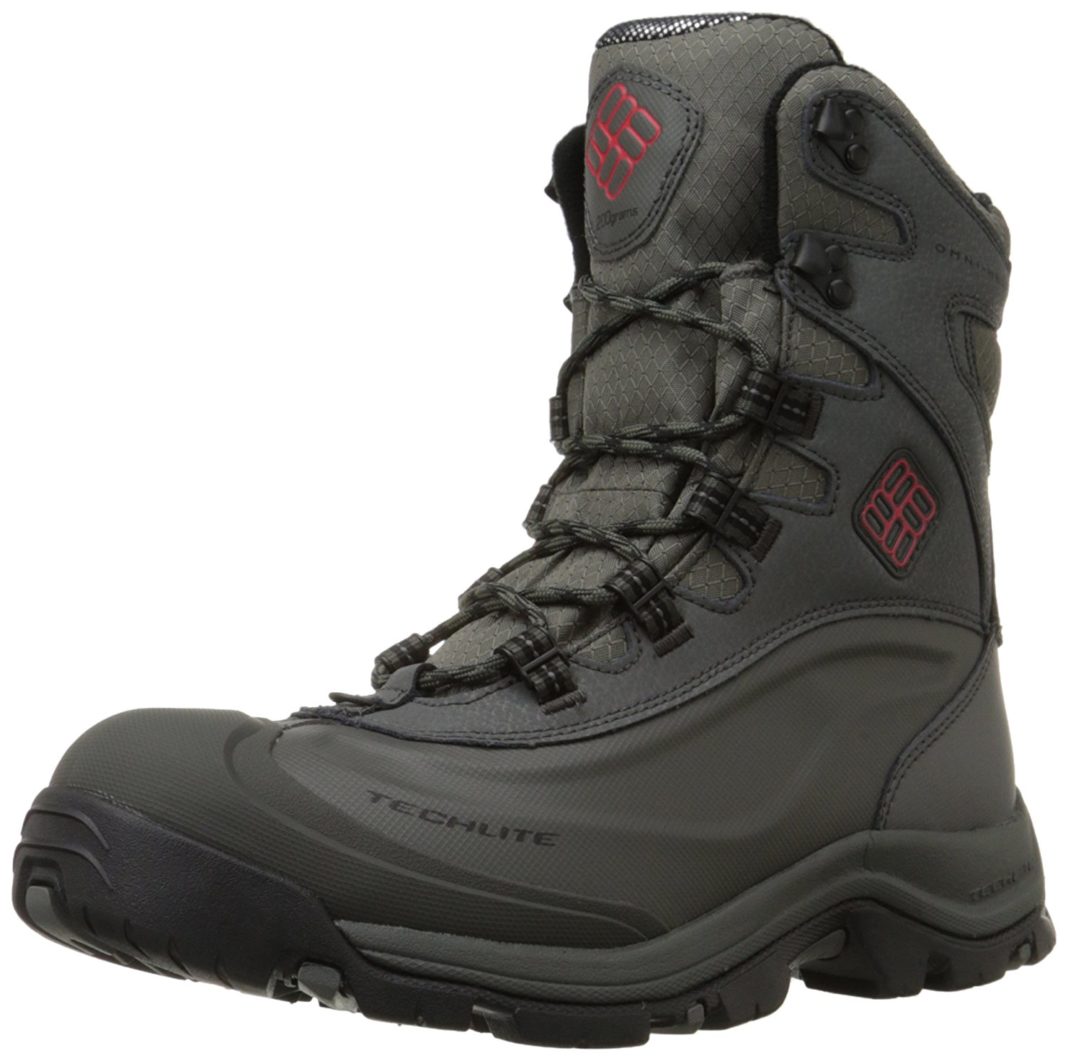 Brave extreme elements in the Columbia Men's Bugaboot Plus III. This heavy-duty style is designed with 200g insulation, reflective thermal layers, and rated at -25 degrees Fahrenheit. A combination of leather, nylon, strategic webbing, and hardware come together to form high-quality winter wear that will last you for years to come. As you know, Columbia is an industry leader when it comes to outdoor travel gear. The Bugaboot lives up to every expectation we hold of the brand.
Tech Specs:
Omni-grip rubber outsole

200g insulation

Reflective thermal layers

check

Rated to -25 degrees Fahrenheit

check

Nylon and leather

check

Tech lite shell

check

Shaft measures 7 inches from the arch of the foot
Kamik Men's Nationplus Boot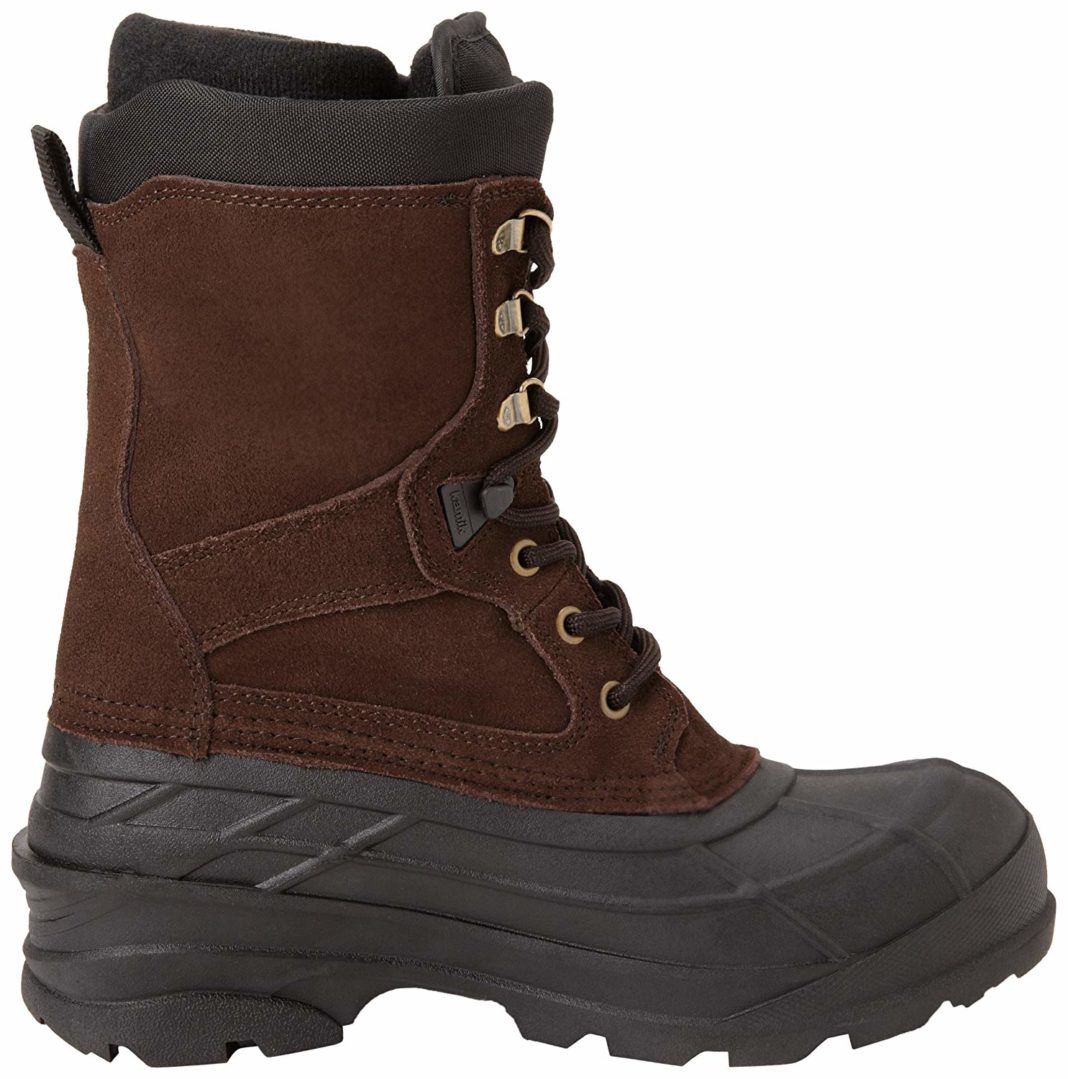 Stay warm, cozy, and dry in a boot that seamlessly transfers from outdoor gear to winter street style. Kamik makes gear for the extreme side of travel. When you're facing the cold, the Nationplus will keep you warm and comfortable. Plus, they have great traction. Despite their grittiness, the Kamik Men's Nationplus Boot is notably lighter than most of its counterparts. In fact, it performs better than boots with twice the insulation it has.
While it maintains its loft, the thick rubber soles give your feet a good amount of distance from the cold, wet ground and asphalt. In addition, a thick metallic lining increases the R-value, blocking a heat transfer from your feet. Rated to -40 degrees Fahrenheit, these shoes are made to survive harsh winters and offer wear resistance.
Keep in mind that they are 100% leather though, so if you want to prevent water from leaking in due to prolonged exposure, treat them first. Buying a waterproof spray is a good way to protect your leather goods from water. Simply spray it on the shoes 24 hours in advance of your planned use and let them dry.
Tech Specs:
100% leather body

Thick rubber sole

Rated to -40 degrees Fahrenheit

check

Wear resistant

check

Great insulation properties (thick metallic lining increases R-value)

check

Shoe's platform measures 0.75 inches

check

Rustproof lacing
Our Take on the Men's SOREL Conquest Boot
This is a shoe that will work above and beyond what you expect. All in all, the Men's SOREL Conquest Boot is a great choice for travelers who want comfort and ease of use. In terms of practical application, these shoes are great for day trips, city explorations in cold and wet weather, playing in the snow, and short winter hikes. We appreciate the quality that SOREL has been able to offer this style and at a solid price point.
Related Article: 9 Best Winter Boots For Men: Stylish, Functional Finds