Have you been looking for the best travel jacket for men? We have got you covered. Whether you're traveling to Europe or hiking in the Canadian Rockies, there's one thing you'll need. That's a good jacket. The best travel jacket for men will offer protection from the elements and comfort you can wear all day. We've taken the guesswork out of it for you and scoped out the top-selling, best-quality styles on the market.
Don't let temperatures stop you from having a little fun. The best travel jacket is designed for durability, going off the grid, and won't hurt your wallet. It isn't always easy to find a product that checks all the boxes. On our list, you'll find warm, waterproof, and stylish options to keep you comfortable on your travels. After all, we know how hard it can be to strike a balance between looking good and feeling good. So go ahead and book that European winter destination. Go off the beaten path.
To help you choose the best travel jacket for men, we've included a guide of considerations before making your search. There's also a helpful chart available to compare products. Maybe it's been a while since your last big travel accessory purchase. We promise to offer you nothing but the best in terms of jacket selection.
QUICK NAVIGATION
Common Features of the Best Travel Jacket
Waterproof

Wind resistant

Breathable (offers great ventilation)

check

Hooded with drawstring

check

Long

check

Zip pockets with storm flap

check

DWR coated

check

Insulated

check

Durable

check

Outer shell fabric
Questions to Ask Yourself Before Beginning Your Search
If you need a starting place, then it will help you to begin by considering a couple of questions. When you're wondering how to choose the best travel jacket, here are some questions to ask yourself. They will point you in the right direction.
How much do you want to spend?
Knowing your budget will be key to finding how to choose the best travel jacket. Whether you are looking for an inexpensive jacket or are willing to spend a little more, knowing your budget will help narrow down your options. We suggest approaching this with a price limit in mind. That way, you will be able to knock off all the items that are out of your price range much faster and, subsequently, locate your perfect winter wear that much faster as well.
What Season Are You Traveling In?
Most of the jackets on our list are geared towards cold winter weather or to prepare you for the elements like rain and wind. The best travel jacket will offer great insulation properties, is durable, and lightweight.
How Long Are You Traveling For?
Make sure you have a down jacket that is good quality. If you're investing your money in this travel item, you want one that will hold up to the tests of time and the elements. Factor in how long you are traveling for and how you will keep your jacket clean while you're on the go.
What Length Jacket Do You Want?
If you're traveling somewhere very cold like Europe in the winter, consider investing in a long, hooded jacket that will cover your backside. Take it from people who have been there and done that. You're going to appreciate having a long down coat that will cover your butt and a little bit of your legs too (Haven Outerwear has a great one).
How Packable is the Jacket?
While this may sound silly, how packable your jacket is should actually make a huge difference in your choice. If you have ever traveled with a full backpack and a bulky winter wool coat, you will know what a pain it is to bring the wrong coat. The best travel jacket will not only keep you warm and safe from the elements but it shouldn't be that hard to store away.
The Best Travel Jacket: Our Top Picks for Men
Okay, now that you have a general idea of what you should be looking for, we're going to dive on into the nitty-gritty. When it comes to how to choose the best travel jacket, there are several specific factors to consider. You're going to want to decide whether to get synthetic or regular down, what fill power to get, decide on the length, whether you want a hood, and if you want hydrophobic (water resistant) down. Let's go.
Columbia Outdry Ex Featherweight Shell Jacket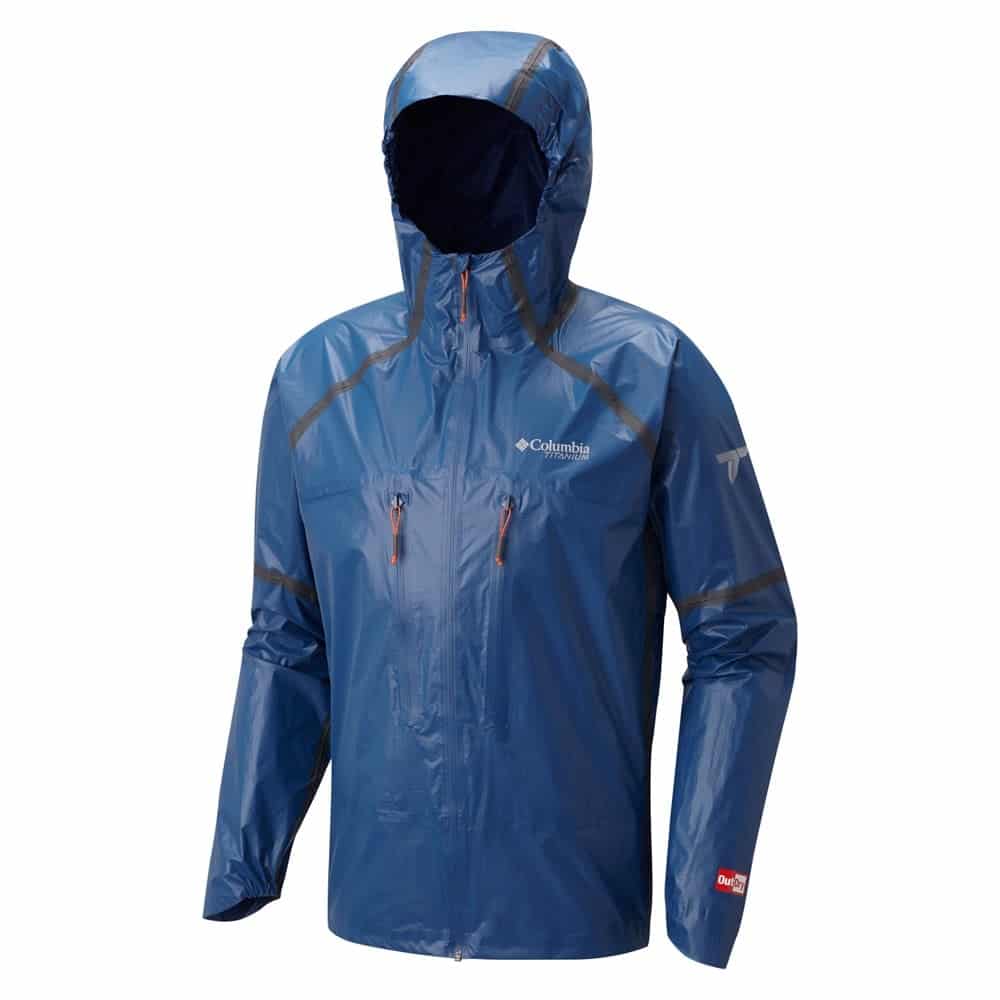 Could this be the best travel jacket ever? Quite possibly. Columbia is a well-established brand that we know and love. But they have really outdone themselves with the Outdry Ex Featherweight Shell Jacket. We are usually hesitant to give a jacket five stars straight across the board but with this pick, we just have to. This is hands down one of the most durable, breathable, lightweight picks that we have come across. And it rings in at well under $200.
What's so great about it? First and foremost, the OutDry EX offers a breathable, waterproof layer to block out the elements. In addition, it is also resistant to abrasion, dirt, and oil. In comparison to Gore's version, the OutDry is much more robust. You can even wear it for days under a pack; it holds up well to the ups and downs of travel. Take it out on a windy day and stay warm. It will effectively block out the wind and torrential downpours. As an added bonus, Columbia took out the outer layer of the typical storm shell style. So, there is no fabric layer that the rain can penetrate into.
It works by relying on a two-layer storm shell style (eliminating the outer "protective" layer). Cutting this outer layer means that the moisture has nowhere it can seep into. We all know that a fabric's breathability is heavily impacted by wetness. Columbia had a great idea when they thought 'Why not cut that problem out altogether?' In the armpits, there are ventilation slots that keep the water out yet offer enough breathability for you to feel fresh and clean.
For a lightweight style, this is truly one of the best travel jacket choices for men. Two long chest pockets offer plenty of storage space. The oversized hood will cover you and keep drips off of your face. The wrists adjust as needed and the exposed membrane gives the jacket a cool, slick look that fashion-conscious travelers will appreciate.
Tech Specs:
100% nylon material

check

Two-layer storm shell

check

Ventilation in armpits for breathability

check

Very lightweight

check

Wear-resistant

check

Hood offers plenty of coverage

check

Waterproof

Resistant to abrasion, oil, and dirt
Pros
plus

Waterproof

plus

Superior warmth

plus

Abrasion and wear resistant
Cons
Patagonia Men's Houdini Jacket
If money is a concern, here's how to get a great windbreaker and bang for your buck. Incredibly lightweight and super easy to pack, it's a great candidate for the best travel jacket. It also has one of the best DWR coatings that we have ever tested, proving it is not only effective at blocking the wind but will also keep you bone dry even in the pouring rain. It's also a great jacket for climbing since it can take a few scrapes and hold up well.
In terms of functioning as a windbreaker, this super thin, breathable jacket has got you covered. The features strike a perfect balance between breathability and insulation. It's strong enough to hold up against a chilly wind but is breathable enough to act as a good shell. Regardless of what travel activity you end up doing, it will be a fantastic choice. You will be hard-pressed to find a better style on the market. And you definitely won't find this kind of quality for any cheaper.
All in all, the water resistance is one of the Houdini's greatest traits. We couldn't think of a more apropos name for this jacket. Patagonia calls it the ultimate layer for running, climbing, and hiking. We have to agree. While we used it primarily for trail trekking, it would also function as a great peak bagging jacket.
Tech Specs:
Imported

Windbreaker

Water resistant

check

DWR coating

check

Super thin and breathable

check

Hood

Drawstring closure

Machine washable

Great insulation properties
Pros
plus

Waterproof

plus

DRW coating

plus

Thin and breathable

plus

Insulation
Cons
Carhartt Men's Waterproof Shoreline Jacket
Travelers, you need a jacket that works as hard as you do. Enter the Carhartt Men's Waterproof Shoreline Jacket. For those seeking out a more durable, rugged pick, you have found your perfect match. After all, Carhartt is synonymous with making quality, hard-hitting gear. This brand has staked its reputation on being able to do the hardest jobs and has never once let us down.
The Men's Waterproof Shoreline is definitely one of the best travel jacket choices on the market. A fully-taped waterproof design also offers a great deal of breathability. Made to last, it features stretchy inner cuffs that you can pull down over your hands for extra coverage in the cold. One of our other favorite things about this jacket is how easily it slides over other layers.
Tech Specs:
100% nylon oxford shell material

Polyester mesh interior lining for breathability

Waterproof

check

Durable

check

Snap-on drawstring cord, adjustable hood with visor

check

Two front zip pockets with storm flaps

check

Left chest map pocket with waterproof zip closure

check

Two inner pockets with hook and loop closures

check

Elastic drawstring cord on hem

Internal rib storm cuffs on sleeves
Pros
plus

Great design

plus

Durable

plus

Water and wind resistant

plus

Plenty of pocket spaxe for storage
Cons
Mountain Hardwear Men's Ghost Whisperer
Original and ultralight, this is one of the best travel jacket choices for men. The lightweight construction makes it super easy to pack away yet it manages to deliver on pockets, fit, adjustments, and most importantly, warmth. So how does this style pack such a punch? The answer is it is stuffed with hydrophobic 800-fill power down. When stacked up against the competition, it fairs very well.
The hydrophobic down not only wicks away moisture, it resists it. The overall effect is like a DWR water coating. With this said, down's number one enemy is moisture so make sure you don't get too wet. You don't want to lose insulation.
Tech Specs:
Lightweight construction

800 power fill down

Hydrophobic

Moisture wicking

check

Great insulation properties
Pros
plus

Lightweight

plus

Keeps you warm

plus

Hydrophobic

plus

Moisture wicking
Cons
Common Questions
Check out these other travel products and tips for winter travel:
Related Article: 6 of the Best Winter Boots for Women
Wrapping it Up: How to Choose the Best Travel Jacket for Men
We hope that our research has given you a little insight on how to choose the best travel jacket. As with most pieces of outdoor apparel, the process begins with identifying the elements you'll be in and the weather you anticipate to face. Other important factors to consider include your budget and how long you are planning to travel for.
When it comes to how to choose the best travel jacket, work your way through these questions. It is also important to keep in mind that you get what you pay for. Generally speaking, the established brand names will offer better quality. When it comes to travel gear, you want to make sure you invest in a quality product that is going to hold up. There are plenty of great, fashionable finds out there. While the best travel jacket for you is sure to still have some pros and cons, we know you are well on your way to finding your best fit. Happy travels!
Related Article: Best Winter Jackets For Men Who Travel