Summer's winding down. That means frequent fliers are already stocking up on their fall Haven Outerwear gear.
When you're looking for something sleek and stylish for fall, consider the Haven Outerwear Women's Mid-Length Packable Down Puffer Jacket. Don't wait for a sale when all the styles are picked over. You deserve a chic, affordable coat right now. This innovative brand delivers all the style and quality you could want for a great price.
The true value of your coat is more than just the cost though. It's that cozy, happy feeling when you wrap yourself in warm luxury every day. Even if you're the type of person who has a last minute winter vacation idea, you can plan ahead (a little) with this jacket. We like to say know what you're going to pack but keep the rest of your options wide open.
About the Brand
If you've never owned an item from Haven Outerwear, you are missing out. Established in 2006, this company began turning heads when they opened their doors in Edmonton, AB. Driven by a small team of creatives, Haven champions premium quality and innovative design. Twelve years later, the company has evolved into an authority known for their premium products.
Haven Outerwear Women's Mid-Length Packable Down Puffer Jacket Features and Benefits
Equipped with weather-ready features to face the elements, you will love their four signature collections. Wool, down, insulated, and rain jackets make up the excellent Haven Outerwear product line. The women's mid-length packable down puffer jacket offers a chic and practical way to brave the cold weather.
This jacket from the down collection blocks the cold with their smart designs. With a variable warmth, you can choose from three different weights – light, mid, and heavy. These jackets are made to keep you covered all winter long. In addition to the variable warmth, this piece from Haven Outerwear offers excellent wind resistance.
Special wide zipper pockets and detachable hoods give you even more protection from the elements. Thermal details will help to keep you warm and cozy throughout your trip. Fleece-lined pockets, storm cuffs, and faux fur trims are made for optimal insulation.
Size and Fit
Credit: Amazon
With a tailored fit, the Haven Outerwear jacket is stylish and chic. Packable and lightweight, it is filled with down feathers for the ultimate loft and warmth. We love that even though this jacket has great insulation properties, it does not look all big and bulky. While the jacket runs true to size, it is geared towards taller women. The model pictured on Amazon's product description is 5'9" and wears a size small.
Design
The shell is made from a comfy 100% polyester. A combination of 85% down and 15% waterfowl feathers make up the fill of this Haven Outerwear jacket. It's easy to compress and pack away and light enough not to take up too much space or add weight to your bag. This mid-length jacket offers the ultimate loft and warmth.
When it comes to the print, flattering chevron quilting and silver tone pockets offer an elevated look. You can choose to either use it as a layering shell or wear it on its own. An internal zipper guard retains warmth while an included bag provides a convenient on the go storage option. All of the Haven Outerwear jackets offer warm ready-to-wear fabrics, plush fill, and luxurious faux fur trims. All of them are under $100. Whatever kind of style you are seeking, Haven Outerwear is equipped to keep you warm at great prices all season long.
What Travelers Are Saying About the Haven Outerwear Women's Mid-Length Packable Down Puffer Jacket
For the price, travelers are pleasantly surprised at the quality of this coat. The Haven Outerwear Women's Mid-Length Packable Down Puffer Jacket offers a stylish look and natural fit. Thanks to the down fill, it did incredibly well on trips to Europe in the cold.
In the inside, it's roomy enough to layer up with a thick sweater if you'd like. It's easily packable in a day pack and when the sun is out, dressy enough to wear in the evenings. This style from Haven Outerwear is perfectly fitted and just the right length for when the weather turns chilly.
Tech Specs:
Shell 100% polyester

Fill: 85% down, 15% waterfowl feathers

Packable and lightweight

check

Flattering chevron quilting
Alternate Jackets You May Like
Do you still want to shop around a little more? No worries. We've got you covered. Here are some alternate jacket styles we love.
Amazon Essentials Women's Lightweight Water-Resistant Packable Hooded Down Jacket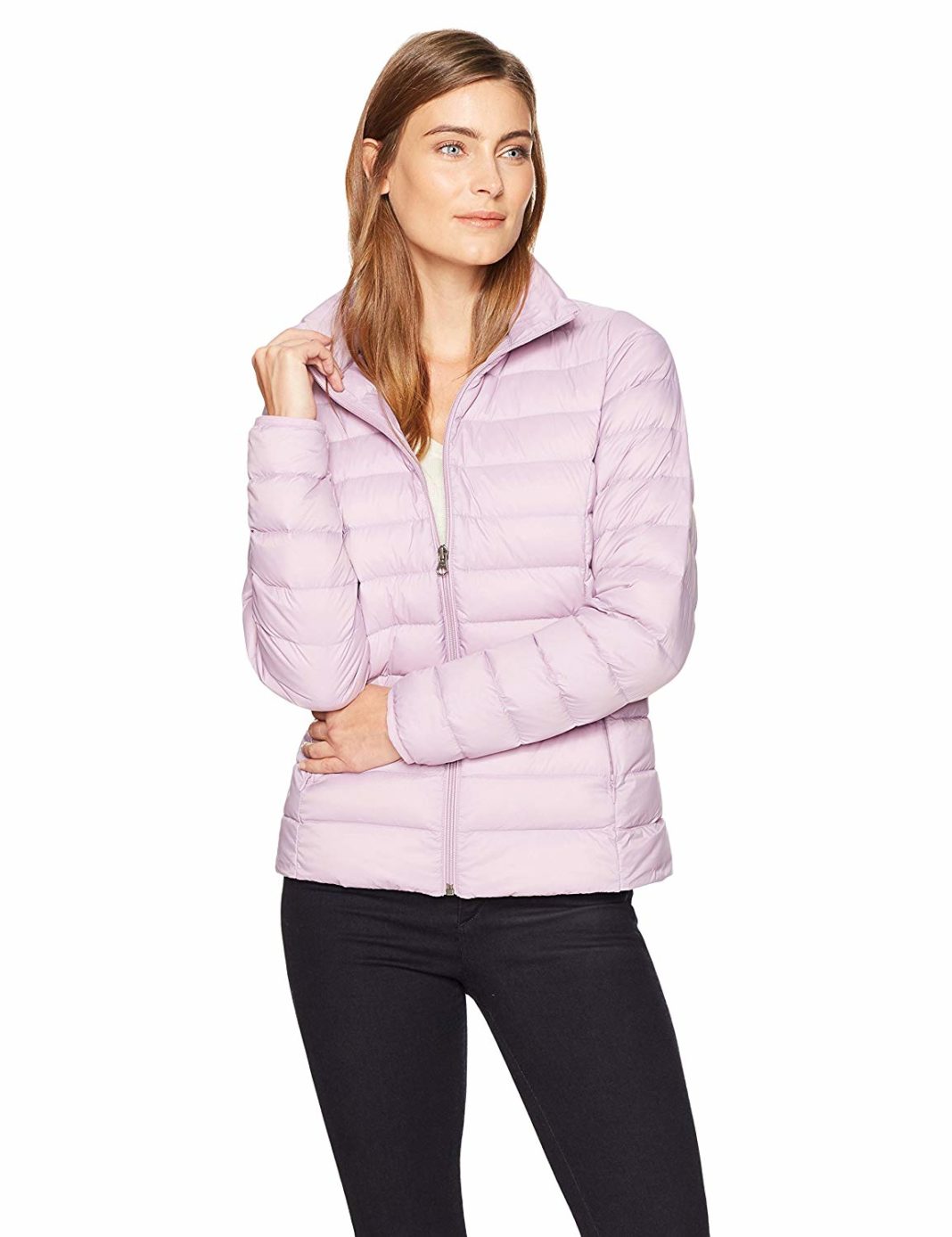 If you're looking for something shorter with more color options, this could be a good fit. For a price of $40-$59, you just can't beat it. To our pleasant surprise, the jacket checked the boxes for quality too. Amazon's clothing motto is "basics made better" and we couldn't agree more.
A water-resistant fabric offers protection from the elements while the quilted hood and down fill bring both warmth and compressibility. Consistent sizing takes the guessing out of shopping and each piece is put to the test by users for both quality and comfort. If you're looking for a lightweight jacket to keep out the cold breeze and a little rain, this jacket will do the job. For the price, we can't deny it's one of the best down jackets for women.
Tech Specs:
100% nylon shell

Fill: 90% duck down and 10% feather

Contoured seams

check

Zip pockets

check

Elasticated cuffs

check

Easy to pack
Marmot Aruna Women's Down Puffer Jacket, Fill Power 600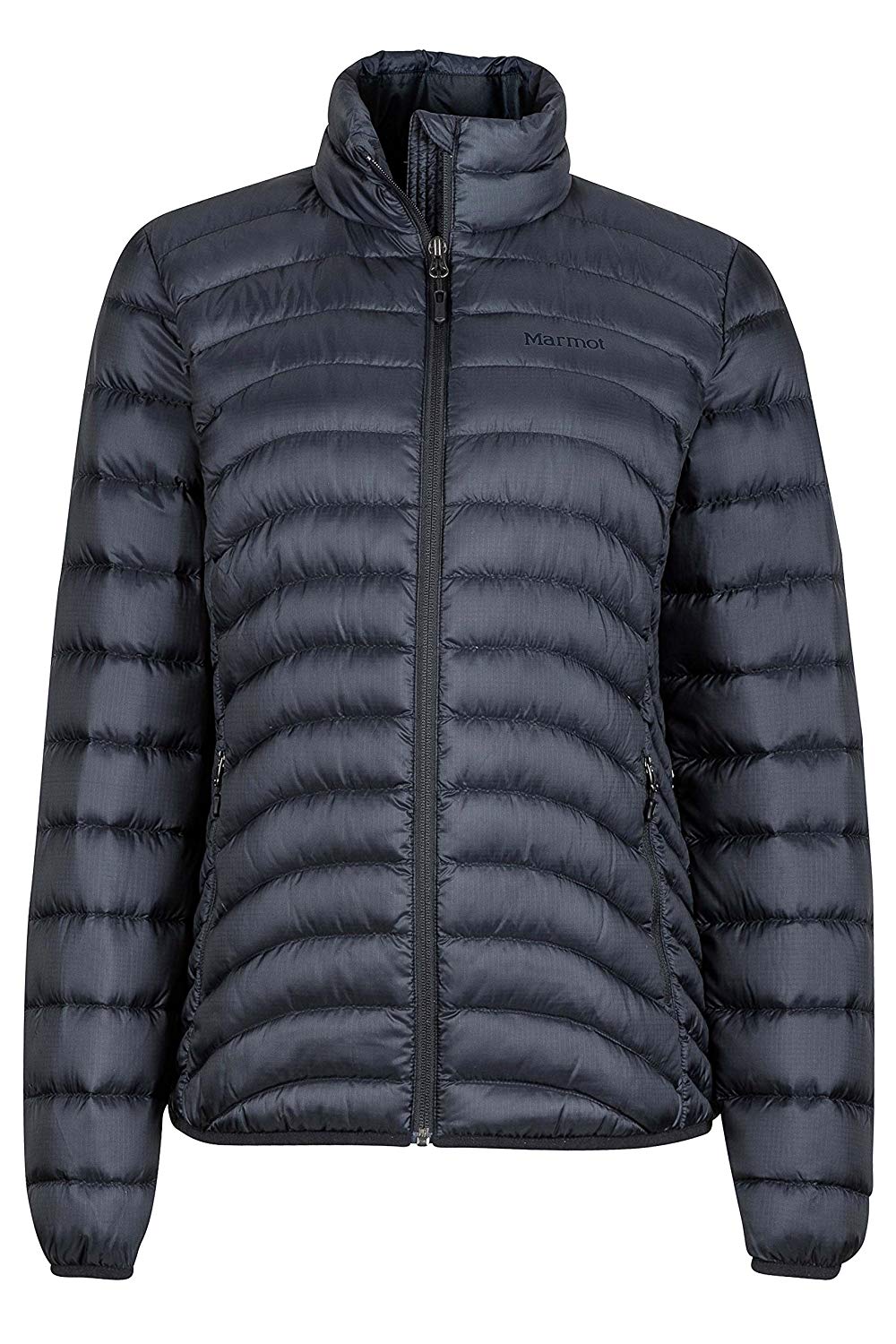 Just because the weather gets cold doesn't mean you have to. Marmot offers the best down jackets for women. With 600 fill power down with down defender technology, ​the Aruna Down Puffer Jacket is made to last. It'll keep you warm and comfy in chilly, damp environments. Zippered hand warmer pockets and elastic-bound cuffs and hem help to seal out cold air and maintain a secure fit while you're in motion.
Here's what the fill power means. It's a little confusing but all in all, this garment's fill power rating of 600 means its down displaces 600 cubic inches per ounce. This translates to warmth, durability, and minimal weight. While traditional down loses its insulation properties when wet, the down defender doesn't. Instead, it's moisture-resistant treatment, prevents clumping, preserves loft, and maximizes your comfort.
Want to retain heat? Then, the down defender is key. Other features like the elastic cuffs and hem help to retain heat too with a secure fit. Zippered hand warmer pockets provide storage for accessories and extra comfort for frigid fingers.
Tech Specs:
100% polyester sweater heather

Down jacket

Moisture resistant

check

600 fill

check

Zippered hand pockets

check

Elasticated cuffs
Wantdo Women's Hooded Packable Ultra Light Weight Down Coat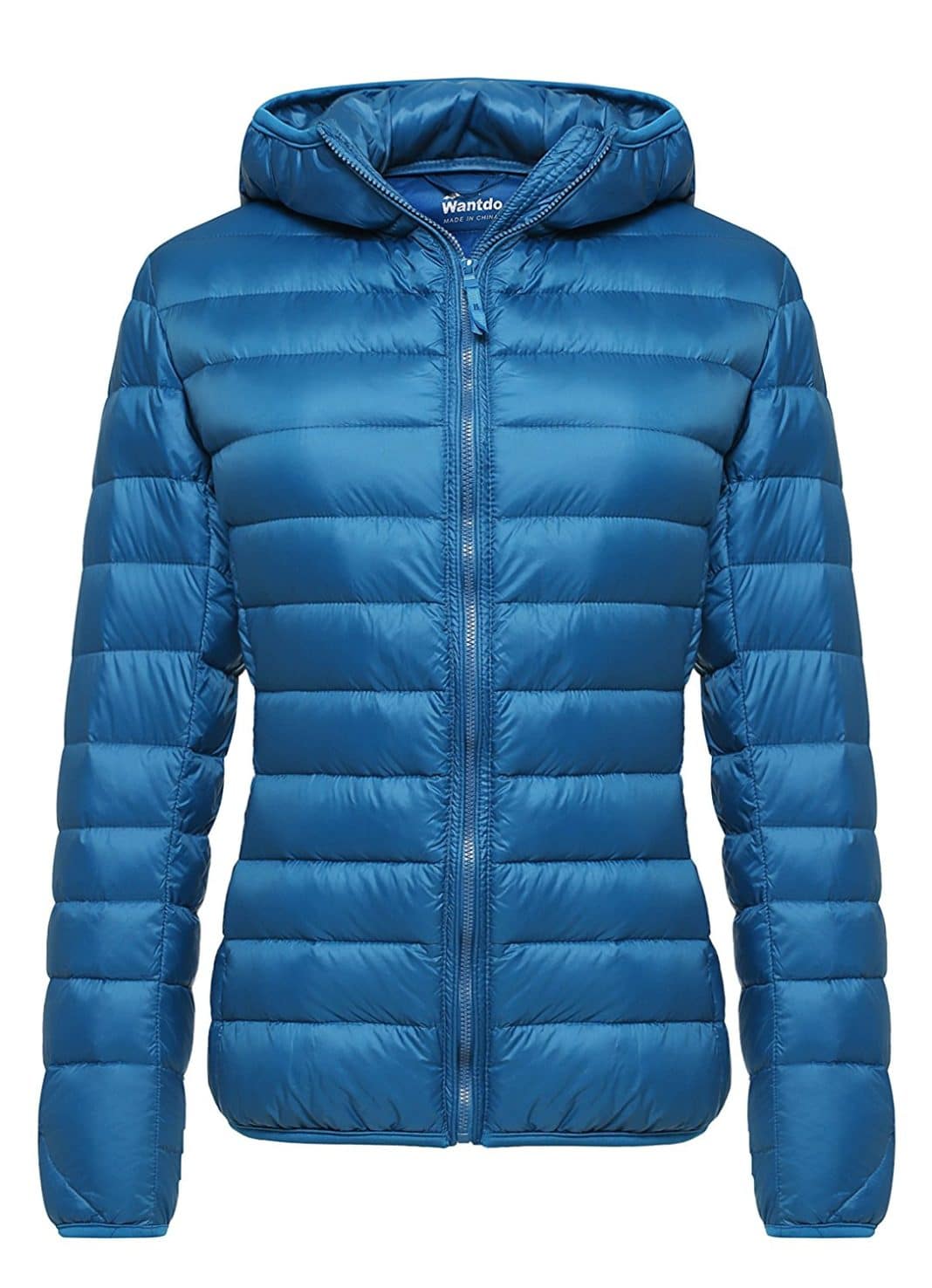 Are you looking for a longer coat that offers more coverage? This warm jacket is padded with an innovative material that's as warm as down and super light. It features a compact silhouette for a feminine look, and it's thin and lightweight enough to wear under another layer. Zip closure, hood and a raglan-sleeve design combine to create sporty style.
Even though this coat offers great insulation, it won't make you lose your shape. This down jacket has contoured quilting around the waist for a flattering fit. Stretchy tap inside the cuffs and hem help seal out cold air. In addition to style, a unique fabric design can well block the wind, makes you warmer in the cold weather.
When you're ready to take it off, it's packable for easy storage. The jacket packs down into an included pouch for easy travel, suitable for any tourists, short or long. It's also easy to carry, being thin and lightweight.
Tech Specs:
Durable nylon fabric

Zipper closure

Lightweight and warm material

check

Attached hood

check

Coating is water repellant

check

Easy to pack away
Invest in the Best Jacket for Your Next Big Trip – aka the Haven Outerwear Mid-Length Packable Down Puffer Jacket
We hope you enjoyed reading our feature on the best down jackets for women. Whatever your activity level, style, and budget, there is something on this list for all tastes. The jackets we included not only are sold at a great price point but are also made with the highest quality. The fall months are coming fast and you're going to need a good quality coat for all your adventures to come!
Common Questions
Check out these other travel products that also make wonderful gifts for travelers:
Questions and Comments
Do you have any questions or comments for us? If so, we would love to hear them. Feel free to leave a message for us below. We will be sure to get back with you soon.
Related Article: The Best Time to Buy Winter Clothes