​

Amazon Essentials is bringing you all the basics you need in a packable down jacket at a convenient, budget-friendly, and stylish level.

If you have just a short winter or a quick trip to somewhere cold, you might not need to invest lots of money into an incredibly nice down jacket. Hanging out in Southern California all the time probably doesn't require a packable down jacket either. But, for those strangely cold mornings or for the few weeks of winter you do have to endure, down jackets are a great option for staying warm. Plus, you should get one that matches your great winter boots. But, these jackets can vary from just a few dollars to hundreds of dollars. This is the full range from a bare-bones jacket to one that will last a lifetime. Amazon Essentials has created a jacket at a happy medium in the middle of this. So, if you're ready for a decent, lightweight, packable down jacket, read on to hear what Amazon Essentials has brought to the table.
Amazon Essentials Women's Lightweight Water-Resistant Packable Hooded Down Jacket Features And Benefits
Duck Down & Feather Filling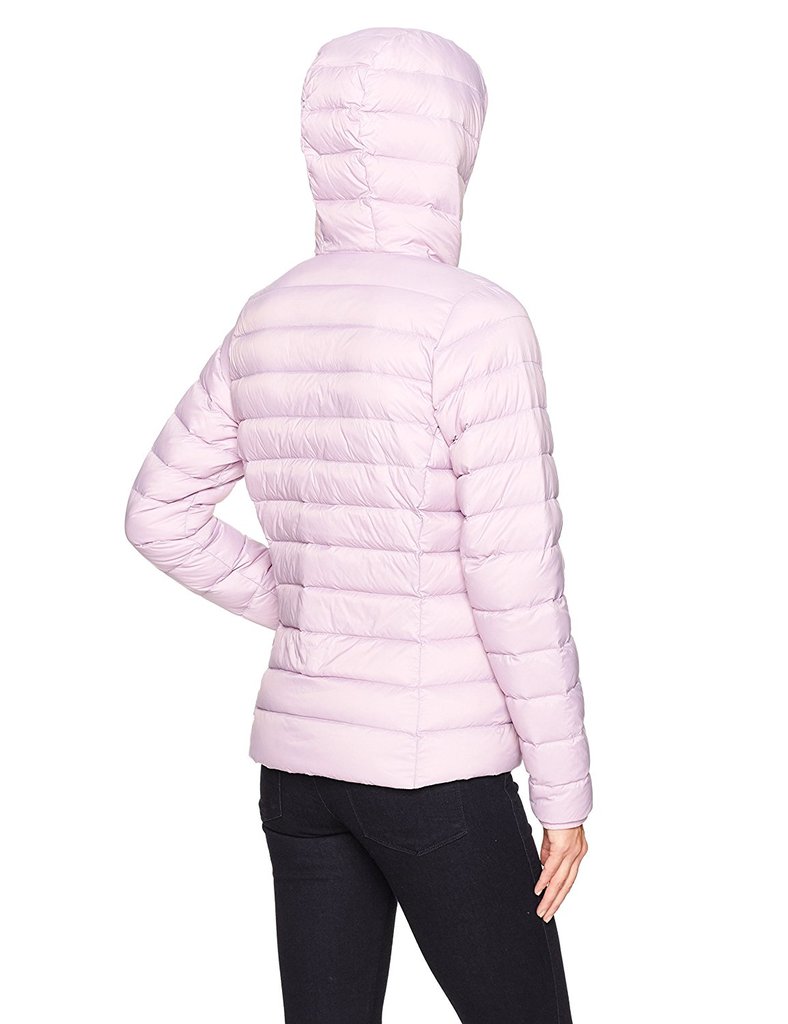 Do you ever wonder how those cute little ducks are so warm and happy when they're sitting in ice cold water all day? Well, they were created with a magical down feather just underneath their waterproof, top feathers. This fluffy feather insulates them incredibly well by capturing their heat and storing it in the little air pockets the feathers create. With the Amazon Essentials Lightweight Down Jacket, you're getting the same thing as the happy ducklings. This jacket is made with ninety percent down feathers, and ten percent normal feather filling. This creates a poofy, warm jacket that will keep you warm as long as you keep moving.
Water-Resistant Nylon Shell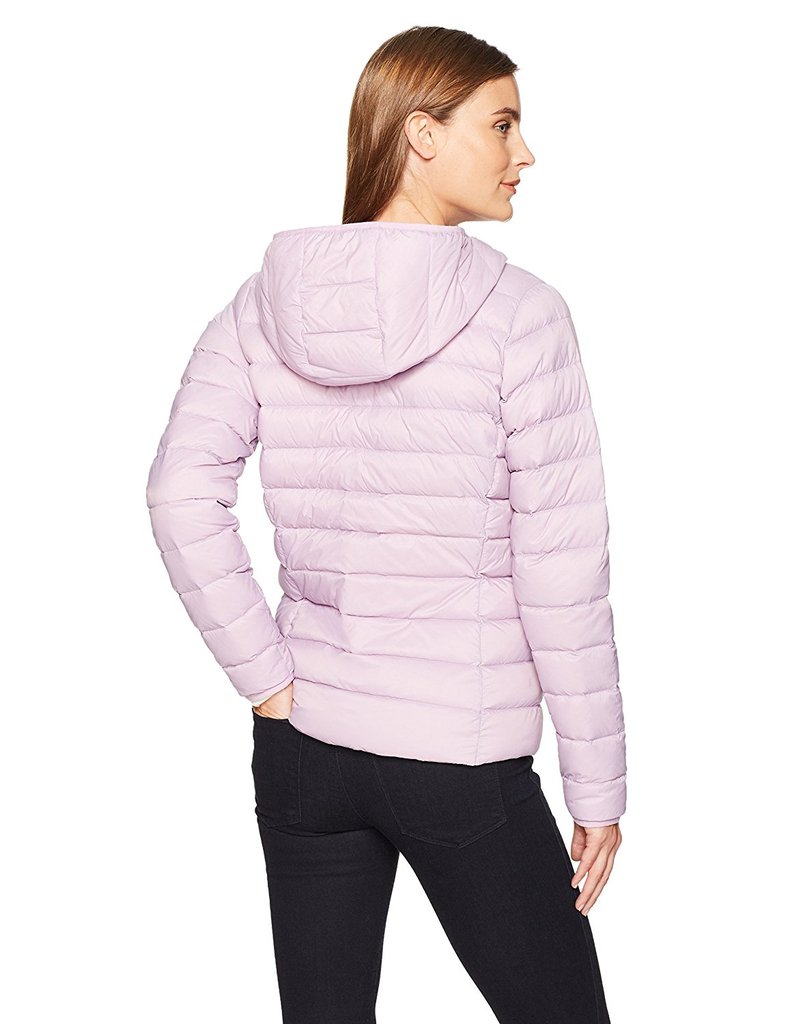 Everyone gets rained on without a rain jacket every now and then. Or, if you pride yourself on never forgetting your rain jacket, perhaps you tend to spill that Earl Grey tea on you every once in a while? However you get a little moisture on you, this Amazon Essentials jacket will repel quite a bit off. Why not built for hurricanes and hard rain, this jacket can withstand a light mist and random spurts of water. The water-resistant nylon shell will protect that fluffy down insulation for a while until you can get out of the rain. So, in whatever jacket you choose, make sure there is some amount of water resistance to keep you safe and dry.
Contoured Seams and Baffling for a Fitted Shape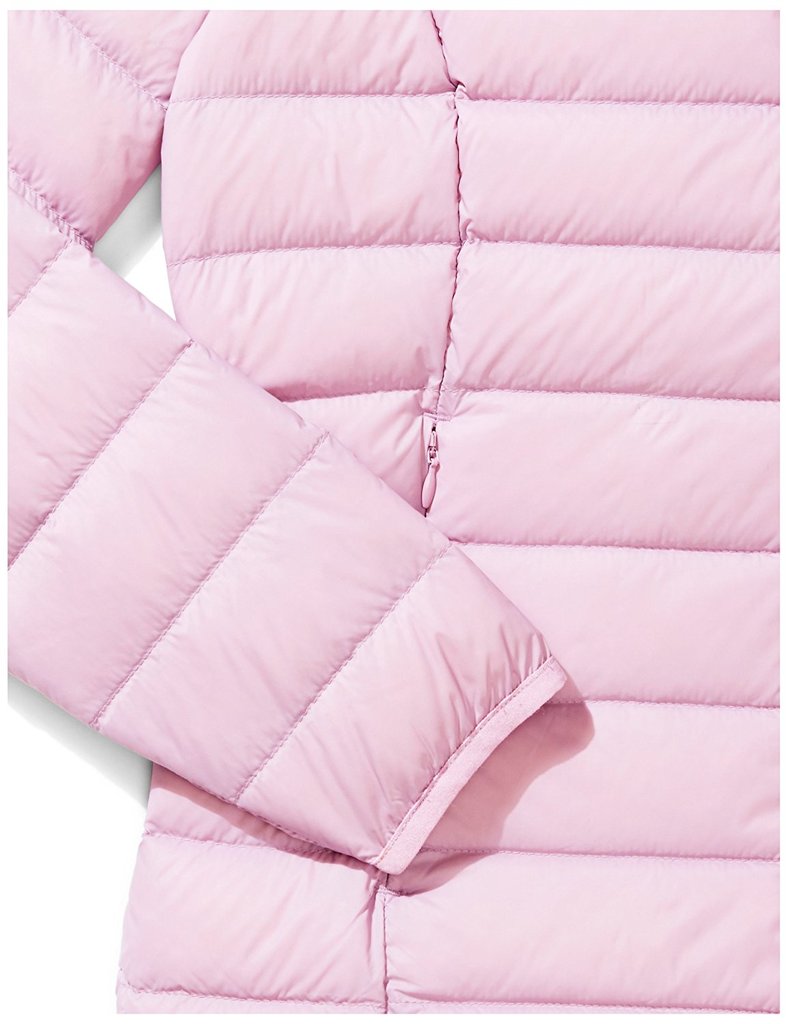 No one enjoys an unflattering jacket, especially if it's already a bulky one. Thankfully, the Amazon Essentials Lightweight Down Jacket is fitted, getting a little narrower at the waist. This provides a nice silhouette while not going overboard with adjustments. The seams also contour along the front and back of the sides, contributing to this slimming look. Keep in mind, though, that the puffier this jacket is, the warmer it will keep you. So, enjoy the horizontal baffles, because they are what holds all that wonderful goose down insulation in place!
Zippered Pockets & Elastic Cuffs
You've probably worked hard to generate some heat in your Amazon Essentials Lightweight Down Jacket, and we wouldn't want you to lose any of it. So, Amazon Essentials has made sure to allow the pockets to zipper shut and the sleeve cuffs to cinch down. This will keep your warmth in and the biting, cold wind out.
Lightweight & Packable
We mentioned earlier you might be needing this jacket for an upcoming trip. We've all traveled somewhere with completely different weather than where you were coming from. Dressing for that travel day can be quite confusing. Thankfully, the Amazon Essentials Lightweight Down Jacket packs down to a small size you can easily carry in your hand. Or, you can toss it in your personal item for when you deplane in the cold. Either way, we love that this jacket packs down so easily. Just remember, don't store any down jacket compressed. That will squish the feathers, decreasing the loft over time. Then, it won't be quite as warm as when you first got it.
​

What Travelers Are Saying About the Amazon Essentials Women's Lightweight Water-Resistant Packable Hooded Down Jacket

Consistently averaging over 4 out of 5 stars, the Amazon Essentials Women's Lightweight Water-Resistant Packable Hooded Down Jacket is well worth the sixty dollars or less it costs. Most travelers who purchased this have a few favorite aspects. First, they appreciate how lightweight and packable it is. It's perfect for throwing on during brisk mornings without being overly cumbersome. Reviewers also comment on the decent quality of the jacket. The zippers, lining, and hood are all well constructed and don't fail easily. That being said, many reviewers don't like the lack of an inner pocket which could have easily been included by Amazon Essentials.

As far as fit goes, the jacket does tend to run a little small. Some ladies may appreciate this, but if you plan on wearing bulky sweaters underneath, you may need to size up. This jacket is not made for below freezing temperatures, and adventurers who expect that will be disappointed. But, if you are aware that you're buying a middle of the road down jacket without amazing bells and whistles, this is a great option. It won't last a lifetime, but for the foreseeable future, it will be a great, handy go-to down jacket.
Alternative Down Jackets You May Like
Not completely sold yet on the Amazon Essentials Women's Lightweight Water-Resistant Packable Hooded Down Jacket? That's alright. We'll walk you through a few of our favorite other options for lightweight, packable down jackets.
HAVEN OUTERWEAR Women's Mid-Length Packable Down Puffer Jacket
This alternative to the Amazon Essentials Down Jacket provides a bit more length and just as much warmth. The HAVEN OUTERWEAR Women's Mid-Length Packable Down Puffer Jacket is filled with 85% Down and 15% Waterfowl Feathers. This creates a fluffy warmth that will match that of the Amazon Essentials jacket. However, this jacket will hit lower on your body, providing a little more warmth and protection from the elements. In addition, the flattering chevron baffling and silver-tone zipper pockets bring a chic look to this jacket. So, it will be perfect for going from work to happy hour, to that evening date without batting an eye. For added protection, there is an internal zipper guard. Finally, this down jacket also stuffs easily into the included bag for easy travel. So, if you are hoping for a little more style in your down jacket, look to HAVEN OUTERWEAR for a great deal.
Columbia Women's Kaleidaslope II Jacket
For a jacket incredibly similar looking to the Amazon Essentials option, but with a bit more quality and features, check out Columbia's Kaleidaslope II Jacket. The Omni-Heat thermal reflective material reflects your own body heat back to you, trapping in all that marvelous warmth you've worked to create. It has water-resistant fabric as well to keep you dry longer. With pockets both outside for your hands and inside to keep your things secure, you can carry quite a bit with this jacket. In addition, it has snuggly comfort cuffs with thumb holes for added coziness. Overall, the chevron baffling is very flattering, and this is a lightweight jacket. It will keep you warm as long as you generate a little body heat yourself. We adore this jacket as an alternative to the Amazon Essentials option for its style and simplicity.
Columbia Sportswear Women's Hexbreaker Long Down Jacket​
Columbia makes great winter jackets, and that's just a fact. They've been in the outdoor industry long enough to know how to create a great product at a solid price point. This particular jacket is knee-length, providing you with ample protection and warmth. The square quilted down is not as flattering as some jacket cuts, but with the removable hood, we'll let that slide. The front zipper is incredibly strong and ready to take a beating while you're out and about. The insulation doesn't lack either, with 200 grams of 80% down and 20% feather. It pairs that duck down with the Omni-Heat Thermal Reflective technology for all-over warmth. Lastly, they top it off with zippered hand pockets to keep both your digits and your possessions safe.
Amazon Essentials has boiled down different wardrobe items into, well, just the essentials. By taking into account customer reviews and feedback, they're perfecting their clothing game.
But, don't take our word for it. The Amazon Essentials Hooded Down Jacket is ready to take on whatever cold weather adventure you throw at it. If you need something quick for your honeymoon or something to last as you tackle all the restaurants in Chicago, this is a great option. Keep in mind that with Prime Wardrobe, you can order multiple sizes and colors and wear them for a week before deciding which you want to keep! So, order one of each color – gray, lilac, black, blush, red, mint, navy, olive, and teal. Really, we would have trouble deciding too with all those options. But, let us know what you think of the Amazon Essentials Down Jacket when you've finally got it in your hands.
Related Article: 11 Best Down Jackets For Women You Need For Your Next Trip