Craving a true beach getaway? That's exactly what you'll get at Surf and Sand Resort in Laguna Beach.
When this luxury resort says it's an oceanfront hotel, it's not an exaggeration. Perched right on the beach itself, Surf and Sand Resort boasts dreamy ocean views from every single room. Whether you're relaxing indoors amidst the cheerful, pastel-coated walls or soaking in the sun outdoors, you'll be surrounded by beach vibes. That alone is enough to make it one of the best hotels in Laguna Beach, but the details are even more compelling. Here's everything you need to know about this outstanding Laguna Beach resort.
Let's Talk Accommodations
Guest Rooms
Credit: Surf & Sand Resort
Part of what sets Surf and Sand Resort apart from the rest is the elegant comfort of every single room. Whether you book the 550-square-foot Oceanfront Premium Towers King or the 400-square-foot Oceanview Double Queen, you'll be basking in coastal coziness. All rooms are clad in soft, seaside palettes that create an ultra-relaxing atmosphere. They also come complete with free high-speed internet, luxurious waffle weave cotton robes, a small seating area—oh, and a crystal-clear ocean views. Trust us: no matter which guest room you decide to stay in, you'll forget you're even in a hotel.
Guest Suites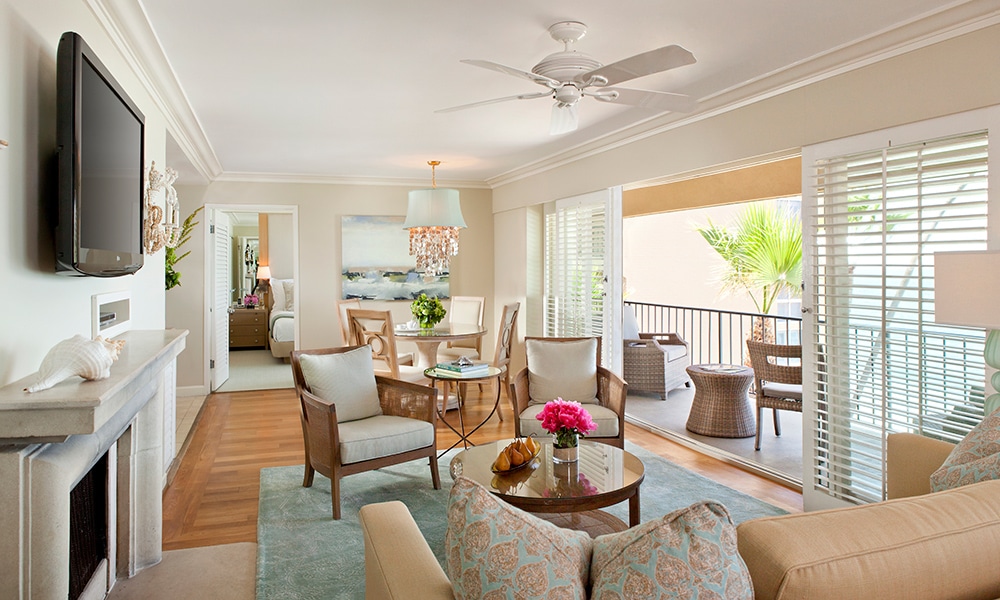 Credit: Surf & Sand Resort
If you're looking for an even more indulgent beach getaway, one of Surf and Sand Resort's 13 suites is the way to go. Take the California Suite. Decorated with cream-colored walls and sky-blue and beige accents, this top-of-the-line suite has everything you need within its 600 square feet. This large suite easily fits 6 guests and boasts 2 full baths and 2 whirlpool tubs. It also comes complete with 3 flat-screen televisions, a mini bar, a fireplace, and a balcony with a vast view of the ocean. Coffee lovers, you're in for a treat as you'll find multiple in-suite Keurig® machines for your caffeine pleasures. What need is there to go outdoors when you're pampered with these luxuries?
Then there's the most opulent of them all, Two Bedroom Penthouse Suite. At 1,150 square feet, it's got just about everything found in all other suites, but more. Instead of a mini bar, this suite takes things up a couple notches with a deluxe wet bar for you to enjoy. Another extravagant addition? The loft seating area that includes a sofa bed for you to lounge in as you're serenaded by the soothing sound of the waves. So take your pick, because it's safe to say you'll be relaxed and pampered no matter which room you choose.
Let's Talk Dining
Splashes Restaurant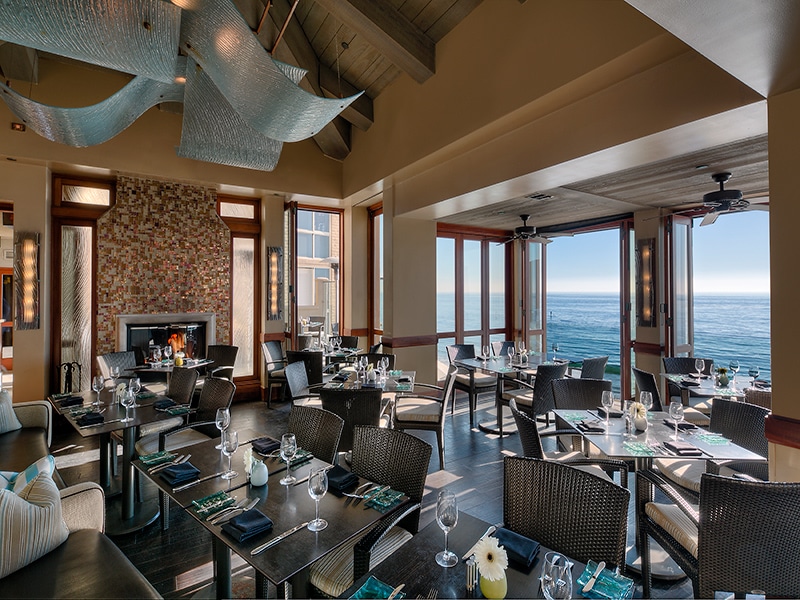 Credit: Surf & Sand Resort
Not all California resorts offer award-winning cuisine, but that's exactly what you'll get at this Surf and Sand Resort restaurant. Indulge in your seafood cravings at Splashes Restaurant with its extensive menus, all of which feature fresh and local ingredients. To top things off, not only will you be chowing down on delicious cuisine, but you'll still be enjoying breathtaking ocean views while you're at it. Some favorite menu items that you must try? Their red velvet pancakes are a must-order for breakfast, and their grilled swordfish with sweet potato gnocchi is another mouthwatering dinner option.
Splashes Bar
Get ready for some refreshing drinks and savory appetizers when you head to Splashes Bar. Whether you're in the mood for a craft beer, a smooth bottle of wine to share, or a delectable signature cocktail, you're in for a treat. You'll still be able to take in the beauty and calming noise of the ocean's waves, but in a slightly more casual atmosphere. Some beloved menu items include the delectable charcuterie board, the prosciutto flatbread, and even the crisp octopus. Hey—being on vacation's about trying new things, right?
15FiftyFive
Credit: Surf & Sand Resort
If you're feeling some hang time outdoors with good company and some easy cocktails and snacks to go with it, you'll love 15FiftyFive. This is Surf and Sand Resort's bar and lounge area, a perfect place to enjoy quality time with friends, family, or your significant other. Decorated with plush couches and toasty fire pits, treat yourself to this warm and cozy spot at Laguna Surf and Sand Resort.
Pacific Perk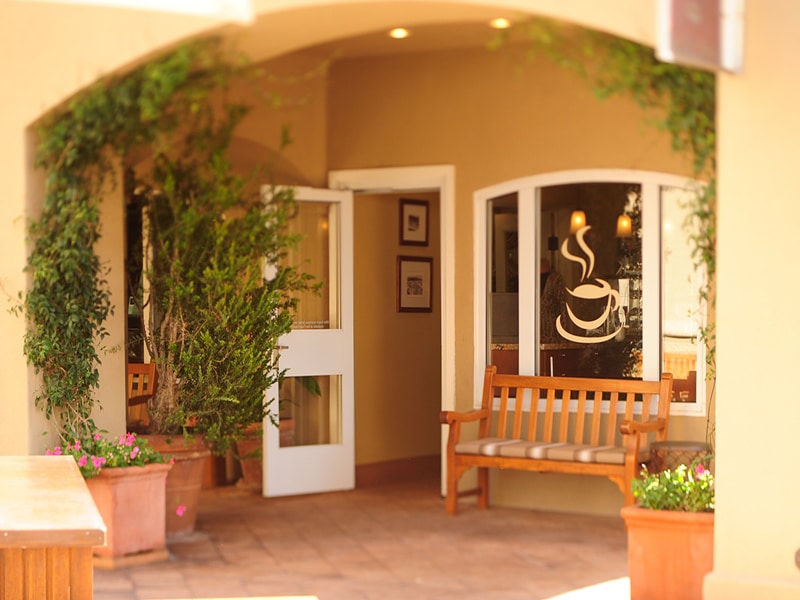 Credit: Surf & Sand Resort
Java fiends and pastry lovers will cherish Pacific Perk, Surf and Sand Resort's delicious coffee joint. Whether you need your morning cup of joe for the day's activities or simply want a rich latte to go with that good book, you'll find it here. They also offer fresh-baked pastries to go with each coffee drink, and lunch food for when you're on the run. Need to get some work done on your computer? Not a problem. Take some hours to camp out at Pacific Perk with the free Wi-Fi available and plow away. Fuel yourself with a delicious sandwich and espresso drink to get you through. Yep, this is a full-fledged coffee shop—something that not all resorts in California have.
Let's Talk Amenities and Activities
Aquaterra Spa
Credit: Surf & Sand Resort
As if the relaxing oceanfront rooms weren't enough to soothe you, Surf and Sand Resort's Aquaterra Spa has enough spa treatments to keep you for days. In fact, it can be hard to choose from them all. It boasts a wide range of treatment types, from body treatments, to massage and couple's therapy, to skin care treatments, to nail care services. There's no room for indecisiveness here—or you may never leave (of course, that may be a possibility for some).
Need some work on your nails? Treat yourself to an hour-long pumpkin pedicure, or get a simple French polish upgrade. Or maybe you're interested in a skin care treatment. If that's the case, go for the organic hydrating facial or the customized enzyme facial peel. Couples will love the surf & sand couple's escape that features a eucalyptus and lavender scrub and a side-by-side massage.
We could go on and on about all the soothing treatment options available in the Surf and Sand Spa, and one look at their list of treatments will show you why. You can check them out here.
Fitness Center
If you're someone who doesn't like to take breaks from their exercise routine while on vacation, you'll love the fitness center. As you can tell by now, Surf and Sand Resort Laguna Beach doesn't skimp out on its amenities, and this feature of the resort is no exception. A part of the Aquaterra Spa, the fitness center has pretty much all you need to get your workout on. From treadmills and spin bikes, to multi-press machines and leg presses, to dumbbells and yoga mats, you'll be able to get your usual workout in. Their Star Trac cardio equipment even makes it fun to exercise as it features touch screen interfaces and iPod docking station. And if you speak another language, you just might be in luck as these machine interfaces feature 13 of them! Our favorite part? You can take a variety of classes offered by the fitness center which vary from season to season. If you hurry and get there soon, you might be able to snag a spot in one of their fitness sessions on the beach!
Beachfront Pool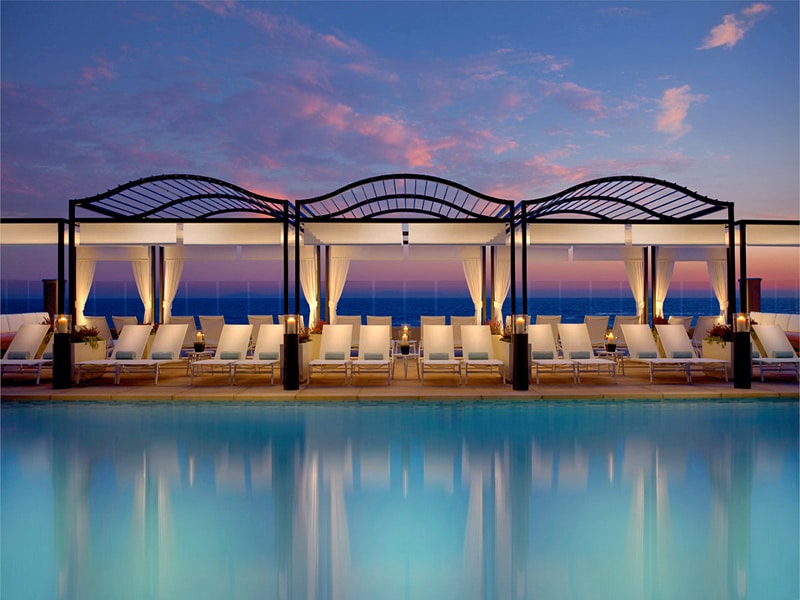 Credit: Surf & Sand Resort
No beach resort is complete without it's beachfront pool, and the one at Surf and Sand Resort is one you'll never want to leave. Relax in the refreshing water, get tanning on a comfortable lounge chair, or retreat from the sun under an elegant and airy cabana. Craving a cool drink to accompany your poolside reading? You'll find plenty of options at the poolside bar that won't disappoint. This beachfront pool is the perfect space for ultimate relaxation.
Weddings and Special Events
Credit: Surf & Sand Resort
For all the lovebirds out there looking for the perfect wedding venue, Surf and Sand Resort is a stellar option for many reasons. The most obvious one? It's right on the beach—duh! But there are even more enticing reasons than that. Surf and Sand offers 3 lovely options for wedding ceremonies: the oceanview-encompassed Catalina Terrace, the tucked-away Ocean Terrace, and last but not least—the beach itself! They also have 3 reception venues on their premises that are tailor-made to provide an incredible space to continue the celebration. Take your pick from the elegant Pelican Ballroom and its complimentary patio and foyer, the more intimate Sand Dollar Ballroom with its Mediterranean patio, and the vibrant Sand Castle Patio & Ballroom. Want to see them for yourself? Check out their photo galleries here.
Not getting married? No problem! You can still book a venue for another special event—or even a meeting! Whether you're celebrating a Quinceañera or just want to make your meetings more enjoyable, you can still take advantage of their elegant spaces.
Let's Go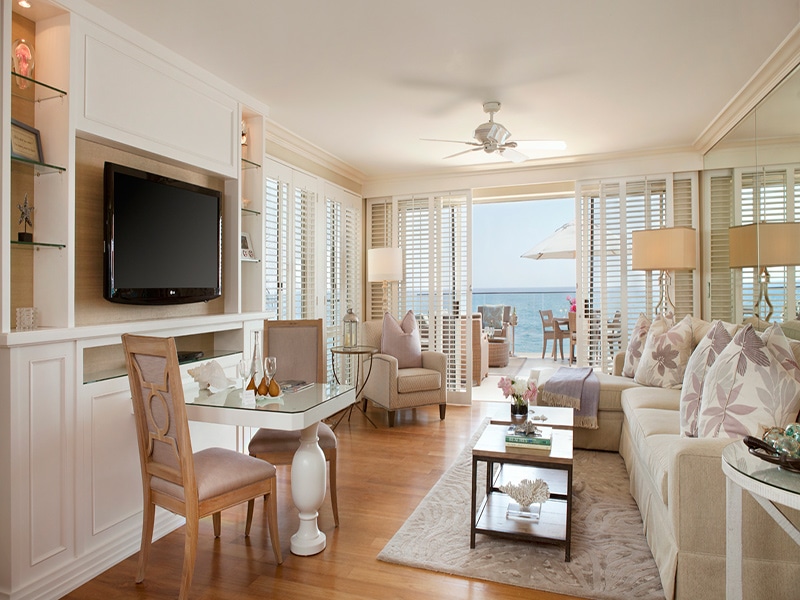 Credit: Surf & Sand Resort
Surf and Sand Hotel Laguna Beach is one of the best hotels in all of Laguna Beach, California. From its delightfully decorated rooms and suites to its impeccable cuisine and many luxurious amenities, it's certainly one of our favorite resorts in California. Plus, what's better than enjoying a short walk from your hotel to the soft beach sand and calming waves? Not much, if you ask us. So get your calendars out and plan your stay at Surf and Sand Resort.