Treat yourself in the Lone Star state by staying in one of the best resorts in Texas.
Texas is so huge that it takes up more space than the entire United Kingdom, Ireland, Belgium, Germany and the Netherlands combined. And its diverse landscape are one of the southern state's many appeals. In Texas you will find everything from deserts, pine forests, and the great Rio Grande. Cities vary from the industrious Houston to the hip and artsy Austin. So needless to say, there is a corner of this state that will suit just about any traveler.
And with a population of 28.3 million, it's no wonder that Texas has such a wide range of accommodation to offer its guests! So don't settle for a budget motel during your stay down south. Here are the best hotels and resorts in Texas:
1. El Cosmico
Credit: El Cosmico
Relax during your time in Texas with this truly one-of-a-kind stay. Located in West Marfa, Texas, El Cosmico is a nomadic 18-acre hotel and campground that merges Buddhist practices with bohemian vibes. And this hippy-esque retreat also offers guests rotating workshops and retreats, including building, cooking, and art classes, songwriting workshops and more. Additionally, El Cosmico hosts the annual Trans-Pecos Festival of Music + Love festival, concerts, movies, art, and other cultural events in honor of Texas culture.
Guests have a few options when it comes to their room, or "shelter," of choice. They can opt to stay in trailer, yurt, teepee, safari tent, the brite building, the Cosmic Kasita, or in their own tents. And you will find the town of Marfa feels like a world of its own. With a populations of 2,121, the town sits at a "unique crossroads of rural Southwest culture and international art Mecca." The unique experience El Cosmico offers is what makes it one of the best resorts in Texas.
2. La Colombe d'Or Hotel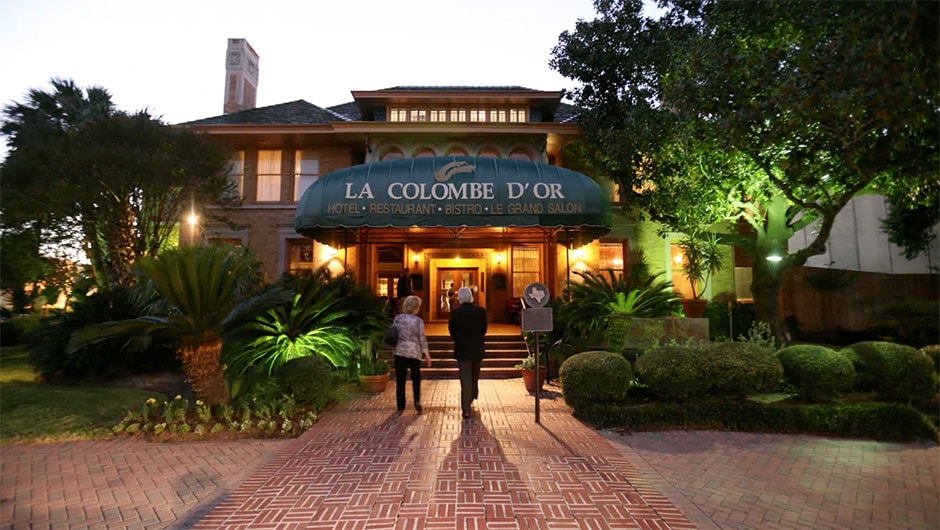 Credit: La Colombe D'or
Located in the heart of Houston's Museum District, this 1920's mansion house-turned-hotel-resort is esteemed as one of the finest resorts in Texas. Occupying the historic Fondren mansion, originally built in 1923 as a private residence for the founder of Humble Oil, La Colombe d'Or Hotel features five suites and nine residential-style villas for guests to choose from.
But this is not a hotel guests typically stay in for one night. Rather, La Colombe is a place to stay if you plan on staying for a while. And you likely will find yourself wanting to stay even longer after just a few hours into your stay.
La Colombe is within walking distance of the best restaurants, shops, galleries, and venues in Houston. But if you don't feel like going too far to dinner, you can easily dine in the hotels on-site restaurant, CINQ. The menu offers delicious European cuisine inside its classy dining area.
3. The Antlers Inn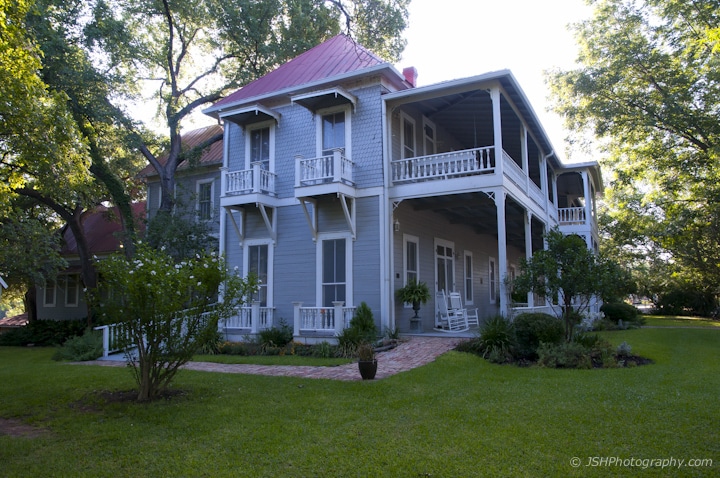 Credit: The Antlers Inn
If you plan on paying a visit to Kingsland, then be sure to book a stay at The Antlers Inn. Easily one of the homiest resorts in Texas, the inn invites guests to an alluring stay through Texan history. Located along Lake LBJ, visitors can spend their time strolling through the inn's spacious lawns, relaxing in the reflective gardens, and hiding out in the shady wooded areas.
Fun fact: The Antlers is a Texas Historic Landmark and is on the National Register of Historic Places. And the moment you see the inn's exterior you will feel like you've been taken back in time. Its white wrap-around porches hugs the two-story southern-styled home. But you will also find a common theme of trains scattered across the inn. That's because the railroad is what allowed The Antlers to open its doors back in 1901.
Therefore the inn offers three different room styles to choose from: traditional hotel-style rooms with private baths, one or two room cabins and cottages, or an antique train cars. These vintage cars – painted red, yellow, and green – all come with a queen-sized bed and bunk beds. And although they no longer work as travel cars, these 1880s coach and caboose train parts have been renovated for an interesting Hill Country getaway.
4. Horseshoe Bay Resort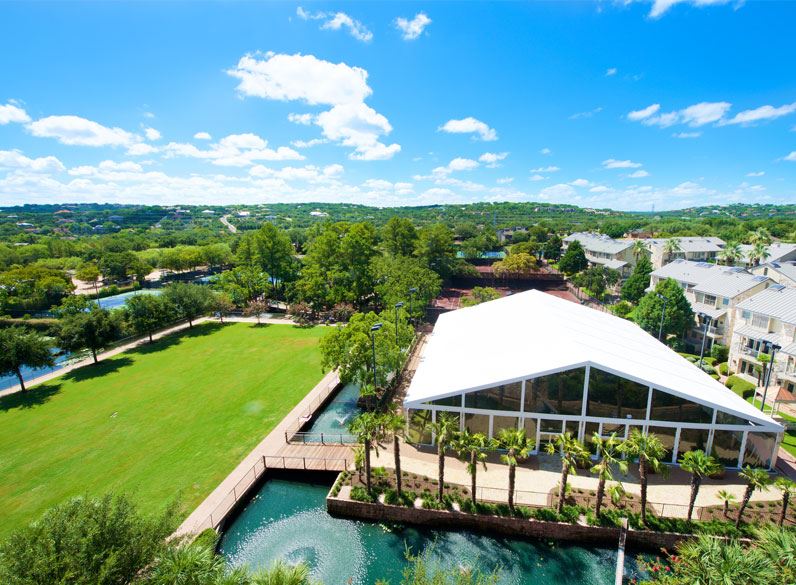 Credit: Horseshoe Bay Resort
The next on our list of the best hotels and resorts in Texas also happens to be along Lake LBJ. But it's nothing like The Antlers Inn. The Horseshoe Bay Resort is highly regarded as one of the best all-inclusive resorts in Texas. With beautiful views of the surrounding Texas Hill Country, the 400-room resort pampers its guests with an array of amenities. Horseshoe Bay offers visitors a full-service marina, a relaxing day spa, tennis and fitness facilities, live music, and other fun activities during their stay.
The classically decorated resort has rooms and suites ranging from standard doubles to a Presidential Suite with its very own private balcony and view of the lake. And if you want to take a little day trip while you're there, the capital city of Austin is just a 45 minute drive away.
But there are also many on-site restaurants for guests to choose from. You will feel like royalty if you choose to stay at the Horseshoe Bay Resort. And that's why we consider it one of the best resorts in Texas.
5. Indian Lodge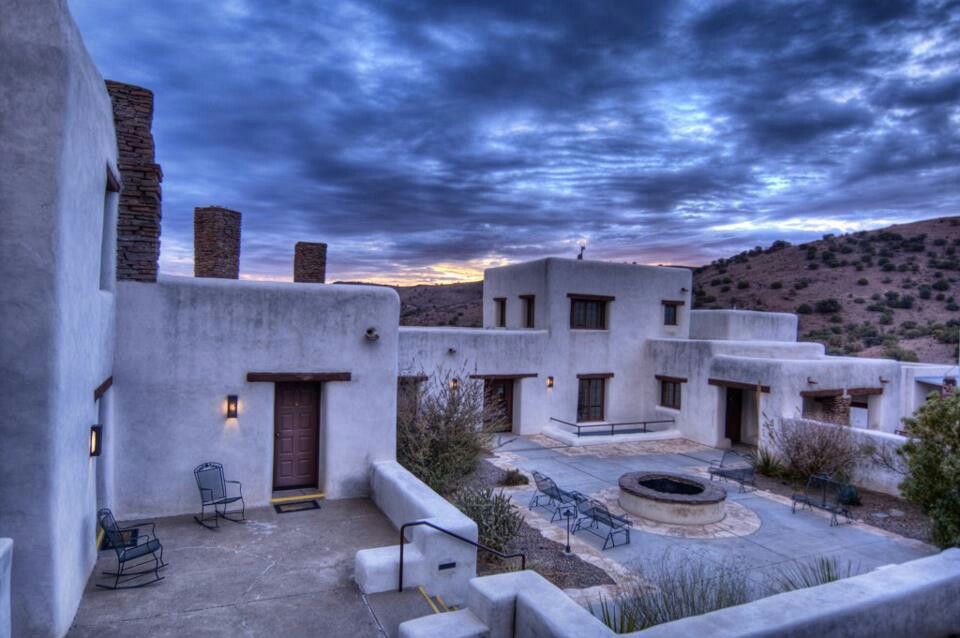 Credit: Indian Lodge
Take in the beautiful scenery in Davis Mountains State Park by staying in Indian Lodge. The white adobe-style building is located in the heart of Davis Mountains State Park. Built in the 1930's, this historic pueblo-style hotel houses 39 rooms, a swimming pool, and a variety of outdoor activities for guests to enjoy. So if you want to get out and explore the grounds, be sure to take advantage of one of the many hiking and biking trails during your stay.
The Indian Lodge also offers walks and programs on stargazing, birding, local history, geocaching and more. And you will find that staying at the lodge also puts your in close proximity to many area attractions. These include the Fort Davis National Historic Site, McDonald Observatory, and the Chihuahuan Desert Nature Center. But you may also want to take advantage of a scenic drive nearby. The 75-mile loop takes you through the Davis Mountains and begins and ends in Fort Davis.
The Indian Lodge is one of the best resorts in Texas for guests who want to enjoy the state's natural beauty while being spoiled with top-notch accommodations.
6. Heywood Hotel
Credit: Heywood Hotel
If you plan on going to the hip city of Austin soon, be sure to stay in one of the coolest resorts in Texas. Heywood Hotel is a small, boutique hotel in the heart of downtown Austin. And guests can choose between 7 different luxury rooms during their stay. Plus, Heywood offers award-winning architecture, free wifi, free parking, good coffee, as well as "ridiculously comfortable beds and lots of little details to make your stay in Austin as perfect as possible."
Heywood is one of Austin's many gems. A true oasis in the middle of an already great city. And guests will love how close they are to many of Austin's best restaurants, shops, and attractions. Heywood is situated just blocks from the Austin Convention Center, Sixth Street, Rainey Street and Lady Bird Lake. But the indie hotel is also surrounded by the best barbecue joints, breweries, "honky-tonks," and cafes in the city. And as a guest you get to explore the city on a complimentary Heywood bike!
Heywood Hotel is Austin, "inside and out." So the resort features work by local artists, makers, and textile designers throughout the rooms and the lobby. And that delicious Heywood Blend coffee you drink every morning is roasted right in the neighborhood. So is that incredible beer you will drink at the Heywood bar.
7. Hotel ZaZa Dallas
Credit: Hotel ZaZa
Undoubtedly one of the most unique resorts in Texas, Hotel ZaZa includes four boutique-style hotels located in Dallas, Houston, and Austin. Add in addition to the resorts collection of eclectic art, Hotel ZaZa features a five-star on-site restaurant, a full-service spa, and a fitness center for its guests. But there is also a heated, outdoor swimming pool that can be enjoyed throughout the year. And if you enjoy discovering local artists, then you will love Hotel ZaZa's decor. The boutique resort features work from artists, designers, and other makers and shakers in the Dallas area.
But that's not the only thing about Hotel ZaZa's decor you're going to love. You won't be able to get enough of the 1960s-themed suite, which is decked out with love beads, lava lamps, and beanbag seating. And another room option is a one-bedroom unit, which comes with a kitchenette, separate dining and living spaces, and its own balcony or patio.
8. Cypress Valley Canopy Treehouse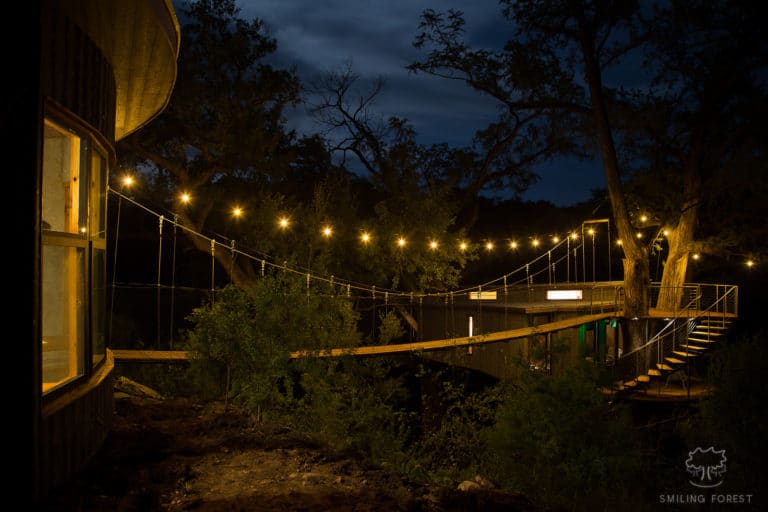 Credit: Cypress Valley Canopy Tours
Can you imagine a more unique stay than spending a night in the trees? We sure can't. And that's why we consider Cypress Valley Canopy one of the most unique and best resorts in Texas. The successful zip lining company now offers its visitors overnight stays in their treetop yurts. So if you are traveling with a family, we recommend staying in The Nest. This yurt offers two bedrooms situation high above a running creek and waterfall. But if you are searching for a more romantic option, then opt for The Lofthaven. This quaint treehouse features a canopy bed and a connected bathroom.
But wherever you stay, you will be surrounded by gorgeous cypress trees and night noises. Look out your window and you will see fireflies igniting the night sky. But if you aren't one for heights, however, you can also stay on the ground in the Ranch House. Though you will still have the sense you are in the trees, as the treehouse looks out on the creek ravine through the treetops and sleeps up to 14 guests.
But spending the night in a treehouse isn't even the best part of your stay at Cypress Valley Canopy. And the company also offers guests a variety of outdoor activities, including zip lining, night tours, picnics, and more.
9. The Houstonian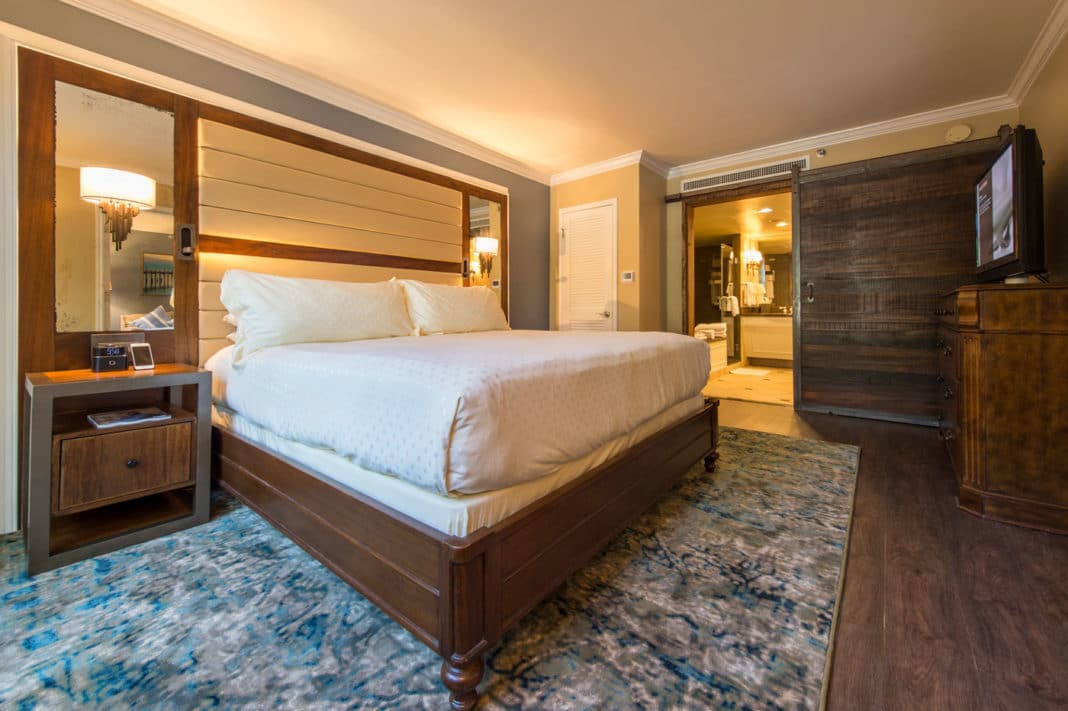 Credit: The Houstonian
The grand Houstonian Hotel is set on an 27-acre treed lot in the heart of Houston, Texas. Guests of the Houstonian are offered an escape "to the city, not from it." All of the rooms are lovely and comfortable to stay in. But if you can swing it, try to opt for one of the two-room suites, which feature custom furnishings, beautiful artworks, and separate bedrooms. If you want to spend your time in Houston in even more style, then go for one of the executive level rooms. These rooms provide a personal concierge and access to a private lounge, which serve complimentary food and beverages.
Guests can enjoy a variety of outdoor activities at The Houstonian. The 27-acre lot offers hiking and jogging trails, tennis courts, swimming pools, bird watching, and more. The hotel is also right next door to Houston's 1,500-acre Memorial Park.
If you get hungry, there are plenty of on-site restaurants to choose from. The Tribute celebrates cuisine from Texas' past and present. At The Manor House, diners can enjoy dishes inspired by the Gulf Coast. The Great Room Lobby Bar is a perfect spot to relax with a drink after dinner. For a more casual lunch, we suggest the Arbour Grill or the Center Court Cafe.
10. Lone Star Court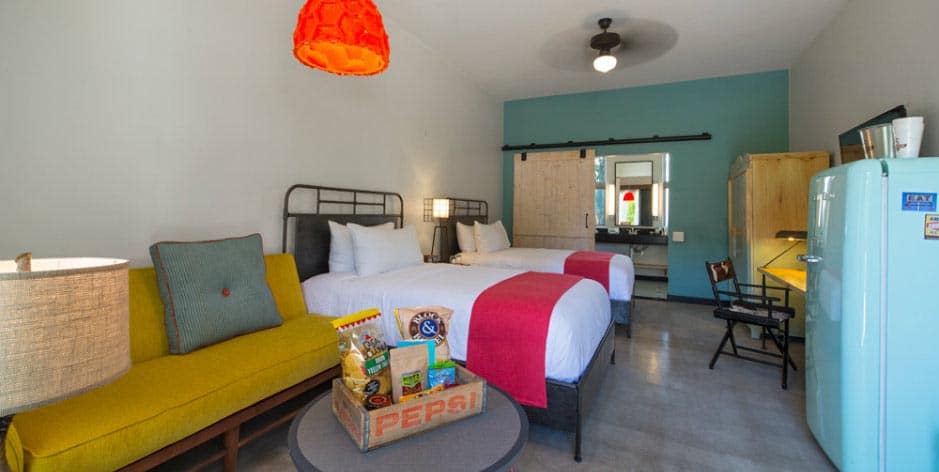 Credit: Lone Star Court
The Lone Star Court is a boutique hotel with a timeless twist. Located in the magnificent Austin, Texas, the hotel rooms feature a "retro-ranch" motif and offer guests a vintage modern ambiance. The decor is "reminiscent of a time when your journey was as fun as your destination." You will find the fire pits, live music, rocking chairs, and pool lights make for chill vibes to enjoy every night.
The best part about staying at The Lone Star Court is how close you are to happenings in the city. Guests are in close proximity to The Domain, a premiere shopping and dining district in Austin. This is easily one of the best resorts in Texas to make a reservation at if you plan on going to some iconic Austin events. So if you're in town for Austin City Limits or South by Southwest, we highly recommend looking into The Lone Star Court.
Foodies will be happy to know that The Lone Star Court is also nearby some of the best restaurants, cafes, and bars in the city. The Hula Hut is one of the best places to go for authentic Mexican cuisine. If you're craving pulled pork, Franklin Barbecue is your spot.
11. La Cantera Resort & Spa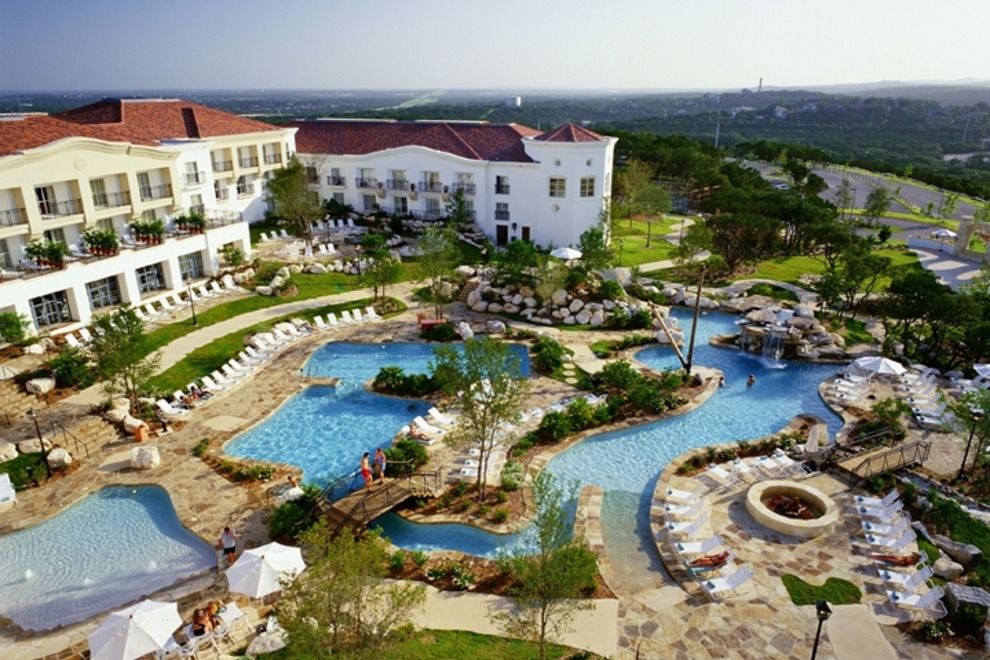 Credit: La Cantera
If you're looking for a place to stay in San Antonio, there is only one place to go. La Cantera Resort & Spa is one of the most deluxe resorts in Texas, hands down. Notable on-site features include hanging out at one of five heated swimming pools located around the resort, including dedicated adults' and kids' pools and hot tubs. La Cantera is also proud to present guests with two championship golf courses, a pro shop, and golf coaches if you want to up your game. Additional perks include a fitness center, full-service spa, jogging trails, and more.
All of the rooms available at La Cantera make for a comfortable, relaxing stay. But if you want to splurge a bit, we recommend looking into one of the family suites. These 1,700-square-foot suites provide two separate bedrooms, dining and living areas, and a work area.
La Cantera also offers guests a shuttle that will take them into the heart of San Antonio. Nearby attractions that are worth exploring are the San Antonio River Walk, the Briscoe Western Art Museum, The Alamo, and more.
12. Austin Motel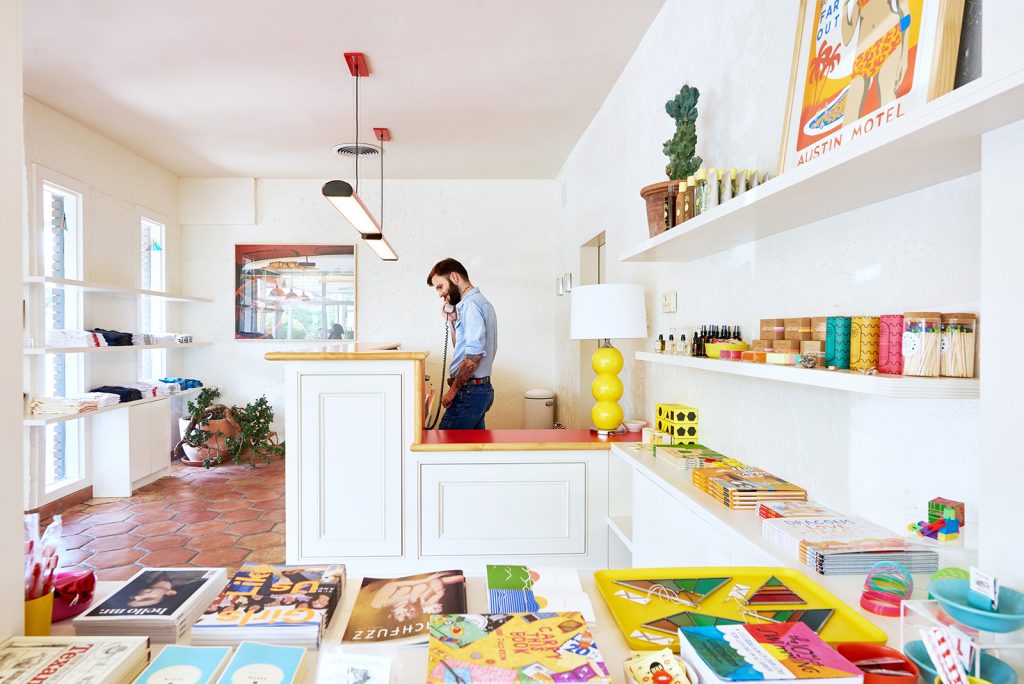 Credit: Austin Motel
We are going to top off our list of the most unique and luxurious resorts in Texas with the Austin Motel. This funky, boutique hotel has been around for 65 years. Each of its owners have marked the hotel with their own unique style. Today, Austin Motel is designed with an ultra-kitsch decor and a hip, artsy vibe. The historic hotel sits just south of the Colorado River and downtown Austin. It offers guests a view of the State Capitol and is within walking distance to the famous bat bridge.
As a part of the South Congress neighborhood in Austin, the motel is surrounded by some of the city's best restaurants, shopping districts, and nightlife. There are 41 guest rooms to choose from, as well as a swimming pool. The on-site restaurant is also worth checking out. Inspired by California diners and the "hearty Mexican fare of Austin," Joann's Fine Foods offers a menu of tacos made with in-house flour and corn tortillas. There are also sandwiches, salads, scallop dishes, ribeye entrees, and other Tex-Mex offerings to choose from.
Austin Motel is "the place to chill deep in the heart." If you want an authentically Austin stay, then Austin Motel is one of the best resorts in Texas you could possibly book. Visit the Austin Motel website for more information.
Staying in one of the best hotels or resorts in Texas will make your trip that much better.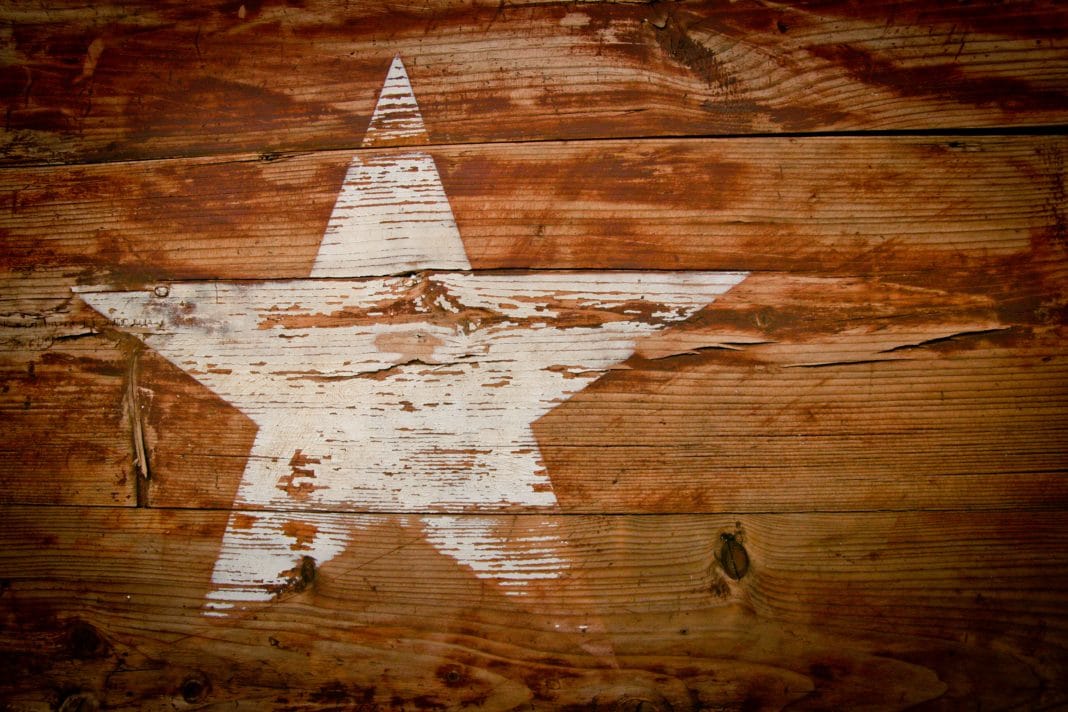 Let's be real: the quality of your hotel can make or break any vacation. And though we're pretty sure you are going to love your time spent in Texas, you might as well stay on the safe side and make a reservation at one of the best resorts in Texas. The 12 hotels and resorts above offer something unique and different – and that's why we love them so much. We have no doubt that one of these 12 hotels or resorts is perfect for every kind of traveler.
Whether you prefer bohemian desert vibes, a quiet southern inn, or luxurious resort and spa offerings, there is Texas hotel out there for you!
Are you a regular visitor to the Lone Star state? Do you have any hotels you have stayed in the past and absolutely loved? Leave us a comment and let us know! We are always looking to check out new hotels and resorts in Texas.
Related Article: 6 Best Beaches in Texas to Beat the Heat