You'll want to pick one of the best Hotels in Nashville for your Music City vacation.
Nashville, the city of music, is a great place to visit for many reasons. There are endless amounts of things to do in Nashville. It is known for its music scene, a place where you can see concerts and all types of shows, many times for free. Nashville is also a great place to try a new restaurant or coffee shop or to see plenty of history and art. But in order to experience all Nashville has to offer, you will first need to find a great hotel. There is no shortage of them in music city. Keep reading for the best places to stay in Nashville!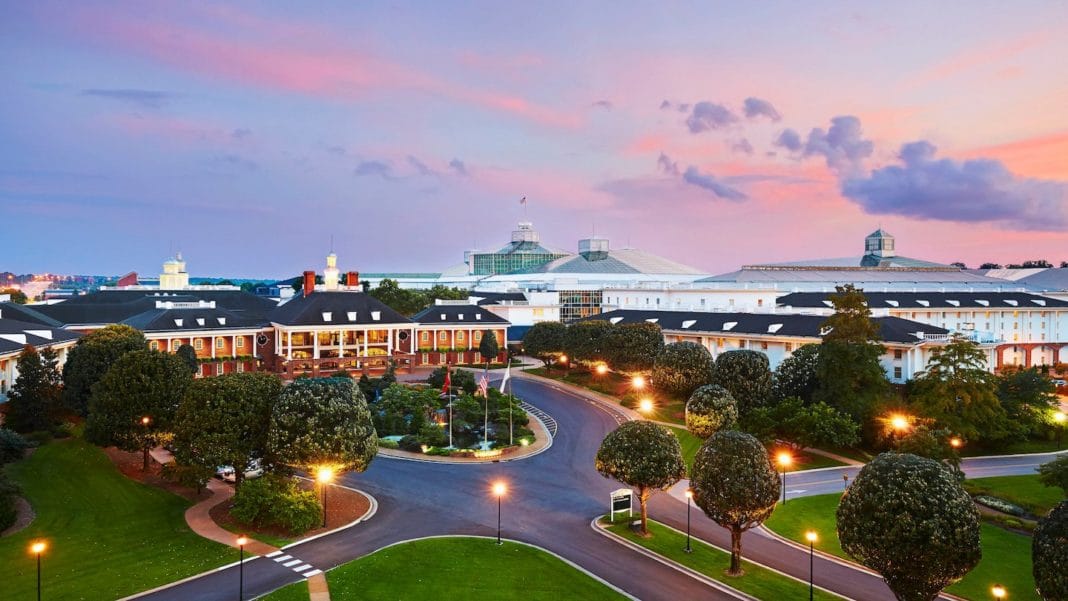 Gaylord Opryland Resort & Convention Center
It would be very hard to create a list of the best hotels in Nashville without the Gaylord Opryland Resort & Convention Center listed as one of the top best hotels in Nashville. This hotel is positioned right in the heart of Music City.
At the Gaylord, you will be able to experience tons of water fun. They have water attractions called SoundWaves where the kids (and adults) can get out in the sun, or stay inside and experience fun in the water. SoundWaves is both an indoor and outdoor attraction. The Gaylord has their own auditorium where there are plenty of shows for the whole family to attend.
For the adults, there is a full-service spa and a large golf course. This hotel also has a wide variety of different types of food options to choose from when it comes to dining. For those on trips for business, they have a business center for meetings so you can get work done.
The smaller rooms have a quaint feel to them, like something taken out of a Bed and Breakfast. These are spacious and homey, and then the larger ones have a hint of modern and contemporary. The rooms range from two queen bed sized guest rooms to presidential suites, so there are options for all types of travelers.
2. Sheraton Grand Nashville Downtown
Sheraton Grand Nashville Downtown
The Sheraton Grand Nashville Downtown is right in the middle of the action. You'll be able to get to and from activities easily since you are located in the heart of Downtown Nashville. Not only will your location make getting to and from easy, but you will have a view of all the action from your room. You are just around the corner from the Country Music Hall of Fame and the Grand Ole Opry, which are sure to be on the top of your to-do list.
If you are searching for a great hotel to stay in Nashville, look no further. Sheraton Grand has an indoor pool, a fitness center, and a workspace for those looking to get stuff done on their vacation. There is also the ability to bring your dog friend along, as this hotel is dog-friendly.
Perks & Features
One of the best features of this hotel is their participation in the Make A Green Choice program. This means the Sheraton Grand is eco-friendly and interested in making a difference. They take this so far as to give you rewards for partnering with them to help save the planet by giving $5 to their guests each day they participate in the program. This money can be used on food and beverages and in their rewards program.
Another awesome perk this hotel offers is the Sheraton Club. If you sign up for the Sheraton Club, you are offered exclusive benefits such as special lounging areas for club members only, breakfast in the morning, snacks and beverages all day long, and hors d'oeuvres at night. There are special offers for those conducting business such as a private meeting spaces and a business center.
3. Noelle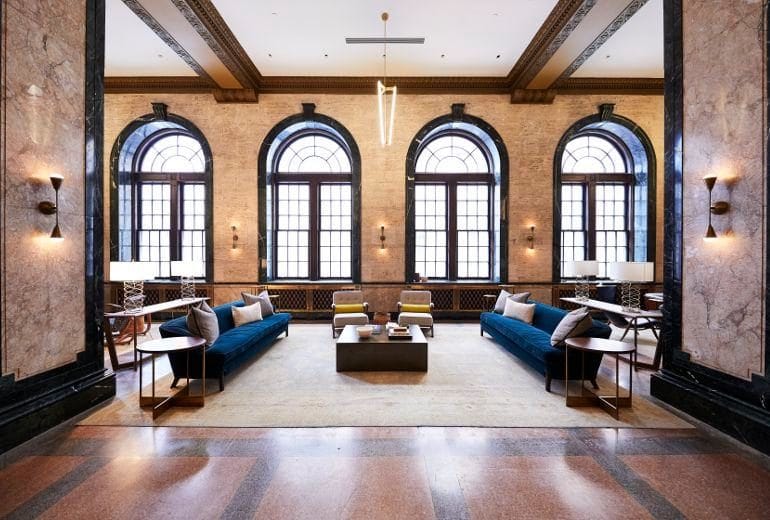 Noelle
Noelle has a rich history. She was built in the 1930s and has taken a front row seat to the change Nashville has experienced over the course of the past 90 years. This hotel was around when the boom of Nashville becoming what she is today happened, and this hotel is still a place where much happens with the current culture. Noelle is well known and well loved by locals and tourists alike. She has a rotation of changing art over the year so it is never a dull moment when exploring the many floors. They also have shops where small gifts and keepsakes are sold for you to take a piece of her home with you.
Noelle is known as a great wedding venue, having the vintage warmth of the 1930s that many couples long for when it comes to bringing their loved ones together. They have mastered the art of throwing a wedding from start to finish and walk with you every step of the way. Another special thing Noelle offers is a variety of different packages for special occasions such as the changing seasons and holidays. Each package offers different things such as access to parties, gifts, entertainment, meals, and thoughtful amenities to make your stay pleasurable.
The rooms and suites range from classic to penthouse and each room is carefully crafted. This entire hotel is a marvel to behold. It is clear that if there was one word to describe Noelle, it would be "thoughtful". Noelle has been around long enough to perfect hospitality and throw in special touches that others simply can't offer. They have unimaginable creativity in the way they operate and host their guests. There is always something to be involved in, some form of entertainment to enjoy, and your stay can be full and suite (pun intended) without ever stepping foot outside.
Renaissance Nashville Hotel
The Renaissance Nashville Hotel offers plenty of site-seeing because of their perfect location. There is the Convention Center, Bridgestone Arena, Titans Stadium and Music Row to name just a few. This hotel serves a complimentary breakfast and snacks. Who doesn't love these accommodations? The Renaissance is a good one for larger families. Their rooms are spacious and have plenty of room for the whole crew.
Renaissance has a beautiful indoor pool, outdoor deck, and a gym. With good dining, drinks, and live music in the evenings, this hotel offers a nice time. The cutest little feature is the Coffee Camper located in the lobby. Pick up a snack, pastry, or coffee in this retro camper turned coffee shop on your way out the door.
You can believe that the Renaissance is the perfect place for leisure, but it also a great place for business as well. They have a great home for meetings both large and small and have pulled out all the stops to make business as comfortable as possible. This hotel offers local catering and a modern looking area to encourage motivation for any type of meeting.
The Renissance Nashville also has RLife Live for events where you get to experience the true heart of Nashville. In RLife Live, they host shows for musicians and artists and other events of this nature. All they require is for you to get the people to the venue, and then they do the rest of the work. Talk about a true Nashville hotel.
5. Bode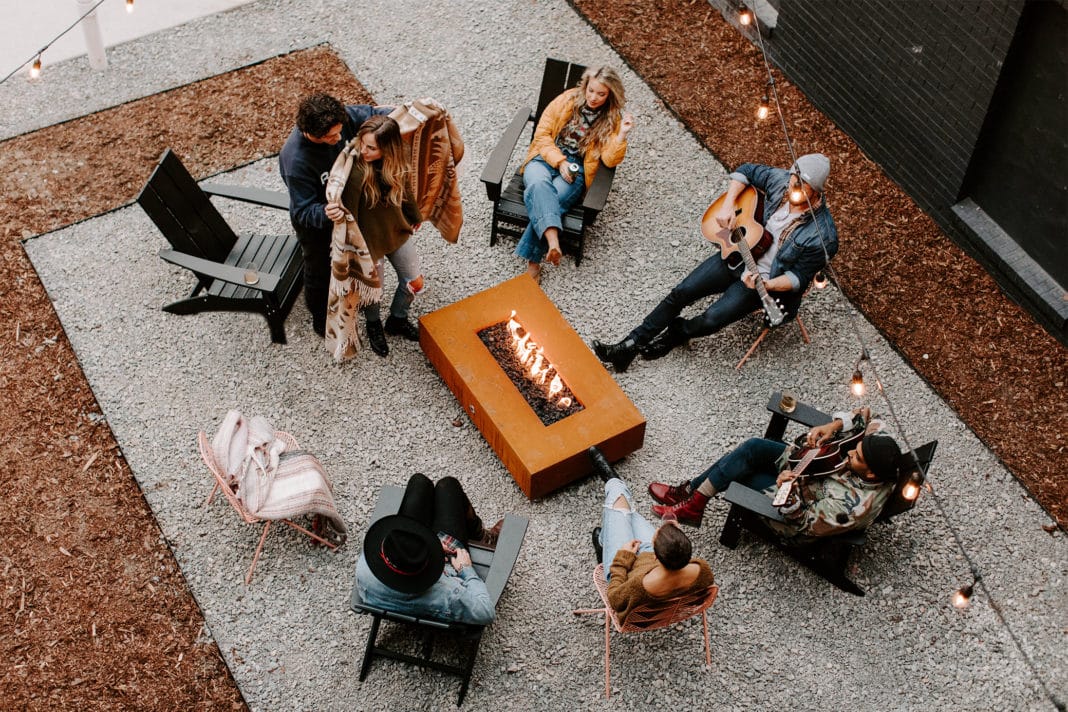 Bode
This next hotel is unlike any you've seen before. It is built to accommodate and welcome groups. So fill up your car with as many friends as you can and head over to Downtown Nashville! Bode actually sets you up to get the most you can out of the heart of Downtown Nashville. This hotel is a walk away from some of Nashville's favorite spots.
Bode offers up to four bedrooms to fit your entire group comfortably. They have a communal workplace similar to a co-share in order for you to do work as well as enjoy good company. There is also a fire pit to roast marshmallows or have a group party. They have an on-sight market so you'll never miss out on that fresh produce to cook in your group's kitchen. You will find a bar and a café on-sight so you won't have to leave the hotel in order to get drinks. They even have a concert stage. How much more Nashville does it get than that?
One of the most exciting things as choosing Bode is the way they partner with so many local businesses to bring you this hotel in all its glory. All different types of Nashville natives, from restaurant owners to coffee shop owners to designers, bring plenty of true Nashville inspirations to every corner of Bode. You can rest assured that this hotel was built up by those who know and love Nashville best to bring you the most authentic experience possible.
Bode is a one of a kind experience for traveling groups of friends, extended family trips, bachelor and bachelorette parties, and pretty much any traveling group who wants an experience catered directly toward them. As far as Downtown Nashville hotels go, this is one of the most creative and exciting around.
6. 21c Museum Hotel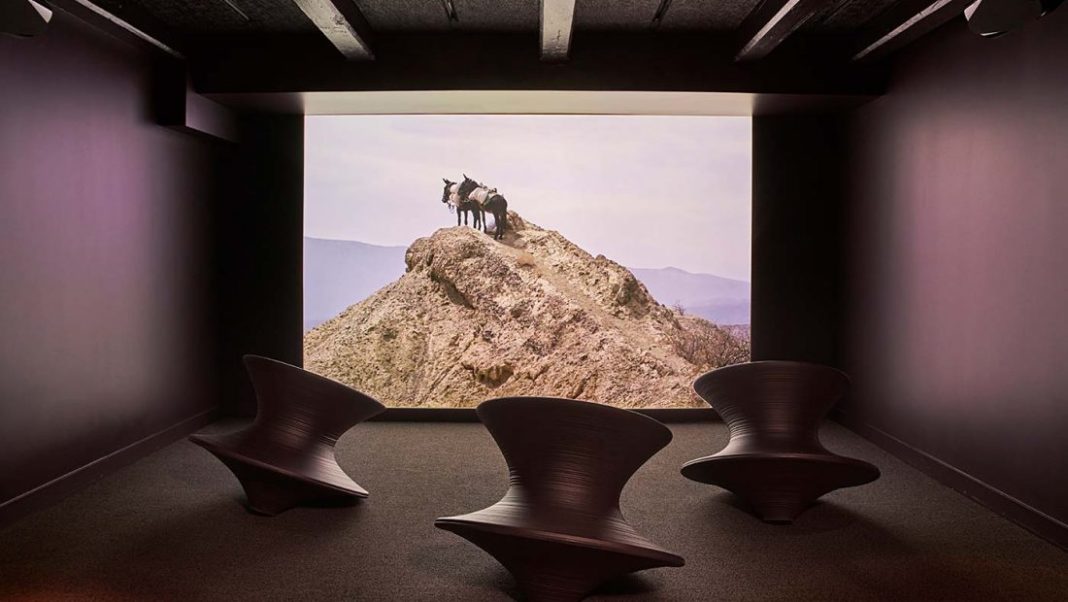 21c Museum Hotel
Wait… An art museum AND a hotel, all in one? Yep. You read that right. Any art lovers here? Then this is the hotel for you! The way 21c Museum Hotel Nashville operates is exactly how you would expect an art museum hotel to. There is much art exploration available, as you can imagine, as well as relaxation and food in the form of art.
21c also has a package called "Live Like A Local" where you can experience Nashville life as any true local would. Some things this package offers is breakfast at their artistic restaurant, insider tips, gifts from the museum's shop, and complimentary parking. If you ever dream of being a tourist in a completely non-touristy way, this package is a great option for you!
They have a wide range of various suites from "Artist Suites" to "Deluxe King Suites". Each room is carefully crafted in an artistic manner. Staying in any of these rooms is truly an artistic experience in itself.
7. SoBro Guest House Nashville Hotel
SoBro Guest House Hotel
Next up we have one of my personal favorites. SoBro Guest House Nashville Hotel prides itself on having an upscale boutique style hotel feel paired with the ease and comfort that comes with home. Just walking distance from Downtown, this hotel is yet another great stay if you are looking to be part of the action in the Downtown Nashville area.
SoBro Guest House works just like a Guest House. There is no front office. All check-in happens digitally. Though this may be a laid-back and casual approach, SoBro still prides itself on it's hospitable and attentive staff. The system may be different, but that does not mean the standards are lowered.
Some of the services offered are a grocery program where you can have groceries bought and stocked in your kitchen before you arrive. Another service offered is dry cleaning, and this is conducted through the avenue of technology as well. You download an app and off you go. There are also daily housekeeping and luggage storage options.
The last and most interesting service provided is the daily text message you will get from the concierge. Don't be fooled, this is a back and forth conversation. They will notify you of what the weather is like and of fun things to do in the area on that day, and you can respond with any questions you have. SoBro staff pride themselves on the thoughtfulness of their responses and thoroughness of the information provided.
SoBro is the proof that technology can be used for good and does not need to be impersonal. This Nashville hotel may operate differently than others, but their ideals are still the same as any traditional hotel: care for your guests, be as hospitable as possible, anticipate needs, make their stay comfortable, provide information and services that are outside the box, and give your guests a great experience.
8. The Hermitage Hotel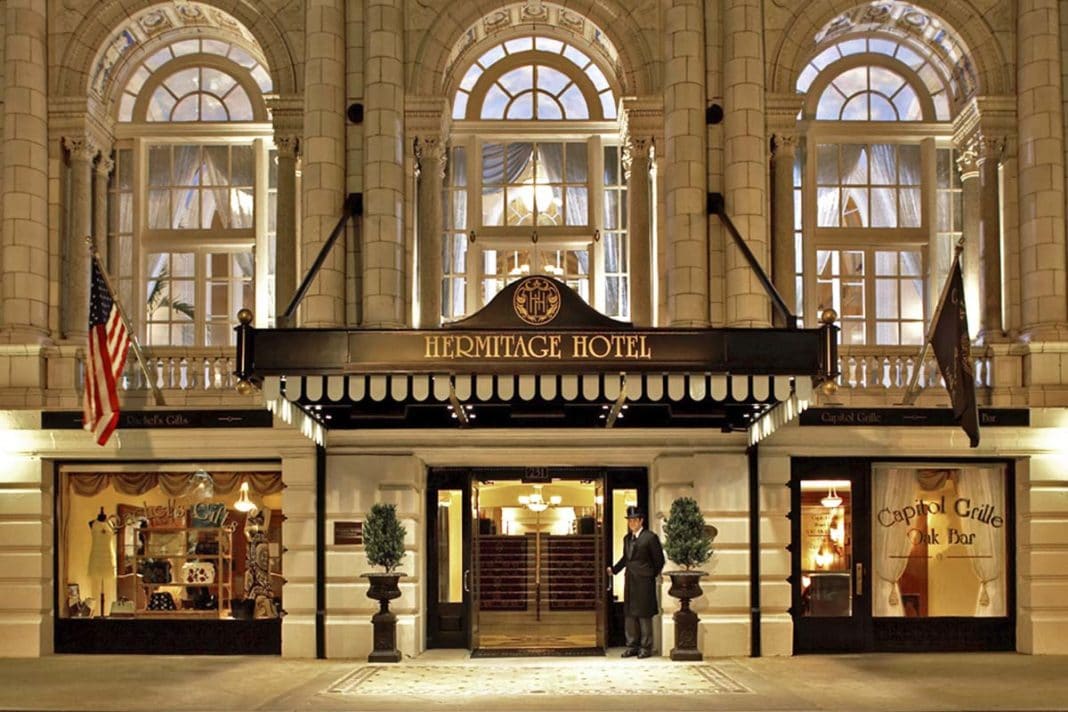 The Hermitage Hotel
Voted Nashville's Best Hotel, it is no secret that The Hermitage Hotel is something special. She has been around since 1910. It would seem that just as fine wine ages, similarly, the hospitality skill is perfected over time. The Hermitage is self-proclaimed Nashville's most iconic hotel, and just by taking a look at her history you will understand why.
Many famous musicians and politicians have stayed here. Johnny Cash, President Clinton, and Charlie Chaplin are just a few of the many famous public figures who have graced this hotel. She has also been the campaign headquarters for many politicians as well as the national headquarters for the conclusion of the woman's suffrage movement. Crazy, right?
The Hermitage offers a charm that is hard to find. Walking into this hotel will make you feel like you took a time machine back to the early 1900s. A wonderful thing about this hotel is that it not only has an old world charm, but it has new world accommodations. They have only the best for their guests here. There is a wide variety of rooms to choose from, each of which is artfully decorated to perfection. For the old soul, this hotel is the place to be.
One of the best features of this hotel is in the lobby. Her painted glass skylight lets in glistening natural light that accents all the art, furniture, and beauty of the lobby. The architecture style is traditional French and Italian. It is like stepping back into the renaissance era.
Amenities & Extras
Some of the knock-out hotel amenities offered that are unique and classy are their shoe-shine service and limousine service, both of which are on-call for your convenience. They also have babysitting and nanny services. As for some of their unique in-room amenities, they have a Nespresso machine for your use, a complimentary newspaper delivered to your room each morning, and a pillow selection to choose the most comfortable fit for you.
One of the sweetest little extras The Hermitage has to offer is Rachel's Boutique. Have you ever wished you had an item in your hotel room back at your home? If you've never experienced this, staying at The Hermitage will be your revelation of what you're missing. But no worries, they have you covered! At Rachel's Boutique, they have available for purchase any and all of the signature amenities and décor found in your hotel room.
It seems they've thought of everything to make your stay as comfortable and enjoyable as possible! There is no end to the reasons why The Hermitage would be a great choice.
You Can't Go Wrong
It's obvious that any of these hotels would be a winner. The best thing about Nashville is that it is a welcoming place for many different types of guests and travelers. It is a hospitable city and this shows in the wide variety of thoughtful hotel options available to you. Choose one that is right for your travel needs and enjoy your stay!
Related Article: The Top 10 Downtown Nashville Hotels: Musicality and Luxury