Keeping your luggage safe and secure is a top priority for most travelers.
For United States travelers, the Transportation Security Administration runs a tight ship in terms of travel regulations. Clearly, airport security is extremely important these days, which means that travelers must be extra careful about their luggage. If you are a seasoned flyer, you understand just how meticulous the packing process is. It is always ideal to research the travel regulations for your specific airline before you start packing. This helps you have a peace of mind and a tangible guideline to assist your travel packing. If luggage security is important to you, you may want to consider using TSA approved locks. These luggage locks are extremely popular due to the fact that travelers are permitted to use them while flying.
Perhaps TSA approved locks are something that you have not heard of before. The TSA approval is quite an important factor when it comes to picking out your luggage lock of choice. Not selecting the correct lock can lead to a sticky airport travel situation. Your first step to avoiding this is to learn what a TSA approved lock is. Essentially, the Transportation Security Administration requires that they have access to traveler's luggage at all times. This includes after your bag has been checked. If you ever picked up your bag at a destination and found a note inside stating that the TSA searched through your belongings, this is why. Because of this condition, travelers may only use luggage locks that the TSA is able to open and relock. Fortunately, there are plenty of TSA approved locks out there, you just need to pick the one right for you.
Check out these seven best TSA approved locks for your luggage.
1. Anvil 4 Digit Combination Padlocks, With a Hardened Steel Shackle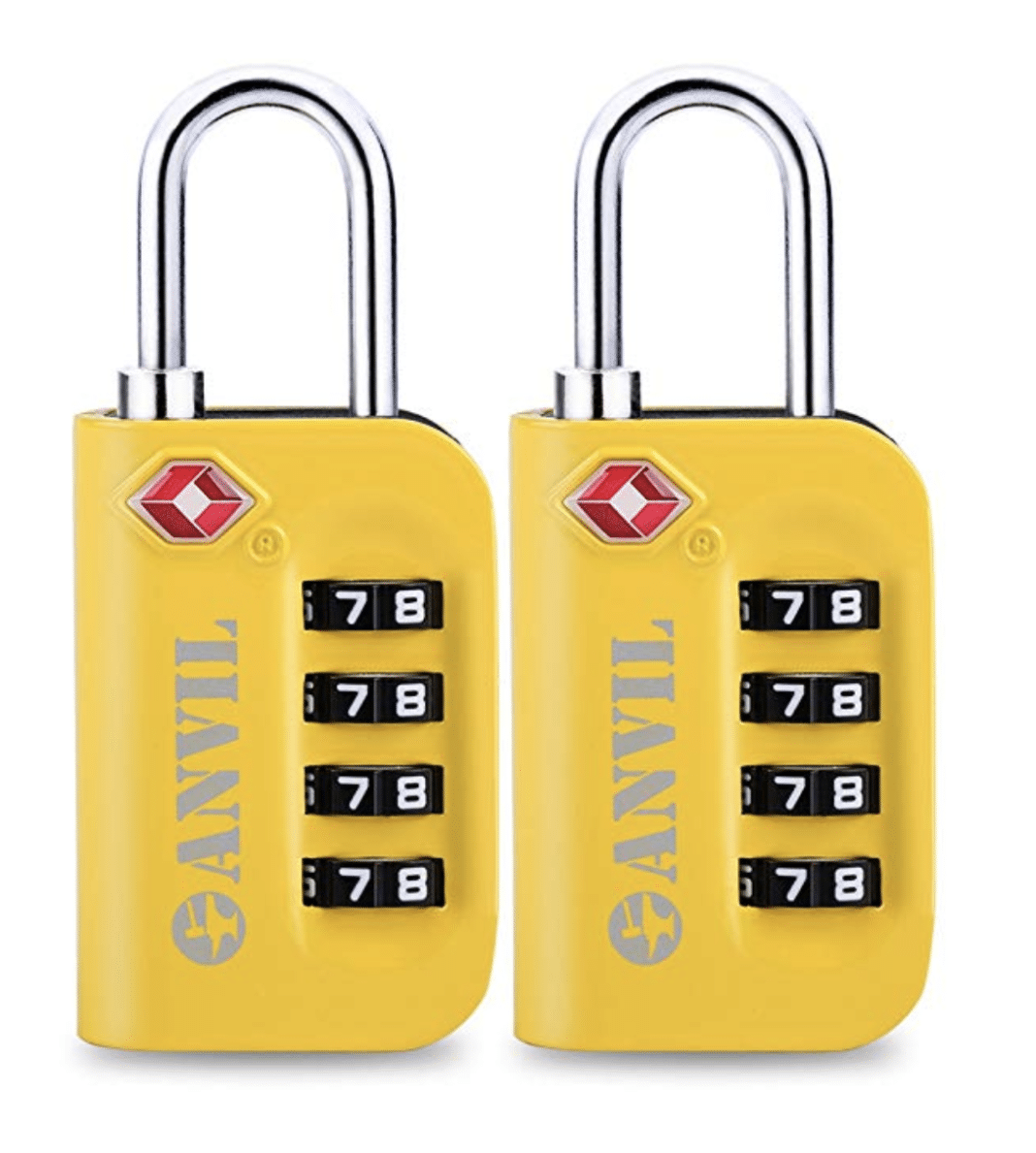 Credit: Amazon
For an instant brightening to your travel experience, check out the Anvil four digit combination padlocks. These luggage locks include a hardened steel shackle and a zinc alloy body for maximum security and durability. The luggage locks use four digit codes, which enhances the privacy factor. Once your luggage locks arrive, you have the opportunity to choose your own combination. You can also change your combination as many times as you want if you so choose. The white on black dial numerals make it simple to read your combination. The Anvil padlocks also come with a lifetime warranty, covering any and all travel damage.
2. Forge TSA Lock 4 Pack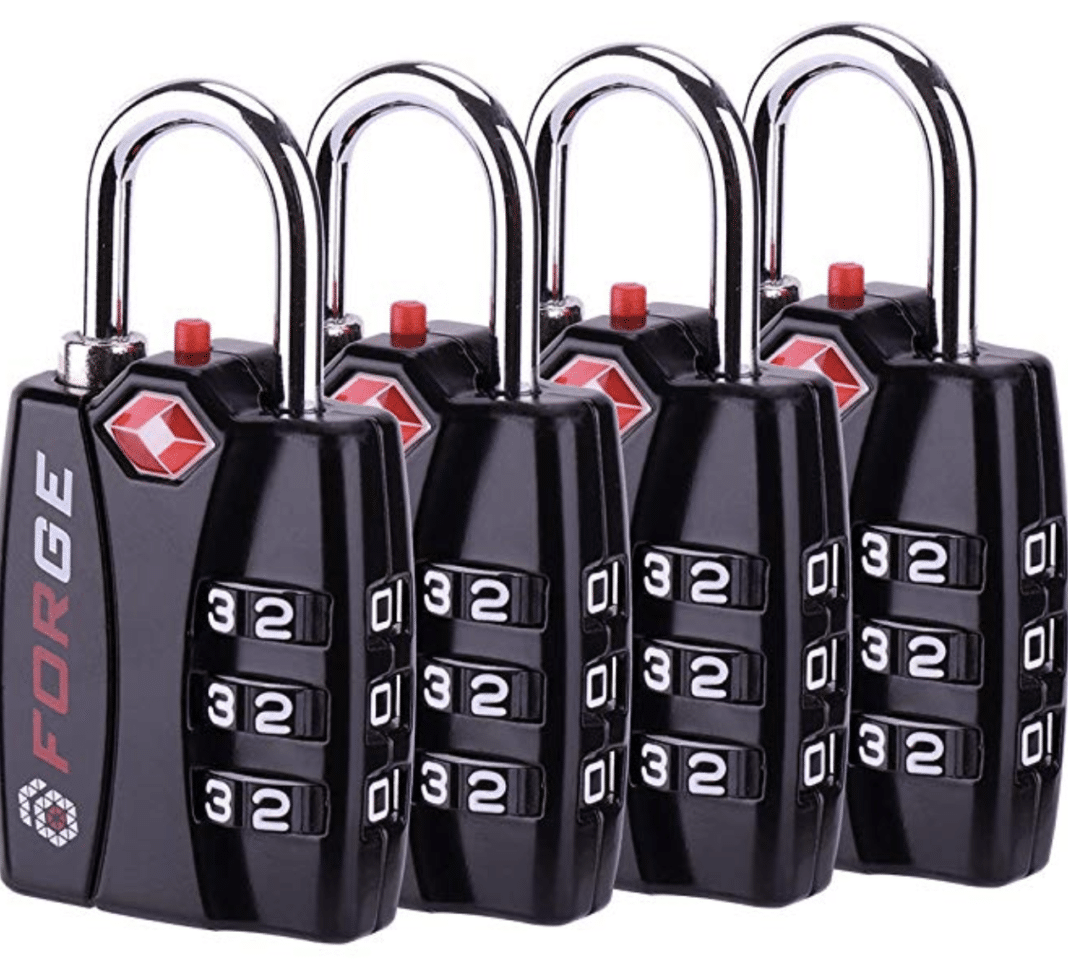 Credit: Amazon
This four pack of Forge TSA approved locks is known for being the most durable TSA approved travel lock in the business. The allow lock bodies and patented internal mechanisms are built for the most stressful travel. Though you never want your luggage to get beaten up, rest assured that these TSA approved locks are here for the long haul. In fact, the lifetime warranty is so confident in the locks' durability, they note, "If you can find a way to break these locks, we'll gladly refund or replace them." The four pack of locks means that you can use them on multiple pieces of luggage, or share them with family members.
3. 4 Digit Combination Steel Padlocks
Credit: Amazon
These four digit combination steel padlocks are both sleek and bright. It is up to you which you want to be. Choose from an assortment of colors including, lime green, navy blue, or simple black. You can set and reset your own preferred lock code once you receive them, for the simplest usage.
4. Forge TSA Approved Luggage Locks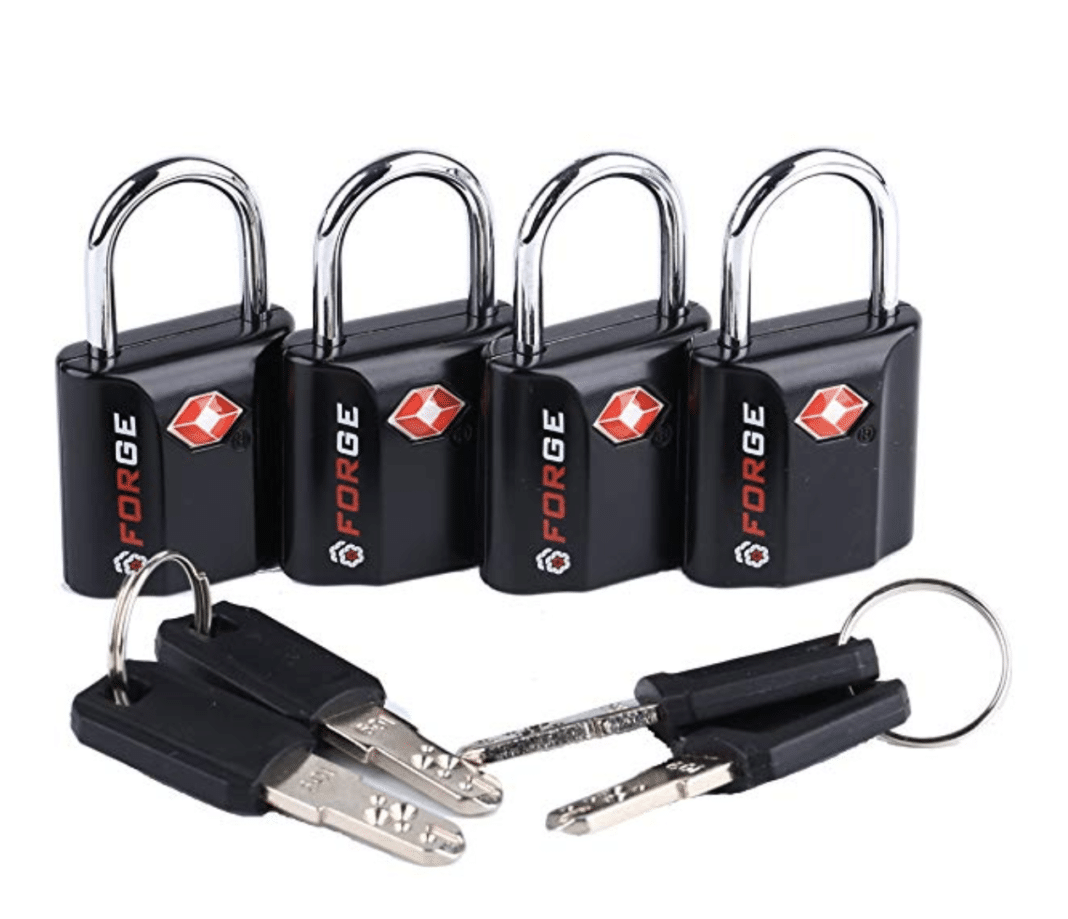 Credit: Amazon
If you do not want to remember a four digit code while traveling, then you should opt for a lock and key luggage lock. Fortunately, there are plenty of key TSA approved luggage locks out there. These forge ultra-secure dimple key travel locks are the perfect choice for travelers on the go. You can get these in packs of two, four, or six, depending on your specific travel need. This special alloy lock has hardened steel shackles that keeps your bag secure in all conditions. If you are concerned about the possibility of lock picking, there is nothing to fear. These forge approved cable locks are tamper proof, so your belongings are safe.
5. Forge TSA Locks 2 Pack
Credit: Amazon
Simple, yet reliable, the Forge TSA two pack combination locks are another completely TSA approved luggage lock option. The three digit combination is simpler than other locks, which allows you an easier time to remember your code. These locks include the open alert indicator, which lets you know immediately if the TSA has opened your luggage. This red indicator pops up underneath the steel shackle in your lock. The heads up gives you the opportunity to double-check your bags to ensure that everything is still in place. These small locks are perfect for traveling, or virtually anything else you want to do in life. Use them for a briefcase, purse, backpack, or a laptop bag.
6. Tarriss TSA Lock With SearchAlert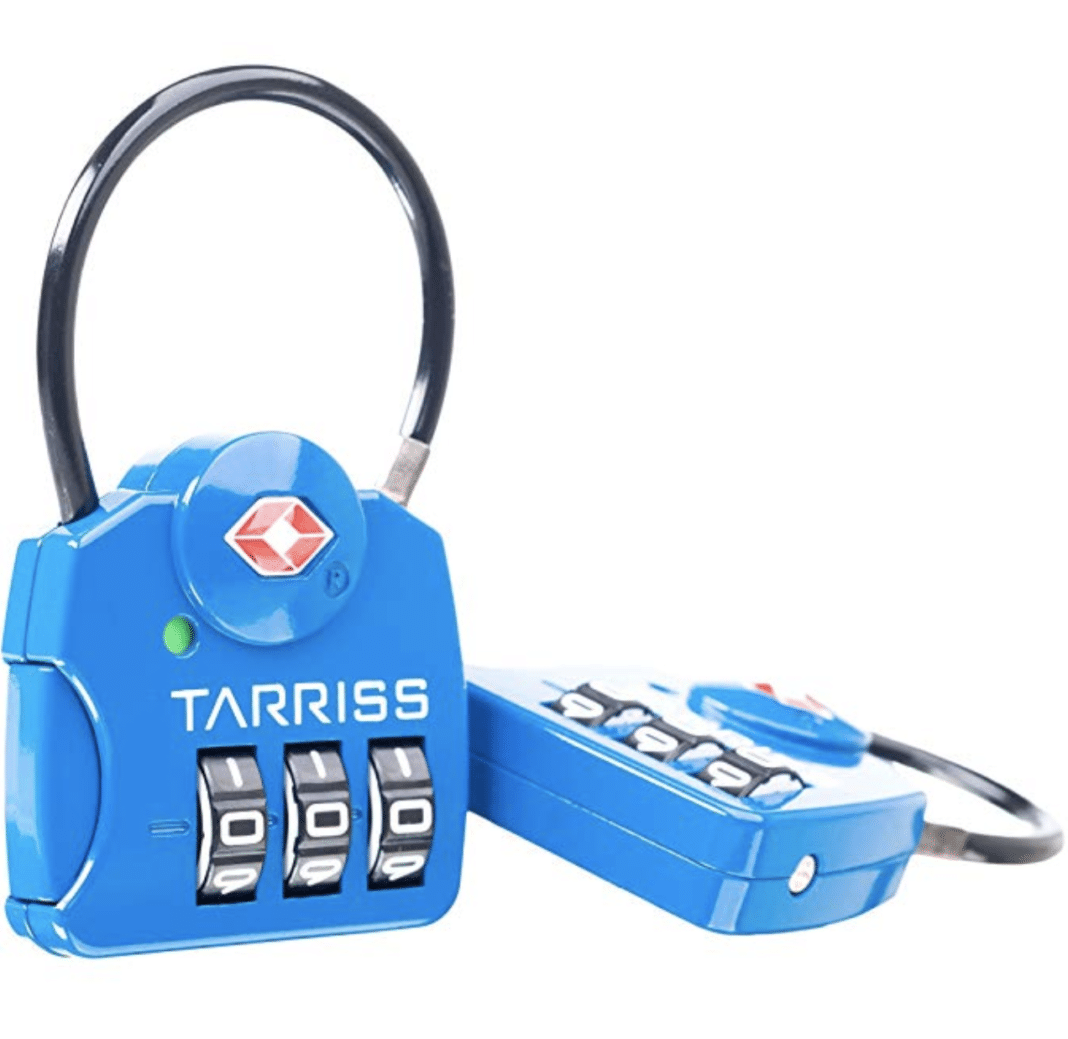 Credit: Amazon
The Tarriss TSA lock is small and compact, but hard to miss. You have the choice of blue, red, or black lock colors. The blue color option is the brightest and is quite eye-catching while traveling. Use the three digit lock to easily think of a combination and implement it. You can also quickly change your code if you decide to use something else in the future. These TSA locks also include a red search alert button to keep you in the know regarding the status of your luggage. These Zinc Alloy luggage locks will stay in place throughout all of your adventures. Enjoy the lifetime warranty and more secure traveling.
7. Sure Lock TSA Compatible Travel Luggage Locks With Inspection Indicator
Credit: Amazon
Sure Lock has some of the widest variety on the market today in terms of colors and package variance. These particular TSA compatible travel luggage locks give travelers plenty of choices and options to personalize their baggage security. Select from the choices of two, four, or six packs of luggage locks. The color options also include orange, lime green, purple, pink, maroon, or black. You can even choose a pack that has an assortment of colors. These luggage locks lets you set your combination easily, with a simple flick of a switch. The factory default is set to 000, so all you have to do is turn the switch to the right and enter a brand new combination. The cable lock style is ideal for many kinds of luggage, including equipment cases, gun cases, or large suitcases.
Use any of these TSA approved locks for secure, stress-free travel.
To clear up any confusion, you still are able to use non-TSA approved locks when traveling. However, if a situation arose where the TSA needed to search your luggage after you have checked it, then they reserve the right to cut off your lock. Facts like this are important to know before you find yourself traveling sans a luggage lock. The main goal of TSA approved locks is to ease up the TSA search process. As you keep searching for the best TSA approved lock for you, make sure the one you pick has the Travel Sentry logo on it. Additionally, every TSA approved lock will have a special keyhole on the bottom where the TSA is able to use their special key to unlock it. Look at the details of each lock before you decide what is right for you. Everyone's luggage lock preference is different, so look into the size, shape, and even the color among your selections.
Lastly, most TSA approved locks include a specific red button that notifies the traveler if the TSA has unlocked their lock. This is something useful to help you keep tabs on your belongings. Try out a TSA approved lock for simple and more secure travel.
Related Article: Luggage Buying Guide For All Your Travel Needs