The Bose Soundlink Around-Ear Wireless Headphones II quite simply do a phenomenal job.    
The evolution of headphones has brought us to a wonderful place. No more cords, no more CDs, and no more chunky iPods. Now, wirelessly connect to the devices you're already using. However, Bose Soundlink Headphones offer some even more refined levels. The Bose Soundlink Around-Ear Wireless Headphones II now have better battery life, better sound, and a better look (in our opinion). The best of the best allows you to connect to multiple devices, deliver great sound, offer long battery life, and a promise of comfort. This premium experience for headphones, though, does come with a high price tag. Of course, you'll want to make the right selection. We feel that the Bose Soundlink Around-Ear Wireless Headphones II could be just the right ones for you. Though not truly noise-canceling, these wireless around-ear headphones are comfortable to wear, and bring you to your own magical, musical world.
The Bose Soundlink Around-Ear Wireless Headphones II Features & Benefits
Excellent Sound Quality
Credit: Bose / Facebook
Bose has a reputation for delivering some quality sound, and these new headphones are no exception. When on your ears, the Bluetooth-connected music totally comes alive. Bose uses terms such as Triport technology and Active EQ. All that really means that these headphones are crisp, clear and even have some bass at any volume. It's hard to measure and arbitrary "best sound quality," but these simply sound better than other, cheaper competition. Occasionally, there are minor issues when pairing with Bluetooth (staggered sound, or in and out for a few seconds), but we've found that issue is common with Bluetooth and seems to resolve itself within a few minutes. The pairing should happen, but if it doesn't, you can push the power button up into the bluetooth button. These Bose Soundlink II headphones will pair without needing a connect app from Bose. 
Actually Comfortable to Wear
Credit: Amazon
The comfort of the Bose Soundlink Around-Ear Wireless Headphones II means that you'll virtually no reason to ever take these off! No more "giving your ears a break," when the heaviness or pressure results in a headache or pain. The Bose Soundlink Around-Ear Wireless Headphones II weigh a mere 6.9 ounces. Because they're so lightweight, they're easy to transport when you're not wearing them. Additionally, your ears will appreciate the lightness. Furthermore, the padding of the earpiece is plush and rests nicely against the outer parts of your ear. No more painful pressure with headphones! The padding contributes to canceling out the noises around you, so you can be lost in your own musical world.
Connect to Two Different Devices Simultaneously
Credit: Amazon
Though not unprecedented, connecting to two devices is often a surprise favorite feature once customers purchase the Bose Soundlink Around-Ear Wireless Headphones II. You can connect to two devices, such as your phone and computer. That way, you can play music from your tablet, and receive a call from your mobile device. Additionally, the Bluetooth works up to 33 feet, so you can play music from a computer in another room, and still hear the sound clearly through your Bose Soundlink Around-Ear Wireless Headphones II. Whether you're jamming out in your own house, or working in an airport lounge, the option of switching between devices will come in handy.
Extra Features to Make These Headphones Real Winners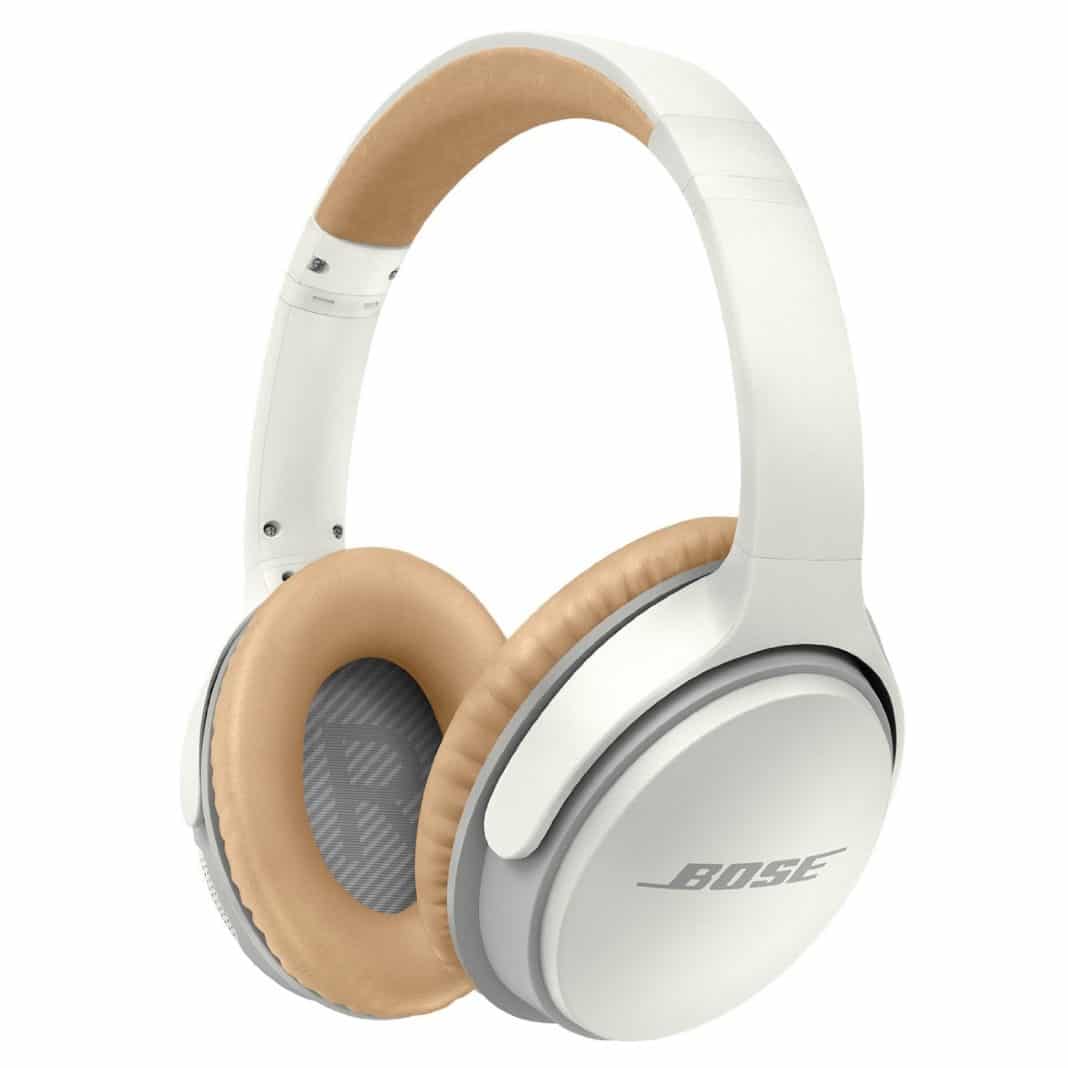 Credit: Amazon
The Bose Soundlink Around-Ear Wireless Headphones II battery is a bonus. You'll get to enjoy about fifteen hours of battery life in one charge, thanks to the one lithium-ion battery that's included.. Additionally, after only about fifteen minutes of charge, you'll have two hours of life in the speakers. Lastly, the device is clear about its battery life, providing you with an indication. This greater battery life is an upgrade from the older Bose Soundlink Around-Ear. Secondly, the Bose Soundlink Around-Ear Wireless Headphones II feature a convenient control right on the headphones. From these buttons located on the right ear, you can switch songs, accept an incoming phone call, change the volume. The speakers pair well with Apple, Samsung and Android devices. Furthermore, the Bose Soundlink Around-Ear Wireless Headphones II come with the accessories. You'll receive a sleek, protective case. Plus, each of the Bose Soundlink Headphones earpieces swivels so that when you lay them down, they're flat. They don't, however, become more compact than that. Also included with these around-ear wireless headphones is a USB charging cable and a back-up audio cable.
What Other Travelers Are Saying About The Bose Soundlink Around-Ear Wireless Headphones II
Many customers are incredibly content with their purchase of the Bose Soundlink Around-Ear Wireless Headphones II. Despite their relatively high price, others find these wireless headphones to be of superior quality. The long battery life means that users aren't worrying charging. Since there are many options now for wireless around-ear headphones, customers want to ensure that the money is well-spent. Many agree that this Bose product is hard to beat. With the long battery life, and the comfortable earpieces, the Bose Soundlink Around-Ear Wireless Headphones II stands out above others. Many are pleasantly surprised by how beneficial the two-device connection was.
The occasional customer finds the over-ear piece to be uncomfortable, but this is often a result of expectations for over-the-ear headphones. Some problems arise with the Bluetooth pairing, especially within the first few seconds of wireless connection. In conclusion, most customers rave about the excellent sound quality, the comfort of the ear pieces, the long battery life, and the benefits of the two-device connection.
Alternative Travel Gadgets
Bose Soundlink Color Bluetooth Speaker II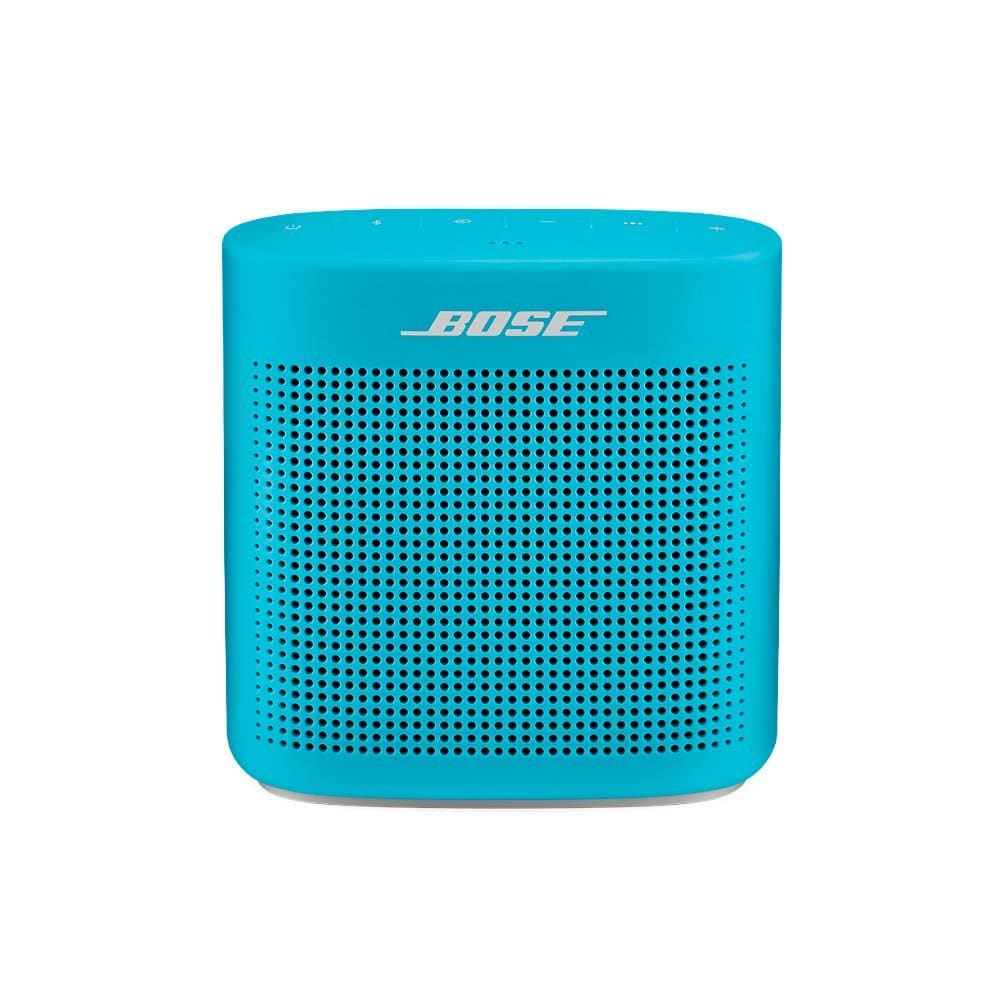 Here's a great, compact Bluetooth speaker. This Bluetooth speaker is another fantastic option from Bose. It's totally waterproof, and perfect to bring poolside. Pair it easily with your phone, or another device. You can charge it conveniently with a USB and you'll have six to eight hours of play time with your music. The square shape (approximately 5 inches by 5 inches and 2 inches thick) is offered in various colors (such as aquatic blue, pictured above). The speakers can rest on a table top, shelf or ground, wherever you want to listen to music. The sound from this little "music box" is pretty amazing. Pair it with your phone's Bluetooth and you'll instantly have some great sound that can fill the party room, or be heard by the pool.
The Bose Soundlink Color Bluetooth Speaker II weighs 1.2 pounds. The extra size and weight contribute to some better sound. However, that's precisely the trade-off. If you're searching for some great sound and are willing to compromise with the not-as-compact size, then the Bose Soundlink Color II is for you! Additionally, Bose offers the more recent Bose Soundlink mini, another portable speaker with great sound. Here's more on the Bose Soundlink Color II.
JBL Flip 4 Bluetooth Speaker
While it's not an incredibly compact Bluetooth speaker like the JBL Clip 2, the Flip 4 speaker is powerful and still small enough to pack when traveling. It's waterproof and cylindrical in shape, and sits at a little under seven inches tall. You can link many other JBL speakers to this (you're not limited to two like many others). The longer battery life promises around twelve hours of play time, another perk of the JBL charge. Choose from a variety of fun colors and set this cylinder on a table top or poolside for some great background music, or dance-to sound. It doesn't handle bass incredibly well, but at the end of the day, it's still a smaller, portable speaker. The JBL Bass radiator perhaps helps a bit with the bass. It does, however, offer some good, loud clear sound. You can easily Bluetooth connect. Furthermore, you can use these speakers for making conference calls, or regular phone calls through! Overall, the JBL Flip 4 will fill the room with quality sound transmitted from your phone or another device.
Ultimate Ears Wonderboom Waterproof Bluetooth Speaker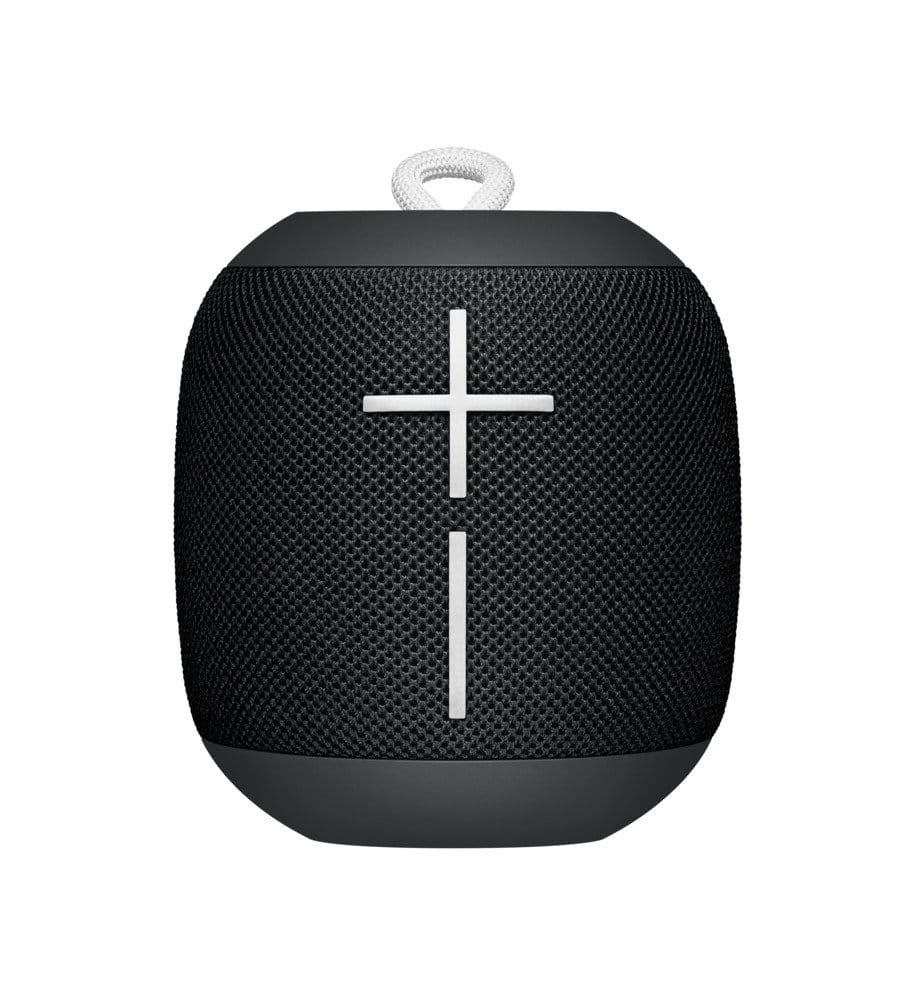 These powerful little speakers are compact with good sound quality. They're very comparable to the JBL Clip 2 speakers, just slightly more expensive with arguably better sound. The dimensions are approximately 4 inches by 4.5 inches by 5 inches. You can choose from a variety of colors. These UE Bluetooth speakers pair with your phone, but don't have the option to plug into a device through an audio cord. Battery life lasts pretty long, at an advertised ten hours. Charge up the battery through a micro USB. You can pair these UE speakers together (double-up) so that you can add more sound to a room. It has a waterproof rating of IPX7, and will float for a little bit before becoming submerged (but no worries-it'll still work when you rescue it from the bottom of the pool).
Additionally, you can control some features right on the speakers: play, pause, turn up or down, and skip to the next song. Overall, this little speaker isn't incredibly small, but it's still compact and offers good sound for a Bluetooth speaker. Check out our review on UE Wonderboom Speakers. 
Bose Soundlink Around-Ear Wireless Headphones II Perform Well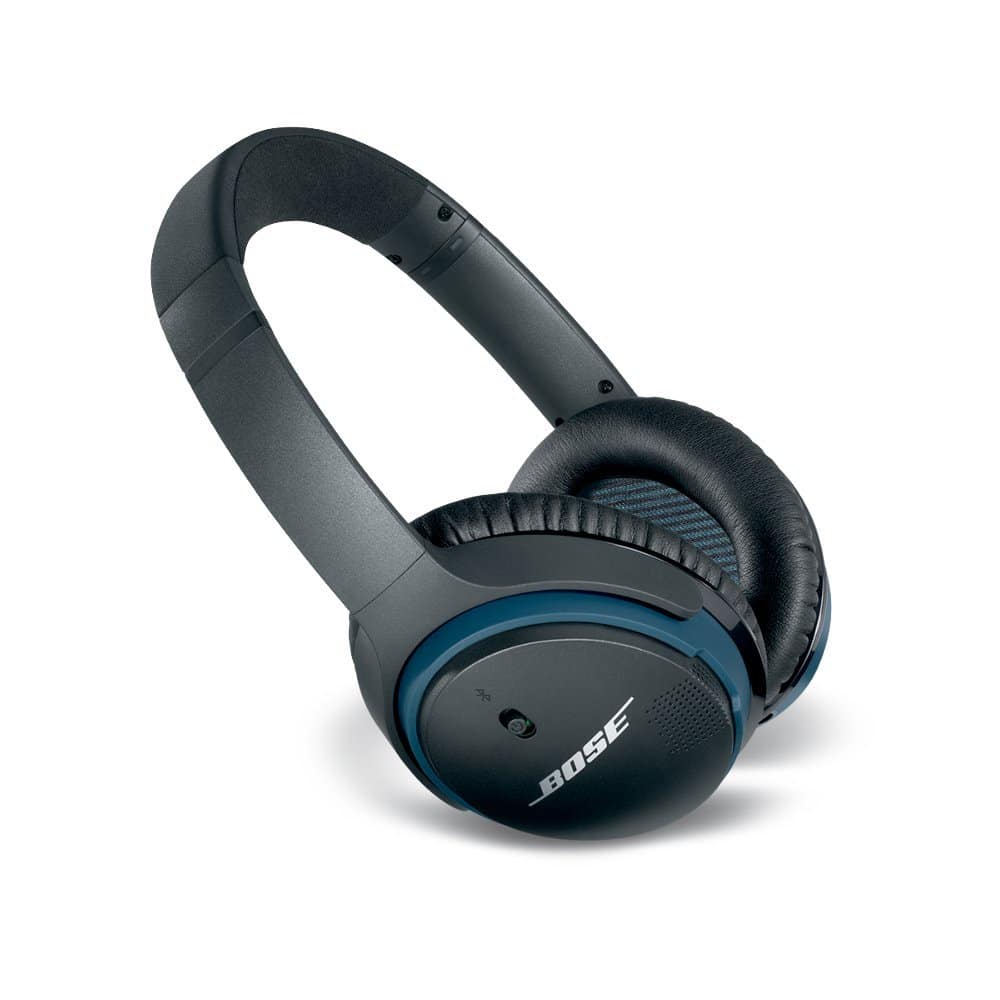 Overall, the Bose Soundlink Around-Ear Wireless Headphones II do a really great job with the basics: sound quality and comfort. However, the simple "extras," such as the right-earpiece controls, the long battery life, and the included accessories, make Bose Soundlink Around-Ear Wireless Headphones II a great buy. Enjoy some quality sound while you comfortably wear these around-ear wireless speakers!
Related Article: Best Travel Gadgets For Adventurers