Enjoy All Ireland Has to Offer
Ireland is an incredibly special place. You may want to travel here for a list of various reasons. Maybe your family is from here and you are coming to experience your homeland for the first time. Maybe you have heard tales of the beauty in nature that exists in Ireland, so you put it at the top of your bucket list. Maybe you are celebrating an anniversary or a birthday and are looking to enjoy drinks and a fun nightlife. Whatever your reasoning for visiting Ireland, you can find plenty of unique and beautiful attractions to enjoy. We will walk through 11 places to visit in Ireland to experience a wonderful time.
1. Dublin, Ireland
Dublin, Ireland
From theatres, talking statues, to discovery trails and plenty of natural beauty, Dublin is a great place to visit. You can check out the Irish Whiskey Museum experience, where you will be able to take a distillery tour and see what the big deal is with whiskey in Ireland. There are plenty of tours like whiskey and brunch and a journey through the newest whiskeys. Some of the whiskey here dates back to the 1800s, so be prepared to see tons of old and new. Another great museum to check out is the Kilmainham Gaol, which was a 19th-century jail. Take a Gravedigger Ghost Tour here! If you are a fan of Game of Thrones, there is a tour you can take through some of the places scenes were shot in Ireland. Be prepared to walk and to play by being immersed in all things Game of Thrones!
Another must see in Dublin, Ireland is The Book of Kells and the Old Library Exhibition. Here you will find a handwritten manuscript that was written and illustrated by monks in around 800 A.D. A pro tip is to come after 3 pm for a discounted price. Prepare to spend at least an hour taking this ancient place in! You will learn everything from the history to how the books were made. This exhibition will not disappoint. Lastly, checkout the Famine Sculptures in the Custom House Quay in Dublin's Docklands. These tell the story of the Great Irish Famine period.
2. Cork, Ireland
Cork, Ireland is Ireland's largest county. There is so much charm all over the towns of this country! One great thing to see here is the Blarney Castle. This is a 600-year-old castle that millions have gone to see over the past few centuries. The Blarney Stone lives here. There are tales surrounding this stone that say it will cure all your jumbled words for the rest of your life if you miss it. Though this is an exciting attraction, the castle itself is very special and holds so much history. You can find out all about who lived here, who built it, and everything that went on in this castle over the past 600 years.
Another great attraction in Cork, Ireland is Garnish Ireland. This humble Ireland requires ferry boats to get to. It is such an incredible sight to see for the nature lovers. There are self-guided booklets that allow you to tour the small island on your own. You can check out the Allihies Copper Mine Museum in West Cork which will walk you through the history of the Industrial Revolution that deeply affected those who lived here.
Baltimore & the Isles is a great touristy place to visit. It is a historic village in West Cork with all types of festivals and events to enjoy. There are plenty of outdoor activities to enjoy such as sailing, snorkeling, kayaking, and sightseeing history as well as wildlife. Baltimore also has places to check out such as their market town of Skibbereen that is full of color, or the Dun na Sead Castle that has a rich history. You won't want to miss out on exploring Cork, Ireland!
3. Galway, Ireland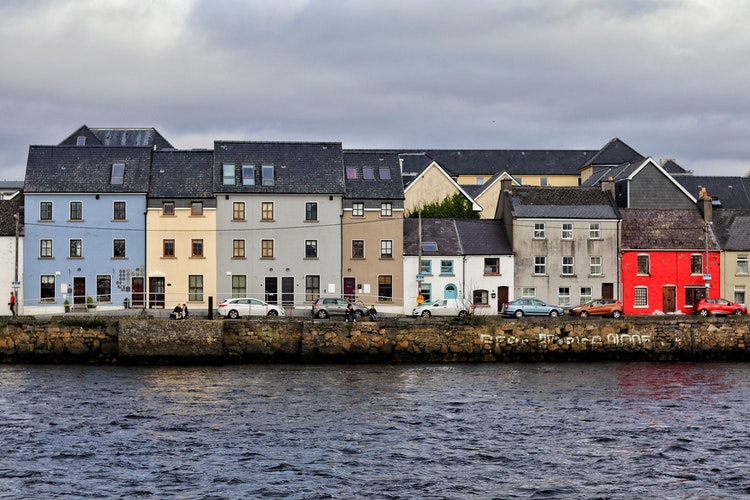 Galway, Ireland
Galway is a great place to go to in Ireland if you are looking to explore on foot. While you are here, you have to take a stroll through Quay Street. Grab a bite to eat at a pub here, pick up a souvenir for your loved ones back home, or enjoy the lively atmosphere. Another great attraction here is the Circle of Life National Organ Donor Commemorative Garden. It is a brilliant garden that celebrates and thanks those who have donated in order to save the lives of others. These gardens have nothing but five-star reviews. Not only are they beautiful, but they stand for something beautiful as well.
Close to the city center is Pure Skill, which is an indoor sports area with interactive sporting experiences based on spots all over the world. This is a great place to enjoy a few hours with your family, especially if you are sports lovers or have kids! Check out a beach horseback riding tour in Galway. This can be an incredible and once in a lifetime experience! Galway's Latin Quarter is another awesome place to go as a tourist. They have restaurants, street performers, and plenty of places to shop.
There is so much true Ireland comradery and enjoyment to experience here. Check out the Medieval City Walls for a one of a kind experience. These castle walls have a mall within them. This is the perfect dose of history and touristy enjoyment. It is a mix of modern and ancient. If you are looking to do some shopping but also want to enjoy experiencing well-preserved history, this is your best bet. Check out this article for some ideas of the best things to do in Ireland today!
4. Limerick, Ireland
There is so much to do in Limerick, Ireland, and you can start with The Hunt Museum. This is a great place to experience art and antiques in this beautiful castle. But this is not the only place you will find art. You can also see tons of street art in Limerick. Not only is there street art through paint and graffiti, but there are street musical artists as well. Michael Flannery's Pub is the next great place to visit. This building was previously a soap factory, but now it stands as a place to enjoy whiskey.
You may want to hit up the Milk Market at some point during your trip to Limerick, Ireland. The Milk Market has a rich history that dates back to 1852. They sell everything from arts and crafts, bakery treats, plenty of drinks and food, to health beauty products. There are tons of stalls that include everything you could possibly imagine being available at a market. The Milk Market is a must see on your trip to Limerick. Another must-see place in Limerick is No.1 Pery Square. This is a townhouse dating back 200 years. There are wine shops and spas, as well as fine dining and even a drawing room where you can enjoy tea! This place is a great taste of Ireland.
5. Tramore, Ireland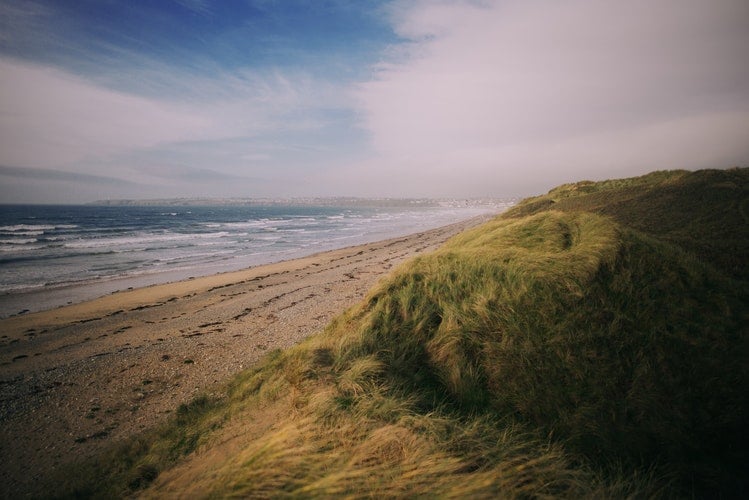 Tramore, Ireland
A great place to begin your travels is the Tramore Amusement Park. You will find rides, shops, and mini gold here as well as an annual fireworks show. This is a great place for anyone with kids. There are even places to get coffee and pubs to get drinks for the adults! If you are looking for a great atmosphere and good drink, check out The Victoria House. Awesome bands play here and it is a wonderful place to enjoy dancing and drinking with friends.
The Lafcadio Hearn Japanese Gardens are a great place to go if you want to be out in nature. These gardens are special and they tell the story of Patrick Lafcadio Hern who experienced plenty of culture in his lifetime. You will get small hints of various cultures and customs here. If you want a good dose of history, check out the Medieval Museum. Two medieval chambers are incorporated here and the story of the history here, including King Henry VIII's clothing, really pull you in. The artifacts here are a perfect activity to engage in for those who love real life Medieval history.
If you are looking for some more rich Ireland history along with a good time, check out Martha's. This is one of the oldest pubs in Ireland and a true trailblazer for pub culture. While here, you can take a tour and a taste of history and beer. Our last must do attraction here is the Tramore Beach, which is a well-beloved attraction for visitors and locals alike. Some may say this is the best beach in the world. There is plenty to see and do, and you can even take your puppy! This is a fun family atmosphere that is also safe and easy to park at.
6. Dunquin, Ireland
On your journey through Dunquin, Ireland, you can begin by visiting the Celtic and Prehistoric Museum. It is small but the history here is rich and large in weight. There are so many relics that bring appreciation and understanding to the days of ancient times. If you are not careful, you will drive right by it. It is well worth a stop inside. There is a great little cafe/pottery shop that you must try called Penny's Pottery. Here you will find fresh baked goods such as scones and cakes, coffee, and a welcoming environment. There are books to pick through and beautiful pottery to buy. Pick up a mug and a scone if you are in the area!
Visit Gallarus Oratory, which is a church built over 100 years ago! There are amazing architecture and history to find here. There are plenty of private tours to take here as well. Stop by the Irish Famine Cottages which document the Great Starvation. This will give you a glimpse into the history that took place during this period that affected these people. There is also the opportunity to watch sheepdog training, which is a very Ireland like occurrence! This is a must see for the history lovers. Another great thing to do right outside of Dunquin, Ireland is taking the scenic Slea Head Drive. It is said to be one of the most beautiful drives you can take. There are plenty of historical and natural stops to enjoy along the way as well!
7. Wexford, Ireland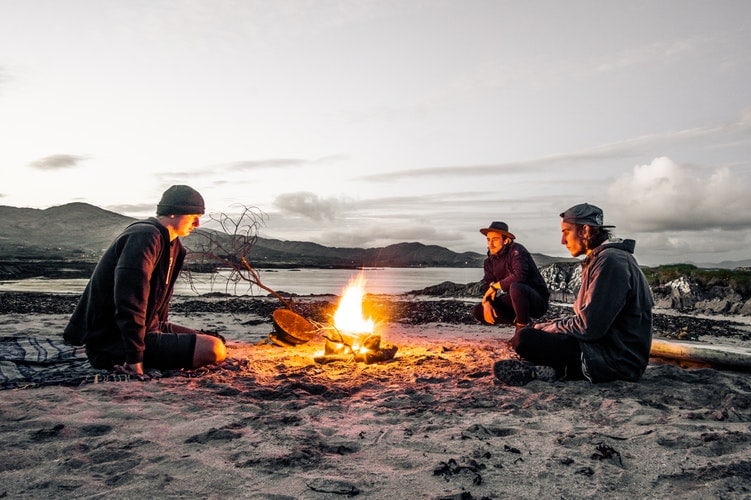 Wexford, Ireland
When in Wexford, you must visit The Irish National Heritage Park. This is an outdoor museum that documents and displays over 9,000 years of Irish History. This outside museum does so much more than simply display the history. It draws you into it and puts it in story form. It brings you through the history that shaped Ireland. It truly brings you back in time to see exactly where it all came from so many thousands of years ago. Next up is the Colclough Walled Garden. This is an amazing place to wander, apple pick, and breathe in the preserved beauty of nature. This garden brings us to Tintern Abby, which is attached to it.
Dating back to 1200 AD, Tintern Abbey is a historic complex. There are walking trails to stroll trough as well as a nice café onsite. This is an affordable place to enjoy during your time in Wexford. You can even take the tour of the monastery if you're up for it! Next up is the 1916 Easter Rising Museum called the Athenaeum Museum. This is a small museum with a big historical documentation. Curracloe Beach is another great place to visit. This beach is a great place to enjoy a nature trail walk or just a relaxing day on the beach. It is a quiet place with clean sand and tons of wide open space to help you breathe.
8. Drogheda
When in Drogheda, visiting the Beaulieu House and Garden is a must. This place is a hidden treasure. Not only is it beautiful, but the tour provided takes you through the history of the house and area. This garden is an incredible place for nature lovers and lovers alike. Next up is the Augustinian Church. There are plenty of churches in Ireland, but this one holds a special history. It showcases the history of the first Augustinians who came to this area around the 1300s. There were so many events that took place here in the past such as a fire. This beautiful church holds a memorial wall in the garden as well. It is nothing short of stunning.
9. Waterford, Ireland
Waterford, Ireland
When in Waterford, you have to visit the Waterford Treasures Medieval Museum. There is plenty of history from the days of old here, but some of the most interesting histories involve Vikings. The artifacts and history displayed here date back to the 13th century. This museum has a guided tour as well. Next up, while we are on Vikings, is the Waterford Viking Triangle. This is in the center of Waterford, which is also Ireland's oldest city.
Did you know the first Viking settlers did so in 900 AD? This place is unlike no other. It is an absolute historical must see. The history of this place is written on plaques, making this a great alternative if you cannot visit the museum. The Clock Tower is another awesome area. It is an iconic place in Waterford City. This tower was finished in the mid-1800s and it stands still today as one of the best historical decorations.
10. Sligo, Ireland
At the top of our list for Sligo, Ireland we have the Tobernalt Holy Well. This is a peaceful and tranquil place, especially if you are spiritual or religious. Many visitors come here to pray and meditate. It is clear once you happen upon it that this is a place treated with much care and respect. It is in great shape and creates a wonderful atmosphere for those who want to participate in spiritual practices here.
Next up is Sligo Abbey, which is a set of ruins founded around 1200 AD. You can do a self-guided walking tour which means you'll have no rush to explore all these ruins have to offer. This place really takes you back in time and you are able to walk around and read all about the history. The things to do in this area really highlight the deep spiritual and religious roots of Ireland.
11. Fintown, Ireland
Fintown, Ireland
Fintown, Ireland is our last stop on our list of best places to visit in Ireland. They may seem insignificant since they don't have a huge tourist attraction town. This is simply a small village that is named after a woman who was said to have drowned in a lake when trying to save her bother. The majority of this town speaks Irish. The largest thing to see in this town is the Fintown Railway Station.
This railway opened in the early 1900s and the railway is a big deal because it is the only railway still operating in this county. It's tracks are hidden in the mountains and it contains tons of folklore surrounding it. This railway takes you back in time. The reason this quaint town was added to this list is that it is beautiful, and it truly speaks to the heart of what Ireland is. Simple, natural. It may not be flashy, but that does not mean it isn't significant in the history of this nation.
Plenty of Places to Visit in Ireland
When we talk about Ireland, we can be sure it has a truly rich in history, unlike many other places. This country dates back thousands of years. It has magical castles. There is such amazing preservation of the natural land as well as the history that has happened here. As a nation, Ireland has gone through plenty of struggles and trying times. But here they stand, more beautiful than ever. If you are looking for good beer, plenty of history, and unmatched natural sights to see, Ireland is the perfect place to visit for you.
Related Article: Top 10 Best Things to Do in Ireland Today