With hundreds of miles of coastline, it's a little overwhelming to narrow down the best beaches in Texas.
All along the Gulf of Mexico are sandy beaches waiting to help you cool off from the Texas heat. Some are cozy and secluded while others host festivals and an abundance of activities. Either way, they are all some of the best places to visit in Texas. So, from quiet family beaches to your spring break destination, they're all here. There are some romantic barrier islands if you're hoping to beat the crowds, too. Of course, you always have easy and accessible beaches near the larger cities if you just want to get away. Whichever of the best beaches in Texas you end up at, you'll be glad you took the time to escape and relax.
1. Boca Chica State Park
For a laid-back getaway near Brownsville, check out Boca Chica beach. It's clear water and luscious tides bring in an abundance of shells. This makes it a great spot to take a walk and collect a whole array of seashells. It's only a few minutes away from the city, too, so feel free to just make an afternoon stroll of this beach. If you have a decent truck or 4×4, you can even take a drive on the beach. You can walk down to the mouth of the Rio Grande here as well. You'll be just about fifty feet away from Mexico! Just pay attention and respect the Border Patrol that is here to keep things going smoothly as you continue to explore the best beaches in Texas.
It is important to note that there are no restrooms or other public facilities here, so plan accordingly. The beach does tend to accumulate a little bit of trash, as well. However, almost everyone who wants a quiet beach escape says that the visit to Boca Chica beach is more than worth it, even with these setbacks. Don't miss out on seeing the Space X launch facility on your way out as well.
2. Rockport Beach
In contrast to the first beach on our list of the best beaches in Texas, Rockport Beach is known for its impeccable cleanliness. It's no surprise that Rockport Beach is near the quaint beach town of Rockport. The combination of the small town and the light waves make this the perfect family getaway beach. The long pier is a great place to stroll with your loved ones or sit down and fish for a while. You will have to pay five dollars to park. But, the laid-back atmosphere and crab hunting will have you forgetting that the minute you step on the beach. There are plenty of picnic tables, volleyball courts, and playgrounds to entertain kids of all ages.
Once you've worked up an appetite, stroll along in Rockport. You can grab some stellar pizza at Panjo's Pizza and top it off with frozen yogurt from the Pink Octopus. Of course, there are a few dive bars and karaoke spots if that's more your style. But, make sure to check out the local shops and galleries, which have come back better than ever after being rebuilt after Hurricane Harvey.
3. San Jose Island
Known as Saint Jo by the locals, San Jose Island is a private island oasis. You'll have to pay for a twelve dollar ticket to boat over to this private island. Upon arrival, you will see and feel why it is one of the best beaches in Texas. Unspoiled by cars, fumes, and noise, these 21 miles of uninterrupted beach are pure perfection. Enjoy your day lounging in the sun, fishing, or chasing crabs. It is also one of the best spots to bird watch in Texas. Make sure to bring some snacks or a picnic with you, as well as plenty of water. There are no facilities here, so you also have to be willing to pee in the ocean if the need arises. So, while some may consider this roughing it, the seclusion and ultimate peace and quiet will melt your cares away in no time.
4. Mustang Island
If you've wanted to spend some time in Port Aransas, then make sure to hit up Mustang Island as well. This natural playground easily made our list of the best beaches in Texas. Visitors love to sunbathe and swim here. You can also bring your four-legged friends along to play in the waves. With their solid sniffers, they might even help you with the shell-hunting and fossil-finding that is so superb here. Make sure to keep them away from the Kemp's Ridley turtles, though. This is one of the few breeding grounds for these unique species of turtle. But, when you add the over four hundred species of birds that can be found around Mustang Island, you'll be even more in awe of nature.
It's easy to see why Mustang Island is so loved. You don't have to make this just a day stay, either. Beachfront campfires are quite popular, as well as the drive-up campsites both on the oceanfront and tucked in the dunes. Mustang Island is overflowing with activities as well. Depending on the temperatures and the wind, you can enjoy surfing, paddleboarding, or kayaking. Fishing is pretty impressive here too if you make your way out on a jetty or are willing to wade in a bit. Regardless of your adventure level, Mustang Island has something for everyone.
5. Padre Island National Seashore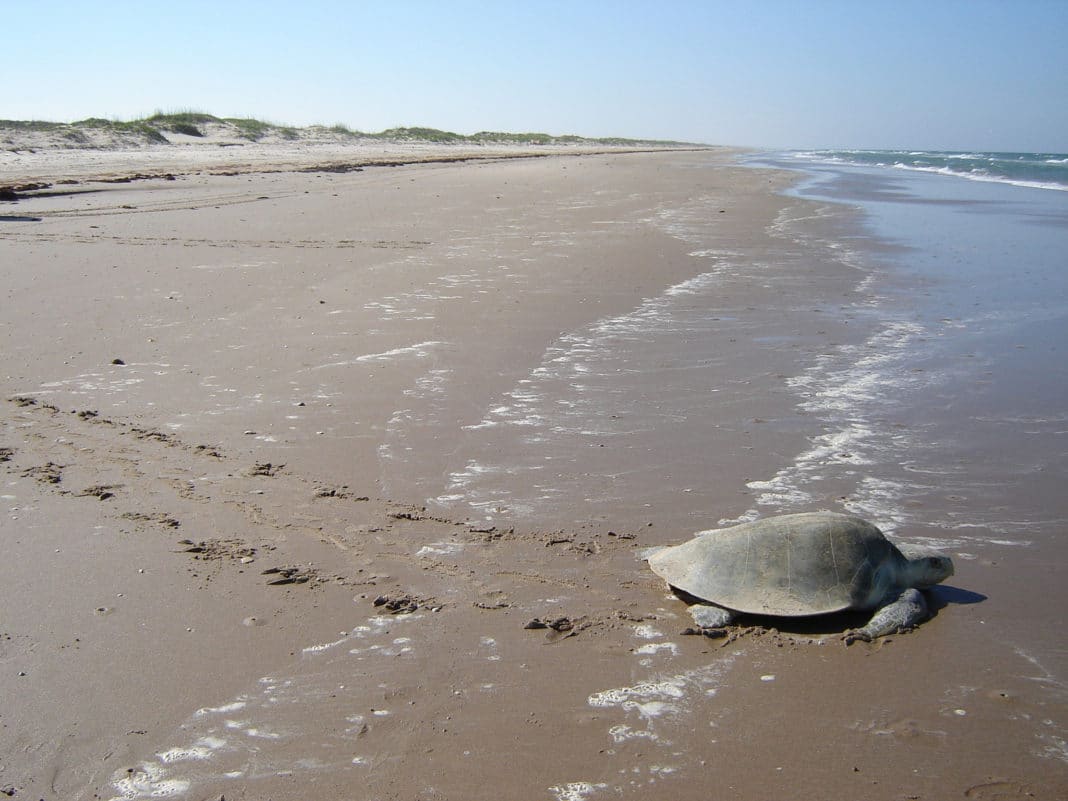 Credit: UPS Natural Resources
Padre Island National Seashore is the largest undeveloped barrier island in the world. How cool is that? It separates Laguna Madre, an incredibly salty lagoon, from the Gulf of Mexico. Just thirty miles southeast of Corpus Christi, it's a simple getaway from the city. Between its accessibility and the expansive space to explore and relax, it's no surprise it is one of the best beaches in Texas. While you can spend your days simply soaking up the sun, there is so much more to do here. First off, it is a natural paradise. In the spring, fall, and winter, thousands of gorgeous birds migrate through this island. If you can come during the summer, though, you might be able to see the rangers hatching little turtles. This national seashore is a main spot for rehabilitation and breeding.
Of course, you can also do quite a bit of backcountry exploring here. If you have a 4×4 vehicle, there are miles of impressive dunes to explore. There are both tent and RV hookups, so you can even post up here for a week at a time to drown your cares away. Whatever you end up doing here, you won't leave for lack of things to do with the 130,000 acres and over fifty miles of seashore here.
6. Surfside Beach
Less than an hour driving distance from the hustle and bustle of Houston is Surfside Beach. You'll be spoiled on this getaway with an immaculate beach and a quaint small town to explore. While there is some street parking, most of this beach you can just pull your car up on and unload. This makes it a great destination for families who don't want to lug all your beach things to and fro with the littles in tow. If you're hoping to take the kids fishing, this is a stellar beach for that. The shallow water along the jetties let you wade out a bit and catch plenty of ling, bonita, and kingfish. Of course, if it's hurricane season, switch out the fishing pole for a surfboard and enjoy the waves.
If you're up for it, you can also go horseback riding on the beach for a romantic excursion. When you pair this with the ample assortment of beachside lodging, you can see how this is one of the best beaches in Texas. Whether you're a young family, a couple wanting to rekindle romance, or just a few friends needing a quick trip to the beach, Surfside Beach is a great spot to know.
The best beaches in Texas will lure you in with their expansive sandy beaches, quiet atmosphere, and beautiful wildlife.
There are so many things to do in this state, we can't help put hope one of your Texas weekend getaways will be to the beach. With more than enough seashore to go around, you can always find a little corner of the universe to yourself on these best beaches in Texas. So, whether you whisk yourself away to a private island or just drive down from the city for an afternoon, make sure to get away. The quiet washing of waves on the seashore will do you good. Of course, almost all of the best beaches in Texas have great camping nearby, so pack up the car for a long weekend. But, if car camping isn't your style, that's more than okay. The abundance of spectacular bed and breakfasts popping up along these beaches can turn a simple getaway into a vacation of a lifetime.
Related Article: 10 Beautiful New Orleans Beaches To Visit This Summer