From bustling urban cities to the sun-soaked coastline, there are plenty of beautiful places to visit in Georgia.
Embark on a colorful adventure in the Empire of the South. Roam the city of Atlanta and check off visiting the biggest aquarium in the world from your bucket list. Learn about the history of this antebellum state on a historic walking tour in old Savannah. Catch a glimpse of wild horses with the first light of the morning on Cumberland Island National Seashore. No matter what type of vacation you are seeking, we've found places to visit in Georgia that will satisfy everyone's travel bug. Are you ready?
Here Are Our Picks for the Best Places to Visit in Georgia
1. Savannah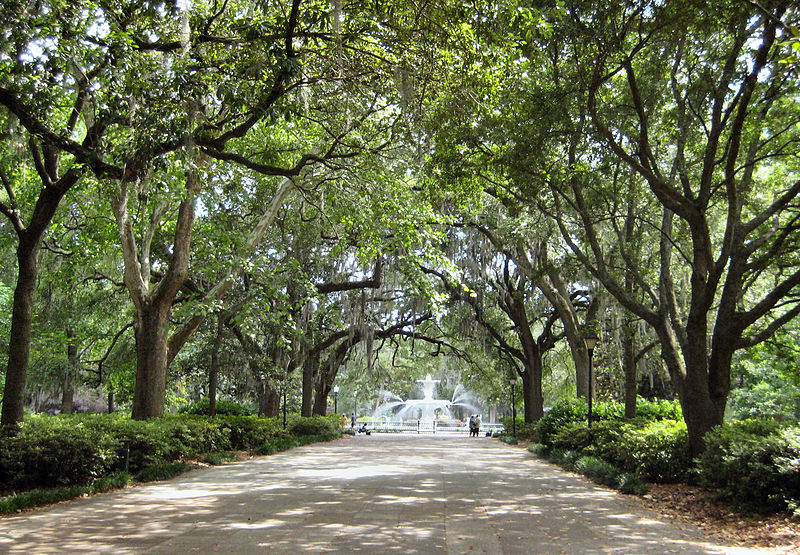 Stately mansions, weeping willows, and cobblestone streets greet the adventurous traveler. There is something undeniably beautiful about the city of Savannah. Whether you're looking to soak up some culture, sample local delicacies, or just seek out a little space to sit in a local park, the options are endless. Start out your morning with a walk in the beauty of Forsyth Park.
Grab your morning coffee and take in all the beauty it has to offer. Spanning some 30 acres, it's easy to lose yourself among the greenery. Besides being one of the best places to spend the sunrise, it's also home to a slew of fun activities on the weekend. Of all the places to visit in Georgia, Savannah is a must.
2. Atlanta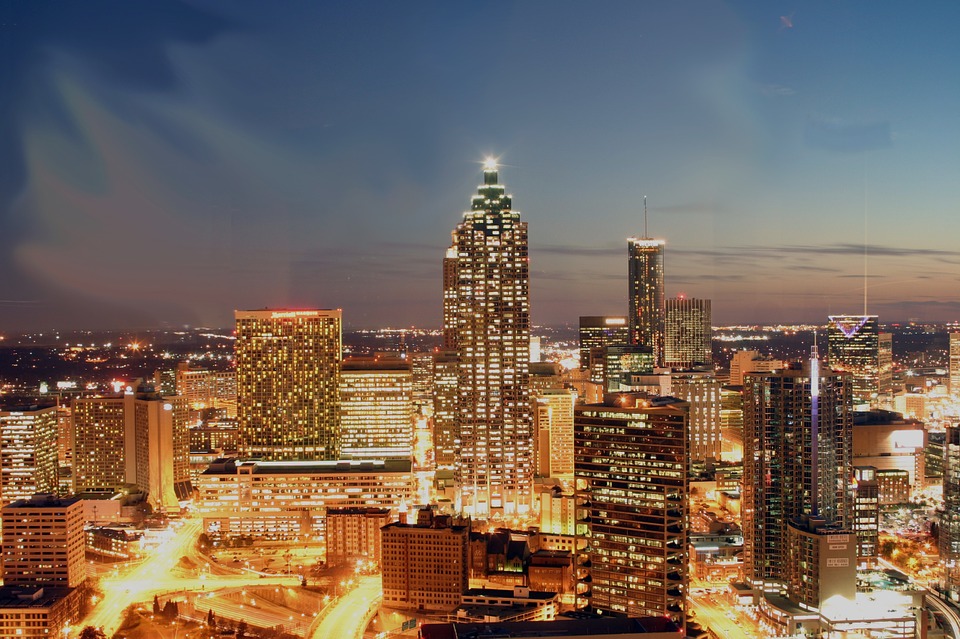 Welcome to the capital city. This buzzing city is in a league of its own. Modern architecture and cool new coffee shops contrast historical preservation and sleek museums. Atlanta has played a critical role in the development of our nation's history. Needless to say it's one of the best places to visit in Georgia.
So what should you do there? Let's just say that there's too much to encapsulate in just a few short paragraphs. But we'll leave you with a few suggestions. Start out your visit by paying homage to one of modernity's greatest figures – Martin Luther King Jr. at his home, a historic site. This ranger-led tour will take you through the place where he was born and lived the first twelve years of his life. Tours can be reserved on a first come, first served basis.
Next, have a picnic in the 21-acre Centennial Olympic Park. This is one of the best places to take in views of downtown Atlanta. Here's a fun fact. It not only served as the center of the 1996 Olympic Games but also is the center of a thriving tourist district. Just nearby, you will find the College Football Hall of Fame, Center for Civil & Human Rights, Georgia Aquarium, CNN Center, and the World of Coca-Cola. Sure a few of these are a little touristy but they're all definitely worth seeing. Why not make the most of your vacation and learn a little along the way?
3. Tybee Island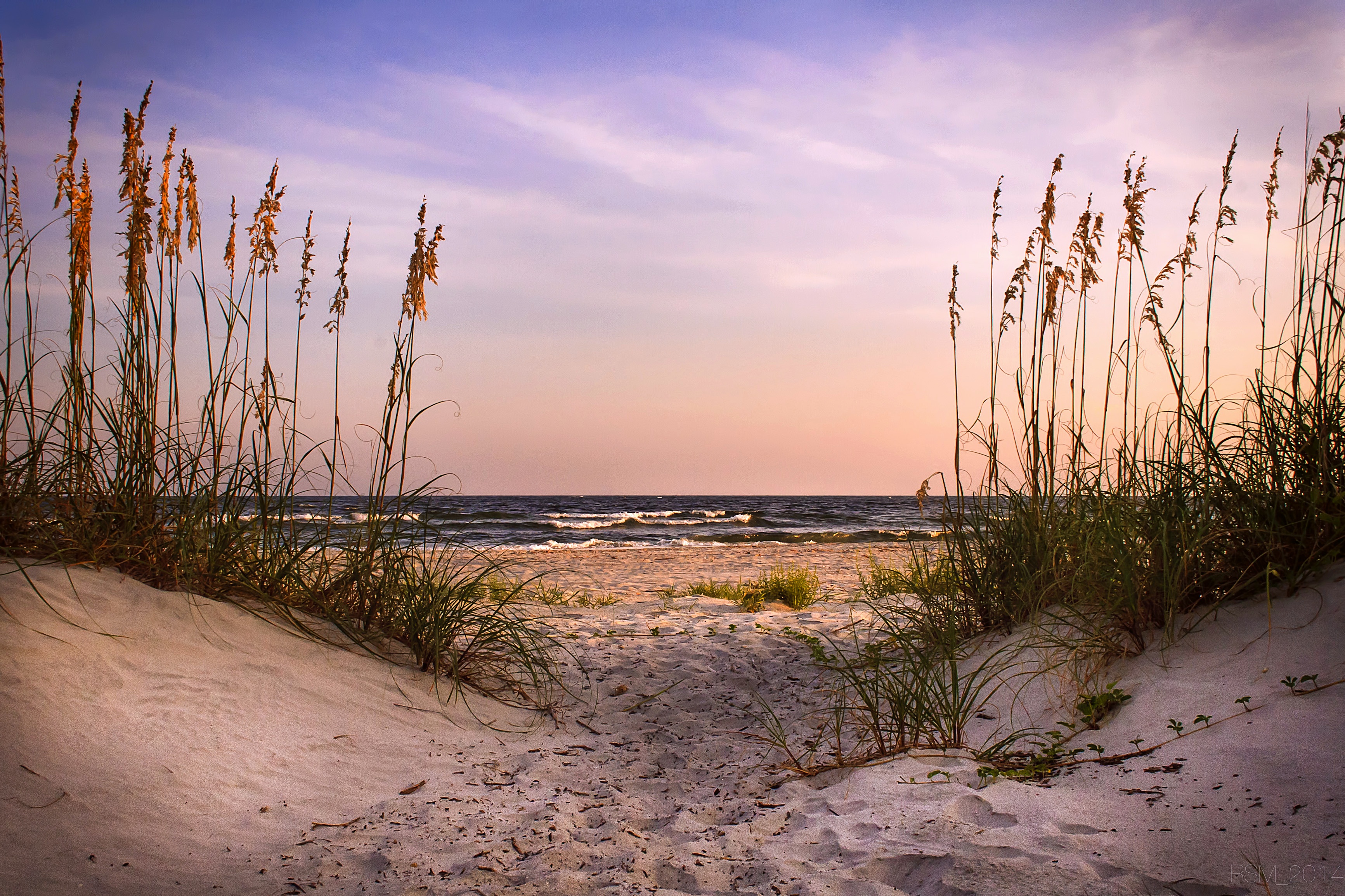 Did you know that this serene escape is just 30 minutes from the heart of downtown Savannah? Whatever kind of activities you're seeking out, we guarantee you'll find them here. Travelers seek these shores to bike, kayak, camp, and tour the historic forts on the island. Why not do all of the above?
While the activities are certainly a draw, the main attraction is simply the stretch of beach along the coast. Tybee Island offers three scenic public beaches and two rivers ones. Each has a different atmosphere. The most popular place to post up is definitely South Beach. Here, the water is warm, the waves are gentle, and there are plenty of lifeguards. If you're heading to surf, go past 19th street where the waves are a tad bigger. This is no doubt one of our favorite places to visit in Georgia.
4. Cumberland Island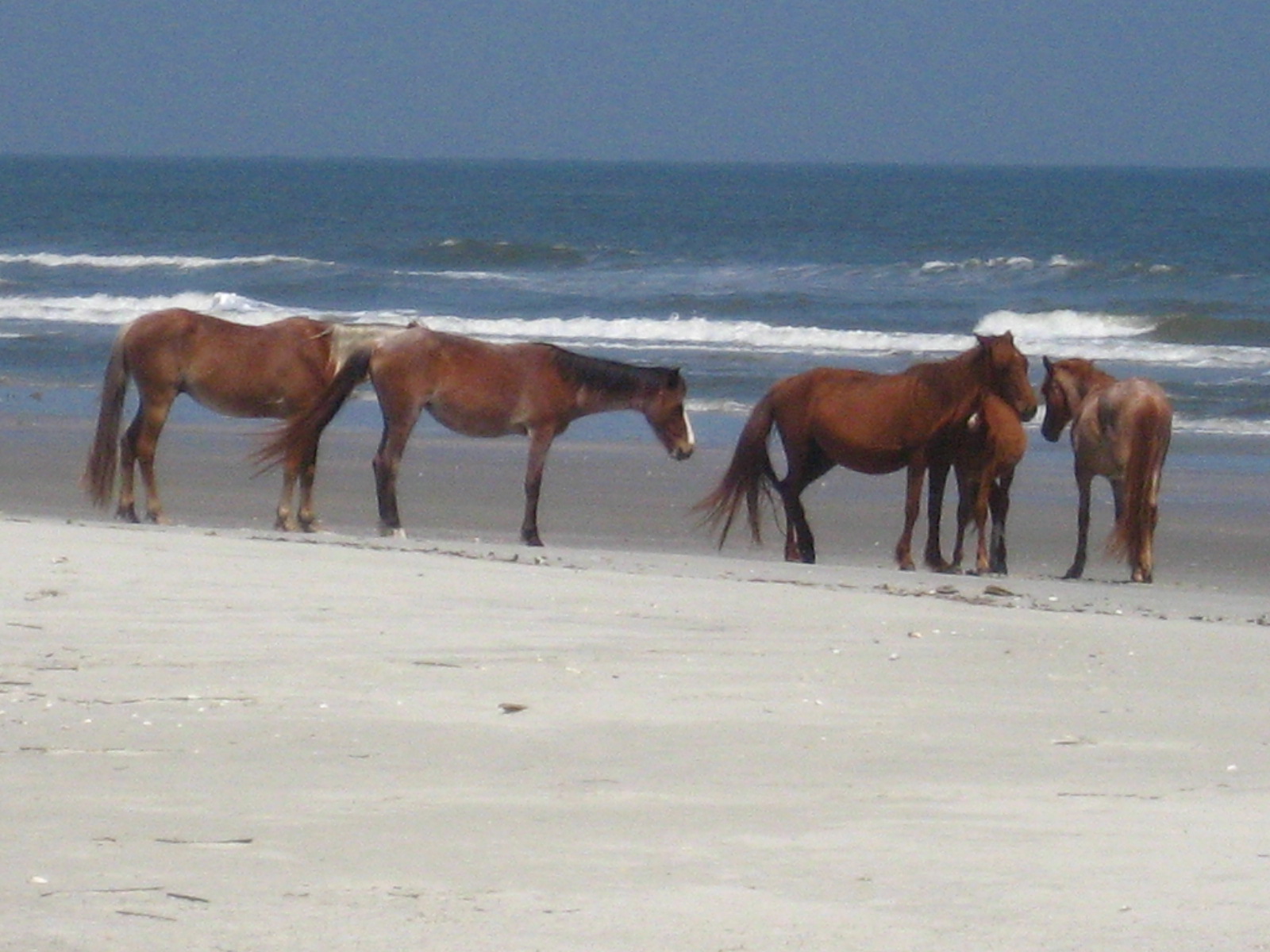 Cumberland is Georgia's largest barrier island, home to 17 miles of protected beaches and a beautiful maritime forest. Among the sights to see are the designated wilderness area, historic sites, and cultural ruins. While it is uninhabited today, Cumberland Island was once home to cotton farms and a mansion owned by the tycoon Thomas Carnegie. The Dungeness Ruins still remain as does the simple one-room First African Baptist Church to the north.
Start your adventure out on the ferry from St. Mary's, the only way to reach the island. When you arrive, choose from renting out a bike or booking a tour with the park rangers. Either way, make sure to bring a good pair of hiking shoes with you. The island offers so many places to explore. Wild horses roam the grasslands, raccoons hide in the brush, and alligators slowly sink into the marsh water, only their eyes showing.
5. Driftwood Beach, Jekyll Island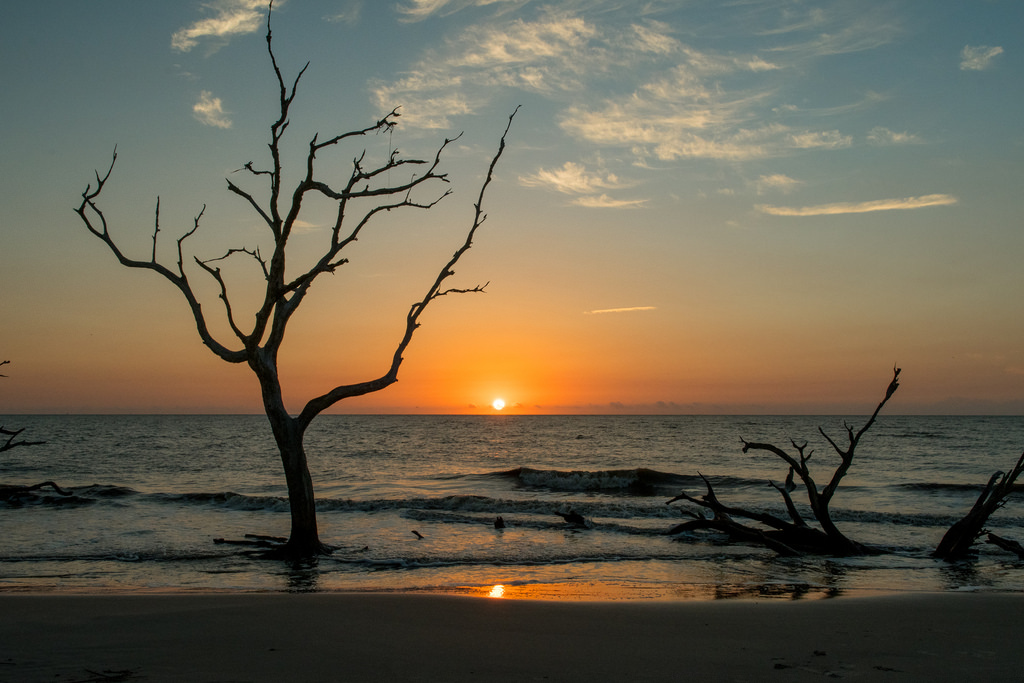 Have you ever seen a more beautiful beach? We swear Jekyll Island's Driftwood looks like something plucked out of a Nicholas Sparks movie. Fallen trees and barren branches are art in and of themselves. Warped and shaped by wind, each piece of driftwood is uniquely carved with the ebb and flow of the tide. Take a stroll along its shores; you'll find you have plenty of space to call your own and just be alone with your thoughts. Photographers, this is your dream. Did we mention that the sunsets here are spectacular?
6. Callaway Botanical Gardens
Escape the everyday in one of the best places to visit in Georgia. An enormous landscape in Pine Mountain, Callaway Botanical Gardens spans some 14,000 acres of the Appalachian Foothills. Back in the early 1950s, it was opened by local residents as a place to grow rare azalea flowers. Today, it is home to a myriad of unique flora, natural spaces, and plenty of tourist attractions. In the event you're seeking a longer stay, there is an on-site resort waiting for you.
In the garden, you will find plenty of walking trails and bike paths. Wind your way through the diverse landscape and see what you find. You'll also find the Callaway Brothers Azalea Bowl, Robin Lake Beach, the Cecil B. Day Butterfly Center, golf courses, an obstacle course, zip line, and more.
7. Tallulah Gorge State Park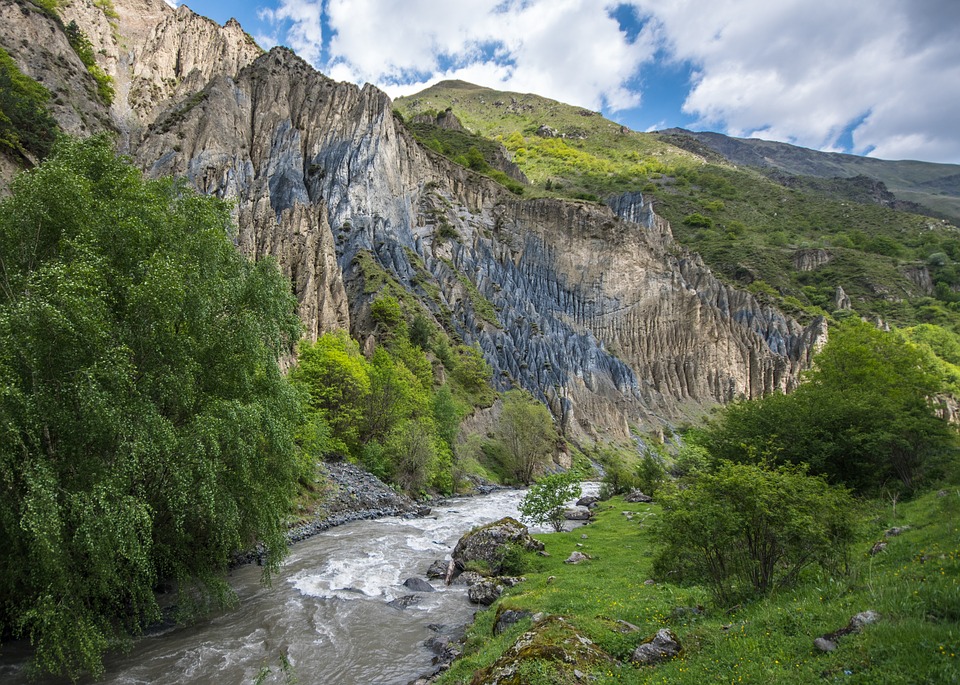 Dive right into the awesome beauty of Tallulah Gorge State Park. This hidden gem is one of the best places to visit in Georgia. Daring adventures provide you with a glimpse into the past, where the river flows through rugged terrain and into a 1,000-foot complex rock formation. Five waterfalls provide a spectacular ecosystem for the park's unique native species.
As one of the most awe-inspiring canyons in the U.S., the Tallulah Gorge is nearly two miles long and almost 1,000 feet deep. To get the best view, there are several outlooks you can hike to. Or if you'd like, you can get a permit to hike down to the gorge floor – we'd highly recommend it. Down below, a well-paved path follows the tracks from an old railroad. It's perfect for families with strollers or bikers seeking a scenic route. Meanwhile, mountain bikers can test out their chops on a challenging 10-mile-long trail.
In the park, you'll find exhibits like Jane Hurt Yarn's Interpretive Center. Here, you'll gain a better understanding of this Victorian town as well as the terrain and ecosystem you're surrounded by. Among the species found in the gorge are the trillium, monkey-face orchid, and green salamander.
8. Wormsloe Historic Site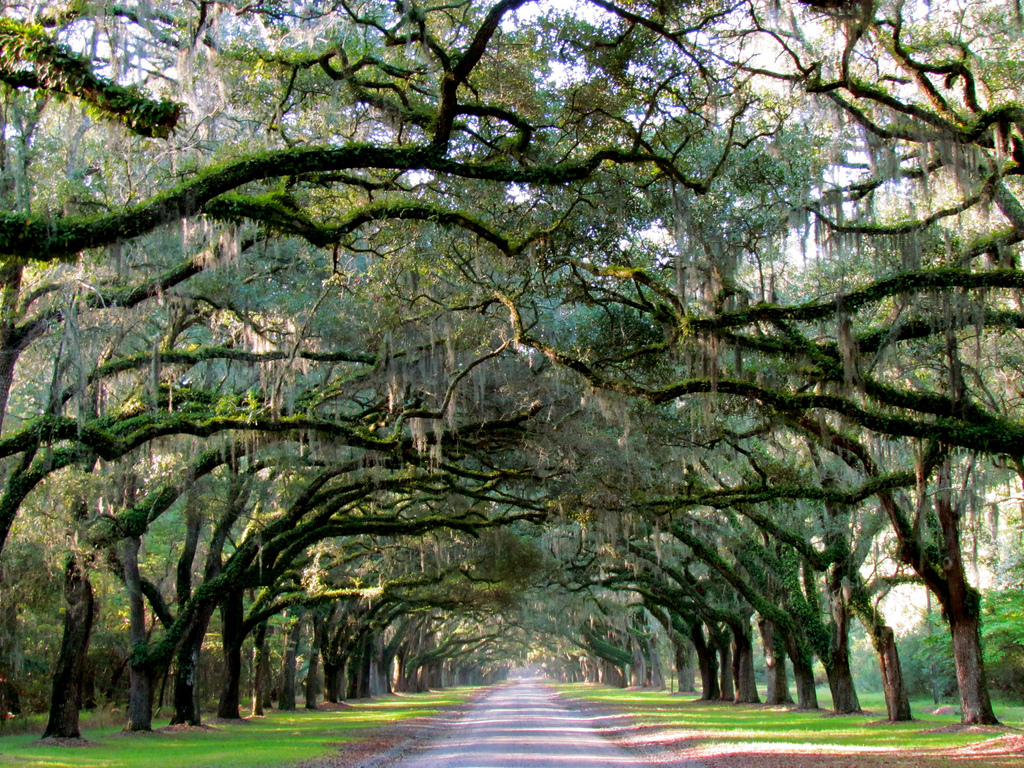 Strong oak trees cast their shadow over a characteristically wide lane. Moss overhangs swing in the gentle breeze. Wormsloe Historic Site includes all the towering trees and drama of nature you could ever want within the city. Like a giant tunnel, it forms a pathway to Wormsloe, a colonial estate and the oldest standing structure in the area.
Visiting Wormsloe is one of the best things to do in Savannah. If you're lucky enough to visit during one of their events, you just might see some costumed actors roaming the grounds. Make sure to see the museum while you're there to browse artifacts and hike the nature trail winding through the property too. We hope you enjoyed reading through our list of the best places to visit in Georgia. This often-overlooked state has so much in the way of natural beauty, entertainment, and hidden gems.
Book Your Trip: Check off the Best Places to Visit in Georgia from Your Bucket List
For the adventurous traveler, Georgia offers so much to explore.. As you can see, this state carries a rich culture and tradition into the present and holds a special place in the nation's past. Besides its legacy, Georgia offers unmatched east coast beauty for the adventurous traveler. On our list, we have included picks from the most popular tourist attractions to off the grid wonders that you just can't miss. Which of the places on our list would you like to visit the most? Let us know in the comment section below.
Related Article: The Ultimate Bucket List: Places You Need Visit in NOLA Before You Die