Trade your worries for blue skies and clear waters at these Maldives all inclusive resorts.
A gentle breeze caresses your face as you sit on the balcony of your overwater bungalow. Colorful fish swim so close you could almost touch them and in the distance, pure white sand stretches as far as your eyes can see. Does this sound like your dream vacation? You can experience it all with the best Maldives all inclusive resorts.
While most of the Maldives' 1200 islands are uninhabited, the ones that are offer some of the most spectacular experiences for the adventurous traveler. While you're here, why not go island hopping? Some of the best diving sites are tucked away in the Ari and Addu Atolls. And you won't want to miss out on those private beaches you can have all to yourself.
When it comes to the Maldives, relaxation is key. Put your mind at ease in one of the world's most beautiful and tranquil settings. With these all inclusive resorts, you'll have everything that you need for comfort, fun, and an all around amazing stay. To help you sort out the best places, we have narrowed down our list to those that take their customer service and experience seriously. Who knows? There might just be a private infinity pool with your name on it. Have you seen a more romantic destination?
Here Are Our Picks for the Best Maldives All Inclusive Resorts
1. Centara Grand Island Resort and Spa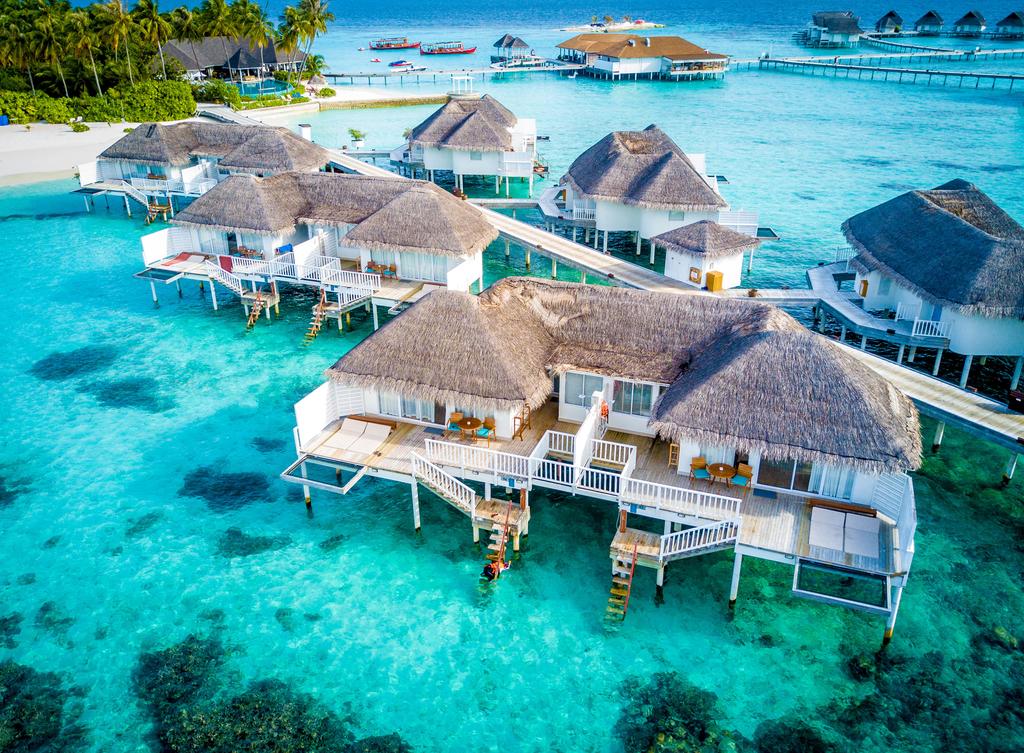 Credit: Centara Grand Island Resort and Spa
Welcome to the top-rated Maldives family resort. Surrounded by the vibrant blue ocean of the South Ari Toll, Centara Grand Island is the barefoot traveler's paradise. Fringe palm trees sway in the balmy breeze as the lagoon catches every glimmer of sunlight upon its shimmering waters. Here, you will find 112 spacious villas set over the water; the suites sit in perfect harmony with their natural surroundings.
Whether you're traveling with solo, with friends, family, or that special someone, the island is full of diverse activities and adventure. If you love marine life, there are plenty of opportunities to see exotic species up close under the water. One of our favorite sites is the shipwreck dive just off the island. A kaleidoscope of color, it offers a unique experience for snorkelers and scuba divers alike. With the hotel's all inclusive package, you can rest easy knowing your stay on this tropical island will be entirely carefree. Dining, R&R, play, and exploration are all included.
2. Lux* South Ari Atoll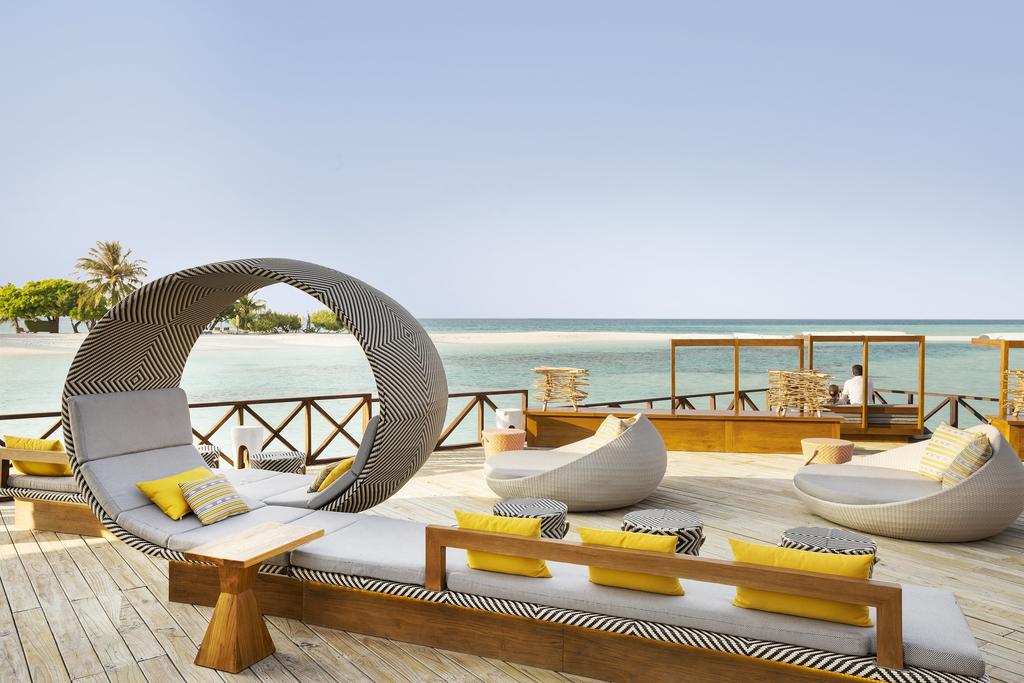 Credit: Lux* South Ari Atoll
Are you seeking an active adventure or a peaceful escape? Lucky for you, Lux* South Ari Atoll has it all. Located on the picturesque island of Dhidhoofinolhu, this luxury resort is the place where all of your vacation dreams will come true. One hundred and ninety-three villas line the water's edge, stretching along more than two miles of white powder sand beaches. Perched above a crystalline lagoon, these spacious rooms and suites offer the perfect place to take in the vivid colors of the sunset and sunrise.
As one of the best Maldives all inclusive resorts, Lux* also offers a 5-star PADI dive center. While the resorts calm waters are nothing short of nirvana, we understand if you want a little bit of action too. Opportunities for snorkeling and scuba abound, including the chance to swim up close with some of our favorite gentle giants, whale sharks. You're going to want to bring a GoPro. Furthermore, the resort offers two infinity pools, floodlit tennis courts, a Technogym fitness center, and world-class spa.
When you're ready for some food and cocktails, check out their eight eateries and bars. Each one offers a different experience. East Market has a bustling night scene, Umami offers an elegant dining experience from sushi, teppanyaki, and robata counters – not to mention the Maldives largest selection of sakes and Japanese whiskeys.
Allegria, Senses, and MIXE offer diverse international palettes. Beach Rouge is exactly what it sounds like, a chic club by the sand. As if this wasn't enough, the hotel also serves up iconic island-roasted coffee and hosts impromptu movie screenings. Could this place get any more dreamy?
3. Maafushivaru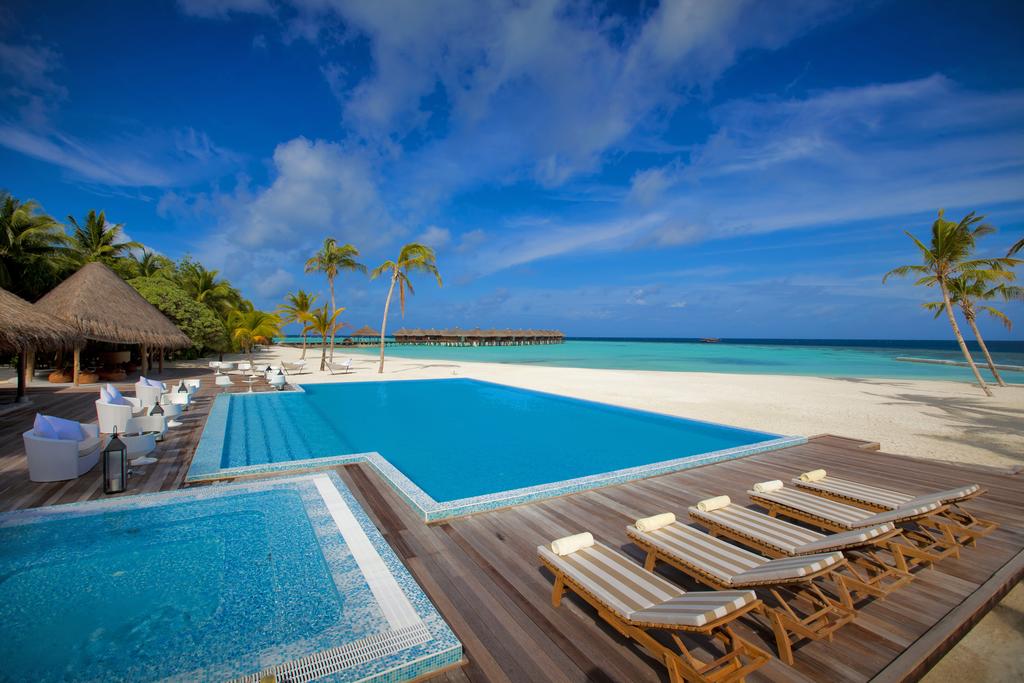 Credit: Maafushivaru
Surrounded by lush vegetation and pure white sand, Maafushivaru has all the allure of small island charm. There's no doubt in our minds that this is one of the best Maldives all inclusive resorts. Just steps from your door, you're greeted with views of a house reef a myriad of tropical fish call home. The island itself is less than a mile long; you can walk it all in just ten minutes! Taking a look at the thatched roof villas, you'll find they are set amongst either vibrant gardens or perched over the turquoise lagoon.
Inside, simple but elegant interiors offer all the comfort you need and direct access to the beach and sea. After all, that's all you really need, right? While Centara Grand Island focuses on the family, Maafushivaru is made for lovebirds. Whether you're looking to celebrate a special occasion or just get away for a while, you'll find that this charming stay is leagues apart from the island's other resorts. Treat yourself to some time away and make memories that will be forever cherished.
4. Lily Beach Resort and Spa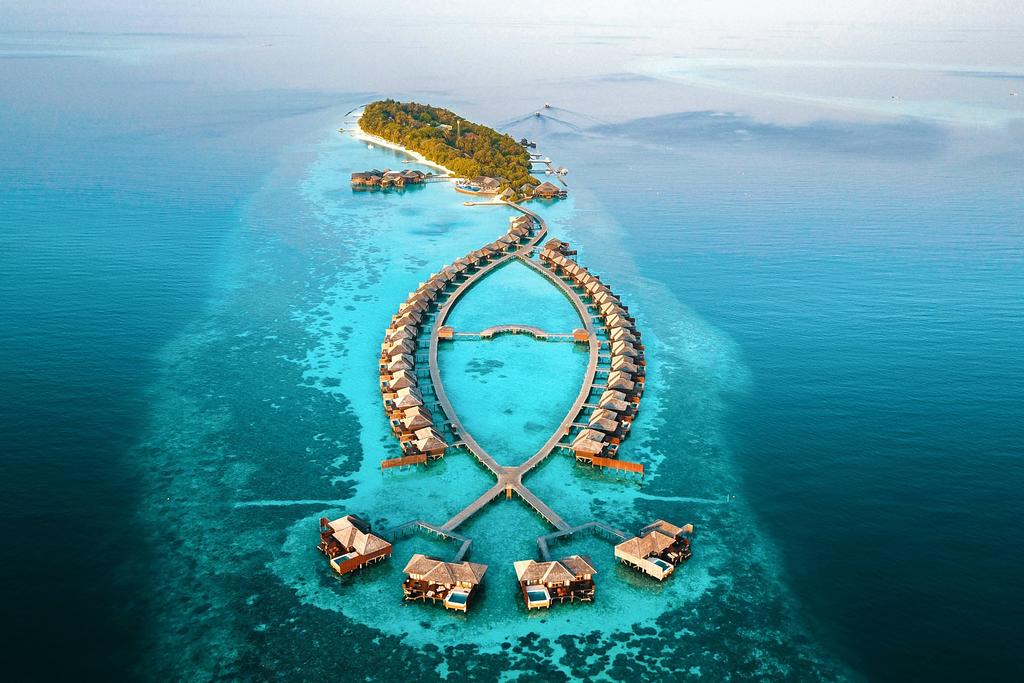 Credit: Lily Beach Resort and Spa
Welcome to Lily Beach. As one of the top award-winning Maldives all inclusive resorts, it's a no brainer that it needs to be on our list. Luxury toiletries, plunge pools, and direct beach access all await guests. Do you want to stay in a glass-bottomed villa? Done.
How about some activities to entertain the kids? Well, thanks to their Platinum Plan, the kiddos can have fun at the Turtle Kids Club while you enjoy unlimited cocktails and live entertainment. Just take your pick – there are seven on-site restaurants and bars. Each guest is given two complimentary activity options during their stay. Think a sunset cruise, snorkeling in a coral garden, or taking a fishing excursion to a local village. It's all at your fingertips.
5. Komandoo
Credit: Komandoo
Fall in love all over again at one of the best Maldives all inclusive resorts. Award-winning attentiveness and a wide range of leisure activities come together to create the perfect experience. Honeymooners, this is the place to be. Synonymous with romance and memorable escapes, Komandoo is a favored destination for an adults-only getaway.
Overwater and beach villas provide everything from a lovely sunset cruise to a weekly one-hour spa treatment. Explore it all. Windsurfing, dives, and a trip to nearby Hinnavaru are all included. And while it isn't included in the package, you should definitely make a reservation at Hurawalhi Maldives (the resort's sister property) for lunch or dinner at the amazing 5.8 Undersea Restaurant. Try to concentrate on the menu while manta rays swim past your table. We dare you. Paradise awaits you, pure and simple.
6. Kandolhu Maldives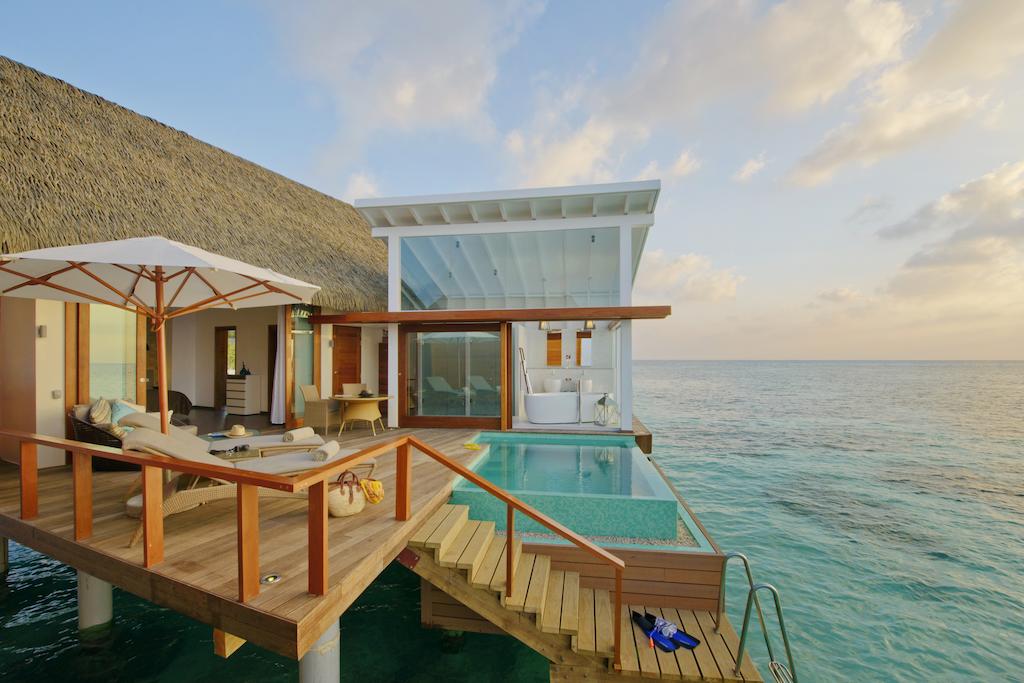 Credit: Kandolhu Maldives
As beautiful as the Maldives are, an island as perfect as Kandolhu is still rare. Lush greens contrast pristine beaches among the most colorful and lively coral reef. You'll find Kandolhu Maldives located seventy miles west of Male in North Ari Atoll. One of the most exquisite Maldives all inclusive resorts, it features 30 villas that perfectly combine natural elements with modern architecture. The result is an experience so memorable that it will stay with you forever.
If you're an architecture fan, each of the villas offers something straight out of a dream. Five unique floor plans can be found throughout the property. Soaking in a bathtub with floor-to-ceiling ocean views, you will be left in awe by an endless expanse of blue hues. As if the views aren't already enough, the resorts' Ultimate Inclusions plan covers meals at not one but all four of the on-site restaurants. Enjoy wine from your personal wine chiller, a spa discount, and a complimentary adventure option (a snorkeling tour or champagne sunset cruise). It's the little touches that make all the difference.
7. Constance Moofushi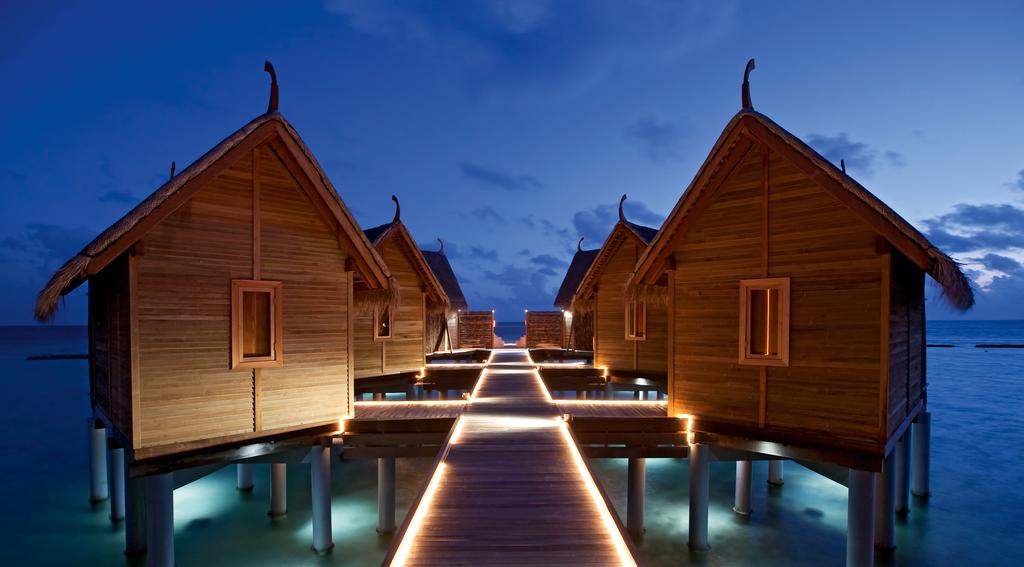 Credit: Constance Moofushi
Chic villas sit atop dazzling white sand, others are perched on stilts above the turquoise water of the Indian Ocean. Choose from one of 24 beach villas, 56 water villas, or 30 senior water villas at Constance Moofushi. Set on its own secluded island, this resort is the perfect marriage of both luxury and simplicity. Here, everything is taken care of under the All-Inclusive Package. You dream it, they do it. Premium drinks, exquisite cuisine, and perfect accommodations.
When you're not exploring some of the world's top dive sites around South Ari Atoll, treat yourself to bio marine treatments for the ultimate R&R. From their ecological thatch roofing to the crystal clear ocean around you, this is one of the Maldives all inclusive resorts with soul. All of their villas are built with elements of nature that blend perfectly with its surroundings. Indulge in fresh seafood, fine wines, and prime views in the hotel's sand floored restaurant.
Book Your Stay at One of the Best Maldives All Inclusive Resorts
We hope you enjoyed reading our article on the best Maldives all inclusive resorts. As you can see, this vibrant island nation offers so many opportunities for those seeking a trip of both relaxation and adventure. These hotels are right in the middle of it all, offering not only a unique place to experience the local wonders but also a home away from home.
The Maldives is teeming with beauty, adventure, and plenty of places waiting to be explored. Our choices for the top accommodations offer the best of both worlds – both rest and time for exploration. Whatever type of vacation you are seeking, you will find it here. From adults-only resorts all about romance to family fun options, we've helped you narrow down your choices to only the highest caliber places of accommodation. Do you have a favorite choice hotel on our list? Let us know which one it is in the comment section below.
Related Article: 7 Of The Best British Virgin Islands Resorts