Don't Let Your Suitcase Go Home with the Wrong Person, Check Out These Top 12 Luggage Tags
When it comes to luggage tags, you can always pick up a free paper luggage tag at the airport ticket counter. However, the ink bleeds when rain falls, and the flimsy paper ends up ripping off in no time. The free luggage tags at the airport counter simply do not last. They cause all sorts of problems, because travelers cannot afford to lose their luggage. They also cannot afford to have it accidentally (or purposefully) go home with the wrong person.
Serious travelers should put an investment in a durable and stylish luggage tag. If you care about retrieving your bags, should it ever get lost during their travels, bag tags that are not paper tags are imperative. Plus, things could get difficult if you have a basic black or blue suitcase like every other traveler. A luggage tag with bright colors will cause your eyes to easily spot your bag when cruising around the baggage claim carousel.
Why Do Luggage Tags Matter?
Luggage tags are a travel accessory that you don't think are necessary- until you lose your luggage. At that point, you realize how a luggage tag would have helped tremendously. A kind, good-hearted soul would easily have the information to call the number on the tag (if you had one) and let you know your suitcase whereabouts. If you have even been in this situation, you know that luggage tags do matter. Plus, luggage tags also come in an array of shapes, sizes, and colors.
One can find the perfect baggage tags to fit your style and personality; some even customized luggage tags. Travelers can find a personalized tag, branded luggage tags, a leather luggage tag, or even one for those who prefer faux leather. You even might consider gifting a luggage tag for your globetrotting friend or family member.  From engraved brass luggage tags to floral printed tags, we can't wait to reveal all the cool styles found on this list of the traveler's top 12 luggage tags.
Top 12 Luggage Tags for Travelers
1. Eccolo World Traveler Epic Jumbo Luggage Tag
First things first, this luggage tag is huge. By huge, we mean the size of half a piece of paper. Out of all the luggage tags that we are sharing with you, the Eccolo World Traveler Epic Jumbo (emphasis on the jumbo) Luggage Tag comes large and in charge. Your luggage handle may compare in size to this tag, but you will definitely be able to identify your suitcase on the baggage carousel with the size of this tag body. In addition to its size, this tag stands out with its adorable marble design. However, if the marble print isn't your style, but the massive size is, check out the other tag products this brand sells. Choose from different color options, such as a brown tag with the word "offline," or a seafoam green tag with the word "vacay" imprinted on the tag.
2. Bando Women's The Getaway Luggage Tag "I'm Outta Here"
This fashionable luggage tag comes in a much smaller size of 3 in. x 4.5 in. Conveniently, this tag also comes with a privacy cover, so you don't have to worry about strangers looking over your shoulder and gathering your personal information. You can also purchase a passport cover in the same matching pattern to go with your "I'm Outta Here"' luggage tag. Ah, so cute!
3. Travelambo Classic Synthetic Leather Luggage Tags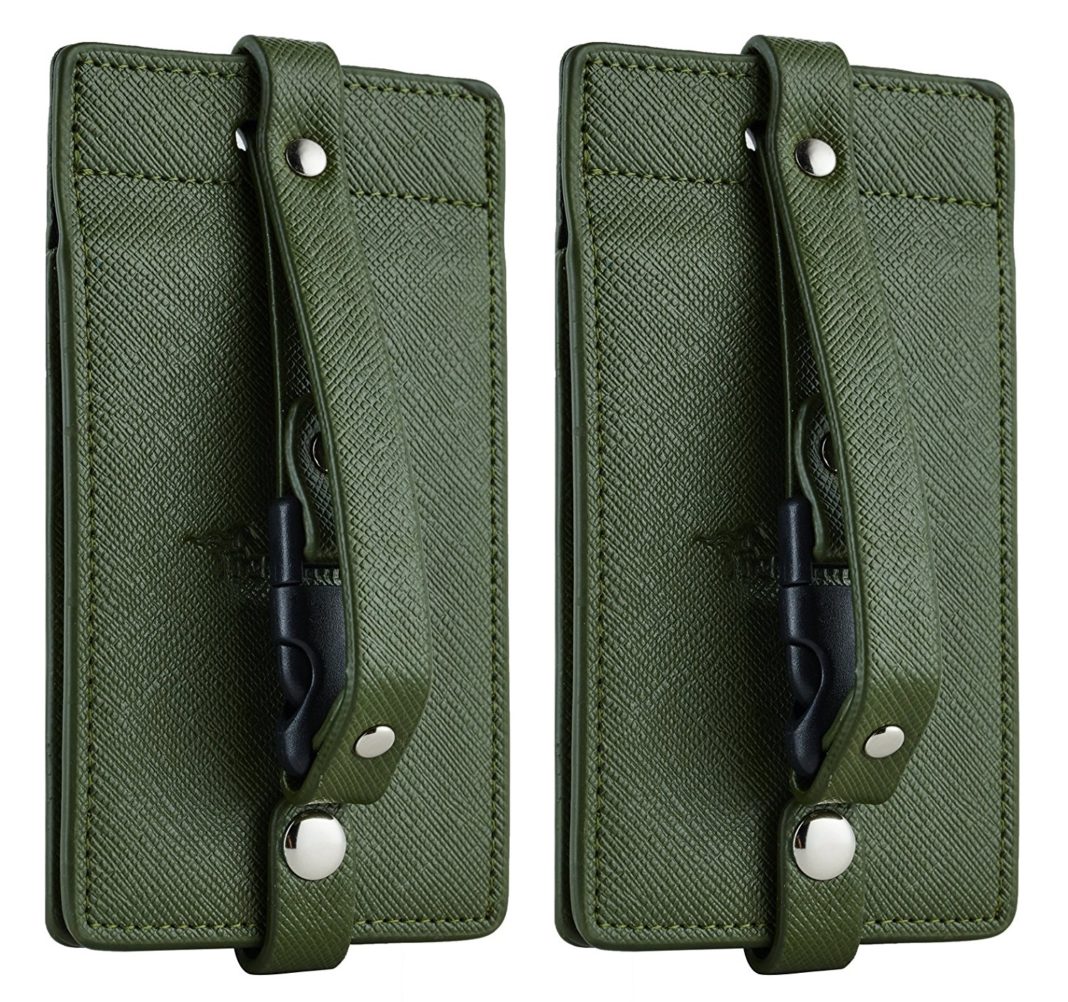 If you are into simplicity, then the Travelambo Classic Synthetic Leather Luggage Tags are for you. These tags come in any color you could want – army green, light pink, burgundy, orange, navy blue, black, brown, and more. These tags have a durable buckle that can lock onto your bag with ease. Also, the built-in snap keeps the tag closed and personal information hidden from unwanted access.
4. Talonport​​​​​ Stainless Steel Luggage Tag
Credit: Talonport
If you have ever had an issue with your luggage tag bending and/or breaking over time, then the Talonport Stainless Steel Luggage Tag is one you should consider. This tag is made of high-quality stainless steel metal (none of that flimsy aluminum stuff that other luggage tags are commonly made out of). With the purchase of this tag, travelers receive a leather strap and a steel ring. Personal contact information is also hidden within the tag, so prying eyes won't be able to steal your information. Best of all, if your Talonport tag is ever lost with your bag, the company will send you a replacement luggage tag free of charge. And that policy is good for life. Truly, the folks at Talonport know how to do customer service. 
5. Bando Women's The Getaway Luggage Tag "Lady of Leisure"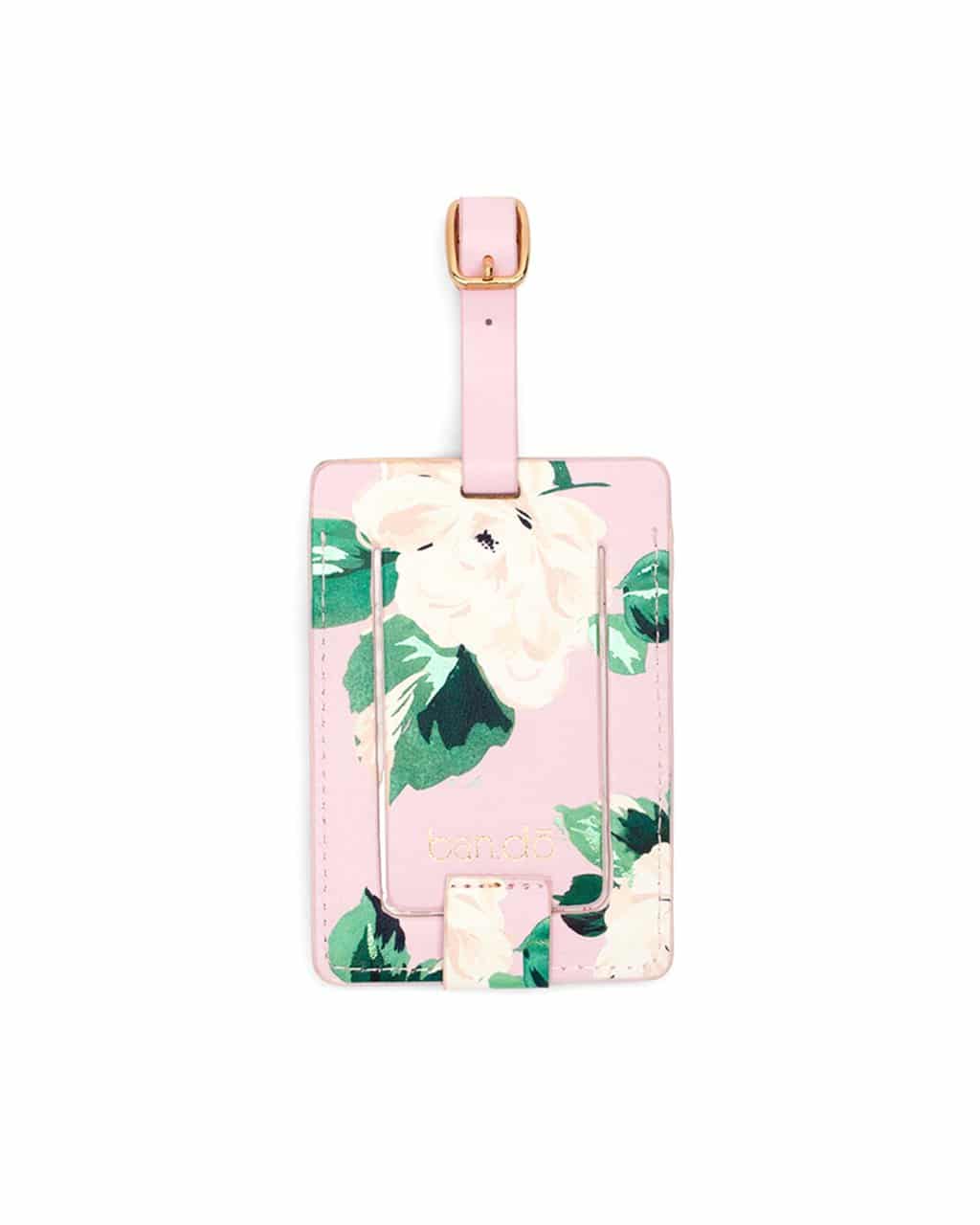 This luggage tag is super cute and super study. It also has a super fun surprise – the inside of the flap is metallic gold. By the adorable design alone you are probably already thinking of that one traveler who will love this tag. Maybe that one traveler is you.
In addition to its fashion-forward exterior, the tag is of great quality. Plus, travelers can purchase a matching passport holder to pair with their new Bando Women's The Getaway Luggage Tag. Talk about traveling in style or coordination.
6. ThisWear Newlywed Mr. & Mrs. Leather Luggage Tags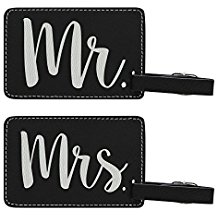 For the newlyweds, get yourself some Mr. and Mrs. luggage tags. ThisWear sells Mr. and Mrs. tags that come in two color schemes- of either black and white or black and brown. There is also an option of purchasing a three-piece set that includes Mr., Mrs., and More Mrs. tags. As stereotypical as it is, women tend to be expert over-packers. For the married female over-packers in your life, they will get a good laugh out of this three-piece set. These tags would gift greatly for a destination wedding or honeymoon too.
7. Disney Mickey & Minnie Mou​se Luggage Tags
Disney loving kids and Disney loving adults will thoroughly enjoy these Disney Mickey & Minnie Mouse Luggage Tags. Tags are each 4 in. x 4 in. and made very well. To pair with your Disney luggage and to take on your Disneyland trip or Disney cruise, purchase yourself this 2-pack set. Your friends may really love these Disney characters. Gifting these little guys might just inspire them to take their next trip.
8. TUFFTAAG Business Card Luggage Tag
TUGGTAAG makes tough tags. Coming in a number of color options, you can attach these luggage tags to custom luggage suitcases, golf bags, musical instruments, gym bags, and any other belongings you don't want to lose. Don't let first appearances fool you. These tags can withstand some abuse, which is what you need when traveling from one airport to another. You want a durable and long-lasting tag for when airline workers toss your belongings around. These tags are both flexible and tough, which is a combination that is rare in the luggage tag industry. In addition, you may want to consider the bright color options of lime green, orange, bright yellow! They will allow you to more easily notice your bag from afar.
9. Inventive Travelware Funny Luggage Tags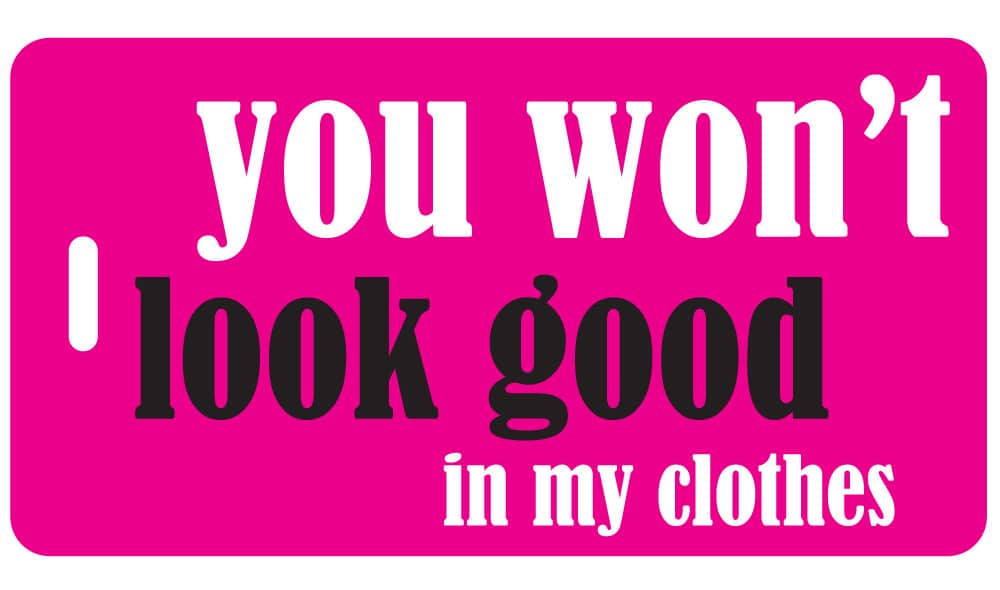 "You won't look good in my clothes." "You don't look like my owner." These humorous luggage tags will send away any of the thieves that try to steal your bags. In addition to the funny claims written on the tags, these tags are durable enough to stay hooked on your bags during your travels. Consider purchasing an Inventive Travelware luggage tag to brighten your day with bold colors and a laugh.
10. Kate Aspen "Let the Journey Begin" Vintage Luggage Tag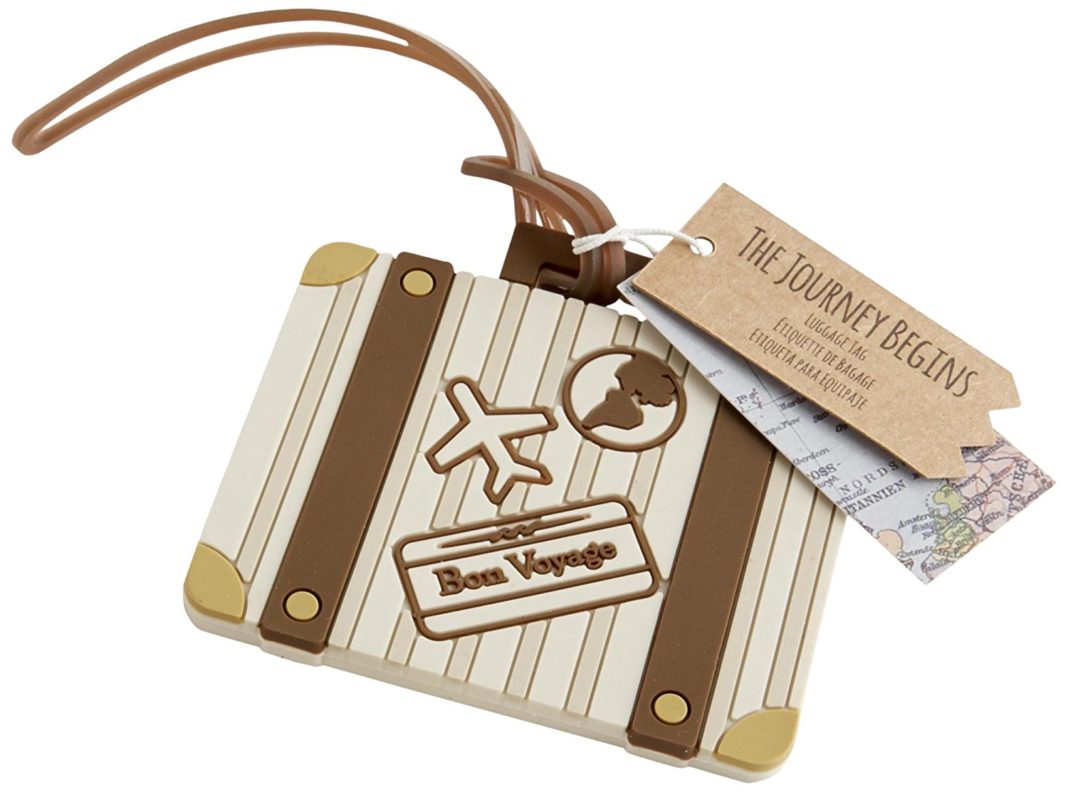 This Kate Aspen luggage tag simply charms its way into becoming your new custom luggage tags. It's vintage design and the neutral color scheme will make an adorable addition to your checked suitcase or carry-on bag. In comparison to other luggage tags, this will either be completely in line with your sense of style or not at all. If you or someone you know loves all things rustic, vintage, and charming like this tag, consider personally purchasing or gifting it!
11. Lewis N Clark Travel Luggage Tag
The mountains are calling, and this luggage tag meets the criteria to hang on those mountain adventures with you. The Lewis N Clark tag comes in three color options of orange, green, and blue. These tags are eco-friendly and are made of recyclable material. If sustainability is a priority for you, then you may consider this luggage tag worth purchasing. This tag keeps you on track for purchasing sustainably for the earth and responsibly for your baggage.
12. TUFFTAAG Emoji "Back Off… Not Yours" Luggage Tag
Nothing says "back off" like this luggage tag. The words are imprinted right there on the front of the tag. This black and white tag will keep all thieves away. Just look at that sort-of vicious smiley face! If someone is even thinking about stealing your suitcase, this luggage tag will serve as a friendly reminder to "back off" and not even think about it. Maybe we should add some googly eyes for effect?
Spot Your Suitcase Easily with a Stylish (and Maybe Humorous) Luggage Tag
Luggage tags are something you don't think you need. That is, until you need one. Like a license plate or bar code tags, the right luggage tags provide so much information in a discreet manner. A personalized luggage tag could help identify your belongings if ever lost on an airline or found by another passenger. With so many luggage tags to choose from, we hope that this list of the top 12 stylish and functional (sometimes humorous) luggage tags sparks a desire in you to purchase your own for your piece of luggage.
These tags make it easy for you to notice your suitcase from afar, and they make it easy for you to retrieve your bag when it is lost. A luggage tag also makes a thoughtful gift for your traveling friend or family member. If you are ever stuck on what gift to get for the traveler in your life, a custom luggage tag is a practical gift that they will be thankful for. Get ready for easier times around the baggage claim belt with the best luggage tags!
Of these top 12 luggage tags, which is your favorite? Let us know in the comments below!
Related Article: ​8 Cool Water Bottles For Your Next Adventure​​​