Hit the slopes while wearing the Columbia Women's Kaleidaslope II Jacket.
Finding the ideal winter jacket for partaking in outdoors activities can be a challenge. Many winter jackets offer warmth and coziness but fail to keep you heated during cold weather. Other jackets might promise a lightweight, stylish design, yet look puffy and unflattering while wearing them. Travelers who enjoy winter sports and exploring the outdoors need a jacket that combines functionality with style. You shouldn't have to sacrifice your personal tastes in order to feel warm while adventuring through wintry landscapes. Thankfully, the Columbia Women's Kaleidaslope II Jacket appears stylish, yet still keeps its wearers cozy throughout every expedition. Read our article below to learn all about this awesome piece of outwear.
Columbia Women's Kaleidaslope II Jacket Features & Benefits
Insulating Features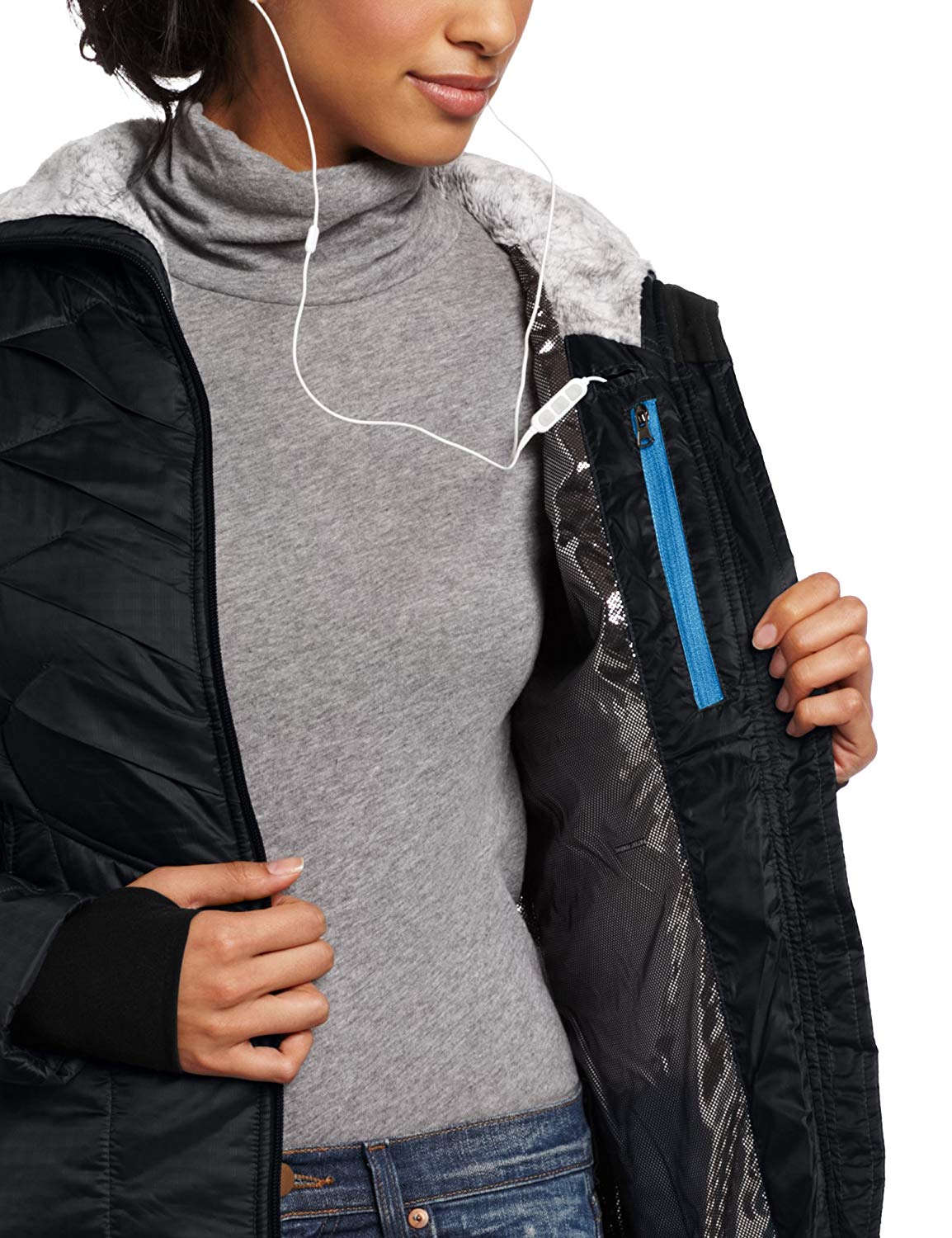 When you're looking to buy a winter jacket, the most important feature represents its ability to keep you warm. Why waste money on a jacket that promises maximum heat retention, yet leaves you freezing while outdoors? If you're a traveler who plays winter sports, you definitely need a jacket that keeps you toasty for hours. You don't want to be stuck on the slopes feeling cold and uncomfortable because your jacket couldn't provide proper warmth. Adventures to the Swiss Alps or the Rocky Mountains will be cut short due to a lack of functional outwear.
Thankfully, you can find a variety of winter jackets that will keep you warm during long days of outdoors adventuring. The Columbia Women's Kaleidaslope II Jacket utilizes Thermal-Reflective, Omni-Heat fabric to ensure top-notch heat retention. This material reflects body heat, helping you stay warm even when the sun goes down. A lining using 100% polyester also provides the cozy warmth you need during the winter. You won't have to worry about shivering in the cold when you wear this jacket. Travel to cool places in February while wearing this jacket, and you'll beat the winter blues.
Weather-Resistant Design​​​​​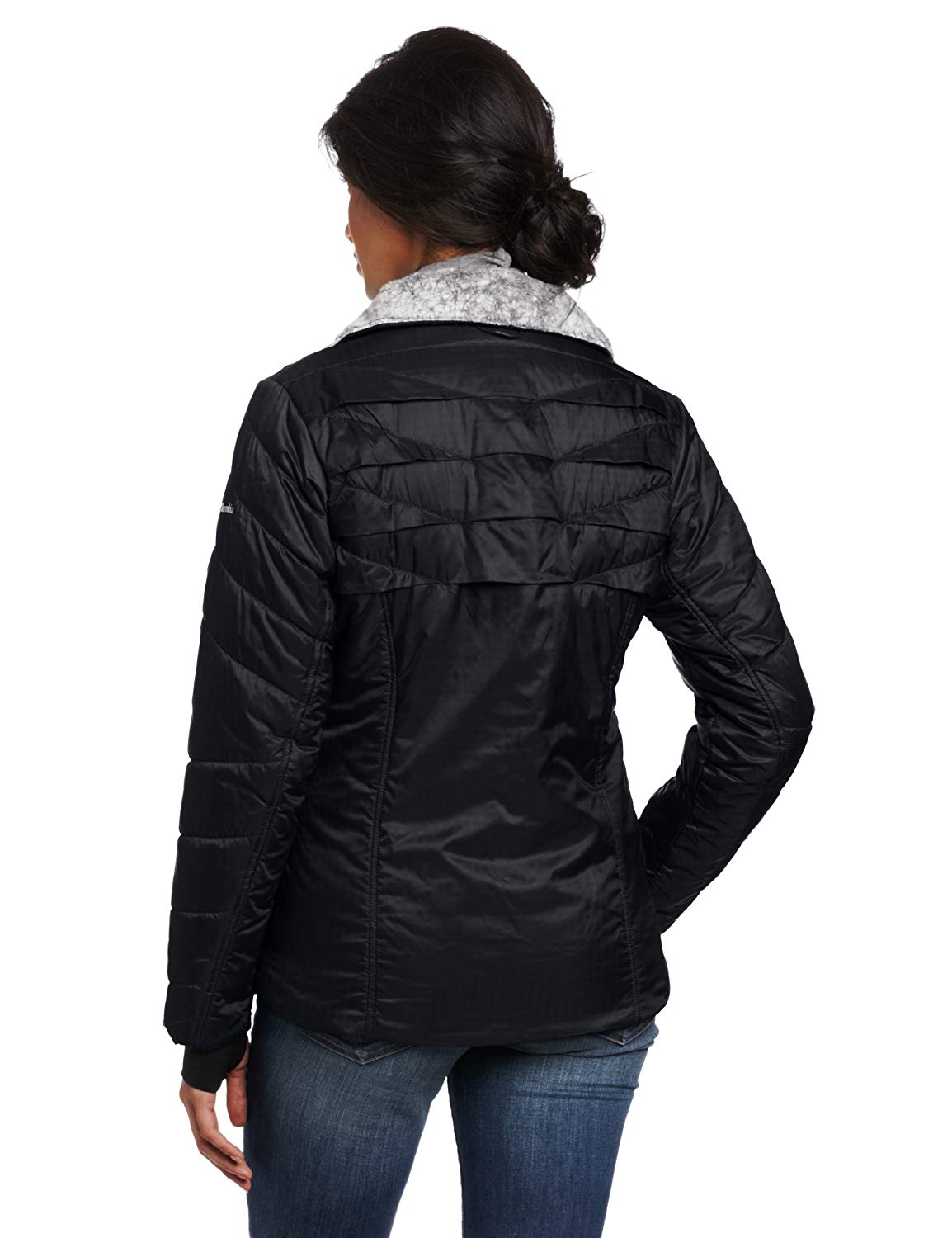 If you're a traveler who likes to spend lots of time outdoors, you need a highly durable jacket. Treks up and down icy slopes or through muddy forests shouldn't result in a ruined piece of outwear. Your jacket should stay in shape despite countless expeditions through the wilderness. At the same time, snowy or rainy days will lead to soaking-wet jackets if you haven't purchased a decent product. The best winter jackets for women utilize weather-resistant features to help you stay dry and cozy throughout every adventure.
With the Columbia Women's Kaleidaslope II Jacket, you can travel happy knowing that you'll remain dry and warm while outdoors. This jacket uses water-resistant fabric to help reduce the amount of rain or snow that soaks into the coat. You can happily hike up a snowy mountainside and never worry about getting drenched. A polyester exterior remains durable, even if you fall in the dirt or run into a few brambles. This ensures travelers won't need to replace their coats after only a few adventures through the outdoors.
Lightweight for Ideal Comfort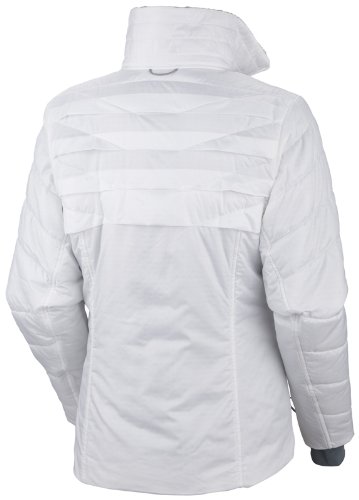 Travelers who visit various outdoors locations to practice sports and remain active require jackets that move with them. Bulky, heavy jackets can weigh you down while you're trying to gain speed skiing down a slope. If you're a runner, you also don't want extra weight while you're trekking through the woods. Many winter jackets feel uncomfortably tight and hefty, making for a less-than-pleasant wearing experience. You should be excited to wear your winter jacket and explore the outdoors, instead of dreading it.
Since the Columbia Women's Kaleidaslope II Jacket has a lightweight design, travelers can move with ease while wearing it. The jacket doesn't feel bulky or too dense, letting you snowboard down the mountains at top speeds. Instead of feeling uncomfortable underneath a massive down coat, this jacket will allow you to feel light and free. The polyester fabric used to construct the jacket ensures you'll barely even remember the coat is on when wearing it. Similarly, you can remain unencumbered by heavy layers, as this jacket provides all the warmth you need. Rather than piling on sweaters and undershirts, just throw this lightweight jacket on go.
Flattering Fit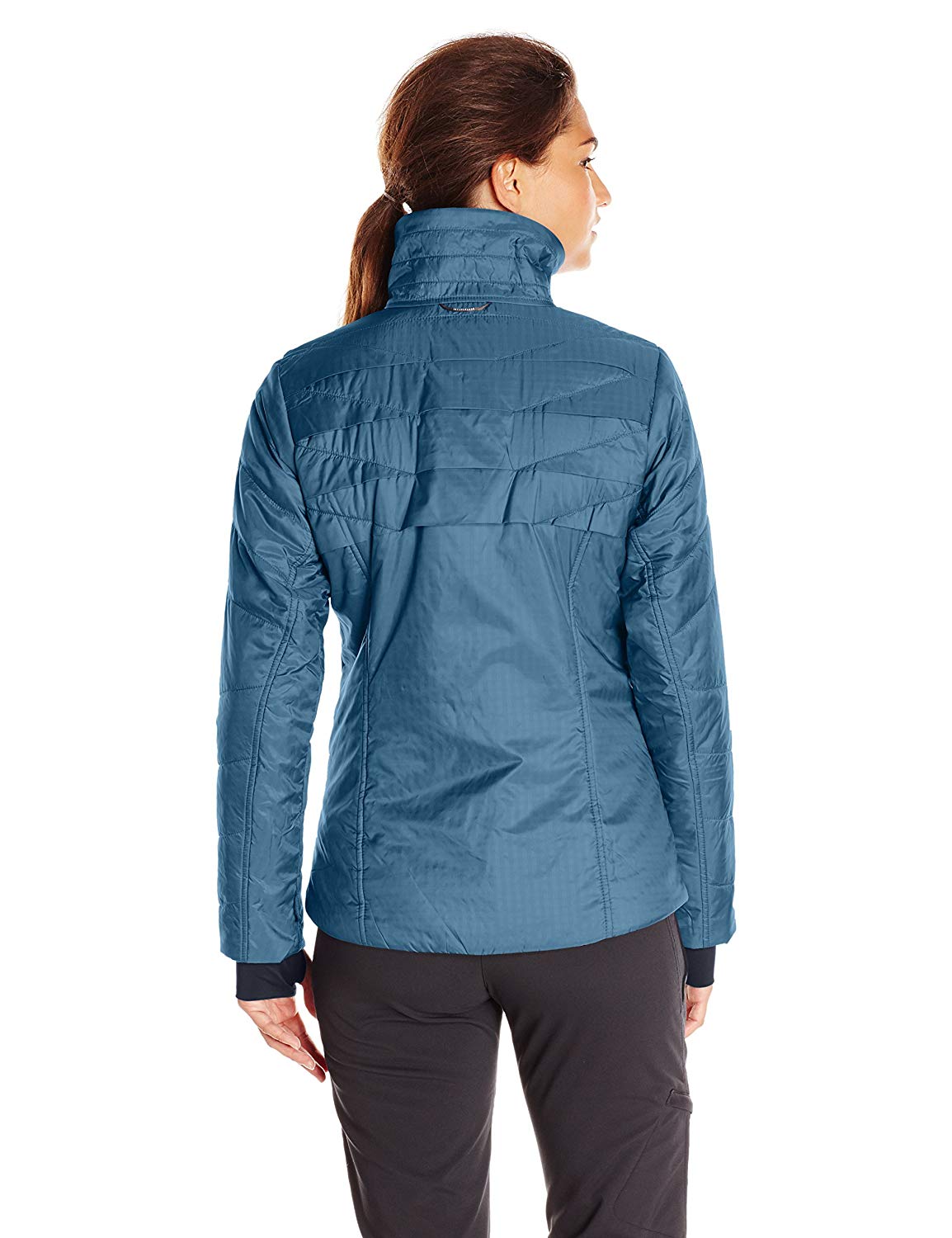 Often, women's winter jackets don't match up with the wearer's personal style. Since these pieces of outerwear need to keep travelers warm, they tend to appear bulky and unflattering. This means that many travelers dread buying winter jackets, as the coats never seem to look quite right. Other jackets may appear more attractive, but in reality, feel flimsy and thin. So-called "fashionable" jackets, while pretty, fail to maintain heat levels during outdoors escapades. Thus, many travelers may feel the need to sacrifice style for comfort and warmth.
When you purchase the Columbia Women's Kaleidaslope II Jacket, you won't need to forgo style for warmth. This jacket maintains a form-fitting design that makes it attractive on all types of figures. The classic look of this piece of outerwear also means it will appeal to a wide range of tastes. Travelers can look and feel their best while going on skiing, hiking, or snowboarding adventures. Or, don this coat during a simple walk through the city. Either way, you'll love getting to flaunt your style and figure while wearing this winter jacket.
Color Options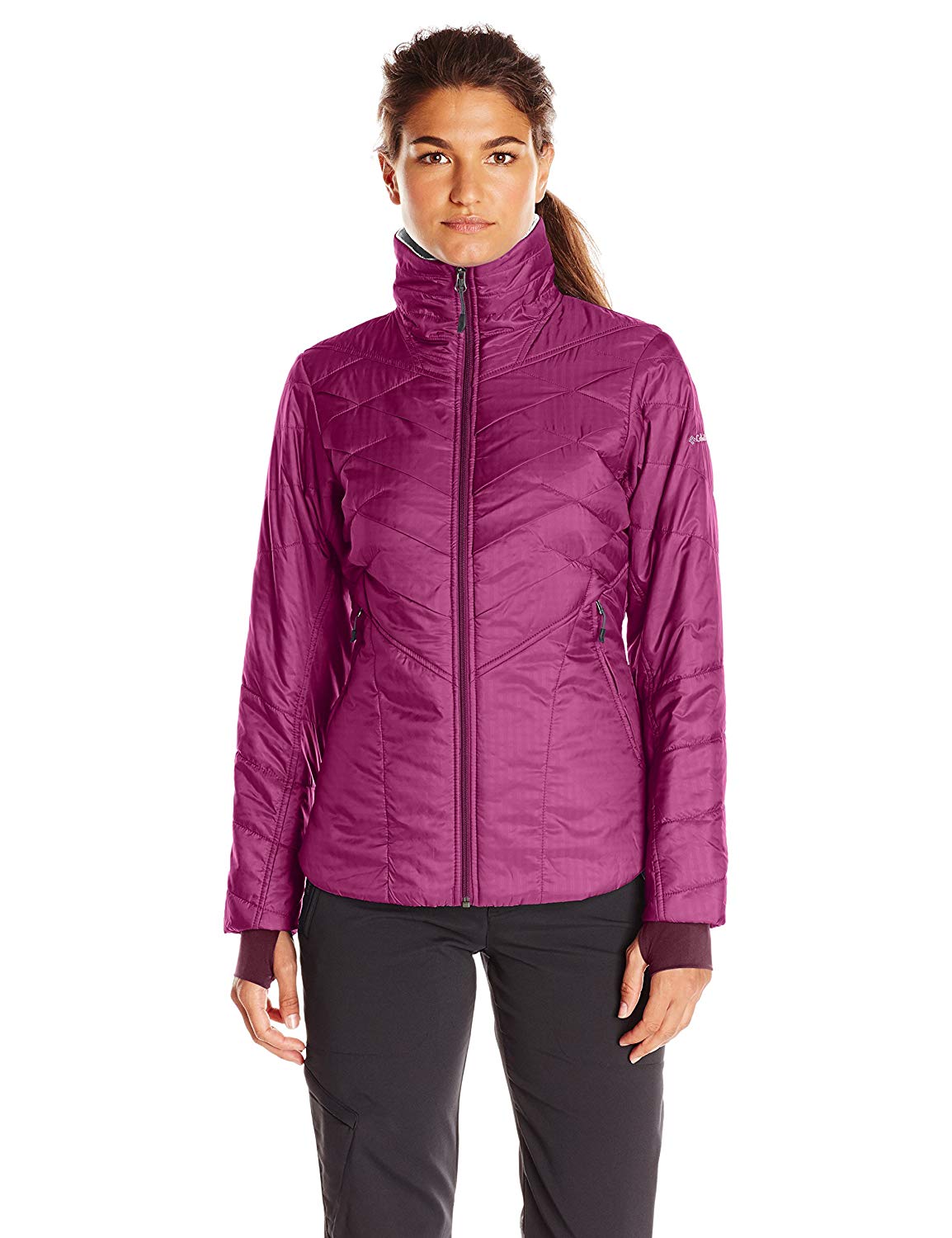 Travelers who love the winter may also enjoy searching for their next best winter jacket. However, many jackets look the same, especially if they're designed to keep wearers warm. Frequently, winter jackets for women can appear boring and one-note, coming in the same color and style. For some travelers, a plain black winter jacket might be the ideal product. Others may prefer a jacket that fits their vibrant personality, such as a brightly colored coat.
While wearing the Columbia Women's Kaleidaslope II Jacket, travelers will get to stand out from others in a great way. The color options offered in this jacket style allow every traveler to choose the shade that matches their personal tastes. Colors like Blue Heron, Dark Raspberry, Plum, and Major, an olive green, appear bright and exciting. Most other jackets only come in a few shades, so this product allows you to pick from various fun looks. Of course, if you prefer neutral-looking jackets, you can always purchase the plain white, black, or even grey shade.
What Travelers Are Saying About the Columbia Women's Kaleidaslope II Jacket
Travelers who purchased the Columbia Women's Kaleidaslope II Jacket raved about the product's ability to keep them warm. Though reviewers traveled through locations with below-freezing temperatures, the jacket maintained optimum heat levels during their journeys. This meant that wearers could stay outside for longer, without fear of getting too cold. Trips to destinations such as Scandinavia and New England were improved for reviewers, as the jacket kept them warm. Additionally, many enjoyed the tighter fit of the jacket, as it enabled quicker and more agile movements. Skier and snowboarders felt more at ease while wearing this jacket, since it stayed snug on their bodies while exercising. This also helped ensure the cold winter air didn't flood the interior of the jacket, chilling the reviewers' bodies.
Due to the form-fitting nature of the Columbia Women's Kaleidaslope II Jacket, some reviewers had trouble layering clothes. These reviewers could not wear thick sweaters underneath the jacket without feeling too uncomfortably tight or restricted in movement. However, the jacket remained warm enough that the reviewers didn't seem to care about the lack of layers. Overall, travelers considered the Columbia Women's Kaleidaslope II Jacket the ideal winter jacket for outdoors expeditions.
Alternative Women's Winter Jackets You May Like
1. Amazon Essentials Women's Lightweight Water-Resistant Packable Hooded Down Jacket
Those who aren't sold by the Columbia Women's Kaleidaslope II Jacket should check out the Amazon Essentials Women's Down Jacket. This product remains the perfect alternative to the Columbia jacket, as it maintains a warm, yet lightweight design. You can wear the Amazon jacket and not feel bulky or weighed down by hefty materials and insulation. This jacket utilizes duck down to maintain optimum heat levels, even as you explore wintry landscapes. The contoured seams on this jacket also provide a more flattering fit, so you don't appear bulky. With a short and form-fitting design, the Amazon Essentials Down Jacket represents the ideal jacket for winter sports enthusiasts. Travelers may ski down the slopes and never worry about their jacket feeling uncomfortable or too long. Zip pockets also let travelers stow away important items, such as phones and licenses, in easy-to-reach locations.
2. Haven Outerwear Women's Mid-Length Packable Down Puffer Jacket
The Haven Outerwear Women's Mid-Length Down Puffer represents a great alternative to the Columbia Women's Kaleidaslope II Jacket. With an 85% fill using waterfowl feathers, this jacket will help travelers stay warm during cold, wintry days. You won't need to wear lots of sweaters and undershirts to stay warm while donning this jacket. Similarly, the Haven Down Puffer Jacket has an internal zipper guard to help ensure heat doesn't escape. Cold gusts of air will remain outside, rather than on the inside of your jacket. The mid-length size of this jacket makes it different to the Columbia Women's Kaleidaslope II Jacket. If you prefer to have your lower half covered, this coat might be the better option. Chevron quilting on the jacket also provides a more attractive appearance. Travelers who wear this coat will feel confident knowing that the jacket offers a flattering fit. A matching bag, included with the jacket, even lets you store items like phones and keys in a cinch.
3. Marmot Aruna Women's Down Puffer Jacket, Fill Power 600
If you're still searching for the perfect winter jacket, consider the Marmot Aruna Women's Down Puffer Jacket. Similarly to the Columbia Women's Kaleidaslope II Jacket, this women's jacket provides amazing heat retention. Utilizing 100% polyester and 600 fill power, the Marmot Aruna Jacket will keep you warm for hours of winter activities. Handwarmer pockets that zip up will help your hands stay toasty as you walk through cold city streets. An attached hood will even provide greater protection for your face and ears during particularly brisk days. Despite the puffer design, the jacket doesn't appear bulky, but maintains a sleeker look. You won't feel weighed down by a hefty piece of outerwear when you have this jacket on. Hurry and order this jacket before the winter season arrives, and you'll have stress-free travels. Last-minute winter vacations will be much easier to accomplish when you've already got the perfect winter jacket, like this one.
Never leave home without your Columbia Women's Kaleidaslope II Jacket.
Sometimes, discovering the ideal winter jacket can be tough and overwhelming. With so many jacket options available for women, it may prove difficult to choose the perfect clothing item. While many travelers prefer heavy-duty, bulky coats, others like having a more lightweight jacket option. At the same time, you need outwear that keeps you warm during your winter expeditions. That's why the Columbia Women's Kaleidaslope II Jacket remains perfect for travelers hoping to stay warm and look stylish. Insulation features, a lightweight design, and various color options ensure wearers may stay toasty while adhering to their personal styles. We hope our article has helped you on your quest to find the best women's winter jacket. The best time to buy winter clothes is now, so go ahead and purchase your cold-weather gear.
Related Article: 11 Best Down Jackets For Women You Need For Your Next Trip