While we all seem to have a phone to take notes in our pocket, there's something marvelous about having pocket notebooks to write in.
Do you ever have trouble remembering what your boss told you, or that amazing idea you had while waiting in line for coffee? Well, if only you had one of these fantastic pocket notebooks to jot it down in. But, beyond that, you can use these to keep yourself attentive by taking notes at a meeting or doodling in while you pretend to look attentive. You may want it to look chic and trendy while at work or you need it to withstand all sorts of weather. If you want something tangible to record your next adventure rather than a travel journal app, this might be just what you're looking for. So, get ready to take notes because we've collected the most durable, fashionable, fun, and versatile pocket notebooks around.
1. Rite in the Rain Tactical Memo Book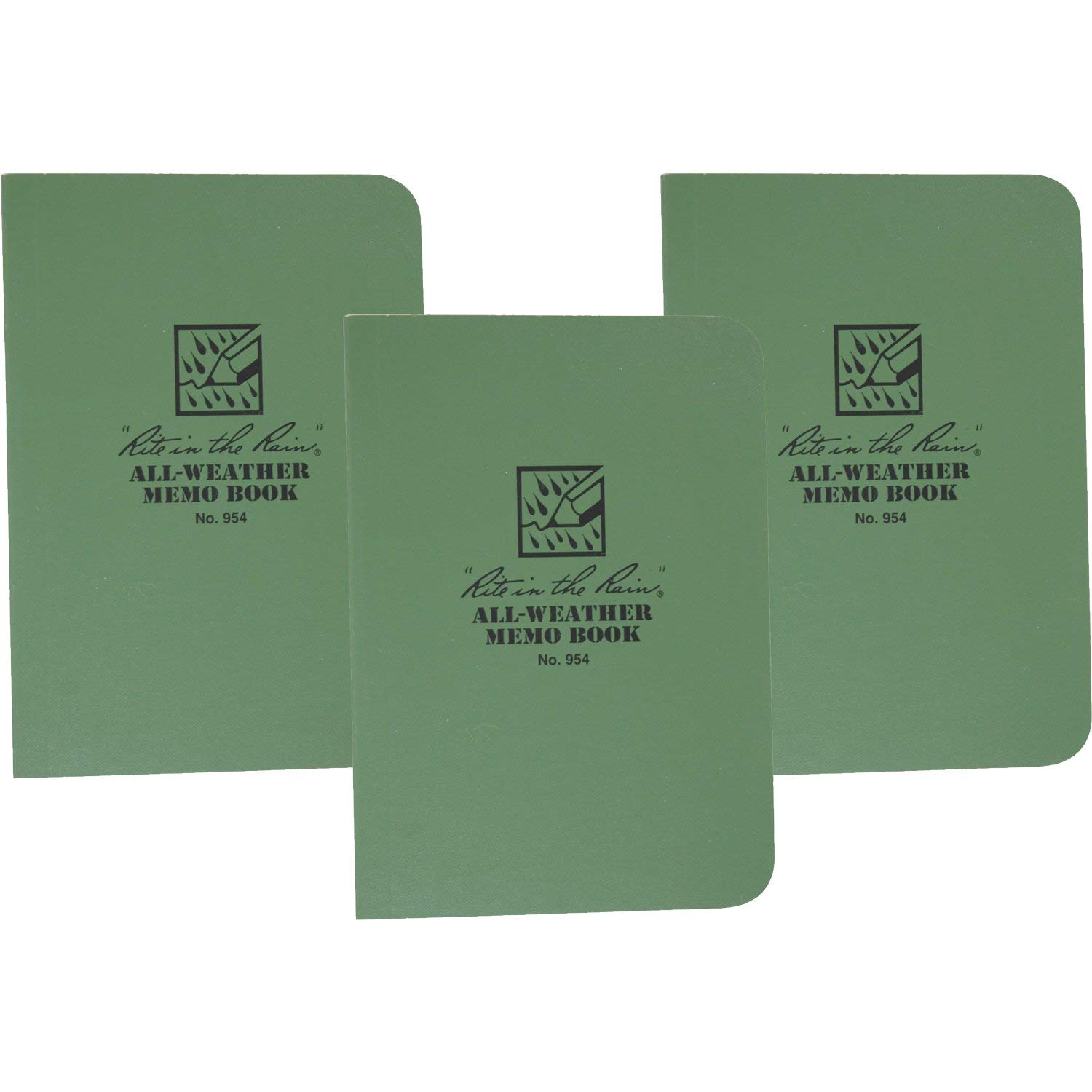 We're starting off our stellar pocket notebooks list with one of our favorites. The Rite in the Rain Memo Book is made to last in all kinds of conditions. They are small, measuring in at 3.5 wide by 5 inches tall. These pocket notebooks will slide perfectly into your pocket, frame pack, or the cab of your truck. In addition, they come with one hundred and twenty pages to write on, made up of sixty sheets of paper.
The special paper is waterproof, so even when dropped in a puddle or left in the rain, your writing will be clear. On top of that, you can actually – you guessed it – write in the rain! Make sure to use a pencil or a special pen, as water-based inks will bleed. So, if you need one of these pocket notebooks to withstand all kinds of weather and water, check out Rite in the Rain and their entire selection of pocket notebooks. They don't just come in tactical green, either. You can choose from tans, blues, red, and yellows if you go looking.
2. Rollbahn Roruban Pocket Notebook in Dark Blue
Sometimes we can get a little particular with our notebooks. If you like the details, you will appreciate everything that has gone into the Rollbahn Roruban Pocket Notebook. One of our favorite spiral bound pocket notebooks on the list, this little pad has the ability to lay flat on the table. In addition, you can fold the spiral pages around the spiral totally to make both a firmer writing surface, as well as keep it open to a certain page while still stowing it away in your pocket. With the spiral binding, you can tuck a pen inside of it. By hooking the pen into the spiral, you will never be short a writing or sketching utensil either. Just another reason we adore the Rollbahn Roruban Pocket Notebook. But, it's not just the spiral we love.
Inside, you will find one hundred and twenty pages of quarter-inch grid paper. The lines are incredibly light, so they will never overwhelm your sketches or writings. The pages are all also perforated, so feel free to tear one out seamlessly if you need to pass a note along. Lastly, you can keep all of your secret writings, drawings, or sketches neatly tucked away with the elastic strap that keeps it shut. You don't have to worry about it blowing open in the wind or little eyes snooping with this. So, if you're ready for one of the pocket notebooks that has all the bells and whistles, try these out today.
3. Roaring Spring Little Green Memo Book
Alright you recyclers, I know you're out there. If you're reading this, then I have the perfect pocket notebooks for you. The Roaring Spring Little Green Memo Book is made from recycled material and made in the United States of America. So, if you want to feel good about where your pocket notebooks came from, stick with these. On top of that, they have an incredibly secure binding. Center-sewn like all the good composition notebooks of old, these won't break on you. The cover is made from grey kraft material which keeps everything inside safe and protected while staying light.
The 15# white writing paper inside has narrow blue lines on it without margins, so that no space is wasted in this little guy. The paper contains at least 30 percent post-consumer waste, too. The most popular size comes in at 5 inches tall by 3 inches wide, but you can get it in two other sizes as well. Whatever you get, it can easily fit into most shirt pockets for quick note taking. Lastly, there are sixty sheets of paper per book, giving you one hundred and twenty marvelous pages to write. So, the best environmentally friendly of the pocket notebooks on the list, check out the Roaring Spring Little Green Memo Book.
4. Field Notebook Line Memo Book in Assorted Colors
For the best bang for your buck in the pocket notebooks department, look to Field Notebook's Lined Memo Book. Their five pack comes in under ten dollars. With this, you will have a total of two hundred and forty pages. Each book has forty-eight pages or twenty-four sheets of paper. While this is a bit smaller than some of the other pocket notebooks on our list, it has an upside. If you don't take many notes or need a very thin notepad to conceal easily inside a suit, these were made for you. The paper is high quality and this company has been making these notebooks for over fifty years. For a time-tested and budget-friendly buy, this is it.
5. Moleskine Pocket Ruled Cahier Journal in Black
For the highest quality of all our pocket notebooks, look no further than Moleskine. Their Cahier Journals are made with flexible, soft, heavy-duty cardboard covers. They are perfect for decorating yourself or keeping fresh and classy. This particular option comes in black, although they have a myriad of gorgeous, stoic colors to choose from. You can see the thick stitching on the spine which reassures you that you won't lose a page unless you intend to tear it out. And yes, there are pages made for just that. The sixteen sheets at the end of the notebook have a perforated edge so you can tear them out easily without compromising the sheets on the other side. How's that for ingenuity?
These particular pages are plain, without lines. This lets you write or sketch without being encumbered. Also, there is a pocket in the back to tuck notes into or anything else flat you may want to keep around. Each set of three journals will come with the Moleskine history as well, letting you know part of the journey you are joining by owning one of these pocket notebooks. Overall, Moleskine blows us away with their high quality, acid-free notebooks that simply look good wherever they end up.
6. Yansanido's Super Mini Smiley Pocket Notebook Two Piece Set
For the little ones in your life who love to write, draw, or take notes on everything you do, the Yansanido's Super Mini Smiley Pocket Notebook Two Piece Set is perfect. The outside cover is made of faux leather and has a fun winking smiley face pressed into the front. Coming in eight unique colors that pop, they're hard to lose. This pocket notebook is bound well and has an elastic band closure to keep all the treasured drawings safely inside.
With over ninety pages to fill, it will take a good bit of time to use up all of these pages. Separated by colored paper, you can easily have a different color dedicated to a different subject. There is also an assortment of lined and unlined pages for a pop of freedom when you need it. So, if you need a gift for a young person, or someone young at heart, check out these pocket notebooks!
7. B-THERE Pocket Notebook Set of Twelve
The B-THERE Pocket Notebooks are the perfect combination of low-cost, super cute, and simple. Coming in at about a dollar a notebook, you can't beat these for the price. There are four beautiful and vibrant designs, each with a little spunk of its own. They all have lined pages inside, although the lines are colored to match the front artwork. These are just a tiny bit larger than some of our other pocket notebooks, too. They measure 3.25 inches wide by 5.25 inches tall. The binding is stitched, so you can't rip out pages from here without losing the opposing page. That is just about the only downside to these pocket notebooks. Aside from that, these are great for giving out to a girls group, keeping in your scrub pockets on your night shift, or giving yourself little reminders during the day about important things.
Pocket notebooks are the perfect tool to increase productivity, improve memory, and keep yourself occupied with sketches and notes.
If you're ready to be prepared for anything at any time, it's time to invest in one of these pocket notebooks. Whether it's to finally remember everything your boss told you or to keep your most dear sketches, these are truly awesome. From the high quality of Moleskine pocket notebooks to the fun and spunk of Yansanido's Super Mini Smiley Journal, there's something on this list for you. The Rite in the Rain Notebooks are truly an invention worth appreciation, even if you don't spend too much time getting wet. But, if you need a light journal to take camping or backpacking, they'll be great for that. Just make sure to bring along a waterproof pen or a pencil so you don't lose what you've done. If you're ready, go ahead and spend a few dollars and see what difference having a pocket journal can do for you!
Related Article: The Best Travel Journal for Your Next Trek