"If only I had brought a travel journal!"
We all know the feeling. You're on a round-the-world adventure. You're soaking up the sights, sounds, and flavors of your destination. You find yourself sitting at a cafe, and you are chatting away with locals. In the midst of your conversation, your new friends mention several eateries and events to try and experience.  If you're like most travelers, this is the time you begin asking yourself some questions. Should I write in my personal journal about my trips? What is the best travel journey app? What are some of the good travel journal ideas?
Why we love the idea of a travel journal:
Despite the technological boom of recent times, people still find it satisfying to write down their adventures. Whether it's a cafe one really enjoys, an address to a specific location, or a foreign language phrase one wishes to remember: travel journals provide a go-to spot for all of one's notes.  A renewed interest in travel journals continues to amplified the market. Now, manufacturers create travel journals for all styles, preferences, and needs. There are traditional spiral notebooks, bullet journal types, and even some that include travel tips for specific places.
There is no shortage of competitively priced, functional, and fun journals. Every traveler interested in journaling will find something suitable to their needs. A personalized travel journal could make the ideal Father's Day or Mother's Day gift for that parent wanting to explore. Even kids can appreciate travel diaries amongst their children's books; one day, they can look back in time and see their memorable moments. Whether your travel journal ideas make you into the next goodreads author, or if it simply becomes a great addition to your kids' books, one can always find inspiration in a traveler's journal.
If you are in need of a new travel journal to record your treks, you've come to the right spot. We've compiled a list of our favorite journals to meet a variety of your needs.
Our definitive list of the 14 best travel journals:
These 14 travel journals are a unique bunch. Although each has slightly different qualities and features, these journals are all functional and mobile. Our list includes options that won't break the bank, and they range from travel journal app to actual journal notebook. Check it out:
1. 1000 Places to See Before you Die
Surely you have heard of the "1000 _______ Before you Die" series. Patricia Schultz's New York Times bestselling books includes one that functions as a travel journal. With 600 full color photos of places you need to see, 1000 Places is a great starting point for your next journey. It contains beautiful pictures; and it couples with entries on 28 countries, a variety quotes, a time zone reference, conversion charts, international telephone codes, and a mini-translation guide. These features make this journal a great find.
Readers will find information on less-traveled countries such as Lebanon, Croatia, Estonia, and Nicaragua. In addition to being a great list generator, '1000 Places' provides recommendations on the following: places to stay, restaurants, and events in a variety of price ranges. This option even includes blank pages for you to create your own travel to-do lists; the space could leave room for reflection on your journeys too. Despite its 224 pages, '1000 Places' is only 12 ounces. Thus, it makes great reading material on the plane.
2. Moleskine City Notebooks
Tried and true, Moleskine is a trusted brand for journals, especially for trekkers who love leather travel gear. Did you know they also make an awesome travel journal too? These aren't just any travel journals though. Moleskine has developed a journal for a variety of cities, including the likes of Berlin, London, Milan, New York City, Paris, and more. This take on the classic leather journal gives travelers copious amounts of information on their destination city.
Within the journal, travelers can expect to find maps of the city and transportation lines, street indexes, an address section, and adhesive tracing paper to document your routes on the enclosed maps. Just think of it as a travel journal template. At only 3.5″ x 5.5," the Moleskine's travel journal functions as an informative pocket companion.
3. Globetrotter's Log Book
Globetrotter's Log Book caters to the no-frills journal keeper. Depending on which version of you purchase, this travel journal provides separate space for every country in the world, flags, key facts, and ample space for notes. Globetrotter's Log Book goes above and beyond other journals though. To enumerate, the pages include vaccine information, websites for each country, maps, and also quotes. Could this possibly be the ultimate travel diary?
The ruled pages are perfect for those with meticulous handwriting, and for those who simply wish to keep things neat as they go. The hard bound book is not only a great resource, but also a fun spot to record your adventures. The only drawback to Globetrotter's Log Book is that it measures 8.5″ x 11," making it larger than most other travel journals on the market. Nonetheless- if you don't mind the extra surface area, this is a wonderful travel journal.
4. I Was Here: A Travel Journal for the Curious Minded
Even the best writers face writer's block occasionally. However, in the middle of your world-wind adventure is definitely not the time for this to happen! "I Was Here" alleviates this stress with built-in prompts to trigger your memory. In addition to its colorful illustrations, this guided travel journal includes unique journeys that are compatible with any city, near or far. With space for addresses, itineraries, reviews, tips from locals, time zone reference, measurements, graphic pages for note-taking, and a back pocket, "I Was Here" makes quirky practical for traveling. Reviewers love that every page is a surprise.
5. Day One App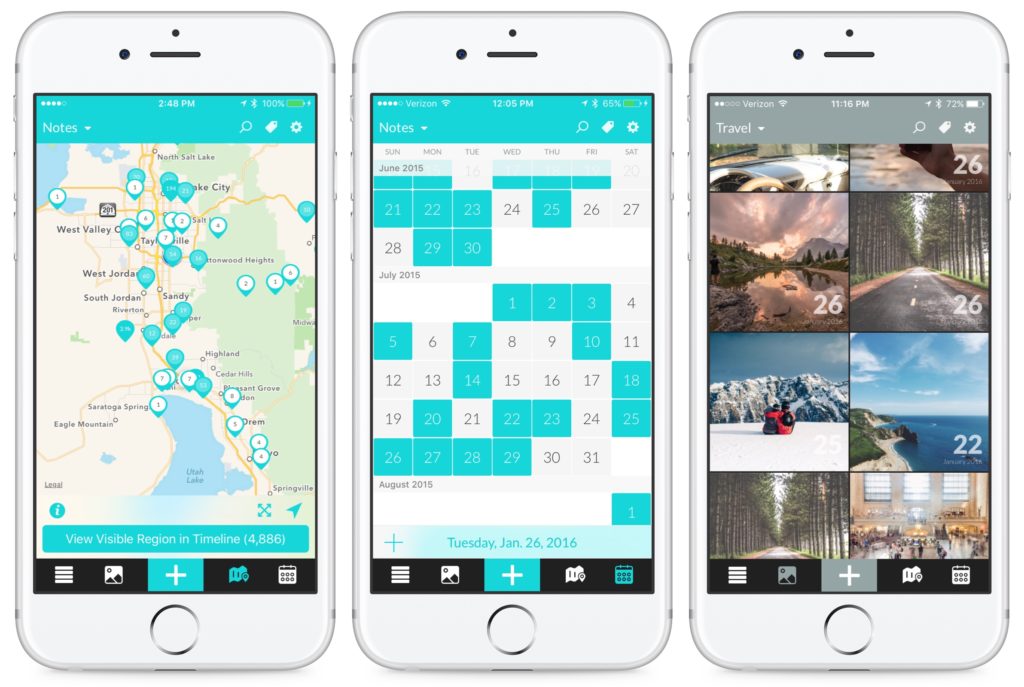 Credit: Day One App
It's an undeniable fact in this day and age, that technology reigns supreme. Given this, it is no surprise that travel journals now come in the form of an application you can install on your phone. Techies and haters of pen and paper rejoice! The Day One app makes travel journaling tech-friendly. Within the app, you can conveniently organize photos, notes, and locations. Fleshing out travel ideas, tweaking entries, and sharing your experiences with the world has never been easier.
Day One makes for one less thing to carry. For example, rather than carry a physical travel journal, why not have an app on your phone for this task? We all carry our phones everywhere, essentially eliminating the need for a tangible journal. Instagram Twitter users can even find Day One communities on their respective platforms. You can download this app on iPhone or iPad Pro; and yes, it is Android compatible too.
Downloading and using the basic features on Day One won't cost you anything, but their premium offers are definitely something to check out for the avid journalists.
6. Insight Guides – Travel Experience Journals
Insight Guides makes travel experience journals for just about every type of place you can envision. The stunning photographs and inspirational content set this travel journal apart. Of course, it has all of the standards that you want and expect too. These include a calendar, planner, conversion tables, important travel phrases, a time zone map, international area codes, and even a travel checklist. With so many features, you may be wondering what space is left for you. Not to worry though, the 160 pages include plenty of room to record your excursions. This travel journal achieves perfection for those on the go!
7. Field Notes
Need something simple? Look no further than Field Notes. This 3.5″ x 5.5″ travel journal is well-suited for all types of travels. Coming in a variety of colors, the 48-page books offer a durable, flexible alternative that is designed to survive even the most treacherous abyss (A.K.A. your pockets). Some version even come in acid-free paper, which helps parchment last against damage and decay.
Certain versions of Field Notes are also destination specific and serve travelers facts and figures on the back cover. Reviews indicate that this is the perfect option for travelers looking for something minimal and clean in a travel journal. A Twitter Instagram savvy traveler may have seen these travel notebook companions on various profiles, and for a great reason at that. The simplicity and ability to fit amongst an array of styles makes this journal a favourite with many.
8. Travel Listography
Are you Type A? Travel Listography is for you! Planners will love the 'travel related to-do list' type of content. With 160 pages, 70+ thought-provoking topics, and illustrations, Travel Listography is a unique travel journal. Users cross items like "world cuisines to try" off their list. Similarly, beginner travelers document their "firsts" as they experience them. For instance, journalists may jot down notes about their first road trip, first camping trip, or first international trip. Travel Listography functions as a time capsule of sorts and a sure delight to the list-lover in you.
9. Bon Voyage Journal
Rifle Paper Co.'s Bon Voyage travel journal is just my type. Above you will see the cute and functional journal that features an illustrated map on its front linen cover. The 208 ruled pages make keeping your stories neat a breeze. Available in green, blue, and pink, this travel journal sparkles with the turn of each page's printed gold metallic ink. Moreover, at only 5″ x 7," this travel journal will not only be easy to carry, but also fun to use on your next adventure.
10. Rite in the Rain
Have weather conditions ever prevented you from pulling out your travel journal and recording your surroundings? Never again! With Rite in the Rain, you will have no qualms in whipping the 4.625′" x 7.25″ all weather book out to jot down notes. The pages are all recyclable and wood-based. This means that water drips right off the paper without seeping through and ruining all of the pages beneath.
The field flex cover is considered to be one of the most flexible cover materials around, thereby making it great for pockets. To further assist in keeping this travel journal in your pocket, the corners are rounded. Each of the 128 pages is perforated for easy removal. Rite in the Rain originally designed these travel journals for the U.S. military, with the goal of allowing the user to "collect an obscene amount of data" and survive. If that isn't enough of a review, this notebook also has four and a half stars on Amazon.
11. Travel Stub Diary
Who doesn't love holding onto tickets, boarding passes, and various other souvenirs? We all do, but we also recognize the annoyance of keeping track of these items and organizing them. The Travel Stub Diary offers souvenir lovers the perfect travel journal. Now, you can keep all of your travel paraphernalia organized, and even secured with some washi tape, in one journal diary. This travel journal features 2 different sized protective sleeves to protect maps, keepsakes, and the likes.
The Travel Stub Diary, of course is perfect for personal travel. However, it also makes a great overseas business trip companion. Career men and women can easily flip through the pages to find saved business cards or meeting itineraries.  In addition, the margins provide space for notes. Regardless of how you use the Travel Stub Diary, you will always have your photos, postcards, maps, tickets, and more within easy reach.
12. Small Adventures Journal: A Little Field Guide for Big Discoveries in Nature
Nature lovers adore the Small Adventures Journal. This travel journal is actually an illustrated activity journal. Within the journal, prompts line the pages, assisting travelers in identifying clouds, stars, animals, and more. Some pages show how to tie different knots, while others show how to build fires or identify wild mushrooms. There is even a wildlife BINGO! game. This travel journal is the perfect option for an interactive, informative, and exciting-to-use accessory. You will definitely want to scope out Amazon to purchase this for the backpackers and nature lovers in your life.
13. My Road Trip Journal!
Staying local for your vacation? Perhaps a road trip is in your future. If so, these travel journals are for you! Regardless if you are planning a road trip, a camping trip, an RV trip, or anything else, this line has a specific travel journal for your adventure. The 200 pages give trekkers a prompted format for their thoughts. The spiral bound, hard cover travel journal is durable and portable. Thereby, this is the perfect addition to your next excursion — just don't forget to pack it!
14. Travelogue Scratch Off Journal
The Travelogue Scratch Off Map Journal is a ton of fun! Inside of this travel journal, a bookmark, eight maps, and a travel notebook comprise the contents. The eco-friendly materials assist in presenting a personalized travel log for each trekker.  Each of the eight maps designate a different region of the world, providing travelers with a scratch-as-you-go representation of their journey. In addition to being unique, this option will have you pining to give into your wanderlust, just to scratch a new country off your map. Thus, this travel journal is a great gift! The only thing that could possibly make this travel journal better would be if the maps were scratch AND sniff.
Our Final Thoughts on Travel Journals
Don't be caught off guard next time you travel. A functional and mobile travel journal is a must to record your adventures and make them unforgettable. Not to mention, travel journals make a great resource. With maps, conversion charts, time zone maps, foreign lingo, and more, the travel journal is a worthwhile investment. Be sure to navigate your browser to Amazon to scope out these options and ensure you are armed with the best journal in the world!
Do you think it is a good idea to have a journal or blog while traveling? What are some creative travel journal ideas? Comment below!
Related Article:  Best 16 Sleep Masks for Travelers