Stash your cash secretly with the Zero Grid Money Belt.
You've been planning your trip for months, from the initial plane ticket purchase to the hotels, rental cars and then all the sights that you want to make sure you get to see. However, you're probably not planning on having your passport and money stolen. For those who travel often, it's almost inevitable. It's likely that you have personally experienced theft while abroad, or perhaps you know the story of someone who has.
Canceled flights, bad weather, or sickness will definitely put a damper on your trip. However, losing your passport and money is perhaps one of the greatest nightmares while traveling abroad. So that you're not taking any chances, you'll want to use extra caution with those particular items. Some items are available to help with just that: a travel wallet, a travel money belt, or options like travel pouches under your clothes. Here, we'll review one of the best money belts for travel. It's a hidden money holder to make sure no one steals your cash.. The travel money belt appears to be like a regular belt, but includes a zippered pouch for bills. .
A Little About the Travel Money Belts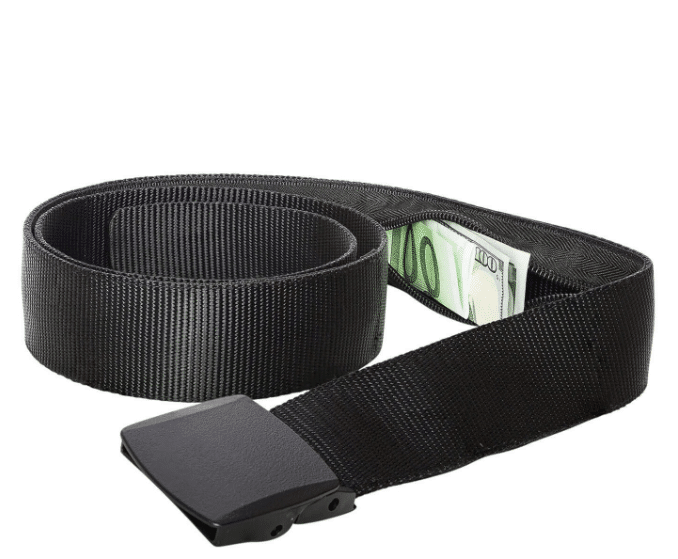 Credit: Zero Grid
Perhaps you're wondering, "what is a money belt?" Travel money belts appear in many shapes and sizes. Some simply appear as regular belts, skinny enough to be looped through your pants' belt loops, or just worn around your waist. Other money belts feature a slightly bigger pocket and wrap around your waist under your pants and shirt.  A money belt is different from a travel wallet, since the "belt" allows you to strap it around yourself. As opposed to a wallet, the money belt  is not meant to be carried in a pocket, where someone could grab it. The belt feature means that this concealed travel pouch wraps around you, making it difficult for someone to access those valuables. 
The travel money belt is meant to protect the entire cash stash that you've brought along for your trip. For easier access for quick purchases, you could still carry another wallet or purse with a day's worth of currency. Additionally, a money belt sure isn't the same as a fanny pack, so you won't have to worry about your style. The point of the hidden money belt is that no one knows it's there! 
Zero Grid Money Belt Features & Benefits
This Money Belt is actually a belt, too!
Credit: Zero Grid
This concealed money pouch is a belt, as in, you loop it through your pants' belt loops and it will hold your pants up! Of course, packing is made easier by anything that plays a double-role, so the Zero Grid Money Belt helps you out in that regard. Additionally, the fact that this appears as a belt (well, since it IS a belt) means that it doesn't catch the eye of a thief.  Sure, a wallet or purse will have money in it… but the belt is not the first thing a pickpocket would grab. Therefore, the money belt holds your pants up, holds your cash, and doesn't draw attention!
No Metal = Easier Security Checks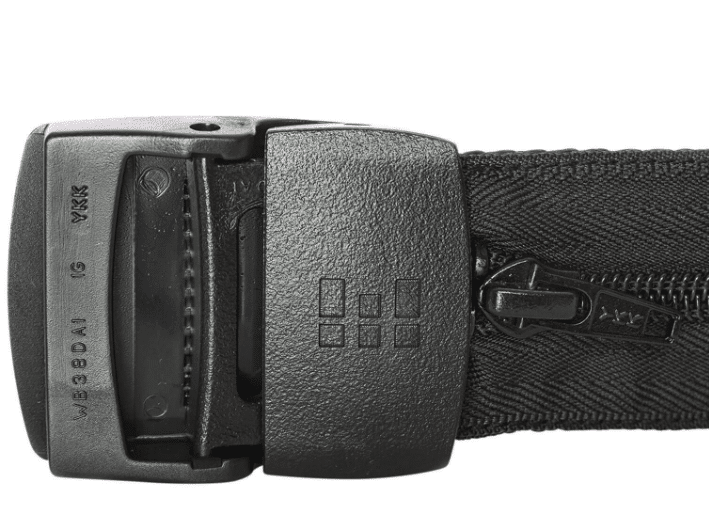 Credit: Zero Grid
Airport security requires you to remove any metal from your body, so a metal buckle would mean that you'd have to separate yourself from your hidden stash of money. Zero Grid thought of this, of course, and made the buckle from durable plastic. Plus, the plastic buckle contributes to the nice, light weight of the belt. 
Pickpocket Proof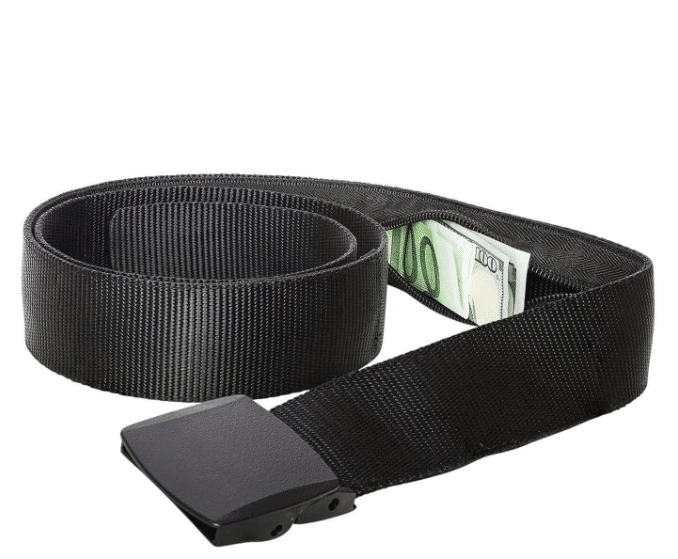 Credit: Zero Grid
Pickpockets won't tend to go for the belt, so the money inside here is safe according to that principle. The inside of the belt reveals a zipper that is a total of more than two feet of the belt's length. That means you can line up many bills (some estimate between 30-60). You'll only have to fold the bills once (lengthwise) and they will fit in nicely. In addition to money, you can keep paper copies of passports or other valuable information. That way, you can be sure you will have access to those documents no matter what happens to your luggage or wallet.
Durable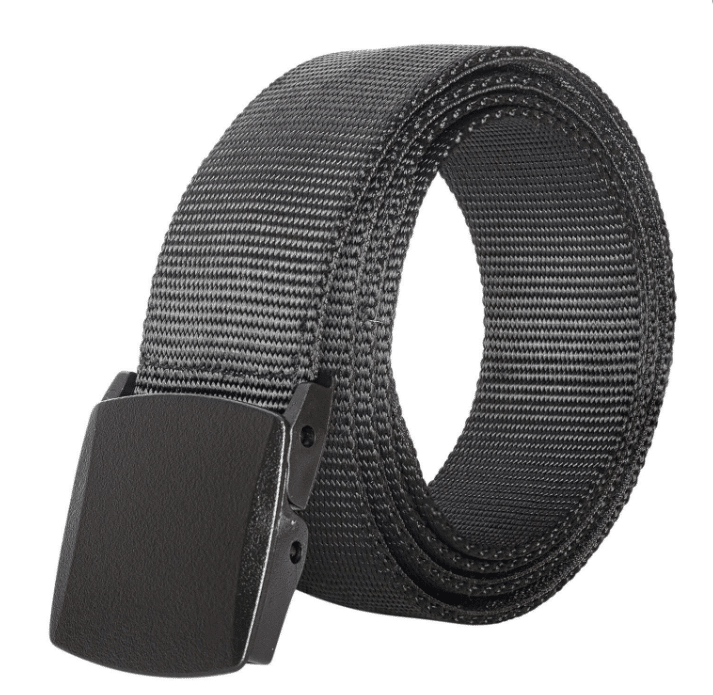 Credit: Zero Grid
The Zero Grid Money Belt won't fray because it's made from high-quality nylon. The belt strap is tough and water resistant. Plus, you could use it as a tourniquet or to strap down items. The belt strap is made with top grade nylon webbing. It features a high-quality YKK zipper. Since the zipper is an important feature, Zero Grid wanted to make sure that it would work smoothly without breaking. Indeed, they've found that perfect zipper. The zipper is hassle-free and allows you good access to the money you've stashed inside. The reinforced, non-slip buckle means that you won't find yourself with saggy pants by the end of the day. The buckle clips on and off smoothly. 
Great for Women and Men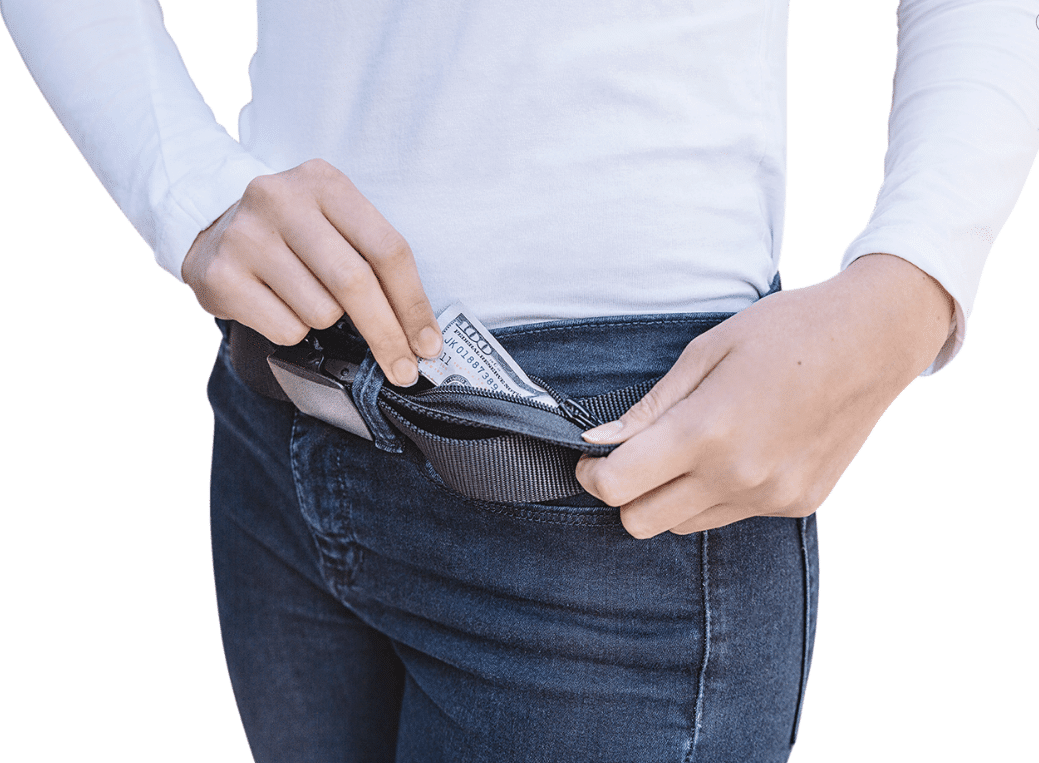 Credit: Zero Grid
The Zero Grid Money Belt doesn't have a prong and holes to adjust. It works much like the airplane seat belt; pull to where it's comfortable, and then use the clasp to hold securely in place. The neutral style means that the belt looks good on both men and women. Plus, this money belt fits waists as small as 26 inches and up to 42 inches. When it's not in use, roll it up and you'll find that it takes up minimal space.
What Travelers Are Saying About the Zero Grid Money Belt
The Zero Grid Money Belt earns itself many stars, and travelers especially love two things in particular. First, the appearance of the belt means that wearing it won't totally impede your style. It looks good on both men and women. Secondly, travelers love the amount of cash they can carry in this belt. Of course, it's a belt and therefore narrow, so you can't expect to fit your water bottle in here, too. However, the inside zipper stretches around your waist, and that means you can fold and fit many money bills or other papers in here. 
Travelers also appreciate the fact that you can so easily adjust the waistband, and you're not limited to the spacing of the holes like a regular belt. Others says that the clasp does a good job remaining in place; it doesn't allow the belt strap to slip through. Plus, travelers appreciate the plastic buckle which doesn't set off alarms during a security check. On the other hand, some customers find this plastic buckle to feel and look "cheap." This, however, is the price to pay for traveling through metal-detectors with ease. 
Overall, other travelers find that the belt is useful since it's easy and comfortable to wear. Plus, it has the capacity to hold more money than other travel money belts.
Alternative Travel Wallets
Gerhard Travel Passport Wallet
This travel wallet is a great way to keep all your important belongings in one place, therefore making it easier to know where it is at all times. The wallet is just the right size for a passport, and includes slots for credit cards, unfolded bills. Plus, it includes a smaller zippered pocket as well as a pouch on the outside for your phone. The wrist strap makes it easy to keep with you and the zipper along three sides makes it really easy to access. This travel wallet blocks RFID signals. You can choose your option of many colors, so that it will match your style.
Peak Thin Profile Money Belt
Peak is so confident that this product will spare you from loss. They prove that by offering up to $250 dollars in theft insurance. This low-profile belt and pocket has space for your passport, but isn't too bulky. Wear this under your clothes, and no one will be able to steal your valuables. It's light and comfortable, plus you can choose from three sizes to make sure that it fits comfortably, without leaving excess belt straps. This money belt features premium zippers, quality stitching and durable nylon. The mesh back is moisture-wicking so it's comfortable to wear, concealed under clothes. Plus, you'll be protected from electronic theft with the RFID blockers.  Despite its slim profile, you'll find two zippered pockets, to keep your money, passport and important papers organized.
Alpha Keeper Money Belt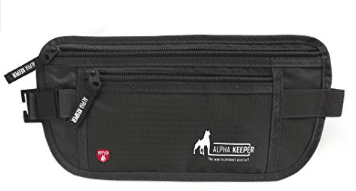 This money belt will keep your cards safely tucked away behind three RFID layers. Plus, it's water resistant. The Alpha Keeper features a waist belt, a buckled closure and a storage pocket with two zippered compartments. Additionally, that outer pocket even features more inner storage pouches. You can even fit your smartphone inside. The YKK zipper is the highest quality. Wear the belt underneath your clothes for extra protection against thieves, and you can even choose from a variety of colors and two different sizes.
The Zero Grid Money Belt is the Secret to Hiding Your Cash
As opposed to other money belts, the Zero Grid one is especially stealthy. You don't have to wear it under your clothes, and it's not bulky. Simply unzip the length of the belt to stash your bills right in there. Plus, you won't be wearing anything "extra" with this money belt. It serves as a real belt, which means you won't have to wear an extra contraption around your waist. It's a great money belt for women as well as men. If you're on the lookout for something very low-profile and practical to stash your cash, the Zero Grid Money Belt is the travel item for you!
Related Article: Winks Travel Neck Wallet Review: Convenience and Protection