Briggs & Riley Luggage is for Travelers Who Don't Mess Around. Are You Ready to Make a Lasting Investment?
When it comes to purchasing a new suitcase, the easy option is to buy a $60 bag and call it a day. However, in a year, if not sooner, you are going to be purchasing another $60 bag because that one didn't hold up. And this cycle typically continues on repeat for years to come. The problem with cheap bags, is they are cheap bags. If you are a traveler that is looking to break the cycle and seriously invest in a suitcase that will last for life, Briggs & Riley is for you.
When we say these bags will last for life, we aren't exaggerating. This luggage brand is the only company to offer a lifetime warranty on all their bags. So, while Briggs & Riley bags may be expensive, keep in mind that a lifetime of repairs is guaranteed with the purchase of any bag. Whether the bag was damaged on the train, in the airplane, or anywhere else, Briggs & Riley will repair it and it won't cost you a dollar. The only thing the warranty does not cover is cosmetic wear and the replacement of a lost bag or stolen bag.
Why Briggs & Riley Luggage?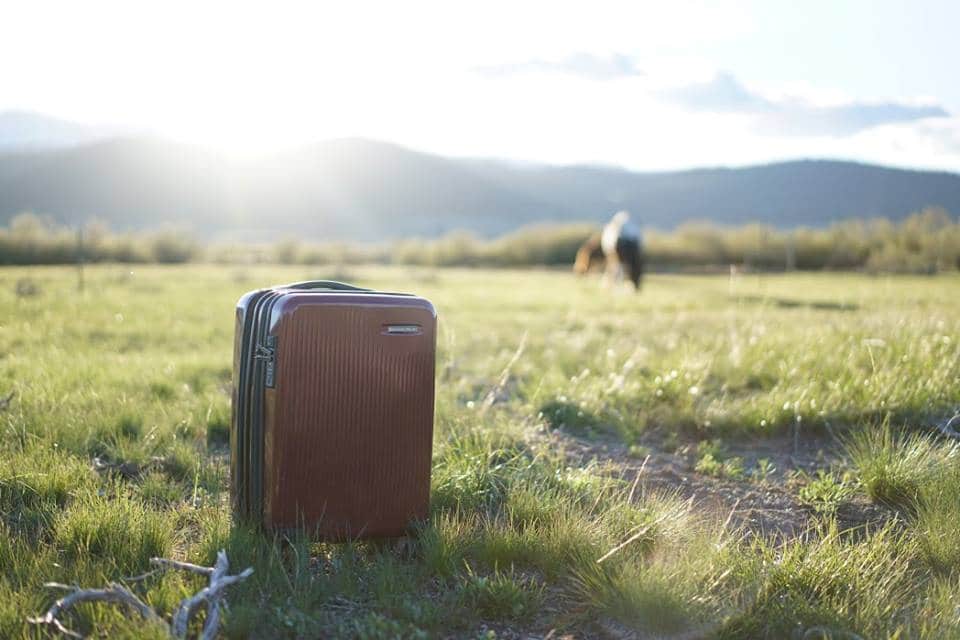 Beginning in 1970, this luggage brand has been making high-quality suitcases that are functional and innovative. One notable feature of Briggs & Riley bags is the Outsider handle. You know when you are trying to pack, but the handlebars are sticking out, preventing clothes from laying flat? This luggage brand avoids this problem by not having handlebars inside the bag. Travelers will be able to pack their items flat within the suitcase, allowing for more space and more efficient packing. Another key feature of some Briggs & Riley bags is the expansion and compression system. These suitcases can expand to store more belongings, then compress back down to the suitcase's original size.
Bags also have a HideAway ID tag that keeps personal information private, which is different from most luggage brands that expose the ID tag for the whole world to see. Have you ever been sitting at your gate or waiting in line for a coffee before you board, and thought about how easy it would be for someone to retrieve your address and contact information by looking at your bag? Thankfully, you won't need to worry about that happening any longer with a Briggs & Riley bag.
This luggage brand is on the cutting edge of innovation, meeting practical needs. There are plenty of other neat features on Briggs & Riley bags. Let's talk more about what some of these features and benefits are.
Briggs & Riley Features and Benefits
Carry-On Luggage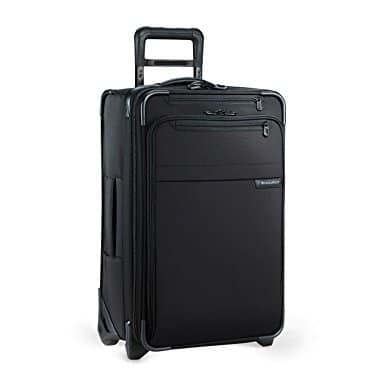 Do you want options? This luggage brand has options. In the carry-on department, Briggs & Riley sells domestic spinners, international spinners, commuter expandable spinners, two-wheel suitcases, and many other variations. One popular carry-on bag is the Domestic Carry-On Expandable Upright (Two-Wheel). This bag is sold at $499, but remember, there is lifetime warranty (which even covers airline damage). With this carry-on suitcase, your color options include black, olive, or navy. Made of 100% nylon and standing at 22″ tall, this carry-on bag fits in the overhead compartment on most United States domestic flights. We always recommend you check with your airline to see their specific size restrictions prior to traveling.
Now, let's talk about the inside of the bag since it's what's on the inside that matters most, right? There is a large front pocket on this bag that expands to store extra items, which can include a laptop. Remember, there are no handlebars protruding in the interior, so the inside of the bag has plenty of room for you to neatly pack your clothes. This carry-on also has a built-in garment bag that keeps suits, slacks, and shirts wrinkle-free. The built-in garment folder can hold up to 2 suits. The interior garment bag is useful for business travelers, or those who simply want to keep their clothing wrinkle-free.
The last stand-out feature that we will mention with this bag (though there are plenty more), is the Smartlink Strap. This exterior strap is found near the handlebar. With the Smartlink Strap, you can easily attach a smaller bag to the front, which allows for easier travel. Why lug around two (or more) bags, when you can roll one? The Smarklink Strap allows you to stack and strap and be on your merry way. If you are a frequent traveler, then this rolling carry-on bag may be the one for you.
Checked Luggage Pieces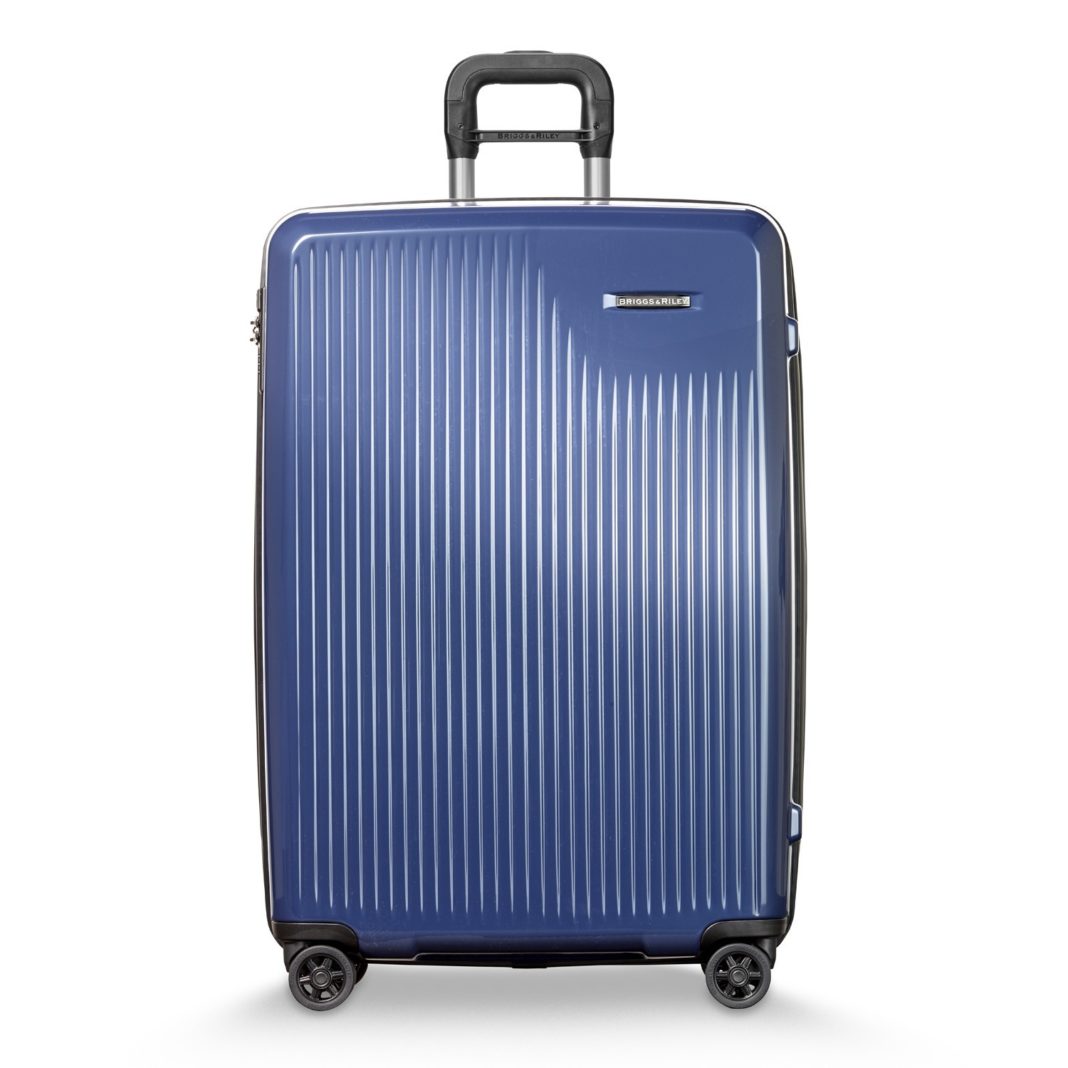 Briggs & Riley sells a variety of checked luggage pieces as well. One of our favorites in the Briggs & Riley Sympatico Large CX Spinner. Costing you $649 this bag comes with more room than you may know what to do with. If you have the tendency to overpack or purchase an abundance of souvenirs when on vacation, then the Sympatico Large CX Spinner may have your name on it. Plus, when you need even more space, there is additional good news. This suitcase has a nifty Briggs & Riley feature that allows the bag to expand 25%, then compress back down to its original size. We hope you get the picture. At 28″ tall, this bag is big and capable of storing all your belongings.
In addition, this checked luggage piece comes with a built-in TSA combination lock and double spinner wheels for greater stability. Inside, this spinner has a hanging section to hold suits, shirts, or other clothing items you wish to keep wrinkle-free. The exterior of the bag is a polycarbonate hardcase shell. This suitcase is strong enough to handle wherever your travels take you.
Backpacks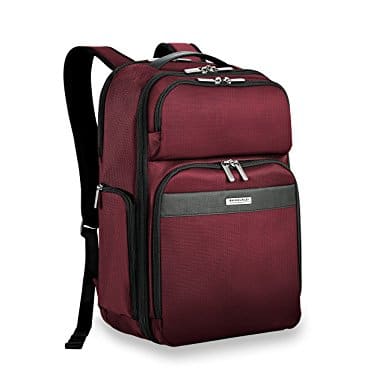 In addition to carry-on luggage and checked luggage pieces, Briggs & Riley also sells a collection of backpacks. Small, large, blue, black, burgundy-there are many styles and colors to choose from. One of our favorite options is the Briggs & Riley Transcend Cargo Backpack. This pack has a laptop compartment, main compartment, and an organizer compartment. The bag is 18″ tall which means it can even hold a laptop up to 17″. If you are someone who cares about staying organized, then you will appreciate all the compartments and organization potential that this bag has to offer. This backpack sells at $199.
What People Are Saying About Briggs & Riley
Customers all rave about the quality of Briggs & Riley bags. Really, who can complain about these bags when there is lifetime warranty attached to them all? Briggs & Riley bags are guaranteed for life, so if there is ever a malfunction, you'll be able to get it repaired in no time. That means, there are really no negatives to purchasing a Briggs & Riley bag. Any issues that do arise can be repaired free of charge. It doesn't get much better than that. If you can handle the initial cost of a Briggs & Riley bag, then you are set. For life.
Alternative Luggage Brands
TUMI Luggage
If you like the style and quality of Briggs & Riley bags, then you may also consider TUMI luggage. TUMI suitcases hover around the same price range as Briggs & Riley bags. That said, they aren't cheap. They are quality, and quality will cost you. However, we will say, while TUMI makes similar bags, they don't offer the lifetime warranty. When comparing the TUMI and Briggs & Riley, we say go with Briggs & Riley. For the same price, you get an additional lifetime warranty…
DELSEY Luggage
DELSEY makes luggage that is simple, sophisticated, and more affordable than Briggs & Riley. If you want a notch down from the heavy cost of Briggs & Riley and TUMI bags, then DELSEY luggage could be a great option for you. The carry-on bags, checked luggage pieces, and totes are all fashion-forward. This luggage brand has an array of color options and hardside/softside design options. Whether you are off on a business trip or going on family vacation, the style of DELSEY bags will fit any occasion.
Recap on Briggs & Riley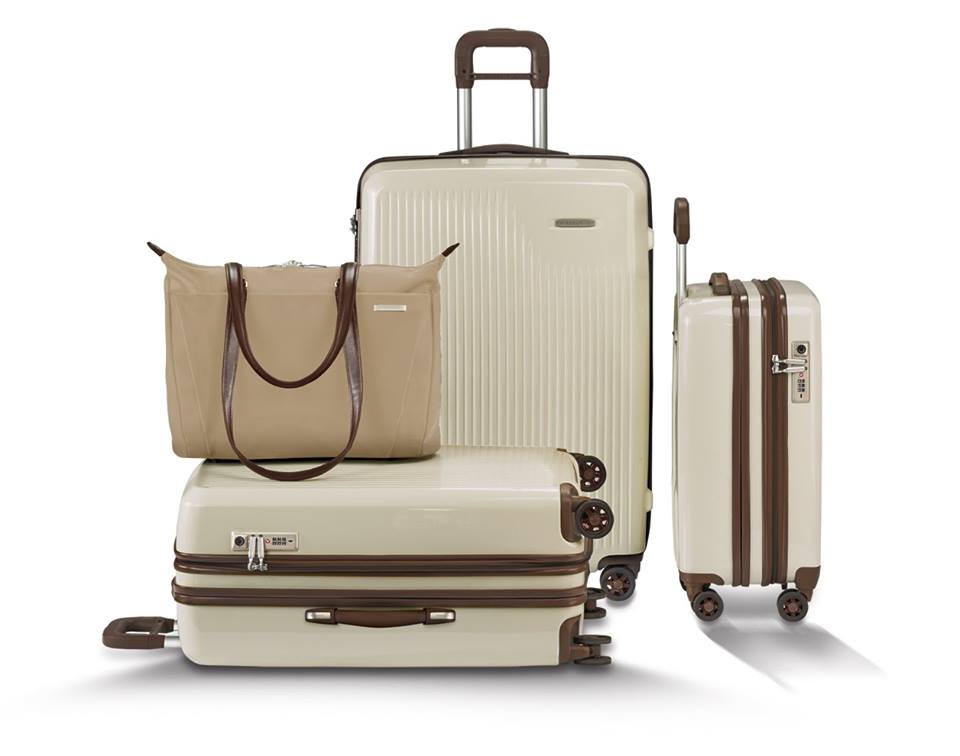 The price of these Briggs & Riley carry-ons bags, checked luggage pieces, and backpacks may be steep, but if you are constantly traveling, it may be time to make the investment. Over time, purchasing inexpensive suitcases (that last only a year until you have to purchase another) will add up. Therefore, it may be most cost-effective to invest in a suitcase that will last (for life, remember?). These bags will not wear out after one year, or even 10. They are built to last. They are practical and innovative in design, with features unique to Briggs & Riley. If you want to most top-of-the-line bag, Briggs & Riley is the luggage brand for you. If you are tired of buying (and rebuying) cheap suitcases, then we suggest highly considering a Briggs & Riley bag. These bags are nothing short of high-quality.
What are your thoughts on Briggs & Riley bags? Share with us your experience with this luggage brand in the comments section below!
Related Article: ​Best Lightweight Luggage Reviewed (Plus How to Choose Yours)​​​