You've got everything you need with the SCARPA Instinct VS Climbing Shoes.
Are you looking for a pair of dynamic climbing shoes? Look no further. If you've been climbing for a while, chances are you've already heard of SCARPA. For those seeking aggressive, powerful climbing shoes, these are your best bet. So what do we love so much about the SCARPA Instinct VS Climbing Shoes? Well for starters, they work wonders on steep terrain. Let's take a closer look at the brand and features and see if these shoes are the right fit for you.
A Little About SCARPA
Born in the Dolomites of Italy, SCARPA has become synonymous with durable, outdoor gear. Since their point of origin in 1938, this dynamic brand has established a name for itself when it comes to quality, handcrafted footwear. Their initial mission was to gather all the best shoemakers in the Asolo area with the goal of crafting the world's best footwear.
It was through this ingrained spirit of craftsmanship that Luigi Parisotto eventually purchased the company with his brothers. Afterward, SCARPA became a family enterprise. Their business grew quickly to incorporate seventeen expert shoemakers. During this time, they produced around 50 to 60 pairs of shoes per day. During the 1950s, word began to spread and SCARPA began to attract clientele from other parts of northern Italy.
The owners of SCARPA recognized a market demand early on. There was a growing need for specialty mountaineering and climbing shoes which had not been met. This fact along with the brand's excellent durability and fit set it apart from the pack. As they continued to innovate, their gear has been used by many top climbers and explorers who tackled the Himalayas and Antarctic. In addition, it was also adopted by the Italian, U.S., French, Spanish, and other militaries around the globe.
This is the defining spirit of SCARPA. They commit themselves to diligence, excellence in their craft, and ingenuity. The company is one of many firsts. Have you heard of the Gore-Tex boot? Well, SCARPA was the first to develop it. How about the plastic telemark skiing boot? As you can see, they are passionate about sports and performance. Needless to say, the SCARPA Instinct VS Climbing Shoes offer nothing short of excellence.
The SCARPA Instinct VS Climbing Shoes Features & Benefits
A Downturned Design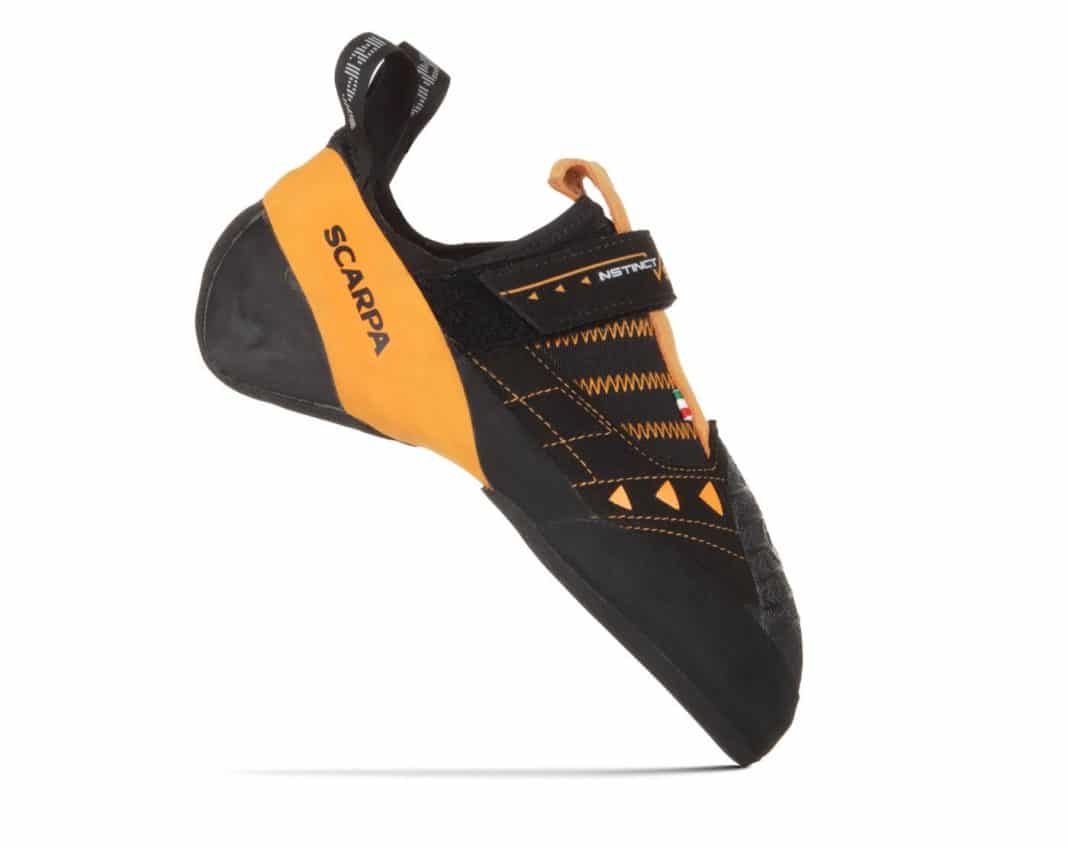 Credit: SCARPA
As we mentioned earlier, the SCARPA Instinct VS Climbing Shoes have a particularly aggressive design. These shoes help to keep your toes bent at the knuckle and your foot curled. While this is certainly uncomfortable for walking around, when you're bouldering, you'll feel like Spiderman.
It's important to know that the shoes run on the narrow side. So, if you have wider feet, make sure to try on a pair of the shoes before you commit to them. The heel support is absolutely fantastic. However, even if you do find yourself with a little extra room (especially in the toe box), your toes will still be compressed. Be sure to try and break these shoes in on your own before a big trip.
Vibram XS Edge Rubber and Heel Fit
Any climbing shoes with Vibram rubber have an instant boost in quality. The Vibram in these shoes falls somewhere between softness and durability. When it comes to the heel fit, SCARPA has really done this right. The heel pops into place without a single bit of an air bubble in the back of the shoe. This snug fit enables aggressive heel hooking which isn't available in just any pair on the market. As you can see, this is one of the ways the SCARPA Instinct VS Climbing Shoes excels in its field.
Rubber Toe Top and Velcro Closure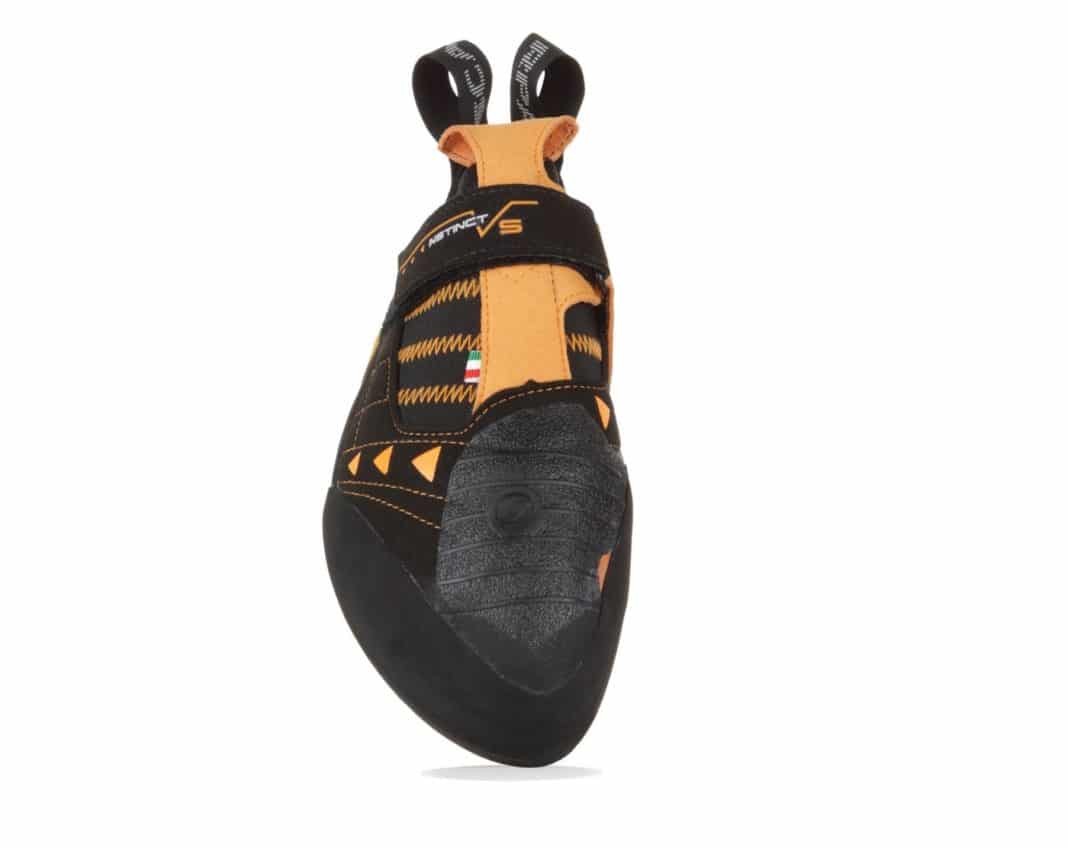 Credit: SCARPA
While the average climber might not think to take advantage of the rubber toe top, you should. What does it do? For high-level climbing and bouldering, it will give you a little extra hold when you need it most. The velcro closure secures it a bit more. Thanks to this secondary feature, the shoes are easy to put on and take off. This is helpful to have since in walking terms, these shoes aren't exactly comfortable.
Pros and Cons:
Like any other great pair of shoes, the SCARPA Instinct VS Climbing Shoes come with pros and cons. They are great for steep climbing and sport climbing. Here, the aggressive downturned toe style and amazing heel go a long way. Here's where the cons come into play. Given the aggressive shoe style, you will be sacrificing some comfort. While the rigid structure makes for an incredible grip, it also hurts a little to wear. The shoes are also on the pricier end of the fiscal spectrum.
What Travelers Are Saying About the SCARPA Instinct VS Climbing Shoes
With a four and a half out of five-star rating, the SCARPA Instinct VS Climbing Shoes speak for themselves. Overall travelers have found them to be a great shoe. The comfortable, well-rounded sport style is perfect for difficult surfaces and bouldering. Given their stiffer form and toe grab, this makes sense. While the shoes do tend to run a little narrow, you want a snug fit. Remember, there should not be any loose air pockets or room for your foot to slide around in them.
Users highly recommend wearing them for gym sessions before taking them somewhere more challenging. By doing this, they will become better in terms of fit. In terms of quality, they are awesome and the shoes grip well. They slide on and off nicely. For users coming from laced styles, the velcro is another refreshing addition. Climbers were pleasantly surprised at the way the SCARPA Instinct VS Climbing Shoes contour the foot without the need for plenty of adjustments.
These shoes are made for mid-level to advanced rock climbers who are looking to tackle more challenging routes. Thanks to the stiffer body of the shoe and the strong toe grips, that is possible. Make sure to try out the shoes and break them in before tackling more difficult outside routes. We highly recommend the SCARPA Instinct VS.
Tech Specs:
Aggressive style

Synthetic sole

Imported from Italy

check

Bi-tension randing for toe power

check

Vibram heel for easy hooking

check

Mid-length outsole

check

Floating power strap
Alternative Climbing Shoes You May Like
Are you still looking to shop around? Don't sweat it. We've got you covered. Here are two of our other favorite climbing shoes.
Men's La Sportiva TarantuLace Performance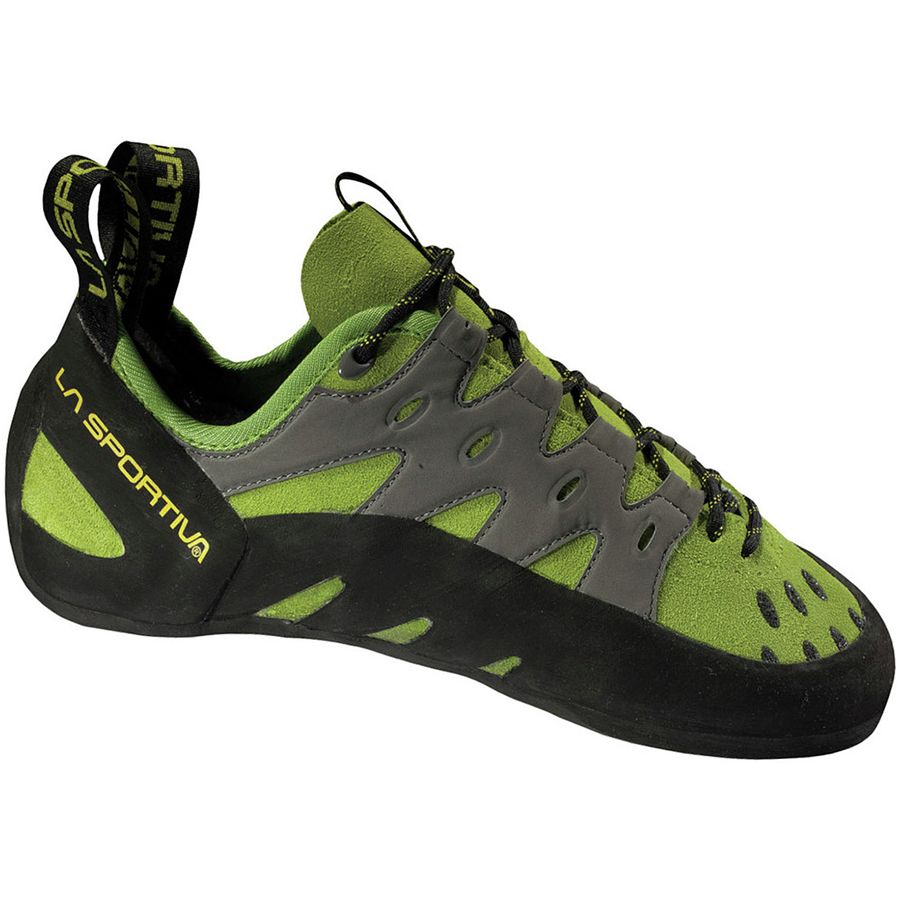 If you're looking for a similar shoe for intermediate climbers, you've got it in the Men's La Sportiva TarantuLace Performance shoes. This style from La Sportiva offers the perfect solution for an avid climber. These shoes really do it all, featuring a rugged heel rind made from rubber. The low symmetry shape, great grip, and sensitivity all come together to create a truly unique product. This company refuses to sacrifice performance for anything else.
Synthetic overlay harnesses provide great support for beginning to mid-level climbers. Unlined leather uppers and the breathable tongue are comfortable and soft to the touch. Whether you are hitting up your local gym or climbing an expert pitch, these are some of the best climbing shoes for men. They'll keep you moving up.
Tech Specs:
Leather

Quick-lacing system

All-around performance

check

Rubber heel rand

check

Rubber soles

check

Classic unlined leather upper

check

Moisture control

check

Great breathability

check

Durable

check

Flexes at midsole

check

Tight fit
Black Diamond Momentum Climbing Shoe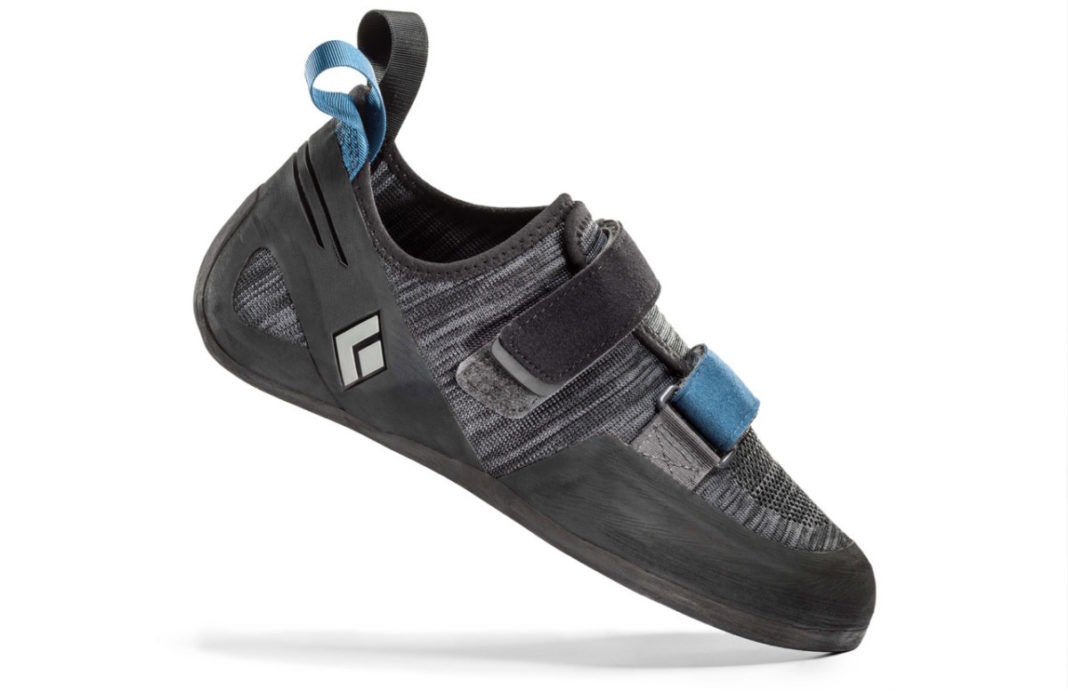 Are you looking for the best climbing shoes, Black Diamond knows exactly what you need. This style provides unparalleled comfort, moves with you, and provides plenty of support along the way. The two-strap velcro design provides innovative tech with an entry-level shoe that exceeds all of your expectations in performance.
Take a look at the upper fabric. You will find that it is composed entirely of their engineered know technology. The Momentum Shoe provides all of the stretch when you need it most as well as exceptional breathability. Microfiber was also added in to stretch and maximize your comfort. All of the shoes from the Black Diamond line have been optimized for weight, consistency, and comfort. With these shoes, you can enjoy moderate routes, whether you are bouldering or in a gym session.
Tech Specs:
Designed for vertical climbing and all day comfort

Flat last

Rubber for durability

check

Soft flex midsole

check

Two velcro straps for adjustability
Overcome Your Bouldering Obstacles with the SCARPA Instinct VS Climbing Shoes
When you're ready to climb challenging outdoor routes, finding the right shoes to wear can be challenging. Different style climbers will have different preferences. Consider whether you would like to move lightly or in comfort. These rock climbing and bouldering shoes will allow you to explore even the most difficult terrain without resistance. All in all, we love the SCARPA Instinct VS Climbing Shoes. If you're ready for a challenge, find your perfect fit and get ready to tackle that next route.
Related Article: 6 Best Climbing Shoes For Men And Women