One of our favorite new styles is the Women's White Sierra Summit Down Jacket.
If you're looking for a stylish, minimalist jacket for fall, the Women's White Sierra Summit Down Jacket is a great buy. It comes in black and nightshade (a deep plum) and can be paired with almost anything. And with prices this good, you don't need to wait for jackets to go on sale to purchase. Sixty dollars won't break the bank.
Even with an affordable price tag, the Women's White Sierra Summit Down Jacket doesn't skimp on quality. The polyester shell and down/feather lining provide great insulation for those cold fall and winter days.
About the Brand
Have you heard of White Sierra before? A family-owned company, they make gear that everyone can enjoy. Ever since their founding in 1979, they have been committed to championing affordable quality travel apparel. You don't need to climb a mountain or kayak through whitewater rapids to enjoy the great outdoors.
What we love most about this company is that their apparel version of the outdoors aligns with your passion for it. This company is all about making everyday clothes for regular people who enjoy getting outside and being active. In the world of fashion, performance and clothing continue to come together. White Sierra remains steady in their commitment to offering great products for a wide spectrum of people.
Women's White Sierra Summit Down Jacket Features and Benefits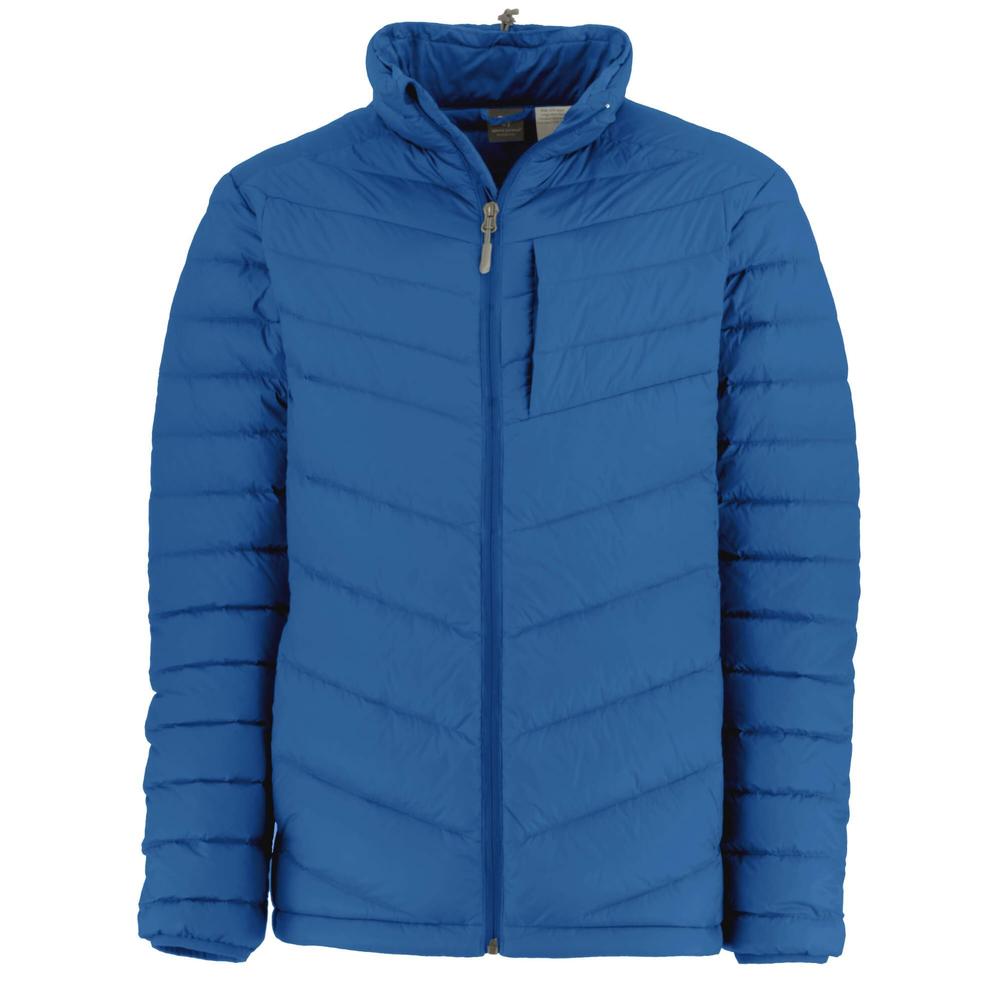 Credit: Amazon
With a durable shell lining and down and duck feather fill, this jacket offers great insulation properties. This hooded parka offers a stylish and practical way to brave the elements without the bulky look of winter wear. Smart design elements keep the cold out and the warmth in.
Size and Fit
Offering a tailored fit, the Women's White Sierra Summit Down Jacket is both stylish and practical. It's also easily packable and lightweight. You won't have to worry about it taking up too much space if you're packing carry-on only. Furthermore, we love that even though it has great insulation properties you won't look bulky in it.
Design
The shell is made from a comfortable, warm 100% polyester fabric. A combination of 90% white duck down and 10% duck feathers make up the fill of the Women's White Sierra Summit Down Jacket. Like we said, it's easy to compress and pack away. It's light enough to where it won't add a lot of extra weight to your bag.
When it comes to the aesthetic, this jacket offers an elevated look. A standing collar leads to a front zipper closure, on-seam zippered pockets, and comfortable elastic cuffs to keep your hands warm. The premium windproof fabric exemplifies high-tech workmanship. Premium quality down and feathers maintain great thermal performance in both cold and wet conditions. This is the perfect puffer jacket for women.
Additional Information
Besides having a great fit and quality, the unique density of this fabric makes it wonderfully breathable. Even if you wear it hiking, skating, or snowboarding, the insulation won't keep moisture in. The moisture-wicking fabric ensures that while you retain body heat, sweat won't stay inside.
We love wearing this jacket on the plane when we're winding down or heading off to the next destination. Ultralight and soft, it can easily be rolled up to double as a neck pillow. Life hacks, right? Simply roll it up. For care, make sure you close all the zippers before it is machine washed in cold water with similar colors. Make sure to turn it inside out when you wash and hang it out to dry. Do not bleach it.
Water Repellent
You can take the Women's White Sierra Summit Down Jacket anywhere. Whether you're roaming London streets in fall or hiking up a mountain pass, it goes the distance. Zippered hand pockets and interior lining will keep you warm and cozy as you venture out. Better yet, the fabric is water repellent, so even if you're caught in some afternoon showers, you don't have to sweat it.
Hood and Added Length Provide Optimal Coverage
When you're braving the cold, you'll take all the extra coverage you can get. An insulated adjustable hood and a little more length go a long way. Trust us. When you're all bundled up walking the streets of Copenhagen in search of the best Christmas market, you'll thank us.
Well-Placed Detailing
In addition to a great design and insulation properties, this jacket also has some handy features. An interior zipper pocket provides a safe place to store your wallet, phone, or keys. Stretchy binding at the sleeve cuffs helps to retain heat. Seam zippered hand pockets offer a place to keep your fingers safe from the cold of the winter air.
Tech Specs:
100% polyester shell

80% down, 20% feather

Stretch binding at cuff sleeves

check

Drawcord for collar and hem adjustment

check

Great insulation
What Travelers Are Saying About the Women's White Sierra Summit Down Jacket
Overall, travelers really love the Women's White Sierra Summit Down Jacket. Lightweight and comfortable, it offers great insulation properties at a reasonable price. Where else are you going to find a weatherproof winter jacket for $60? Users recommend going up a size since the jacket does tend to run a bit tight.
You can take it out in 30-degree Fahrenheit windy weather and be fine. The jacket blocks the cold from coming in and keeps you nice and toasty. For colder temperatures, we recommend you think your layering game through. A good practice is to start out with a base layer (e.g. a good pair of thermals), add a fleece or wool mid layer and then wear your puffer as the outermost layer. So the big question is do we recommend it? Absolutely. And from the reviews, it's clear to see that the travel community does too.
Alternate Jackets You May Like
Do you still want to shop around a little more? No worries. We've got you covered. Here are some alternate jacket styles we love.
Haven Outerwear Women's Mid-Length Packable Down Puffer Jacket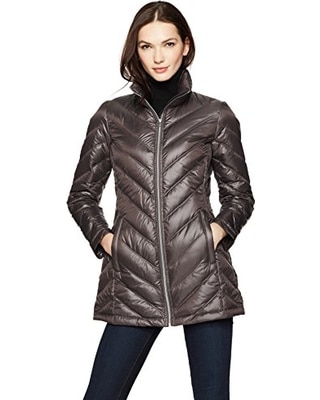 You don't need to hold out for a sale. This puffer jacket from Haven Outerwear checks all the boxes. Style and quality come together with a sticker tag of only $75. This mid-length puffer is one of the best down jackets for women. Haven is an innovative brand, offering every style, color, and size you could want all for under $100. With weather-ready features, this signature jacket has everything you need to brave the cold and look good while doing it too. This down jacket blocks out wind and keeps your body heat in, thanks to smart designs.
First things first. Let's take a look at the varying degrees of warmth. The Haven Outerwear Women's Mid-Length Packable Down Puffer Jacket comes in light, mid, and heavy to keep you comfortable all season long. Next, it provides excellent wind resistance. Specially-made wide pockets and a detachable hood offer extra protection from the elements. Last but certainly not least, microfleece-lined pockets, storm cuffs, and a faux fur trim are here to keep you cozy.
Tech Specs:
100% polyester shell

Fill: 85% down, 15% waterfowl feathers

Hand washable

check

Packable and lightweight

check

Chevron quilting and silver-tone pockets

check

Packable jacket made with 85/15 down

check

Internal zipper helps to retain warmth

check

Layer-ready warmth
Marmot Aruna Women's Down Puffer Jacket, Fill Power 600
Stay warm and cozy even when the weather gets chilly. Marmot offers protection from the elements with this 600 fill power jacket. Down defender technology keeps your body heat in and the cold out. Better yet, the Aruna will also keep you warm in chilly, damp environments. Thanks to zippered hand pockets and elastic cuffs, the cold air is sealed out and the fit remains secure when you're walking around.
Are you wondering what 600 fill down means? This translates to the amount of warmth, durability, and minimal weight the jacket has and provides. While standard down loses its insulation when wet, this jacket doesn't. Quite to the contrary, this moisture-resistant down prevents clumping and maximizes comfort. When it comes to retaining heat, the down defender is key. Other features like the elastic cuffs and hem retain heat too.
Tech Specs:
100% polyester sweater heather, 7.4 oz/yd

Imported

Women's down puffer jacket is ideal for hiking, snowshoeing, and skiing

check

Moisture-resistant Down Defender treatment on 600 fill power down keeps you warm in wet conditions

check

Zippered hand warmer pockets for added warmth

check

Elastic-bound cuffs and hem for a secure fit and heat retention
Invest in the Women's White Sierra Summit Down Jacket for Your Next Trip
We hope you enjoyed reading our feature on the Women's White Sierra Summit Down Jacket. You will be hard-pressed to find another jacket with great insulation properties at this price point. White Sierra is known for their high-quality products, so you can rest easy knowing the jacket will look, feel, and fit just as it was described. When it comes to travel, investing in good gear makes all the difference on your trip. Protect yourself from the elements with a quality down jacket.
Whatever your activity level, style, and budget, there is something on this list for all tastes. The jackets we included not only are sold at a great price point but are also made with the highest quality. The fall months are coming fast and you're going to need a good quality coat for all your upcoming adventures. Which one of the jackets on our list do you like the most? Let us know in the comment section below.
Common Questions
Are you looking to find more fall and winter apparel for your travels? Check out these articles for some of our top picks, tips, and more information:
Questions and Comments
Do you have any questions or comments for us? If so, we would love to hear them. Feel free to leave a message for us below. We will be sure to get back with you soon.
Related Article: 11 Best Down Jackets For Women You Need For Your Next Trip