TUMI luggage is famous for durability, innovation and style. Here we review the best pieces for you.
Those long-awaited beeps and flashes of the baggage carousel is a glorious sound after a long flight. It's a great time to scope out some luggage pieces for future suitcase-shopping. and without a doubt, your fellow passengers' Tumi luggage will catch your eye. There's good reason to be envious: amidst the duct-taped, bursting-out, blah-looking pieces, Tumi pieces will stand out by still looking fresh after a long voyage.
Innovative, stylish, and durable are the themes throughout descriptions of Tumi luggage. It's evident that this company strives to push itself to the top.  They have created improved lines, styles, and products with speed that keeps their name hot in the luggage world. Tumi customers report the luggage withstanding a lifetime of busy airports, taxi-cab trunks, airplane overheads and bumpy baggage claims. We'll show you the quality of a TUMI product, and help you narrow down the options with some of our favorite pieces.
Why TUMI Luggage?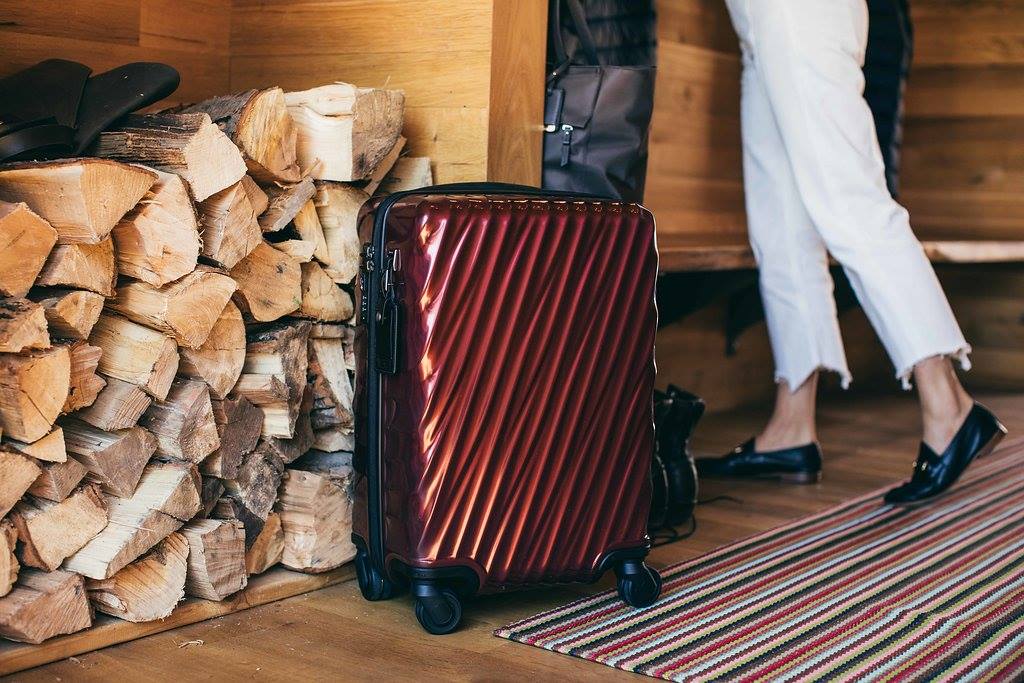 Credit: TUMI
Let's talk about the perks of purchasing any of the Tumi luggage pieces listed here. First, the Tumi Tracer. A clever move by Tumi, your luggage will have an embedded barcode that helps you locate lost luggage. If your luggage disappears, someone can make a phone call, and Tumi will find the match and get it back to you.
Second, the handles. The handles promise never to let you down, with a "virtually damage-proof X-Brace 45."  The telescoping handle offers three stages for length.  To illustrate Tumi's attention to detail, consider this: the tubing of the telescoping handles is made from aircraft-grade aluminum; it is lightweight and sturdy. You're trusting the same type of aluminum to transport you across seas; you might as well trust the durability of this Tumi handle.
Third, the zippers. These have Tumi's patented Omega zipper closure. The pulls break away from the zipper in the event that they get caught on something. Another bonus in the details of the zipper: the integrated TSA zipper lock. This prevents unwanted rooting through of your luggage, but allows TSA to do its job.
Carry-On TUMI Luggage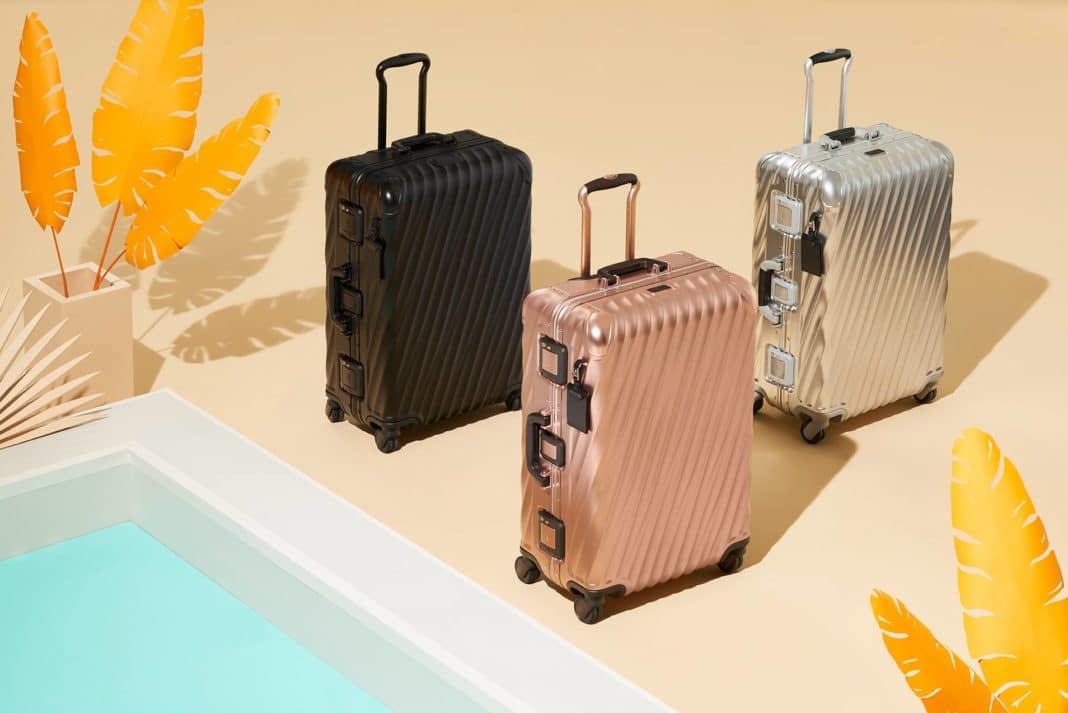 Credit: TUMI
We'll be taking a closer look at three of Tumi's best-selling collections for carry-on luggage: Tegra-Lite, Alpha 2, and Tumi V3. Tumi provides an "international" and "continental" option for each of these lines: continental is about two inches bigger. Tumi's website promises that carry-on pieces will fit perfectly in overheads or under seats,  and meet TSA guidelines.
Alpha 2 Expandable 4 Wheeled Carry-On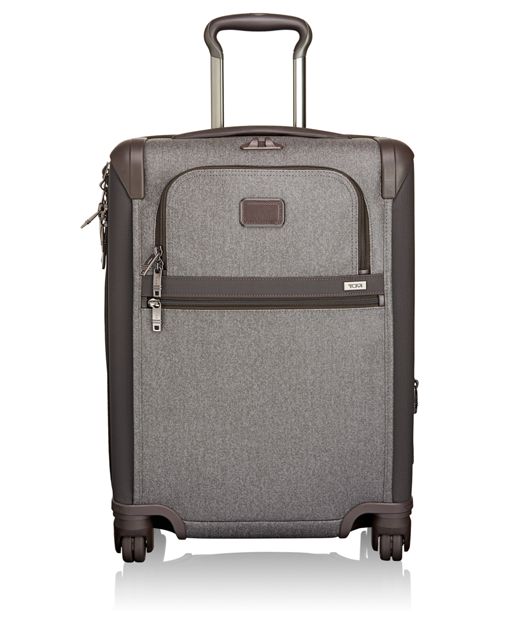 Credit: TUMI
The Alpha 2 collection prides itself in the material. Ballistic Nylon provides strength and protection. This Tumi nylon bag material is a durable, woven nylon with a water-resistant backing and a special fabric coating.
360 degree wheels with a lower center of gravity ensure that your luggage can easily maneuver airports right by your side. The positioning of the wheels allows for more space inside the body. (As you know, every little bit of extra space inside counts!) Impact-resistant caps protect the corners (keeping your luggage fresh-looking throughout the years).
Tumi has thought of everything here. In addition to unbeatable durability and good looks, we appreciate the little extras that help set this luggage apart: you can pick your own color accents (small handle grip and zipper pulls) so your bag will be easy to spot at the baggage claim.
Luggage Specifications (continental):
H: 22in   W: 16in   D: 9in (11in expanded)
Weight: 12.3 pounds   Capacity: 35L
Tumi V3 Expandable Carry-On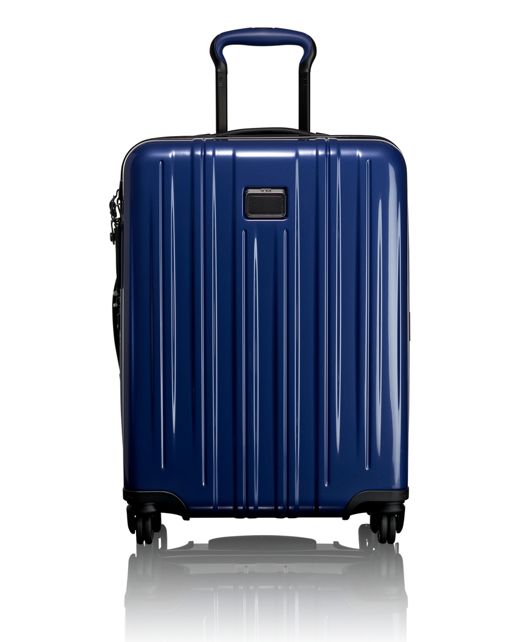 Credit: TUMI
We love the large pocket on the outside of this hardside case. While most outer pockets might only fit a skinny journal, this spacious pocket can hold your month's supply of beach reads (or even a 13-inch laptop for post-flight meeting). You'll want to note that this Tegra-lite international carry-on is a mere 9.8 p​​​​​ounds.
Let's get a bit technical with this material, since it's most definitely a selling point for this piece. Tegra-Lite is constructed from Tegris®, a polypropylene thermoplastic composite material. You can find this same material in Nascar race cars and NFL protective gear. Tumi deserves credit for introducing this into the travel industry.
Luggage Specifications (continental):
H: 22 in W: 19 in D: 9 in (11 in expanded)
Weight: 9.8 pounds Capacity: 29L
TUMI Luggage Checked Bags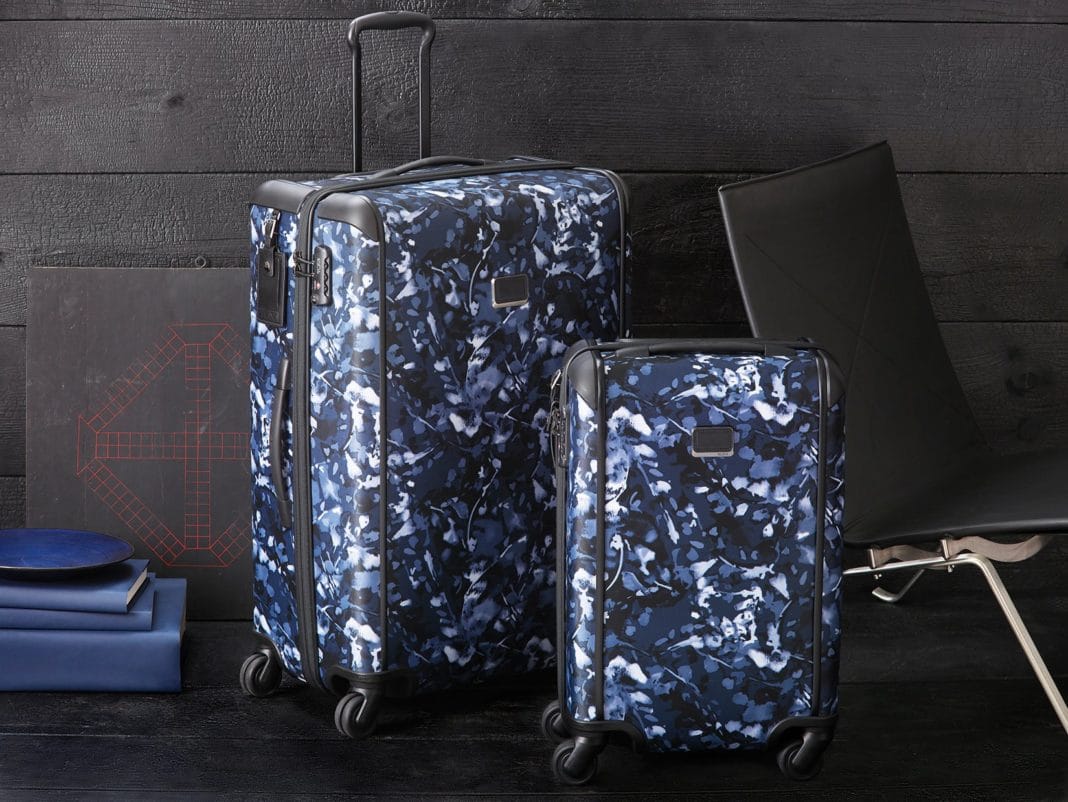 Credit: TUMI
Here's where Tumi bags really get to show off. Larger, checked bags potentially withstand more damage (since they are not always within your reach). We'll take a look at these favorites: The Tumi V3 Extended Trip Packing Case, and the Alpha 2 Lightweight Medium Trip 4 Wheel.
Alpha 2 Medium Trip Expandable Wheeled Packing Case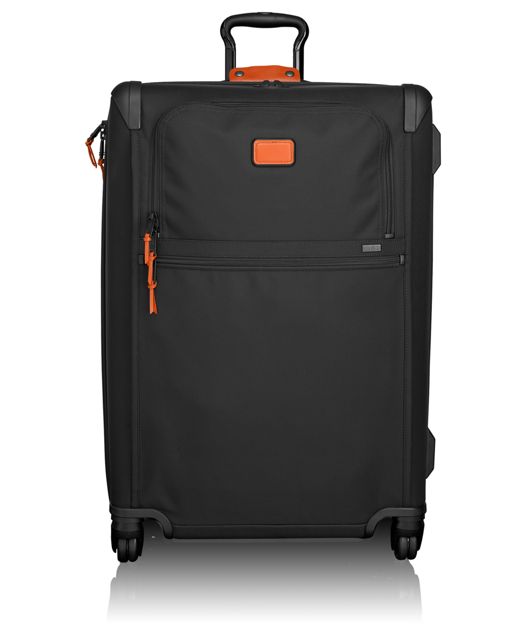 Credit: TUMI
The material of this Alpha 2 Collection offers an excellent compromise for those debating between a soft or hardside suitcase. The ballistic nylon weave is lightweight, sleek-looking and extremely durable. TUMI is proud of its recent upgrades with this collection, including the protective bumper guards and 360-degree wheel rotation. The smaller U-shaped outer pocket helps you quickly locate your essentials. This TUMI piece is a favorite for traveling with business dress; the included garment bag has a smooth-working zipper and lightweight protection. We especially appreciate the size; as expected from the title, its "medium" size is easy to manage, with features that help all your belongings fit nicely inside.
Luggage Specifications:
H: 29 in   W: 20 in  D: 13 in
Weight: 18.9 pounds    Capacity: 98L
Tumi V3 Extended Trip Expandable Packing Case
Credit: TUMI
This Tumi hard case collection wins again with in the lightweight category. The size is great for longer trips, or even for efficiently packing two people in one piece of luggage. A new addition to Tumi's collection, the piece has already gathered many fans. Choose between classic TUMI color options, or be more daring with some of their new design options. Inside, you'll find a strategic hanger bracket, dividers and tie-down straps to keep shirts and suits wrinkle-free. And of course, Tumi's break-proof handle, four smooth-rolling wheels, a Tumi Tracer Tag (tracker), and TSA zipper lock.
Overall, it offers the space you need, the Tumi promises for quality, and the maneuverability and durability you want for a smooth trip.
Luggage Specifications:
H: 30.5 in    W: 20 in    D: 11 in
Weight: 11.02 pounds     Capacity: 91L
TUMI Duffels and Backpacks
Buckner Duffel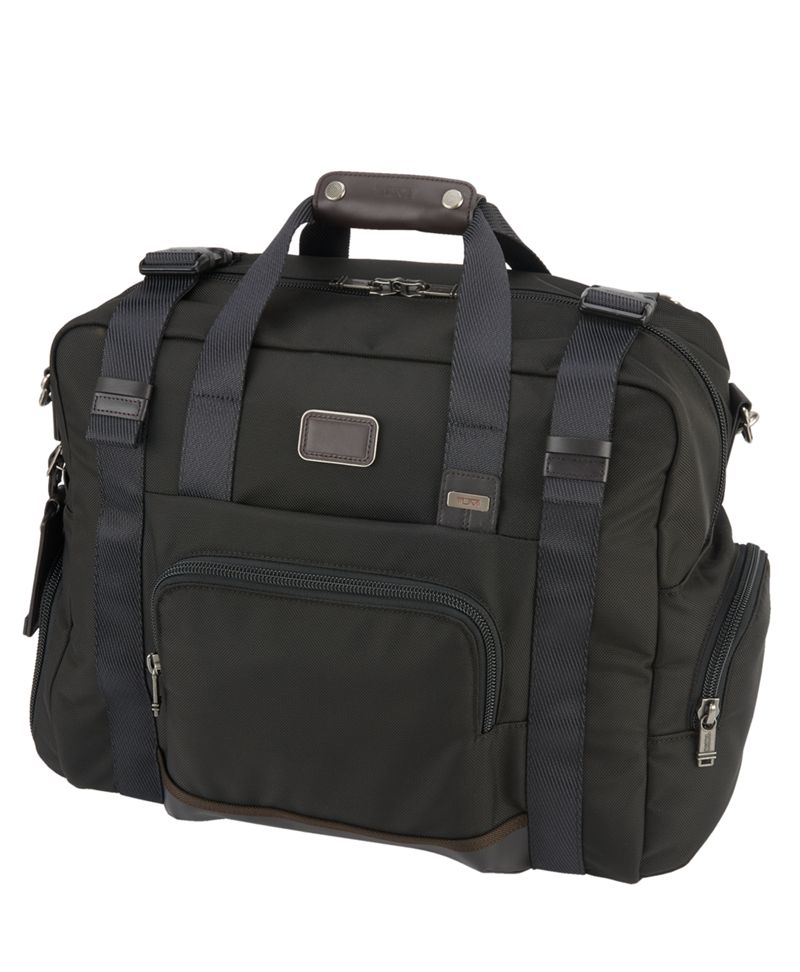 Credit: TUMI
This bag has so many uses: weekend trips, work-week commuting, or carry-on. The Alpha 2 textured, coated canvas will stand up against a lifetime of travel, and presents a sleek look for this TUMI nylon bag.Our favorite part: the multitude of well-thought out pockets. Slip your laptop into the padded compartment and stash your smartphone in front pouch with magnetic closure. Two buckles pull the piece together, after packing plenty of items in the main compartment. Carry with the smooth leather handle, or sling over your shoulder.
Calais Backpack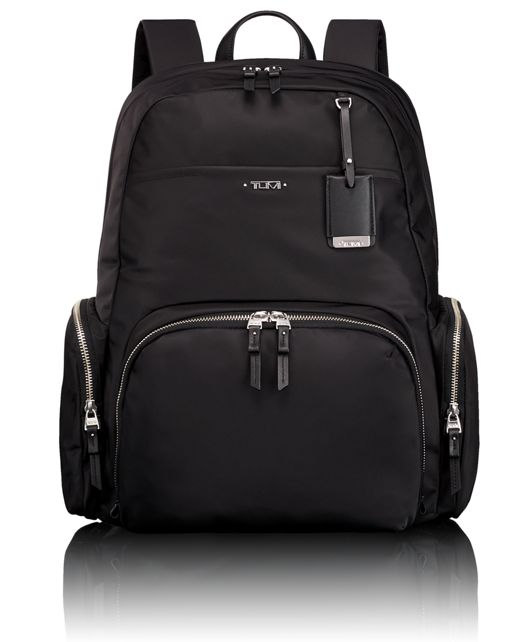 Credit: TUMI
We love the style  and functionality of this TUMI laptop backpack. The gold zippers add some sophisticated flair, and the three large, outer pockets balance out the simple look. The shoulder straps are padded so you can pack it full, and there's even a decorative tag with a mirror! The primary material is nylon, and the TUMI leather top handle adds a nice touch.
TUMI luggage promises to perform well and hold up for you. Their carry-ons, extended trip cases, backpacks and duffels show off their superb quality. Check out their products here.
Related article: ​​​Best Lightweight Luggage Reviewed (Plus How to Choose Yours)​​​