As an avid traveler, you need gear that can keep up with you. Enter the Eagle Creek luggage.
Whether you're taking a plane, train, or running to catch a bus, having the right luggage makes your travels easier. Eagle Creek luggage is designed to work for all types of adventures. In fact, adventure travel remains the key point of inspiration behind the company's designs. Often, their bags feature handy additions geared towards avid hikers, cyclists, and skiers.
A Little Bit About Eagle Creek
Since they first started in 1975, Eagle Creek has revolutionized the travel luggage industry. While their initial focus was limited to hiking and travel packs, they have branched out over the years to incorporate a myriad of luggage types. Today, they offer it all – everything from great carry-on bags to affordable duffels and rolling style suitcases. We love that all of their products are protected by the brand's No Matter What lifetime warranty. Do you need some help picking out what products are best for you? Read on to find out what our favorite Eagle Creek luggage styles are.
Our Picks for the Best Eagle Creek Luggage Pieces
1. Eagle Creek Expanse International Carry-on Luggage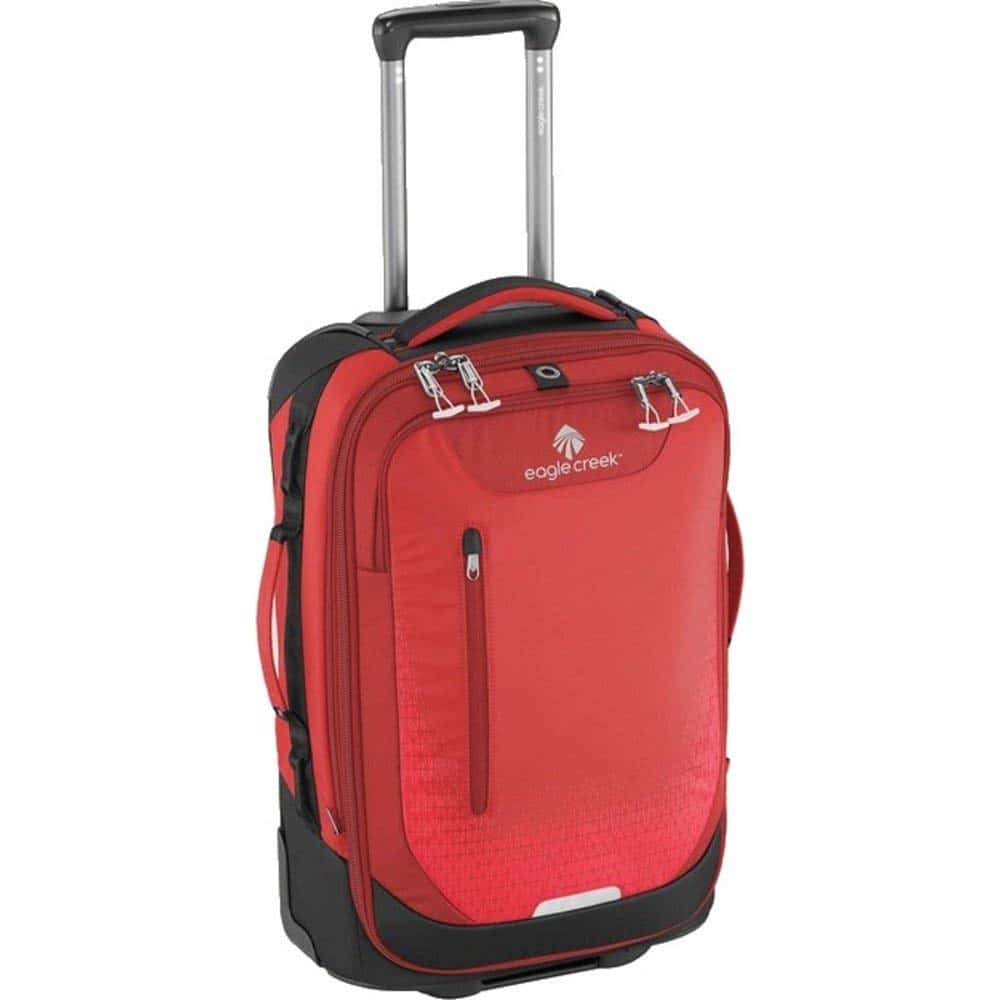 Made from a durable, scuff resistant fabric, the Eagle Creek Expanse is made to withstand scrapes, rips, and tears. It's also lightweight and has treaded wheels for maneuverability on all types of terrain. What makes it even more durable is it's bi-tech armor lite and self-repairing zippers. On the exterior of the bag, you will find a padded tablet sleeve at the front compartment for easy access as well as external lash points for gear attachment, and a central lock point for pickpocket prevention. All in all, the bag weighs in at only 5.2 pounds.
It's perfect for minimalist travelers. While the bag can fit in any international overhead compartment, it's still spacious inside. Let's be honest. Some carry on bags leave plenty to be desired. Have you ever bought a bag with the internal framework taking up the entire interior space? Well, you don't have to worry about storage anymore. The Eagle Creek Expanse International Carry-on Luggage has got you covered. The bag measures 8 x 13.8 x 21.5 inches, leaving you plenty of room to pack a few day's worth of light clothes, a pair of shoes, some accessories, and even toiletries.
Last but certainly not least, it's stylish and easy to maneuver. While some carry on bags lack easy transportation features, you have what you need in this piece of Eagle Creek luggage. As we mentioned earlier, this bag comes with heavy-duty wheels. This ensures that your luggage will glide smoothly along the ground, even on uneven terrain. When it comes to style choices, you can choose from a classic black, stone grey, and twilight blue. Choose a shade that fits your minimalist taste or opt for the blue if you'd rather have your bag stand out a little.
Tech Specs:
Bi-tech Armor Lite for abrasion resistance

Self-repairing zippers

Heavy-duty wheels for smooth rolling on uneven terrain

check

3 color choices

check

Easy to maneuver

check

External lash points for easy access gear attachment

check

5.2 pounds

check

Central lock point for pickpocket prevention

check

Scuff, tear, and scratch resistant exterior

check

Spacious interior

check

Measurements: 8 x 13.8 x 21.5 inches
2. Eagle Creek Gear Warrior AWD 29-Inch Luggage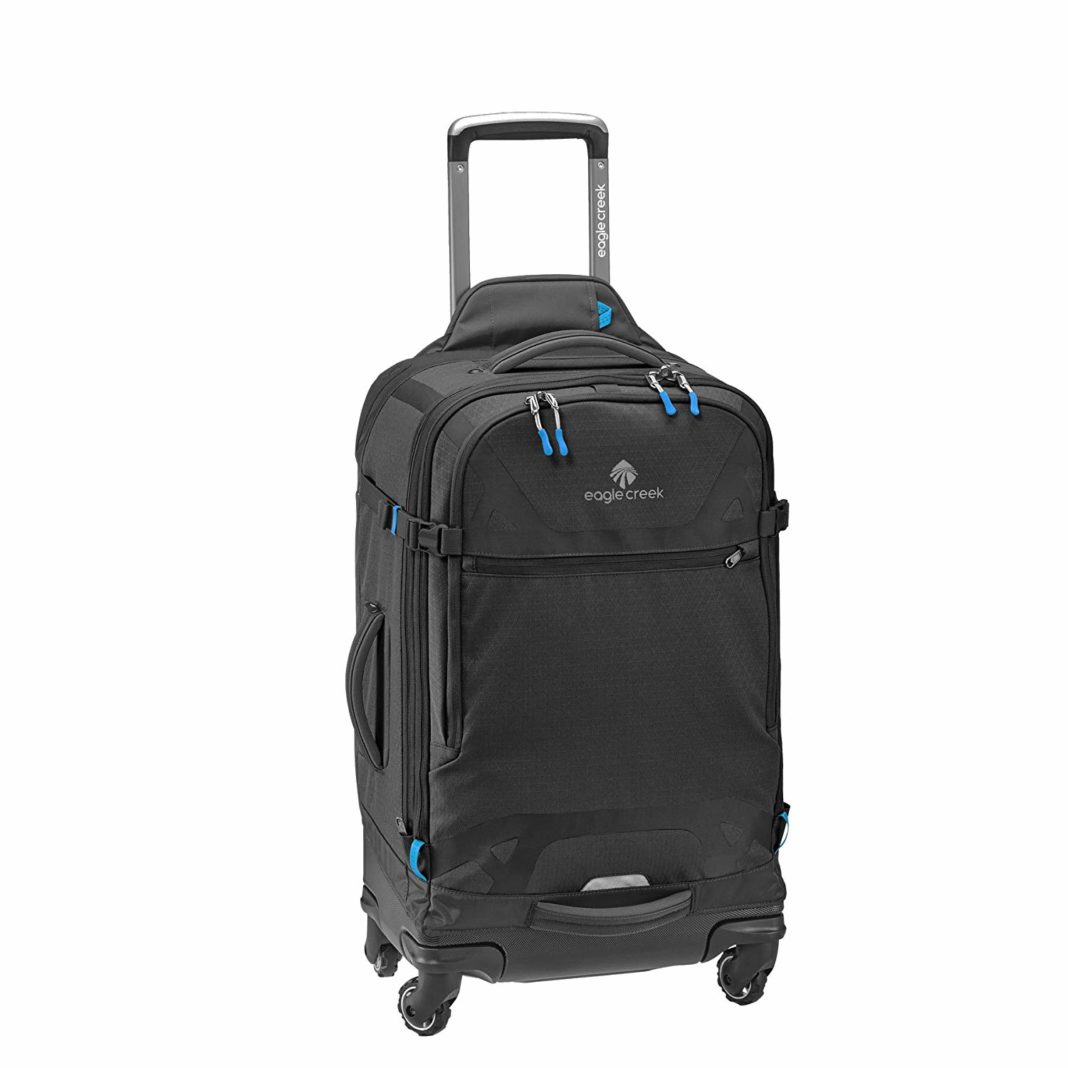 Here is another great piece of Eagle Creek Luggage. This bag is also equipped with ripstop fabric but it takes it a step further. The Gear Warrior 29-Inch style is also water repellent. So, even if you get caught in the rain as you're wandering trying to find your hostel, your belongings will stay safe and sound inside. The exterior design offers some convenient, easy access features too. You'll find a top grab pocket (perfect for storing boarding passes, reservation print outs and more) as well as multiple lash points, and an equipment keeper for adventure gear.
Moving on to the interior, you will find a secondary compartment. This handy feature makes it easy to separate your clean clothes from dirty laundry and keep your apparel smelling fresh. Heavy-duty wheels make it easy to maneuver your bag – whether you're rushing inside the airport or running outside to catch a train. Solid plastic support bars make it easy to stand your bag upright if you need to stop. All in all, it offers a high quality design and spacious interior (measurements: 16.25" x 29.25" x 12").
Tech Specs:
Treaded wheels for great maneuverability

Durable ripstop fabric

Water repellent

check

76 L capacity

check

Dual tube handle for great weight to strength ratio

check

Flexible exoskeleton technology

check

Handy top grab pocket and lash points

check

Measurements: 16.25" x 29.25" x 12"

check

Secondary interior compartment to store dirty laundry
3. Eagle Creek Tarmac 26-Inch Luggage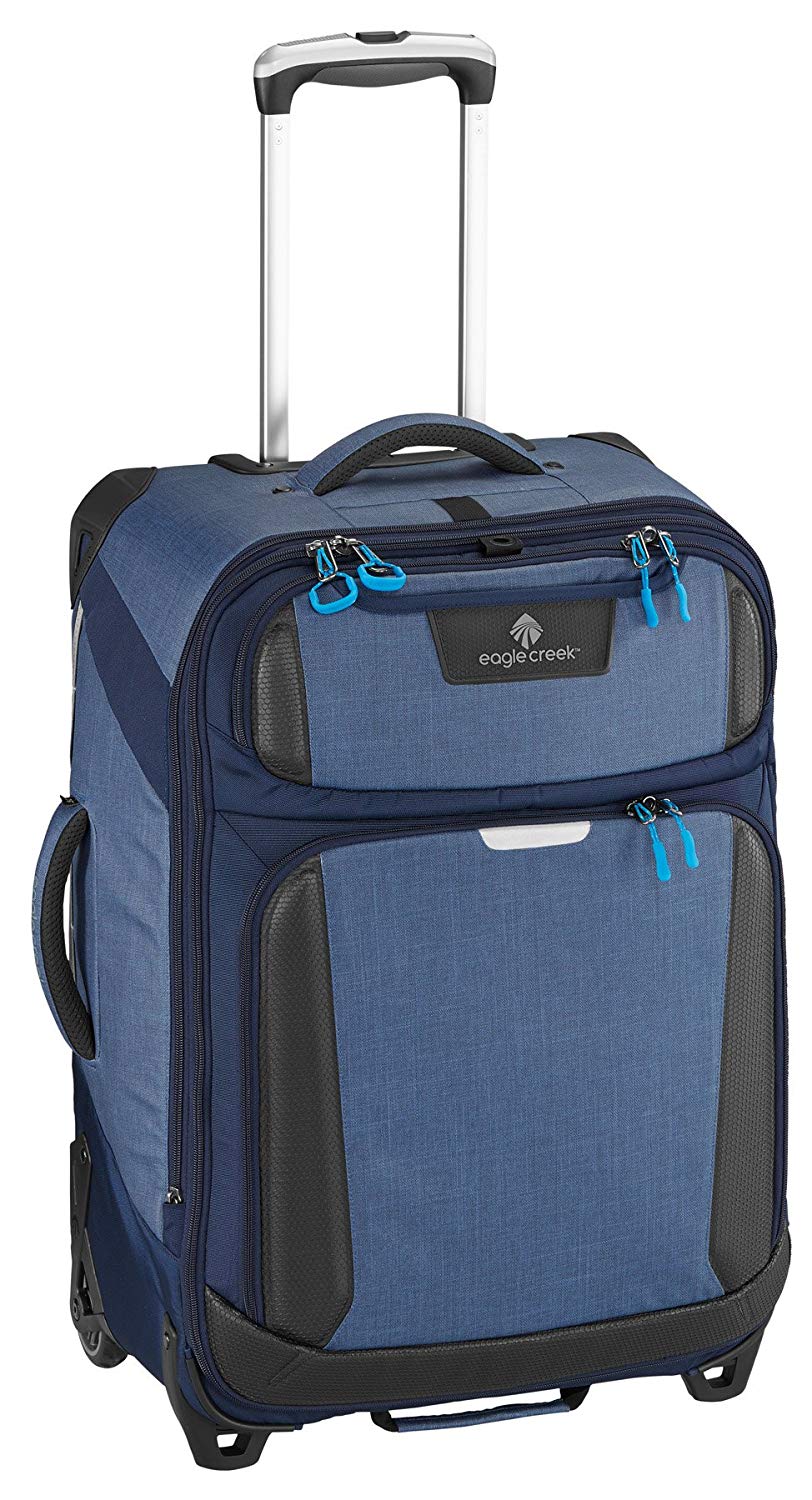 Do you like color options? Well, you have them in this great piece of Eagle Creek luggage. The Tarmac 26-Inch style comes in blue, asphalt black, green, highland green, and slate blue. For those who like to make a little bit of a fashion statement or add a splash of color to their look, this is a perfect way to do just that.
While the color options are fun, you're not sacrificing function for fashion. Made from a durable Bi-Tech Armor fabric, this bag fairs wonderfully on the road. It's both tear resistant and weatherproof. But that's not all. Did you know that it expands too? That's right, the 13.5" x 17.5" x 26" can be stretched via an expansion zipper. External compartments allow you to easily access items you need on the go.
Looking at the top of the bag, you will find a coat keeper attachment. All of the outer compartments are tear-proof and feature lockable zippers so you won't have to worry about your valuables getting lost or stolen. Inside of the bag, the lid offers zippered compartments for additional storage as well as at the bottom of the packing space. Other great features include the extendable handle, heavy-duty treaded wheels, and reinforced skid plates for extra traction.
Tech Specs:
77 L capacity

Ripstop fabric

Weatherproof

check

Extra compression (up to 15%)

check

Heavy duty treaded wheels for smooth maneuverability

check

Lightweight polycarbonate shell

check

Measurements: 13.5" x 17.5" x 26"

check

Expandable for extra storage room

check

Internal strap to further compress clothes
4. Eagle Creek No Matter What Rolling Duffel Extra Large
Are you looking for a durable no-fuss duffel? Look no further than the No Matter What style from Eagle Creek luggage. For heavy-duty storage needs, this travel bag has got you covered. Measuring 36" x 15" x 14", this interior space is massive. We know how important it is to keep your items safe. When you're traveling with this rolling duffel, you can rest easy knowing your belongings will not get damaged. A strong zipper and storm flap keep the water out. In addition, the Bi-Tech material is water and abrasion resistant.
With a handy pocket on the front, you can store items easily. Dual top handles offer an alternate carrying method (e.g. should you need to go down stairs) as well as an adjustable, removable shoulder strap. When you've unpacked and are done using the bag, you can roll it up into its own pouch for convenient storage. The Eagle Creek No Matter What Rolling Duffel comes in black, red clay, and slate blue.
Tech Specs:
Bi-tech fabric: Abrasion and weather resistant

Heavy duty treaded wheels for easy maneuverability

128L capacity

check

Measurements: 36" x 15" x 14"

check

Storm flap and strong zippers

check

Dual top handles

check

Adjustable, removable shoulder strap

check

Comes with convenient storage bag for after its use
5. Eagle Creek Load Warrior 22-Inch Carry On Luggage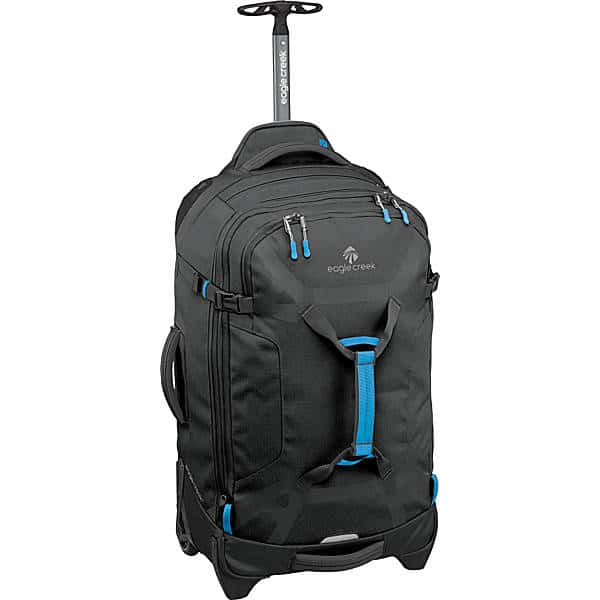 Here is another great carry on piece from Eagle Creek luggage. Measuring in at 22" x 14" x 9", this bag is the perfect size to bring with you on the plane. We don't know about you but when we are traveling, we prefer to go carry-on only. Not only does this save you from the time and money of checking a bag but you don't have to worry about the airline losing your stuff either.
When it comes to packing, the bag has several great features that will make your life easier. Both exterior and interior compression will help you out. You can fit more clothing inside your bag and compress it to meet even the strictest of baggage requirements (Easyjet and RyanAir, we're talking to you).
Like our other favorites from the Eagle Creek luggage line, the Warrior 22-Inch Carry On is also designed with geo ripstop fabric and exoskeleton reinforcement for areas that would otherwise be fragile. Treaded wheels provide for easy movement when you're on the go. And when you're boarding, you can use the multi-purpose handles to help hoist your bag into the overhead compartment. Hey, we're not all tall you know.
Tech Specs:
450D geo ripstop fabric

22" tall and 14" wide

Seamless exoskeleton for support

check

Easy grab storage compartment at top of bag

check

Heavy duty treaded wheels

check

Exterior and interior compression

check

Multi-purpose handles

check

Reflective accents for visibility in both day and night
Invest In the Eagle Creek Luggage Pieces for Your Next Big Adventure
We hope you enjoyed reading our article on the best Eagle Creek luggage pieces. As you can see, this dynamic travel company offers plenty of durable options. Whether you're a solo traveler, bringing the family, or traveling with your significant other, there is something on this list to meet any need. To avoid any bumps in the road on your trip, make sure your packing items meet the TSA-approved criteria for a checked bag. Know what not to pack too. Last but not least, another helpful tip is to invest in some of the best luggage straps. Which one of the Eagle Creek luggage pieces on our list do you like the most?
Related Article: The Best Skyway Luggage Co. Sets for your Travel Style