With So Many Luggage Options Out There, How Do You Decide Which Bag to Purchase? To Narrow Down the Options, Check Out these Best Luggage Brands. You Can't Go Wrong with Any Item from These Brands.
Are you frequently hopping on and off of airplanes? In and out of trains? From one destination to the next? Whether you take a weekend trip to visit home for Mother's Day or travel so often for work, durable luggage that you can count on is a must. You need luggage that lasts and will carry your items well. Luggage that can take a beating when it gets tossed onto the airplane and when it accidentally fumbles down the staircase. Luggage with spinner wheels for those moments when you are in a hurry. If your current suitcase isn't doing its job, then check out these best luggage brands to find a new, reliable suitcase.
Luggage reviews can seem to promote travel bags that are not worth your while. Any item from among these best luggage brands is high-quality. From carry-on luggage to checked baggage, you'll find a travel bag that with specific features (like a TSA-approved lock for getting through airport security with ease). These brands sell suitcases ideal for business travel and leisure travel. When deciding over the variety of options, one may prefer a hard-sided luggage over soft-sided luggage.
One may directly look for a carry-on size while another may search for the best-checked luggage available. Another may be searching specifically for sport, equipment, or range luggage. We know that price is a significant consideration as well when decided on a new piece of baggage. These best luggage brands array in cost so that everyone can find something within their budget. It can become overwhelming doing a quick view of a brand and trying to compare it with a number of others, so we have gone ahead and done the work for you. From your standard suitcase to duffel bags, you will see why each of these brands became traveler's choice brands.
1. Samsonite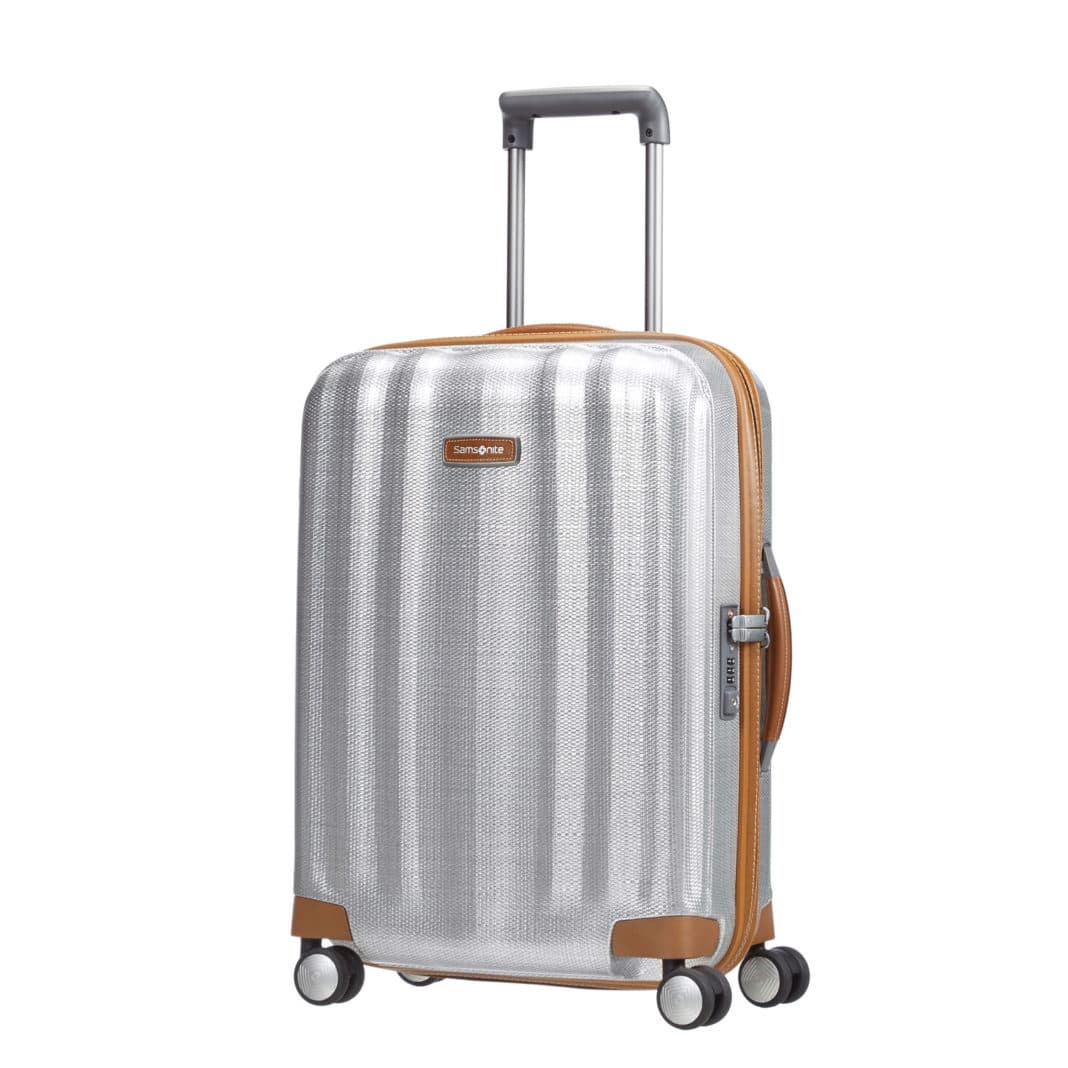 For more than 100 years, this top luggage brand has been perfecting its craft. Samsonite offers large suitcases and other types of luggage that comes in a range of designs and colors. Samsonite sells hard-shelled suitcases, soft-shelled pieces, backpacks, garment bags, and totes. Most Samsonite luggage bags have spinner wheels and are moderately priced. The prices of each piece differ depending on the size, style, and material. Consumers will find a variety to choose from no matter their preference.
Samsonite bags are functional and can double play for business and personal use. We find that business professionals will particularly enjoy this luggage brand for some of their sleek and clean designs. However, you may not want to snag just a suitcase from Samsonite directly. They have some of the top backpacks that can smoothly go from the regular commute to a trip meeting elsewhere. Specifically, the Samsonite Openroad 14.1″ Laptop Backpack remains a popular choice in Women's Backpacks with its secure access compartments, memory foam padding, and universal design. Despite the sleek aesthetic of Samsonite, it holds up its bargain of being durable and functional. Are you heading off on a business or little weekend trip soon? Purchase one of Samsonite's quality suitcases or duffle bags to take with you. Samsonite travel luggage will not let you down.
2. Delsey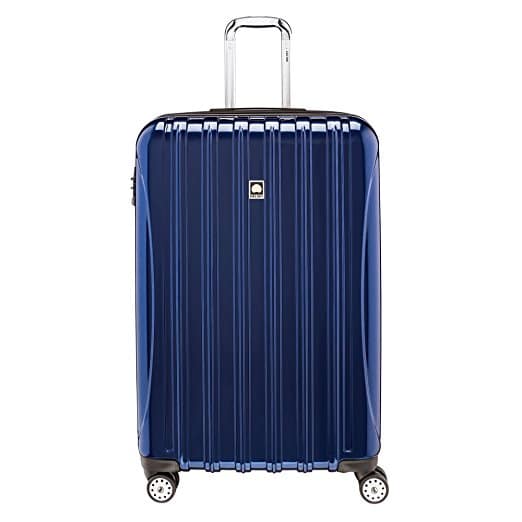 Delsey suitcases are lightweight, durable, and give off somewhat of a futuristic vibe with their hard-shell luggage. Delsey luggage colors vary from the classic black, red, and gray to more out of the box colors such as teal and hot pink. If you want to travel in colorful, reliable style, check out Delsey bags. As far as the price, Desley luggage pieces are moderately priced. From garment bags to soft-side spinners and hardside luggage, Desley is among the best luggage brands. The Delsey Helium Aero 29" suitcase has proven itself to be one of the best travel bags; the features include a reinforced exoskeleton, four twin spinner wheels, and a built-in TSA approved lock.
Delsey suitcases have expandable options and come with multiple compartments to organize your belongings. In addition, some models have an overweight indicator built into the side handle. The indicator will inform you when your bag is over 50 pounds – the maximum acceptable weight for checked luggage on most airplanes. How handy is that? No more showing up to the airport anxious about making it under the weight limit!
For the last seven decades, Delsey continues to prove that a piece of luggage can be functional with design in mind. The carry on luggage options are suitable for the international traveler, and garment bags are popular on the topic of women's clothing. Delsey has a travel bag that fits your needs. They have done well! Innovation is clearly a focus of Desley luggage.
3. Rockland
Rockland luggage is priced on the lower end, making Rockland bags a convenient option for travelers on a budget. These sets will cost around $100-150, depending on color and material. It sits on the side of comparatively cheap suitcases, but no sacrifice made here on durability and quality. This luggage brand typically sells suitcases in sets of 2, 3, or 4. Given that you receive multiple pieces of luggage for the price, the value is well worth it. For fun colored luggage that will last and won't cost you an arm and a leg, Rockland has your back.
This brand sells bright orange bags, light pink spinners, patterned designs, and certainly the basic colors as well. Rockland luggage may not provide the best suitcase for the business professional world. However, the options can cater to the spunky and spontaneous traveler who wants loud color and durability at a lower cost. Travelers can filter through their sports bags for equipment on the go, or they can pick out a duffel bag with wheels for the times to pack minimally. for What is even more good news is that this luggage brand is available at Target and Walmart. Hop over to your nearest Target or Walmart to take these suitcases for a test spin around the aisle. Travelers will be cruising in style with these affordable luggage pieces by Rockland.
4. Briggs & Riley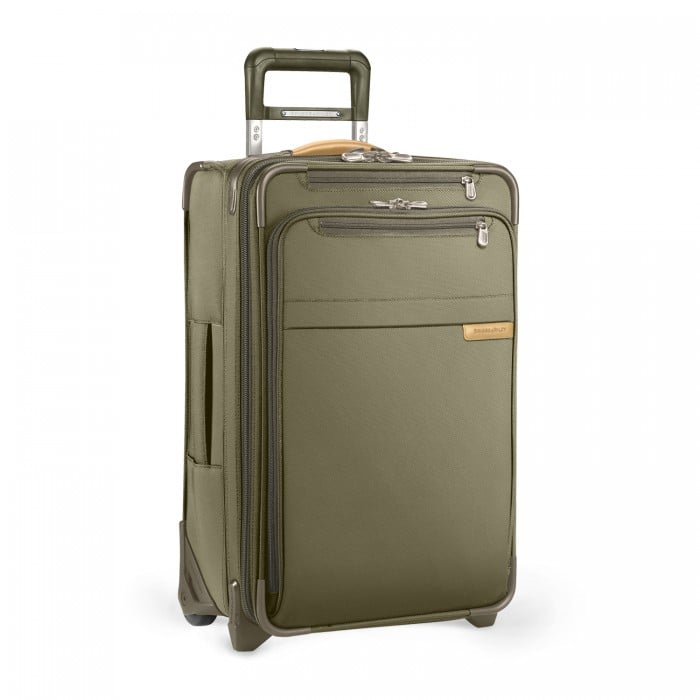 Briggs & Riley bags are expensive, yes. However, for the business traveler this brand is one you should look into. Would you consider luggage an investment? Briggs & Riley luggage items come with a lifetime guarantee, so you will be set for life. What's more is the warranty also covers airline wear-and-tear. You may be spending a sizable chunk of money for a Briggs & Riley bag, but for the lifetime warranty you receive, the cost is worth it. If a bag becomes damaged during your travels, the Briggs & Riley team will repair it at no cost. Zilch. Zero. This excludes cosmetic wear and if the replacement of a lost bag or stolen bag. Whether you purchase a carry on bag or large hardside suitcase, you can expect the same policy across the board.
This company truly has amazing customer service and makes it a priority to ensure the satisfaction of their customers. Travelers who are always on the road find Briggs & Riley bags to be a worthwhile investment. Their bags are also built around real-world wants and needs. Bags are equipped with convenient pockets to hold your passport or small toiletry items. Some bags are also expandable and compressible. HideAway ID tag on Briggs & Riley bags keeps personal information on luggage tags hidden from plain sight; because the person next to you in transport shouldn't have access to your phone number.
The Domestic Carry-On Expandable Upright (Two-Wheel) is a nylon Briggs & Riley luggage carry on piece that contains a built in garment bag. For those in men's fashion that want to bring options, this garment bag can store up to two suits. The large front pocket of this carry on provides perfect storage for tablets and laptops. This carry-on suitcase has plenty more features, but the Smartlink Strap is definitely mention worthy. This strap allows smaller bags to easily attach to the front. Simple, yet so useful. Briggs & Riley bags come in many designs, and yes- they have wheels. We are certain they are the business professionals' best travel suitcase, and maybe the answer to your life's luggage needs too.
5. TravelPro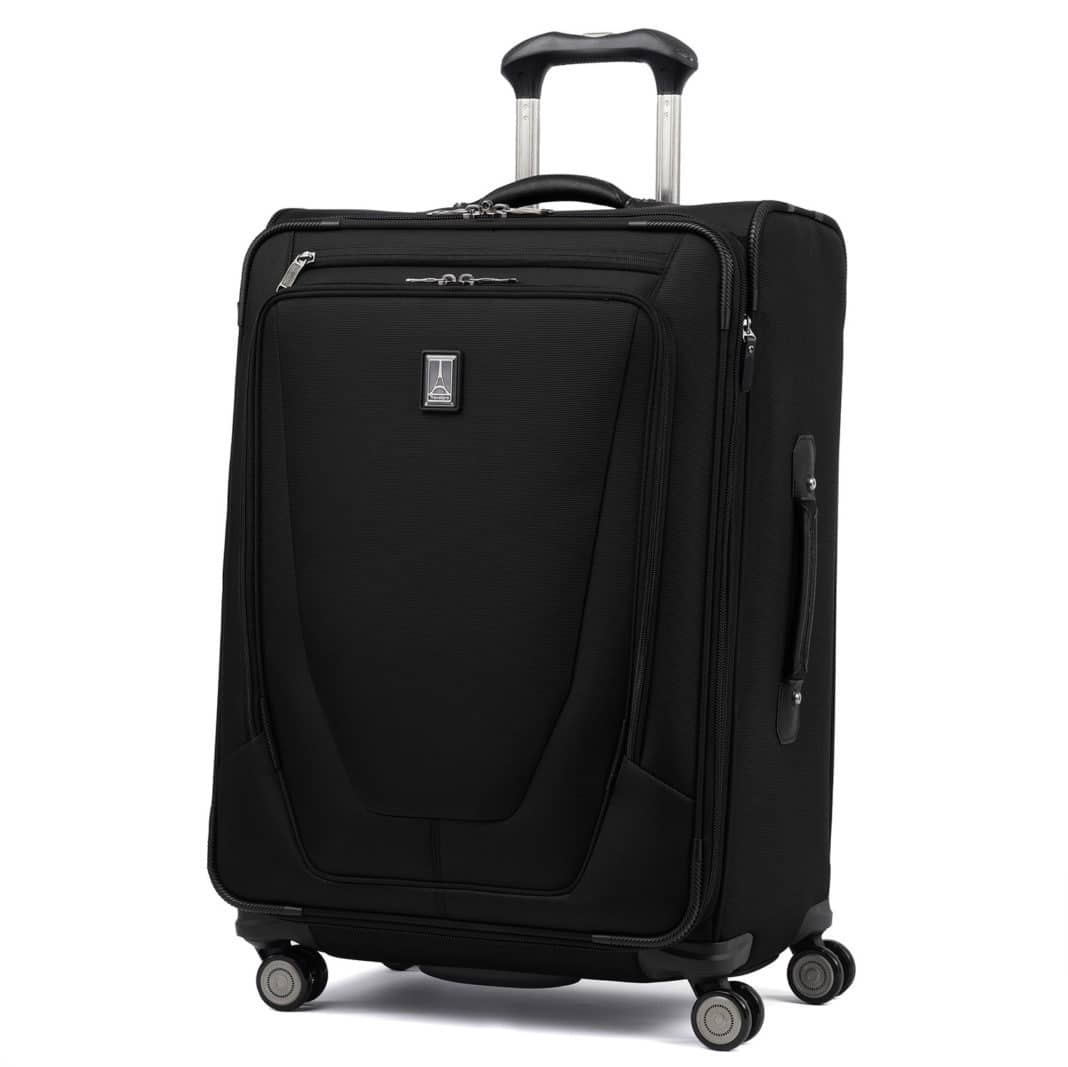 Airline employees rave about TravelPro. Hence, why TravelPro needed to make our list of the best luggage brands on the market. When there is a luggage brand so popular that even pilots and flight attendants are talking it, then we take notice. We think you should too. TravelPro bags are not cheap, but do not categorize under the priciest brands in the world.
This brand sells carry-on bags, spacious suitcases, garment bags, backpacks, and laptop bags. And let us tell you, they know how to make a dependable wheeled suitcase. It should not be a surprise. The Travelpro Crew 11 Expandable Spinner/Rollaboard Carry-On Luggage features the Patented Contour Grip that feels light and in control. The nylon honeycomb frame speaks durability without heaviness. There's even a built in wet pocket for toiletries; just make sure they are TSA approved. Hate wrinkly luggage? This carry-on features foam padded roll bars to help that. The luggage itself has in-line skate wheels. Say hello to a suitcase that will sit balanced and upright (even with baggage balanced up top).
TravelPro came into existence when airplane pilot, Bob Plath, had the groundbreaking idea of creating a suitcase that has wheels. Genius. Today, wheeled luggage is all you find on the market. It all began with Plath's invention, and their spinner luggage choices rank high. Clearly, TravelPro was ahead of its time and the innovations have only continued since then.
6. American Tourister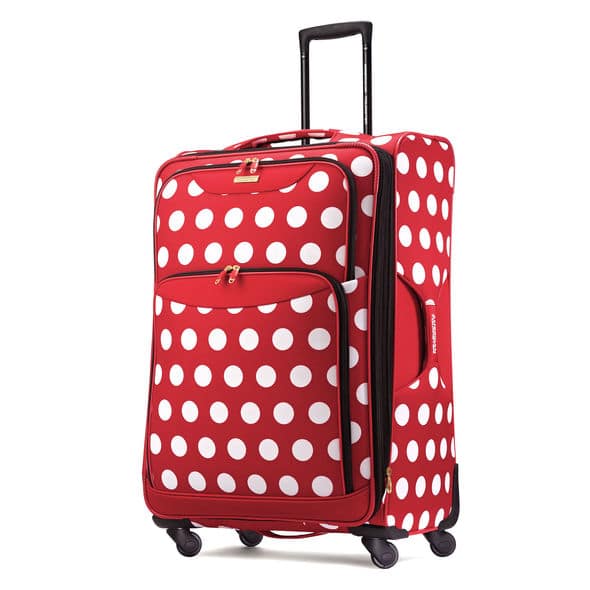 To give you a taste of American Tourister bags, just hear about the color options – blazing pinks, light purples with red zippers, bold yellows, polka dots. This luggage brand also sells bags for kids that feature their favorite stars including Mickey Mouse, Minnie Mouse, Dory from Finding Nemo, and Star Wars characters. Kids and adults will both enjoy American Tourister luggage because of the designs and also the price. American Tourister is owned by Samsonite, which speaks of its commitment to creating dependable luggage. This brand is among the best luggage brands for the occasional traveler who wants a bit more personality in their options.
The American Tourister Luggage Fieldbrook set has proven to be a popular pick, especially at its price point coming in under $100. One is definitely getting value for their money for a four piece set that offers pretty standard luggage. The design of the Fieldbrook set is made to be durable and strong enough to withstand being thrown around during travel. There are 6 colorways to choose from and all include the following bags: two rolling suitcases, one carry-on bag, and another duffle bag. This set offers the basics to the traveler who vacations every so often.
Those going on intensive trips or fast-paced adventures every week may not find these luggage bags able to withstand or even keep up with their lifestyle. However, those who pack up and travel a handful of times every year will find that American Tourister bags can get the job done perfectly. The name, American Tourister, speaks for itself. This brand wants to cater to those seeking to tour during their holiday vacation with ease and excitement. For you every-now-and-then travelers, check out this luggage brand.
7. Tumi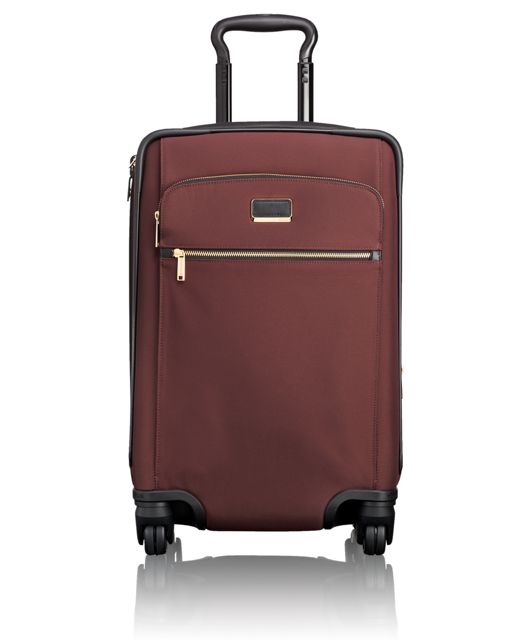 Tumi is a very well-known luggage brand that often competes with more modern luxury names like Rimowa and Away. The company's focus is to provide high-quality bags with style. And great customer service. Tumi does all of this very well. The company sells carry-on luggage, checked luggage, duffels, and garment bags. The newer models are popular amongst millennials and give off almost a nostalgic memory of childhood makeup trunks; Tumi helped refine them and grow up to be great luggage pieces for anyone.
Luggage pieces come with the Tumi Tracer, an embedded barcode that helps you find lost luggage. If your luggage gets lost and is found by someone, a phone call will get it in route back to you. The aircraft-grade aluminum handles are light and strong that stretches out in three stages. Even the zippers on Tumi impress with their patented Omega zipper closure. The pulls break from the zipper and a TSA zipper lock prevents shuffling through your belongings while allowing TSA to work.
The Tegra- Life, Alpha 2, and Tumi V3 are some of Tumi's best-selling collections for carry on luggage. One can choose a hardside or softside suitcase from Tumi. You can also choose from an "international" or "continental" option from these lines. Tumi promises that respective options will fit perfectly in overheads or under seats. The continental is about two inches bigger, which may suit American travelers better. When TSA guidelines are met, travelers can worry less and focus on the journey.
As far as backpacks are concerned, Tumi makes travel backpacks, laptop backpacks, and leather backpacks that vary in style to meet every need. Are you in search of a new wallet, passport cover, belt, or jacket? Tumi has you covered in all of those departments as well. More than only luggage, Tumi is committed to providing top of the line products for every traveler. For business professionals and globetrotters, Tumi is certainly among the best luggage brands on the market.
8. Eagle Creek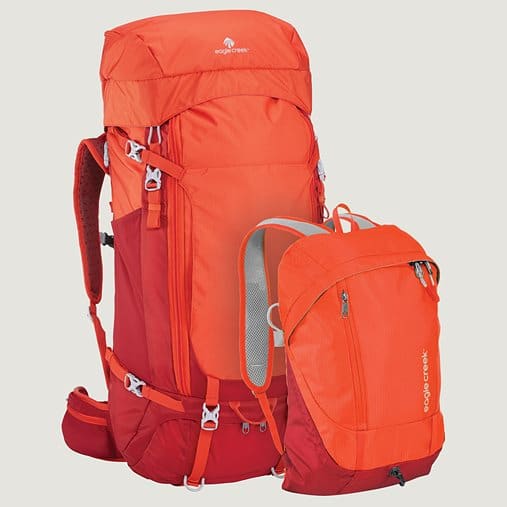 Eagle Creek is the best brand for the sporty and outdoorsy traveler. The bags are casual, yet tough and able to handle whatever adventure is next. With weather-resistant fabrics, these bags are made for rough conditions. This brand sells rolling suitcases, duffels, backpacks, and packing organizers. The Eagle Creek Pack-It sets are popular in how they help people get organized. The cubes are intended to save space in your bags. These simple packs are functional and full of utility for organizing anything you travel with.
Eagle Creek provides a lifetime warranty on their items, that includes repair and replace policies. For those who are intentional about being green consumers, Eagle Creek is an environmentally conscious company that continuously works at how they can reduce ecological footprints- including their own. Even their nylon shell is developed with responsible resources, or in other words, bluesign-approved. Eagle Creek wants their customers to be intentional with how they travel and see the world. Items like the Pack-it will have you worrying less about your belongings and more engaged with the itinerary.
Travelers can also purchase daypacks, laptop backpacks, and wheeled backpacks on their website, or at locations such as REI and The Container Store. Concerning the price, Eagle Creek bags will cost a decent amount. However, if you keep in mind its competitors, these bags are priced reasonably for the quality you will receive. Active travelers gearing up for your next great adventure, consider this luggage brand when looking for your next bag. Eagle Creek bags will be a faithful travel companion as you continue to explore this great big world.
Purchase a New Suitcase or Backpack, Pack Up, and Set Off.
With so many bags on the market, it can be difficult to narrow down your options. We know the struggle all too well. It seems every luggage brand is claiming to be the most durable, most lightweight, most functional, and most affordable. But, are they? Every brand we mentioned lives up to their claims. Tried, tested, and true, these top 8 luggage brands provide travelers with reliable suitcases and backpacks for their next business trip and/or vacation. We hope this guide will help you choose what is best for your next trip. You may want to invest in some luggage pieces that will grow with character in the years to come, or you may find something quick and reliable for the spontaneous trip coming soon. Whether you want a sleek and professional design or a bold and colorful pattern, you can find your perfect bag among these best luggage brands. We wanted to find a little something for everyone's taste. Happy traveling with you new carry-on bag, checked luggage, or unique travel bag!
Which luggage brand is your go-to for dependability and style? Do you have any experiences with these brands? Share with us in the comments section below!
Related Article: Best Checked Luggage Pieces (Plus How to Choose Yours)