Look No Further, All of You Searching for the Best Carry-On Luggage
When traveling here and there and everywhere, luggage you can rely upon is a must. The last thing you want is to be rolling down the streets of India to have a wheel on your suitcase fall off. The next thing you know, you'll be hobbling your bag around on three wheels searching for the closest place to buy a new one. From personal experience, trust me, this is not ideal (although, it does make for a laughable adventure). I think we can all agree that the ideal is owning a bag that will hold up. Whether it be down the cobbled streets of San Miguel de Allende or the jam-packed streets of NYC, we want a suitcase that is durable enough to last. That is why we have prepared for you a list of the absolute best carry-on luggage that will meet every travelers' needs.
We have bags for the fashion-forward folks. We have bags for the super organized, for the commuters, and for those who just need a carry-on suitcase that is lightweight. We know you will find this list to be useful when searching for your next piece of carry-on luggage (hopefully before you recreate the 3-wheeled scene I painted earlier). When it comes to carry-on luggage, there are size restrictions to be mindful of when purchasing a carry-on suitcase. Depending on the airline you travel with, these restrictions may change. Always consult the airline website to be positive that the piece you want to purchase falls within the size restrictions.
For Those Who Say They Don't Want a Carry-On, But End Up Needing a Carry-On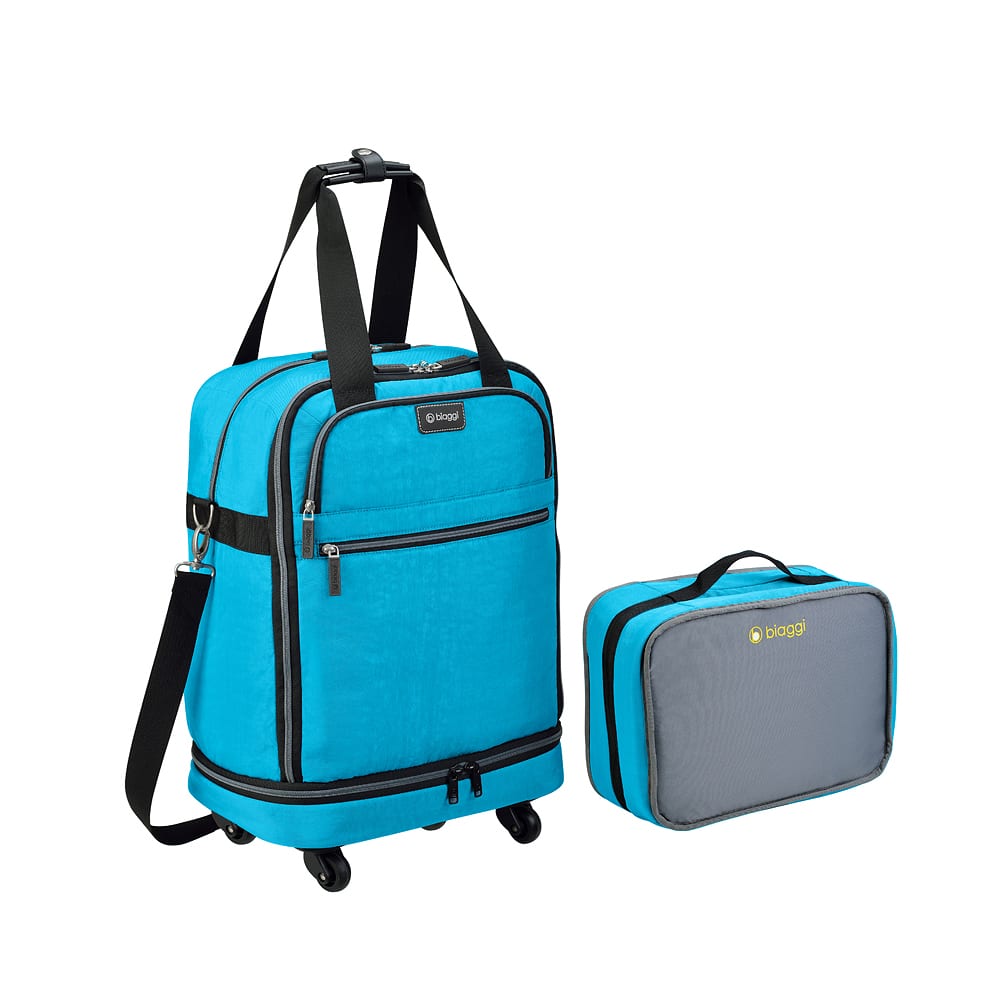 You know the type. Maybe you are the type. The type that doesn't intend on doing any souvenir shopping, but then ends up doing the most and has to figure out the night before flying home how all of the gifts are going to get home too. This foldable carry-on bag is awesome for you. It is also ideal for the traveler who knows in advance that they are going to bring back tons of souvenirs and wants to be prepared by packing an additional suitcase reserved just for that. It is amazing how this bag works. It really does fold up to be 13 by 9 by 5 inches tall.
This carry-on bag is convenient for travel and convenient for storage at home. It collapses into a size that can fit snug under a bed or in a closet and won't take up an unnecessary amount of space. When expanded, the Biaggi ZipSak holds plenty. Another plus: When it comes to the cost of luggage, this one rings up at a reasonable price, making it one of the best carry-on luggage pieces.
For the Commuters and Overnight Travelers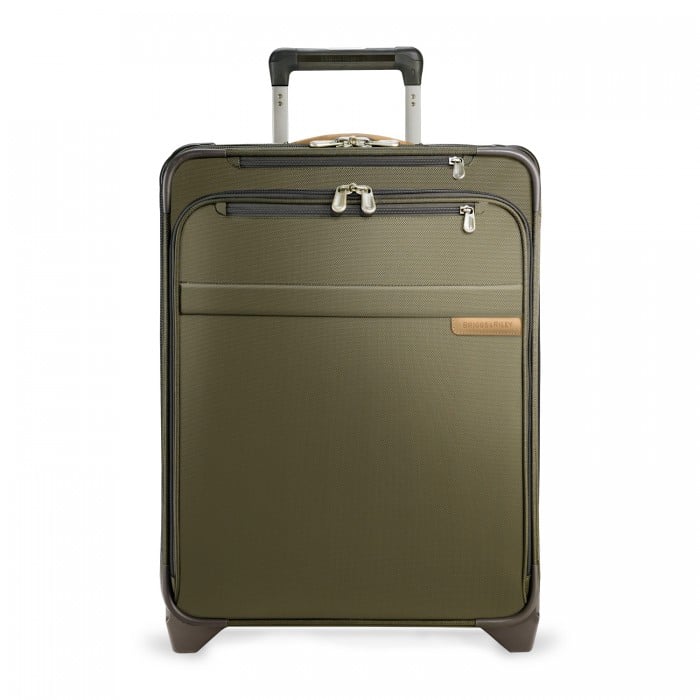 If you go on a good number of overnight trips, Briggs & Riley has made the perfect fit for you. The bag expands up to 33%, then compresses back down to its original, meek size in order to be stored under an airplane seat or in the overhead compartment. By use of some high-tech compression science, this bag is like magic. The Briggs & Riley Commuter Expandable Upright is the best suitcase for commuters and light packers who need something small to get from point A to point B. This bag is well built and designed, making it durable and spacious. Briggs and Riley bags are more expensive, but they have a lifetime, all-inclusive warranty, in addition to other perks. Once you get your hands on one of their bags, you'll never go back (and never have to because they are made to outlast you).
For the Extra Organized or Those Who May Need to Kick Their Feet Up (Or Both)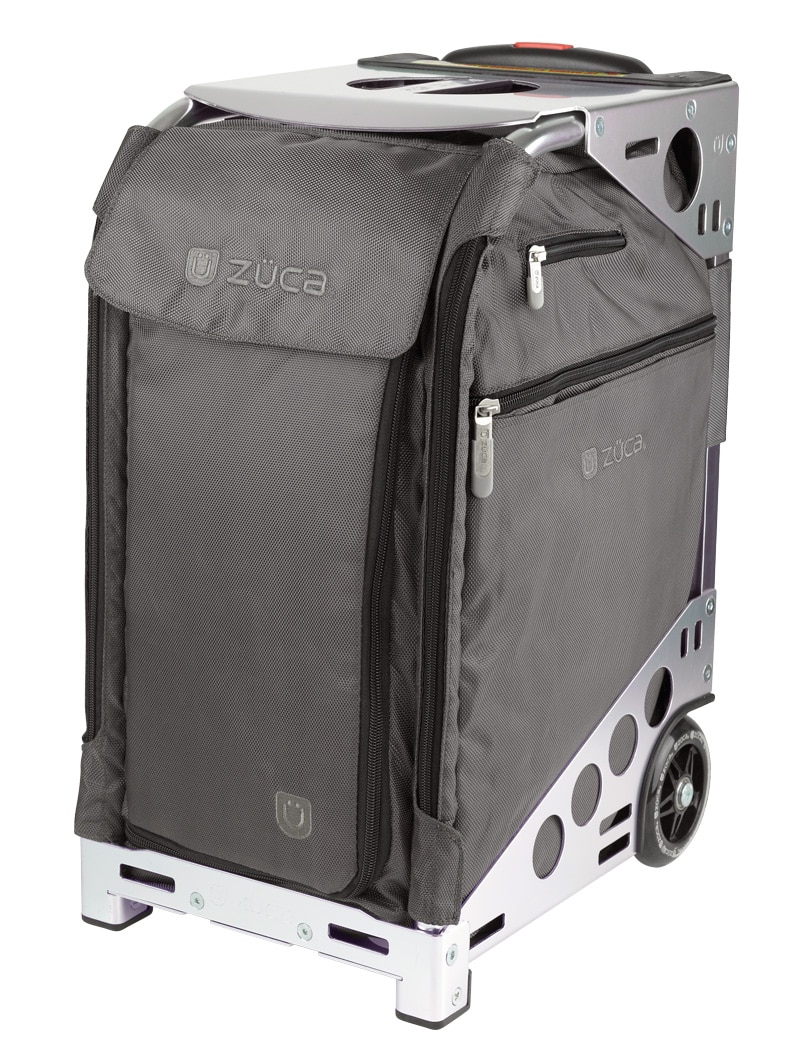 The people who will enjoy this bag are easy to spot. They are the people who color-code everything, label everything else, and their homes are organized down to their sock drawer. The Züca Pro Travel will be a delight for these color-code fanatics because this bag comes with 5 removable (color-coded!) compartments to stack in the suitcase.
*Sound the squeals of those who get giddy over organization*
Organize all of your shirts in one compartment and pants in another. Or, plan your various vacation outfits and have a compartment ready for each day of travel. The design of the Züca Pro Travel is also convenient because travelers can easily sit atop the aluminum surface when their legs are tired after a long day of standing in the airport. This carry-on is among the best carry-on luggage pieces for all of these reasons and more.
For Those Who Travel with All of Their Electronics and More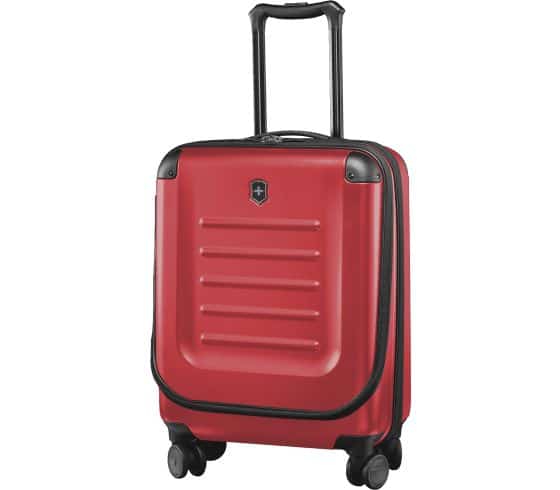 Here it is. A bag you can trust. A bag with very convenient storage space for laptops, tablets, phones, cameras, and chargers (ideal for going quickly through airport security). This hag is nothing over the top, though durable and made to last. The dual-caster wheels can move 360 degrees, which allows for a smooth ride. There also has a TSA approved lock built into the suitcase that travelers can feel free to use if they desire. The Victorinox Spectra 2.0 Expandable Global carry-on is roomy, lightweight, easy to use, and rolls well. For those who just need something simple and reliable, this is the best carry-on luggage piece for you.
For the "Just Give Me Something Lightweight" Folks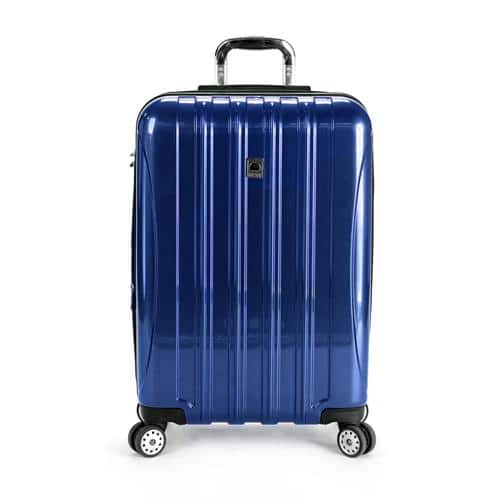 Along the lines of simplicity, the Delsey Luggage Helium Aero Carry-On Expandable Spinner Trolley is just that (though the name makes it sound like the complete opposite). This bag will be of use for years and years once you buy it. The wheels glide effortlessly and the TSA approved zipper lock is always a bonus and a good idea to have. The carry-on bag is sleek and comes in a number of colors, including blue, pink, purple, and red. It is among the best hard cover luggage pieces on the market, so of course, it needed to be included in our list of the best carry-on luggage pieces.
For the Fashionistas
We see you, fashionistas. You have been eyeing all these pictures thinking alright, are there any bags out there that aren't so… basic and ordinary? To answer your long awaited question: Yes. Yes, there are fashion-forward luggage pieces that venture outside the standard black or blue color scheme. The Delsey Luggage Chatelet is a sophisticated carry-on option for only the most sophisticated travelers. This bag is where elegance and innovation meet. This piece is can handle anything, has TSA approved locks, and has a unique brake system. This unique brake lock is located on the back of the suitcase and once turned, the front wheels will be locked so that the suitcase doesn't get up and decide to roll away without you. This bag is the best carry-on luggage option for those who want beauty and strength. Who says you can't have them both?
For the Old-Schoolers and Those Who Throw All Their Stuff into a Bag Just Minutes Before Leaving on a Trip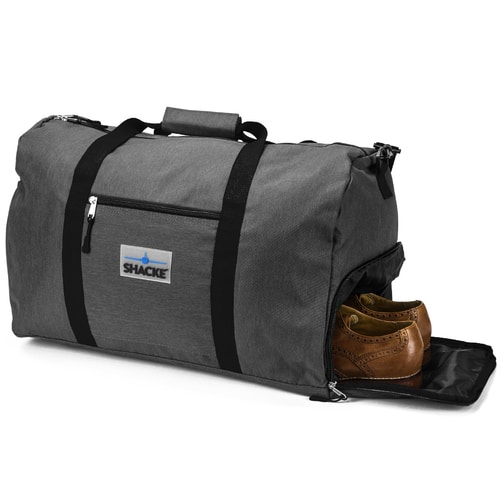 This carry-on duffel is medium sized, water resistant (on the outside and inside of the bag), and super lightweight. The best part? Well, actually there are two best parts. The first is the shoe compartment, of course. The side shoe pouch makes storing your favorite pair very convenient. While there are additional pockets to organize more of your belongings, we feel duffle bags are ideal for the travelers who hurry to pack the night before a trip and just throw all their clothes into a bag. The second-best part about this bag is that it is among the best affordable carry-on luggage pieces.
This bag can also be used for multiple purposes. The duffle is great for airplane trips because it will store easily in the overhead compartment, but it can also be used as a gym bag (shoe compartment for smelly sneaker) or a bag for a road trip to the lake (elastic side pouch for water bottles, towels, etc). All the more reason to purchase this inexpensive carry-on bag.
Travelers, travelers.
Unless you travel with no belongings other than yourself, chances are you've wondered what the best carry-on luggage option is. Every traveler has different needs. Some are commuters, some are international travelers, others are weekend getawayers. If you are in the market for a new carry-on piece, then this list is all you need to read. Whether you are searching for the best hard shell suitcase, the best lightweight luggage, or the best carry-on spinner, we have all of the above provided for in this article. We have a bag to meet each of your travel needs because we want you arriving at your destination with as little complications as possible. Don't let a loose wheel on your carry-on suitcase change your plans.
Any humorous broken luggage tales to tell about? Know that you are not alone. We would love to hear about your experience in the comments below!
Related: Best Lightweight Luggage Reviewed (Plus How to Choose Yours)