Are you an outdoor enthusiast? The Miracol Hydration Backpack is a must-have travel accessory.
The invention of travel packs like the Miracol Hydration Backpack have revolutionized the outdoor travel gear industry. Why? They eliminate having to lug around heavy bottles of water when you're on the go. Whether you're hiking, biking, camping, or running, you have easy, hands-free access to clean drinking water when you need it the most.
You should know that there are plenty of hydration packs on the market. But several features of the Miracol Hydration Backpack sets it apart from the rest of the pack (see what we did there?). Let's take a look at the features and benefits of this travel accessory and see what it has to offer.
What Is A Hydration Pack?
Credit: Amazon
Before we dive into the specs of the Miracol Hydration Backpack, let's go over what a hydration pack is quickly and what features the best ones have. Hydration packs were designed to provide outdoor adventurers and athletes with a hands-free, hassle-free way to drink water on the go. It's a very convenient travel accessory used primarily by bike riders. Choose a pack that fits well and offers the storage capacity for the amount of water you think you will need.
Packs like the Miracol Hydration Backpack come in handy for a variety of reasons. You can drink water on the go without halting or pausing. In essence, this accessory is a backpack with a plastic bladder, tube and mouthpiece. A tube runs through a special opening in the backpack and a fixed shoulder strap, so you can drink water whenever you need it.
Hydration packs specifically designed for more intense activities like downhill biking and running often come with belts to stay securely in place. For the purpose of this review, we will go over the most important features you need to consider.
What Features You Need to Consider
Type of Backpack and its Hydration Capacity
When you're first deciding which backpack to look at, the first thing you need to consider is the type of pack and its hydration bladder. For example, if you get a bag that's too big, oftentimes it's easy to make it too heavy or it will have a smaller hydration bladder.
We love that the Miracol Hydration Backpack offers a good sized pack and hydration bladder. With dimensions of 17.3 by 11 by 1.2 inches, you know it can fit what you need. This type of backpack not only lets you take 2L of water but also some food and your belongings. Generally speaking, joggers and runners should stick to smaller packs that have several pockets for a cell phone and keys. Typically, these types of hydration packs only hold about 50-70 ounces of water. So, the Miracol Hydration pack is a happy medium.
Water Reservoir & Valve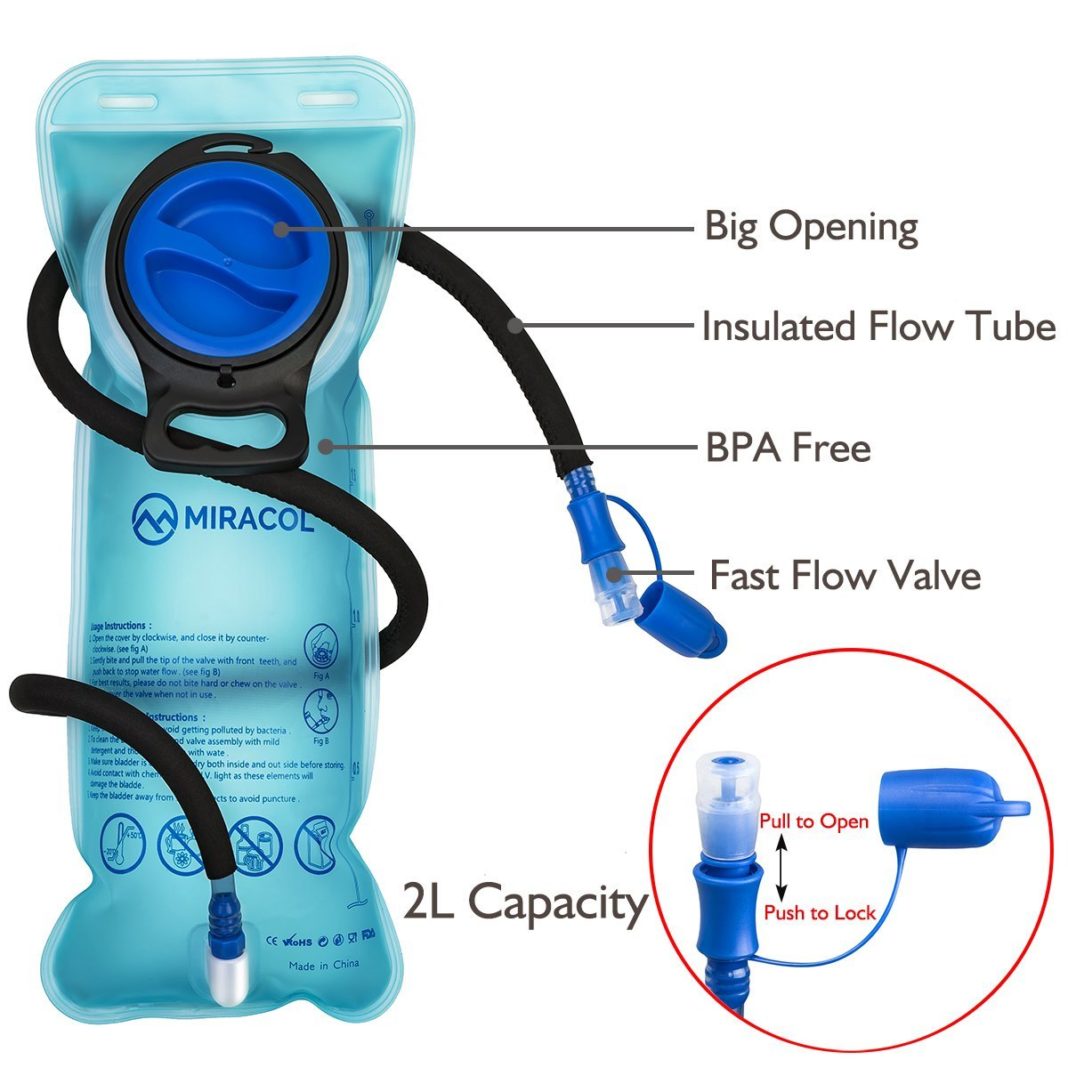 Credit: Amazon
Today, you can choose from various types of hydration reservoirs. Some have a screw-on cap and an upper seal while some offer a snap-on style. The models with screw-on caps are more popular as they securely hold water and don't leak it out. However, they can present a challenge when you clean them. To properly clean the lid, buy a brush.
Material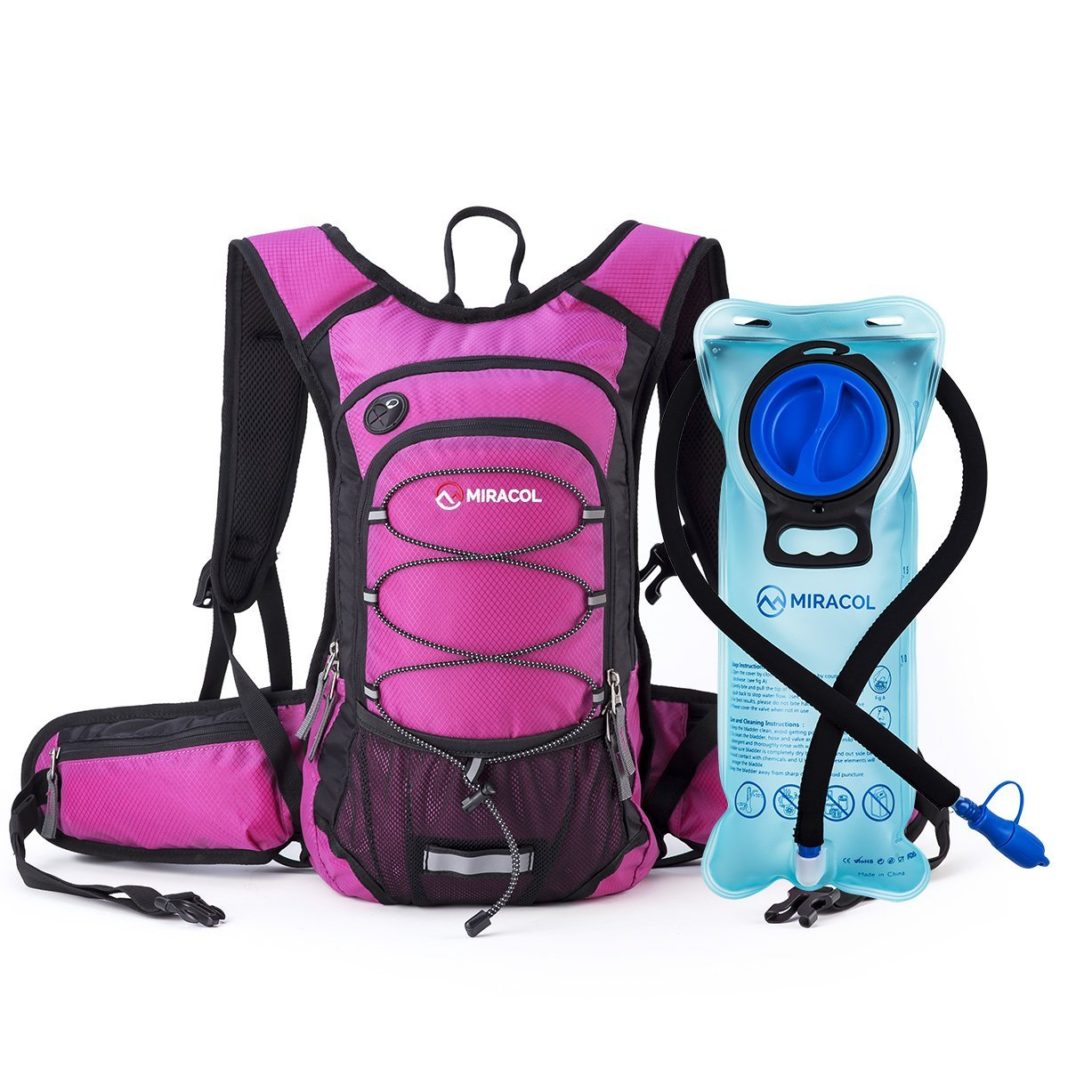 Credit: Amazon
When it comes to choosing a hydration pack, don't forget to take material into consideration. One of the most frequently-used fabrics are nylon, polyester, or oxford fabrics. The material should be reliable, water-resistant, and durable. Nylon is used often because it is water resistant. Each manufacturer also uses a nylon of certain density, so make sure to check that out before you purchase.
Convenience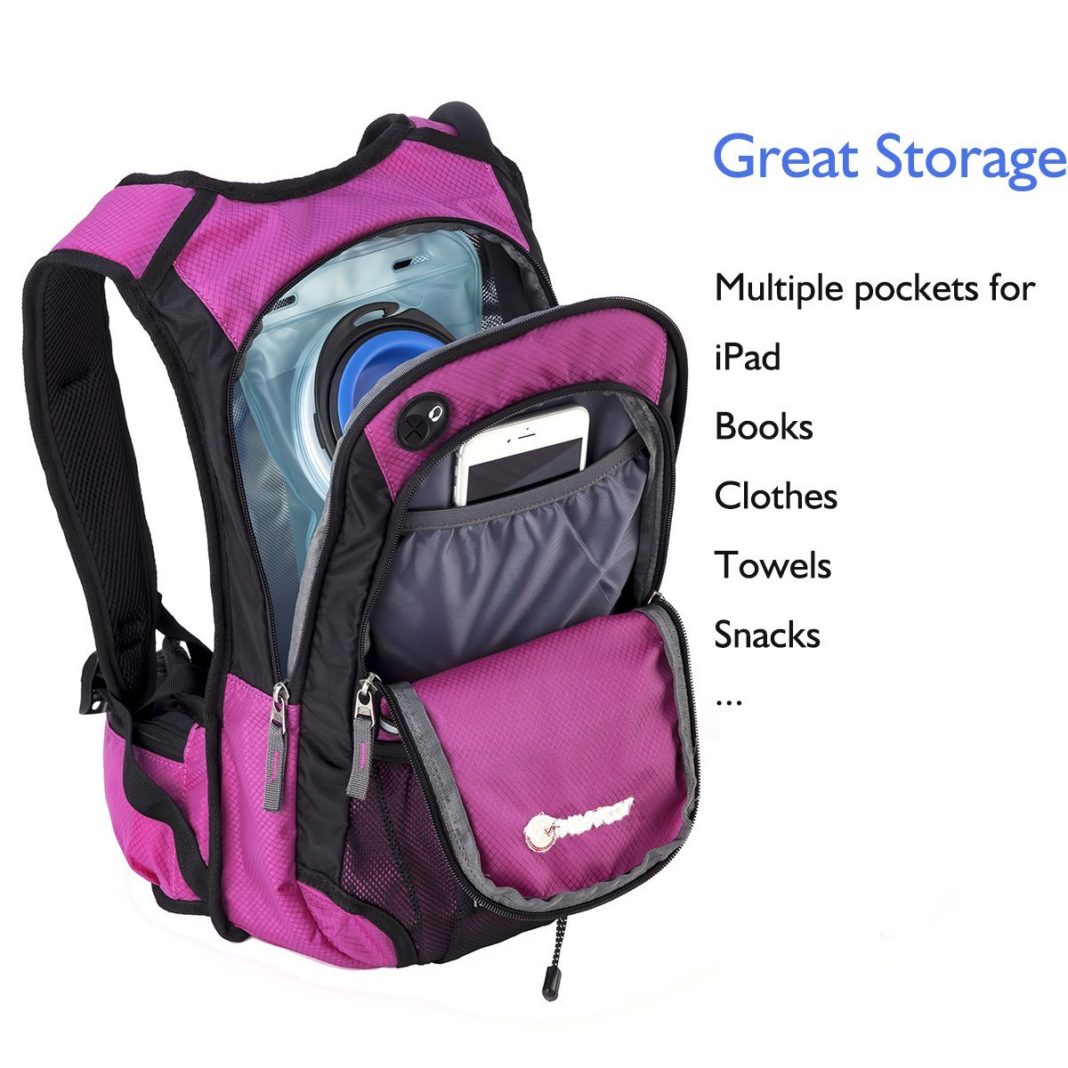 Credit: Amazon
Regardless of the size and capacity, the hydration backpack you buy should be convenient. Pay attention to the straps. They should be wide and thick like the ones on the Miracol Hydration Backpack. This ensures equal weight distribution. Some hydration packs offer mesh straps for efficient ventilation. This is particularly helpful in those hot summer months. Finally, consider the weight of each backpack. You don't want to add any extra unneeded weight.
Miracol Hydration Backpack Features & Benefits
Stay happy and hydrated with the Miracol Hydration Backpack. Do you love to spend your weekends out on the trails or taking a hike on the rolling green hills? This pack is full of features to help you make the most of your trips.
Supplying you with cold water for a minimum of four hours, this insulated backpack is the perfect solution to your hydration needs. Offering the sportiest of looks, it's built for both fashion and function. Want to know the best part? The hydration bladder is super easy to replace if needed.
Unique Insulation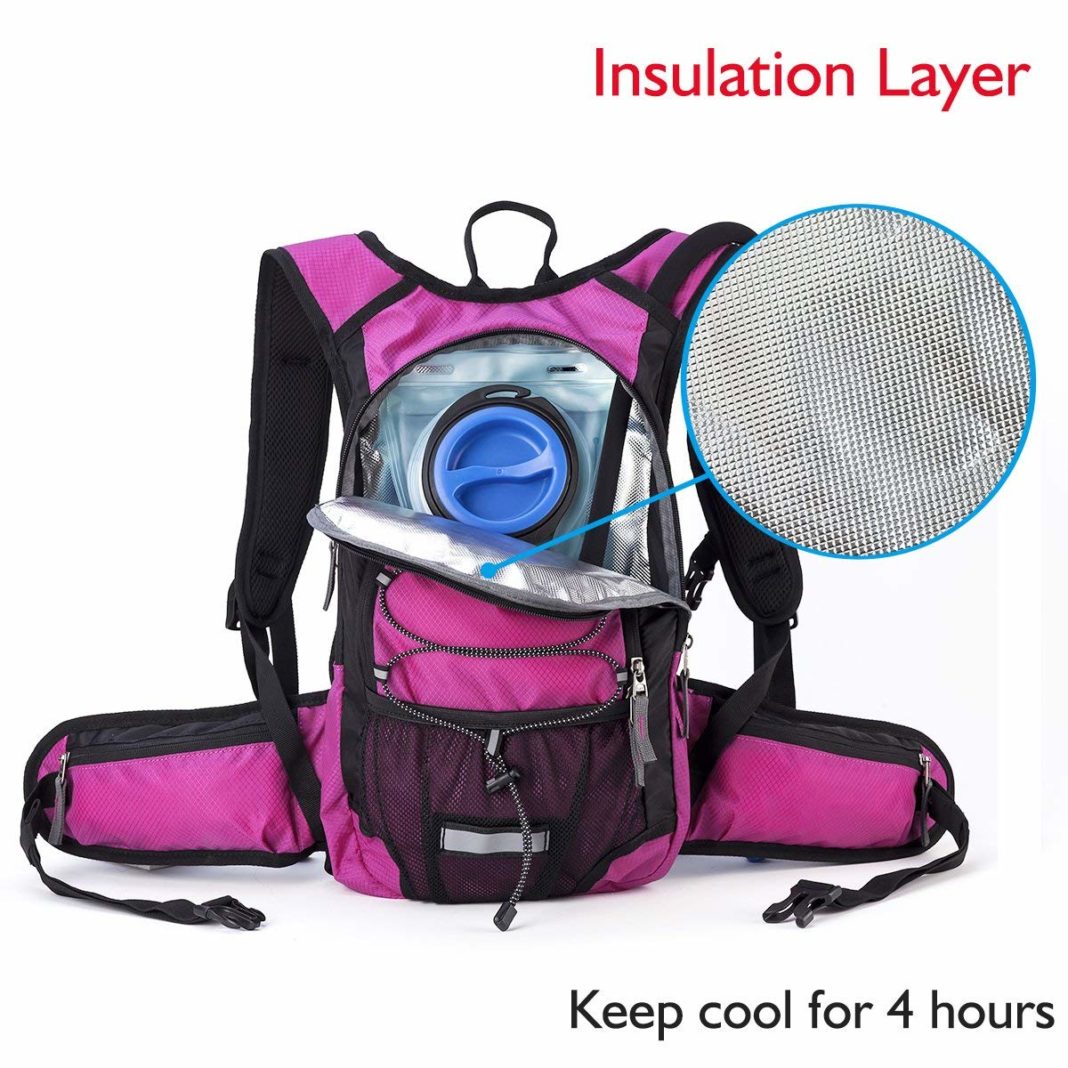 Credit: Amazon
With the inside thermal insulation Miracol Hydration Backpack can supply you with cold water for a minimum of 4 hours. Keep you hydrated during your entire adventure, our thermal-insulated backpacks are no doubt the best solution for all your hydration needs whether you're running, cycling, hiking or traveling.
Amazing Pockets
Miracol Hydration Backpacks supply you with ample storage and cool options with plenty of secure pockets for easy access to all your essentials like snacks, umbrella, favorite book, clothes. Do you love listening to music while on the run? Keep your phone safe in your bag, while easily accessing your headphones.
Comfortable and Lightweight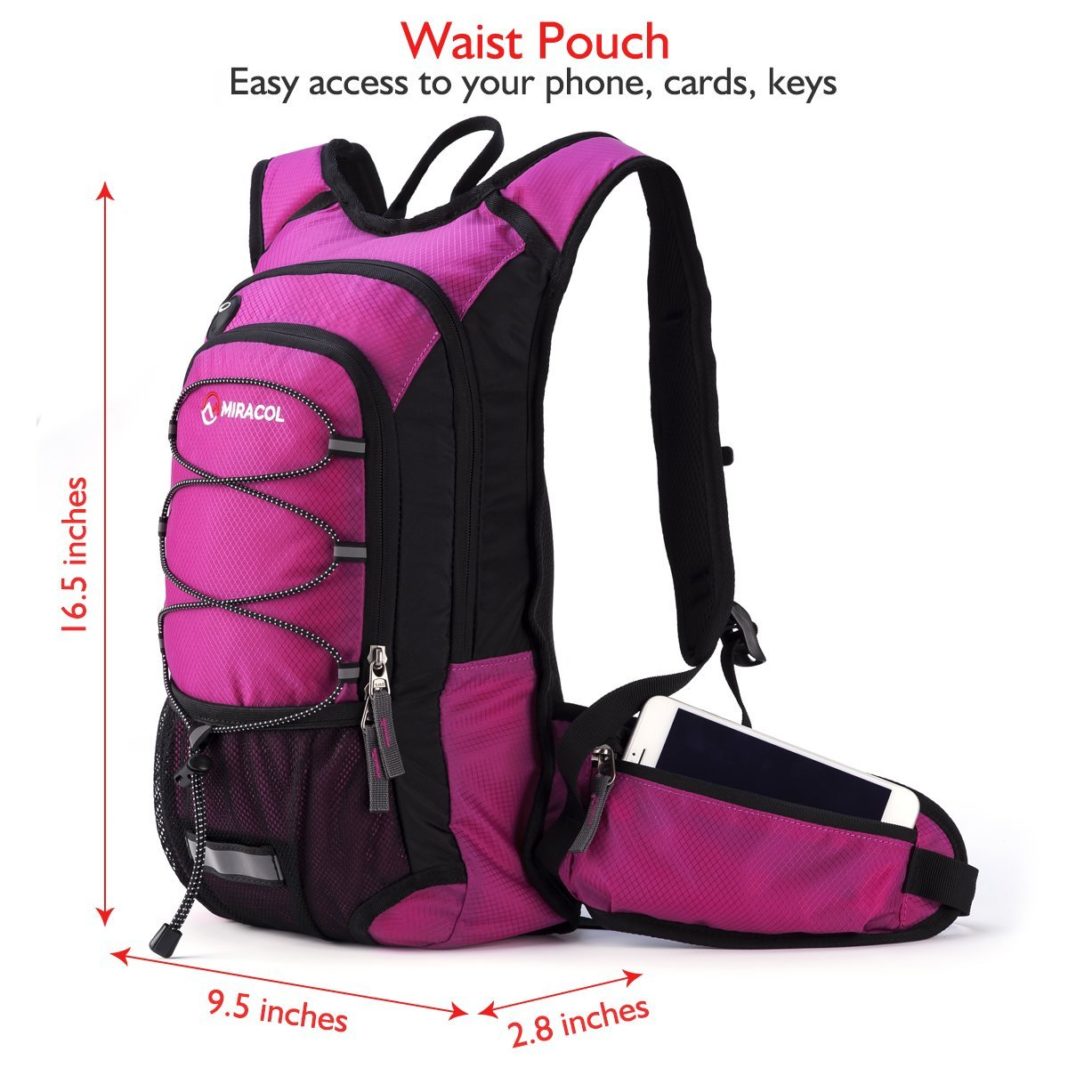 Credit: Amazon
The Miracol Hydration Backpack is durable, lightweight and offers you the ultimate comfort with the breathable mesh pad on the back. Adjust for the perfect fittings with the easily adjustable straps and you are ready to go.
It Has More Space Than the Standard Hydration Backpack
Two extra pockets on the wide waist straps are specially designed for easy and safe access to your valuables such as phone, wallet, cards, keys, etc.
Tech Specs:
Thermal Insulation: Miracol Hydration Backpack keeps your fluids cool with the inside thermal insulation and insulated tube that lasts up to a duration of 4 hours. This is no doubt the best hydration pack for running, hiking, cycling, or biking.

Highly Durable and Lightweight: This hydration pack features military-grade durability which will keep the content of your backpack safe while it weights only 1 pound, definitely won't burden you in outdoors.

runni

check

Replaceable 2L Bladder: Comes with a built-in 2L bladder with insulated tube that will allow you to carry your water conveniently. The high quality bladder is made using EVA material and it's BPA-free and FDA-approved, and with an extra-wide diameter of 3. 1 inches screw cap, which makes for easy pouring of water and putting ice inside.

check

Perfect Outdoor Gear: The adjustable shoulder/chest straps are comfortable and breathable. The Miracol hydration backpack is a great companion built for multipurpose activities. It's backed by a 100% money back guarantee with no question.
What Travelers Are Saying About the Miracol Hydration Backpack
Overall, travelers found the Miracol Hydration Backpack to be very lightweight and easy to run with. We particularly love that the two clips on the belt keep the backpack snug and secure when you're on the go. If you are one of those people seeking a hydration pack for short runs, hiking and biking, this is the perfect hydration pack to take with you.
But if you're going longer distances, you might want to look for a backpack that offers a little more storage space. Overall, it's very comfortable, fits snugly, is lightweight, and is just what you need for short jaunts and day trips.
Alternative Hydration Packs
Do you want to see a few other hydration packs? No worries, we've got you covered.
Camelbak Hydration Mule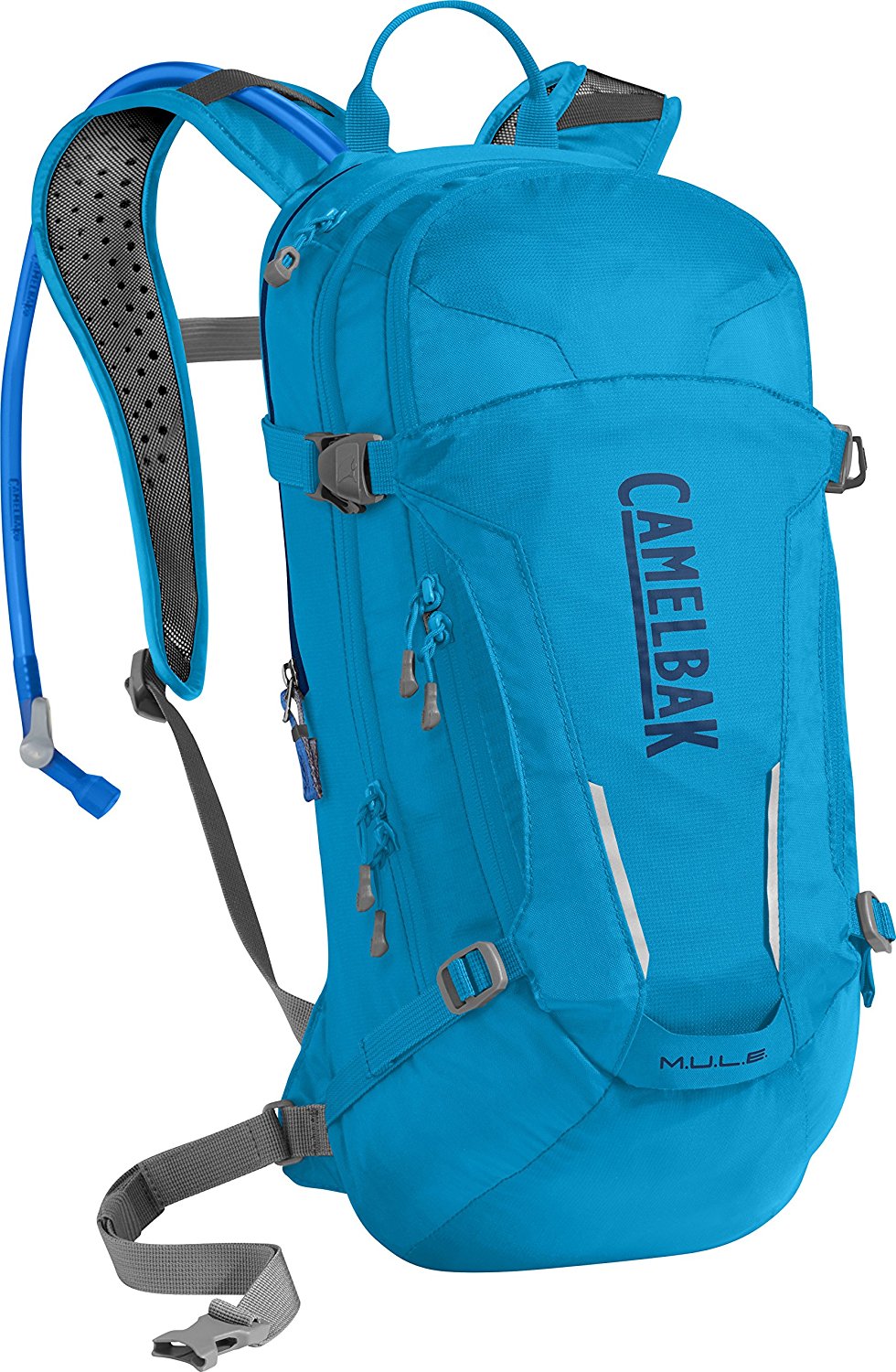 If you didn't know already, the Camelbak MULE Hydration Pack is one of the bestselling hydration packs on the market. It's got a great design, is lightweight, and easy to use. In essence, it's got everything you need, and nothing you don't.
We particularly love that its Crux hydration bladder delivers 20% more water with every sip in a package loaded with the latest in hydration technology. You'll find that the easy-open leak proof cap seals shut in just a few twists. Just flick it with your thumb.
Close the valve, and you can toss your pack anywhere without worrying about drips or leaks. The CamelBak Crux reservoir on/off valve pairs with the Big Bite valve, shutting off the water flow for added security during transport.
Hydroguard technology inhibits the growth of bacteria in the tube and gives you 20% more water with every sip. It is 100% free of BPA, BPS and BPF. Best of all, it fits like it should. We really like how the bladder detaches and how well the fill cap works.
With this said, just know that you can still make a mess with the quick disconnect at the bottom of the drinking tube though; although the bladder doesn't leak when you remove the hose, any water in the hose can (and will) come out, so this maneuver is best done over a sink vice your couch. There's plenty of storage — most of it useful.
Tech Specs:
Crux delivers 20% more water per sip, with an ergonomic handle for easy refilling and an on/off lever to prevent leaks

Magnetic Tube Trap keeps your tube secure and accessible when you need it

Air director back panel offers air channels to keep your back cool

check

External hooks let you carry your helmet while still allowing full access to your pack

check

Stretch overflow storage compartment lets you easily stash a rain shell or extra layer
Platypus Siouxon Women's Hydration Pack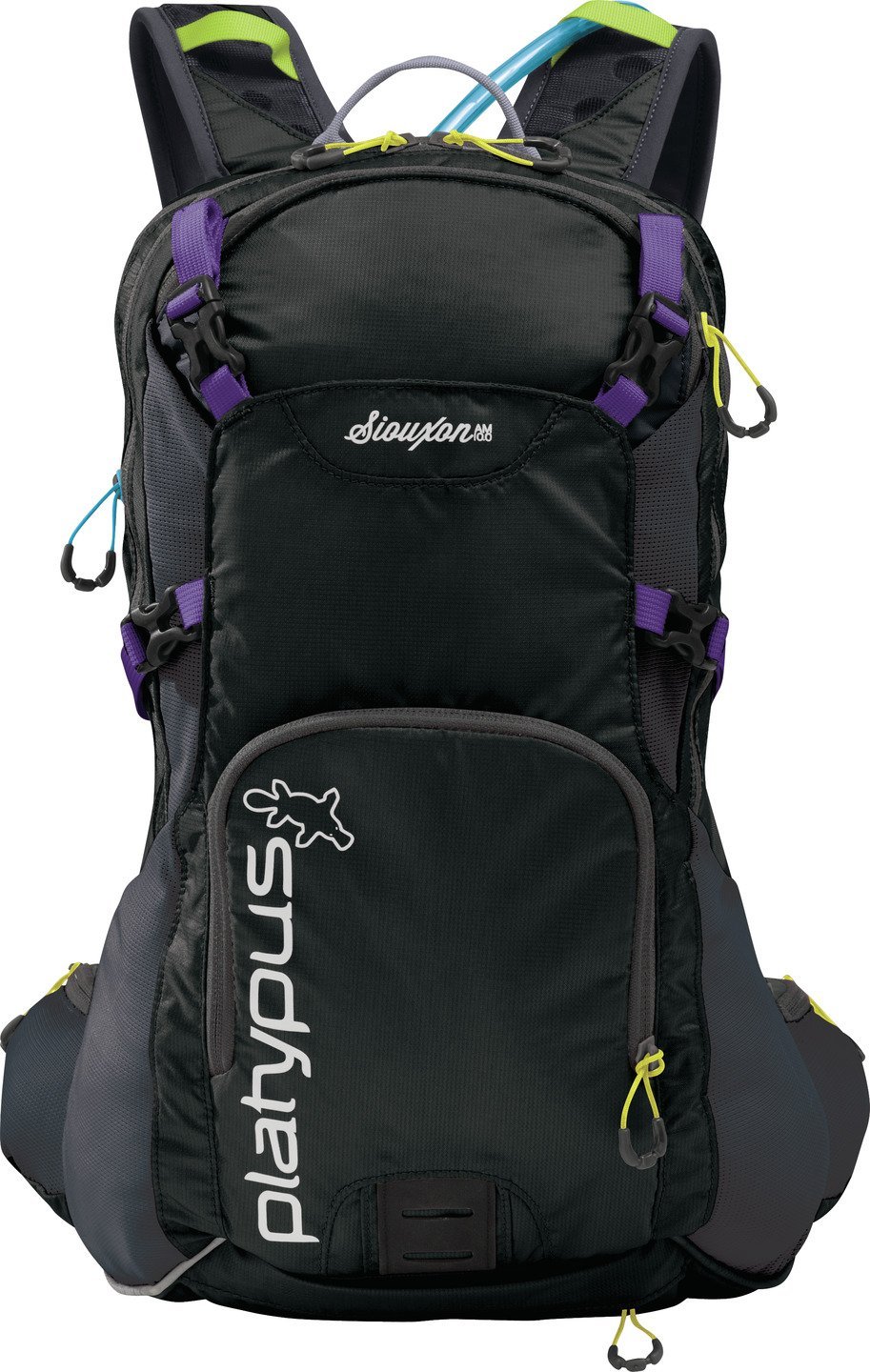 Ladies, this one's for you. The Platypus Siouxon is a roomy full-featured pack is designed especially for women. Made for ripping all-mountain trails all day long, the newly redesigned Siouxon 10.0 hydration pack offers a stable, tailored fit, plenty of space to organize your riding essentials, and boasts the new, airy FloatAir back panel to keep you cool all day long.
Designed and built for optimal fit and comfort, this pack features soft-touch materials at body contact points, an optimally sized back panel length, anatomically shaped and angled waist belt and shoulder straps, as well as long-track sternum strap adjustment.
Tech Specs:
Internal and external tool organization with up to 7L of storage

Comes with Platypus 3L BigZip hydration reservoir with magnetic hose retention and multiple hose routing options

Carry system for pads and full-face helmets, along with fleece lined eyewear pocket, integrated rainfly, commuter light loop and two pump sleeves

check

Designed to work with a wide range of body types and torso lengths, the FloatAir back panel keeps you cool and comfortable all day long

check

Long-track sternum strap for tailored adjustments and ergonomic shoulder straps for increased comfort
Nathan HPL Hydration Running Backpack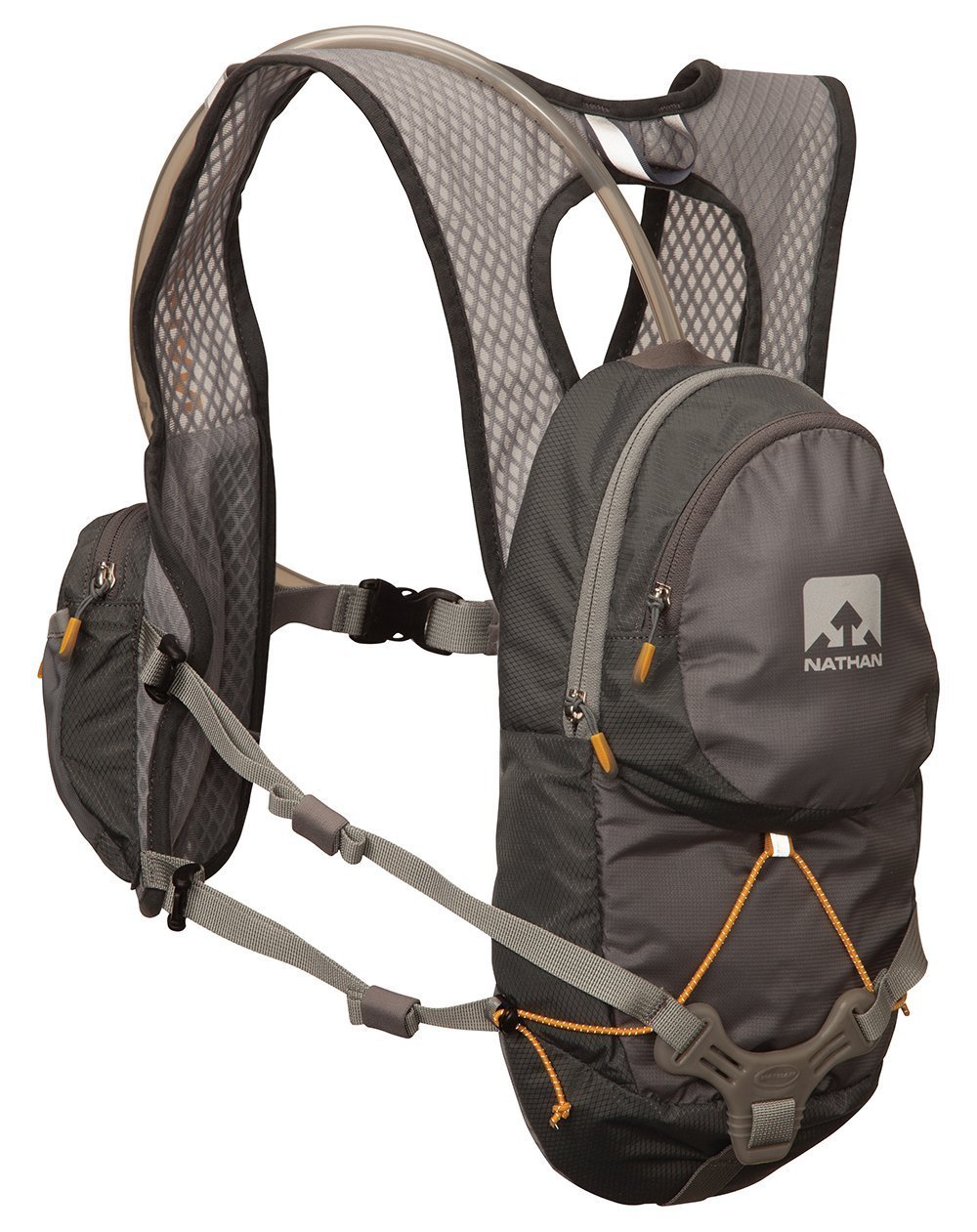 Do you love adventuring in the great outdoors? Gear up for your runs with the Nathan HPL hydration pack. Newly redesigned it now offers a lighter more comfortable vest outfitted with lighter weight fabrics and an updated 3-way propulsion harness that moves with you.
So, you can run in the summer heat and still stay cool. Just thank the moisture-wicking breathable mesh shoulder straps and back panel for that. It gets even better. You can store extra stuff in the mesh pockets, which are ideal for electrolyte packs, energy gels, and other small essentials.
Tech Specs:
90% nylon / 10% polyester

Imported

Nathan's iconic featherweight hydration vest comes with a light and breathable perforated back panel to make your next 100-miler a breeze

check

Patented 3-way Propulsion Harness stabilizes side-to-side/up-down movement of bladder and other contents
Osprey Escapist Daypack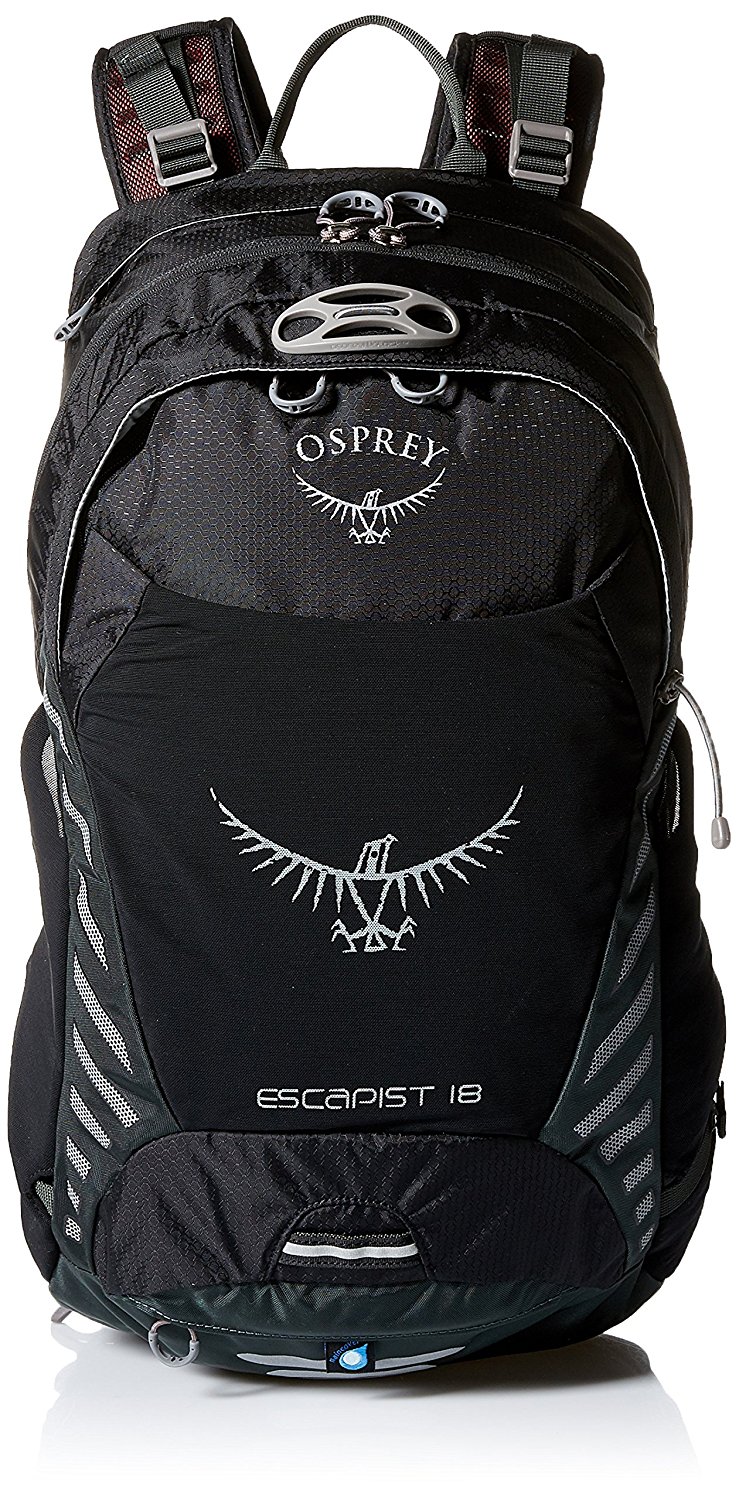 We honestly can't praise the Osprey Escapist 32 Daypack enough. It offers plenty of storage space and is designed to keep you and your gear balanced on even the roughest terrain.
It's particularly great for use when you're hiking and camping during the summer months. Thanks to a smart airscape mesh back panel design, it offers plenty of ventilation when you're going up the mountain pass. We've already been over the storage options; they're plentiful. While it's not wise to overpack, you should know that this bag does have enough space for everything you need and then some. You don't have to worry about deciding what to leave behind.
With a biostretch harness and hipbelt, this low-profile pack is made to keep you balanced with a heavy load – even when descending the roughest terrain. Thanks to the airscape mesh back panel, you'll stay cool and dry even when you're grinding up a mountain pass. When you need to access your gear, the main compartment has a convenient zippered front panel, so you can see all of your gear at once. In addition, a zippered divider at the base of the pack provides optimal storage.
In addition, you'll find plenty of external storage options. Three handy stretch mesh pockets offer ample room for snacks and your electronics. The hip belt also offers twin zippered pockets. You'll never run out of storage room with this bag. That's not all. A zippered external front pocket is designed especially to keep valuables secure. You don't have to worry about scuffing up that favorite pair of sunglasses anymore. While this pack doesn't come with a built-in hydration bladder, you can easily purchase one for simple pairing.
Tech Specs:
Airscape Backpanel: A mesh-covered ridge foam back panel provides ventilation and comfort when hauling heavy loads or climbing big hills. The Escapist 32 also features a adjustable harness.

Integrated Raincover: Built-in, snug fitting high visibility rain cover keeps your gear dry.

Sleeping Bag Compartment: A zippered divider pocket at the base of the pack provides segregated storage for dirty clothes or a sleeping bag.

check

Internal Organization: Panel opening to main compartment which contains specialized storage to help keep things organized.
Invest in the Miracol Hydration Backpack for Your Next Great Outdoor Adventure
We hope you enjoyed reading our feature on the Miracol Hydration Backpack. As you can see, this is a great travel accessory for those seeking a pack to bring on shorter trips. Durable and lightweight, it's perfect for staying hydrated while running, biking downhill, and hiking. The 2L hydration bladders offers a good amount of water to bring on the trip without feeling too weighed down. Know how much water you should bring before you head out.
The interior offers enough space for your devices and essentials like sunscreen, sunglasses, and extra snacks. All in all, we love it for its unique insulation properties (it keeps water cold for a minimum of 4 hours), ample storage space, and military grade design.
Questions and Comments
Do you have any questions or comments for us? If so, we would love to hear them. Feel free to leave a message for us below. We will be sure to get back with you soon.
Related Article: The 5 Best Hydration Packs To Bring On Your Travels