The minimal design of the Nathan #020 HPL Hydration Running Backpack makes it great for runners, hikers and travelers.
Hey fellow runners, hikers, travelers! I'd classify myself in each of those categories, and I understand the need for a good hydration backpack. I had a hydration bladder that I'd use for hikes and backpacking, but I was also in the market for something pretty minimal. That's because I didn't want to carry around a lot of stuff in my hydration pack. I wanted water to be the priority, with maybe a little extra room for a phone, wallet and snack. The Nathan #020 HPL Hydration Running Backpack is super ideal for just that. The design provides some features beyond the basic water bladder, but it's still so light and comfortable to carry.
This hydration backpack is great for travelers because it's so easy to pack (and saves you from an overpriced touristy cafe water bottle). Additionally, this backpack doesn't wait around taking up space in my closet for my next trip. This hydration backpack is also great for hiking and running, too.
Nathan #020 HPL Hydration Running Backpack Features & Benefits
It's Comfortable, Cool and Lightweight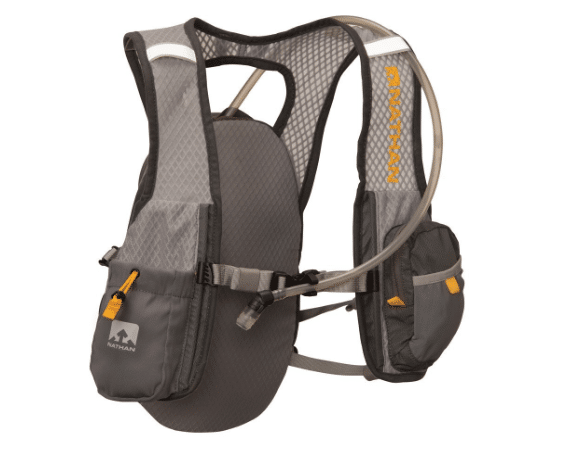 Credit: Amazon
Sure, many backpacks can hold a couple liters of water. However, many don't allow you to carry a few liters of water as comfortably as the Nathan #020 HPL Hydration Running Backpack. There are a few components that contribute to the comfort of this hydration backpack. To start, it's incredibly lightweight. The backpack, without the full two liters of water inside, is so light to pick up. It's made from mostly nylon, as well as polyester. This backpack does include the water reservoir, but you can check out other hydration bladders here.
Secondly, the lightweight body, the breathable back mesh, and the mesh shoulder straps also help make this backpack comfortable to wear. The back and shoulders don't allow for pools of sweat (ew), all thanks to the visibly breathable material. The raised diamond stitching helps with the airflow. Furthermore, the company refers to this product as the  Nathan HPL 020 hydration vest, since it's not quite as much material as a backpack. That helps to keep things cool and comfortable.
The 3-Way Propulsion Harness Prevents This Hydration Vest From Bouncing Around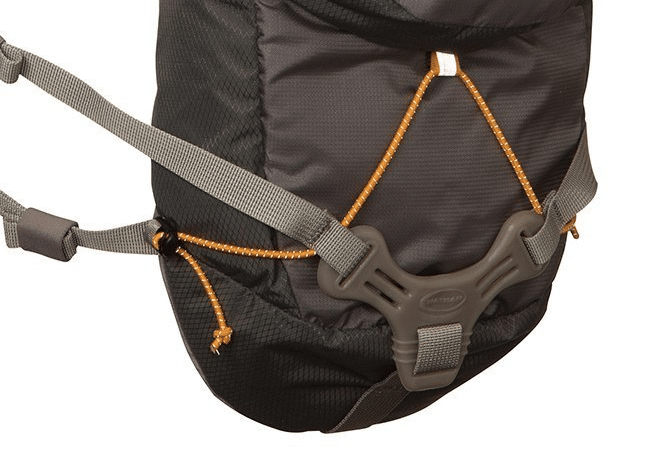 Credit: Amazon
The straps on the Nathan #020 HPL Hydration Running Backpack help keep this backpack snug and comfortable. Too often I'm deterred from wearing a backpack while running because of the bounce. That problem's prevented thanks to the strap system on this hydration backpack. It's a three-way harness. Top shoulder straps wrap around your shoulders and back. Side straps connect the front of the backpack to the back, past your waist. However, perhaps the most significant strap originates with the small plastic piece on the back of the backpack (the piece that looks like a fidget spinner!). It connects to the front of the backpack, and pulls the bottom of the backpack close against your back. This especially prevents the flapping and slamming while you are jogging.
It's Just the Right Size, with Great Organizational Pockets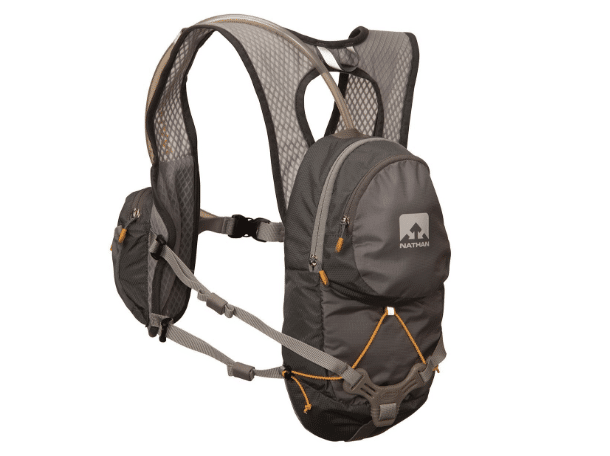 Credit: Amazon
Especially when you're running or packing for travel, you don't want to waste space on backpack features that you simply won't use. The Nathan #020 HPL Hydration Running Backpack is great for just that. It has what you need, plus just a little bit extra to make it really useful. The water bladder's size is two liters, so it's just right for a half-day hike or jog. There are two zippered sections of the main body of the backpack. To make it easier to get the water bladder into this section, the largest compartment unzips almost halfway down. It would be possible to even fit something else small in this section, too. A smaller outer pocket of the main body is great for a wallet, keys, or snacks. On both of these pockets, the zippers are easy to unzip. 
Additionally, the Nathan #020 HPL Hydration Running Backpack makes use of the space on the front, too. The front straps feature a left and right mini-pocket. The one is ideal for a smartphone, and the other stretch mesh pocket allows you to cinch in something else small. Therefore, the Nathan #020 HPL Hydration Running Backpack can carry what you need conveniently, without wasting too much space that would be bouncing around your back.
There Are Even a Few Extra Features That Make it Easy to Use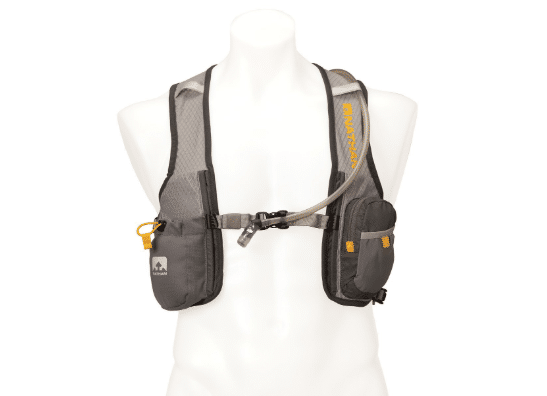 Credit: Amazon
You'll likely recognize that little features can make a big difference when you're out on a long run or hike. Sometimes that means redistributing the weight, adjusting a strap, or allowing you to quickly sip from your water. The Nathan #020 HPL Hydration Running Backpack has those pleasant little extras. First, there's a clip at the top of the water bladder. This hooks to the clip on the inside pocket of the backpack. This allows the water bladder to "hang," and remain upright and against your back.
Secondly, there are a few features for the water bladder's tube which make it easier to sip and prevents it from annoyingly flapping around. You can choose to have the bladder's tube rest on your right or left. There are horizontal mini straps sewn into the tops of both shoulders, to keep the tube in place. Furthermore, there's a clip on the buckle of the sternum strap to hold the base of the tube (the part you sip from). And lastly, the sternum clip is adjustable. It slides up and down to allow for just the right position on the vertical sliders.
What Travelers Are Saying About the Nathan #020 HPL Hydration Running Backpack
Many other travelers love the Nathan #020 HPL Hydration Vest because it's precisely what they've been looking for. It's just the right amount of material and storage, without becoming an overbearing backpack that bounces around while jogging. Others are also fans of Nathan sports and Nathan hydration products. This is yet another example of the company providing a quality product that seems to totally "get" the needs of people with a hydration vest or backpack. Other runners find that it holds up well, even after many uses on a sweaty body! 
Additionally, this Nathan #020 HPL Hydration Running Backpack serves well for those who aren't even long distance runners. It's a simple, easy way to carry around two liters of water. Others find the backpack totally suitable for easily stashing the things that you'd likely be carrying while hiking or running. Overall, the excellent reviews from others about the Nathan #020 HPL Hydration Running Backpack corroborate our love for this product!
Alternative Hydration Packs
Miracol Hydration Backpack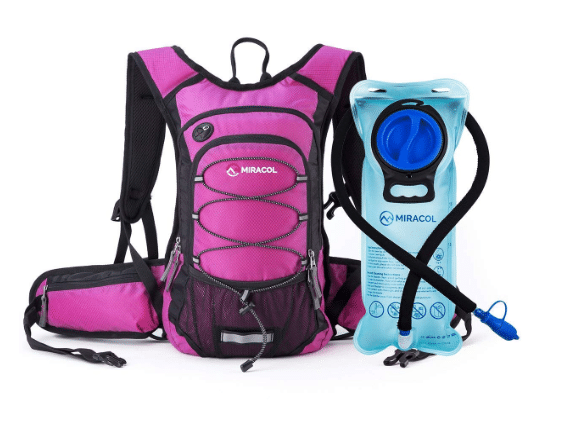 Credit: Amazon
The Miracol Hydration Backpack offers a bit more storage than the Nathan #020 HPL Hydration Running Backpack. The two liter water bladder with this hydration backpack can be filled through the circular cap at the top of the bag. There's even a nice cap with the bite valve of this hydration bladder. Another benefit of the Miracol Hydration Backpack is the thermal insulation which helps to keep your water cool. This pack is a backpack, rather than a vest. This means there's room to store an extra light jacket inside, and plenty of snacks. Furthermore, there are additional pockets to keep the contents organized, and maximize the space. There's a sternum strap as well as a strap for your waist, but this backpack wouldn't be ideal for running. It's a great size for day hiking, or traveling if you won't need a ton of space within a backpack.
Camelbac M.U.L.E. Hydration Pack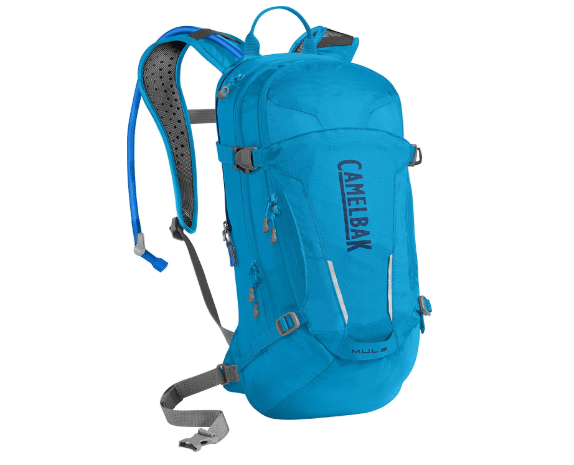 Credit: Amazon
If you're looking for a hydration pack that offers even more storage than the Nathan #020 HPL Hydration Running Backpack or Miracol one listed above, then perhaps this Camelbak is good for you. The narrow shape means it fits nicely along the spine of your back. Comfortable, breathable shoulder straps and the air director back panel help keep you cool underneath. There's lots of room to pack this backpack full, and even some features that allow you to keep adding. That's thanks to the expandable overflow compartment and the exterior hooks. Even better, this hydration backpack comes in all sorts of fun colors.
The hydration bladder in this Camelbak pack can hold 100 ounces, or just under three liters. We also like the bite valve with the on/off feature included with the water bladder. Rather than twisting, like other hydration packs, the on/off is a level that you'll simply push up and down. It's a great option for a medium-sized hydration pack!
Osprey Escapist 32 Daypack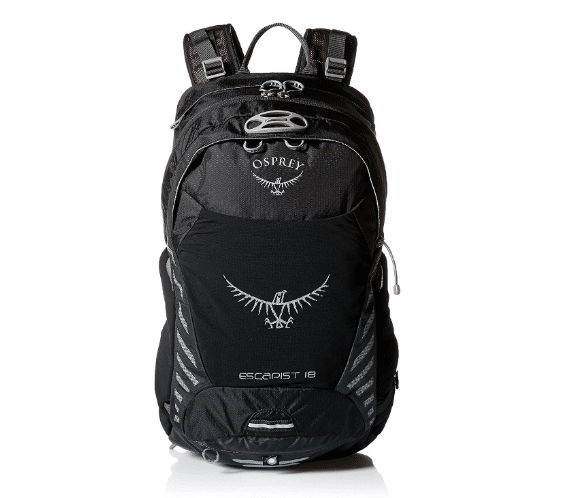 Credit: Amazon
This is a large backpack that comes with an external hydration reservoir. The Osprey daypack is a great option if you'll be needing to carry more than just water with you. There is plenty of storage space, and lots of pockets keeping you organized and maximizing the space. Easily adjust the harness and easily grab the backpack by the horizontal strap across the top. Your back will appreciate the comfortable back panel that also helps allow airflow. The lower compression straps allow you to pack a lot inside this backpack, especially clothes and fabrics. This backpack measures 32 liters of room inside.
The Nathan #020 HPL Hydration Running Backpack keeps you free and hydrated.
Nathan #020 HPL Hydration Running Backpack won't keep you bogged down with extra weight or room. Run, hike or travel with some water on your back, and your phone, keys and wallet. If you're looking for a backpack that's minimal and efficient, the Nathan #020 HPL Hydration Running Backpack is the one for you!
Related Article: ​The 5 Best Hydration Packs to Bring on Your Travels​​​