The charm of Thailand is effortlessly woven throughout the country's temples, mountains, wildlife, food, and culture.
It's no wonder why you're thinking of heading across the pond to this magical country! There are so many things to do in Thailand, it can be hard to choose what is most worth your precious time. You could spend months visiting every famous temple or backpack for weeks in the northern jungles. The food scene is vast enough you could simply eat your way through Thailand for however long you want.
If you plan your trip wisely, you could hit up multiple amazing festivals that will each give you a different taste of Thailand. Last but not least, Thailand has stunning beaches. Visiting the breathtaking sandy coves where diving, swimming, and climbing is highly recommended. With a myriad of islands just off the coast as well, there is so much to explore. So, let's jump head first into our list of things to do in Thailand so you can plan the perfect excursion.
1. Visit the Famous Grand Palace in Bangkok
From 1782 to 1925, the Grand Palace was home to the Kings of Siam and Thailand. This ornate and breathtaking campus is one of our favorite things to do in Thailand. When visiting Bangkok, make sure to put this on your itinerary. While royalty does not reside here anymore, many official events are still held here each year. This is both a piece of history and a modern marvel. As different parts of it were built at different points in time, there are a plethora of buildings. Connected by beautiful gardens, walkways, and art features, you can easily spend quite a bit of time here. So, spend a day wandering between the different temples, courts, and museums here. You won't regret it! One final note, make sure to wear long, modest clothing. The dress code is quite strict out of respect for the temples and history of this place.
2. Get Nibbled On at a Fish Spa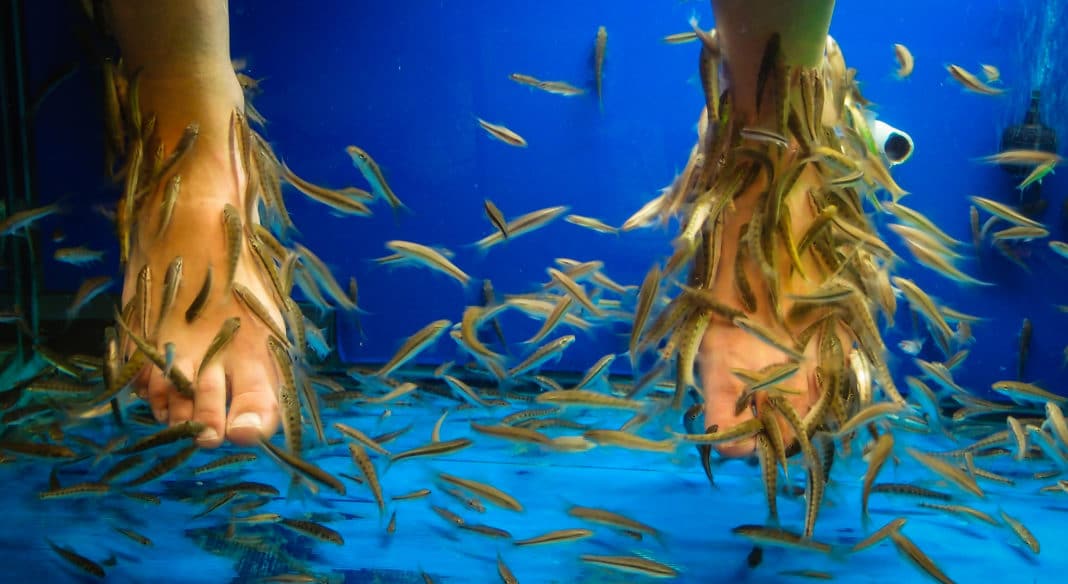 You've probably seen pictures or maybe even a video about this. Most people head to the spa for a relaxing massage or facial, maybe even a mud bath if you're feeling adventurous. But, Thailand has something even better up its sleeve: the Fish Spa. The red garra is a fish, often called the doctor fish, that enjoys eating dead skin cells. This has turned into a spa treatment where you can dip your feet in a pool of these lovely little creatures. They will in turn nibble away, giving you a pedicure unlike any you've had before.
If you've been having a long walking day seeing all the beautiful sites of Thailand, this might just be what you need. Regardless of how you feel about this, it is one of the most unique things to do in Thailand. So, take off those sandals and let your tired feet take a dip with the nibble fish!
3. Take a Day Trip to Ayutthaya
If you're one to seek out history while visiting other countries, then visiting Ayutthaya better be on your list of things to do in Thailand. Before Thailand was Thailand, it was the kingdom of Siam. The capital of Siam was Ayutthaya, giving this ancient city a rich and beautiful history. Just a few hours north of Bangkok lies this city with a vast amount of ancient ruins to explore. This is probably the largest and most condensed collection of ruins in Thailand. This made it a no-brainer for our list of things to do in Thailand. So, while exploring the city, make sure to check out the Wat Phra Sri Sanphet temple ruins. Additionally, the reclining Buddha at Wat Yai Chai Mang Khon will take your breath away. You can easily spend the whole day meandering these old streets and imagining what life back in this ancient capital would have been like.
4. Trek into the Jungles of Northern Thailand
Chiang Mai is one of the most spectacular small cities in all of Asia. It will take a little bit of time to make it up here, as it is 435 miles north of Bangkok. But, we can assure you it will be worth every second. Chiang Mai is itself a thriving city full of culture and food. But, it is also the starting point for any jungle adventure to northern Thailand.
You will be able to find a myriad of different guides easily here, offering different things to do in Thailand. Choose from white water rafting down a raging river to packing a bag and heading into the jungle on an elephant. If backpacking is more your style, that's a huge possibility too! Either way, you will get a taste of the slower, country life that so many Thai people live. Take the time to engage with the villagers and enjoy their pace of life up here in the mountains and jungles of northern Thailand.
5. Explore Pai's Canyons
If you keep adventuring northwest of Chiang Mai, you will come to Pai. A fun little town, it has a lot to offer. Our favorite is the canyons in Pai. The dirt slot canyons are in deep contrast to the luscious green mountains surrounding you up here. But, this is a stellar natural playground. You can climb in and around these natural features for quite a few hours without getting bored. If you need a slight change of scenery, further down the road is the gorgeous Pai river. Connected to that is a beautiful waterfall. You can also visit a famous land split where the earth has broken open. While it is fun to see, the better part is the locals who will give you a tour of their land, history, and produce while you're here.
For a true Thai experience, check out Pai. If you've got some time to spare as well, you can even become a Kung Fu Master at the Nam Yang Kung Fu Retreat. So, for the most off the beaten path options on the list of things to do in Thailand, head on over to Pai.
6. Visit Wat Rong Khun
Of all the best things to do in Thailand, visiting the White Temple, or Wat Rong Khun is a must if you're already in the north. Rather than being built by an architect, this spectacular temple was built by an artist. Perhaps the most unique temple in all of Thailand, this is well worth the short bus ride from Chiang Rai. There is an on-site art gallery of paintings, sculptures, woodwork, and metallurgy.
But, the temple itself is its own work of art. Crafted with mirror and glass put into the walls of the temple, it literally shimmers in the daylight. Symbolism is woven into every little piece of this temple. You can truly spend a good bit of time simply taking it all in. Between the skeletons and hands carved everywhere, it can get a little eerie. This being said, it is a stunning masterpiece of art, and it easily made our list of things to do in Thailand.
7. Visit Phang Nga Bay
While Thailand is rich in history and temples, it also has a taste of Hollywood mixed into all of its beauty. Phang Nga Bay is absolutely stunning on its own with emerald waters and limestone cliffs jutting up from the beach. This beauty is part of the reason the James Bond film The Man With the Golden Gun had a scene filmed here. Just a fair warning, James Bond Island is a major tourist attraction so you will not be at this particular spot on the beach by yourself. That being said, there's plenty of space in Phang Nga Bay and the small fishing village of Koh Panyee to spread out and relax. The village itself is built on stilts and is a one of a kind little spot in Thailand.
The Phang Nga Bay beach is a sight to behold, and if you're looking for a few days to simply relax in the sun, this is a great choice. We would highly recommend renting a boat or grabbing a guide to bring you around the Bay. Exploring the surrounding islands by boat can bring you a new perspective. You will have a whole new appreciation for this the coast this way. So, enjoy being out on the water on this stellar choice on our list of things to do in Thailand.
8. Rock Climb at Railay Beach
We're all about finding new ways to view the world. One of the best ways to gain a new perspective is to climb higher. Yes, we mean that quite literally. Head over to Railay Beach for some of the best rock climbing in Thailand. Located on the Andaman Sea in Southern Thailand, Railay Beach is quite beautiful. Catering to all different levels of climbers, you will have a chance to climb up the stunning cliffs overlooking the sparkling water and shining beaches. This is a great rainy day activity too, as there are still multiple outcroppings with a rain cover to keep you dry. The guides are highly trained and incredible professionals, so you won't have to worry about safety or getting lost, either. So, throw this on your list of things to do in Thailand if you are looking for a little adventure in your life!
As you start to plan out your trek in Thailand, we hope you consider at least a few of these things to do in Thailand.
From the majestic mountains of the north to the crystal clear bays, there is something for everyone in Thailand. We didn't even touch on the incredible food. So, make sure to eat some street food while you're here to make sure you soak up every opportunity to experience this beautiful country. We've only mentioned a few of the famous temples in Thailand, but you could easily spend your whole trip discovering the intricacies of all the temples. So, whether you're up for letting fish nibble away at your feet or not, Thailand will be a spectacular trip no matter what you choose to do.
Related Article: 20 Unique Things to Do in Phuket, Thailand