Friends, families, couples: head to these spots for the best weekend getaways in Ohio to relax, explore and have some fun.
Everyone needs to treat themselves to a sweet escape once in a while, whether it's with some good friends, family, or your significant other. For many, Ohio isn't one of the first places that comes up as a getaway, and they're sorely missing out for it!
Ohio is home to some neat places; various state parks, the huge and famous Cedar Point Amusement Park, and some lovely islands in Lake Erie to name a few. These destinations throughout Ohio listed below will show off what the state has to offer, especially for great weekend getaways in Ohio. Choose from romantic tree house luxury lodging to a family-friendly cottage at a state park. Ride the thrilling roller coasters at Cedar Point, or zip line through the canopy of trees at Mohican State Park. Enjoy a summertime swim up bar at the "Key West" of Ohio, or step back in time at the Georgian Manor House Inn or Lafayette Hotel. Regardless of your ideal type of fun weekend, these weekend getaways in Ohio won't disappoint.
Find Secluded Bliss at The Mohicans Treehouses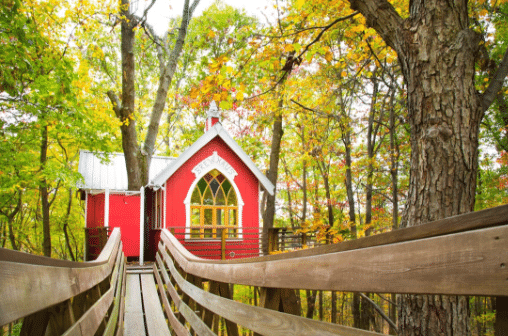 Credit: The Mohicans
Located practically right in between Columbus and Cincinnati, this amazing destination is one of my favorite weekend getaways in Ohio. To begin, these real-life tree houses were built by Pete Nelson, who you might have seen on the show "Treehouse Masters." You can choose to stay in cabins or treehouses (in both you'll get to find your peace in beautiful, wooded nature). There are currently six different, luxurious treehouses to stay in, with sturdy spiral staircases, suspensions bridges, little decks, and beautiful decor. Each one is a lovely little masterpiece of creativity: rustic, yet elegant. Each one is varied (the Nest is an octagon with cathedral-style windows, and the Old Pine has 1800s decor). They're fully heated with kitchens and bathrooms, so there's no "roughing it" out here in the woods.
For things to do nearby while staying at your cozy treehouse, there is Mohican State Park. Additionally, if you are up for the adventure, try the Tree Frog Canopy Tours: a series of zip lines, sky bridges, and rappels through the treetops. How fun! Here at the Mohican Treehouses, you can spend your entire weekend getaway high up in the treetops; sleeping, dining and ziplining!
Get Your Fill of Excitement at Cedar Point Amusement Park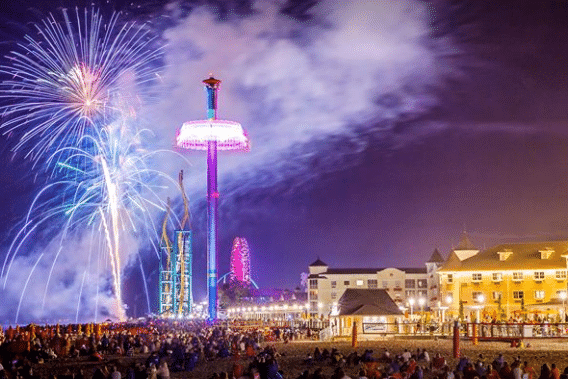 Credit: Cedar Point / Facebook
Voted by many as the best amusement park, Cedar Point is sure to thrill! It's the second oldest amusement park, and you can ride the 1964 wooden roller coaster Blue Streak, if you dare! Cedar Point covers an impressive 364 acres, all packed with fun. Furthermore, there is an outdoor water park now, and a mile-long white sand beach on the shore of Lake Erie. Cedar Point gets even more impressive: it's the only amusement park in the world to have a total of six roller coasters over 200 feet high! This amusement park is one of the great weekend getaways in Ohio, since there are so many roller coasters and thrill rides to try out, plus nighttime entertainment.
To be close to the action, and for a waterfront view in a beautiful hotel, stay in the Hotel Breakers. It's a beachfront resort offering included passes to the amusement park, and tasteful, "amusement-themed" decor inside. When you stay there, the fun doesn't stop after your day of rides at Cedar Point. You'll get to enjoy the outdoor pool, indoor pool, firepit, beach games, and the shore. You may need to turn this Ohio getaway into an extended weekend vacation. If you're looking for other vacation ideas, check out these 13 best vacation spots in the US.
Get Lost in the Natural Wonder of Hocking Hills State Park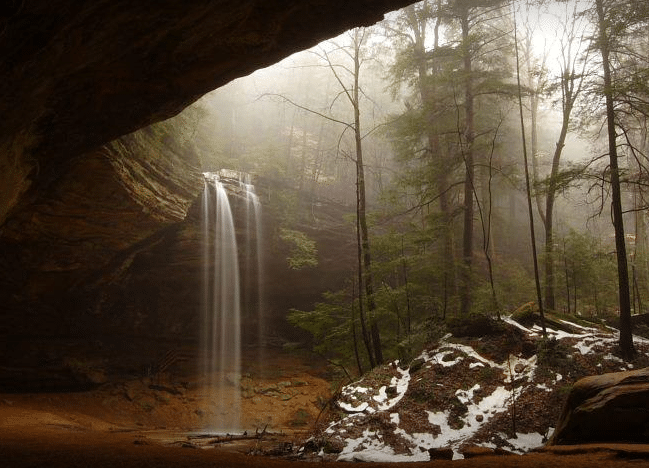 Credit: Ohio State Parks / Facebook
Located in southeastern Ohio, in Logan, Hocking Hills makes for a beautiful weekend getaway. This state park features towering cliffs, waterfalls, and deep gorges shaded by trees. Even better, there are plenty of hikes to explore and get up close to all of it. There are various sections to the area of the park, each with its own impressive towering rock ledges, cliffs or waterfalls. You can explore areas with names that cleverly indicate the rock formations such as: Devil's Bathtub, Old Man's Cave, and Rock House. The area expands into Hocking State Forest, and there are plenty of outdoor activities around there. These include: fishing, rock climbing, kayaking/canoeing, horseback riding and swimming. Options for accommodations include camping or lots of cute cabins, cottages in the surrounding area.
Indulge in an Island Escape at Put-In-Bay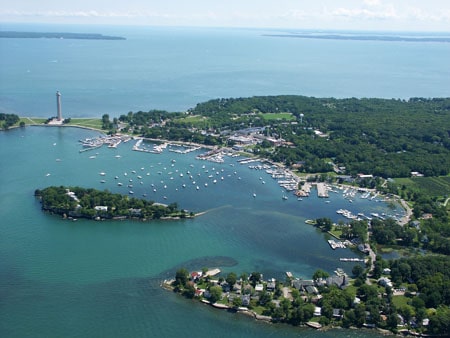 Credit: Flickr
Put-In-Bay is known by the locals as the "Key West" of Ohio. This little village on Small Bass Island in Lake Erie has a great bar scene, even with swim-up bars at various pools. Therefore, it's a great weekend getaway in Ohio in the summertime, when both Lake Erie and the various pools are refreshing. Head over to the Sand Bar and you can play some pool volleyball surrounded by tiki lights and even a white sand "beach."
To get to the island, you'll take this ferry, and then use golf carts to ride around! (You can rent them upon arrival, or make a golf cart reservation.) If you're not into the bar scene on Put-In-Bay, you can head over to the lighthouse, or the Put-In-Bay Winery. Additionally, the Butterfly House is pretty neat too; check out the butterflies in a beautiful garden and greenhouse setting. You can also rent a kayak or canoe and paddle around the protected Put-In-Bay. And lastly, there are great dining and a few shopping options that seal the deal for this being one of the best weekend getaways in Ohio!
Stay in the Quaint Lafayette Hotel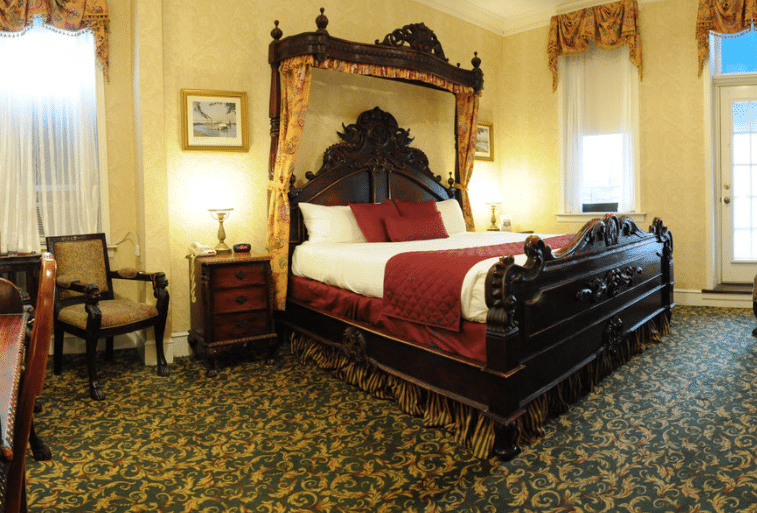 Credit: Lafayette Hotel
The Lafayette Hotel in Marietta's unique location makes it one of the best weekend getaways in Ohio, but that's not all. To start, the hotel is located at the fork of the Ohio River and Muskingum River. It's in the cute, historic town of Marietta, which looks across the river to the West Virginia town of Williamstown. Marietta was settled in 1788 by pioneers to Ohio County. The Lafayette Hotel was named after Marquis de Lafayette, a French hero of the American Revolution.
The interior decor of each room will take you back to that riverboat heritage, when the Ohio River was a really important transportation route. Rooms even include some unique artifacts. Choose between room options such as the king or queen parlor, the Riverview Penthouse, or suites. Enjoy meals at the Riverfront Bar and Grill, or the Gun Room. And when you're not exploring the old hotel, or dining at the scrumptious restaurants, the town of Marietta awaits. Stroll on the riverfront, take a trolley tour, or visit the Ohio River Museum.
Enjoy a Romantic Weekend with Your Loved One in the Georgian Manor Inn Bed and Breakfast
Credit: Georgian Manor Inn
This adorable bed and breakfast located in Norwalk, Ohio, makes a great overnight stay in Ohio. To begin, the Georgian Manor Inn is a 9,000 square foot mansion on 1.3 acres. The four bedrooms available here all have private baths. Plus, you can explore the common rooms of the house, and the various porches, patios and gardens. It's a peaceful, serene atmosphere, perfect for couples in search of relaxing weekend getaways in Ohio. From the house you can walk to the historic Norwalk West Main Street.
The Georgian Manor Inn Bed and Breakfast receives great accolades from ratings and reviews. Norwalk isn't far from Sandusky, where Cedar Point Amusement Park is. Alternatively, if you want to keep things serene and relaxing, you can enjoy the nearby town of Milan. Here, you can explore Thomas Edison's birthplace, or the surrounding vineyards. Even better, the Georgian Manor Inn is a great place to visit in any season: the gardens are beautiful in the summer, but the house is extra cozy in the winter. For other super romantic getaways in cute places like this, check out these getaways in New England.
Have Some Family Fun at Maumee Bay State Park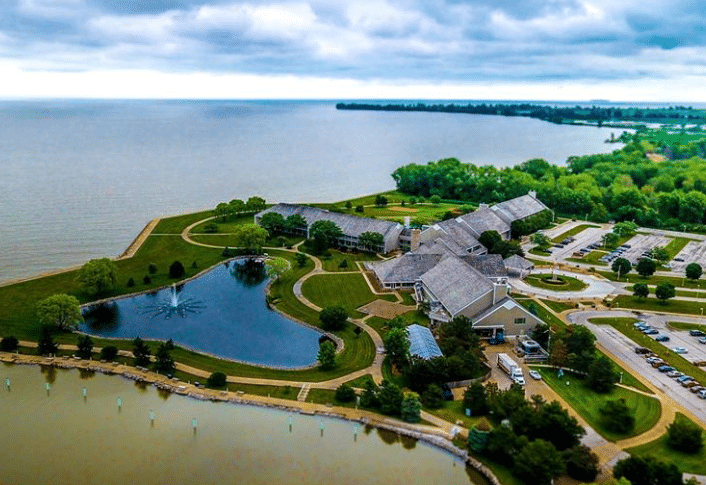 Credit: Ohio State Parks / Facebook
Here's one of the best family weekend getaways in Ohio! Maumee State Park has a great playground, beach, and tons of rooms to spread out and play. With over 1,300 acres of preserved land along the coast of Lake Erie, there is beauty and tranquility here. Stroll on the boardwalk nature trails through marshlands and woods, bike ride along the paved trails, or swim at the two sand beaches. The area is unique because there's both Lake Erie, and a 57-acre inland lake that makes a great spot for non-motorized watercraft, fishing or swimming. Maumee Bay State Park's nature center is a cool place to visit and learn about the surrounding land. Additionally, there is an 18-hole golf course with a pro shop.
For accommodations there's a great range of options. You can choose a campsite that has great access to all the park's amenities. Secondly, you could choose to stay in the deluxe cabins complete with kitchens, and multiple bedrooms. Another option is the Quilter Lodge, where your room will have a balcony looking out over Lake Erie. And lastly, you could choose to stay in a yurt! Maumee Bay State Park offers a great Ohio weekend getaway for groups of friends or families. It's also a good romantic weekend getaway in Ohio, whether it's a stay in cabins, or a campsite.
Enjoy some fun weekend getaways in Ohio at these top destinations.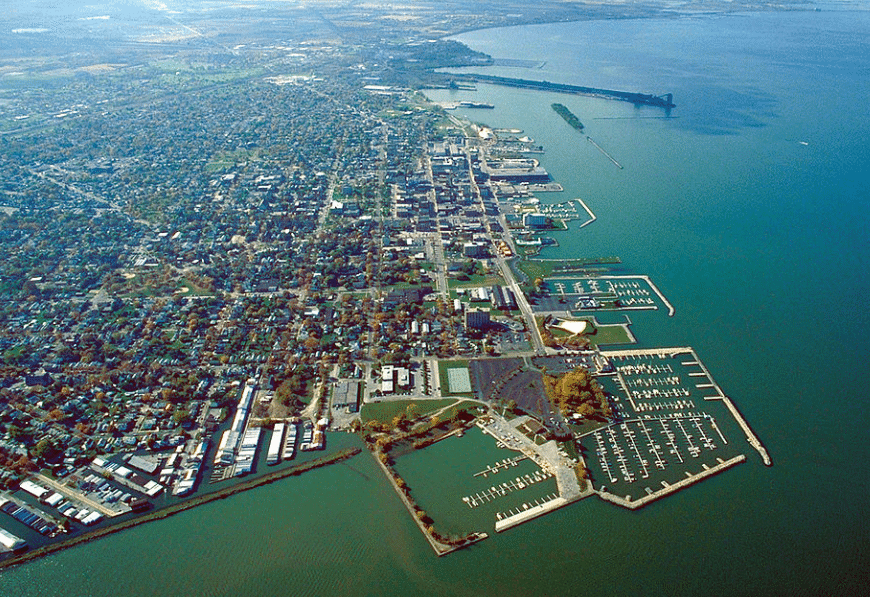 Credit: Ken Winters
Sure, it seems that Ohio isn't often a top vacation spot. But how cool that some of these destinations will blow away your expectations? Put-In-Bay has the super fun bar scene (swim-up bars, too!). Cedar Point offers a thrilling weekend with plenty of rides to more than fill your whole weekend. The state parks in Ohio feature some really neat lakes, rivers, rock formations, and wilderness areas. Stay in a campsite, an old riverboat hotel, a Georgian Inn, or a tree house for whatever your style of adventure is!
Related Article: ​20 Weekend Getaways from DC (Within Driving Distance)​​​