Are you looking to take an amazing summer vacation? Florida is a hot spot, drawing travelers from around the world. While touristy stops like Disneyworld and Universal Studios draw a lot of attention, we're going to focus on the authentic, outdoorsy stops. For the ultimate Florida adventure, you've got to look south. There are plenty of things to do in the Florida Keys.
If you're lucky enough to live in the Florida area already, take a road trip. From Orlando, you can make your way down south to Miami in about three hours if you get up early and beat the traffic. This fun, diverse city is a great stop on your journey down south. In the case that you have time to spend, stay in the Magic City for a night or two. Then, head down to find the best things to do in the Florida Keys.
There are plenty of stunning beaches here, shops to see, the lovely Art Deco District, and of course – South Beach. Just keep your eyes on the prize – things to do in the Florida Keys. We swear they're some of the most beautiful places we've ever seen.
From Miami, you can reach the first of the Keys in just a little over an hour. Traffic starts to pile up here because the road to the Keys is literally just a single lane highway. The views make up for it though and they only get more beautiful as you drive south. Make sure to bring a good digital camera or attach a GoPro to the front of your car. You are going to want to capture some epic videos and photos. Trust us. You can thank us later.
The water is a vibrant turquoise, the sun is beating down on an eighty-five and sunny (and also pretty humid) day. Mangrove estuaries line the shores and fishermen stand on the pedestrian sides of the bridge hoping for a good catch. Despite the tourism, the Keys have managed to maintain their quaint, charming authenticity and that's why everyone loves them. Okay, okay. We're getting to the good stuff. Here are our suggestions for things to do in the Florida Keys. Make sure you visit all of them. Here, Mother Nature really did save the best for last.
Where to Stop Along the Way
Looking for fun things to do in the Florida Keys? You're in luck. There's pretty much something fun everywhere you look. Sometimes the more options you have, the harder it is to choose. We know that. We've been there… and that's why we've done the work for you.
Key West
One of the best things to do in the Florida Keys is the drive from Miami to Key West itself. Here's what you can expect along the way. Key West is located at the southernmost tip of the United States, just a four hour drive from Miami along the coastal Overseas Highway. Make sure to pack lots of water and plenty of snacks. Since the traffic can get pretty backed up, you don't want to be stopping at every gas station you see for a bag of chips. Save your stops for the good stuff and gas up before you head out too. Not to mention, there are plenty of cute and kitschy places to see along the way that are actually worth stopping for. During this 110-mile journey, you'll cross 42 different bridges.
Don't skip the Conch Republic when you're heading down. You'll find the best key lime pie you could ever dream up there – you'll be eating a lot of this while you're in the Keys. We're not even kidding. It is possible to gain five pounds in pie weight alone. Consider yourself warned of this decadent danger. P.S. Conch Republic also has an epic sports bar, live music, and – did somebody say pirates?
Key Largo
When you start off your epic trip of things to do in the Florida Keys, you'll be in Key Largo. This entryway in the Keys is a great place to stop for conch fritters at Alabama Jack's , take a canal tour, or dive with the fishes (sharks included) at John Pennekamp Coral Reef State Park. If you can only pick one thing to do here, go snorkeling or diving. This coral reef state park is absolutely breathtaking.
You can reserve a snorkel tour (for about $100 for two adults) in advance of your trip. When you arrive, check in to the location, rent your gear, and they'll give you directions on how to get to there. Here's a pro tip: Invest in underwater housing for your DSLR or a GoPro before you go.
Don't fall for the underwater camera bag trick. The bag will fog up underwater and you won't be able to get clear photos of all the gorgeous marine life. It's also very difficult to push the buttons on your phone to take a picture underwater due to the pressure of the ocean. Take it from us. Don't be cheap. It's worth it to spend a little more on gear here. The snorkel or scuba diving gear will be provided to you by your tour company.
John Pennekamp Coral Reef State Park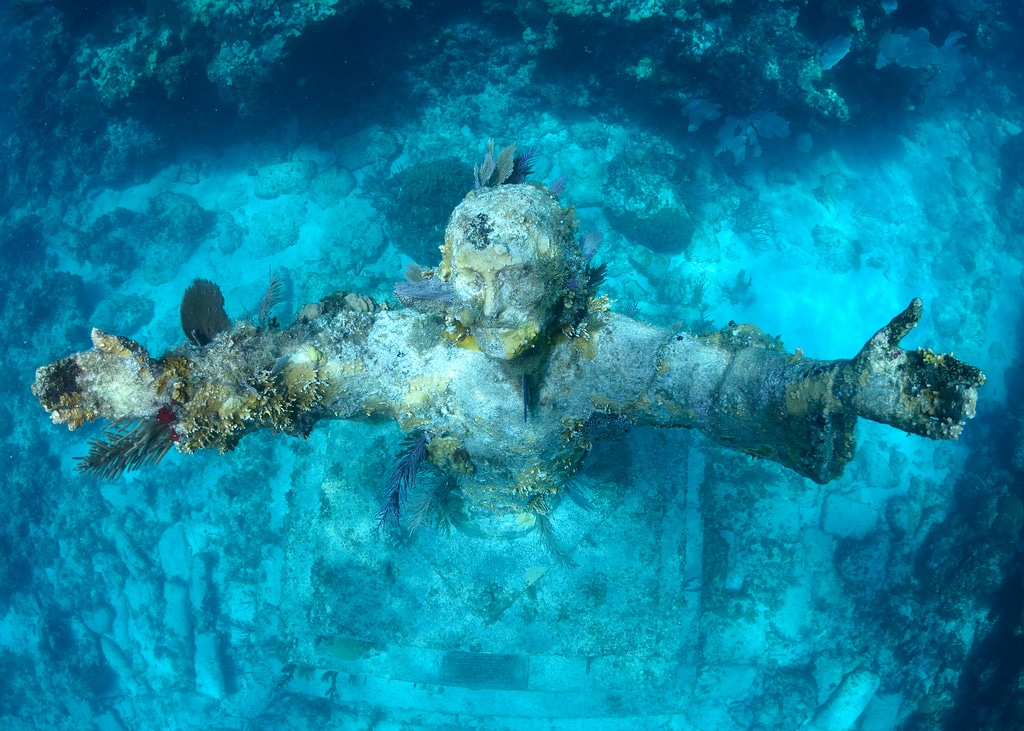 While visiting John Pennekamp Coral Reef State Park, make sure to see the underwater Christ of the Deep Statue. This barnacle-ridden statue of Jesus stands around eighteen feet tall in twenty-five feet of water. Make sure this is one of the stops you take on your snorkel tour before booking. It is definitely worth it. Here's a heads up though. It's a popular spot – like a really popular spot.
Sometimes, there are so many boats docking to the surrounding buoys that there is no place for your tour boat to dock and you to get off and swim. Make sure it's not too crowded of a day. Splashing around with other tours with flippers all trying to get a picture can be really annoying. Especially when they're splashing you in the face. Okay, moving on.
Islamorada
Welcome to the sportfishing capital of the world. Okay, so maybe we're exaggerating a bit but it's definitely the sportfishing capital of Florida. Drive across the Tavernier Creek Bridge (Mile Marker 91) and you're there. The little village of Islamorada is actually made up of five different keys and the Lignumvitae Key Parks. The Keys included in Islamorada are as follows: Plantation Key, Windley Key, Upper Matecumbe Key, Lower Matecumbe Key, and the offshore Indian Key.
While you're there, take a pit stop at the Rain Barrel Artisan Village to browse the cute shops and snap some memorable pics for yourself – and Instagram, of course. If you didn't post about it, did it really happen? Just kidding. Of course it did.
Make Sure You Stop Here
Oh yeah, and make sure to snap a picture of the 30-foot-high giant lobster out in front. No, we're not kidding. It's really a thing. After you get some photos for your scrapbook, make your way over to the Morada Way Arts and Cultural District. You'll find it off of Mile Marker 86. This little spot is home to some of the coolest, most quirky art galleries you'll find for miles around and also the coolest microbrewery – the Florida Keys Brewing Company.
Make sure to grab a few tasters. When you start getting hungry, get some more key lime pie (we told you it would happen again sooner or later). The Midway Cafe and Coffee Bar is a great spot. Last but not least, stop your foodie journey for a second to soak up some sun and enjoy the water activities. Choose from a boat, canoe, jet ski, kayak, or SUP – your choice.
Marathon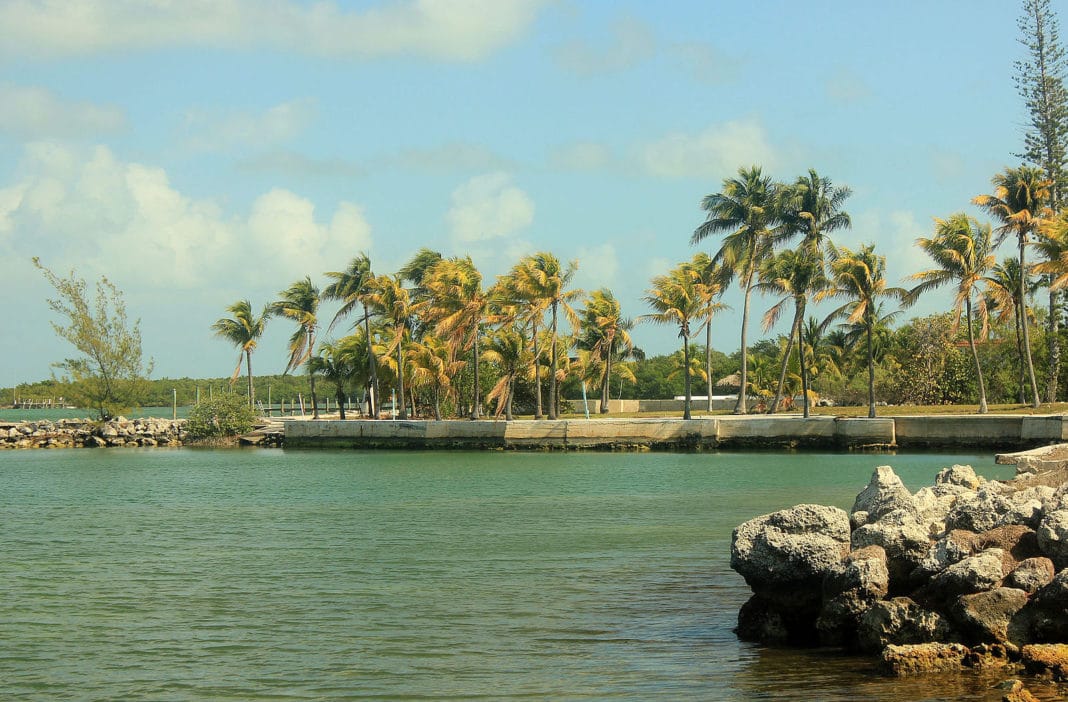 Stop along in Marathon and enjoy some amazing things to do in the Florida Keys. We're suckers for the Turtle Hospital in Marathon. It first opened in 1986 and ever since, it's been serving to rehabilitate injured turtles, educate the public, assist in research for aiding these animals, and support positive environmental legislation that promotes clean and safe water and beaches.
If you want to get more close-up views of sharks, rays, and other local marine life, head over to see the 200,000-gallon saltwater tank at the Florida Keys Aquarium Encounters.
Key West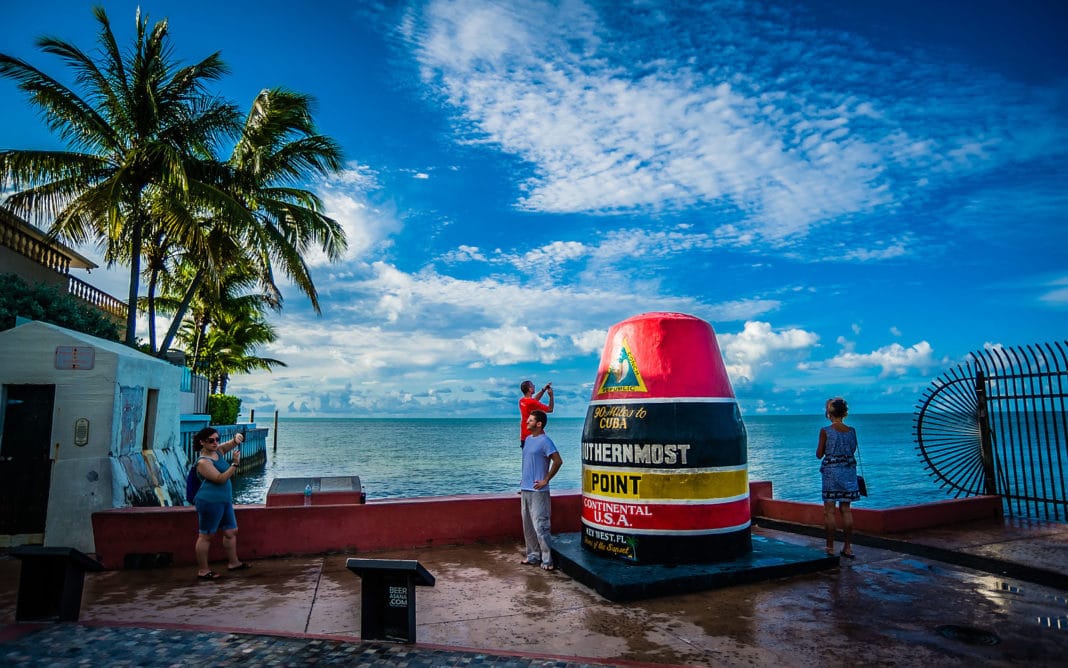 This is one of our favorite Keys. Park your car down at the Old Town Garage in the Historic Seaport and you can walk from there or ride the cute trolley to get around. Biking is another great way to explore the Keys. There are several must-see attractions, like the Custom House, Key West Butterfly Conservatory, and the Ernest Hemingway Home and Museum. For the best views in the city, climb up 88 steps to the top of the historic Key West Lighthouse. Then, to finish off the day, take a Red Sails in the Sunset cruise. We swear, the sky has never looked more beautiful.
Go Visit the Florida Keys
There are plenty of beautiful, fun things to do in the Florida Keys. From swimming with sharks to, participating in water sports, and eating your weight in key lime pie, there really is something to do for everyone.
We hope you enjoyed learning about our favorite things to do in the Florida Keys. If you have any questions or comments for us, feel free to leave a comment below.
Related Article: Florida Keys Camping: Your Guide to Choosing the Best Sites