A great portable propane heater can be the perfect thing to take the edge off on a chilly morning in the woods.
Those first few minutes after you wake up in your sleeping bag, often reality hits pretty hard. You're warm and cozy inside, but to get a hot cup of coffee going, you're going to have to get out of your sleeping bag. What if you could warm up your tent or campervan without having to leave your sleeping bag though? Well, with the Mr. Heater Little Buddy you can do just that. This simple portable heater can warm up a tent, RV, or even a car in no time at the press of a button. It is so easy to use we would recommend it as something to keep in your car at all times. But, for your next fall camping trip, this will be the perfect addition to keep you, your friends, and your family toasty warm when the temperatures do begin to drop.
The Mr. Heater Little Buddy Heater Features & Benefits
Efficient Heat Output
What is the point in investing in a portable heater if it doesn't do what you want? Well, the Mr. Heater Little Buddy is an incredibly efficient little heater for its size and design. It uses your typical camping propane cylinders. So, you can easily go from cooking dinner to warming your tent with the same propane tank. The Mr. Heater Little Buddy can heat rooms up to about ninety-five square feet, which should accommodate just about any tent you would bring car camping. On a one-pound cylinder of propane, it will give you about five and a half hours of steady heat. Keep in mind if you're heading to the mountains, it won't work well over seven thousand feet due to the altitude and science behind burning propane. Overall, the Mr. Heater Little Buddy pumps out enough heat to take the edge of a chilly evening or morning.
Simple Operation
Too many dials, switches, and gauges simply allow more options for things to break. Thankfully, the Mr. Heater Little Buddy is straight-forward and easy to operate. With one on and one off button, you won't have trouble figuring out how to operate this little heater. The on switch, when held, ignites the propane, which in turn warms up the honeycomb burner and propels heat into your room or tent. While there is no thermostat or different heat settings, turning it off and on as needed is not a big issue or hassle. Overall, the simple and straightforward operation of the Mr. Heater Little Buddy is one of the reasons we love it so much.
High-Quality Safety Features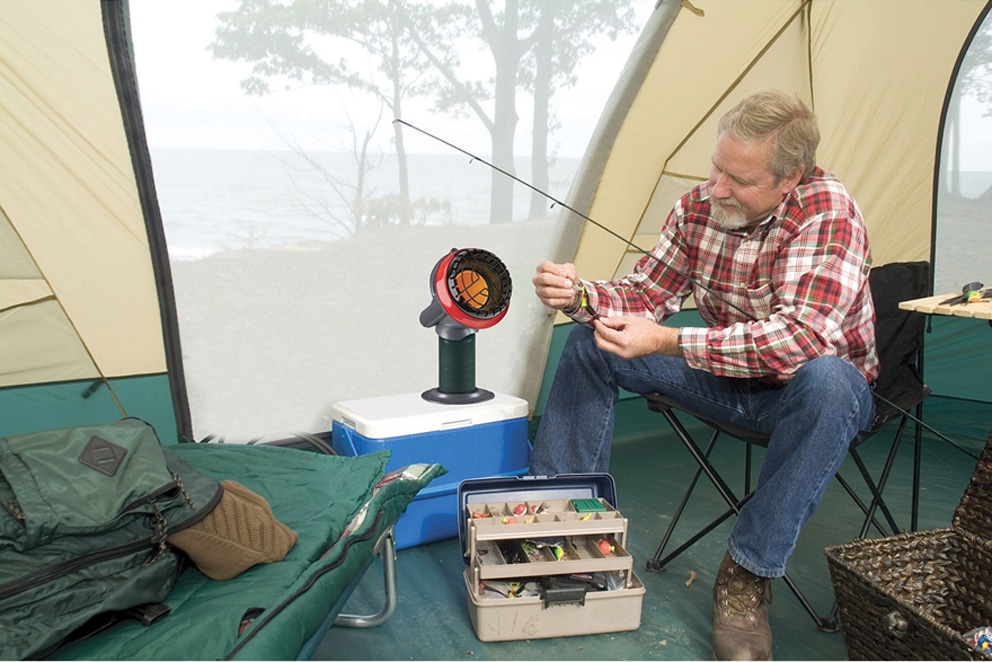 You might be a little nervous about using a propane heater inside a flammable tent. We get that, and it makes sense. But, let us relieve some of that fear by walking you through the incredible safety features that were designed into the Mr. Heater Little Buddy. It has an accidental tip-over switch that will shut it off it falls over. It is actually quite sensitive and often shuts the heater off when you're just moving it too. So, be assured that there will not be any flames erupting if this doesn't stay upright. In addition, there is a low-oxygen sensor that will turn it off if you don't have enough air to breathe. This is great, especially if you fall asleep with the heater on. All in all, the Mr. Heater Little Buddy is equipped with top of the line safety standards to keep you warm and worry-free.
Compact & Portable Design
Finding the balance of how much to bring on a car camping trip is always difficult. On one hand, you get to bring as much as you want in comparison to minimalist backpacking trips. But, on the other, the more you bring, the more set up and cleaning there is. This all being said, the Mr. Heater Little Buddy is quite compact, portable, and versatile. It should easily make your fall or early spring camping checklist. As it can be used with the same propane canister as you cook with, it makes it that much easier to bring along. There is a simple carrying handle on the back so you can move and adjust it without burning yourself. All in all, it's easy to set up and doesn't take up much room. So, it won't be a burden to bring along.
What Travelers Are Saying About the Mr. Heater Little Buddy Heater
Overall, travelers and campers say the Mr. Heater Litty Buddy is a decent heater, although there are some pros and cons to purchasing one. First off, it is a simple and straightforward heater, and we've already covered that. But, a few campers are annoyed that they cannot change the temperature or heat output on this heater. So, it is best used to warm up a tent once in the morning and evening, rather than keep a consistent temperature all day. This is why we recommend it for fall camping, not long extended winter trips. The other side of this is that when it does get going, it gets the job done fast. Most travelers love this about the Mr. Heater Little Buddy.
The other most commonly mentioned attribute of the Mr. Heater Little Buddy is the safety features. They are incredibly delicate. If you plan on moving this small heater from room to room, it will turn off on you. Many people find this frustrating, but it also speaks to how attentive Mr. Heater as a company is to safety. So, keep this in mind before purchasing. Another good thing to note about this portable tent heater is that burning propane also produces water. If you burn a full one-pound propane cylinder, it will produce about twenty-six ounces of water which will then be in your tent. So, if you keep this on for long periods of time, make sure to vent it or get ready for lots of condensation inside. All in all, the Mr. Heater Little Buddy is a decent choice for staying warm while camping.
Alternative Tent Heaters You May Like
Mr. Heater Big Buddy Propane Heater
If you're looking for a little more heat adjustment and power, look to the Mr. Heater Big Buddy. The older brother of the Mr. Heater Little Buddy, this upgraded alternative is ready to please. It can range from a 4,000 to 18,000 BTU output, heating rooms, tents, and campers up to 300 square feet. This clean-burning and incredibly efficient propane heater has the same safety features as the Little Buddy. It automatically shuts off if tipped over and detects low oxygen levels. Another upside of this heater is that it can connect to a 20-pound propane tank or two one-pound tanks. Overall, this is one of the best reviewed portable heaters on the market.
Texsport Portable Propane Heater
For you want a cheaper and more lightweight alternative, check out the Texsport Portable Propane Heater. It is great for camping, as it weighs just one pound and can be brought just about anywhere. It easily screws on to the normal 16.4-ounce of 14.1-ounce disposable propane cylinders. It also has an auto shut off if the flame goes out, so that is not a safety concern. While it is smaller than the Mr. Buddy Little Heater, it does come with a large paddle foot base to increase stability. A safety grid covers the heating element as well. It is nothing fancy nor does it look exceptionally good, but the Texsport Portable Propane Heater gets the same job done for less than half the price. So, if you're not planning on using this a ton or just need a simple fix, this is a great alternative option.
Honeywell 360 Degree Surround Heater
If you are camping at an RV site or have a generator, then this is the alternative for you. The Honeywell 360 Degree Surround Heater is an electric-heat heater that is ready to keep you warm. With its adjustable thermostat and two heat settings, you can your air temperature and noise levels exactly as you want it. It does have great safety standards as well with a 360-degree tip over shut off and overheat protection. But, don't worry about moving it around as it comes with a cool touch carry handle on top. As this is an electric heater, you won't have to worry about condensation building up. Lastly, it puts out heat in all directions, unlike propane heaters that are funneled one way. So, no one will be shorted on heat with the Honeywell 360 Degree Surround Heater.
The Mr. Heater Little Buddy is a simple and straightforward propane heater that can keep you warm on any chilly fall evening.
From it's portability to safety features, we can't wait to extend our camping season with the Mr. Heater Little Buddy. It is so worth a few dollars to have a comfy tent at the end of the day to help us fall asleep. So, if you're ready to invest just a few dollars to help you get and stay outside that much longer this year, then so be it. The Mr. Heater Little Buddy is for you.
Related Article: The 6 Best Tent Heaters for Your Next Fall Camping Trip