Bring the Coleman 6-Person Instant Cabin on every outdoors adventure.
If you're a traveler who enjoys spending time outdoors, you know the importance of a decent tent. Some travelers prefer having tents that provide lots of space, while others like simple setup processes. Those without much experience camping may appreciate a tent that can build itself. These instant tents essentially build themselves, springing up when you place them on the ground. Anyone interested in these types of tents should check out the Coleman 6-Person Instant Cabin. This instant tent provides travelers with lots of space and remains super simple to set up. Read our article below to find out more about this awesome product.
Coleman 6-Person Instant Cabin Features & Benefits
Simple Setup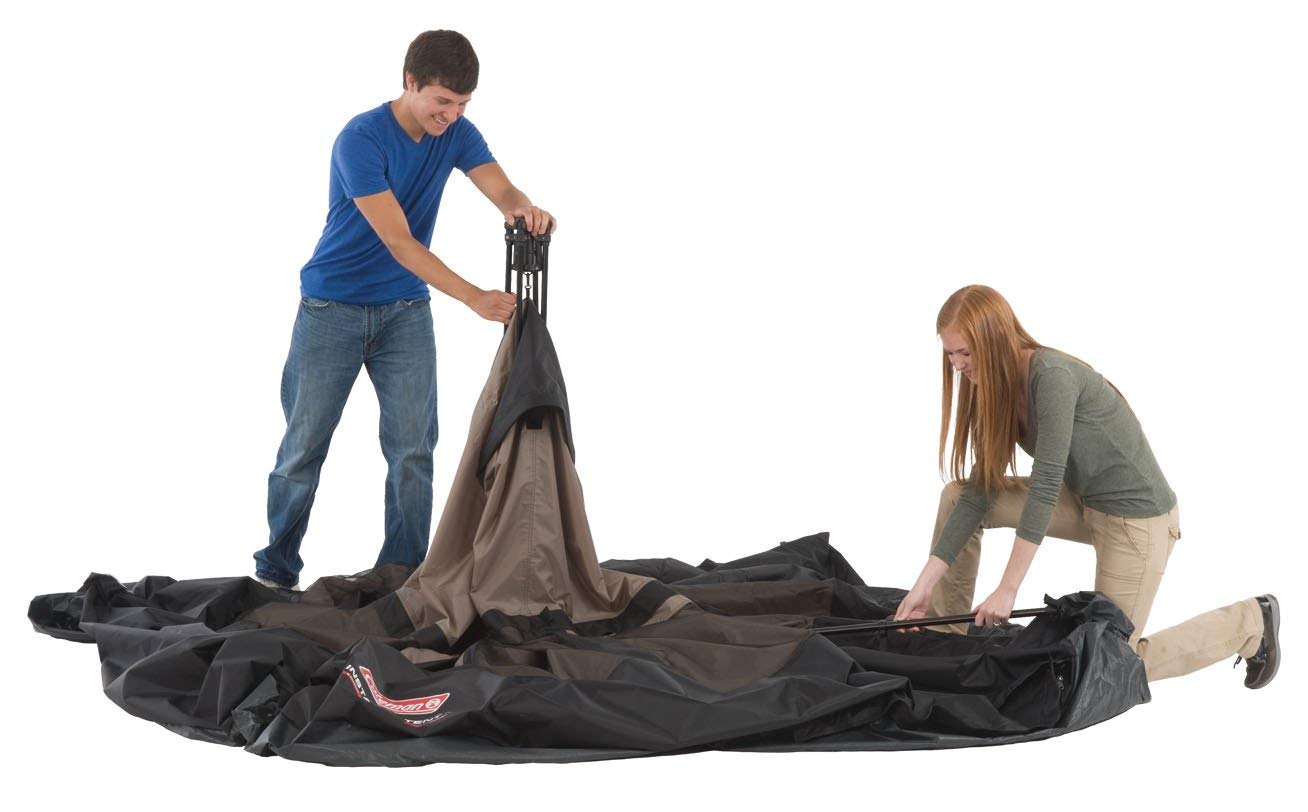 When you're considering purchasing a tent, you may want to think about the setup process. Some tents can be very complicated to build, causing frustrations during camping adventures. This means that camping novices may not want to buy tents with complex building instructions. Similarly, certain tents remain super simple and fast to set up. These kinds of tents remain top choices for travelers who want a no-nonsense tent building experience.
With the Coleman 6-Person Instant Cabin, travelers will get to build their tent in a cinch. Campers will never have to worry about complicated instructions or a lengthy building process. This instant cabin essentially constructs itself as soon as you place it on the ground. The Coleman Instant Cabin will pop into shape on its own, without you needing to make any real effort. This makes this cabin an ideal product if you don't want to stress about building a tent.
Spacious Interior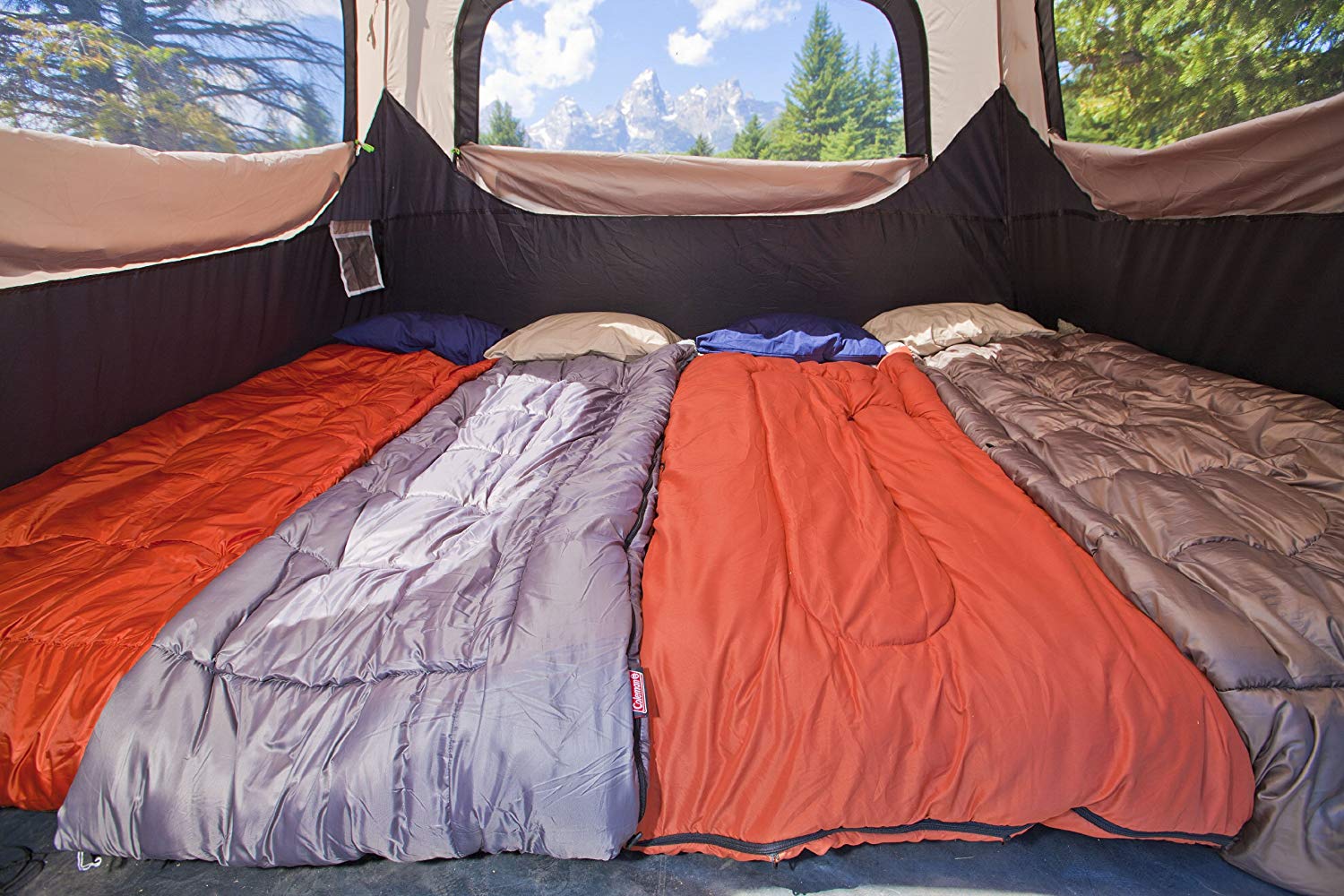 Travelers who will be camping in bigger groups may prefer tents with lots of space inside. These tents will let you sleep side by side with as many as six people. Other travelers may not be traveling in large groups but want room to set up queen-sized mattresses inside tents. A variety of tents remain available for this purpose, as long as you know where to look for them.
If you're interested in a spacious tent, think about buying the Coleman 6-Person Instant Cabin. This product provides tons of room for groups of travelers, with six easily fitting inside it. Or, if you simply want a cozier camping experience, you can fit two queen airbeds inside the cabin. With all the space it provides, the Coleman Instant Cabin remains the perfect product for maintaining comfort while camping.
Durable Design
Since you're going to be taking your tent on various outdoors escapades, the tent needs to be durable. Flimsy tents will fall over easily whenever the next breeze or gust of wind blows. Thin materials with weak stakes make for tents that don't stand up when faced with extreme weather patterns. At the same time, you'll probably want features that can prevent water from entering your tent if it rains.
When you purchase the Coleman 6-Person Instant Cabin, you'll never have to worry about the tent falling apart. This Coleman Instant Cabin has been constructed with Polyguard, double-thick fabric, meaning it won't rip or tear. A WeatherTec system utilizing welded floors and inverted seams prevent water from entering the tent. You'll stay dry despite the rain, providing for a stress-free camping trip. The outer fabric on this tent also remains designed with polyester mesh, so it will stay in place despite winds.
Weatherproofing Features
Outdoors adventures often mean encountering unpredictable weather patterns. If you're going to embark on a camping trip, you need to be prepared for all types of weather. This means any camping gear, including your tent, should have weatherproofing features. You won't be happy when you find out your tent isn't waterproof after finding yourself drenched by the rain. Similarly, wind or snow can cause the tent to cave in or fall over. Accordingly, travelers should make sure to invest in tents that remain designed with all types of weather in mind.
The Coleman 6-Person Instant Cabin has been crafted to withstand many different types of weather. As mentioned above, the WeatherTec system uses welded floors to prevent rain from entering the tent. The inverted seams also keep rain away from the interior of the cabin, so you stay dry. An integrated vented rainfly provides cover when you want to stay out of the rain or sun. This also offers improved airflow for humid and muggier days spent in the tent.
What Travelers Are Saying About the Coleman 6-Person Instant Cabin
Travelers who purchased the Coleman 6-Person Instant Cabin raved about the tent's spacious interior. Groups of campers could easily fit inside the tent, making for a roomy sleeping experience. Reviewers were able to throw King and Queen-sized mattresses inside the tent and rest on them. This provided for an amazing night of rest during their outdoors adventure. Additionally, the travelers appreciated the easy setup for this cabin, as they hardly had to lift a finger. The tent simply popped up and become ready to use as soon as reviewers placed it on the ground.
A few reviewers wished the Coleman 6-Person Instant Cabin could have had more windows on the sides of the tent. This would have provided for a greater view of the surrounding environment while travelers rested inside the cabin. Similarly, some thought the cabin could have benefited from another rainfly to prevent water from entering the tent. However, overall, travelers considered the Coleman 6-Person Instant Cabin an ideal tent for all kinds of camping expeditions.
Alternative Car Camping Tents You May Like
1. Kodiak Canvas Flex-Bow Deluxe 8-Person Tent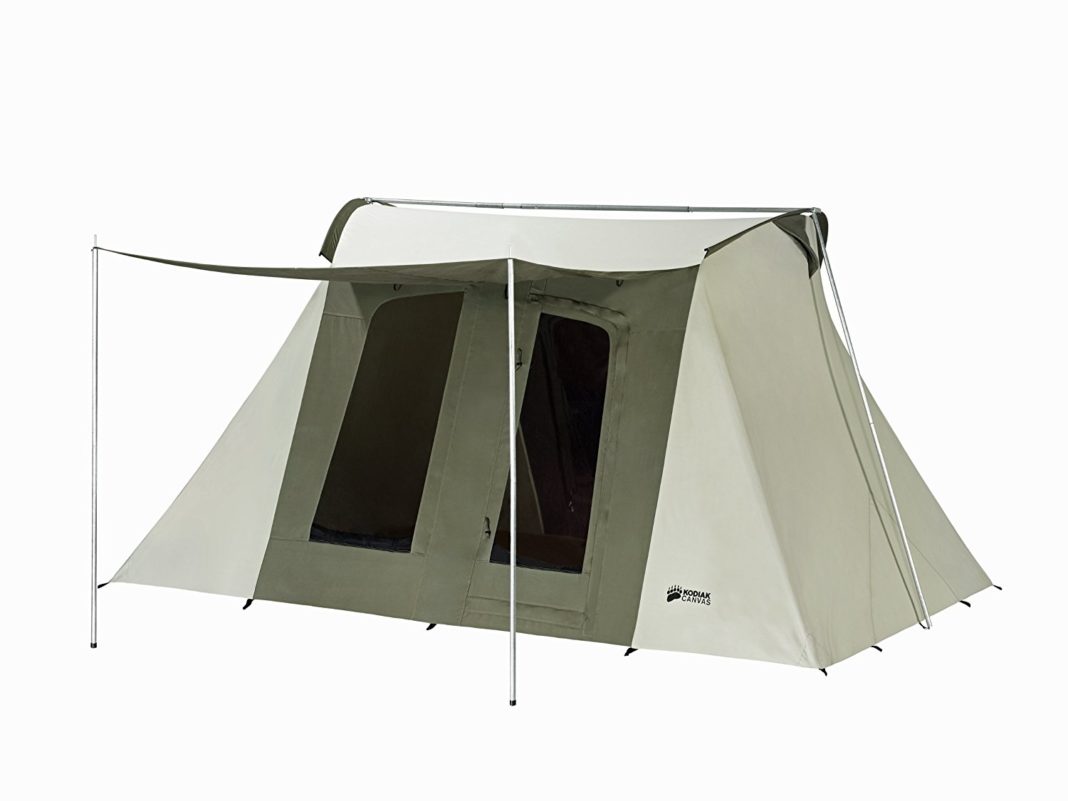 If you weren't completely sold on the Coleman 6-Person Instant Cabin, consider the Kodiak Canvas Deluxe 8-Person Tent. This tent has comparable features to the Coleman Instant Cabin, like a durable, breathable exterior fabric. The canvas material remains extremely breathable, so outdoors expeditions in warmer locations won't lead to night sweats. However, if you want more space in a tent, this remains the tent for you. The Kodiak Canvas Tent offers space for eight people to sleep inside it. A ceiling reaching over six feet makes it ideal for large groups of people and taller campers. You could easily walk around inside this tent and never worry about hitting your head on the top. Four massive windows with mesh provide ventilation without allowing bugs and other critters to enter. Funnel-flow vents also add greater airflow, so the temperature will remain agreeable when you sleep.
2. Coleman Evanston Screened 8 Tent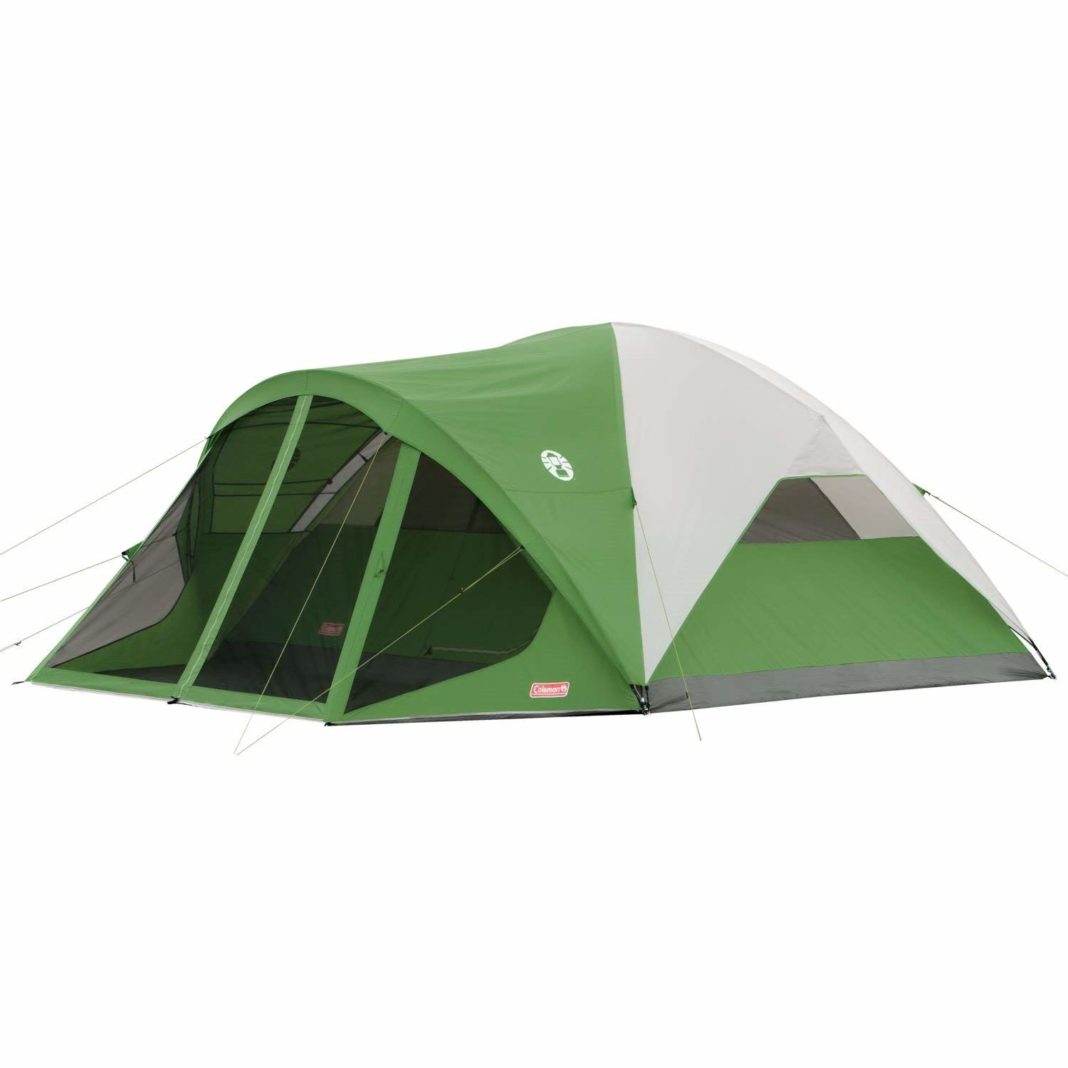 The ​Coleman Evanston Screened 8 Tent represents a comparable product to the Coleman 6-Person Instant Cabin. This tent, another Coleman product, provides a lot more room than the Coleman Instant Cabin. If you're camping with eight people, consider purchasing this tent. You can fit two queen-sized airbeds or sleep eight people side by side in sleeping bags. A separate screened room lets travelers relax without worrying about bugs bothering them. The tent will feel more like a home, rather than a simple protective structure, when you rest inside it. A ceiling measuring six feet also allows travelers to walk around inside the tent comfortably. Patented welded floors ensure no water will enter the tent, so you can stay dry even if it's raining outside. Additionally, campers will appreciate the easy setup process involved with this tent. According to Coleman, you can build this tent in under fifteen minutes, leaving you with more time to explore.
3. Smittybilt Overlander Rooftop Tent
Those who want a similar tent to the Coleman 6-Person Instant Cabin should check out the ​Smittybilt Overlander Rooftop Tent. This camping product has comparable features to the Coleman Instant Cabin, such as an easy setup. However, this tent has been designed for placement atop your car, letting you sleep above ground. The tent can sleep around two to three people, so larger camping groups may want to skip this one. At the same time, travelers may fit a double or full-size mattress inside the tent, so they can sleep comfortably. An extremely heavy-duty waterproof top and rainfly ensure you'll stay dry when it rains. Cool features like a sunroof and side windows with mosquito netting allow travelers to appreciate their camping environment from inside. An LED strip on the interior of the tent even creates lighting for campers to see clearly at night.
Never leave for the outdoors without bringing your Coleman 6-Person Instant Cabin.
Travelers who love the outdoors probably require a tent to bring on camping adventures. However, it can be a challenge to find the ideal tent for you. Some tents don't provide enough space for large groups of campers. On the other hand, bigger tents tend to take a while to set up in comparison to smaller products. With the Coleman 6-Person Instant Cabin, travelers can have tons of space to spread out and an easy setup process. You'll never struggle to build this tent when you embark on a camping expedition. Be sure to consider purchasing this awesome instant cabin before you plan your next outdoors journey.  
Related Article: The Best Car Camping Tent You Need for Your Next