Are you looking for a large, durable tent? You're in luck with the Kodiak Canvas Flex-Bow Deluxe 8-Person Tent.
Wherever you are headed this fall, this rugged tent has got you covered. Designed for all seasons, the premium grade Hydra-shield, cotton duck canvas shields you from the elements. Thanks to a tight weave and silicone finish, the fabric is also waterproof and breathable. So, you get to stay cool and dry without that annoying humidity. Even if you touch the inside of the walls during a downpour, the Kodiak Canvas Flex-Bow Deluxe 8-Person Tent won't wick water.
A Little About Kodiak Canvas
Born out of the Rockies, Kodiak Canvas has been serving customers with high quality outdoor gear for more than ten years now. In this span of time, they have quickly become known as one of the leading tent manufacturers on the market. Whether you plan on venturing out into the backcountry or sticking around close to home, you can rely on them to protect you from the elements.
You can rest easy knowing their products are reliable and comfortable. It might sound silly, but one of the best things about their tents is you can actually stand up and get dressed inside. Do you know how hard that is normally? They're big believers that you shouldn't have to crawl in a tent on all fours, either. Their Hydra-Shield canvas technology breathes, reduces mugginess, and makes sleeping in a tent the place you want to be.
Kodiak Canvas Flex-Bow Deluxe 8-Person Tent Features & Benefits
Sturdy Construction
With a flex-bow frame and tempered steel rods, the Kodiak Canvas Flex-Bow Deluxe 8-Person Tent can hold up under fierce winds. The floor offers a heavy-duty, tear free vinyl that will keep water out. We appreciate that despite its heavy frame, the setup only takes a few minutes from when you've staked it out. High walls and a 6'6" ceiling provides plenty of room for you to walk around inside with ease.
The Comfort Factor
Used in the right setting, the Kodiak Canvas Flex-Bow Deluxe 8-Person Tent allows for maximum comfort. First and foremost, let's talk about the windows. With four windows and two air vents, you will enjoy ample air flow. And let's be honest, if you're sharing an enclosed space with this many people, you're going to need it. Furthermore, these windows and vents are equipped with no-see-um screen mesh, which keeps out the smallest bugs. In the heat of the day, a generous awning offers plenty of shade as well as a covered entryway.
We found this tent is much better suited for beach or desert camping than anything else. The light colored canvas doesn't let in much heat. And the thick material and zipper flaps do a great job of blocking out the dust and sand. When the wind picks up, zip yourself inside until the weather passes. Just make sure your tent is well staked out beforehand.
Weather Resistance
Like we said, this is the tent you want for desert sand storms and dry regions. The thick fabric does a great job of preventing dust, dirt, and sand from getting inside. While it prevents the elements from getting in, it is also highly breathable. Rain, however, is where it gets a little tricky. While the fabric is technically waterproof, the back door is angled upward. Why is this a problem? Well, if you open the back door when it's raining, water will fall in. Just make sure you're mindful of this during wet conditions and consider investing in a large enough rain cover.
In the case of wind, make sure your tent has solid stakes driven in and is well pitched. If you've done a good job with this, you don't need to sweat it. However, if those anchors aren't strong, you run the risk of capsizing your tent – especially with a structure this large. Since the Kodiak Canvas Flex-Bow Deluxe 8-Person Tent is not free-standing, each of the stakes is important. Losing one means the whole tent could come down.
It's Easy to Set Up
When it comes to choosing the right tent, ease of set up is such an important factor. Luckily, the Kodiak Canvas Flex-Bow Deluxe 8-Person Tent offers just that. With this in mind, you might want to consider some tent camping tips. One of the best pieces of advice we got is to practice setting up before your trip. This is especially important when it comes to using new gear.
First and foremost, make sure the tent is well staked out. Two, work with the tensioned poles and sliding metal bars. Lastly, prepare yourself for a bit of a workout. The Kodiak Canvas Flex-Bow Deluxe 8-Person Tent is no joke. We're not gonna lie – it's very heavy. All in all, it's best suited for the outdoors person with a solid amount of camping experience. Make sure you know exactly why you want this tent, what the benefits are specific to your trip, and overall use. Last but certainly not least, the benefits should outweigh the cost of purchase. After all, you're going to be using it for years to come.
Tech Specs:
Hydra-Shield water resistant fabric

100% cotton duck canvas

Breathable fabric

check

8-person tent

check

High 6'6" ceiling

check

Four large windows and two vents

check

No-see-um mesh screens for windows and vents

check

Two large D-shaped doors

check

Large awning covering entryway
What Travelers Are Saying About the Kodiak Canvas Flex-Bow Deluxe 8-Person Tent
With nearly two hundred reviews and a five star-rating, the Kodiak Canvas Flex-Bow Deluxe 8-Person Tent speaks for itself. Needless to say, travelers who purchased this style loved the durable design. Users marveled at how well it performed, even in rainy and muggy conditions. Others yet loved that the plentiful ventilation enable comfortable sleeping.
Many of the reviewers used the tent for beach camping, where it offered great protection from the wind and sand. For large families and groups, the Kodiak Canvas Flex-Bow Deluxe 8-Person Tent offers all the space you need. You won't feel cramped inside it. And if you're traveling with this many hands on deck, setup should be a breeze. As we mentioned earlier, just make sure that you have staked it out well. It's a good rule of thumb to always bring a rain cover too. Yes, you should do this even if the company advertises the tent as being waterproof.
An Alternative Camping Tent You May Like: the Coleman Sundome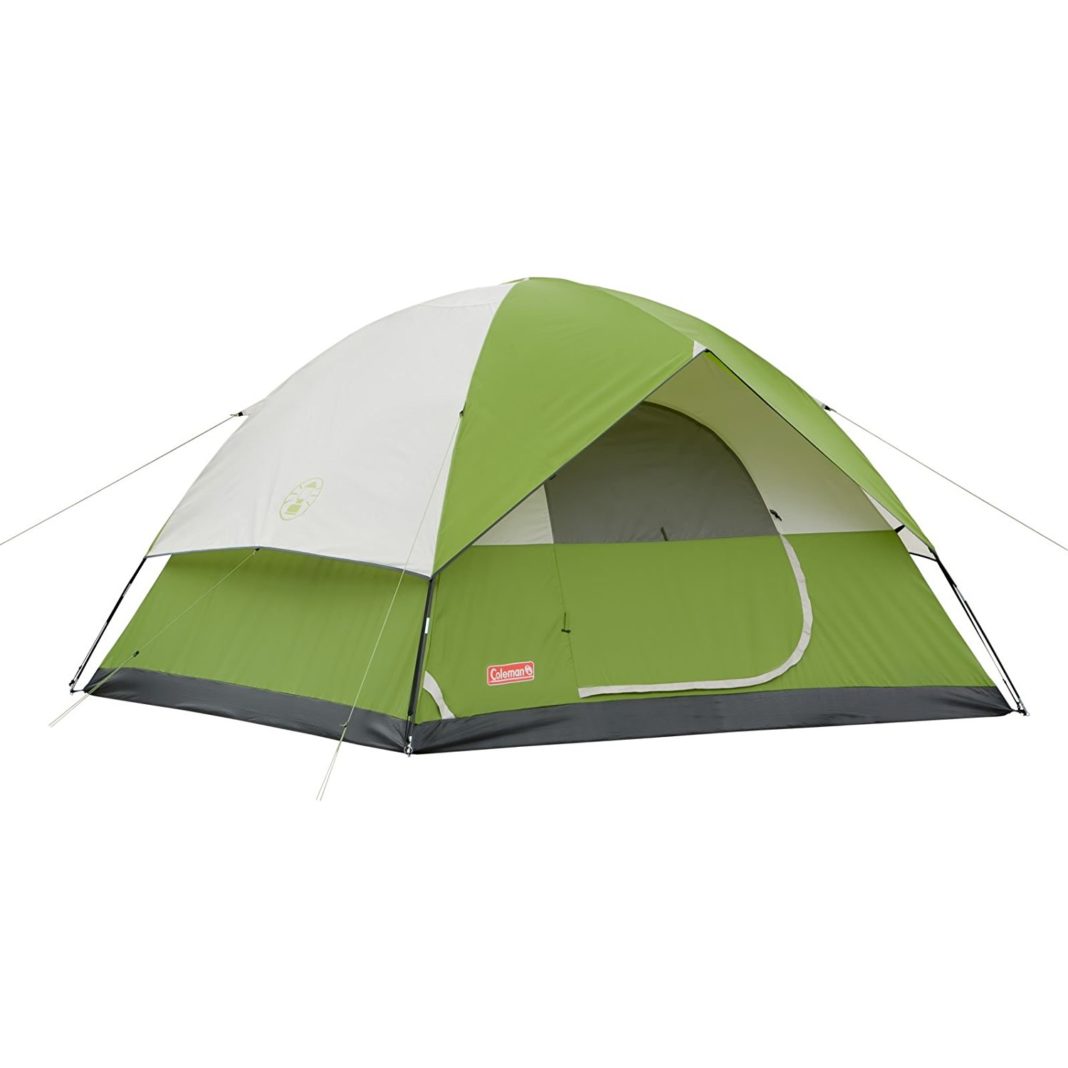 Are you looking for something a little smaller? Consider investing in one of the tents from Coleman in their Sundome style. As advertised, the Coleman Sundome (4 person) measures 10 feet x 10 feet with a 6 ft. center high. This means you can easily fit two queen-size airbeds inside. It's also available in 2-person, 3-person, 4-person, and 6-person tents.
It's just as spacious as it sounds, so you don't have to worry about squishing yourselves in to fit while trying to make room for your gear as well. There is also a little mesh gear pocket on the inside of the tent where you can store things like your wallet and phone to keep them off the ground. This is a great tent for car campers, who like to keep a light load. It's one of the essentials. While it might not sound that comfortable to sleep in your car, it can be. And if you're traveling with a lot of people, it's not only fun but practical too. Let's be honest. When you're a college kid, cramming the car full of friends, there's not always enough room in the tent.
Travelers love the simplicity of the Coleman Sundome, aptly calling it a no-nonsense tent. For setup, all it really requires are two poles to hold the tent up and one extra pole to hold the rainfly up. Some albeit more skilled users managed put the tent up in a Florida thunderstorm in less than 5 minutes (talk about mad skills). This is why it's one of the best backpacking tents. Car campers appreciate that it's fairly lightweight and portable, especially with a 2-person style. Add this tent to your ultimate camping checklist.
It only took another 5 minutes to set the 7 guy lines. Even if you don't get the opportunity to spray and seam seal the tent when it is raining, it won't leak much – even through some very powerful Florida rainstorms. Travelers who took it out in the worst of elements only managed to find a few raindrops around the electrical port zipper.
Tech Specs:
Polyester fabric

6-person tent (other sizes available)

Spacious interior

check

10-minute setup

check

Floor vent for good ventilation

check

WeatherTech system to keep water out

check

6-foot inside

check

Can fit two queen air mattresses
Invest in the Kodiak Canvas Flex-Bow Deluxe 8-Person Tent for Your Next Outdoor Adventure
We hope you enjoyed reading about the Kodiak Canvas Flex-Bow Deluxe 8-Person Tent. Before your next trip to the great outdoors, make sure you have a great tent to shield you from the elements. If you're looking for a durable one that can fit the entire family, you've found it in this model from Kodiak Canvas. While it's true that not all tents offer sufficient protection from the elements, you can rest easy knowing you're covered here.
With Kodiak Canvas tents, you'll have a great, spacious place to sleep and plenty of ventilation too. This style remains an ideal option for campers who want to travel with the whole gang and enjoy their comfort too. Make sure you consider this product when planning your next trip to the great outdoors.
Related Article: The Best Car Camping Tent You Need For Your Next Adventure