Everything seems to be getting more expensive these days, so why not save a few dollars on your next trip by sleeping in your car?
It may sound a little crazy to start, but between the popularity of the van life movement and the desire to save money has made this quite the craze. But, before you go snoozing in your back seat, we have a few pointers. Just because you choose to forego a hotel bed or Airbnb doesn't mean you need to be uncomfortable. With the right set up, prep, and attitude, sleeping in your car can easily become your new favorite way to get away. So, set any preconceived notions of what it is like and get ready to dive into how to sleep like royalty.
1. Pick the Right Spot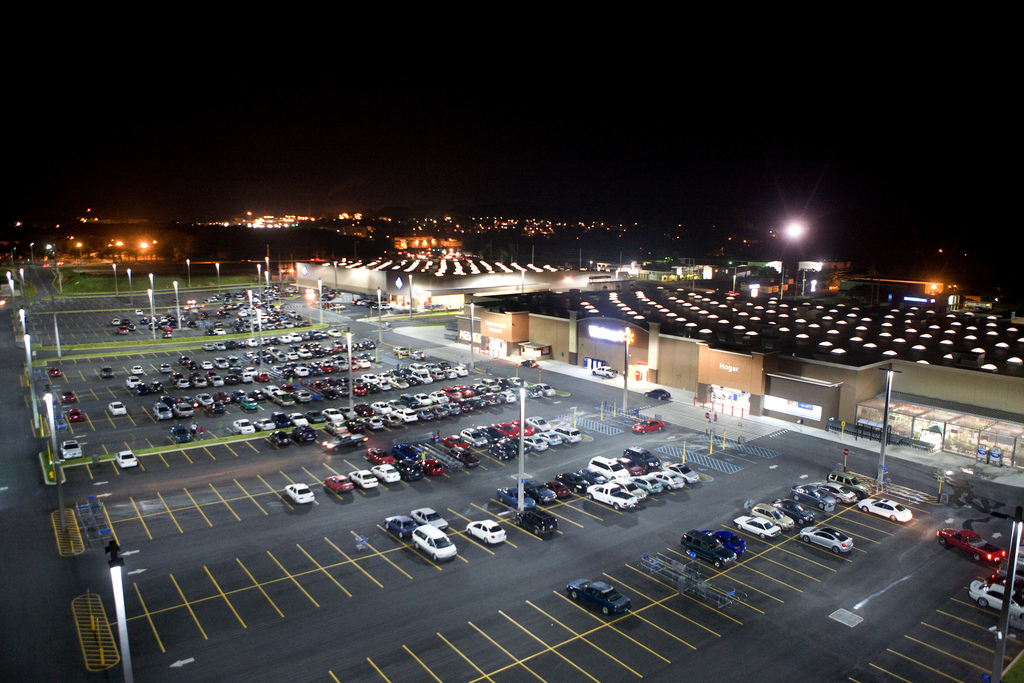 Credit: Walmart / Flickr
Pulling over to the side of the road will most likely get you a window knock and a ticket from a police officer in the middle of the night. When there is an abundance of legal spots to park for the night, there is no need for being risky like that. So, let's start with how to find the right place for sleeping in your car. First off, most Walmart parking lots allow you to stay for up to two weeks. Check with the Walmart first, as there are a few that do not allow it. But, this tends to be a safe and reliable spot with anything you need right inside. In addition, truck stops and rest stops are the perfect pull off on a long drive. Guess what? Truckers have been sleeping in their car for a long time, so you'll be among tried and true car sleepers. 
Another option that is legal is finding public land through the Bureau of Land Management. BLM land is more or less "free for all" land that you can use. Just know that there will be no restrooms, trash, or anything else. Just a free and legal place to park. So, once you've found a spot, you need to base exactly where to park based on levelness, lighting, and noise. Be as far away from street lamps as you can be to eliminate light. Look around, avoid areas close to the storefront or near other cars. This will keep the potential for random noises and talking lower as well. Finally, and perhaps most importantly, find somewhere flat. The last thing you want to do is not sleep well because you're parked on a hill. 
2. Choose the Right Car
We all don't need to go tricking out the latest Sprinter Van, although if you have the time and money, you totally should. But, there are so many cars that will let you fly under the radar when sleeping in your car. Converting a truck bed to an actual bed is pretty simple and stealthy when you have a cap in your truck. Minivans and station wagons also have ample room in the back for quite a few people to lay out. But, if you do have a larger van, that's more than alright. With that, you'll have room to even make some tea, walk around, and sleep.
As you're choosing the best car options for sleeping, think about these things. How far does the back seat recline, or is there a place that gets completely flat? How many windows do you have to cover to give yourself privacy? Does your vehicle scream "I'm sleeping in here"? A hint on that one, an abundance of outdoorsy stickers and curtains in the windows will do just that. So, keep tabs on the appearance your car is giving off to keep it low key.
3. Privacy is Key
You'll be parked in a public lot that is most likely relatively well lit. So, unless you like strangers watching you sleep, we recommend being a little more private. First off, having a car with a few fewer windows makes this much easier and looks less conspicuous. Yes, you will be sacrificing natural light during the day, but who really need natural light in their car anyway? For the least obvious option, grab a few sunshades for your car. People put these in the window normally, so you shouldn't stand out. Another option is getting some insulation. Cutting it to the size of your windows ensures that light stays out while giving you plenty of privacy. You can also add some spunk to your car by coloring or upholstering this. If you'll be sleeping in your car quite a bit, that extra bit of homeyness is worth it.
4. Get Set Up Before You Arrive
Often you are sleeping in your car because you are trying to optimize driving time. This means you'll be pulling into the lot pretty late at night, and most likely don't want to have to rummage around for a while getting set up. So, you'll want to get set up before you arrive. At some point during the day when you need a break or before you start your road trip, go ahead and lay everything out. Get your blankets or sleeping bag together, make sure you are charging your phone, and go ahead and put your curtains or privacy insulation up. By having all of this prepped ahead of time, you can easily just slip off to sleep whenever you pull off the road. 
You can even go as far as brushing your teeth and changing into pajamas before you get there. On top of this, know where you're going. This will help you not be so obvious that you're sleeping in your car. If you don't have a bathroom accessible in the night, make sure to stop before you pull off for the night. On top of that, this final stop is a good point to stop drinking water so you don't wake up at 3 am needing to waltz into a gas station just to relieve yourself. So, when it comes to sleeping in your car, prep is the most important.
5. Stay Organized
Most of us like to know where our things are, and we can get easily frustrated or stressed if things are jumbled. The quickest way to get tired of sleeping in your car is to make it messy. You should have a decent bag for trash so it doesn't end up scrunched in the glove box. Immediately folding up your bedding when you wake up will get you going as well as free up some space for getting ready in the morning. Having one spot dedicated to the essentials like your phone, wallet, and a headlamp is important so you don't freak out in the middle of the night. A special spot for snacks that is animal proof will also help your car stay clean. All of these things quickly add up to making your car a comfortable place to sleep.
6. Stay Warm and Ventilate Well
No one likes to be cold when they sleep. Sure, the crisp cool feeling outside your sleeping bag can be refreshing, but you want to be toasty warm inside. So, sleeping in your car isn't the time to try and be an ultralight minimalist. You have space and the weight capacity, so go ahead and throw in your big fluffy blanket and fluffy pillow from home. A blanket is one of the things you should keep in your car all the time anyway. If you need, bring the cold weather sleeping bag too. A hat or beanie and warm socks can also go a long way, especially in the morning when you need to crawl out of the warm cocoon you've created. So, make sure to bring ample warmth, as you won't have a heater inside your car all night long.
Sleeping in an enclosed space can get stuffy and fog up car windows. If you're trying to enjoy your rest and not stick out like a sore thumb, ventilation is key. We recommend cracking the windows as long as it's not raining or snowing. If your car has the vented windows that pop open an inch or two in the back, this is best. Many minivans and station wagons have them to help with ventilation. If you plan on sleeping in your car quite a bit, consider adding in a roof vent. This allows for plenty of ventilation and even a fan without any chance of water getting inside. Whatever ventilation option you choose, it will make a world of difference when it comes to sleeping.
Sleeping in your car can be quite simple and enjoyable if you prep and plan correctly. 
We hope that these six essential tips for sleeping in your car have given you the confidence to try it out soon. Whether you want to save money on a road trip or want to become a vagabond, this is a great place to start. So, let us know what other sneaky tips you use when sleeping in your car.
Related Article: The Best Car Camping Tent You Need for Your Next Adventure