Our Review of Travelpro Luggage
We've all been there; the long lines inch forward in the airport security line. The traveler in front of you has to drag, balance, and prop up his wobbly suitcase after every step. You want to be the one gliding through the airport with your Travelpro luggage. Why buy from Travelpro? Their customers' surveys have long lists of pros. Even better? Most customers have left the "cons" space empty; they can't find any wrong in a Travelpro purchase, and we agree!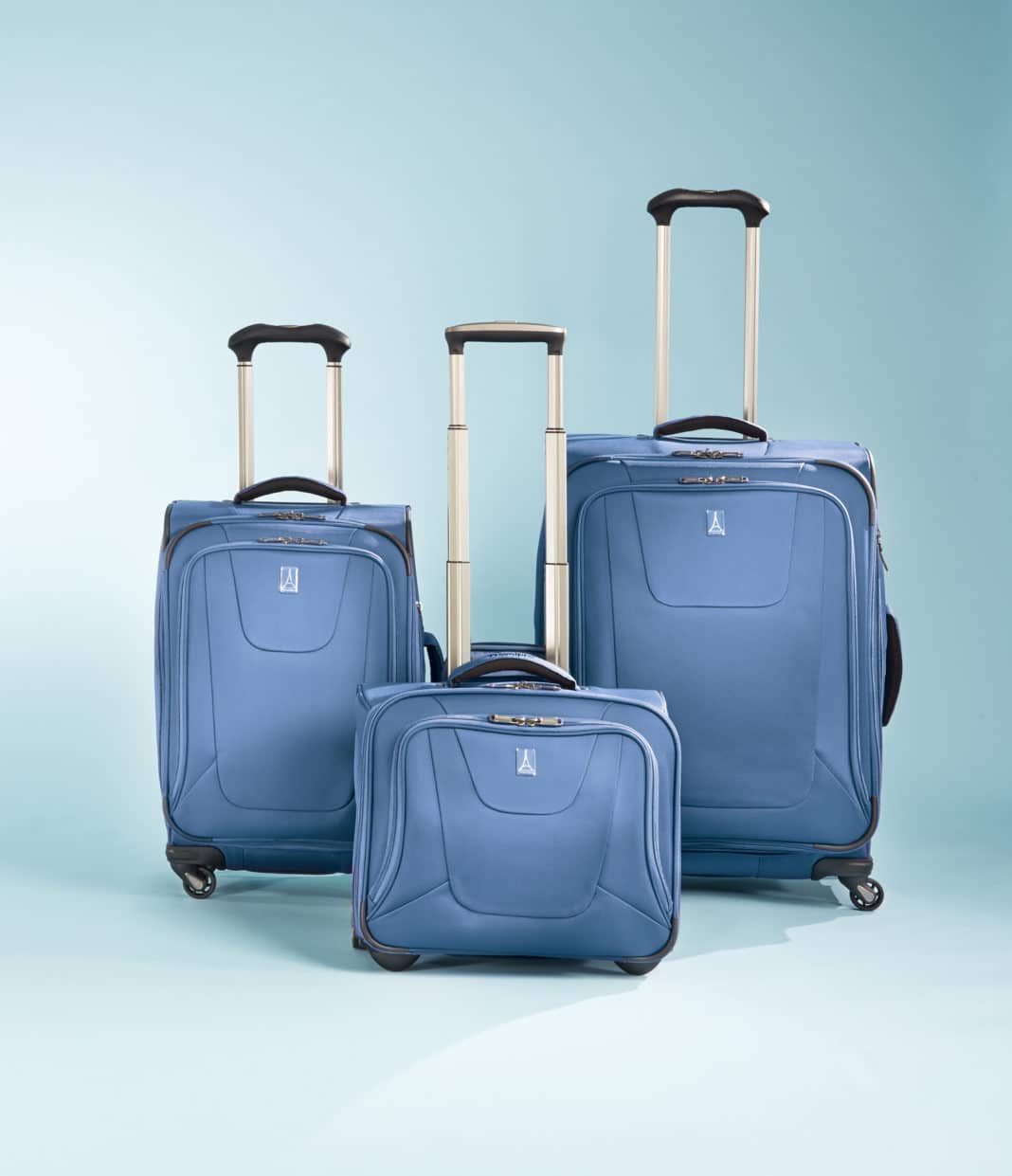 Credit: Travelproluggageblog.com
Why Travelpro?
When considering Travelpro luggage, the company wants you to know these two selling points: First, they understand. They've sent travelers and luggage abroad and have the experience necessary to refine their luggage to the perfect piece for you. This point is clear from the video on their website meant to earn your trust for their credibility through experience. Secondly, Travelpro luggage is durable. They seem to have mastered rolling luggage that won't let you down, and the material of accessories, bags, totes, and purses will hold up.
Travelpro Crew 11 Collection
Choose from over 13 pieces in this new collection. After selling you on many perks, the Travelpro site reminds you that, by the way, in true Travelpro tradition, the Crew 11 Collection is "built to last." Here are some traits that are true of any luggage piece in this Travelpro Crew luggage collection:
Spinner and Rollaboard models
MagnaTrac self-aligning wheels
Supra zipper heads (smooth and strong)
Powerscope Extension handles
Integrated USB port on carry-on bags for charging
Ballistic nylon or polycarbonate materials for durability
Travelpro Crew 11 Expandable Spinner/Rollaboard Carry-On Suitcase
Credit: Travelpro
| OVERALL DIMENSIONS (International Spinner) | WEIGHT | VOLUME |
| --- | --- | --- |
| H: 21.5 in | W: 15.5i n | D: 7.7 in | 7 lbs | 43 L |
Travelpro offers two options within the Crew 11 Collection Carry-On luggage category: two wheels (rollboard) or four wheels (spinner). We love this luxury on the Travelpro spinner suitcase or rollaboard handle: the Patented Contour Grip, with cushioned touch points, that feel nice in your hand and provide more control. The honeycomb frame system and ballistic nylon mean durable without unnecessary weight. Inside pockets include a built-in wet pocket for toiletries and foam padded roll bars to help with wrinkling. Travelpro spinner luggage advertises their "in-line skate wheels" which help potential customers understand the quality of the wheels. When you're not wheeling a Travelpro rollaboard suitcase around, it will remain balanced and upright, even with a bag balanced on top.
Travelpro Crew 11 Carry-On Rolling Garment Bag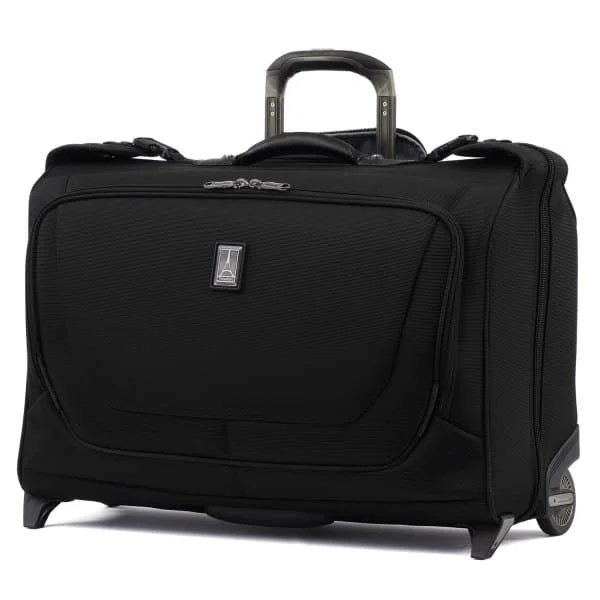 Credit: Travelpro
| OVERALL DIMENSIONS | WEIGHT | VOLUME |
| --- | --- | --- |
| H: 16.5 in | W: 22 in | D: 9 in | 9.3 lbs | 45.5 L |
Keep your suits and dresses wrinkle-free with this Travelpro garment bag. Travelpro has thought of some innovations for this bag so that you can open the bag up to find your clothing ready to wear! The soft, internal panel extends. Place your suit flat on this feature, and use the foam rolling bar to secure the middle (extra wrinkle-protection). Fold the bottom panel over so your suit is nicely folded. Not all garment bags boast this unique feature! This carry-on makes use of all the space; the inside corners offer little pockets to pack little extras. The zippers work nicely, too.
Travelpro Crew 11 Hardside Spinner
Credit: Travelpro
| OVERALL DIMENSIONS (International Spinner) | WEIGHT | VOLUME |
| --- | --- | --- |
| H: 23.5 in | W: 15.5 in | D: 9.5 in | 7.4 lbs | 42.3 L |
Travelpro Crew 11 Expandable Spinner Suiter Checked Bag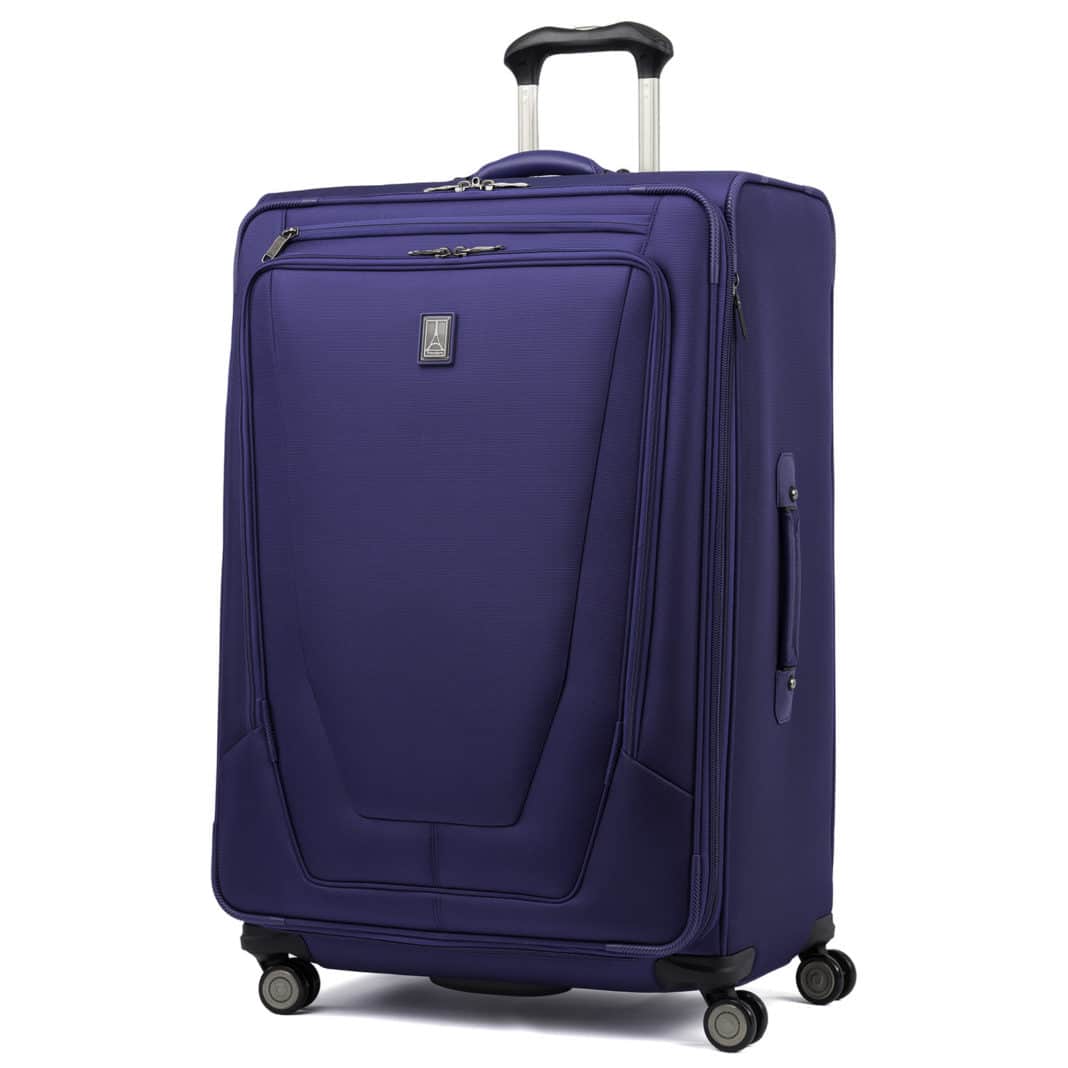 Credit: Travelpro
| OVERALL DIMENSIONS (25′ Suiter) | WEIGHT | VOLUME |
| --- | --- | --- |
| H: 27.5 in | W: 18 in | D: 11.5 in | 8.8 lbs | 95.9 L |
Either of these size options (25″ or 29″) offers plenty of space for multiple week trips, or even packing more than one person. We appreciate the cupped handle on the bottom which helps you easily grab this Travelpro checked bag from the baggage claim. Once you have it upright, this suitcase will roll smoothly with you through the airport on four wheels (thanks to the 360-degree MagnaTrac wheels). The front pocket offers easy access, and compartments within keep items packed nicely. The Deluxe Suiter keeps your fancy clothes wrinkle-free. The coated, guarded ballistic nylon is evidence of its durability, but so are the little details such as the corner guards and aluminum handle. Travelpro offers a very similar Crew 11 Hardside spinner as well; check that out here.
Travelpro Maxlite 4 Collection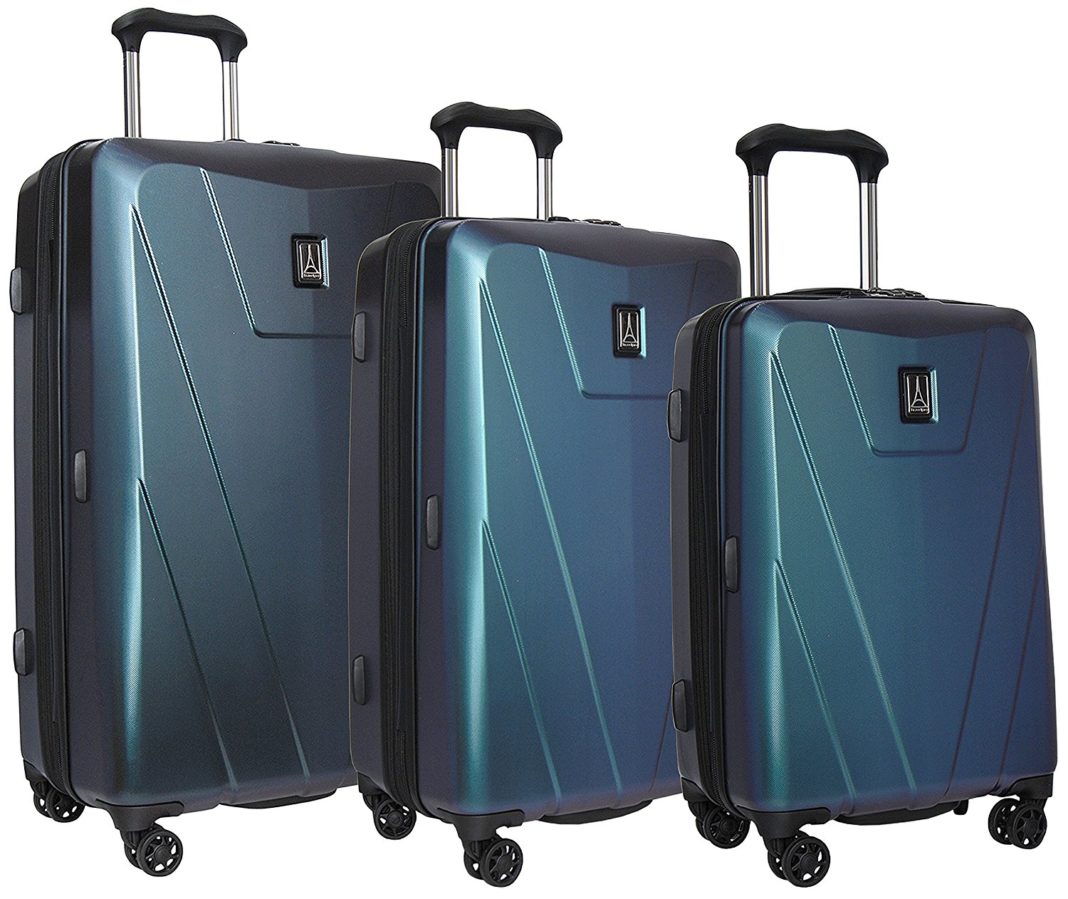 Upgrades to the Maxlite are evident in the name: lightweight is what you want, and Travelpro has come through for you! The eleven pieces in the MaxLite collection look stylish, work well, last long, and won't break your bank. Sure, designs seem superficial, but we really like the look of this new collection. Choose what you prefer regarding two wheels or four wheels, and hardside or softside. Travelpro offers multiple pieces in the Maxlite 4 Collection in luggage sets.
Here are some benefits of the Maxlite 4 Collection:
Ultra lightweight
Style of much more expensive luggage
Contour grip on spinners
Limited lifetime warranty
Travelpro Maxlite 4 Expandable Carry-On Spinner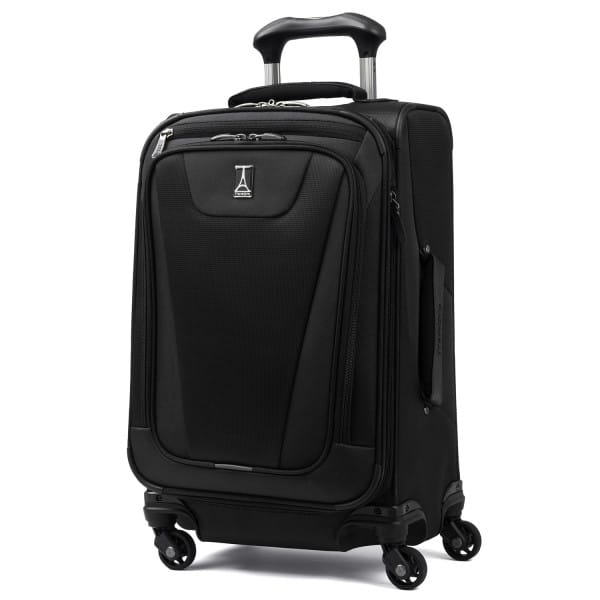 Credit: Travelpro
| OVERALL DIMENSIONS (International) | WEIGHT | VOLUME |
| --- | --- | --- |
| H: 21.25 in | W: 14.25 in | D: 8 in | 5.7 lbs | 41 L |
This Travelpro luggage checked bag offers some good space and storage for its size. Perfect for overhead compartments and weekend trips, this Travelpro wheeled carry-on cruises through the airport. The four spinner wheels work in all directions, so it effortlessly trails behind you.
Travelpro Maxlite 4 Expandable Rollaboard (Checked Bag)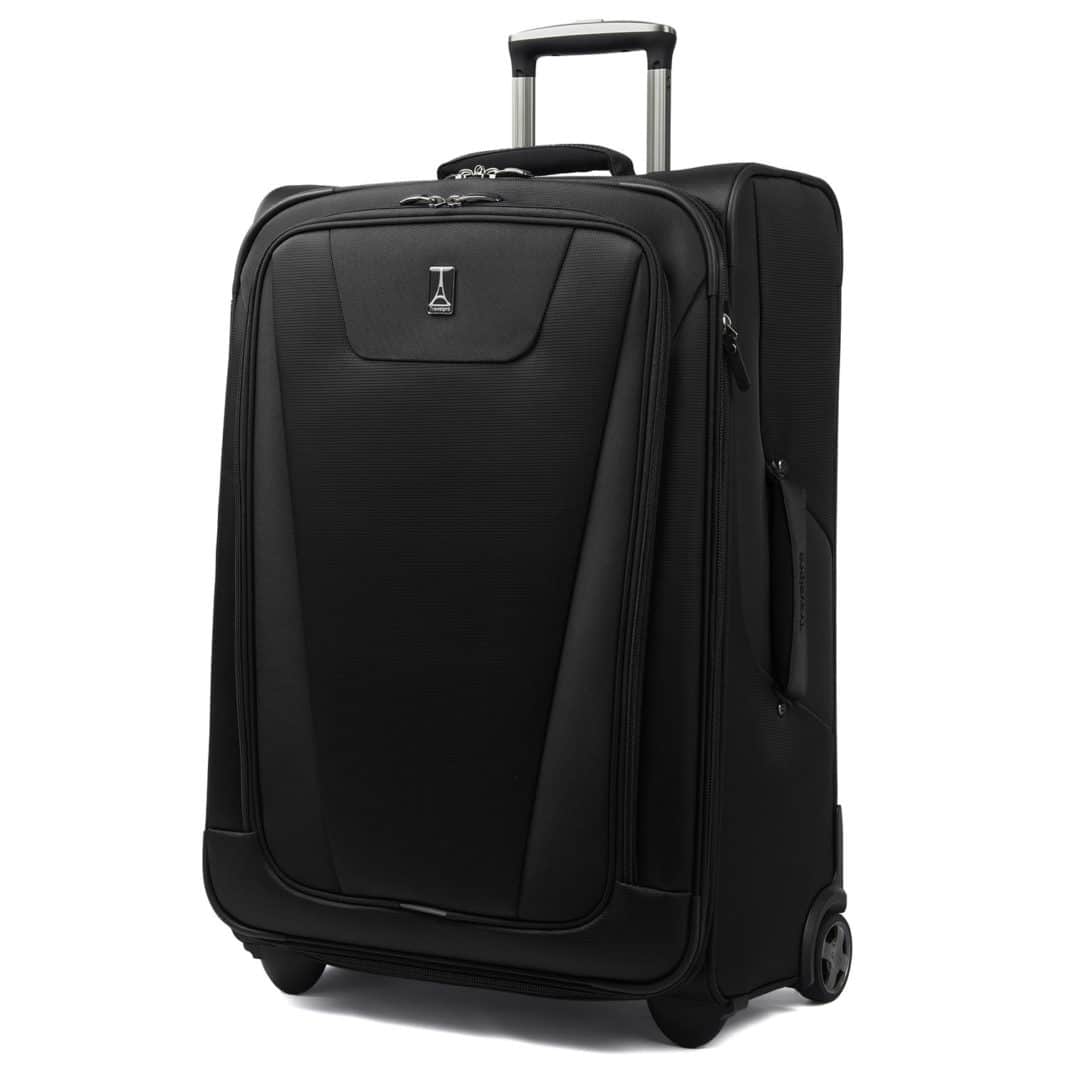 Credit: Travelpro
| OVERALL DIMENSIONS (26″) | WEIGHT | VOLUME |
| --- | --- | --- |
| H: 28 in | W: 19.5 in | D: 11 in | 7.6 lbs | 99 L |
The Maxlite 4 26" Travelpro Rollaboard is an excellent size for a medium to long trip. Easily fit enough for your trip with "intelligent" pockets. These are well-thought out in placement and size to help you stash your things away, but easily access them when needed. Plus, it's durable and ultra-lightweight: goals that Travelpro meets with their luggage. The Travelpro Maxlite 4 Expandable Spinner is another option with the same inside organization and outside appearance, except that model has four spinner wheels that will work in 360-degree directions. Tie-down straps inside help keep your clothes from spilling out all over.
Travelpro Platinum Magna 2 Collection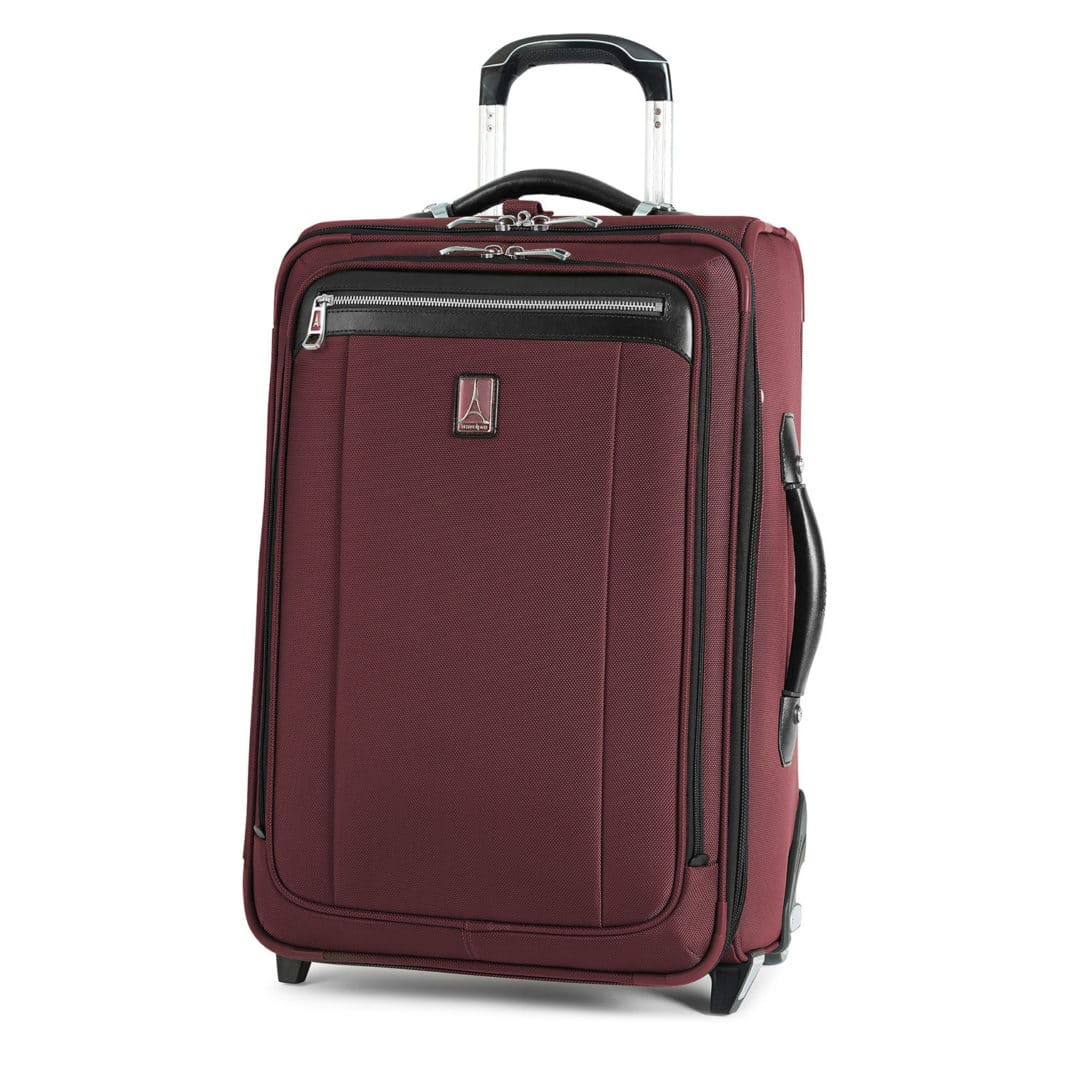 Travelpro remembered to pack the luxury with their Platinum Magna 2 Collection. The leather accents and Deluxe Suiter set this luggage apart from other Travelpro collections. Of course, the quality wheels, retractable handle, zippers remain the same. These pieces may come with the worry-free lifetime warranty. The zippered pocket on the exterior adds great style and easy access to some belongings.
Travelpro Platinum Magna 2 Expandable Spinner Carry-On
Credit: Travelpro
| OVERALL DIMENSIONS | WEIGHT | VOLUME |
| --- | --- | --- |
| H: 23.75 in | W: 14.75 in | D: 9.5 in | 7.9 lbs | 49.4 L |
This Travelpro platinum carry-on advertises to the "serious travelers," which means you'll be able to tell the little bonuses they've thought to add. This collection features the strong ballistic nylon with Dura-Guard to ward off stains and damage. The leather accents could classify this piece among high-class, more expensive pieces because of its style. This spinner suitcase rests on eight Magna-Trac wheels so you're cruising in style through the airport! The expansion gives you an extra two inches, and it is tapered to provide better balance for the suitcase. Lastly, this carry-on luggage fits really well in the overhead compartment.
Travelpro Briefcases and Backpacks
Travelpro Executive Choice 2 Checkpoint Friendly Backpack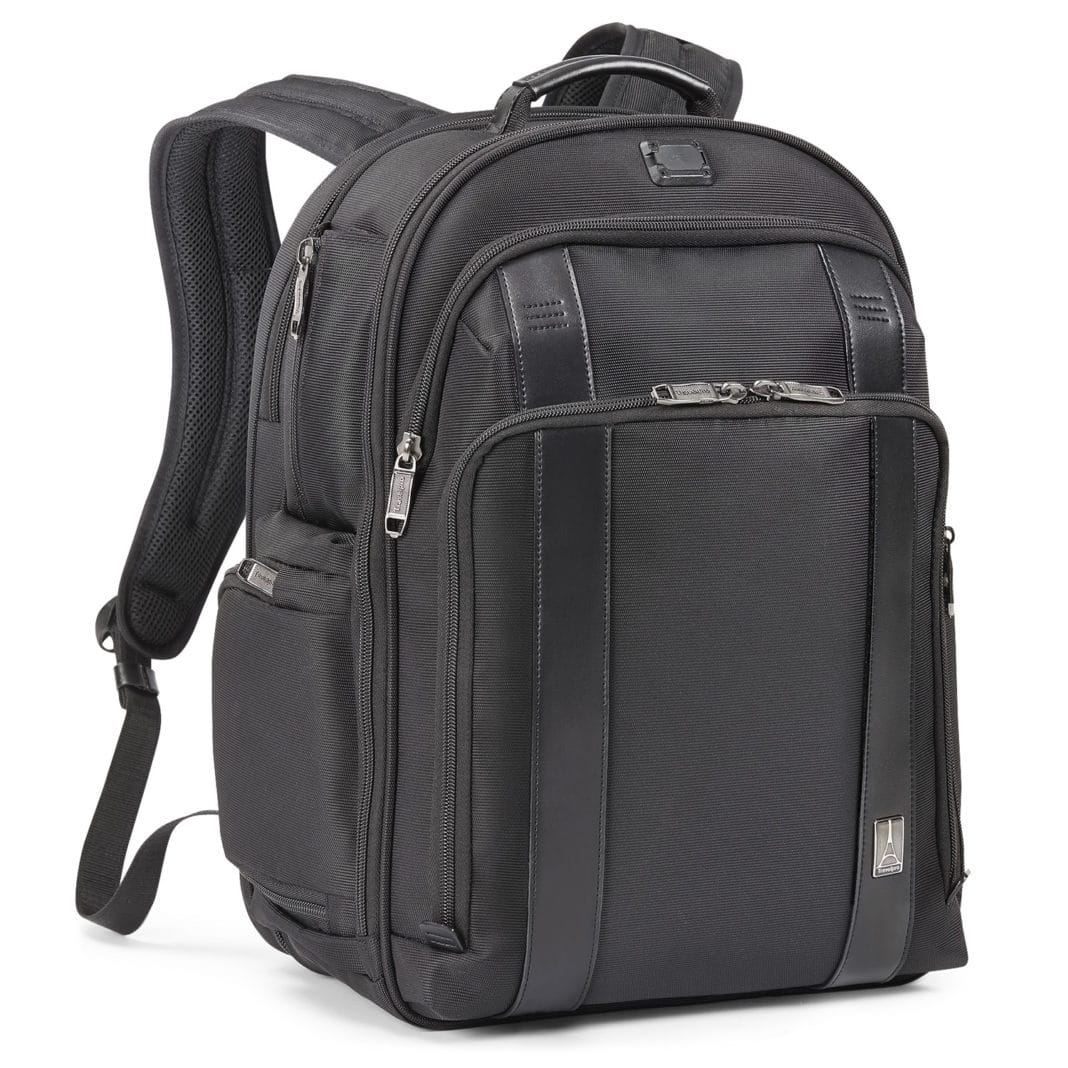 Credit: Travelpro
| OVERALL DIMENSIONS | WEIGHT | VOLUME |
| --- | --- | --- |
| H: 17 in | W: 13 in | D: 8 in | 3.8 lbs | 29 L |
This is an excellent, professional-looking backpack with all the thought-out details to make easy to pack for a weekend or carry-on. Don't waste time fighting over the single charging outlet in the airport; this backpack comes with an external USB power port. We appreciate the various compartments and zippered pockets in this backpack. An RFID-blocking pocket keeps your cards and passport protected. This pack is also a Travelpro laptop bag; there are compartments for your laptop and your tablet. The laptop compartment is large enough for most standard laptops, too. The straps are padded and therefore comfortable.
Travelpro Checkpoint Friendly Business Brief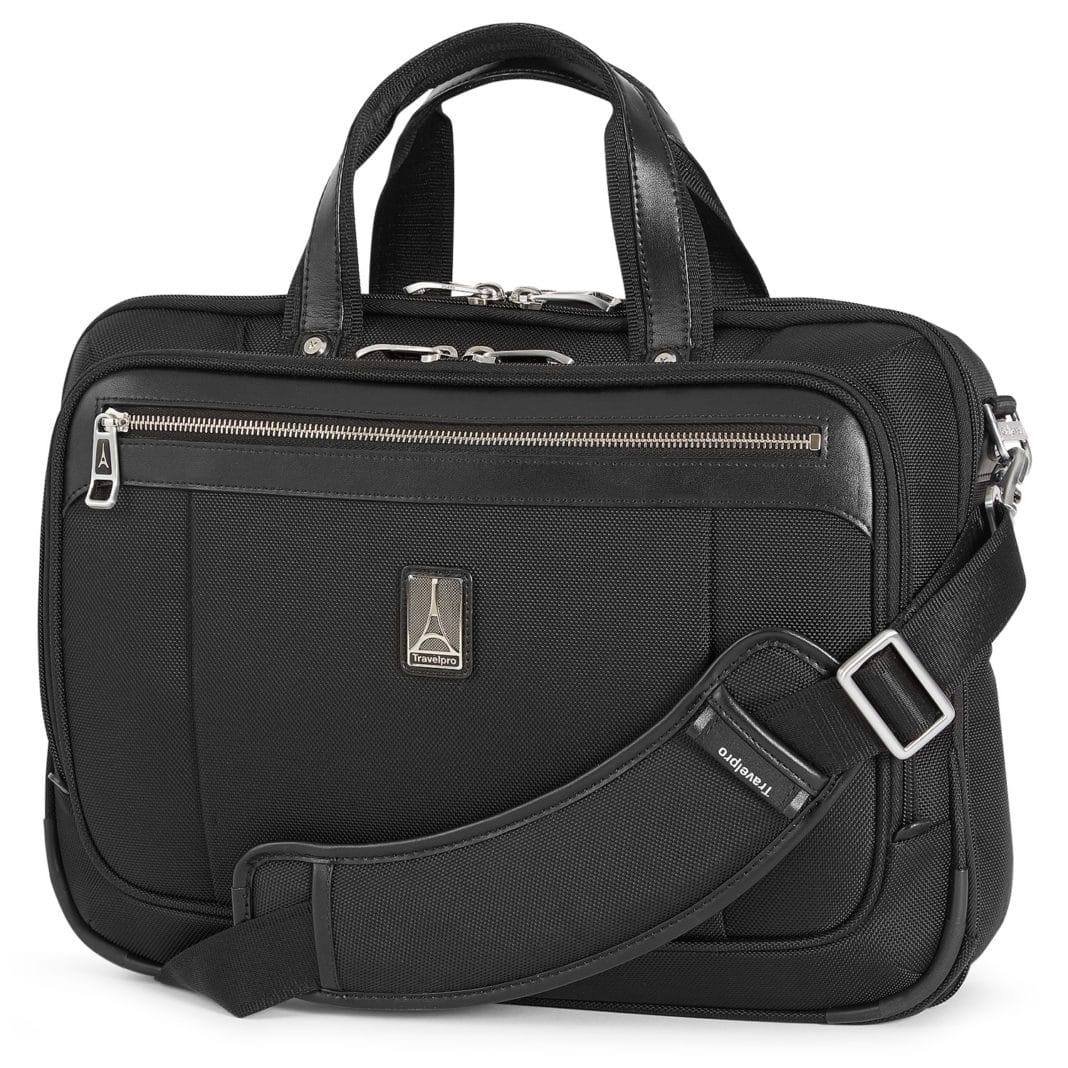 Credit: Travelpro
| OVERALL DIMENSIONS | WEIGHT | VOLUME |
| --- | --- | --- |
| H: 12 in | W: 16 in | D: 3.5 in | 2.9 lbs | 11 L |
This Travelpro laptop bag (Travelpro briefcase) makes it easy to slide your laptop in and out. Your laptop will travel comfortably in a padded compartment, and dividers within the bag help keep you organized. The material is ballistic nylon with DuraGuard to help prevent stains and wear. Outside pockets with smooth-working zippers help you easily access your smaller belongings. Other reviewers rave about this bag's style and functionality, which helps contribute to many five-stars earned.
Alternative Luggage Brands
It's no secret that Travelpro is at the top of our list of the best travel luggage, and we're not the only ones. According to the many Travelpro luggage reviews on the internet, this brand's bags are the traveler choice for many. But if you're looking for something else, we won't judge. In fact, we've got some alternative brands in mind with suitcases that might be more up your alley. Here are a few to consider:
American Tourister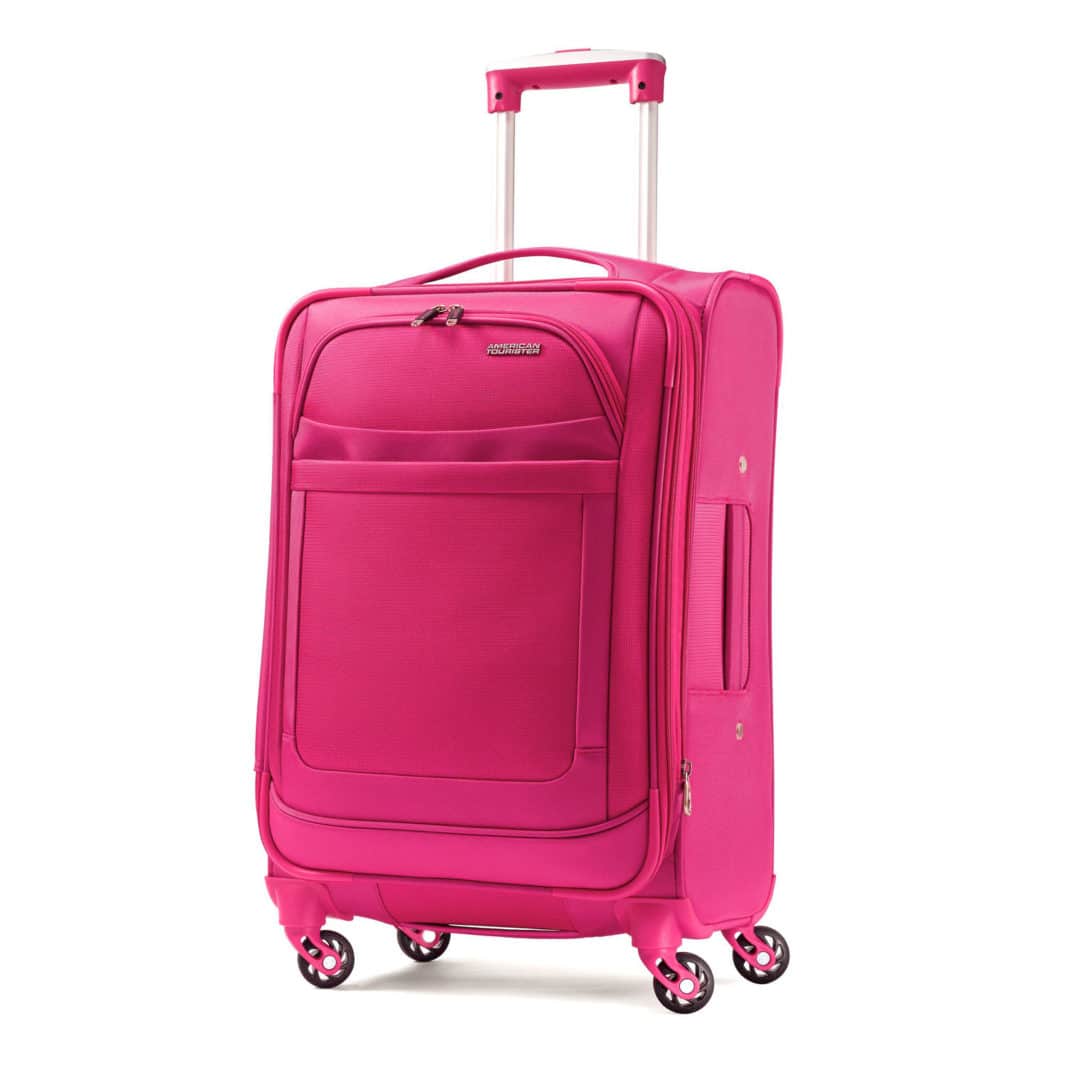 Credit: American Tourister
While Travelpro suitcases take the lead in the realm of good quality luggage, American Tourister certainly takes the lead in regards to bold style. With vibrant colors and unique prints and patterns, these bags are primed for those who don't mind standing out a little (or a lot). They also have a lofty collection of suitcases perfect for kids who are Disney obsessed, from Ninja Turtle to Princess Elsa style. Whether you're looking for some colorfully-chic hard-sided luggage, a spunky luggage set, or even a Marvel-themed carry-on bag, American Tourister has it.
DELSEY Luggage
On the prowl for a suitcase that's a little more classy than spunky and can be used both for business or a week-long getaway? If that's the case, DELSEY luggage is just what you need. While subtle on the eye with its neutral tones, bags from this brand are chic and versatile in appearance. They have "minimalistic fashion" written all over them. Plus, DELSEY has a variety of suitcase types to cater to your needs. Whether it's durable soft-sided luggage, a luggage bag that's actually carry-on size, or even a simple garment bag that you need, you'll find the perfect match.
Travelpro luggage offers plenty of options to fit your travel needs. Plus, the company's quality and affordability are tough to match!
Related Article: ​Best Lightweight Luggage Reviewed (Plus How to Choose Yours)​​​