Are you looking for a luxurious timepiece? Then get your hands on a Vincero watch.
Not all your travels are meant to be rugged and hardcore. Every seasoned traveler knows that some adventures are meant to be opportunities to get away for a nice time of relaxation and wanderlust. If you are taking a trip that includes an itinerary of everything luxurious, then you want to make sure that your wardrobe is up for the challenge. Today, we are going to take an in-depth look at one of the most luxurious men watches on the market right now, the men's Vincero watch. The Vincero watch is the perfect men's watch if you are looking for something that will tie together a great wardrobe. Let's take a look at what makes this watch so unique.
Vincero: Behind The Brand
Credit: ​Amazon
Vincero dares you to "elevate your game" with their collection of beautiful watches. This challenge is something that is so easy to fulfill especially if you accessorize your wardrobe with any of their timepieces. Not only that, but the mission of Vincero is "to be a symbol of motivation and a daily reminder to leave your legacy". The Vincero brand revolves around making you feel like you are the best you that you can be. And with their incredible line of luxury watches, you will inevitably rise to the occasion.
The Vincero watches easily stand out in a crowd because they make such a bold statement. Although Vincero products are bold, there are some great options for the minimalist as well. There are a couple of things that we absolutely love about the Vincero brand. For starters, they offer a range of watches that are suitable for both men and women. Their bold women's watches pair well with virtually any outfit. Not only that, but laides, their watches will have you feeling like you are ready to take on the world. Secondly, Vincero proves that you don't have to dish out big bucks to get a slice of luxury. All Vincero watches are fairly priced and reasonably affordable.
Finally, if you are looking for a gift this holiday season, Vincero is a great place to start. Vincero offers great gift packages that allow you to customize and personalize any watch for that special someone in your life. We love that on specific products, you can add custom engraving. Not only that, but if you are ordering for a large group (such as a wedding party or corporate gift) Vincero delivers again. All around, Vincero is a great company with a mission statement that is not only appealing, but difficult to ignore.
Men's Vincero Kairos Wrist Watch Features & Benefits
Design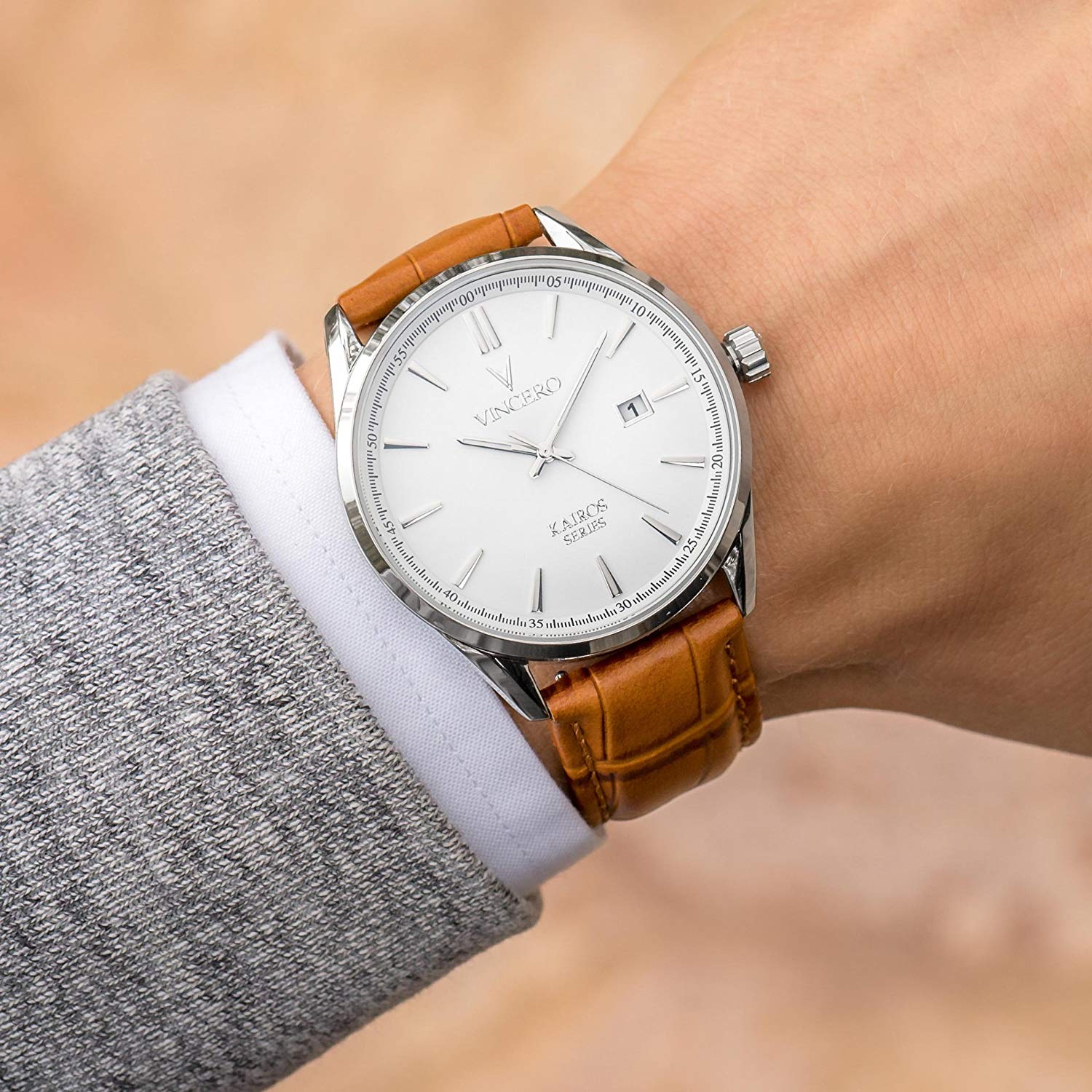 Credit: ​Amazon
Vincero is known for making bold statements. This is easy to spot on all of their watches including the Van's watch. The overall design of the men's Vincero Kairos wrist watch features a round mechanical face that is easy to read and eye-catching. On the face of the Vincero watch, you have your standard hour and minute hand along with the date. For meticulous travelers, we love that the edge of the round face has two minute increments so that you always know exactly what time it is.
When it comes to the design, you can truly customize the Vincero watch to your taste. There are a variety of faces you can select from including a black face, a gold face, and a blue face,. The same goes for the straps. With a range of straps for you to choose from, you are sure to find the style that meets your preferences.
Just like the face of the watch, the straps are just as loud and outspoken. They measure out at 25 mm which make for a great and comfortable fit. The same goes with preference on the straps. You can swap out and customize the straps so that your Vincero watch truly fits your style.
Materials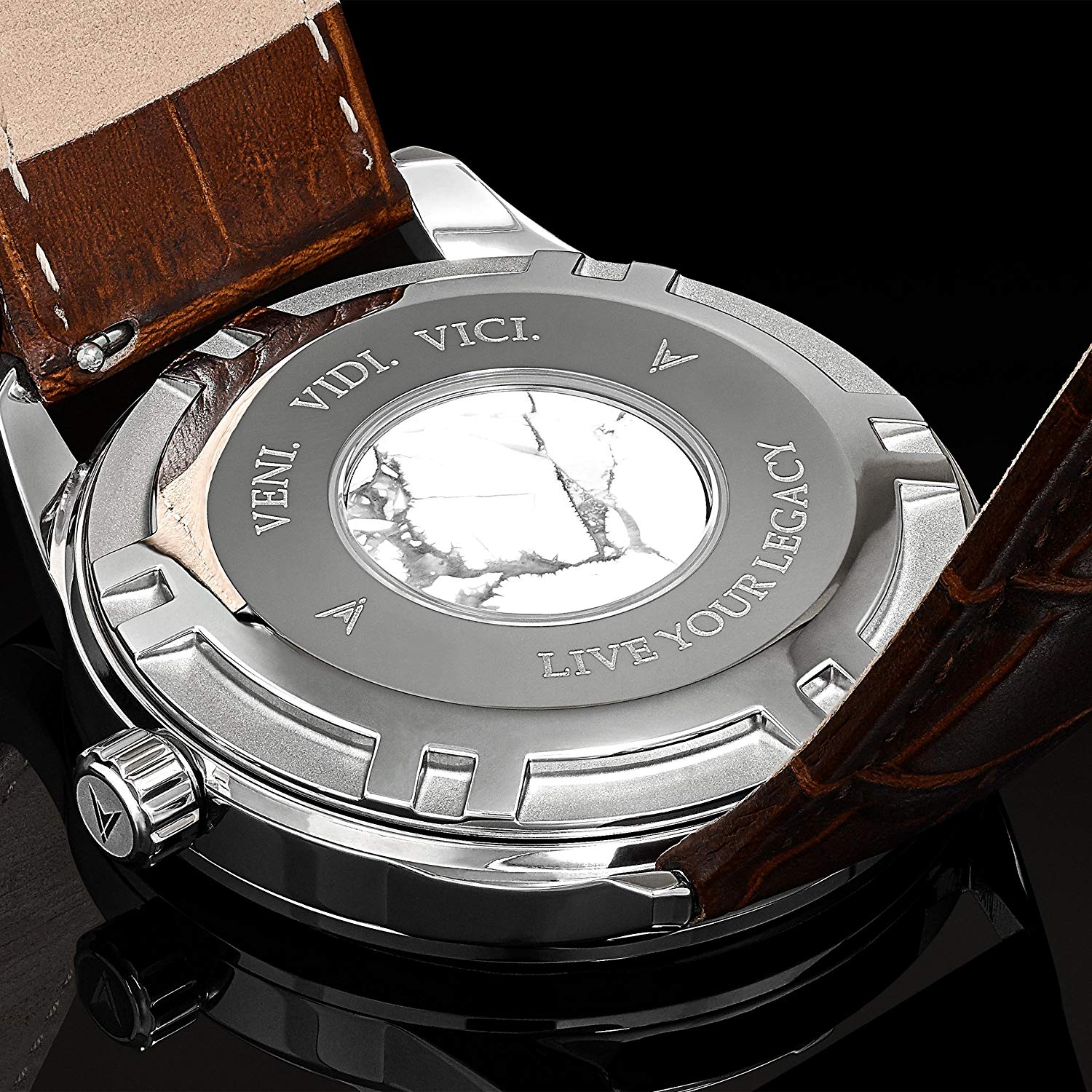 Credit: Amazon
What makes the Vincero brands so unique is the fact that they only use the best quality materials on all their watches. The face of all their watches are all protected with sapphire coated mineral crystal glass. This special glass ensures that your watch is 100% scratch and water resistant. You don't have to worry about wearing this watch delicately (although you'll want to). Know that this watch will withstand the elements and most everything you put it through during your travels.
The casing of the watch is constructed with 316 L surgical grade stainless steel. It measures 43 mm and comes in a range of color options for you to choose from. Take your pick from chrome, matte black, copper, gold, and rose gold. Again, Vincero works with your sense of fashion in mind because you can customize the Vincero watch to your choosing.
Next is the band, the band of the Vincero watch is where you can really see the stand out quality of this product. Take your pick of different bands including metal and leather bands. For a true taste of luxury, we recommend the leather band. We love that the leather bands are cut from genuine Italian calf leather.
Furthermore, bands are crafted so that they can withstand the test of time. Don't worry about wear and tear when it comes to the quality of the leather because it doesn't get any more real than Italian leather. If Italian leather is just a bit too much for you, rest easy knowing that there is an easy release button on the back of the Vincero watch that will allow you to swap out the bands for something that is a little more your style.
Overall, the quality of materials used in the Vincero watch are outstanding. Not many brands can offer quality products made out of 100% quality material the way that Vincero does. Not only that, but the Vincero brand can craft the quality materials together to truly make a standout product.
Dependability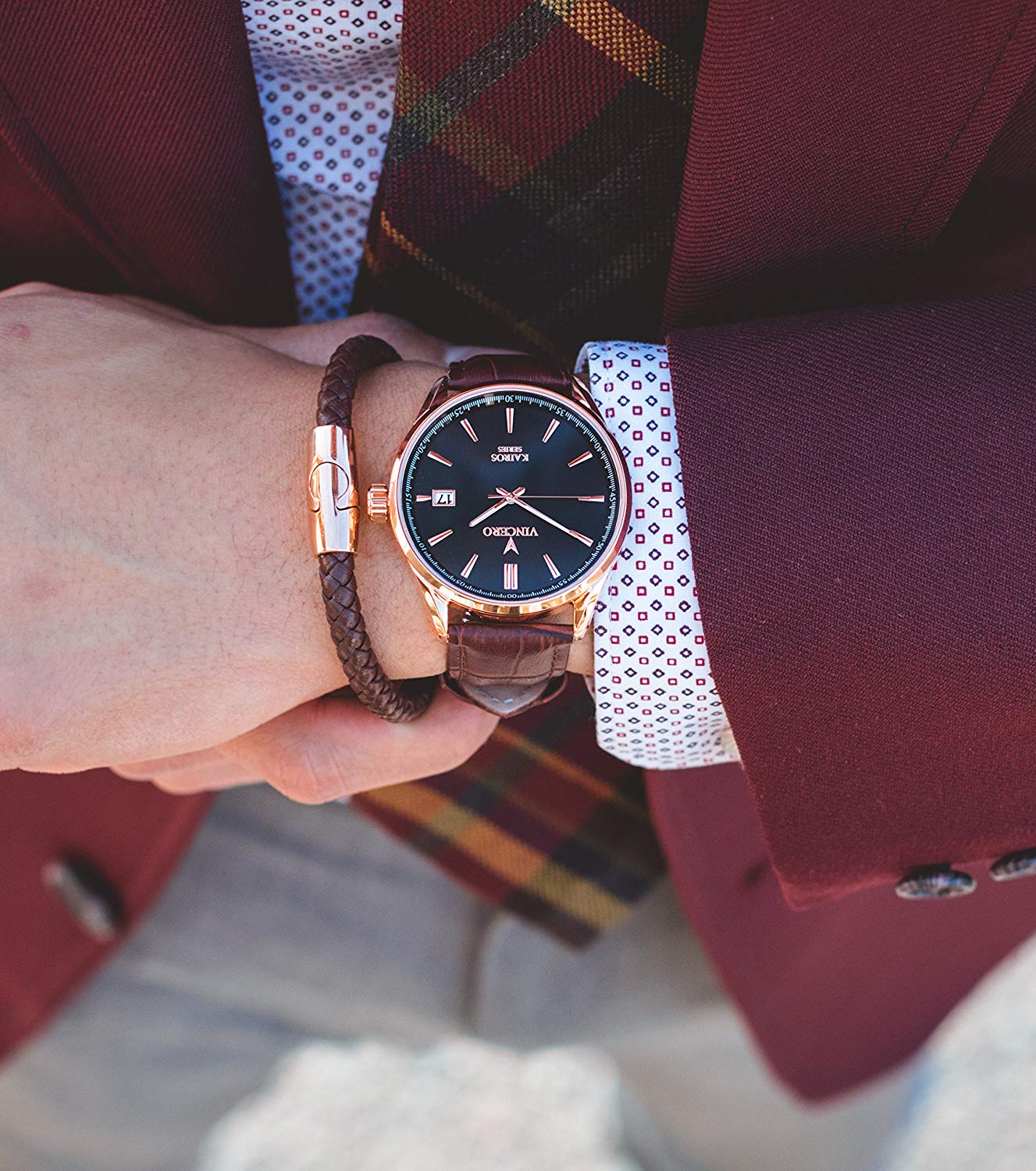 Credit: ​Amazon
When you purchase a Vincero watch, you get a watch for life. One of the standard features of the Vincero watch is the fact that it is made with Citizen Miyota Quartz Movement. This specially crafted device features this incredibly precise Japanese movement that will ensure your watch is always at its peak performance. This quartz movement is very different from a mechanical movement watch for several reasons. For starters, a small quartz crystal that is powered by a little battery is what makes this watch function. This is very different from mechanical movement found in mechanical watches. While a mechanically operated watch does not necessarily outweigh a quartz operated watch, there are some things to consider. Typically, because they are powered by battery, quartz watches such as the Vincero watch tend to be more accurate and feature more precise movement than some of the other luxury watch competitors.
Practicality
Credit:​ Amazon
Unlike some fancy watches, the Vincero watch is incredibly practical. While you instinct may to you to hold off on wearing this watch for special occasions and events where you want to dress up, you can certainly pull off wearing this watch every day. All you need to do is simply swap out the straps. The strong resistance of the band and sapphire coated glass makes the Vincero watch incredibly practical wants to wear every day if you choose to do so.
Price Point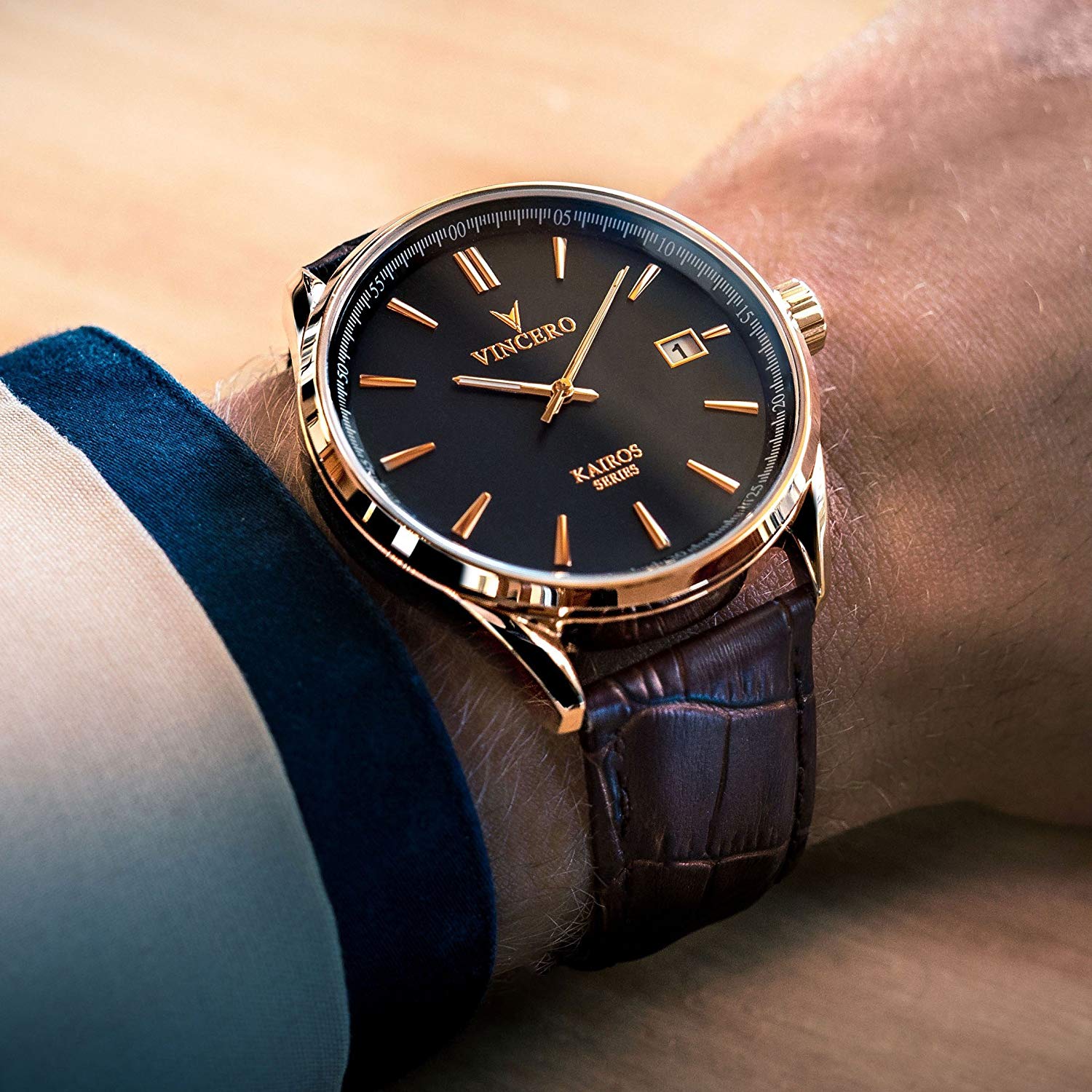 Credit: ​Amazon
The Men's Vincero Kairos Wrist Watch starts at a reasonable $150. However, depending on any customization or any additional features, your price will change. Regardless, a luxury watch at this price point is something that you can not miss out on. Especially if it is made with by the Vincero brand.
You really get a bargain at this price point. For starters, it is not uncommon for quartz or mechanical watches to be overpriced. As long as they have the tag "luxury" attached to them, a $120 watch might actually be worth no more than twenty bucks. This is not the case with the Vincero watch. The design of the Vincero watch is what makes this luxury watch a great buy. For starters, the straps are an awesome bargain. With easy to remove genuine Italian leather straps, you have already set yourself for a little taste of luxury. Everything else including the quality casing and sapphire coated glass are luxury standards that the Vincero watch offers at an affordable price.
What Travelers Are Saying About this Vincero Watch
Travelers from all over love the Vincero watch. Can you blame them? What's not to love. The consensus among travelers is that this timepiece is distinct and commands attention. Attention to detail is everything when it comes to Vincero and customers appreciate this. One of the greatest positives that travelers have expressed about the Vincero watch is in regards to the straps. The easy to use quick release button make wearing this watch and customizing it to your style a breeze. Along with the straps, many customers can agree that two straps is all that is really needed. The leather strap for upscale events and another one for more casual wear. (And of course vice versa depending on your style and preference).
Travelers not only love the look of this timepiece, but the fit is great too. Travelers love that the Vincero watch is easy to put on and offers a comfortable and relaxed fit. Not only that, but because Vincero uses real Italian leather. This means that the straps will age well and seem to fit even better with time.
Finally, the biggest win with the Vincero watch amongst travelers is the fact that the Vincero watch is so affordable. For a luxurious timepiece that proves an outstanding sense of style and appeal, the price can not get any better. Travelers love that you do not have to break the bank to get your hands on one of the best timepieces this season. (And easily the next couple of season to come too.)
Alternative Watches for Men Who Travel
Vincero is a great brand with a vision that is unmatched. If you are not quite sold on this luxury brand just yet, we have got some other time pieces that you may want to try out for size. Here are some great watches that might be right up your alley if you are in search of a great time piece.
1. Withings Activité Steel – Activity and Sleep Tracking Watch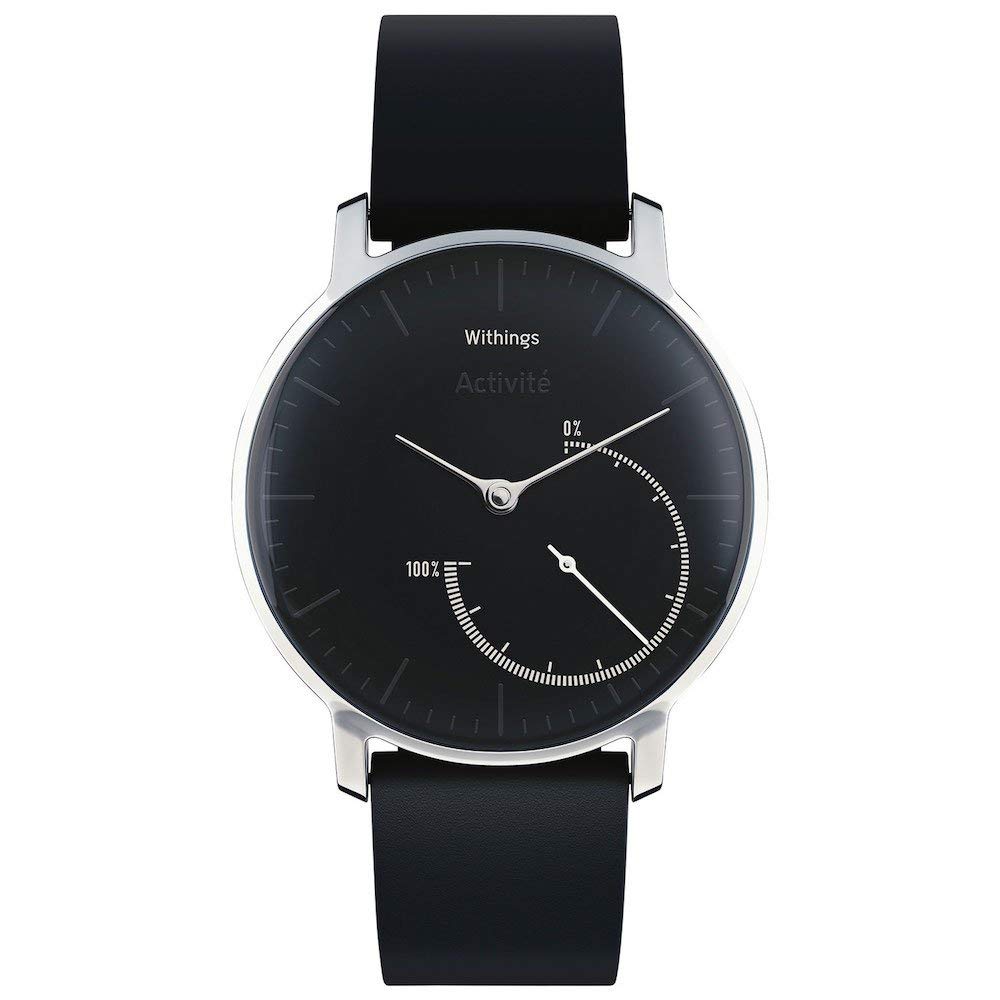 Many watches these days do a great job of doing double duty. If you are looking for a great watch that can also serve as a fitness tracker, then Withings is the watch that you want to look at. The Withings Activité Steel is an awesome watch that offers activity and sleep tracking capabilities. Before we get into the specs however, let's take a look at the overall design.
The Withings Activité Steel Activity and Sleep Tracking Watch offers a unique design that might appeal to many types of travelers, including minimilatic travelers. The face of the watch features a minute hand and hour hand along with another side meter that measures your activity for the day. The straps of this watch are also unique in the fact that you can swap them out for another strap for your liking. Because this is an activity watch, you can choose between black or grey silicone straps, as well as a leather band that offers a more casual look.
The face of this watch is reinforced with a sapphire crystal mineral coating. This costing helps protect your watch from and scratches or dings. This coatings also enables you to go underwater without having to worry about your watch getting damaged. The Withings Activité Steel Is waterproof up to 50 meters. If you are an underwater explorer, this is great watch to add to your scuba diving gear.
The tech on the Withings Activité Steel watch is pretty awesome too. The watch comes with its own app that will allow you to take a glimpse at basic daily activities such as calories burned and steps taken. The Withings Activité Steel also has the ability to track your sleep activity too which is pretty awesome. Not only that, but this watch is compatible with many other apps including My Fitness Pal and Nike +.
Finally, one of the best draws about this watch is that it offers an amazing battery life. You do not have to worry about plugging your watch in or charginging it. The Withings company advertises that the Withings Activité Steel can go for up to eight months without needing a charge. If you are looking for a great watch that is also a fitness tracker, then this watch may be the best fit for you. Especially, if you are looking for a fitness tracker that is elegant and well put together.
SKMEI Men's Compass Watch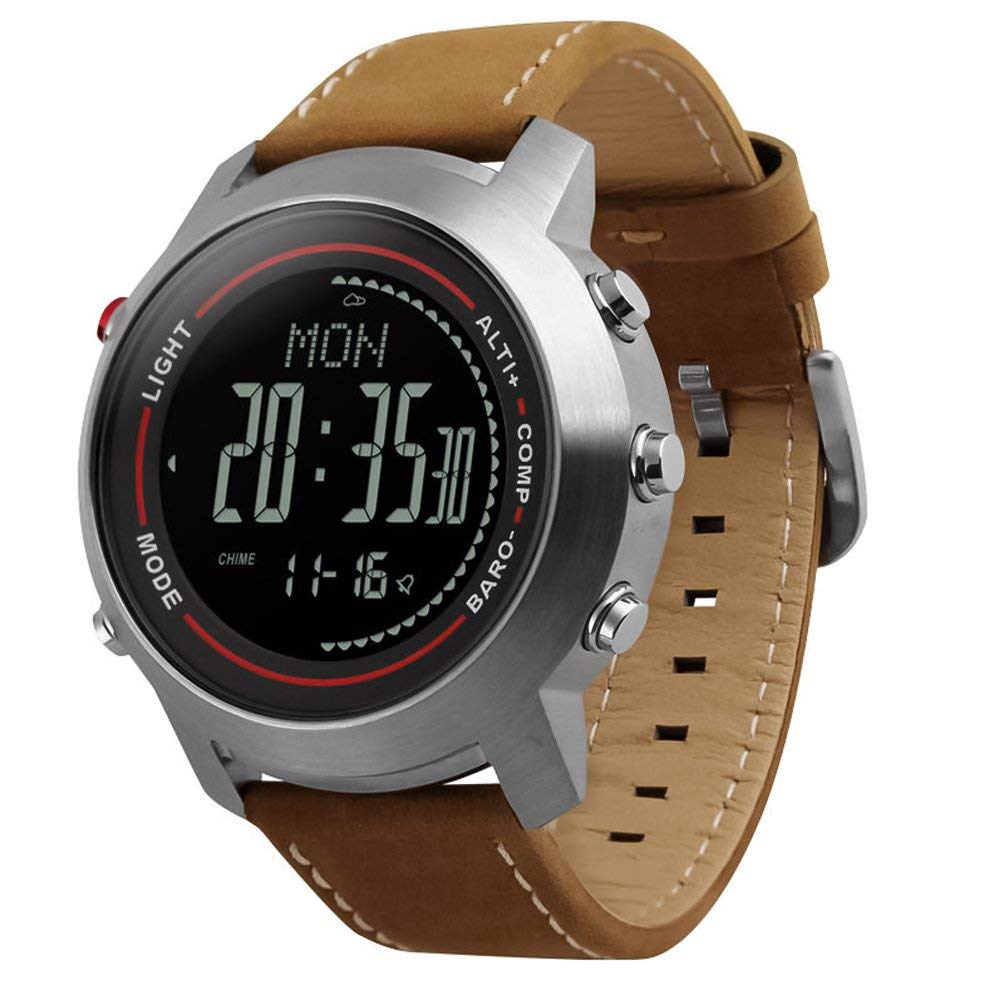 If you are a hiker and are in need of a great watch, then the SKMEI Men's Compass Watch is a great choice to go with. For starters, if you are a traveler who is always looking for adventure, then the SKMEI Men's Compass Watch has got everything to meet your needs.
Let's start with the overall design.The overall design of the watch is great. The rugged look is done tastefully. While the SKMEI Men's Compass Watch was primarily made for an outdoor enthusiast, there's also a certain class and elegance to the watch that will allow you to wear it throughout your days. The leather strap is a perfect mix of rugged and class so you can easily transition from the office to the outdoors with ease.
When it comes to the actual specs of this sports watch, there is a lot to be impressed with. For starters, this watch offers a barometer and altimeter. If you are hiking up to high altitudes, the altimeter will be able to measure your current height. Along with that, you will get an altitude graph for a more visual representation. The handy barometer is also great for keeping a record of what the temperature is. Take your choice between a Celsius reading or the Fahrenheit reading and you should be good to go. Not only that but this one from SKMEI can combine air pressure and temperature to help you get a glimpse of what the weather is in the short term.
We love that you don't have to travel heavy with any extra outdoor equipment either. This is because this watch has got it all. Make use out of the magnetic compass that will help you keep track of where you are at at all times. If you are counting your steps, then the built in pedometer will surely come in handy too. Finally, this sports watch would not be labeled such if it did not have waterproof capabilities. The stainless steel case and hardwired leather strap can withstand dry air or wet water for up to 50 m. If you have an outdoor enthusiast in your life, than the the SKMEI Men's Compass Watch is a great gift to go with.
Timex Ironman Classic 30 Full-Size Watch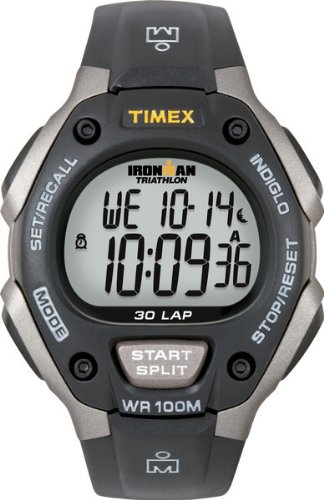 This next watch has the power of branding behind it and is easily one of our favorite men's watches. The Timex Ironman Classic 30 Full-Size Watch has been around for several decades now. There is no wonder why either. All around, this Timex Ironman Classic is a great sports watch for any outdoor enthusiast. Timex is known for their iconic performance so when you invest in this Timex watch, you are sure to get a product that will withstand the test of time. In the event that it doesn't, Timex offers a one year warranty on most of their watch product.
This watch features so much including a countdown timer and alarm along with 30 lap memory capabilities. One of the best features about the Timex sports watch is the Indiglo light up watch dial. Whatever your activity takes you, you can be sure that your watch will deliver because you will be able to make use of it thanks to the glow capabilities.
Finally, we love that this watch is incredibly water resistant. You can take it up to 100 m so it is the perfect watch to add to your snorkeling and shallow scuba diving gear when you are on your tropical vacation. take your pick of the many different colors and styles that the Timex Ironman Classic 30 Full-Size Watch comes in. You are sure to find a style for every type of traveler in your life.
Final Thoughts
If you are in the market for a luxurious watch, then the Vincero watch is the way to go. Travelers alike can agree that the Vincero watch is a great luxurious watch (at a bargain). Ladies, if you are looking to buy the special someone in your life, then the Vincero watch makes for one of the best gifts for any traveler. Click below to get your hands on yours today!
Related Article: The 5 Best Men's Watches of 2018: Stylish, Affordable Options