Now here's a watch that can keep up with all of your adventures. Enter the Timex Ironman Classic 30.
In the world of sport watches, the Timex Ironman Classic 30 is a clear favorite. Timex first introduced their Ironman series in 1986. This style will be your favorite travel companion for your morning runs, laps in the pool, and dives. It has a 100 hour chronograph with lap and split times and can count up to 99 laps.
It is important to note that it doesn't count how many laps you have done but rather keeps track of which lap you are currently on. This has been a point of confusion for some users.  In other words, when you hit the start/lap button, you have completed zero laps, but you are on Lap 1. The display shows Lap 01, not Lap 00. So if you've completed 24 laps, your watch will display Lap 25.
Timex Ironman Classic 30 Full-Size Watch Features & Benefits
Design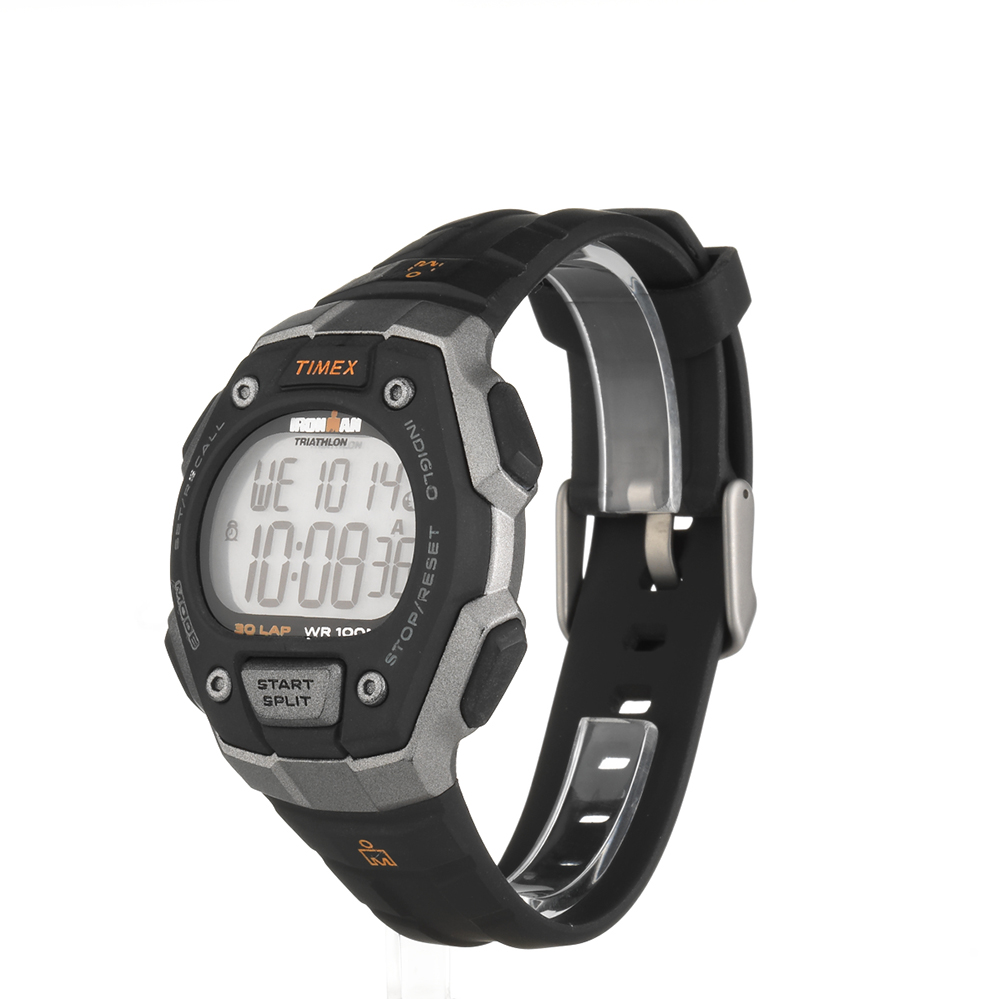 Credit: Amazon
This oversized face and sleek gray and black colors are the ultimate in cool and casual. Designed for sports enthusiasts, it is made to work with you and keep up with your busy lifestyle. As a sporty watch, its face reads digitally in addition to offering a countdown timer and alarm. Last but certainly not least, we appreciate the simple resin strap with buckle closure.
More Than a Stopwatch
Okay, so you know by now that every Ironman Classic 30 comes equipped with a 24 hour countdown timer and stopwatch functions. But it does so much more than that too. Did you know that the occasion mode allows you to set up to 15 reminders for events? You can schedule your flight departure date, mom's birthday, and those special dinner reservations in your watch. The alarm option also give you the option to schedule daily, weekday, and weekend options. Frequent fliers will appreciate that the Classic 30 can bet set up to three time zones.
Simple to Use
We love how easy the Timex Ironman Classic 30 is to use. Make the user interface cleaner and easier to use by turning off unused menu items. If you'd like, you can always reactivate those menu items too. There are also some on-screen prompts to make setting up and using your watch easy. While you are active, the pusher on the watch face is easy to use too.
Core Features
Alright, here are the tech features you have all been waiting for. Each and every Timex Ironman Classic 30 comes fully equipped with an Indiglo night light. This low-powered luminescence is perfect for when you go night swimming or cozy up after to read a good book in the dark. Thanks to the night-mode feature, you can activate Indiglo with any button for a quick light in the dark.
Made from a strong and lightweight resin, you'll forget you're even wearing a watch. You can take this watch anywhere and everywhere. Go running in the morning; a little sweat won't hurt it. Rain won't either. Go swimming or snorkeling. All styles are water-resistant for up to 100 meters (330 feet).
Options, Options…
Bold colors, comfortable resin, and nylon fast wrist straps come together for the perfect combination. The Timex Ironman Classic 30 is made to fit your style, keep up with your lifestyle, and bring with it all of the necessary features.
Tech Specs:
Iconic brand

Sports stopwatch

30 Lap Memory

check

Countdown timer and alarm

check

Resin strap with buckle closure

check

Indiglo Light-Up Watch Dial

check

Water resistant to 100m (330ft)

check

Good for swimming and snorkeling

check

Not recommended for diving
What Travelers Are Saying About the Timex Ironman Classic 30 Full-Size Watch
All in all, travelers love the Timex Ironman Classic 30. If you're looking for an affordable sports watch that covers the bases, you won't find better than this style. It's perfect for men who love staying fit and exercising along their travels. While the controls are admittedly simple, that's what we love about it. You can set your alarms, time yourself, and schedule out those few important dates.
Offering a sleek design and easy to use interface, it's worth a whole lot more than the $35 sticker tag. We love the Indiglo light feature. But more importantly, we appreciate this watch's water resistant capacity. While the tech specs do list it as being water resistant up to 300 feet (100 meters), we do not recommend taking it diving due to the underwater pressure. For running, sweating it out in the gym, swimming, or snorkeling, this will be your favorite accessory.
Alternative Men's Watches You May Like
Are you interested in shopping around a little more? We've got you covered. From simple watches geared towards the fashionable traveler to more high tech options, our picks run the gamut of options. What kind of watch do you need?
Apple Watch Series 3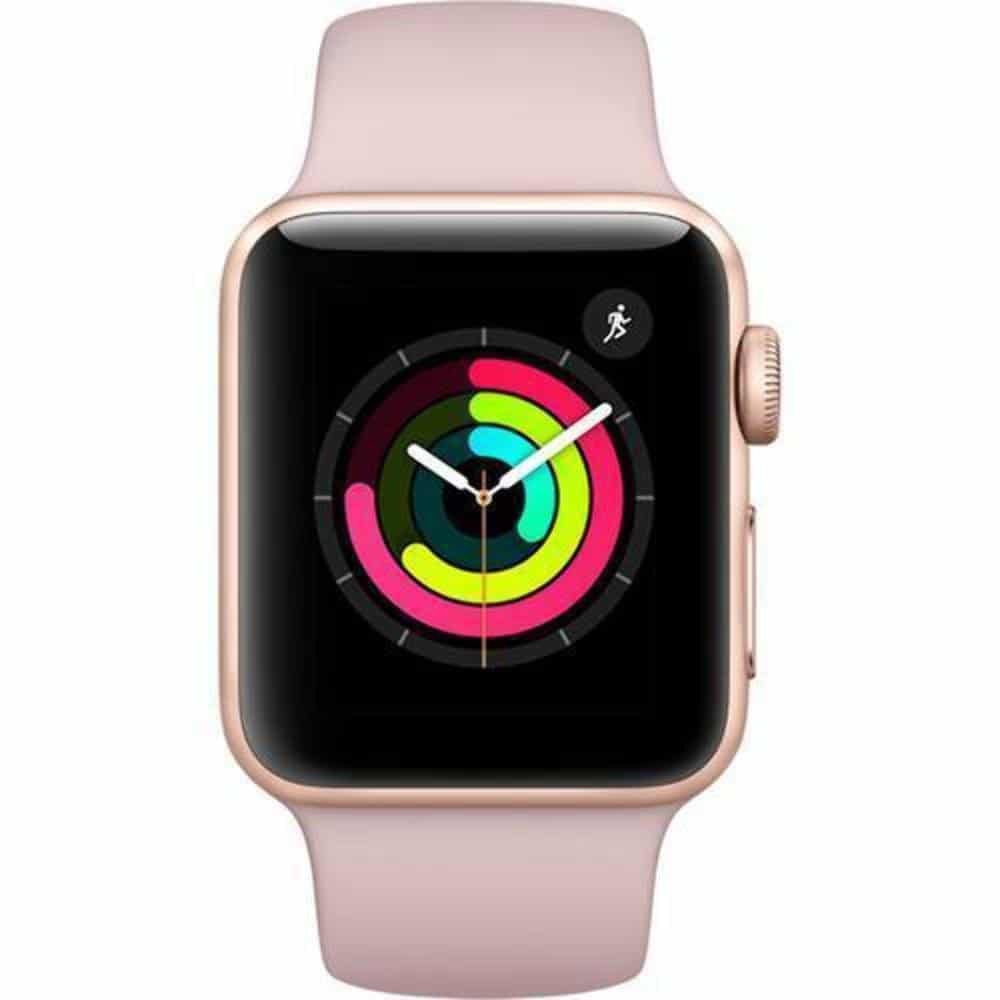 Are you looking for sleek and stylish sophistication? Check out the Apple Watch Series 3. This watch has it all. Not only will it help you stay organized on the go but it's a great travel companion. A powerful dual-core processor launches all of your apps twice as fast as before. When you store your favorite apps in the main dock, they will automatically update when needed.
With high-speed cellular connectivity, the Apple Watch allows you to forget your phone while you hit the gym. Still, you'll never miss a text or call. You can receive all these notifications conveniently from your wrist. For motivation, download and listen to a customizable workout playlist.
The watch also has a built-in personal assistant option. Tell Siri to text your boss back. While you're bored on the plane, stream up to 45 million songs from Apple Music. Make a playlist while you're on a jog. Make calls and send texts with just a few clicks of a button.
Return your missed calls. Get directions to that new dinner place downtown you and your friend have been wanting to try. With the Apple Watch Series 3, you can access all the important information you need whenever you need it. No hassle, no phone needed. You can leave your phone wherever – and still stay connected. That's right. Send texts, call your friend, share your location, of Facetime your significant other all from the watch on your wrist.
Fitness options abound. If you're wondering how to stay fit on the go, here's a great option. Track your steps throughout the day. The Apple Watch Series 3 tracks all of your daily movement – from biking to work to hitting the gym. So sit less, move more, and find a way to fit some exercise into your daily schedule. When you need a nudge, the watch is your gym buddy. Wake up to personalized progress charts and suggestions in the evening for how to complete your progress rings. Each month, you'll receive new challenges based off your prior performance and workout history.
Tech Specs:
8GB of Storage

1.3 Inch (340 x 272) Display

Changeable Faces with Widgets

check

Displays Notifications

check

Apps

check

Water-Resistant to 164 feet (50 meters)

check

Heart Rate Monitor

check

Built-In GPS

check

Barometric Altimeter

check

Up to 18 hours of battery life
Ticwatch S Smartwatch-Knight
Water resistant, durable, and equipped with smart tech, the Ticwatch S is ready to handle whatever you throw at it. It also provides you with an easy way to stay fit on the go. With Google Play, you can download top-rated fitness Wear OS apps like Google Fit. All you need for your fitness goals is at your fingertips.
Did we mention that it's also IP67 water and dust resistant? It makes it the perfect workout companion. The TicWatch S also provides independent navigation while running and cycling. Accurately track your performance with stats like steps, speed, distance, calories burned and much more. You can also accurately track your heart rate in real-time with the built-in PPG sensor. Get training mentor with six heart-rate intervals data. Map out your jog with Glonass and GPS sensor.
Unplug and run. With Google Play Music on TicWatch S, enjoy music without your phone. Perfect for those on a run. Be notified of incoming calls, messages, emails and news with just a glance. For Android users, the TicWatch S enables you to receive calls, make calls and reply to messages right from your wrist. Last but certainly not least, you can also personalize your display options with a variety of customized watch faces available on the Google Play Store.
Tech Specs:
Androidwear apps

Personalize your watch face

30-Day Money-Back Guarantee

check

12-Month Warranty for quality issues

check

Track workouts data from Google Fit and your favorite apps
Invest in a Great Watch for Your Next Adventure
We hope you enjoyed reading our feature on the Timex Ironman Classic 30 along with some of our other favorite brands and styles. Timex offers quality you can count on. All the quality and care put into it cannot be overlooked. From the stylish design to tech specs, we can't get enough of this menswear style.
Related Article: The 5 Best Men's Watches Of 2018: Stylish, Affordable Options