You know that time of the year. You need to renew your passport. You're probably wondering – how long does it take to get a passport? Or maybe it's your first time taking an international trip and you're wondering how long it takes to get your golden ticket to paradise outside the country.
Regardless of the country you are visiting, you will need to get a passport for entry to and from the U.S. Some application processes can take longer than others. We don't know if you heard about this but as of January 22, 2018, all U.S. citizens will need a passport when traveling domestically between certain states. Thanks, REAL ID Act. So how long does it take to get a passport?
Like many government-issued things, getting a passport is a bit of a process and can take a long time. We're sorry if that's not the answer you're looking for.
The good news is the timeframe it takes to arrive in your mailbox depends in part on how much you're willing to pay for it. Whether you're a first time applicant or a seasoned world traveler looking for tips, we've got you covered. Let's take a look at your options.
So How Long Does It Take to Get A Passport?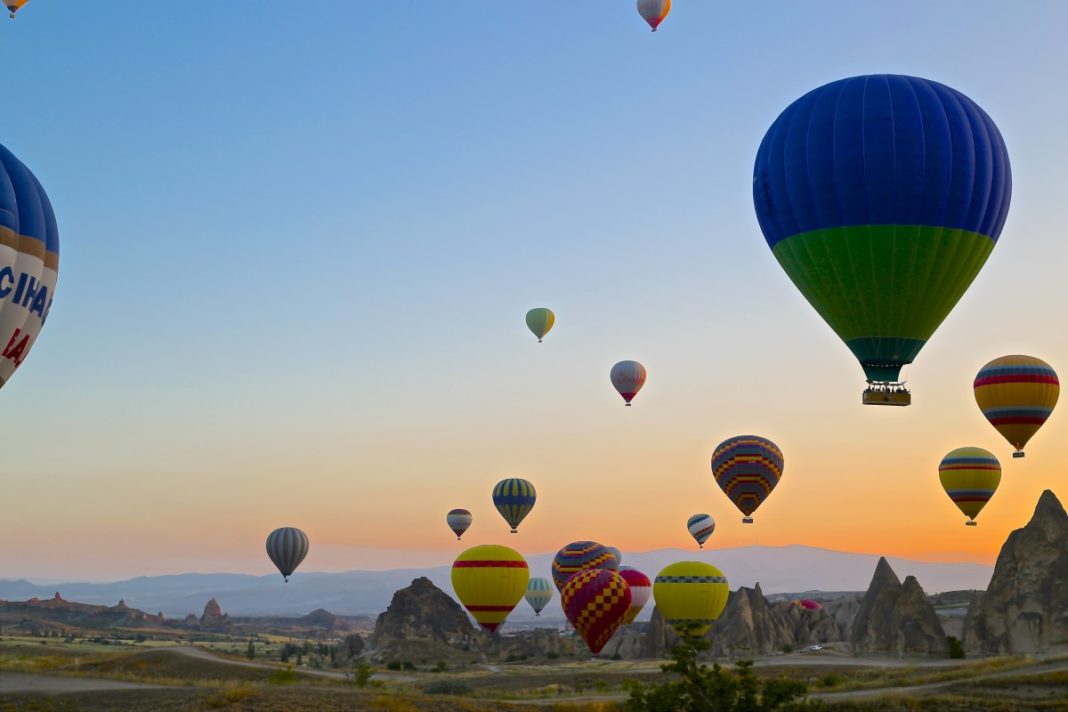 So, how long does it take to get a passport anyways? The standard time is four to six weeks. If you want to pay the minimum amount, you'd better hurry up. For first-time adult applicants, the cost is $135. For those adults who would like to renew, the cost comes in at $110.
Come and experience a luxurious retreat in the heart of Miami at the W South Beach.
Located on the energetic Collins Avenue and just steps away from the pristine white sand, the W South Beach is a stunning getaway where everything you could want awaits at the touch of a button.  Here, you will experience wherever whenever service. From your private balcony, iconic art deco design and the stunning Miami coast set the tone for an amazing stay.
Kick off your shoes in your oceanfront room or VIP suite. Have it all to yourself or bring the party with you. Either way, you'll have a great time and you'll be comfortable. Their rooms are the largest in all of South Beach. After you catch up on some snoozing, swing by the Dutch, an American restaurant inspired by Andrew Carmellini or hunt for celebrities at the world famous Mr. Chow.
Get your dose of Vitamin D and work on your tan by the sparkling pool or under a luxury cabana. Play a friendly game of tennis or basketball atop one of their rooftop courts. Swish and swing the day away or spend your time on the sand. The W South Beach has it all.
Let's Talk Accommodations
Here at the W South Beach, the options are endless and the choices all yours. There are more than 30 total accommodations to choose from. So take your time and have a look. There really is something for everyone. For smaller parties or those who prefer a more minimal stay, can choose from Studio Suites, while larger parties or those opting for a more spacious stay can choose from the larger Suites.
The range of Studio suites is incredibly dynamic. The smallest room, a Splendid Studio Suite starts off at 564 sq. ft. and can sleep up to two people. This is perfect for couples looking for a mellow, laid-back getaway. The largest room of all the suites is a sweeping 2,954 sq. ft. found in the E-Wow Ocean Escape room.
It can accommodate up to six people. So bring the family or your friends and have a blast in this gorgeous space. Wheelchair accessible rooms, disability access features, and pet-friendly rooms are available upon request.
In-Room Amenities Available to You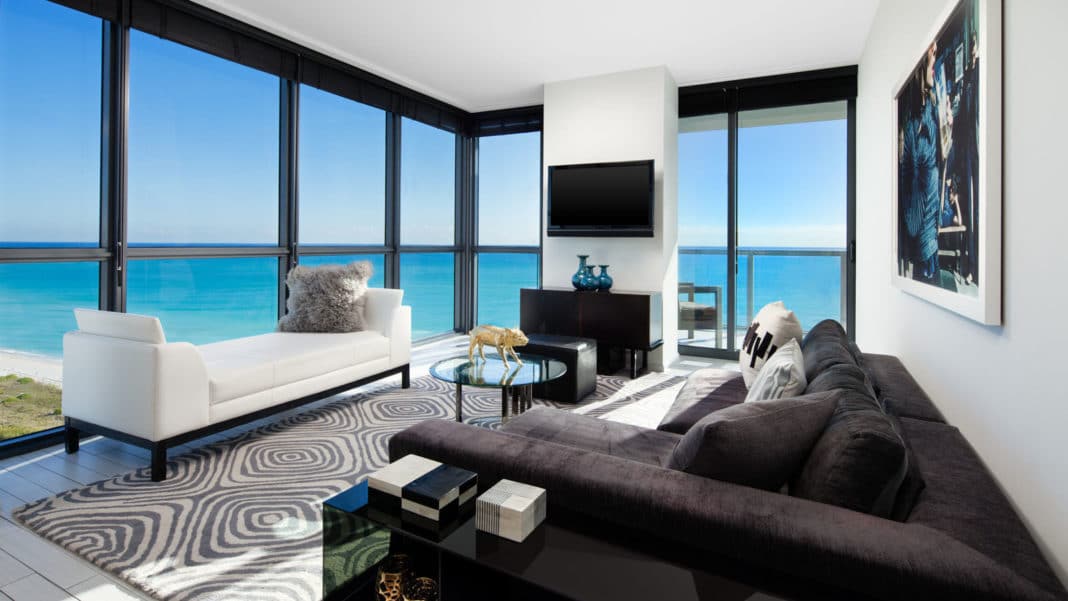 Credit: W South Beach
Connecting rooms available
Individual Climate Control
Work desk with ergonomic chair
Iron and ironing board
Two flat screen TVs  – 46″ in bedroom and 52″ in living room
Hair dryer
In-room movies on demand
CD/DVD Library Available
Cable TV Channels
Signature W Bed
350 Thread Count and 100% Egyptian Cotton Sheets
W Signature Waffle Bath Robes With Terry Lining
Spa Shower
Bliss Spa® sinkside six
Clock Radio and iPod Docking Station
Voicemail
High-Speed Internet Access (Charge)
Cordless Phone
Microwave Bar
Bottled Water
Mini Bar (Charge)
Coffee Maker
Munchie Box (Charge)
Glass Balcony with Beach and Ocean Views
9-Foot Ceilings
Porcelain Ceramic Tiles
Full-Length Mirror
Smoke Detectors
Multilingual Staff
W Personalized Wake-up Service (Upon Request)
Full Laundry Service (Charge)
Safety Deposit Boxes
Cribs (Upon Request)
Quinny stroller (Upon Request)
Daily Housekeeping
Currency Exchange
Slippers

Fire Alarm with Light
Let's Talk Dining
While there are many stylish restaurants in the heart of Miami, there's something particularly special about those at the W South Beach. Their two main restaurants, the Dutch and Mr. Chow, offer unique eats with an amazing ambiance.
The Dutch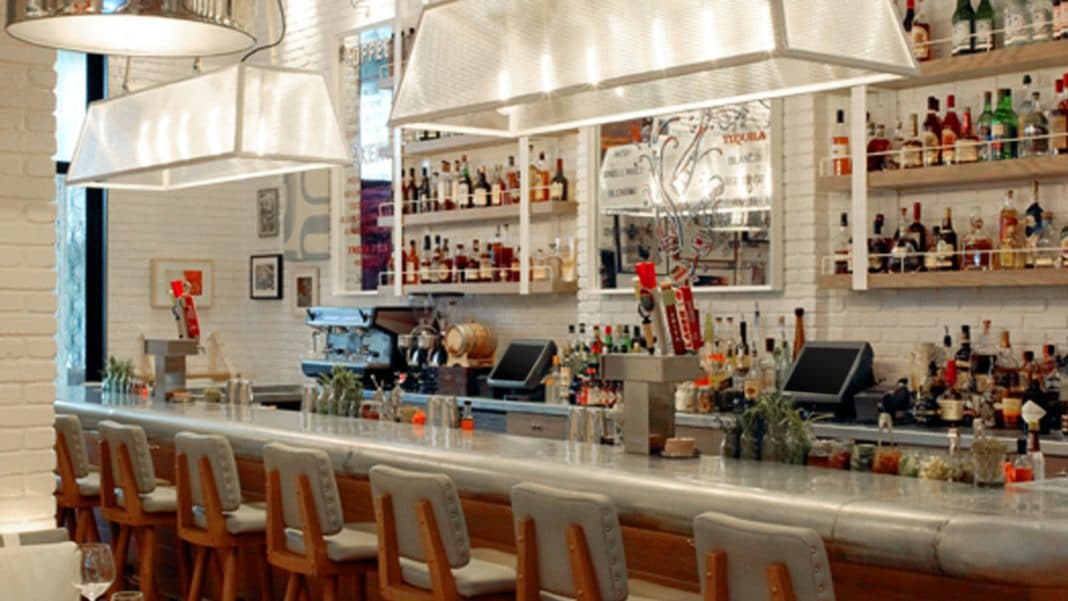 Credit: W South Beach
Indulge in classic American dishes with a Miami flair at the W South Beach. Inspired by the local beach scene of cozy cafes and seafood shacks, the Dutch is a mix of cultural influences and mouth-watering tastes that will blow you away. Treat yourself to some of Andrew Carmellini's award-winning dishes featuring seafood, fresh choice meats, and the best produce in the Miami area.
The indoor-outdoor restaurant is open for breakfast, lunch, and dinner daily. So relax and be invigorated by a light and airy space. Feel the breeze flow in from the coast and enjoy the warmth from the sunlight filling the high ceilings. The Dutch is a treat you won't forget.
Mr. Chow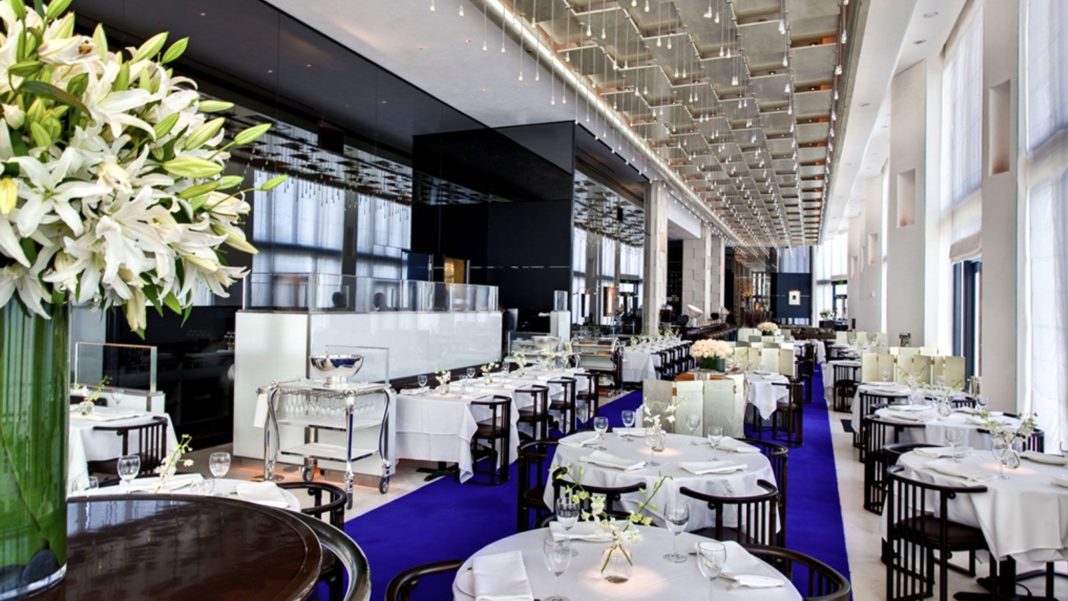 Credit: W South Beach
Delicious Asian specialties will satisfy your every craving at Mr. Chow. As palm trees sway under the influence of a salsa beat, you'll soon find yourself caught up in the rhythm of the South Beach flair. This is a well-known celebrity hot spot, so keep your eyes open. Locals and guests alike flock to enjoy a premier dining experience and the finest service that the W South Beach has to offer. To keep with the tradition of the other Mr. Chow locations nationwide, this eatery was made to be a design masterpiece.
Just look around. Signature screens and black lacquer furniture captivate your eyes as soon as you walk through the doors. Artwork from Mr. Chow's private collection adorns the walls. Everything comes together in a harmony that gives off nothing less than a sexy, sleek sophistication. Here, guests are in the spotlight under a 125-foot gold leaf and a shimmering Swarovski crystal chandelier designed by Mr. Chow himself.
Living Room Bar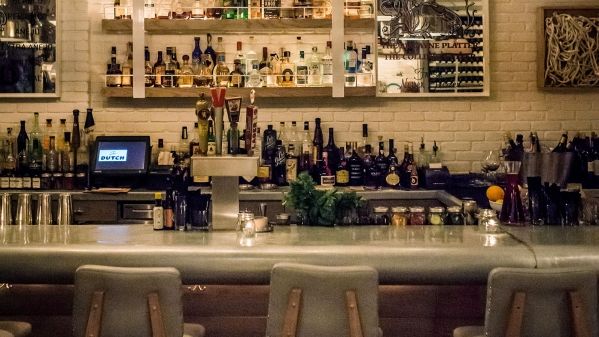 Credit: W South Beach
Are you ready for some drinks? Head on over to the Living Room Bar, also located inside the W South Beach. This is not your average lobby. See and be seen, flirt, sip and savor your drinks in a warm setting that epitomizes South Beach style.
The Grove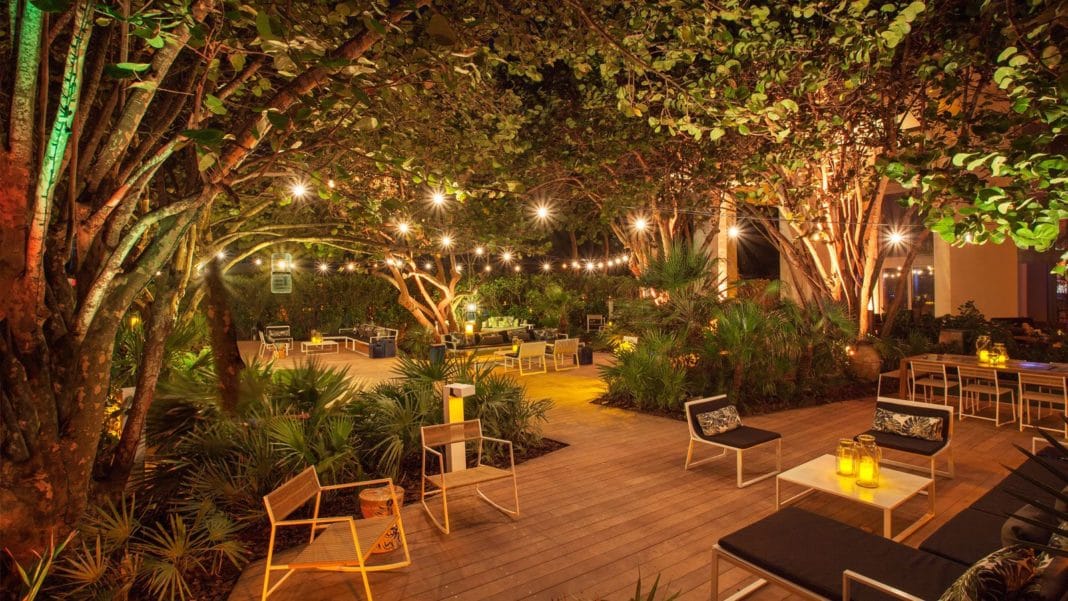 Credit: W South Beach
If you're looking to chill out, we have just the place. Have you heard about the Grove at W South Beach? Come and relax while the staff concocts a cool cocktail just for you. Lush green landscaping, plush furniture, and mellow lounge music make for an ultimate place to hang your hat. Here you can daydream, sip on delicious handcrafted beverages, and simply enjoy the South Beach sun. In the evening, come and lounge with friends under cozy lanterns and enjoy the rhythm of the night from the nearby Wall or Lounge clubs.
This charming landscape was developed by the artist Paula Hayes in collaboration with Anna Busta. Designed after the many beautiful gardens in the Provence region of France, the Grove truly transports guests to another world of winding paths, lilies, flowering grasses, and poetry suspended from sea grape trees.
Wet Bar & Grille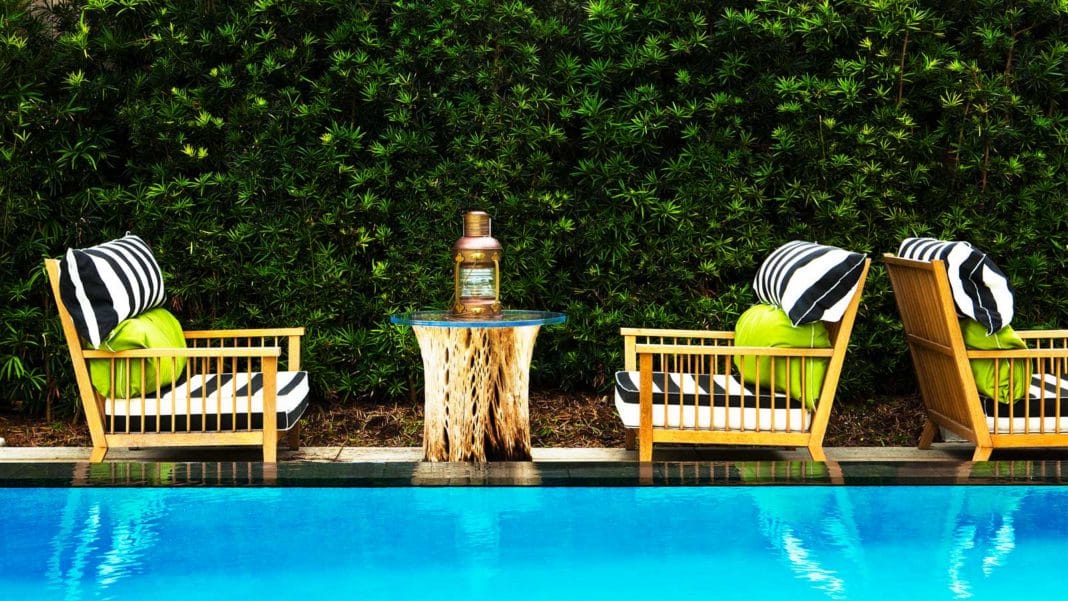 Credit: W South Beach
Ready for a splash and some delicious eats? The W South Beach has just the thing. Welcome to the Wet Bar & Grille. The swaying palms will get you in the mood for some tropical flavor and there's plenty of sunshine to be had on the side. The pool and beach offer up a luxurious bar and grill, with nothing less than first class service.
Refreshing all natural drinks, light appetizers, healthy food, spa treatments, and cabanas all await you. Soothing lounge music plays as you relax in the serene water lounge. Spend a night under the stars at the moonlight poolside. Enjoy it all.
Related Article: Museum of Ice Cream Miami: Everything You Need to Know
Let's Talk Amenities and Activities
There are plenty of perks for your Miami visit at the W South Beach. Sip a cocktail on your private oceanfront balcony. Channel your inner champion on the rooftop tennis courts. Cool down at the hotel's shimmering pool or find your spot on the sand on the white shores just steps away. Let the hotel's ambassadors bring you delicious meals and savory cocktails. Get lost in a jungle oasis at the hotel's private lush gardens and secluded bungalows. Bring your furry friend with you on your adventures. The hotel rooms are pet-friendly. See a full list of amenities and activities below.
Wet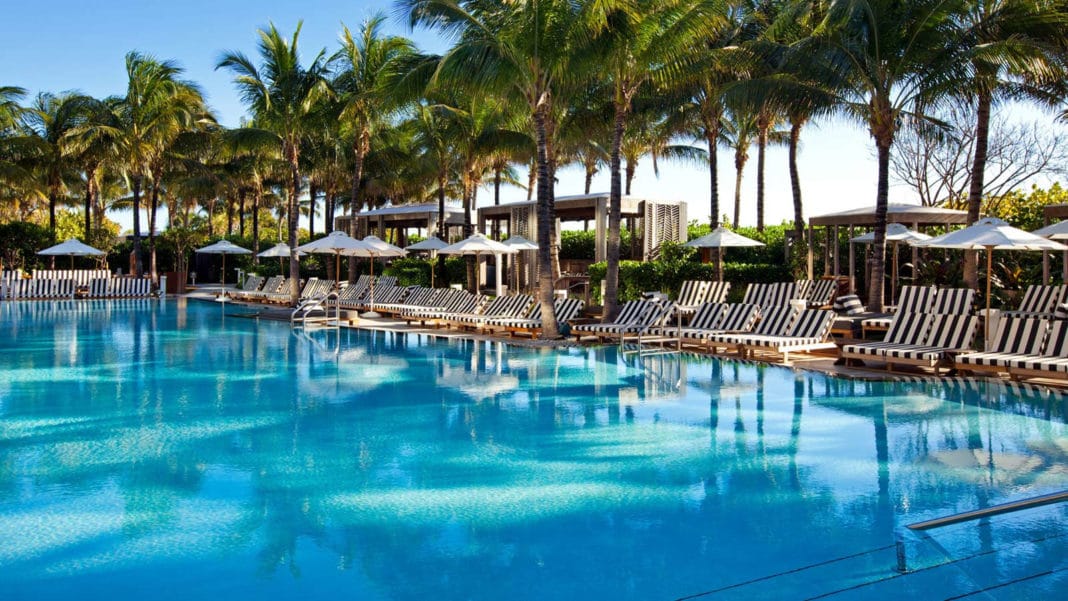 Credit: W South Beach
Take a dip – or two at the W South Beach. The two picturesque hotel pools offer the ultimate escape in a setting of luxury. There is nothing short of first class service here. Kick back and soak up the sunshine as dedicated pool attendants bring you all natural cocktails, organic cold-pressed juices, fresh food from the Wet Bar & Grille, and invigorating towelettes. If you want, you can also enjoy the tranquility of a mini Wet pool from the comfort of a private cabana. Just don't forget your SPF and sunglasses as you float away in paradise.
Whatever, Whenever Service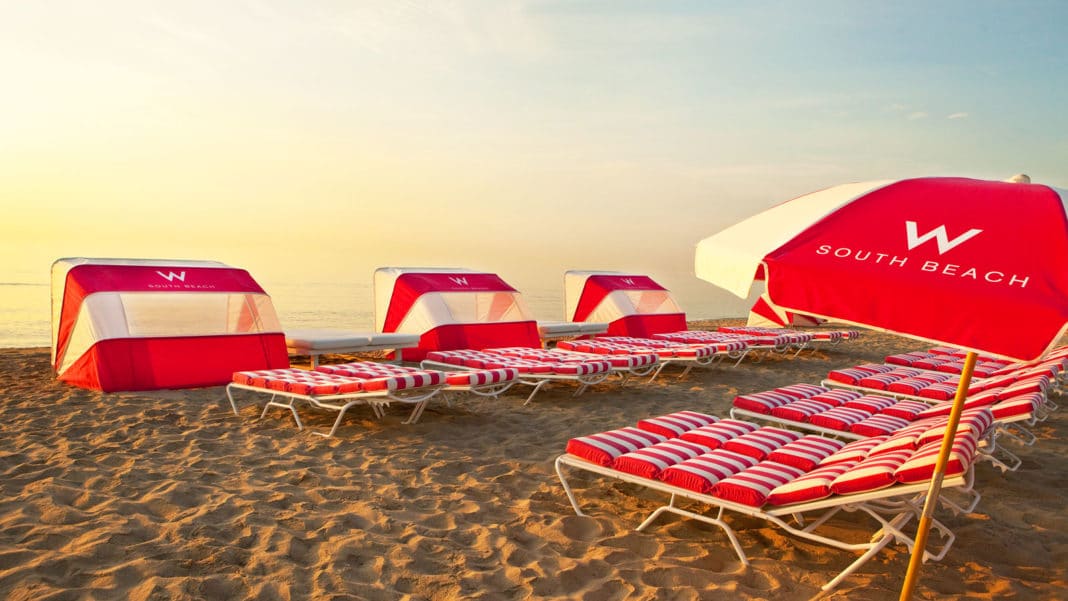 Credit: W South Beach
This truly is the motto of the W South Beach. Turn your dreams into reality with the press of a button. Just tell the staff what you want and they will deliver it. Do you have a seafood craving at 3 AM after hitting up the clubs? Do you want to take a private airboat tour of the Florida Everglades? Just push the Whatever/Whenever button your room's phone and the staff will deliver whatever you want directly to your guest room. You don't even need to wave a magic wand.
Fit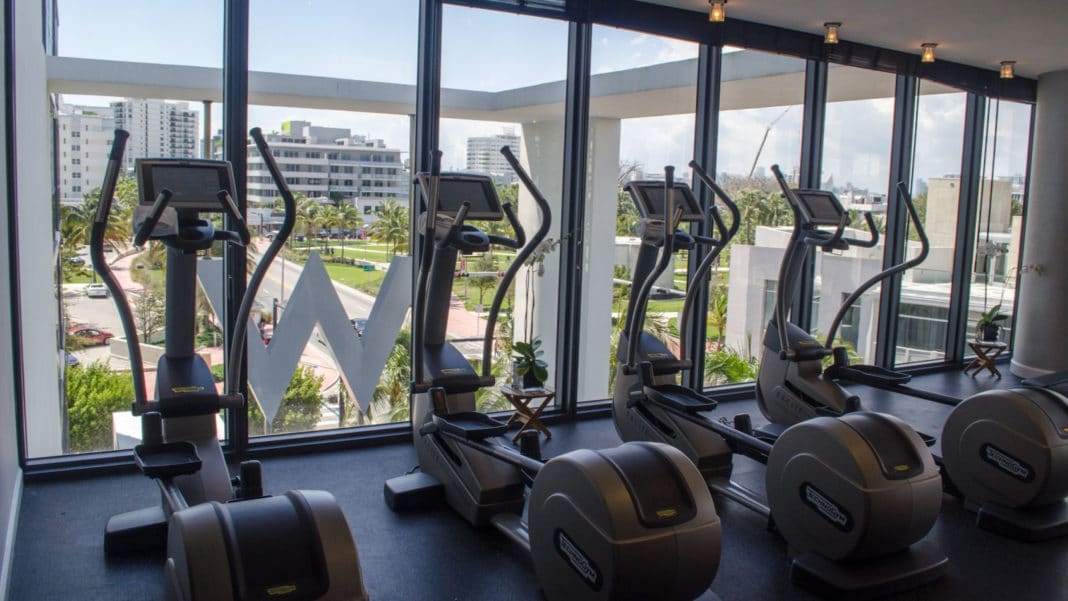 Credit: W South Beach
When you feel like taking a workout, shape up your body and awake your mind at this fabulous fitness facility. This high-tech health haven lets you jam out while you work out. A highly-trained nutritionist designed this space, accented with a posh Pilates program.
If you prefer a customized workout plan during your stay, simply push the Whatever/Whenever button on your phone and you will be matched with a personal fitness trainer. You can also join the W South Beach for beach yoga, boot camp, and genius body work. Learn more and sign up for a few classes.
Swish and Swing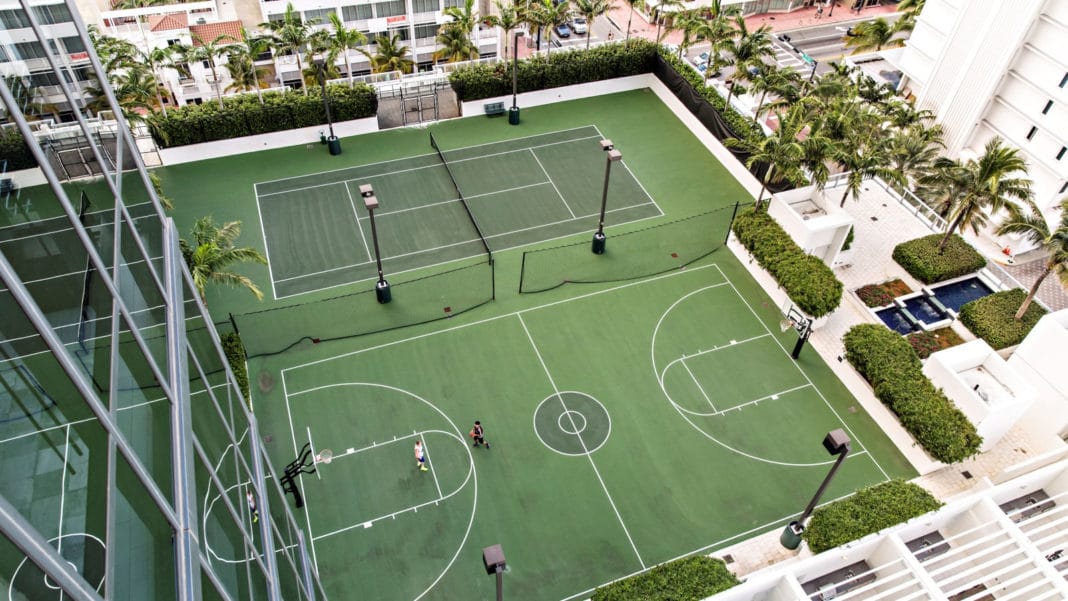 Credit: W South Beach
Challenge your friends to a game at Swish, the regulation-size rooftop basketball court. You'll find some of the best views in the city up here. If you'd rather go for a game of tennis, not to worry. Swing, their rooftop tennis court offers you the chance to get your ace on here in sunny South Beach. Do you want to work on your backhand? The hotel concierge team will set you up with a full-time instructional tennis pro.
Bike Program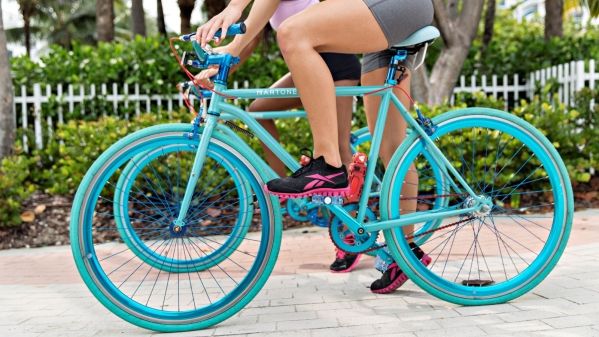 Credit: W South Beach
The W South Beach invites you to explore Miami like never before. Check out one of their many bicycles and take it for a spin. Roam the city's world-class dining, chic shopping scene, and quirky Art Deco District.
Bicycle loan program is for guests staying at W South Beach only.

Bicycles are available from 8:00 AM – Sunset.

Reservations are not accepted – first come, first served basis.
Guest must fill out bicycle issue form at the Concierge desk before bicycle is loaned.

Guests wishing to keep bicycle are subject to a replacement fee upon check-out.
Sand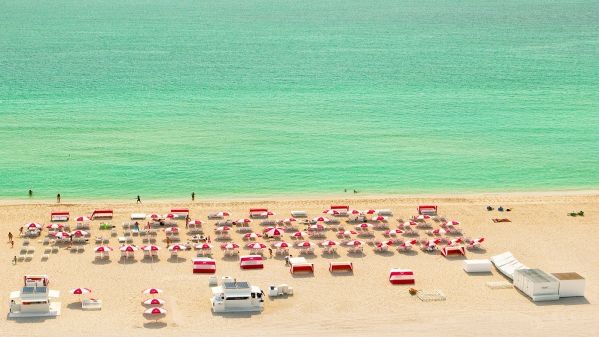 Credit: W South Beach
Looking for a little more than just lounging in the sand? The W South Beach has you covered. For your comfort and enjoyment, you can choose from a variety of equipment to rent. Those looking for some added luxury can rent umbrella, chairs, and beach tents. There is even a beach food truck available if you forgot to bring the cooler and some snacks. If you are looking for a little more adventure, go kite surfing or race each other on jet skis.
Jennifer Miller X W The Store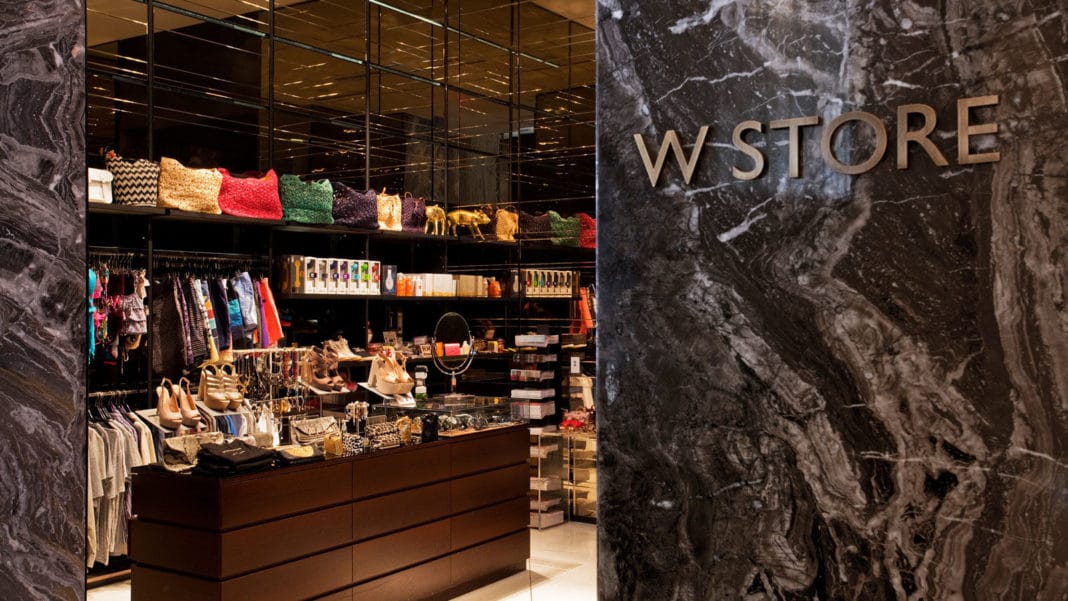 Credit: W South Beach
Did you forget your suit? Not a problem. Get your shopping in at the Jennifer Miller store at the W South Beach. Browse through a curated selection of swim, apparel, and accessories for men and women. From fine bathing suits to fine jewelry and faux furs, this is your one-stop shop for all things trendy.
Paw Program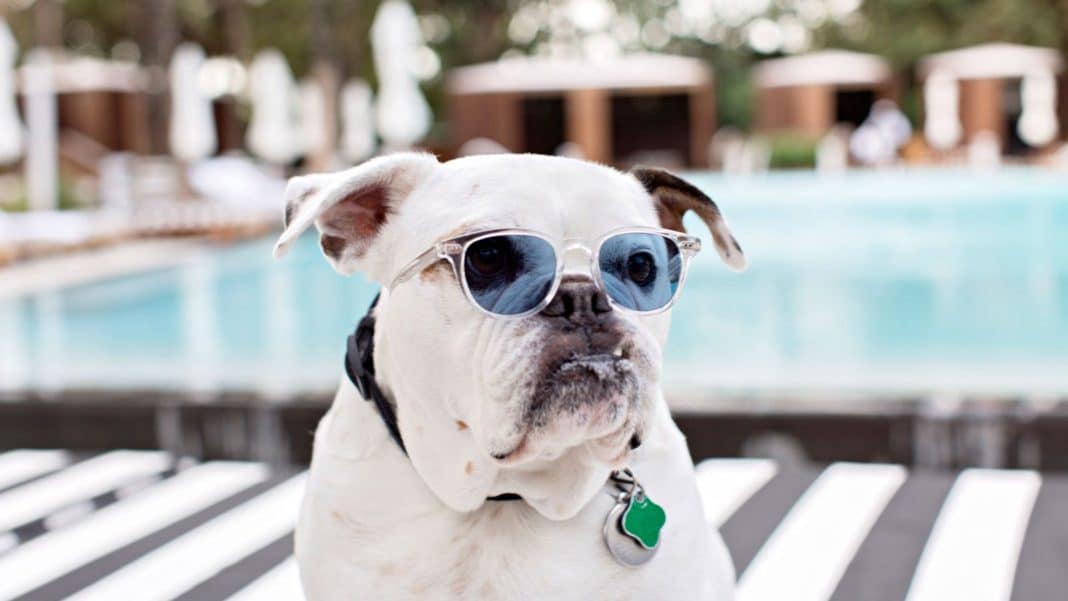 Credit: W South Beach
Even the pets are pampered here at the W South Beach. So don't leave Joey behind on your visit. The Pets Are Welcome (PAW) program is customized to treat your furry friends to the same level of luxury as their owners. Upon checking in at the hotel, you will be given the following pet-friendly amenities:
A pet toy, pet treat, W Hotels pet tag, clean-up bags and details about our Whatever/Whenever® pet services

An exclusive W Hotels pet bed, food and water bowl with floor mat, and a 'pet in room' door sign. A special treat at turndown will ensure your furry companion is in the lap of luxury.
Bliss Spa Miami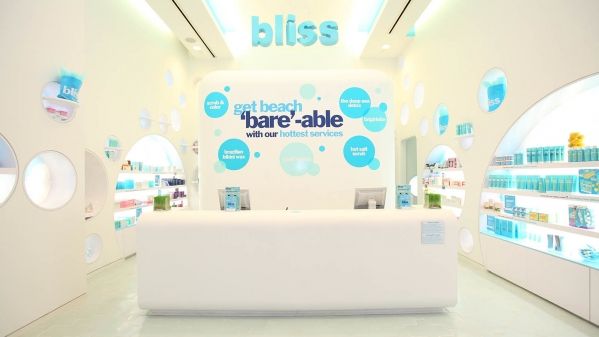 Credit: W South Beach
At the Bliss Spa Miami, you'll enjoy a fun, relaxing, no-attitude atmosphere. Bliss is here to help you get your relaxation on here in the heart of South Beach. The hotel spa showcases signature touches like soulful rhythm and blues music, a brownie buffet (for when you're craving sweets), a retail boutique featuring the best beauty products, and some of the best staff on the planet.
Needless to say, it's time to get ready for some serious pampering. Achieve a higher state of happy in over 7,000 square feet of soothing spa facilities. The spa's focus is on waxing, skincare services, manis, and pedis, but also provide a full menu of massage and body treatments. The spa offers seven types of treatment rooms and signature touches. Come see why jet-setters and locals love to call this spa home.
W South Beach guests and residents can also receive "BIP" (Bliss Important Person) status for priority reservations and product sampling. Want to know more? There are also signature spa treatments to enjoy.
Signature Spa Treatments
Enjoy pure bliss with signature spa treatments at the W South Beach. Visit Bliss Spa Miami on the second floor of the hotel and choose from one of these signature treatments:
Triple oxygen facial – their most popular all-around complexion reviver

Blissage™75 – a tension-taming massage that targets your most 'troubled' muscles

The hot milk & almond pedicure ™ – takes feet to the pinnacle of 'pedicuring'

Brazilian bikini wax – quite frankly, the most painless on the planet
Oren Salon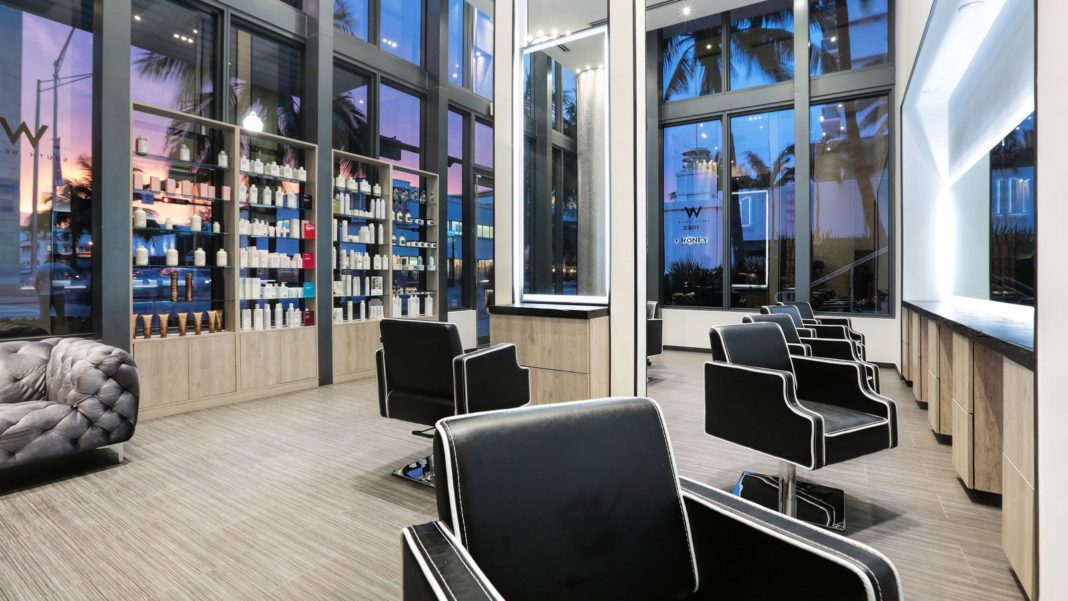 Credit: W South Beach
The well-known Oren Salon has opened a new location at the W South Beach, offering residents and guests a unique experience. Guided by stylist and owner, Oren Lankri, the salon offers a European perspective connecting high fashion and classic hairstyle trends.
What Travelers Are Saying About the W South Beach Hotel
With four out of five stars, the W South Beach hotel speaks for itself. Room comfort, facilities, staff responsiveness, quality of sleep and food and beverages all exceed guest expectations. Travelers, in particular, loved the local scene, beaches, pools, music, and nightlife. From the lobby's front desk staff to expert aestheticians at the hotel spa, every employee offers excellent service.
The food at the hotel is amazing, offering an exciting and diverse cuisine. Feel free to check out additional reviews on their website. Plenty of guests are frequent visitors and laud the hotel for an experience that just keeps bringing them back. Year after year with their whatever whenever service, the W South Beach Miami succeeds in making all of their guests feel like VIPs.
Book Your Stay at the W South Beach Miami Hotel
Miami is an exciting vibrant city with much to offer its visitors. There's a reason why it is one of the top destinations in the world for tourists. If you are looking to visit the Magic City, you won't find a better place to stay than the W South Beach. Enjoy white sand beaches, delicious local food, dance away under the stars amidst the music and nightlife, and make the vacation of a lifetime. Book your stay at the W South Beach hotel today.
Related Article: The 10 Best Hotels In Miami