The Eddie Bauer Women's Sun Valley Down Parka is here to revitalize your winter wardrobe.
It can be extremely tiring trying to find the best women's winter jackets and insulated jackets for your travels. This is due to the wide selection of materials, colors, warmth ratings, and features. Did you know though, that not every down parka is created equally?
One such winter coat that stands out from the crowd is the Eddie Bauer's Sun Valley Down Parka. With its unique style, high level of warmth, utilitarian function, and a great manufacturer, this winter coat is sure to impress even the most discerning traveler. Women worldwide will love trekking in the Sun Valley Down Parka. Read our review to find out why.
A Little About Eddie Bauer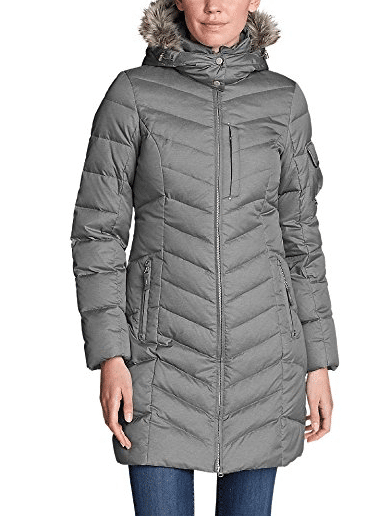 Credit: Amazon
In case you were wondering — yes, Eddie Bauer actually existed. Born in Washington in 1899, Bauer amassed a reputation as a top fisherman. What better choice of career than for Eddie to turn his love of the outdoors into a business. This business came to be known as Eddie Bauer's Sport Shop in Seattle, Washington. In the years since, the Eddie Bauer brand has developed a positive reputation that precedes itself. Part of this is due to the basic tenet to which the company strives — to build products that will withstand the rigors of adventure. Over time, this has come to manifest itself in the form of clothing, accessories, and gear for hikers, climbers, and other outdoor enthusiasts.
The founder, Eddie was an outdoor guide. He dedicated his life to making gear that got people outside. A century later, we continue working with guides and building gear equal to any destination. Because like Eddie, we believe that life is better outdoors, where it's wild, beautiful, and meant to be shared. And when we put our name on a product, what we're really saying is, go live your adventure.
With over 370 stores between the United States and Canada, its pretty clear that trekkers stand by this brand. Through its commitment to innovation, quality, appreciation of the outdoors, and customer service, Eddie Bauer has managed to become a household name. It isn't just quality equipment that sets the company apart though.
One reason we feel comfortable recommending Eddie Bauer's Sun Valley Down Parka is for all of the good the company does for people and the environment. For instance, the brand will plant a tree in North America on your behalf anytime you 'add a dollar' through their Global ReLeaf Tree Project. Similarly, purchases made from the Heroes Collection garner the brand's Heroes Project for veterans 10% of your purchase. Last but not least, Eddie Bauer's partnership with American Forests helps to protect and restore ecosystems, study climate change, preserve wildlife, and promote sustainable recreation.
Eddie Bauer's resume-worthy consciousness and dedication to multiple causes only enhances the effective Sun Valley Down Parka sold by the brand. Now that you know why we love Eddie Bauer, read on to find why we love this parka!
Eddie Bauer Women's Sun Valley Down Parka Features & Benefits
Does your old parka leave much to be desired? If so, read our review of Eddie Bauer's Sun Valley Down Parka. Our favorite features are listed below to assist you in determining whether this coat is the one for you!
Besides warmth, the parka provides extra weather protection with exclusive StormRepel durable water-repellent (DWR) finish. Water beads on the nylon/polyester/cotton shell rather than soaking into the fabric. 650 fill Premium Down for exceptional warmth without weight. Metallic cross dyeing process gives the fabric a subtle, iridescent sheen. Two-way front zipper adjusts easily when you're active or sitting.
53% nylon/32% polyester/15% cotton shell
Responsible Down Standard (RDS)-certified down insulation. Certified by Control Union.
Soft, short-pile fleece lining in back for colors Black, Navy, Carbon, Dk Loden, Driftwood, Plum
High-pile Sherpa fleece lining in back for colors Onyx, Atlantic, Raven, Capers, Snow, Dk Garnet, Lt Gray
Two-way front zipper
Snap-off hood with detachable faux fur ruff
Fleece-lined zip pockets keep hands warm
Adjustable cuffs with interior storm cuffs seal in heat
Machine wash
Imported
Classic: Our most universal fit. Not too slim, not too relaxed on body. Designed to fit over midweight layers.
1. Warmth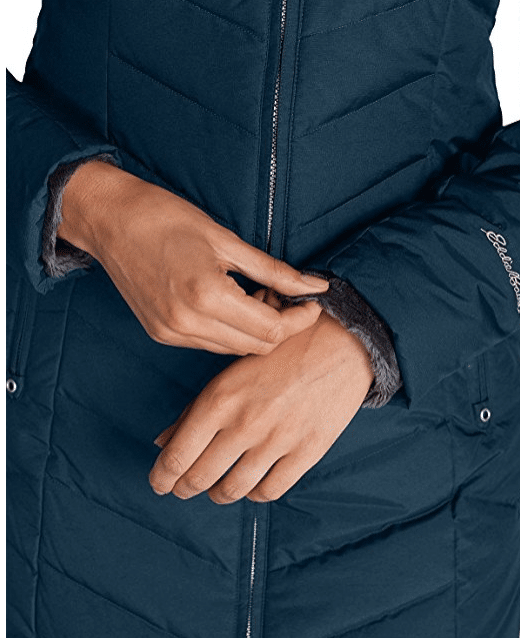 Credit: Amazon
To stay warm during the winter, you need a durable outer layer. First and foremost, we know that for any parka to be a winner, it must be warm. Eddie Bauer takes this to a whole new level with the Women's Sun Valley Down Parka's synthetic insulation. The following features make a valiant team effort to keep you as warm as possible as you wander during cold weather and winter.
Down filled
Down is the best filler around! Especially because the Sun Valley Down Parka is stuffed with 65–fill Premium Down. This adds all of the warmth without all of the weight that traditional insulations burden travelers with. With Down in your parka, hypothermia is never an issue! Best of all, all of the Down used by Eddie Bauer complies with the Responsible Down Standard (read on for more info).
Material mixture
Some winter coats utilize only one material. That's fine and dandy, but Eddie Bauer blows those coats out of the water. This is accomplished with a mixed material product. The shell of this parka is comprised of 53% nylon, 32% polyester, and 15% suede. Therefore, the combination works together to shield you from winds and water.
Fleece
Depending on which color of the Sun Valley Down Parka your purchase, you will be met with a fleece lining. Some colors feature a soft, short-pile fleece lining, whereas other colors include a Sherpa fleece lining. Regardless of which color you choose, the Sun Valley Down Parka conjures warm thoughts. With fleece against your person, you won't shiver as you travel ever again.
Heat sealing cuffs
Perhaps no wind is more biting and arresting than the gust that blows up your sleeve. To prevent you from being caught off guard, Eddie Bauer designed the Sun Valley Down Parka with adjustable cuffs AND interior storm cuffs to seal in your body heat. That surprising wind will no longer inflate your sleeve due to the Fort Knox-like barrier the cuffs create. Winter travel fear is a thing of the past!
2. Style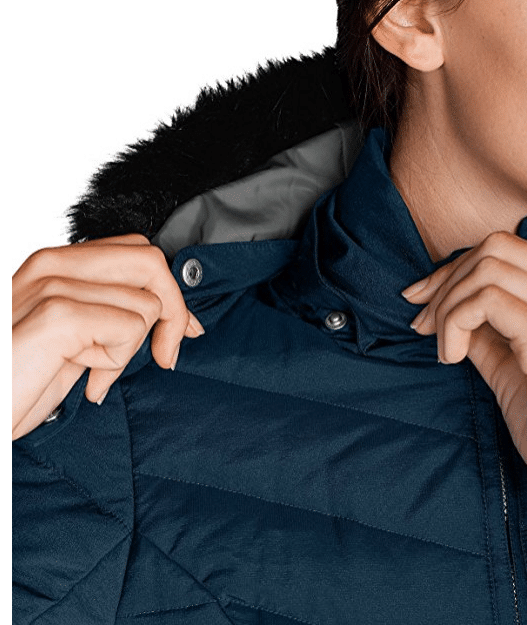 Credit: Amazon
Eddie Bauer's Sun Valley Down Parka is not your grandma's winter coat. Long gone are the days of heavily padded, shapeless parkas that fail to shoutout the fashion game. Eddie Bauer is revolutionizing outdoor wear with its sense of style.
Subtle, yet eye-catching
All too often, parkas are burly and bulky, leaving little room for showing off your style. The Sun Valley Down Parka combats this in an interesting manner. To enumerate, the jacket is born of a metallic, cross dyeing process. The result is a subtle, yet eye-catching iridescent sheen that presents itself on the many colors offered by Eddie Bauer. While traveling, this chic glimmer will set you apart in the crowd as a fashion icon without compromising your body heat.
To hood, or to not hood? That is the question…
While you are in your winter travel destination, you may have to alter your wardrobe to fit the occasion or location. For instance, if you have a fancy dinner reservation at the most-coveted table in the land, perhaps you might want to polish up your look. Eddie Bauer's Sun Valley Down Parka makes this possible with its snap-off hood. Furthermore, the hood's faux fur trim is also detachable. Thereby, if a less cumbersome, more chic look is needed, the faux fur is easily removed to meet this need. Similarly, if you have a day of sight-seeing planned and know that the weather holds Arctic blasts for you, the hood is essential. No matter your needs or destination, having the freedom to choose makes this parka extremely appealing!
Fashion for all
Modern women aren't 'one size fits all'. Lucky for us, neither is Eddie Bauer's Sun Valley Down Parka. Instead of limiting its offering to a canned, cookie-cutter sample size, this parka comes in all shapes and sizes. Women trekkers love that they are able to choose from a regular, petite, tall, and plus sizes. Never again will you feel dismayed while trying on winter clothing. The Sun Valley Down Parka accommodates both you, and your many layers. Eddie Bauer shows it is ahead of the curve by dressing women of all shapes and sizes.
3. Function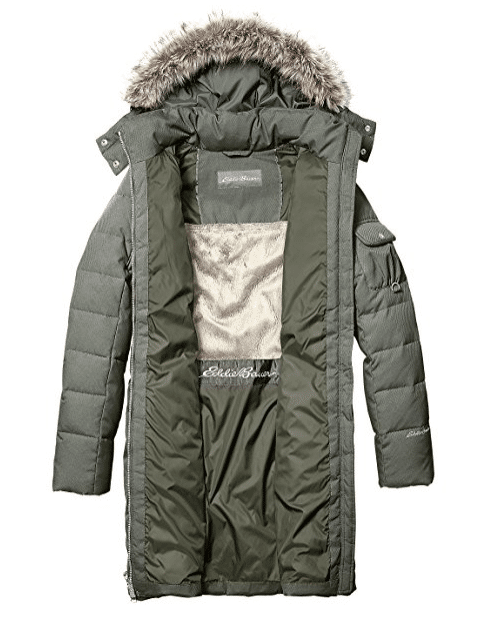 Credit: Amazon
Your coat can look as good as it wants. However, when traveling, looks aren't the only consideration to make. Trekkers recognize the need for a winter coat that goes beyond the surface. Eddie Bauer's Sun Valley Down Parka does just that with these awesome benefits:
Water be gone! Enter the Water Resistant Jacket
The reason you wouldn't go to a waterpark in the winter is the same reason you don't want a jacket that lets moisture through. Cold wind and wet weather conditions pack a deadly punch to unprepared travelers. To eliminate fears of hypothermia, Eddie Bauer designed the Sun Valley Down Parka with their StormRepel durable water-repellent finish. In a testament to the finish's effectiveness, water beads on the parka's shell rather than soaking into the material. This feature enhances the coat's utility as it allows it to be all-weather and extremely warm and dry.
Easy zippers
Imagine this — you're overseas, taking in the sights of your wintry travel destination. After finishing a cup of tea at a local café, it's time to brave the cold again. Just before you exit the café, you go to zip your parka. Consider the dismay you feel when the zippers snag the fabric and you have to spend 10 minutes attempting to free them. Sounds frustrating and annoying, right? Eddie Bauer's Sun Valley Down Parka promises not to grind your gears (or your zippers) with its 2-way zippers on the front. Moreover, the easy gliding zippers promise easy adjustment, regardless of whether you are sitting or standing. With efficient function and design, this parka ensures you spend more time traveling and less time handling wardrobe malfunctions.
Dual function pockets
We all know that pockets are the perfect vestibule for your chapstick, phone, ID, money, and passport. It's probably also not a surprise that pockets make a great resting place for your hands. Since you spend so much time in your pockets, wouldn't it be great if they served you better?! Eddie Bauer thinks so. To enumerate, the Sun Valley Down Parka comes complete with fleece-lined pockets to keep you toasty as you shuffle between your pocket belongings. Now, you can keep your possessions within close grip, while you also keep your digits warm.
Toss it to launder
Toss it in the washing machine that is! For those of us on the go, worrying about the need to dry clean a parka is the last thing we want to do. As a solution, Eddie Bauer's Sun Valley Down Parka is machine washable, an aspect that saves you time, money, and effort. If your parka ever gets dirty while abroad, you can immediately clean it. Finally, a winter coat that is functional and low-maintenance.
4. Quality and Responsibility

Credit: Eddie Bauer
In our socially conscious era, now more than ever, travelers back companies that live the values they set forth. Eddie Bauer is a brand that trekkers feel comfortable trusting with their wallet and their outdoor gear for this very reason. In addition to the many projects that the company supports, it also provides travelers with the following comforts for total peace of mind:
Guaranteed for life
It's unlikely you will have any issues with the Eddie Bauer Sun Valley Down Parka. Even still, if a problem ever arises, the company is committed to making things right. This means that all products are guaranteed for life with a lifetime warranty. Thus, trekkers may return an item for an exchange or refund if they are unhappy for any reason. Not only does this ensure you find an item that is exactly right for you, it also means that you can trust Eddie Bauer to have your best interests at heart.
Animal friendly
When it comes to an investment as important as your next parka, quality matters. However, this also extends to the company from which you choose to purchase. Trekkers feel good knowing that the parka on their back adheres to the Responsible Down Standard (RDS). This independent standard ensures the humane treatment of the waterfall from which down and feathers come to make Eddie Bauer's products. The animals are never live plucked or force fed. Additionally, this allows for the auditing of each stage in the supply chain to enforce compliance to the standard.
Furthermore, although the Sun Valley Down Parka does not utilize wool, travelers rest assured knowing that the products that do conform to the Responsible Wool Standard (RWS). Thereby, Eddie Bauer proves to customers that its commitment to customer extends to our care for the humane treatment of animals.
Pros and Cons of the Eddie Bauer Sun Valley Down Parka
Pros:
Wind-proof

Warm (it was 9 degrees and windy here in WI yesterday, and I was comfortable, if not toasty, running errands).

Sleeves are long enough

check

Hood is generous, and stays up. Haven't had problems with the snaps yet

4
check

Haven't had problems with feathers poking through 

check

Sleeve cuff and pockets are very soft
Cons:
Pockets could be deeper

Another thing we noticed is that this coat is warm except when leaning up against anything outside/in a cold car. Unlike other down coats, which provide an insulated 'cushion' (can lie on a snow-covered ground and not feel the cold seep through), the lack of bulk on this coat (a plus!) doesn't provide that same cushion.

That's all
How to Pick the Perfect Parka
Wet snow is falling, the wind is howling and stinging your face. You never anticipated that Europe in the winter could possibly be this cold. Your mid-weight layer and thin puffer jacket are not going to cut it. A good general rule of thumb is to buy an insulated, water repellent coat long enough to cover your butt. But that's not all. A lot goes into picking the perfect parka.
It's time to go shopping. Some multi-layered jackets and coats are designed to keep out the snow, wind, and cold. You can find parkas for every type of weather and prices that vary too. Eddie Bauer is one of the top brands on the market.
Read on to find out our tricks of the trade.
Weather Conditions
When choosing a type of parka, consider the types of weather you may be in. If you're going somewhere cold and wet like Europe in the winter, the Eddie Bauer Sun Valley Down Parka is perfect for you. Factor in water resistance, insulation, and a hood when choosing for different weather conditions.
Parka Insulation Types
When shopping for a parka, you'll find that there are several types of insulation. They can be broken down into four categories:
Wool and Fleece
These materials can retain a modest amount of heat even when wet. They're also breathable which is important because you don't want to get too hot either.
Thinsulate
This is used in jackets where bulkiness is deemed undesirable. Even the weave of this synthetic fiber insulation is tight, allowing it to retain more heat while permitting water (aka perspiration) to escape. Just a heads up though… It's not as warm as down or a synthetic fill.
Synthetic Fill
For very warm jackets, it's necessary to sew in extra pockets of insulating materials. This is what gives parkas their big bulky look. These materials emulate the properties of goose down with the additional perk of not soaking up water.
Goose Down
This is the gold standard for down. It's light yet dense enough to provide warmth by locking in body heat. The downsides to using goose down is it is expensive and the down loses a lot of its insulation properties if it gets wet.
How these materials are sewn into a jacket result decided how well the jacket performs. A cold spot in the parka is made when inner and outer shells connect via stitching. Two-walled construction can prevent this. The inner and outer parts are separated by baffles filled with either goose down or synthetic fill.
In A Nutshell Parka Checklist
Hood: Is it detachable? Does it have drawstrings? Can you pull it all the way over your head?
Collar: Is it insulated? Will it fasten properly?
Zipper: Are the zippers two-way? Do they get caught easily? Are they durable?

​

​

checkStorm Flap: Does the jacket have a storm flap to cover your zipper? Does it snap shut?
checkCoat Body: Is the coat insulated with the right material for the climate? Is the shell of the coat waterproof? Does the fabric breathe? Does it have taped seams? Are there baffles or sewn-through construction? Is there a drawstring to cinch the hood and the waist?
checkPockets: Does the coat have hand warmer pockets? Does it have inside pockets for your wallet, electronics, and other items?
checkSleeves: Are the sleeves insulated? Can they be tightened at the wrists to keep out the cold?
What Travelers Are Saying About the Eddie Bauer Sun Valley Down Parka
Our fellow lady-trekkers love the Eddie Bauer Sun Valley Down Parka. Between the heat retention, the chic appearance, and the added bonuses, this coat scored high and checked all of the boxes for what women want out of their parkas. We've compiled the most common kudos and complaints to paint the complete picture for you.
Pros
plus Warm, yet breathable​
plus Stylish with a great fit​
plusDurable
Cons
close Small pockets
Hood detaches too easily
Despite some minor functionality issues, Eddie Bauer's product stands up to cold winds and wet weather. We absolutely love that this jacket accommodates women of all shapes and sizes without sacrificing the quality and craftsmanship needed from a warm winter wardrobe investment.
Alternative Women's Parkas
We happen to think that the Eddie Bauer Women's Sun Valley Down Parka is one of the best on the market. However, if you disagree, here are three trekbible-approved alternatives. See if one of these meets your needs: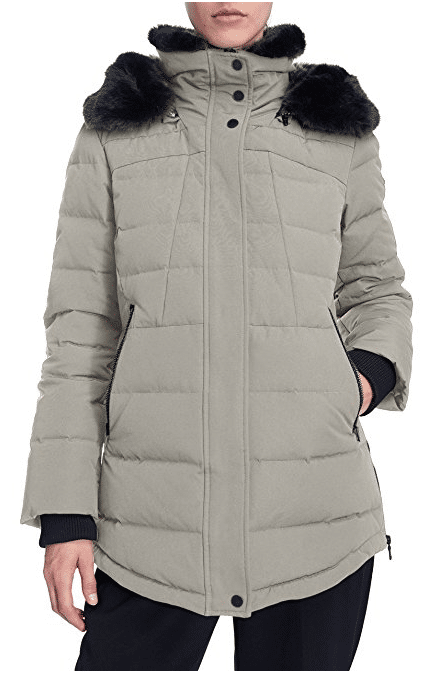 Alpine North makes a great alternative to the Sun Valley Down Parka in its own Women's Down Short Parka. This is due to the 70% duck down insulation fill. The RDS-certified down gives this parka a top temperature rating of 'warmest.' With a removable hood of vegan fur and a vegan fur-line collar, this jacket appeals to animal lovers all around. The durable water-repellant finish, rib knit cuffs with thumbholes, inside lining pockets for your cellphone, and reflective trim piping for nighttime visibility, make the Alpine North parka functional and adaptable to your needs.
Escalier's Waterproof Hooded Parka is for fashionistas who want some warmth in their life. Escalier accomplishes this major feat with a superior jacket that's also stylish. The 100% memory silk shell combines with a 100% polyester lining and fill of 90% duck down and 10% duck feathers to prevent your teeth from chattering. The super long jacket features a fur trim hood and stand collar to protect your neck and head from icy conditions. As good as this jacket looks, its no surprise that Escalier also included some fashion-savvy additions. To enumerate, the fabric is anti-wrinkle, anti-static, and waterproof. This, coupled with extra large pockets make Escalier's Waterproof Hooded Parka a great alternative to Eddie Bauer's parka.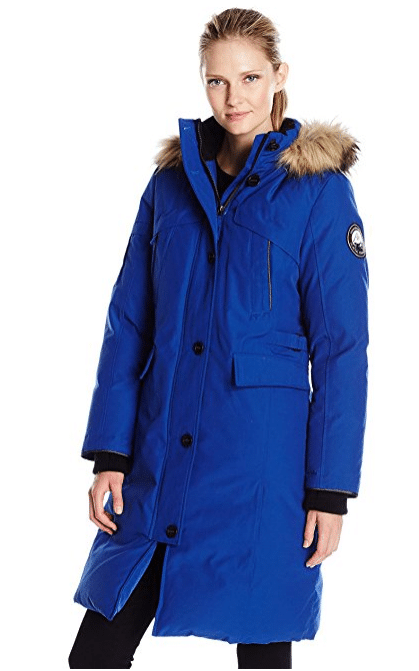 For those hoping to stand out while they stay warm, the Alpinetek Women's Long Down Parka is the perfect alternative to Eddie Bauer's Sun Valley Down Parka. Comprised of 82% polyester and 18% cotton, the machine washable coat promises only the warmest for your next trek. The detachable faux fur trimmed hood and water-repellent finish further enhance the coat's heat retention abilities. With its fleece-lined neck, knit storm cuffs with thumb hole, and 3M reflective details, you won't want anything else on your back. This parka guarantees a toasty trip that will make you the envy of your fellow trekkers.
The Eddie Bauer Women's Sun Valley Down Parka gives new life to winter travel.
Stop settling for a parka that doesn't keep you warm and chic while also offering responsibly sourced products with a lifetime guarantee. With Eddie Bauer, you truly can have all of the above. The Sun Valley Down Parka is simply one stellar example of the brand's dedication to providing the best outdoor gear. With excellent heat retention, appealing style, useful amenities, and a continued commitment to nature, Eddie Bauer's Women's Sun Valley Down Parka is a breath of fresh air. Winter weather will no longer hold up your travels with this on your back!
Do you own the Eddie Bauer Women's Sun Valley Down Parka? If so, leave us a comment letting us know your favorite feature! If you're looking to buy a good mid-weight inner jacket, check out the Mountain Hardwear StretchDown Jacket. The Mountain Hardwear Ghost Whisperer is a good puffer jacket.
Related Article: ​​Best Winter Coats for Women (Plus How to Choose Yours)​​​