RIMOWA Luggage Review
Finding the right piece of luggage can be a tricky thing. You know how it goes—you're forced to choose between the stylish and the durable, having to sacrifice one for the other. (And that's a painful thing to do for the fashion-cautious traveler.) That's where RIMOWA comes in and saves the day. This innovative luggage brand makes it possible for you to have your cake and eat it, too. So, if you're on the prowl for some trendy luggage that doesn't skimp out on durability, stay tuned for our in-depth RIMOWA luggage review.
Why RIMOWA?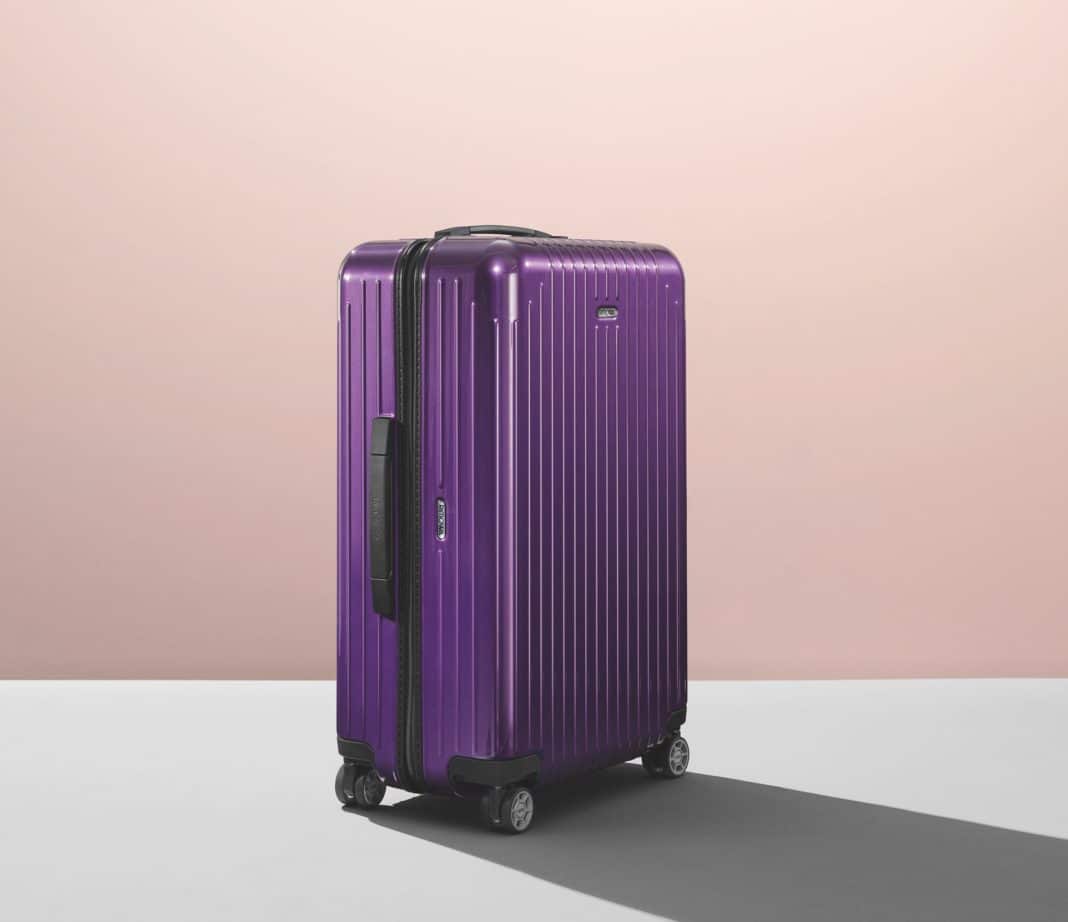 Credit: RIMOWA
A German luggage company that's been around since 1898, RIMOWA is a pioneer in the industry in various ways. The brand invented the grooved aluminum suitcase, as noted in their tagline which says "the original luggage with the grooves." This is one of the brand's signature design elements, adding to the unique look of its cases. But this isn't major luggage trend that RIMOWA has led.
Both the aluminum and polycarbonate suitcase originate with them. These strong materials make for durable yet incredibly lightweight luggage that can handle various climates and the travel addict's many adventures. But they don't take their priority on strong suitcases as license to sacrifice aesthetic design. You'll find that every piece from RIMOWA is just as elegant as it is enduring.
To add to their innovative brilliance, they've invented the RIMOWA Electric Tag, a fully-integrated digital suitcase. With one of these bad boys, you can literally check in your bag from anywhere in stead of waiting in line for your paper label. That means less time getting to your terminal and less pressure not to miss it!
So whether your focused on fashionable luggage, lightweight luggage, durable luggage, or all three, we can pretty much guarantee RIMOWA has it.
RIMOWA Features & Benefits
Aluminum Suitcases
TOPAS, TOPAS STEALTH, & TOPAS TITANIUM
Each TOPAS collection boasts the essential features you could want or need, plus some extras, because they're just that good. All three come with a TSA lock keep your belongings extra secure and RIMOWA's Multiwheel® system, making steering a breeze. They also feature a handy Flex-Divider system that keeps your things from flying around inside your bag during travel.
The biggest difference between the three is appearance. Go for the slick silver look with the TOPAS, the smooth black of the TOPAS STEALTH, or the opulent gold of the TOPAS TITANIUM. But there are a few more significant distinctions between each collection.
TOPAS STEALTH doesn't come with the Flex-Divider system, but some of its models come with fancy extras within. For example, some TOPAS STEALTH Multiwheel® models feature two complementary shoe bags, a laundry bag, and a garment bag inside. The TOPAS TITANIUM has everything that both the TOPAS and the TOPAS STEALTH cases offer, plus a stageless telescopic handle. That means you can pull the handle to whatever height suits you best in every scenario.
CLASSIC FLIGHT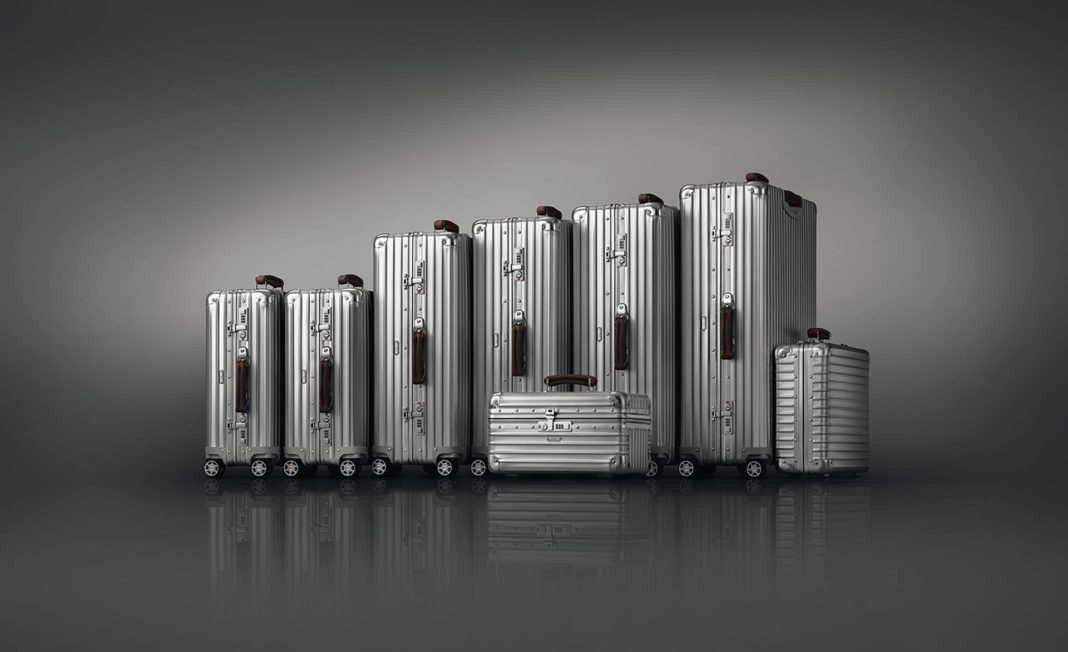 If you've got a thing for the old-fashioned, then this collection is for you. Classic Flight suitcases possess many of the advanced features of the TOPAS collections, including the Multiwheel® system, TSA locks, and Flex-Divider system, But the distinction mainly shows itself in the retro way in which the Classic Flight collection presents these up-to-date elements. Each case sports a silver aluminum body that's tastefully paired with high-quality black leather handles. With one of these models in hand, you'll be taking a step back in time.
PILOT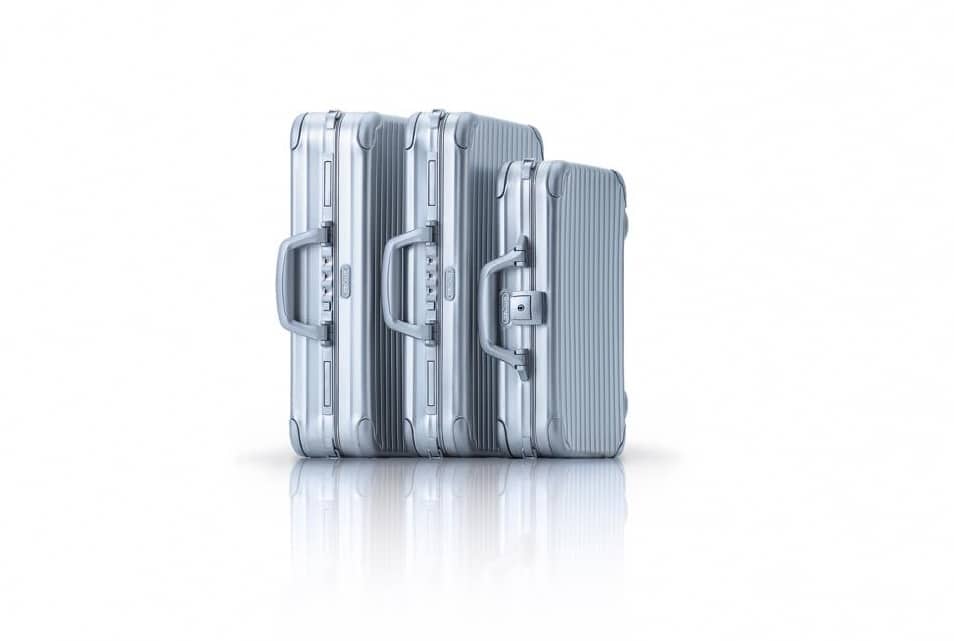 For the businessmen and businesswomen looking for a durable upgrade, RIMOWA's Pilot model might be for you. Coming in a sleek silver aluminum, these business cases are a serious upgrade in various ways. One might look at it and mistake it for simply being pretty on the outside, but they'd bad sadly mistaken. In fact, the interior is what might really capture the heart of the professional. Inside you'll find a room enough for all your work essentials, a divider that can be removed, and multiple pockets for optimal organization. Plus, there's a laptop bag and cable bag for even more protection. Pilot is organization and protection at its best, presented in a modern swagger.
Polycarbonate Suitcases
SALSA, SALSA DELUXE, & SALSA AIR
RIMOWA's SALSA collections are made from incredibly strong polycarbonate yet are coated in anything from sassy to opulent design. Each don the Multiwheel system and TSA Lock with Electric Tag options, but add even more innovation to the mix. Plus, each offer new and quirky color options that stand out in the crowd.
SALSA
The SALSA collection is the original, and might be the most beloved of the three options. It's the first suitcase to be made of polycarbonate, both for RIMOWA and the luggage industry as whole. SALSA is the cousin of RIMOWA's TOPAS collection, nearly identical in the special features it flaunts besides its polycarbonate shell. Plus, you've got more color choices, including matte black, carmona red, matte bronze, and matte blue—all bold yet smooth options.
SALSA DELUXE
Next up is the SALSA DELUXE, and it's surely a luxurious upgrade. With more models than any other RIMOWA collection, new options abound. For instance, the 3-Suiter cases boast a two-chamber-system so you can separate and arrange your belongings with perfection. You'll also find a clothes bag and T-shirt bag inside for further organization. Some of these models also include 2 Flex-Divider systems. Talk about being ultra-organized while you travel! Then there are the SALSA DELUXE HYBRID models each incorporate roomy front pockets for easy access to all your essentials. It's perfect for when you need something from your suitcase but don't want to open the whole thing. And of course, take your pick from black, yachting blue, brown, and oriental red to add even more personality. If luxurious and unique is the style you're going for, a SALSA DELUXE suitcase would be the collection to scan.
SALSA AIR
The SALSA AIR is by far the brightest collection of all, with the palette options of ice blue, ultra violet, guards red, lime green, and navy blue. It's also the most lightweight RIMOWA luggage collection, with its Mini Multiwheel® weighing 3.7 lbs. and its largest Multiwheel® weighing 8.6 lbs. But don't be fooled, its lightness doesn't make it any less tough than the other collections. Each SALSA AIR luggage piece also features the extendable telescopic handle without pre-set stages. Cheerful color options, unbelievably lightweight, and easy to maneuver? Yes, please—we'll take that.
LIMBO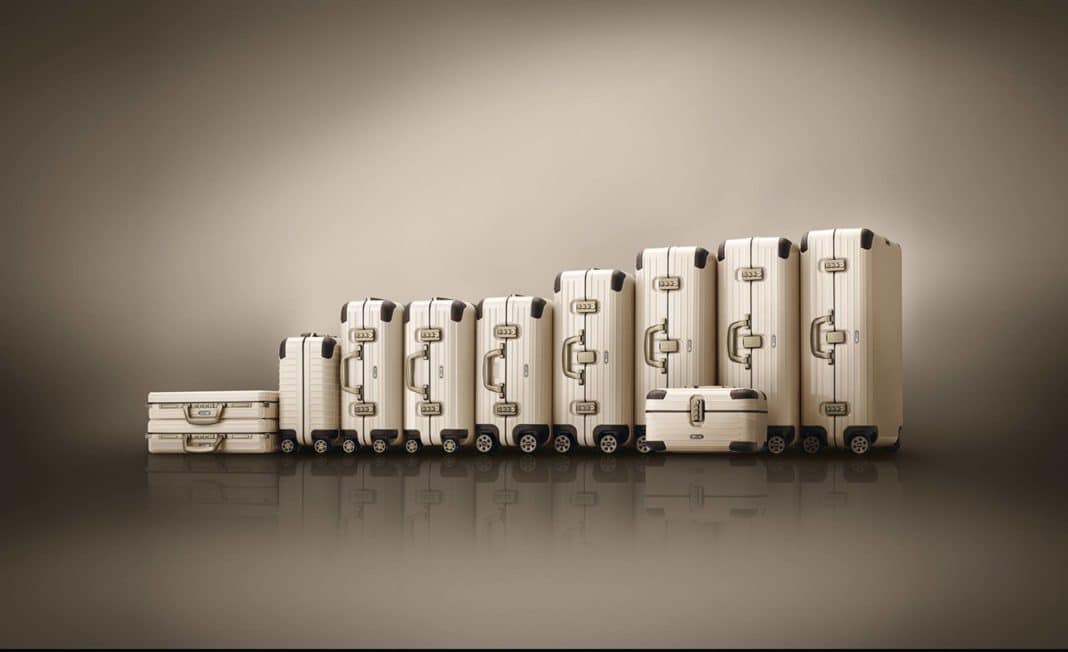 What's special about this RIMOWA luggage collection is the material combo used. LIMBO pieces are made with durable aluminum magnesium frames and a polycarbonate shell. This makes for an ultra-strong yet ultra-light suitcase that is just as long lasting as it is easy to carry around. And it doesn't cut back on the style either. You can get your LIMBO case in crème white, carmona red, night blue, granite brown, or black—the colors of a lowkey swagger. And don't worry, you still have your Electric Tag option, and the Multiwheel® and Flex-Divider systems are included in most models, too.
BOLERO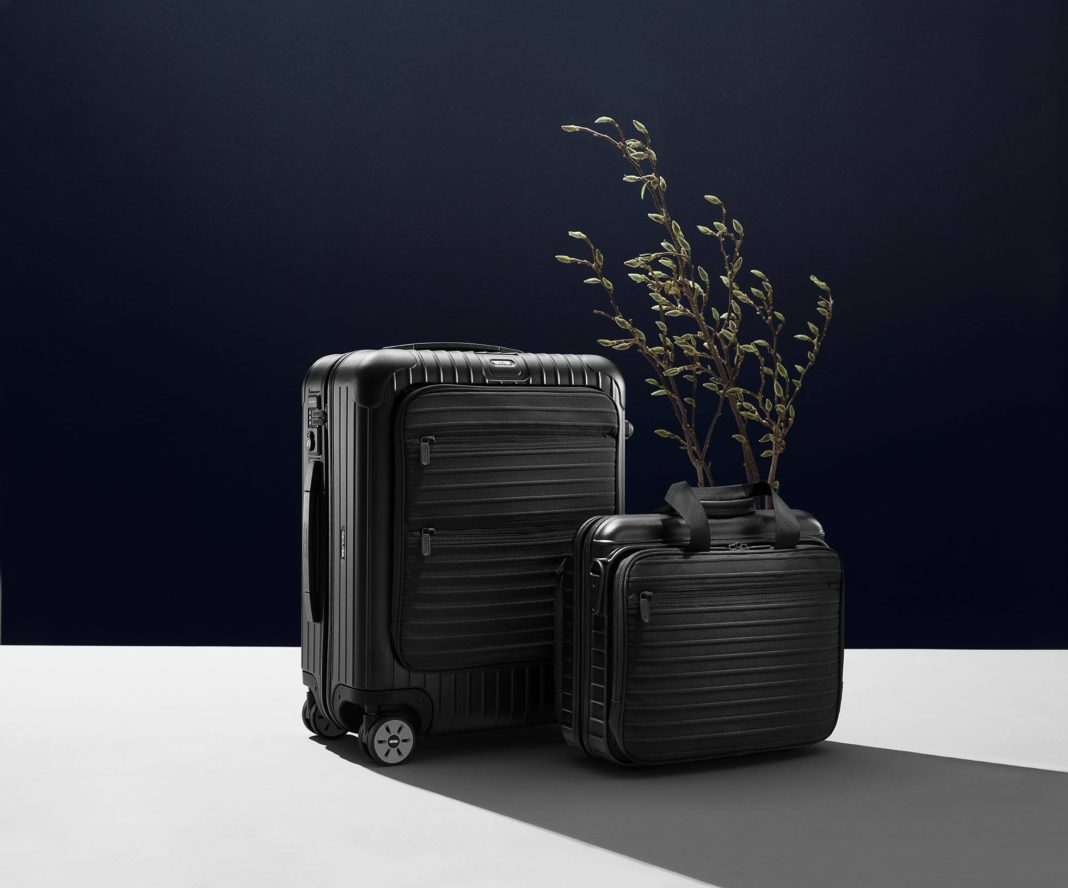 This collection is another excellent choice for the business-minded, donning a smooth black coat and irresistible details. BOLERO shares most of the same features as does SALSA, but with a mind primarily geared towards the business traveler. The Business Multiwheel® and Notebook models include a notebook bag within, and the Cabin Multiwheel® and Multiwheel® models come with a flex-divider system and net cover. Each model includes a TSA lock and—the special addition—a spacious front pocket for the essentials. This will make finding your business papers to get some work done a breeze next time you're on a trip.
BOSSA NOVA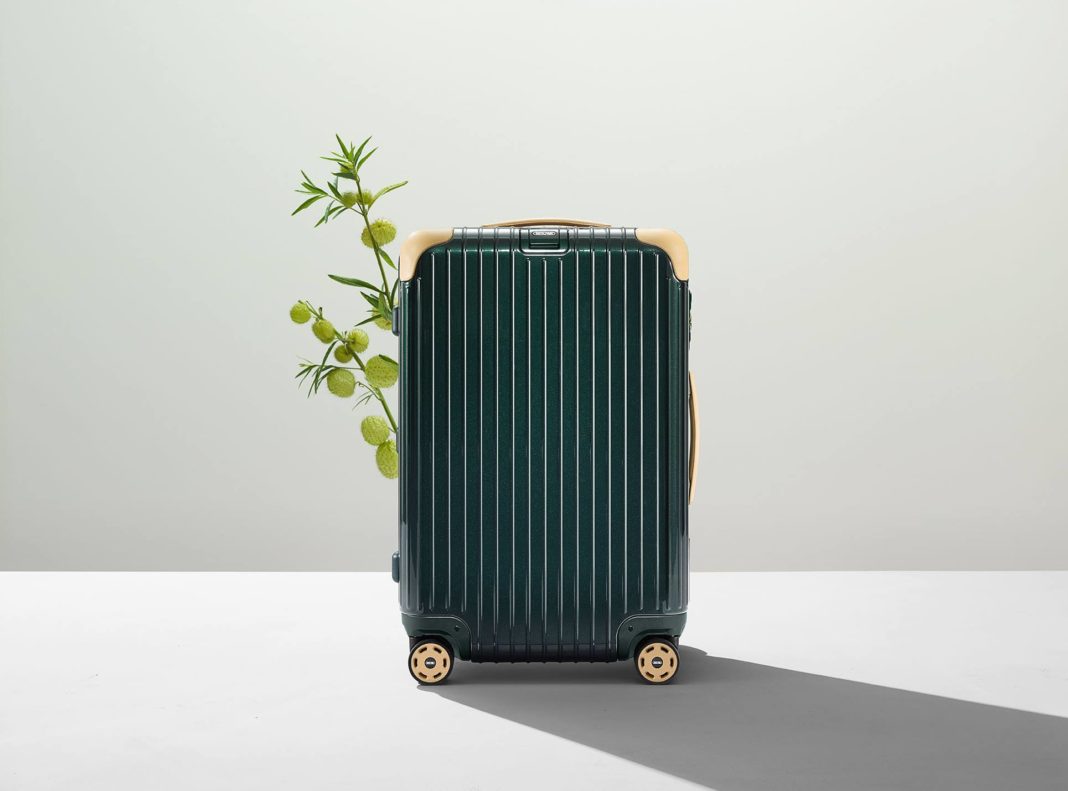 Last but not least is the suave BOSSA NOVA. This luggage collection from RIMOWA just exudes class of the highest level with its stunning design. Each BOSSA NOVA piece has everything that the TOPAS does, but it carries it with a bit more panache. Its polycarbonate case is complemented by high-quality cowhide trims finished with skilled stitching. Its interior lining is a silky-soft, padded fabric that'll treat your belongings with care. So if you're looking for a luxe suitcase that's as opulent as it is enduring, a BOSSA NOVA suitcase is the way to go.
What People Are Saying About RIMOWA​​​​​
Most travelers who have purchased a RIMOWA suitcase absolutely love it. More specifically, people rave most often about how lightweight and easy to handle their RIMOWA luggage is. Another notable favorite is how spacious they are, but people often seem to overestimate the size that they order. Keep that in mind if you decide to buy one yourself, and consider that it may be a tad bit smaller than what you're imagining. All in all, RIMOWA is a hit with many, scoring high on the qualities that the brand aims for.
Alternative Luggage Brands
Briggs & Riley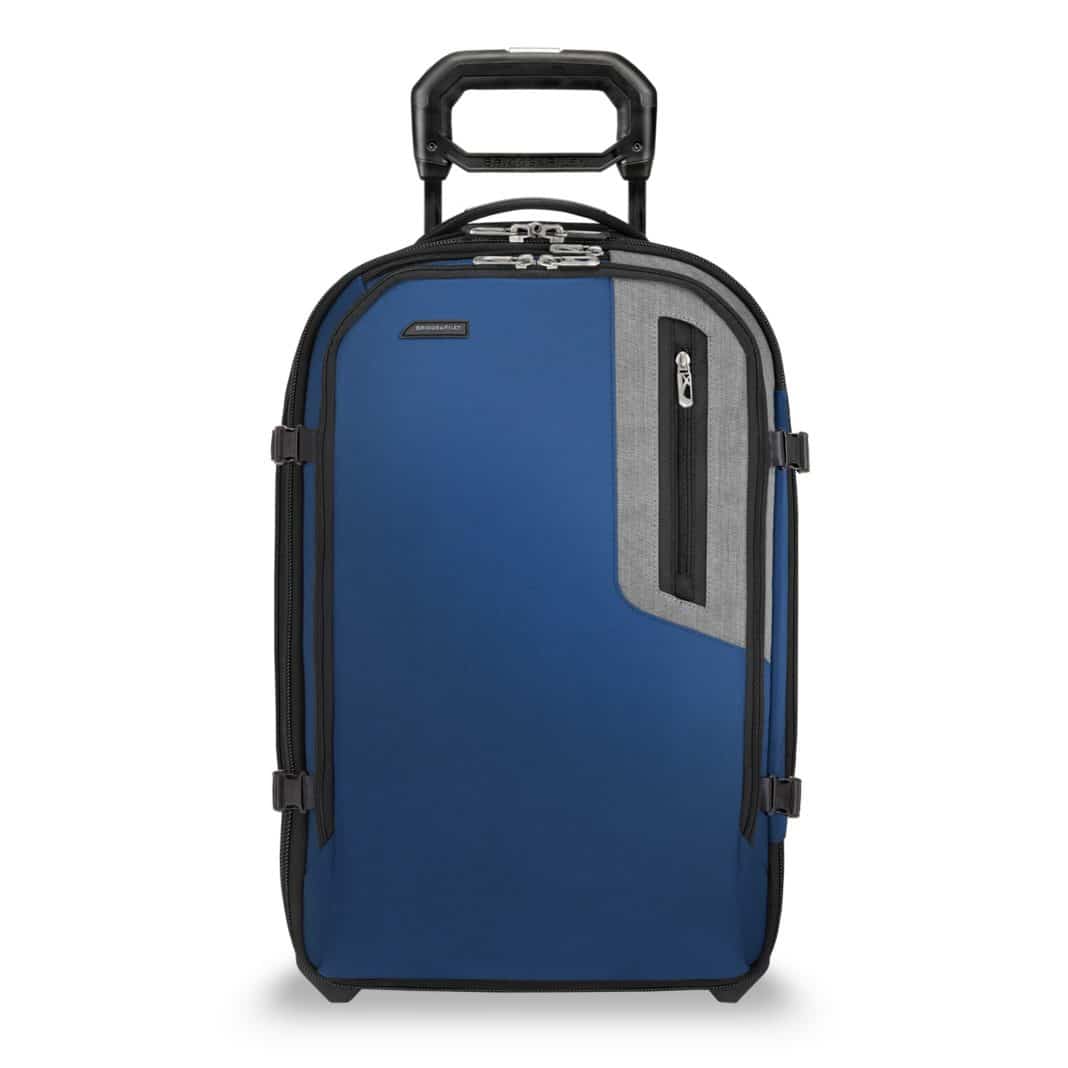 There's no doubt about it—RIMOWA is definitely an expensive brand, and if you ask us, the high price is worth it. You'll be toting your RIMOWA luggage around the world for a very long time, and each piece offers a 5-year warranty in case something goes wrong. But if it's simply not in your budget right now, then Briggs & Riley is a great alternative. This brand is also known for its durability and style, but is quite a bit cheaper than RIMOWA.
Ricardo Beverly Hills Luggage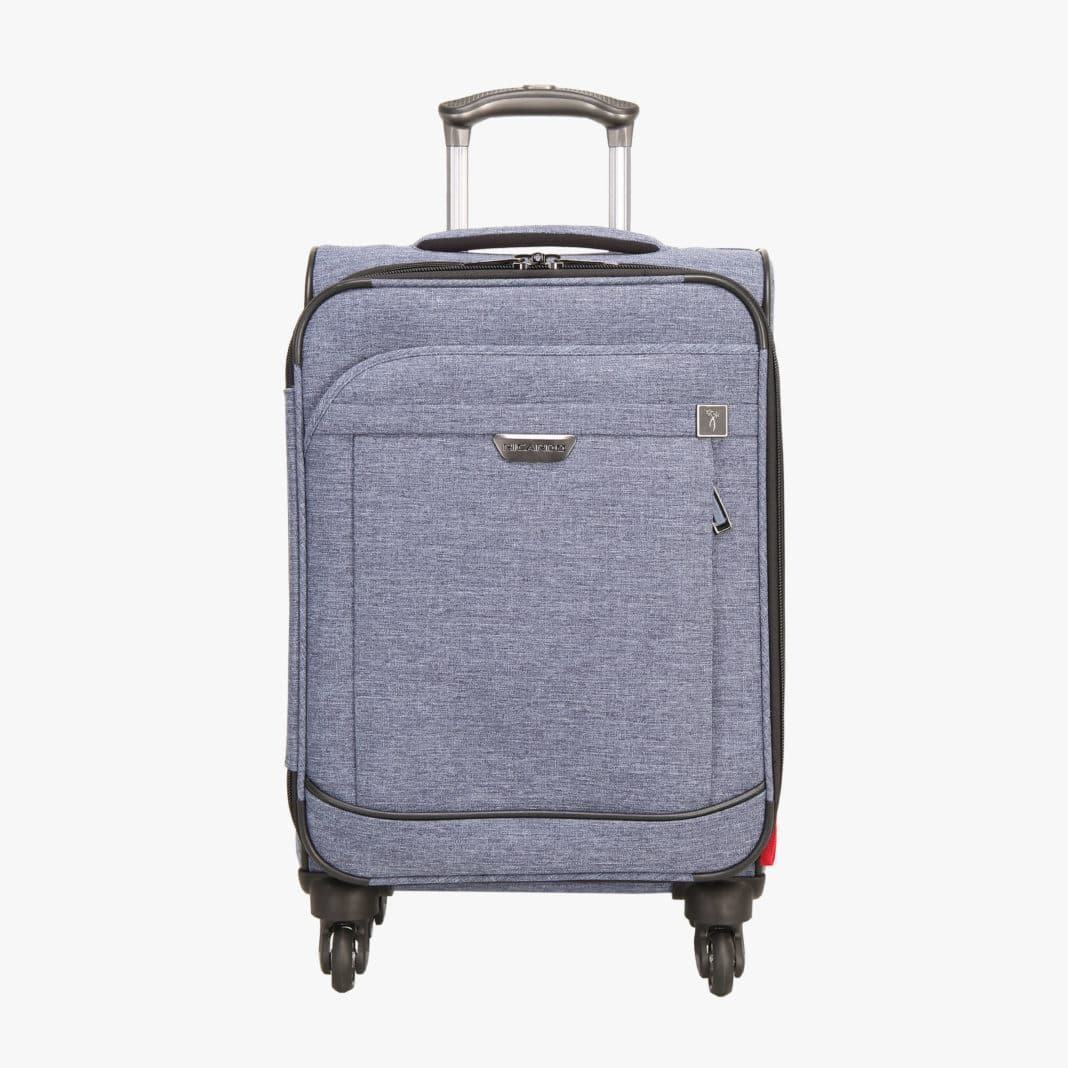 So you're all about fashionable luggage, but you're looking for something a little more laid back and a little less attention grabbing? Try sifting through the options that Ricardo Beverly Hills has to offer. You'll find neutrals upon neutrals, softer palettes and calmer tones—all of which is still of the highest quality and extremely dependable.
Recap on Rimowa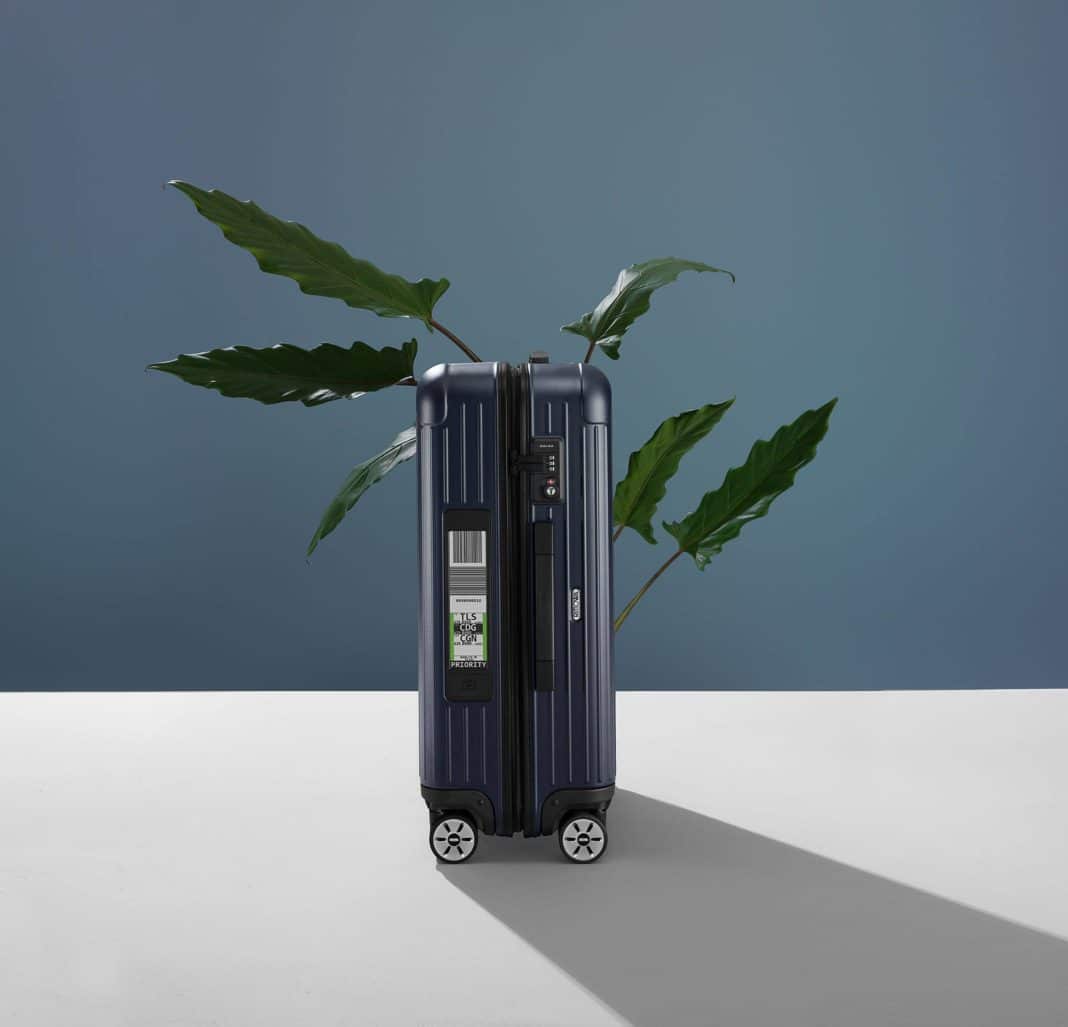 Don't get us wrong—we're all about trendy luggage—and sometimes that's all we need. But often, it ends up costing far more than we bargained for after having to make multiple purchases because it just couldn't keep up. And then we've had that suitcase we bought because it's titan strong, but slightly embarrassing to associate with. RIMOWA does away with those issues with its swanky and strong line, and offers the bonus of being crazy lightweight and easy to maneuver. So, if you care to make a luggage purchase that lasts but doesn't sacrifice style, we hope our RIMOWA luggage review has inspired you to give this brand a try.
Related Article: ​​Best Lightweight Luggage Reviewed (Plus How to Choose Yours)​​​