Ricardo Beverly Hills Luggage Review
Ricardo Beverly Hills is a luggage brand whose products are inspired by the California lifestyle. If you are all for west coast Cali vibes, then you might consider purchasing a suitcase from Ricardo Beverly Hills. Ricardo Beverly Hills bags may be the perfect fit for your effortless, go-with-the-flow lifestyle. This luggage brand makes quality suitcases that are affordable, functional, and modern in design. If you are in love with the west coast, then you could very well fall in love with these carry-ons, checked luggage pieces, duffle bags, totes, and travel accessories. Without further ado, let's get into the full review of Ricardo Beverly Hills luggage.
Why Ricardo Beverly Hills?
The company has been creating luggage and travel accessories for nearly 40 years. With products that match California's laid-back and chill west coast lifestyle, the customers that will most enjoy this brand are the laid-back and chill travelers. Also, if you are environmentally-conscious, you will be pleased to find out Ricardo Beverly Hills is too. Products are made with sustainability in mind.
Ricardo Beverly Hills makes suitcases, rolling duffels, tote bags, and accessories that are visibly different than other luggage companies. The creative design and soft color choices stand out in a way that allows you to easily recognize a Ricardo Beverly Hills bag when you see one. Once people switch to Ricardo Beverly Hills luggage, they typically become huge fans. Bags are made very well and unlike some luggage brands that sell easily scratchable suitcases, Ricardo Beverly Hills bags are built to maintain their clean scratch-free look. If you want to purchase one of these bags, Ricardo Beverly Hills bags are available online, on Amazon, and at several department stores. Some specialty stores even carry these suitcases, totes, and duffles.
Ricardo Beverly Hills Features & Benefits
Carry-On Luggage
As far as carry-on luggage pieces, this luggage brand sells rolling duffle bags, two-wheel spinners, four-wheel spinners, and rolling business totes. Within each category, there are many styles for travelers to choose from. Not only is this brand's luggage design inspired by California, but so are the names of its products. For instance, the Ricardo Beverly Hills Malibu Bay 16″ Under Seat Rolling Tote. This carry-on bag is a great option for quick trips.
The bag is small at 4.2 pounds and 16″ tall. It is so small that it can fit under most airplane seats. This can be very convenient for those who don't want to haul it into the overhead compartment. This rolling tote has two large front pockets and zippered mesh compartments in the interior. Made of environmentally friendly dreamfel fabric, this suitcase will have all of the environmentally-conscious travelers very happy. Ricardo Beverly Hills cares about reducing their carbon footprint. Because of this, there is very little waste created in the manufacturing process of Ricardo Beverly Hills bags.
If you are a business traveler who wants to have easy access to their laptop, tablet, and notepad, then one carry-on that may be suitable for you is the Ocean Drive 19″ Mobile Office. This suitcase looks like your average carry-on suitcase. However, this bag has a built-in mobile office. The front compartment extends to easily hold a laptop, tablet, business cards, pens, and other office supplies. In addition, there is, of course, the regular large compartment too that is great for storing clothing and other belongings. Ricardo Beverly Hills put great thought into making the travel experience easier for business professionals. The Ocean Drive 19″ Mobile Office is truely an ideal pick for those who are constantly traveling for business.
Checked Luggage Pieces
This luggage brand has a plethora of checked luggage options, just like they have a plethora of carry-on options. If you are searching for a classic, four-wheel spinner, then the San Clemente 26″ Spinner Upright may be worth considering. This hardside suitcase comes in the colors red cherry, moon silver, and stellar navy. At 9.3 pounds, this bag rolls on four wheels and is a very smooth ride. There is also a built-in TSA combination lock to secure your belongings. This bag comes in a smaller 19″ and 21″, as well as a larger 30″. What really stands out with this bag is the bag's hardshell. The textured exterior keeps the suitcase free of scratches.
As for softside suitcases, the Monterey 25″ 2-Wheel Upright is unique in its internal design. There is a compartment for travelers to store their hanging items (think, garment bag style). You can place suits, shirts, slacks, and other items in this zipper compartment to prevent wrinkles. Also, there are two front pockets that are spacious enough to hold extra clothes, toiletries, or electronics. This bag is also lightweight at 8.6 pounds and comes in a soft brown color. Should you desire a smaller of a larger version of this bag, there is good news for you. The Monterey 2-Wheel Upright comes in a 21″ carry-on size and a much larger 28″ design.
Tote Bags
In addition to carry-on spinners, rolling duffle bags, and large checked luggage pieces, Ricardo Beverly Hills also makes travel totes. The San Marcos Travel Tote comes in two colors-violet or grey. There are brown accents on the bags that match well with both color options.
Travelers may choose to use this travel tote to carry a laptop, a tablet, books, and/or business notes. The San Marcos Travel Tote provides easy access to all these items, which make getting through TSA-security a breeze. At some point, we have all been the one who has to frantically rummage through their bag at the TSA-security checkpoint to pull out their electronics and toiletries. Sometimes, it takes us longer than we wish. Now, that process can be made simple. Laptops and tablets can be pulled out of this tote with ease. The interior even has padded compartments that will protect all of your electronics. The back of this tote bag also has a sleeve that can slide over your suitcase handles.
Raise your hand if you like versatility! We all do, don't we? One thing that many travelers enjoy about this bag is that it can look both professional and casual. The style is one that can be used for business meetings and family vacation. We give this luggage company a round of applause of styling their bags in such a way that they can be used for various occasions.
What People Are Saying About Ricardo Beverly Hills
Few people complain about Ricardo Beverly Hills luggage pieces. Truly, the majority of customers are passionately in favor of this luggage brand. Most of all, customers enjoy the quality of these bags. They claim that the suitcases and totes keep up very well over the years. These bags are also not prone to scratch which is a benefit. Finally, travelers enjoy the practical storage compartments on the exterior and interior of Ricardo Beverly Hills bags.
Alternative Luggage Brands
Samsonite Luggage
If you want to check out other luggage options that are in line with the simplistic theme of Ricardo Beverly Hills, then Samsonite is worth your consideration. These bags are designed for simple travelers. Well-built and functional, Samsonite sells carry-ons, checked luggage pieces, and backpacks. Many of the backpacks have laptop and tablet storage, making them ideal for the commuters and business travelers. Suitcases by Samsonite also have a built-in TSA combination lock to secure your belongings while traveling.
American Tourister
For louder and bolder luggage pieces (in color, we mean), American Tourister may be the luggage brand for you. Where Ricardo Beverly Hills makes soft colored bags that fit its chill, Cali theme, American Tourister is all about loud pops of color. This luggage brand does not hold back. Suitcases come in hot pink, bright yellow, lavender, and aqua. They also come in, of course, the staple colors of black, brown, and gray. What is unique about American Tourister is they have a line of Disney, Marvel, and Star Wars luggage. They also sell kids luggage that your little ones will adore.
A Recap on Ricardo Beverly Hills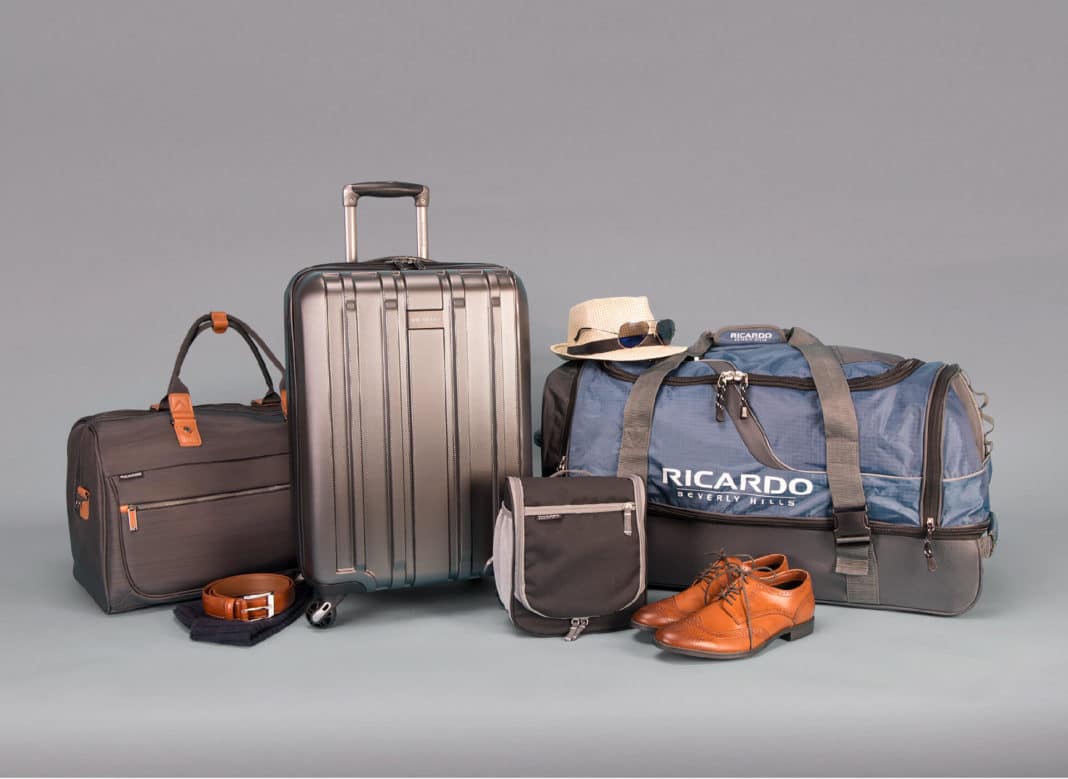 If you are a laid-back person, you might be looking for laid-back (yet durable) luggage to fit your personality. Ricardo Beverly Hills is simplistic and inspired by those relaxed California vibes. Whether you are in the market for a new piece of checked luggage or a new travel tote, we highly recommend taking a look at Ricardo Beverly Hills. This luggage brand has carry-ons that fit under airplane seats, checked luggage with built-in garment bags, and travel totes that hold wallets, laptops, tablets, and books. With cool pastel colors, these bags truly reflect West Coast inspiration. If you are a laid-back traveler, then this luggage may be a fitting travel companion for you. This brand has plenty of suitcase designs and colors to choose from. We are fairly certain you can find one that meets your travel needs.
What has your experience been like with Ricardo Beverly Hills luggage? We want to hear about it in the comments section below!
Related Article: ​​Best Lightweight Luggage Reviewed (Plus How to Choose Yours)​​​