Sony has really outdone themselves this time. While most photography enthusiasts would never look twice at a point and shoot, the Sony Cyber-shot DSC-RX100 IV just might change some minds.
Have you heard about this new high-end compact camera? Released last fall, the Sony Cyber-shot DSC-RX100 IV offers a faster processing unit as well as 4K video. For a camera of this size, this is virtually unheard of. Following in the steps of its predecessors, it not only meets but exceeds user expectations, delivering a better image quality than ever. While this sounds great, we know you're going to need a little more to go off of. That's why we're here to ask the million dollar question. Is it worth the price?
If you've been looking for a camera, you probably know that Sony's RX100 line of compact cameras has won the praise of users and critics alike for several years. Their portable size and durable frame make them great travel cameras. Now, Sony is onto the fourth generation in its Rx100 series. Whispers around the net say it's the best compact camera ever made.
Sony Cyber-shot DSC-RX100 IV Camera Design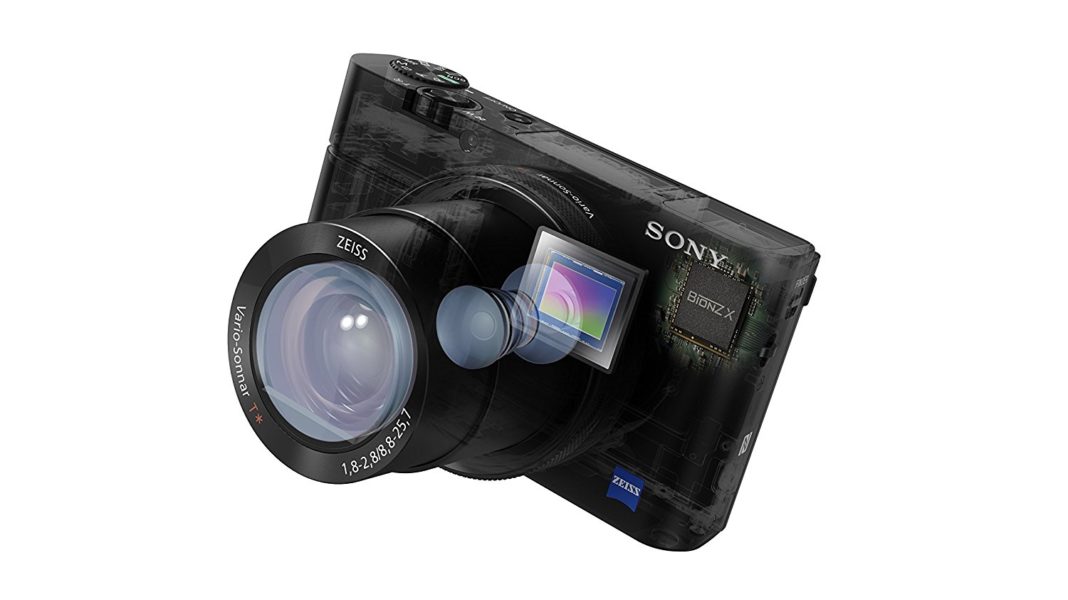 Credit: Amazon
Like its predecessor, the Sony Cyber-shot DSC-RX100 IV keeps its megapixel count at 20.1 million. The sensor, however, is Sony's new Exmor RS design, featuring a stacked structure with an attached DRAM (memory chip). This combination enables swift readout speeds that according to Sony, are 5 times faster than conventional models. Joining the sensor is Sony's Bionz X Processor.
The IV retains the electronic viewfinder of its predecessor but brings an astonishing boost in resolution. To reduce rolling shutter effects when shooting video, an electronic 'anti-distortion' feature has been incorporated. Action photographers will love this feature. You can now shoot at speeds up to 1/32000 of a second, which is very useful when shooting in bright sunlight or capturing a fast-moving subject.
Let's take a look at the lens. You're getting a pretty good one; a 24-70mm with a f/1.8- f/2.8 maximum aperture to be exact. While this might seem like a short focal length for a portable travel camera, it's a popular length among DSLR users. We're pretty sure that's who Sony is trying to market to with the IV anyway. The camera/lens combo is perfect for indoor photography (studio flat lays) and travel/street photography. If you need additional reach, you can always invest in a good digital zoom lens.
Oh yeah (*mic drop*). This is also the first Rx100 model to incorporate 4K video shooting into its list of can-dos. It's also worth noting that it can shoot for up to 30 minutes. Last but not least, you can record 40x super slow motion – a great feature for dramatic travel video scenes. While it doesn't sound like a lot, these can be recorded in two to four-minute bursts. When they're played back, it translates to much longer clips.
Sony Cyber-shot DSC-RX100 IV Camera Quality and Handling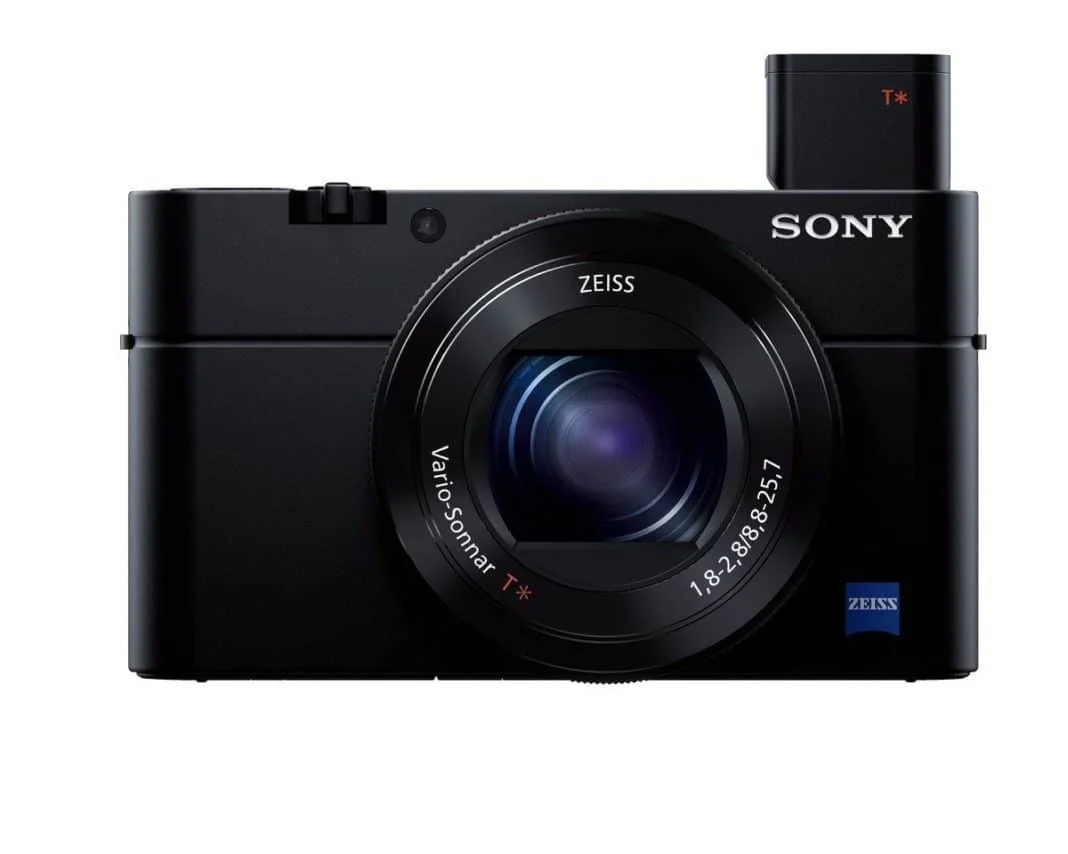 Credit: Amazon
Sony is known for keeping their camera designs relatively similar. There isn't a lot of change to be found in aesthetics between models. The only clear difference in the camera body between the Mark III and the Sony Cyber-shot DSC-RX100 IV is the markings on the top plate.
Overall, the IV is a small camera that packs a pretty big punch. Best of all, you can fit it comfortably in the pocket of your cargo jacket. There are two ways to turn the camera on and off. You can either use the on/off switch on the top or release the pop-up viewfinder via a switch on the side of the camera.
Like the Mark III, viewfinder activation is a two-step process. First, have it popped up. Second, you have to pull it back from the housing. While it would be nice if the viewfinder was automated, you can expect this for a camera of this price.
On top of the Sony Cyber-shot DSC-RX100 IV, you will find a mode dial for exposure, aperture priority, and top auto. There is also a convenient setting labeled MR (memory recall) where you can save a custom set of custom shooting settings. Here, you'll also find an HFR (high frame rate) mode, which gives you access to slow-motion video options.
The switch around the shutter controls the zoom while the ring around the lens can be used to control various parameters. You will also find a small custom button which can be set to forty options. Among these include ISO, white balance, and metering mode.
Sony Cyber-shot DSC-RX100 IV Image and Video Quality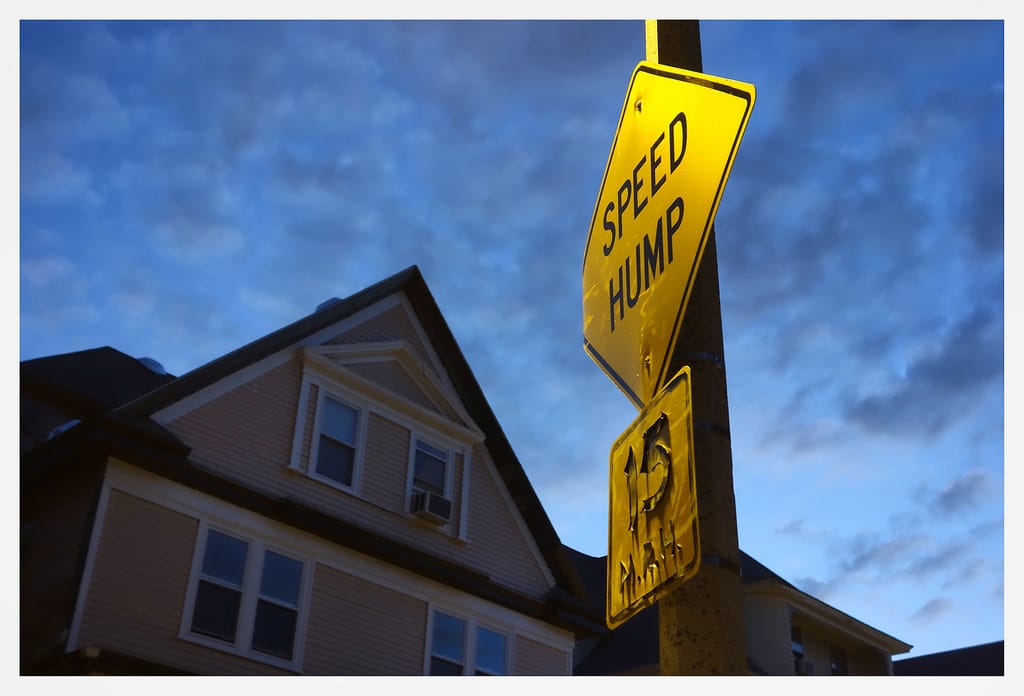 Despite using a new sensor, the images taken with the IV look pretty similar to those taken with the III. The new sensor and processor don't seem to have much of an impact on photo quality. The Sony Cyber-shot DSC-RX100 IV does seem to have an improved ISO performance though, limiting levels of digital noise in low ISO levels.
Don't get us wrong though. The photo quality is still good. It's very crisp, clean, and bright. The video quality is great too, with the high quality you would expect from 4K. The IV has added a myriad of controls to get the results you want with a quieter lens.
Performance
Overall, the Sony Cyber-shot DSC-RX100 IV is an improvement over its predecessor. It's also one of the fastest compact cameras we've ever seen. Like other zoom lens cameras, it's relatively slow for the startup, since you have to wait for the lens to extend. Once the lens is extended, the IV speeds up a little bit. It takes about 0.2-0.3 seconds to focus and shoot in bright and dim light and 0.2 seconds for sequential shots in either RAW or JPEG.
What travelers love most about the Sony Cyber-shot DSC-RX100 IV is it continuous-shooting performance. It's tested at 5.7 frames per second (fps) for JPEGs and 5 fps for RAW. However, the camera's high-speed shooting capabilities are far more complex than the tech specs suggest. If you enable the mechanical shutter and autofocus, it drops to only 2.4 fps. Faster rates need the electronic shutter.
What Travelers Are Saying About the Sony Cyber-shot DSC-RX100 IV
Like any camera, the Sony Cyber-shot DSC-RX100 IV has its quirks. Battery life could be a whole lot better and if you turn up the ISO past 800, you're going to get some serious digital noise in your photos. With this said, it's a great little point and shoot for the price. Travelers love the image and video clarity and portability.
Its large sensor even allows for taking pictures in low-light situations indoors without having to resort to a flash. Now, you won't have to be that one tourist who turns the flashlight on their iPhone to get a picture of their pasta in Italy. In fact, many photos taken in low light look like they were done in full daylight.
Autofocus time is super fast compared with other compact cameras, so you can easily snap many photos in a short time and catch those once in a lifetime moments with the snap of your finer. The 4K video is crisp and with good sound. We recommend adding a polarizing filter/lens Tiffen 52mm Circular Polarizer with the Sony RX100 V. This makes outdoor photography in bright light a whole lot easier. You could also add the Sony AGR2 Attachment Grip (Black).
The IV is a very small camera and it seems like you need a little extra grip to keep hold of it. We really think this should have been included with the base camera from the factory. But it's cheap to buy so we can't complain too much. Here's a pro tip: Definitely get some extra batteries. Wasabi Power Battery (2-Pack) and Charger for Sony NP-BX1, NP-BX1/M8 are complete lifesavers.
Alternative Travel Cameras
Before you make your purchase, it's smart to shop around a bit and see which brands and models have the qualities you're looking for.
Canon Powershot G7 X Mark II
Here's another great point and shoot camera in a similar price range to the Sony Cyber-shot DSC-RX100 IV. Canon's Powershot G7 X Mark II takes pretty amazing photos and videos. What makes it a best camera for travel and vlogging, however, are a combination of its features.
If you want to pack light, this is the camera for you. It's portable and super easy to carry around on long day trips. Its ability to record videos like a DSLR without the weight is the main reason to buy this camera.Its portability is not the only feature that makes this little camera a steal. The touchscreen, flip screen, and autofocus system do too.
While each of these features is useful on their own, in combination, they make the G7 X a very vlogger friendly device. With the touch-screen, you can quickly navigate your way through the device. It also lets you set a focus point when recording your videos.
GoPro Hero6
Most people think of GoPros as just action cameras but they're so much more than that. While you certainly wouldn't expect it, the GoPro Hero6 has also been rated the best camera for vlogging. So what makes the GoPro Hero6 a good choice for vlogging?
First off, the Hero6 is super portable; it's even lighter than a point and shoot camera. While other cameras (like pro-style DSLRs and mirrorless cameras) take up a lot of space in your carry on, you can slip a GoPro right into your pocket. Its compact size is very useful if you're a frequent traveler.
Since it's so small, you can also get away with using it in public without drawing too much attention to yourself. In addition, it also has quality sound. One of the biggest problems with most of the regular cameras on the market is they have poor audio.
You almost always have to purchase an external microphone. Not only does that cost more but it's just another piece of equipment you have to lug around when you're shooting. GoPros handle audio much better than most inexpensive cameras. Last but certainly not least, you can edit from your phone and enjoy stunning 4k video and image quality.
Canon Powershot S120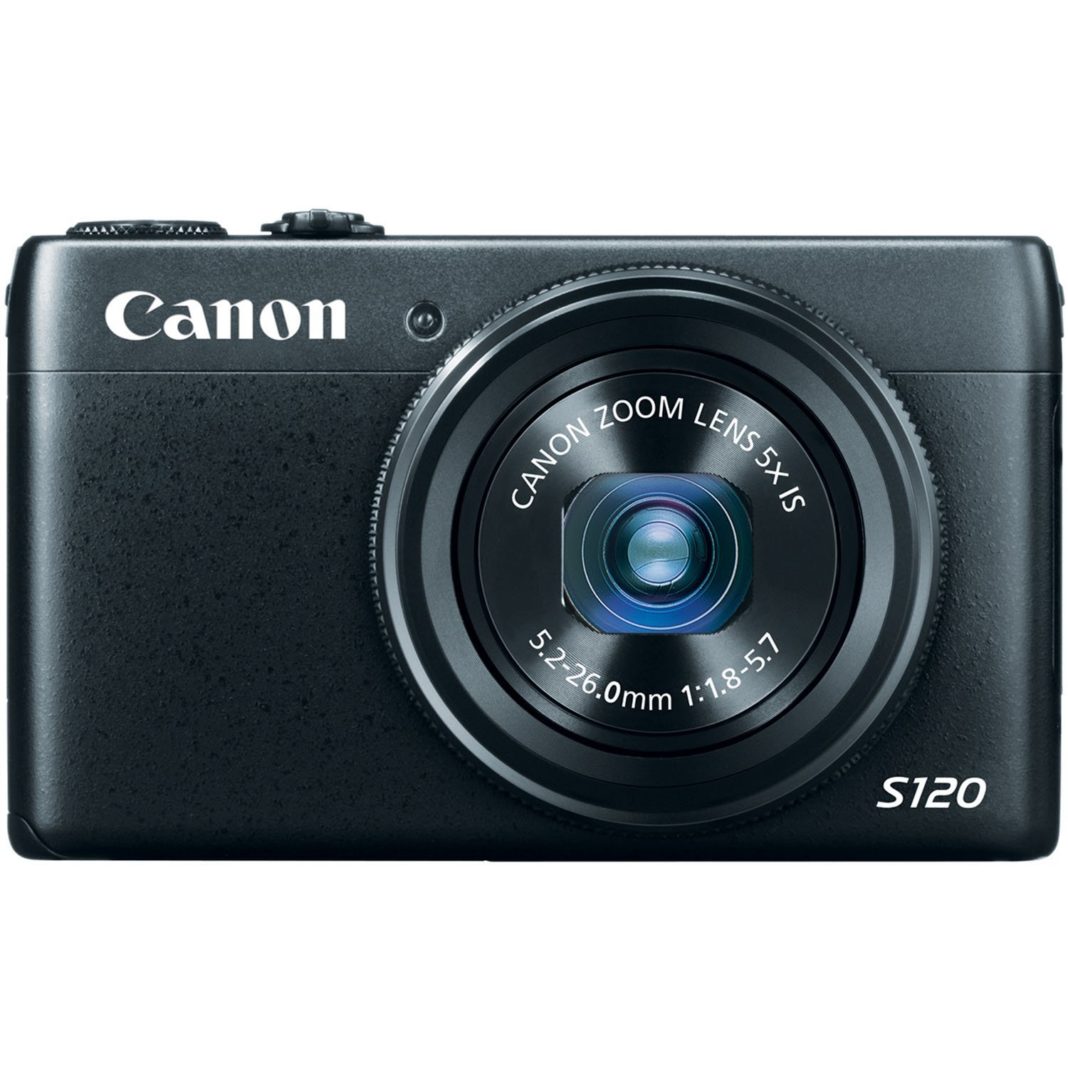 Here's another popular choice for travel photos and vlogging. At only around $300, it offers some pretty top-notch qualities. Built-in Wi-Fi lets you seamlessly transfer captured video and upload to social sharing sites. Because let's face it…everyone is posting photos to Instagram as they travel.
The Canon Powershot S120 doesn't have 4K video but it can capture video in 1080p full HD. It also features a built-in microphone records stereo sound and it has a 12.1-megapixel CMOS sensor. When paired up, these features allow the camera to provide a pretty exceptional performance in low light settings. The included lens is a f/1.8 with a wide angle view and is good for vlogging.
If you're looking to start out with a good quality, affordable little camera, this might be the one for you. While it doesn't have all the bells and whistles, it's good for vlogging newbies. So, if you don't want to spend too much while you're learning, check out this camera.
Olympus TG5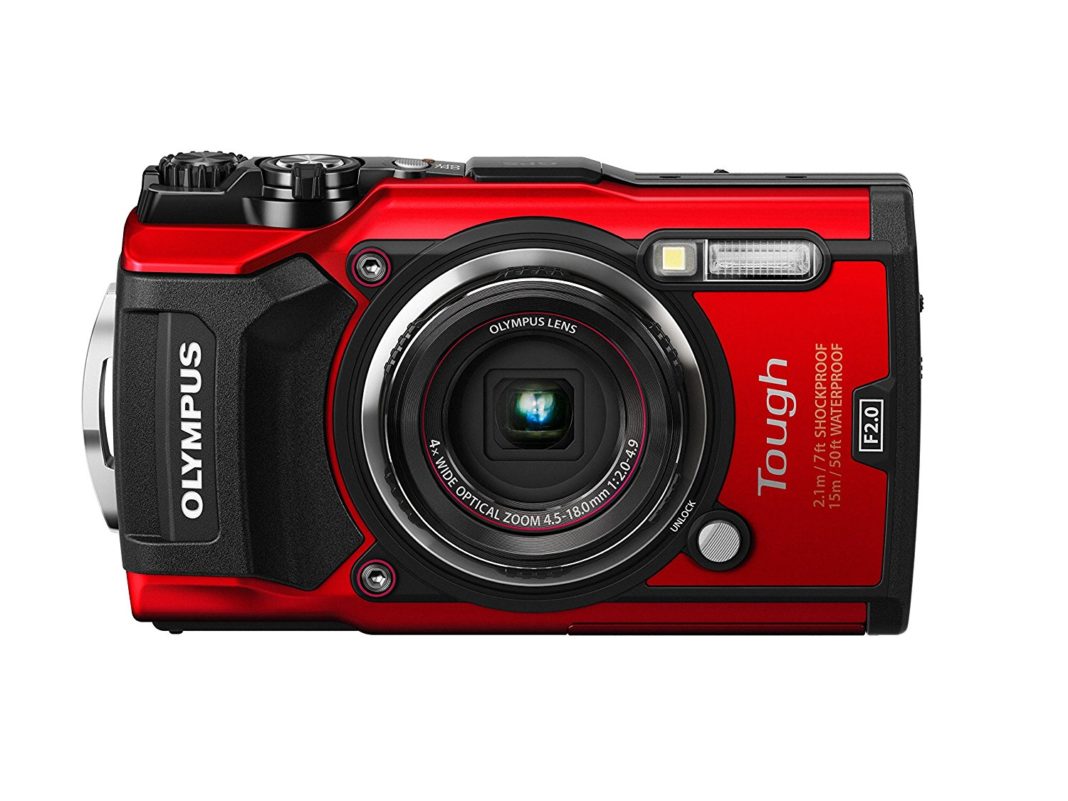 Travelers have dubbed the Olympus TG 5 the new underwater camera king. We can see why. The TG5 offers a variety of versatile features and modes, impressive macro features, can capture slow motion and video at HD resolution, and can capture RAW file images. It's durable, tough, and takes pretty good pictures. There are a few pesky quirks though. For only $400, you can't except a travel camera to be perfect.
Admittedly, it does struggle a bit in low light situations, the menu structure can take some time to get used to, and the zoom mechanism is a little noisy. With this out in the open, we think the quirks can be overlooked. If you're in the market for a durable travel camera that's also pretty affordable, you really can't go wrong with it.
Lightroom is always there to fix those low light, grainy photos, right? While it is a little pricey for a point and shoot, the rugged waterproof Olympus TG 5 does provide some exceptional features that beginning photography enthusiasts will certainly appreciate. Once you master the bevy of controls and features, you can definitely take your photo game to the next level.
Panasonic Lumix ZS50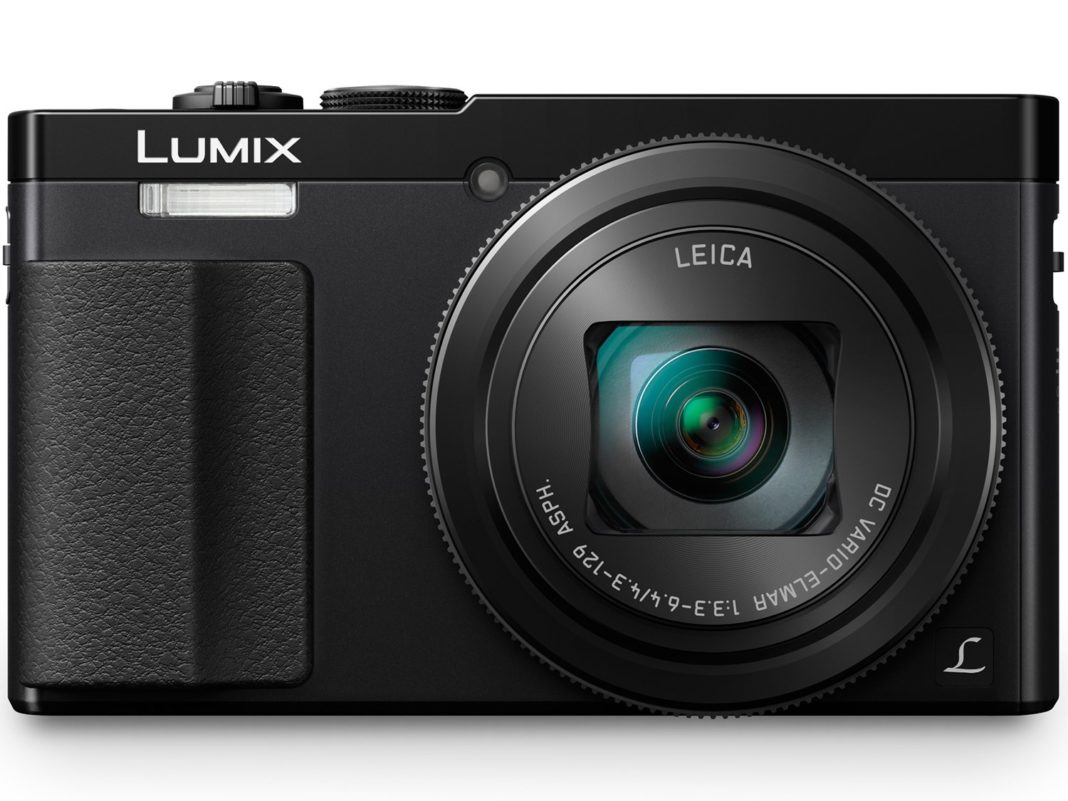 What is there to say, really? The Panasonic Lumix ZS50 is one of the best affordable entry-level travel cameras out there. Panasonic has done a lot to step up the point and shoot game. First, the built-in viewfinder reduces annoying glare. So go ahead and take all the photos you want on a sunny day.
Second, your photos won't look all washed out and overexposed. With a 30x optical zoom, you'll be able to capture objects from far distances and great heights. Last but certainly not least, the manual Focus Peaking function helps to stabilize the camera easily, so you'll get clear, crisp shots.
This camera is ideal for inexperienced camera users looking to upgrade from their smartphone or a lower grade point and shoot camera. Although it's one of the best point and shoot cameras on the market, it will put you back only about $290 or so.
Our Take On the Sony Cyber-shot DSC-RX100 IV
There's no doubt about it. The Sony Cyber-shot DSC-RX100 IV delivers incredible image quality, especially for a camera its size. The one downfall is the price. It's much more expensive than most point and shoot cameras. Since it's geared towards new photographers instead of photo enthusiasts, it should be a bit cheaper.
However, Sony has made some improvements in image quality (albeit, slight) and in operating speeds. The collapsible EVF is top-notch and the resolution is clearly better than that of the Mark III. Overall, it's the best compact point and shoot to date. If you can swing the sticker tag, it's a great buy for beginning photographers looking for a gadget to take on their trips.
Related Article: Travelers, Are You Looking For The Best Camera For Vlogging?