Flyers are almost guaranteed to doze in and out of sleep trying to get comfy on limited space flights. On top of trying to preserve your skin with an on-flight eye mask, heads tend to bob to the side and usually will fall on the shoulder of the seatmate who truly wants sleep too. Awakened by turbulence, you come to discover you were snuggling with this seat stranger. You readjust in your squished seat. You check your watch to see how much longer you have on your flight. 3 hours. Swell. The aftermath? A kink in your neck and one de-puffed eye. If you are an avid traveler, then this scenario rings tried and true.
You might have already purchased a travel pillow (and never leave for a trip without it), or you have thought long and hard about investing in one. Many on the market are too bulky, and others genuinely do not do the trick for your head and neck. Are there any solutions that can help prevent sore neck muscles and forehead collisions with your neighbor's? Yes, there is. No matter your choice of transportation (airplane, train, bus, or car), traveling brings familiar feelings of stiff necks and aching backs by the time you arrive at your destination.
We want to avoid all of that. With this list of the best travel pillows that won't kill your neck, we can say hello to comfortable travel. Travel pillows sell all over the place, including outside your flight gate at the airport terminal. Before you buy just any travel pillow, take a look at our compiled list of travel pillows for a comfortable ride. We conducted the best travel pillow review, so you don't have to (click our quick view links to see more reviews). We want you to arrive refreshed and ready to go when you reach your final stop.
1. REI Co-op Self-Inflating Travel Neck Pillow | $20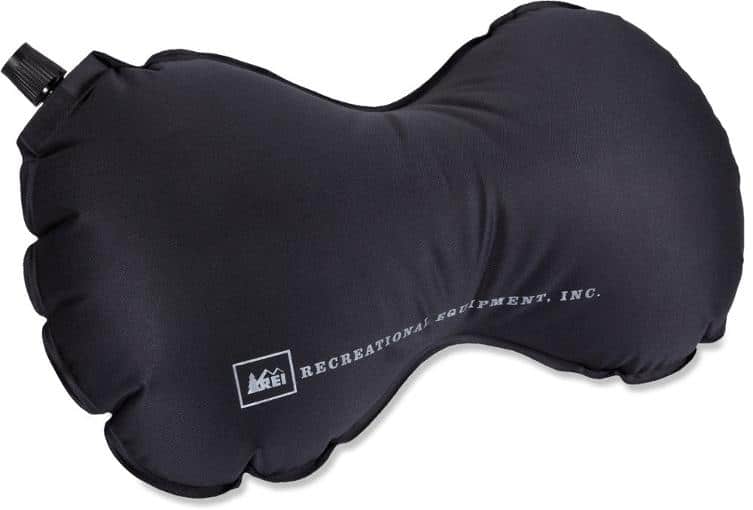 Credit: REI
REI's Co-op Self-Inflating Travel Neck Pillow crumples down to a packable size and weighs at an airy 4 ounces; making this pillow a convenient alternative for anyone who travels light, and who doesn't want to tow around the classic U-shaped travel pillow. REI's neck pillow self-inflates and deflates in 5-seconds, which means you won't huff and puff to fill it up with air on the plane. This inflatable travel pillow holds a unique peanut shape, which allows for a comfortable sleep around the sides of your neck. Not only does this pillow come in handy for in-flight travel, but backpackers also choose to use the REI Co-op Self-Inflating Travel Neck Pillow on their little camping and hiking expeditions. This option may change your mind if you haven't considered an inflatable neck pillow before.
2. Cabeau Evolution Memory Foam Neck Travel Pillow | $40
It appears to be the standard U-shaped travel pillow; however, the memory foam padding of the Cabeau Evolution Neck Pillow makes it unlike any others. This travel pillow sits higher up with raised sides, which keeps your neck more supported than similarly shaped pillows on the market. The velour fabric makes for a soft cushioning pillow case. The Cabeau Evolution Cool even features innovative cooling vents. Travelers will also love the convenient side pocket, ideal for keeping your phone snug during your sleep. This pillow ranks among our favorites, being the best travel pillow particularly for long trips or red-eye flights. This U-shaped pillow holds up great for the frequent traveler continually bouncing from one part of the world to the next.
3. Travelrest Ultimate Travel Pillow | $25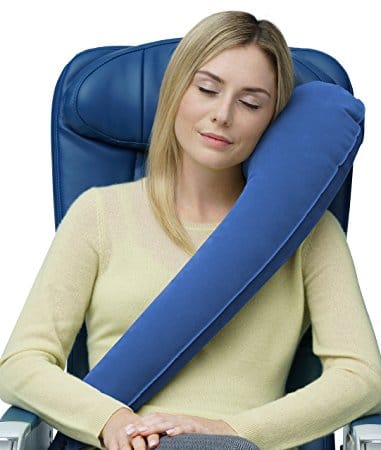 Travelrest's Ultimate Travel Pillow designed its concept for side sleepers. It is for those travelers who are forced to sleep upright on a plane, on a train, or in a car. If you're one of those whose head tends to fall on the shoulder of the passenger beside you, then Travelrest's pillow is a strong contender. It gives you someplace to rest your head, instead of placing it on your neighbor's not-so perma soft shoulder. The Travelrest pillow easily inflates with just a few breaths, which means it also deflates to a compact size quickly to stuff into your bag after use. Sling the strap around your body, sleep against the soft surface, and wake up feeling revived. The Travelrest travel pillow gives the user comfort and the person sitting next to you some peace of mind.
4. J-Pillow Travel Pillow | $60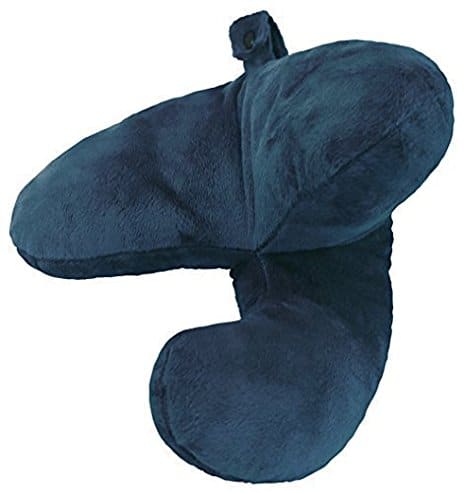 By the look of this pillow's shape, you may be hesitant. The J-Pillow may appear different design wise, but their travel pillows help support your neck, head, and chin! Due to the all-around support, the J-pillow prevents your head from falling forwards; this issue becomes all too common with other travel pillow designs. This travel pillow also easily snaps onto your bag after use. If you like the window seat, then you may want to look into using a J-Pillow. Travelers can lean against the window onto the comfort of this pillow and not wake up with a sore neck. The J-pillow may not look typical or similar to other neck pillows, but this one takes the cake when it comes to comfort.
5. Trtl Pillow | $30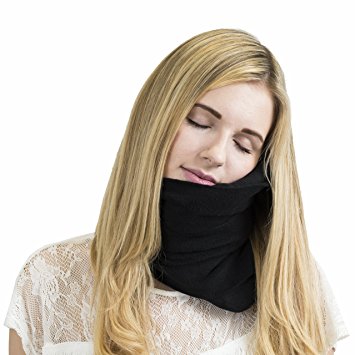 The Trtl pillow is a brace covered in super soft fleece that arches for a comfortable and supported sleep. Truthfully, science proves that it works. Wrap one of these shaped pillows around whichever side of your neck, and you'll start dreaming in moments. The Trtl travel pillow is lightweight, machine washable, and keeps you from nodding off onto your fellow passengers. It also comes in a variety of colors. With the scientifically proven technology, the Trtl pillow is one of the best travel neck pillows and makes for improved sleep while traveling due to its shape.
6. Ostrich Pillow | $85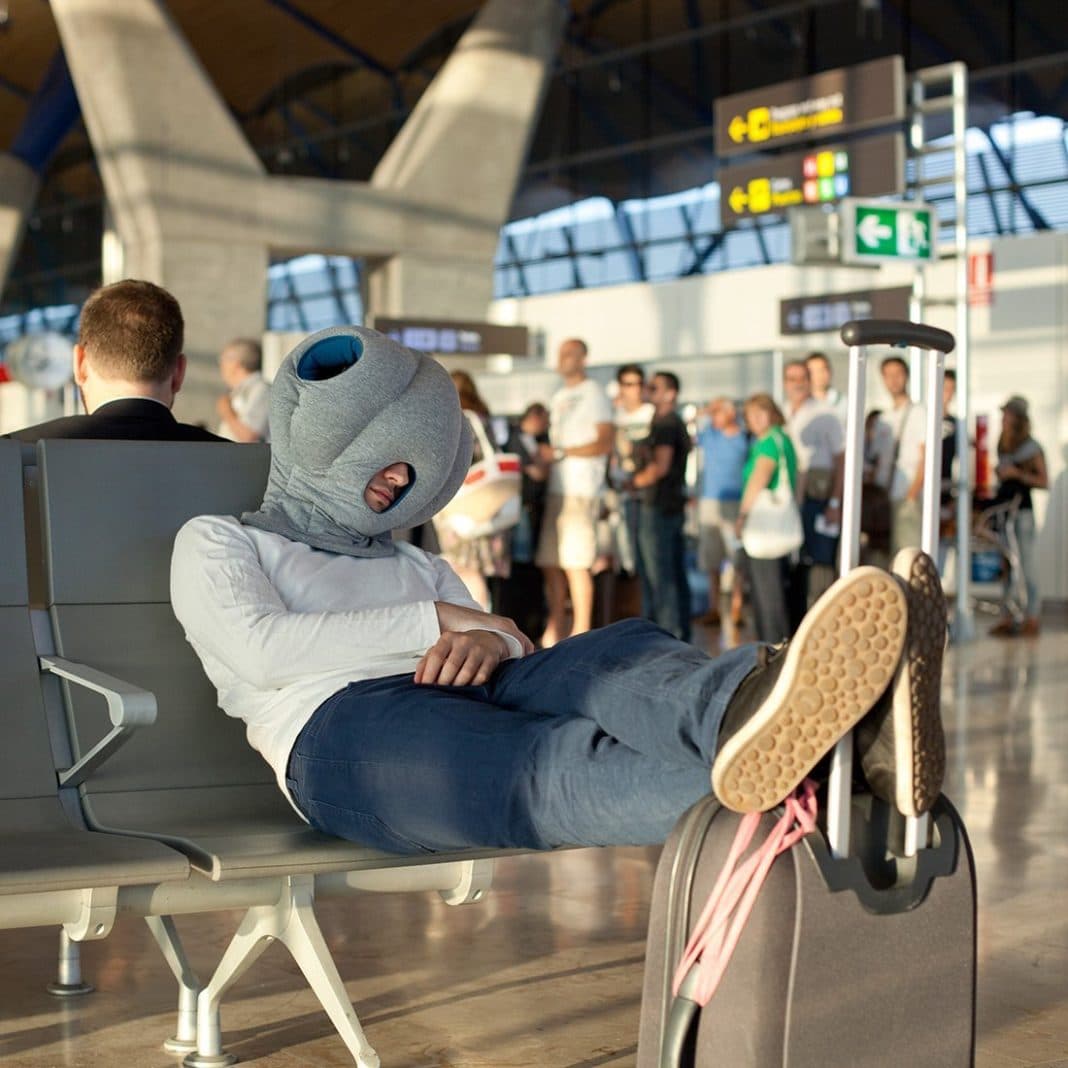 The Ostrich Pillow is a strange one, yes. For those who need comfort and don't mind the curious looks from others, then this may be the one for you (plus, you won't even see people eyeing you because only your nose and mouth show). The pillow covers your entire neck and head. The design prevents both light and noise from interrupting your sleep. The pillow openings for your nose and mouth ensures the ability for the user to breathe deeply.
For those who like to rest their head on a table or the side of an airplane window, the Ostrich Pillow makes that comfortable and adds a bit more than the average U-shaped neck pillow. The Ostrich pillow may impress and become a travel staple, or one could hate it entirely (especially if you are claustrophobic). It is definitely worth testing out! The price is steep, but buy online, and customers have the option to return the travel pillow for free if unsatisfied.
7. Therm-a-Rest Compressible Pillow | $20-40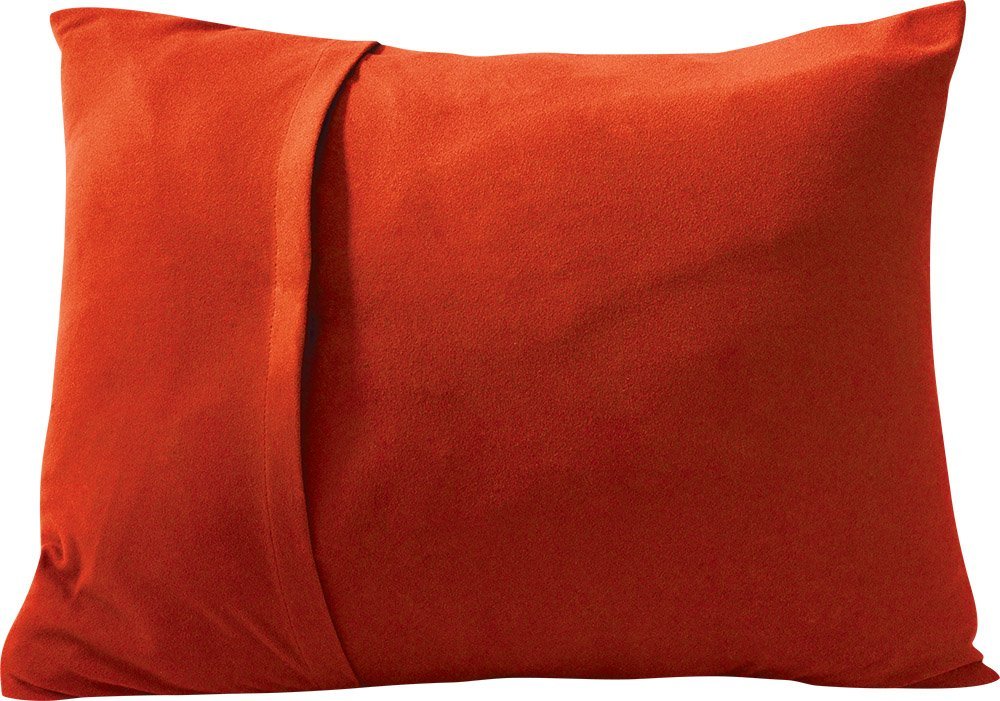 Travelers and campers will enjoy the classic rectangular pillow design of the Therm-a-Rest Compressible Pillow. The foam expands for sleeping and compacts for packing, which is a bonus when backpacking up and down the mountainside. There are a number of sizes you can find this foam travel pillow in, including Small (12″ x 16″), Medium (14″ x 18″), Large (16″ x 23″), and Extra Large (16.5″ x 27″). The Term-a-Rest Compressible travel pillow is machine washable and available in a selection of colors and patterns.
8. Xueyan Inflatable Daydreamer Face Pillow | $15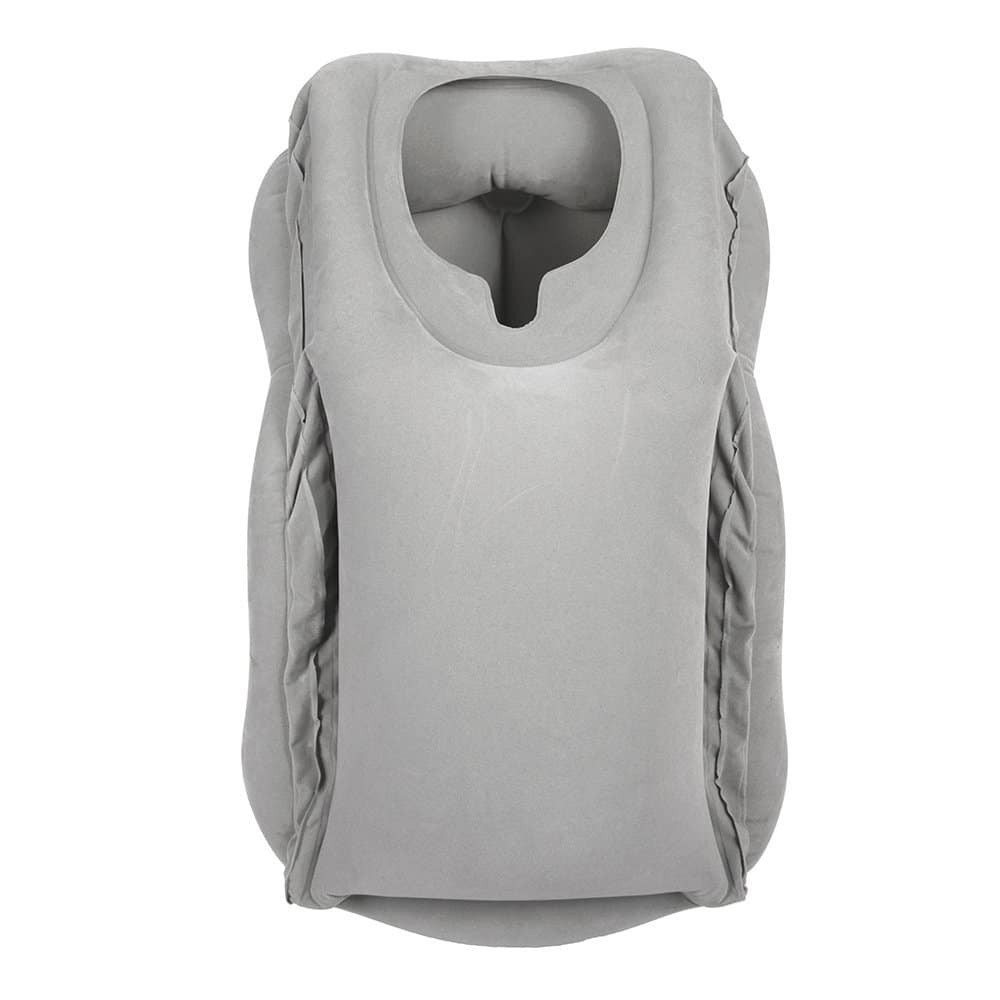 Even after takeoff, passengers reach an altitude that's safe to lean your seat back and find that the seats don't recline very far. So, how about lean forward? The Xeuyan Inflatable Daydreamer Face Pillow is for those who like to extend the table tray and rest their head on the flat surface. The Daydreamer Face Pillow is significant, but don't worry, it deflates and smashes into a size that is easy to pack. Depending on your height, the Daydreamer Face Pillow may not interest you. We suggest trying it out to bring comfort on your long-haul flight home or red eyes.
9. Huzi Design Infinity Travel Pillow | $40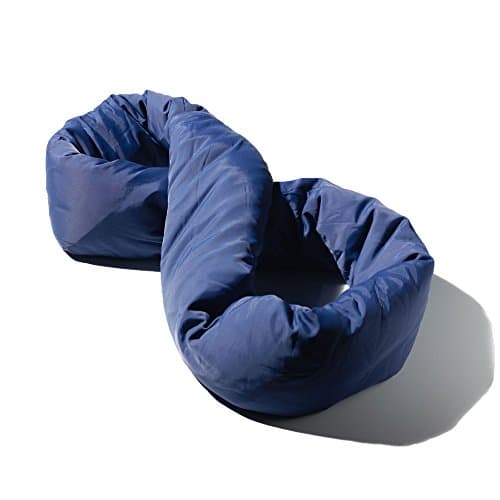 The Huzi infinity pillow is indeed the most versatile travel pillow on the market. The creative design gives this cushioned pillow many options for different comfy configurations. Twist it up to form a pillow for your neck or lower back. Create a surface to place your laptop on. Wrap it around your neck like a scarf to block out the sound and provide neck support. Again, this pillow is multi-purpose and combines some of the best travel pillows into one. There is an infinite number of ways to use the Huzi Design Infinity Travel Pillow. Users will enjoy using this neck pillow while traveling, or at it can serve at home amongst the bed pillows for when that extra comfort is needed.
10. Trunki Yondi Lion Travel Pillow | $15
Trunki makes cute animal pillows for kids who want a fun, lightweight travel pillow to have during long car rides or plane rides. The circle microbead pillow wraps around the neck and magnetically attaches to prevent the head from rolling forward and ensures neck support. The Trunki pillows are also booster seat friendly. Kids can pick from a host of animals, including Koko the Koala, Pablo the Panda, Ollie the Owl, and Felix the Fox. These fluffy friends make for perfect travel companions, and kids love carrying them around on their road trips and adventures.
Say goodbye to sleeping on the shoulder of the stranger sitting next to you! No more arriving at your final destination exhausted, stiff, and grumpy. This list of the ten best travel pillows on the market can help prevent all of that from happening. By the time your airplane's wheels hit the ground, our team wants you to be well rested and ready to explore a new place. We hope this list of the best travel pillows helps to get you to where you want to be with comfort and ease.
If you have a go-to travel pillow that you always reach for, share which one it is in the comments below!
Related: Best 16 Sleep Masks for Travelers