If you're thinking about taking on some adventure travel, then having the right bag is crucial. There are so many scenarios that call for a high-quality waterproof backpack. To name a few, it could rain during a hike (or any excursion), or you could go for a long kayaking trip. Who knows—you could even drop your backpack in a lake. You'll most likely be bringing some valuables along with you, such as a camera, phone, and a wallet. How'd you like to be caught in any of these circumstances without a reliable waterproof backpack? Our guess is you wouldn't. With that in mind, here are some of the best waterproof bags to consider for your next trip.
1. Timbuk2 Especial Primo Waterproof Backpack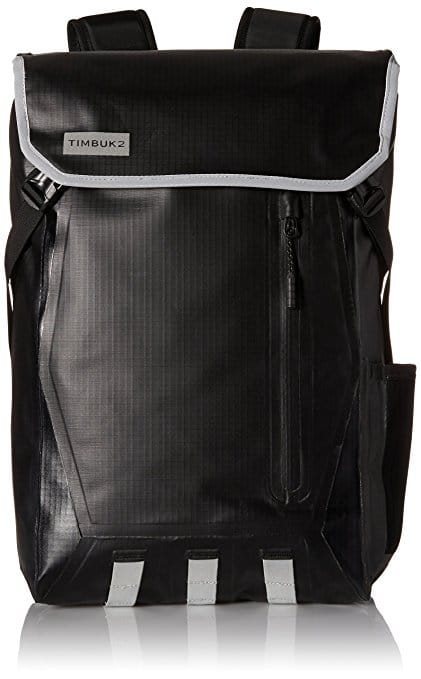 This waterproof backpack from Timbuk2 is a sturdy option for all kinds of adventures. Made of welded ripstop material, the Especial Primo is ready to take on any weather. It comes in a sleek black and incorporates reflective strips in its design for protection at night. There's a stretchy pocket on the side to keep your water bottle accessible, and a weatherproof pocket keeps your phone close but safe. This Timbuk2 bag is a great option for a biking trip since it's slim in its build but keeps you visible.
2. Sea to Summit Rapid 26L Drypack
Credit: Sea to Summit
This is the ultimate waterproof backpack for the serious adventurer. The Sea to Summit Rapid 26L Drypack is made for extreme weather and a ton of water contact. Made with TPU laminated nylon and aircraft alloy buckles, this waterproof backpack isn't going anywhere unless you want it to. It also features a roll top main chamber with a multitude of pockets, so your valuables will be safe and sound. Whether you're climbing Mount Everest or get capsized while white-water rafting, this well-structured Sea to Summit bag will keep everything safe and dry.
3. Aqua Quest Himal Backpack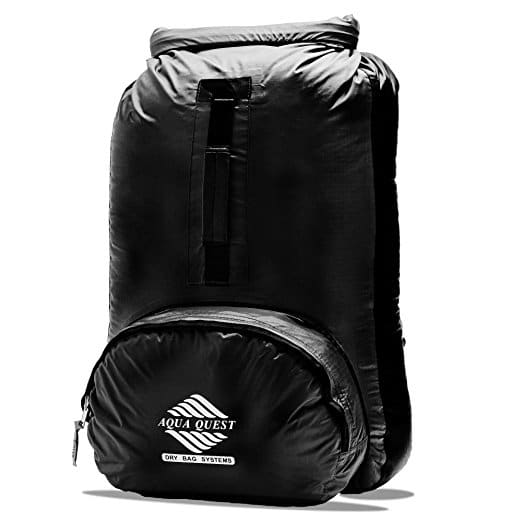 This bag from Aqua Quest is a 100% waterproof backpack, so no matter wet it gets, your contents will be safe. Even better is that it's only 1.15 lbs, making it an incredibly light-weight backpack—even more awesome when you consider its price. Similar to the Sea to Summit Rapid 26L, it also has a roll top to access the main chamber. You can be confident with this bag that your belongings will be secure. The most significant feature of this backpack is that it can be folded into its own zip pouch when you need to pack it. Get this sturdy Aqua Quest Himal waterproof backpack in black, red, blue, or camo.
4. Filson Dry Duffel Backpack
Perfect for a day trip that doesn't require many belongings, the Filson Dry Duffel Backpack is ideal for the minimalist traveler. It comes in a stylish hunter green exterior with a structure that's sturdy but sleek. This Filson bag is so dapper that you might even want to wear this waterproof backpack to work or school. Get yours here for only $144.99.
5. Ortlieb Velocity Backpack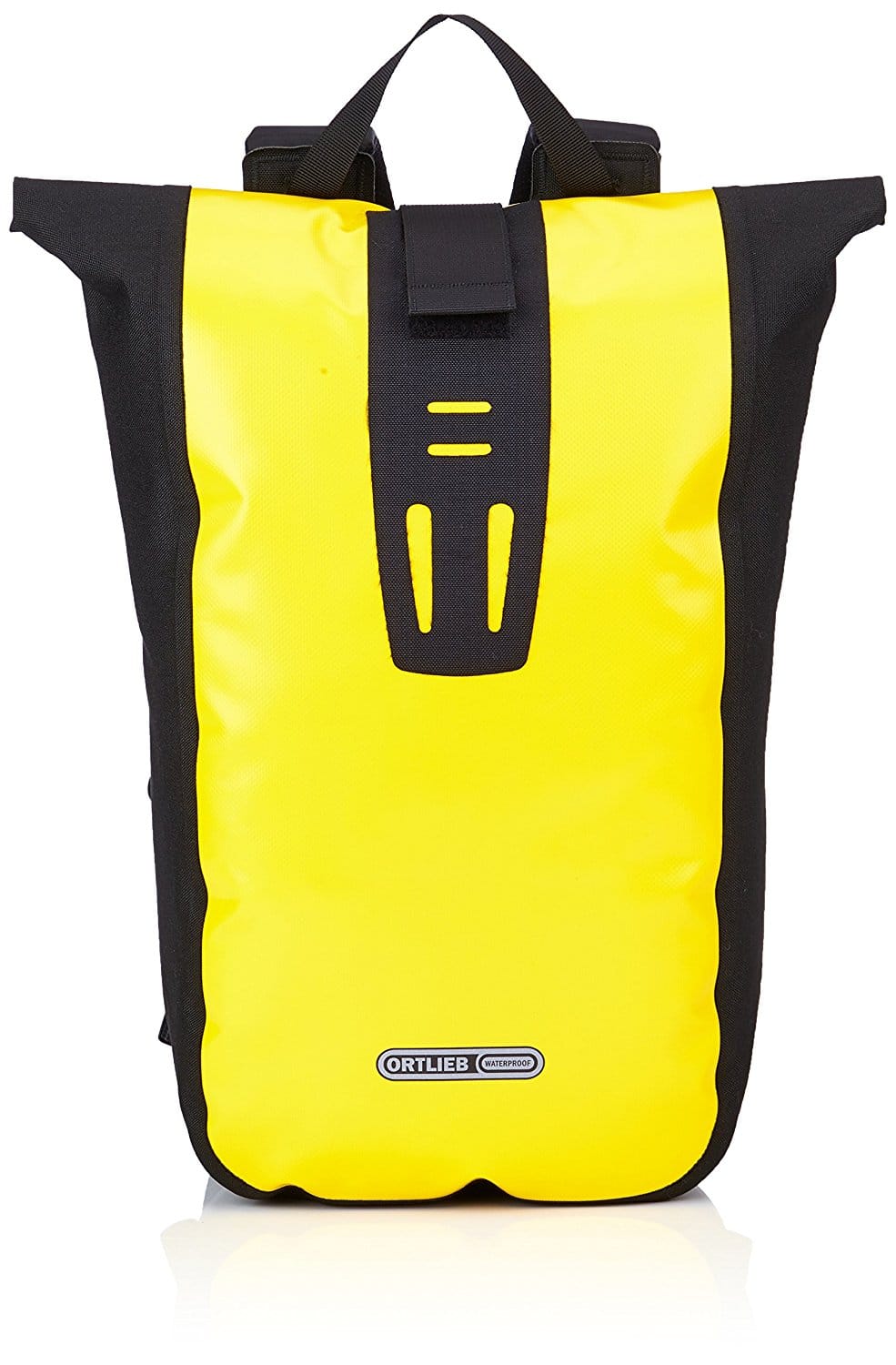 This is a favorite of ours for its unique structure and minimalistic design. It's built for comfort and protection, with a foam back for a comfortable fit, and abrasion protectors to avoid scraping up the bag. It also guarantees the safe keeping of your items as it comes with a roll top as well. The best part? The perfectly placed attachment for your helmet or bike light, so you have them for easy access. We'd consider the Ortlieb Velocity a keeper, no questions asked.
6. Boreas Monterey Weatherproof Pack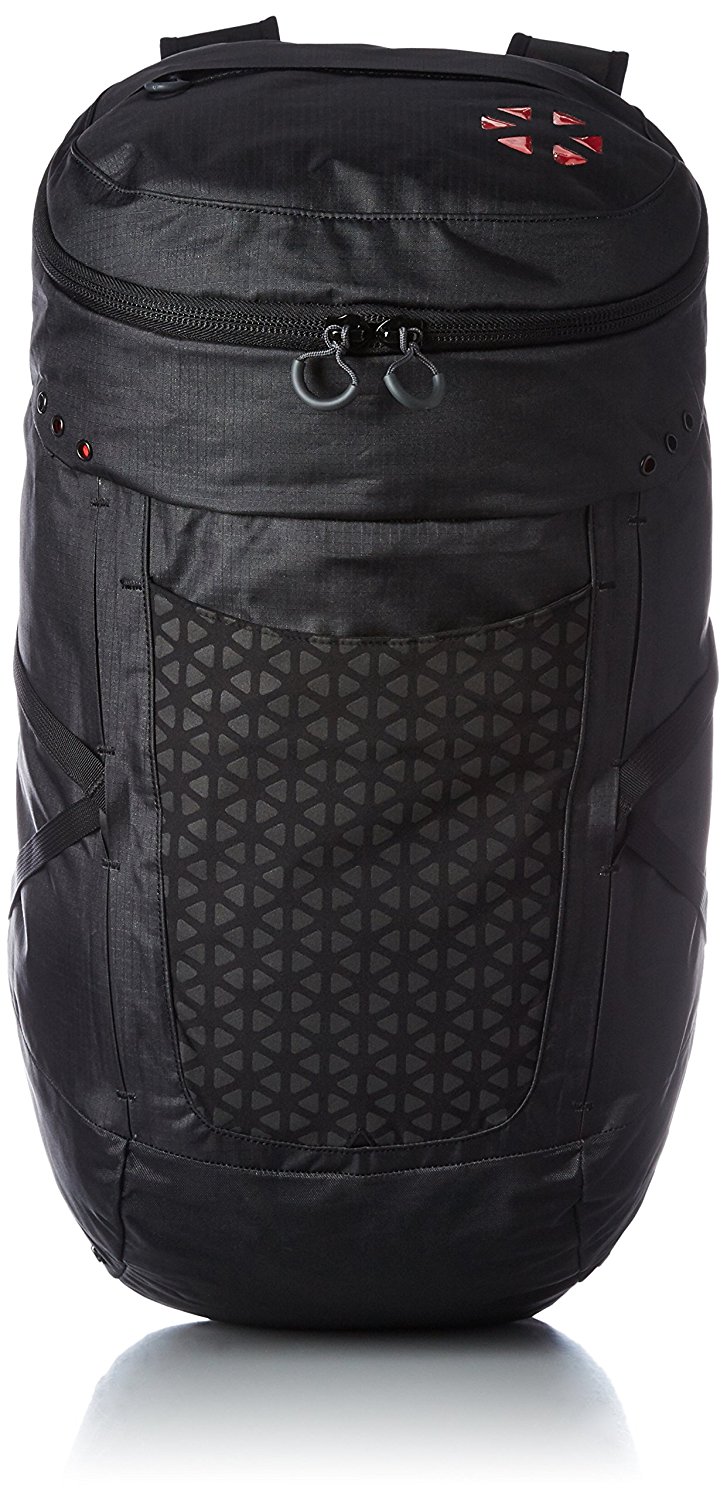 This is by far the most elegant waterproof backpack on our list. Coming in canyon blue or black, the Boreas Monterey Weatherproof Pack is perfect for any climate. Not only is it easy on the eye, but it's got all the features that make it perfect for any adventure. Despite having 35L to put your belongings in, the Boreas is incredibly lightweight, being just above 2 lbs. It's built with double hull construction and made with TPU coating, you can rest assured that this waterproof backpack is as strong as it gets. Some extra bonuses are that it features reflective detail to keep you safe and draining side pockets. That way, you can keep the rest of your items dry by securing your wet gear on the outside of your bag. At $317, it may be a little pricier, but you definitely get all the bang for your buck.
Whether you're going on a day hike through the woods or an extreme canyoneering adventure, there's a waterproof backpack that's perfect for you.
Make sure to check these out before purchasing one to find the one that'll best fit your needs. Are there any backpacks you think are worth mentioning? Share them in the comments below. We'd love to get your opinion as well!
Related Article: 10 Best Travel Backpacks of 2018 Reviewed