Calling all thrill seekers and adventure travel junkies: this post is for you. If you're anything like us, you're not interested in just staying in a fancy hotel overseas. Heck—you might not even care where you stay so long as you get to do something daring. So, whether you prefer cold-weather excursions or dry-land expeditions, 10-minute treks or 11-day journeys, there's a trip for you on this list. Here are 21 incredible adventure travel trips that will satisfy your craving for a thrill.
1. Explore the Gobi Desert
Ever wanted to ride a camel through the desert, enjoying stunning views of its vast sands? Yep, us too. Make that dream a reality with the 4-Day Mongolian Gobi Tour provided by Discover Mongolia. Survey the sweeping Khongor sand dunes as you're comfortably carried along graceful Bactrian camels. You'll also get to wander through the Flaming Cliffs where dinosaur remains were first found and sleep there overnight. There's no doubt you'll get your fill of adventure travel through the Gobi Desert with this trip.
2. Witness the total solar eclipse (on August 21st!)
No matter where in the states you are, this natural event is well worth traveling any distance to witness it. The first one since 1918, a total solar eclipse occurs when the moon completely blocks the sun. There are multiple states where you'll be able to see it, but we're betting that Carbondale, Illinois will be the best spot. It's anticipated to enjoy the longest viewing time in the whole country at an estimated two minutes and forty seconds. Don't miss this adventurous trip on August 21st—it could be a while before you see one again!
3. Go dog sledding in Swedish Lapland
Looking for a snowy adventure? Book one with Husky Tours and go for an unforgettable sled dog trip! Bask in the icy beauty of Swedish Lapland just outside of Kiruna as you're carried along by strong but charming Huskies. Want to make it even more adventurous? Go on the weekend trip where you spend three days and two nights exploring the frosty wilderness of Swedish Lapland. To top things off, you can even drive your own team of sled dogs either the whole time or only partially. Oh, and not to mention—you can also see the Northern Lights with a ride from Husky Tours. No big deal.
4. Go for the ultimate Andean adventure aboard the Belmond Andean Explorer
If you've ever wanted to explore the stunning natural beauty of the Peruvian Andes, we've got the perfect adventure in mind. Peru's first ever luxury train—the Belmond Andean Explorer—is more than an opulent means of transportation. Sure, it's an extravagant sleeper train with features that'll make you want to live in it. But it also offers a variety of pre-planned itineraries throughout Peru that'll take you to breathtaking places like Lake Titicaca and Colca Canyon. Get your fill of adventure travel and luxurious accommodation aboard the Belmond Andean Explorer!
5. Go hiking through the Himalayas of Nepal
Home to eight of the world's ten highest peaks, Nepal's Himalayas are the place to go for a trekking adventure. If you're a seasoned hiker, or just plain ambitious, try one of the seven sections of the Great Himalaya Trail (GHT). World Expeditions' GHT Kanchenjunga Exploratory trip is the first stage of the trail, passing through stunning mountain scenery under the immense north face of Kanchenjunga, the world's third highest mountain.
6. Follow the earth-shaking Wildebeest Migration
This might be one of our favorite adventure travel expeditions yet. Each year, over one million wildebeest and some hundred thousand zebras and gazelle migrate from southern Serengeti in Tanzania to Massai Mara in Kenya. No wonder this majestic annual event has been named among the seven wonders of the world in the past. And the best part? You can watch it all happen. The best way to do it? By booking a stay in Nomad's Serengeti Safari Camp, a mobile camp that moves with the wildebeest migration. This is the perfect adventure for the wildlife-lover.
7. See the Northern Lights in Swedish Lapland
Want to witness the Aurora Borealis like never before? You better make room on your calendar, because this is an experience you won't want to miss. The new floating Treehotel that'll drift (or freeze) atop the Lule River in Swedish Lapland will give you a surreal view of the Northern Lights. Hoping to open early in 2018, Arctic Bath will rest atop the waters in the warmer seasons and freeze in the cooler. Imagine it: floating on a river in Swedish Lapland in a secluded, luxury Treehotel, gazing at the lit-up green and blue skies above? Sounds like the perfect adventure to us!
8. Go windsurfing on Lake Arenal in Costa Rica
Craving a water sports adventure? Head to Lake Arenal in Costa Rica for a day of windsurfing. Not far from the town of Tilaran, Lake Arenal is the home of the active Arenal Volcano. Combine the powerful winds and warm water with the view of this volcano, and you get an adrenaline-packed experience! Sound like an exciting excursion to you but are new to windsurfing? Head to Tico Wind for some classes to get you ready for the adventure!
9. Trek through the stunning backroads of Japan
If you're just getting started in adventure traveling, consider an introductory walking tour. This Backroads of Japan itinerary from World Expeditions is the perfect way to get your feet wet as you wander through sacred land, experiencing unrivaled natural beauty and impressive cultural sights. You'll also have the chance to do some urban exploration all in keeping with the discrete, back roads theme.
10. Go polar snorkeling in Antarctica
Sound crazy? Well, it sort of is—but that's what makes it such an exciting adventure! Explore the fascinating, clear waters surrounding Antarctica and the marine creatures that live within it, from penguins to teeny sea anemones. Marvel at giant icebergs as you swim around them and touch their strong structures. Begin by booking a trip with Waterproof Expeditions, an experienced company that'll take you on this majestic adventure. This is one experience that everyone must do before they die—no question about it.
11. Go horseback riding in Turks and Caicos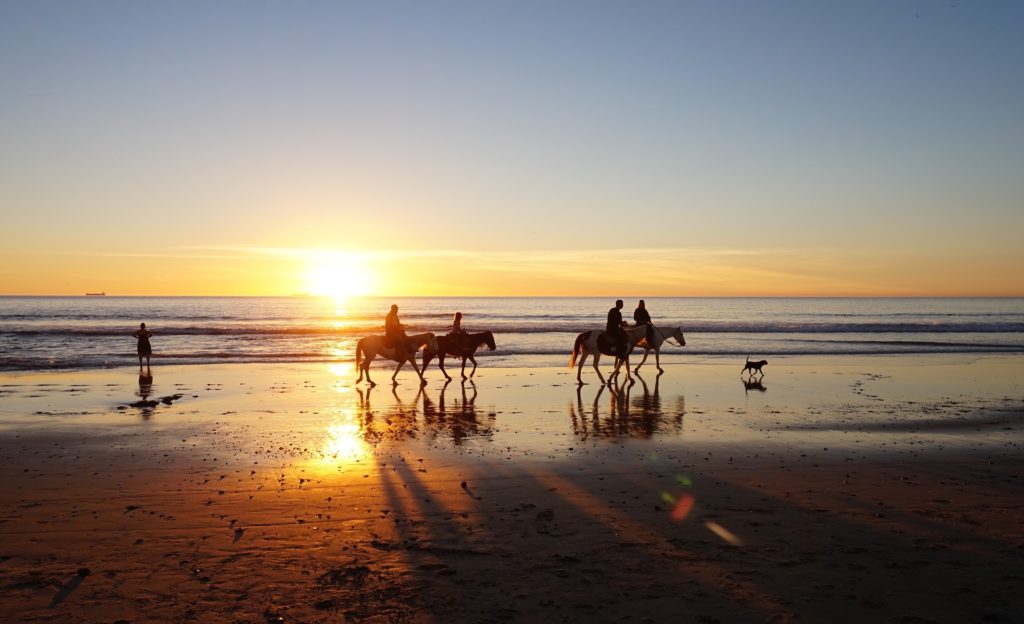 This is an absolute must-do adventure. Even if you've gone horseback riding on the beach before, we promise it's no match for the experience you'll have doing it in Providenciales. With a guided tour from Provo Ponies, enjoy an incredible ride through quiet trails and then along the serene Long Bay Beach. You can even take your horses into the crystal-clear waters of Long Bay Beach to cool-off.
12. Go mountain biking through the Swiss Alps
Looking for a longer, exhilarating journey? Then mountain biking through the Swiss Alps has got to go on your adventure travel bucket list. Whether you're a total newbie or a weathered expert when it comes to mountain biking, you'll find a suitable trip that fits your experience with Trek Travel. Want to go on a challenging 6-day adventure from Lourtier, Switzerland to Zermatt? Or maybe you want to create a custom trip? Do it with Trek Travel for an unforgettable experience!
13. Visit the Pillars of Hercules in Antigua by boat
Located in the forefront of English Harbour in Antigua, this giant limestone rock formation is absolutely awe-inspiring. You can hike it, dive before it, or marvel at it from your sailboat—but the best way to experience it? Diving in front of it from your boat and snorkeling around it. Not only can you stare in wonder at the Pillars of Hercules, but you can explore the stunning marine creatures that swarm around it. You'll find sleek stingrays, colorful fish, and amazing coral reefs—perfect for some killer underwater shots!
14. Do just about every kind of adventure travel activity in Madagascar
A multi-activity trip is a great way to experience different styles of adventure travel. What better place to do that in than one that's both diverse in ecology and in landscape? The huge island of Madagascar is about the size of France and boasts lush tropical rainforests, white sand beaches, and jagged limestone peaks. Cross the width of the island on the Madagascar Adventure with World Expeditions to experience everything the country has to offer as you canoe, camp, trek, and go on a wildlife safari.
15. Take a tour through the famed Underground River in Palawan Island
Ready for an exhilarating canoe trip? Head to Puerto Princesa, the capital of Palawan Province, for a breathtaking trip through the Underground River. You'll glide across the longest river in the entire world through a huge, dark cave that'll fill you with wonder. Be prepared—you'll most likely meet some bats along the way since the cave is their home. Trust us—this isn't an adventure you'll ever forget.
16. Hike the Nut in Tasmania
Up for a short but strenuous hike that reaps spectacular views? Add a trek up ancient volcanic plug The Nut in Tasmania to your adventure travel list of to-dos. The climb might be short, but it's incredibly steep which is what turns it into a challenge. Once you're at the top, you'll enjoy a stunning panorama of the town of Stanley and serene beaches. After thirty to forty minutes of basking in this beauty, you can either trek back down or be carried down on the free chairlift. A must-see natural attraction!
17. Go hiking through Calanque d'En-Vau in Cassis, France
Seriously, you do not want to miss this majestic place—especially if you are an experienced hiker. With steep paths and stunning scenery, you'll feel like you're in a slice of heaven as you venture along this hike. Best part? You'll get a solid workout in no matter how much hiking experience you have. Plus, you'll be rewarded generously at the end with a refreshing swim in the vast blue waters and magic views of towering cliffs.
18. Immerse yourself in the lively culture of El Jardin in San Miguel de Allende
For more of cultural adventure and less of physical one, you'll want to visit El Jardin in San Miguel de Allende. At the heart of the best city in the world, El Jardin is constantly thriving with everything from street vendors to dance performances. Stroll through these lamp-lit streets in the evening, indulging in savory local snacks, purchasing handmade fabrics, and watching the people of San Miguel de Allende enjoy one another's company.
19. Walk across the Great Wall of China
Nominated once again as one of the Seven Wonders of the World, this should've been on your list of to-dos long ago. Spanning 4,000 miles across the historical northern border of China, the Great Wall of China holds the record of world's longest man-made structure. You'll be awe-struck by the surrounding mountains in your view as you trek across this stunning UNESCO World Heritage Site.
20. Go on an epic caving adventure in Iceland's ice caves
Iceland has wondrous ice caves and tunnels to explore that will leave you in absolute awe. Maybe you want no longer than a 3-hour tour through the Vatnajokull Glacier. Or if you're the ambitious type, you may be enticed by a 3-day adventure along the South Coast filled with glacier hiking, caving, northern lights sightings, and more. Either way, this is the perfect adventure for anyone who's looking for a cold-weather excursion—and the perfect company to go with is Extreme Iceland. They'll take on trips you'll want to relive over and over again—no matter how chilly.
21. Go camping and rock climbing in Joshua Tree National Park
Last but not least on our list is a rock climbing and camping excursion in Joshua Tree National Park. There's really no place like it, with the Mojave and Colorado deserts clashing together to create an unusual yet otherworldly environment. Rock climb by day with the guidance of Cliffhanger Guides, and stargaze by night as you rest at one of their many campsites for $20 or less. Trust us, this is an experience that deserves a top spot on your bucket list.
No matter what kind of adventure you're after, any of these trips are sure to satisfy your itch for a thrill. So, which adventure travel trip will you go on next? Share your thoughts in the comments below!
Related Article: Best Travel Gadgets For Adventurers