Houston has no shortage of fun and affordable activities for you to enjoy. Read on and learn about some of the best free things to do in Houston during your trip there!
As the fourth-largest city in the United States, there is no shortage of free things to do in Houston. Maybe you're a local and at a loss of where to bring your friend this weekend to prove to them that Houston is actually the best city to visit in the Lone Star State. Sure, you could take them to the Houston Zoo or one of the many, many museums there… But that may not be enough to convert them into a Houstonian.
Tune them in to why this city is so great by showing them the top 10 free things to do in Houston!
1. Start Your Morning At The Houston Arboretum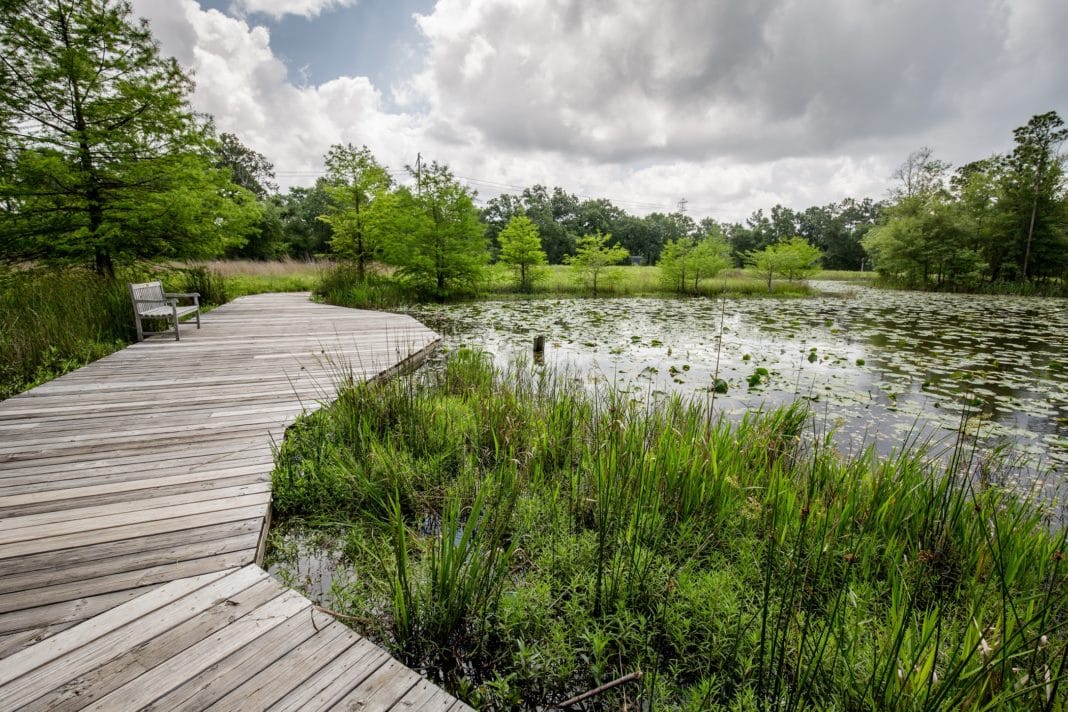 Credit: Christina Spade
This is easily one of the best free things to do in Houston for adventurers and outdoor enthusiasts alike! Wake up early and start your day with one of the top Houston attractions, the Houston Arboretum & Nature Center. Tucked away in a small forest in Houston near Memorial Park, this place offers a peaceful area to wander around and start your day. The trails vary from boardwalks to bridges to mulch-covered trails (which, by the way, are stroller friendly!). There are also many trail options for all levels of outdoorsmen to enjoy. Wake up, get yourself a cup of coffee, and enjoy an easy stroll through the woods. The Arboretum is also one of the most popular free things to do in Houston for couples… And has resulted in many weddings taking place there over the years!
To top it all off, there are baby turtles – yet another reason why the Arboretum is one of the best free things to do in Houston.
2. Spend An Evening At The Twilight Epiphany Skyspace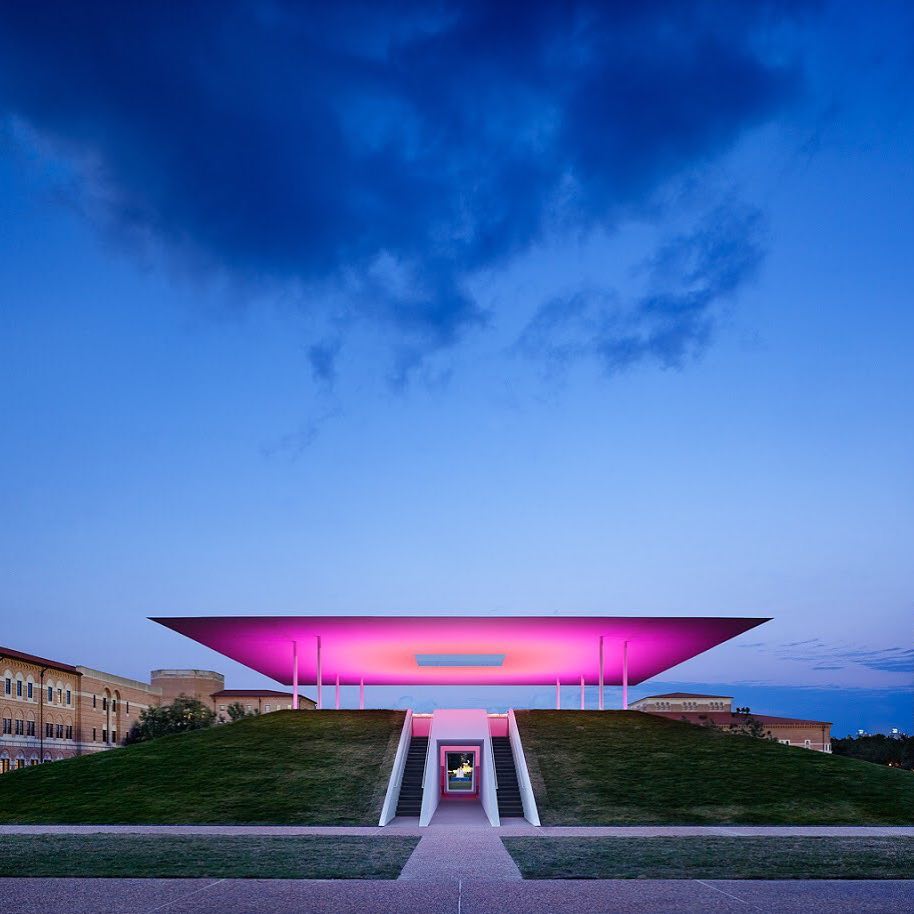 Credit: Rice University Public Art / Facebook
Tourist attractions are often hit or miss; however, the Twilight Epiphany Skyspace by James Turrell will not disappoint. Built in 2012, the facility was built as a music space with the perfect conditions for reverb and acoustics in mind. Its "pyramidal structure"  holds up to 120 people on its two levels and is constructed of grass, concrete, stone, and composite steel. Even if you're not interested in the music performances, this site is worth checking out for the architecture alone. It's also one of those free things to do in Houston that you just need to see for yourself.
At both dusk and dawn there is a light show of changing colors that illuminates the underside of the structure's white canopy. There are few experiences in the state – let alone the country – that are quite like this one. Keep your tour of Houston on the cheap and visit one of the best free things to do in Houston that you and your guest will love.
3. Stop For Lunch At A Taco Truck
Okay, okay – this one isn't free. But you'll have to eat at some point, so you better make it at a Texas staple. An authentic and cheap Houston attraction is definitely getting lunch at one of the city's many food Tex-Mex food trucks. A fan favorite is El Norteño on the corner of Long Point Road and Gessner. Even the directionally challenged will have a hard time missing this one: the "truck" is actually a blue school bus with a cartoon chicken painted on the side. The prices are cheap, the service is quick, and the food is delicious. You were going to spend money on food anyways, so you may as well make it here.
If you're looking for a breakfast option, El Ultimo is a great spot to check out. What sets this food truck apart from the rest are its thick flour tortillas and array of unique toppings, such as tacos de chicharron y barbacoa in addition to the traditional cilantro and salsa verde toppings. El Ultimo also serves lunch and has became a favorite amongst food truck diners.
If you're still compiling a list of things to do in Houston today, make sure visiting a taco truck is at the top.  
4. Stroll On Down To Chinatown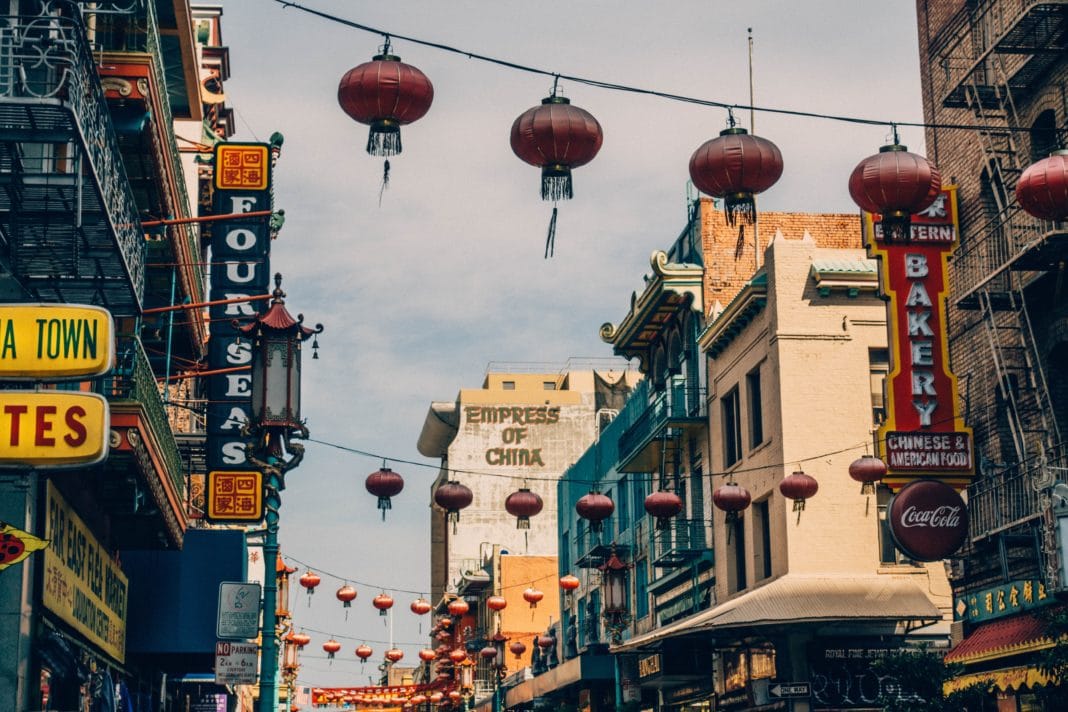 One of the greatest cheap and free things to do in Houston is exploring Chinatown. Because the Asian community is one of the fastest growing ethnic groups in the city, Chinatown has grown significantly over the years. The area is full of fun and affordable things for locals and tourists to do, including the Asian Heritage Tour with the Chinese Community Center. Though this option is not free, the tour takes guests on a journey through tea-tasting, Chinese calligraphy, Thai Chi, massages, and more. You can create your own less expensive, self-guided tour, of course. If you choose to do so, make sure to venture over to the Teo Chew Temple. It's free and open to the public and another example of Houstonian architecture worth exploring.
For shopping lovers who are determined to do Houston on the cheap, don't sweat it. Harwin Drive in Chinatown is always a great bargain for anything ranging from clothes to cellphones. The best part is that the vendors on Harwin Drive are constantly switching in and out and changing up their products, so there is always something new to find on this strip. Chinatown is also BYOB, therefore it's a great option for those looking for cheap, Houston night activities. Take advantage of one of the best free things to do in Houston and head over to Chinatown ASAP!
5. Spend An Afternoon At The Houston Space Center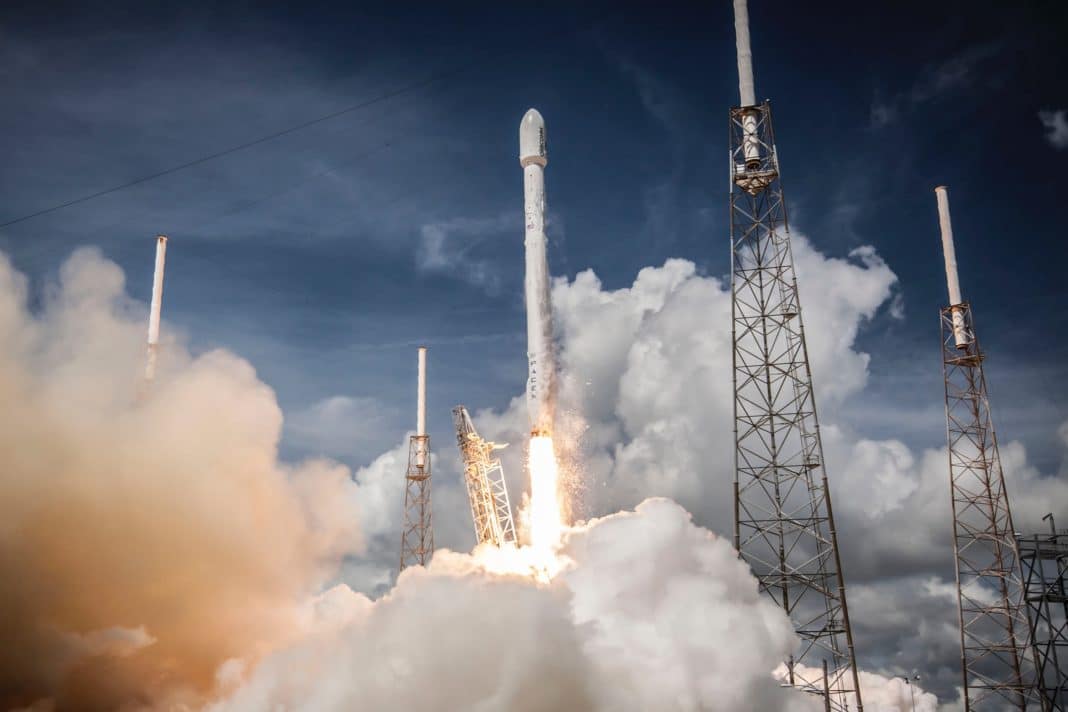 Are you wondering where to go in Houston that'll be an experience you can get no where else? Look no further – the Houston Space Center is the next place to visit on your list! Warning: This is not free. But if you don't check out this attraction, you're doing Houston wrong. The $30 ticket into the center truly gives visitors a bang for their buck. Visitors will get the chance to visit with an astronaut, see the original control room where NASA aided Apollo 13 and where the world first heard, "Houston, the Eagle has landed," and view the Saturn 5 Rocket and other spacecrafts up close. It's basically the closes to being an astronaut that you'll ever get.
If you want to limit your trip solely to free things to do in Houston, we understand. If not, the center is a great option for parents looking for things to do with kids in Houston or for adults looking for fun Houston activities to fill up the afternoon. No matter the age, the Houston Space Center will guarantee an interesting visit for all!
6. Catch a Show at Miller Outdoor Theatre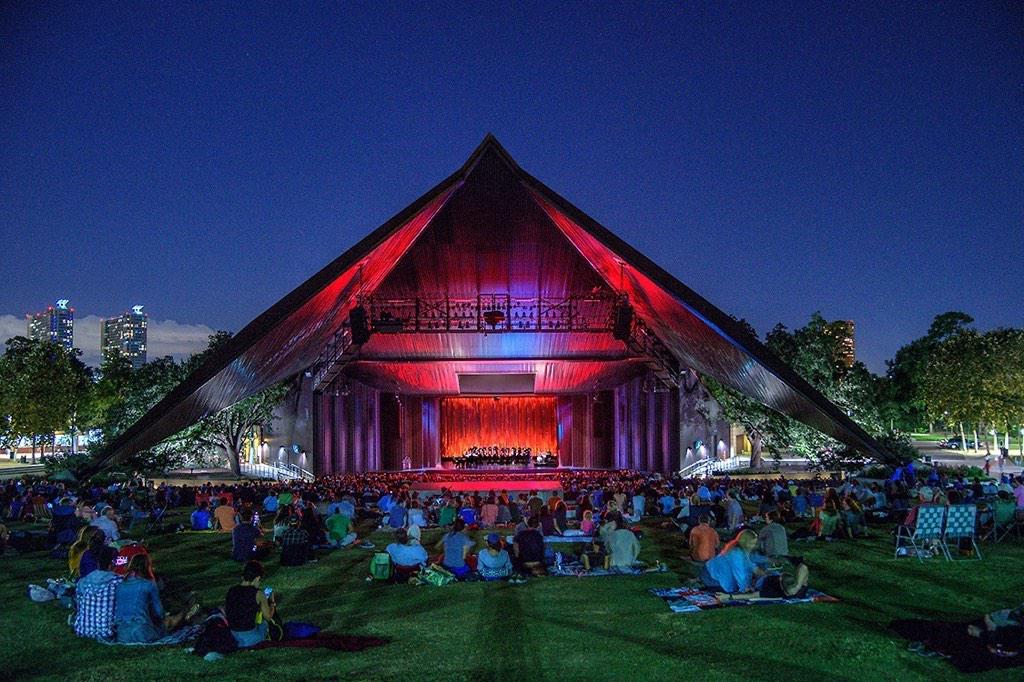 Credit: The Miller Outdoor Theatre
For tourists and locals looking for free things to do in Houston, shows at the Miller Outdoor Theatre is always a great option. I mean, let's face it: nothing beats relaxing on a grassy hill surrounded by friends while watching a free show! Located in the heart of the Houston Museum District, the theatre screens films, concerts, and other cultural performances throughout the year.
Whether you're visiting the city or you've lived here all your life, Miller Outdoor Theatre offers something for everyone of all ages. Performances are ongoing, so check their schedule so you don't miss out on something awesome. Outdoor activities in Houston don't get better than this. Bring your blanket and snacks and get ready for a great time.
7. See The Art At The Menil Collection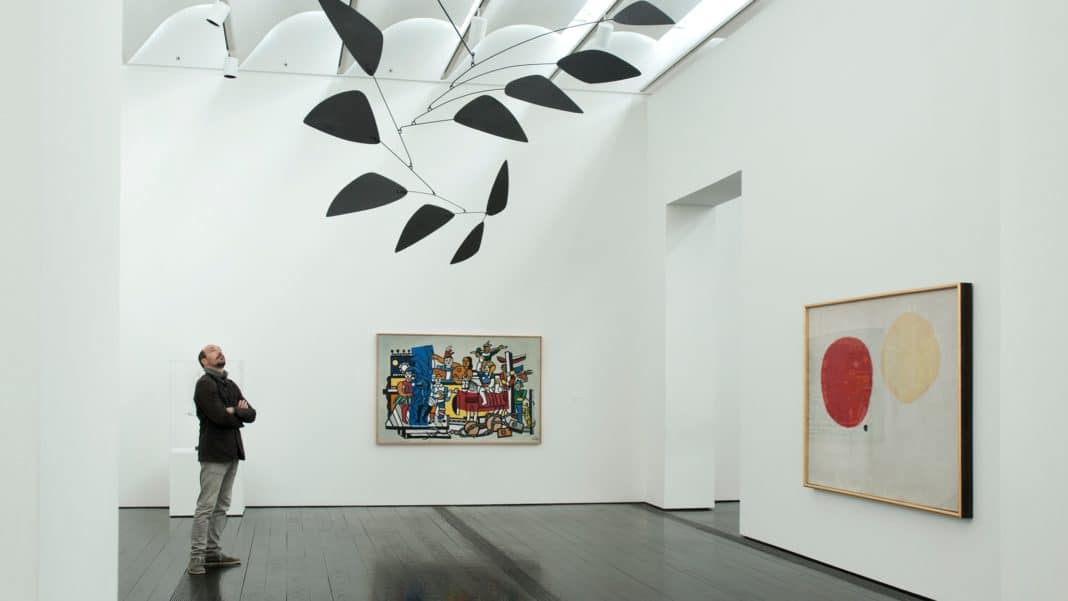 Credot: The Menil Collection
Arguably one of the best free things to do in Houston is taking in its art scene. The city is becoming a world-class arts town and luckily for tourists looking to do Houston on the cheap, much of it is free! One of the best Houston attractions for tourists interested in the art scene is The Menil Collection. This hidden gem in Houston has an incredible permanent collection of finely curated exhibits full of rare antiques, Byzantine and Medieval art, and other historical pieces from around the world. The collection also includes pieces from the renowned Andy Warhol and Pablo Picasso.
This is another great option for those looking for things to do alone in Houston. In fact, the collection is full of such diverse pieces that it may be best to take them all in without the distraction of conversation. Hands down this is is one of the top ten free things to do in Houston today and any day. Time spent at Menil is an experience that will stay with you for life.
Stroll Through Rice Village
Join us at @sugarfina next Wednesday for a sweet night filled hosted by @carriec with candy tastings, cocktails, bites and live sketches by illustrator @rongrong_devoe_illustration
[tcb-script async="" src="//www.instagram.com/embed.js"][/tcb-script]
More fun and free things to do in Houston include a visit to Rice Village. Located just down the street from the Rice University campus, the village is nestled within the Houston Museum District near Hermann Park and the Houston Zoo (two other excellent inexpensive touristy activities!). Rice Village is a lovely shopping districts chock full of taco trucks, book stores, and the best dessert spot in the city, The Chocolate Bar. The menu features classics like Boston Cream Pie and Mudpie Cake in addition to seasonal options like Pumpkin Cheesecake and gluten-free options for those who need it.
The area draws in a good mixture of Rice University students and tourists, therefore this is a good option for those looking for nightlife options in Houston. The one downside is that parking can be a problem, but if you don't mind parking a few blocks away from the village center, it's usually an easy walk to all of the main attractions.
Overall: this is a quirky shopping district full of interesting boutiques and yummy restaurants. It's also one of the best free things to do in Houston. If you're in the city, you have no reason not to check it out!
Step Into The Past At The Heritage Society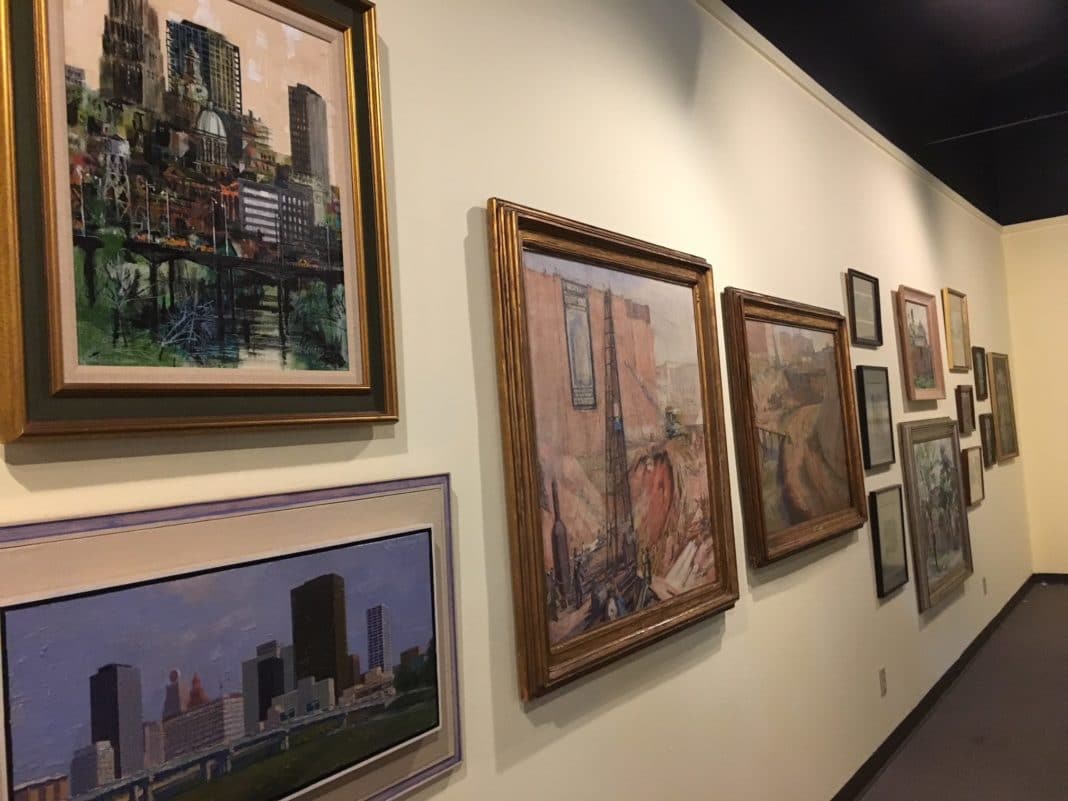 Credit: The Heritage Society / Facebook
It can be hard to remember that Houston wasn't always the bustling city it is today. At it the beginning it was simply a small, developing town at the time of the Texas frontier, and the Heritage Society does an excellent job to preserve that slice of history. As Houston's only interactive outdoor museum, the Heritage Society offers a glimpse into Houston's early days, from German to Victorian architecture to the Wild West to everywhere in between. The facility exhibits nine historic structure, including homes that date back as early as the 1820s giving visitors a view from the house owner's personal perspective.
If you're in town in December, you're in for a real treat. During the holiday season the Heritage Society sets up a tour of the original Houston homes in Sam Houston Park. The Boy's Choir will also be in attendance this year with festive songs prepared to help get you in the holiday spirit!
A trip to the Heritage Society is one of the more unique things to do in Houston that gives tourists – and locals – a well rounded view of the city.
Hop Over To Galveston Island
Your list of free things to do in Houston this weekend absolutely must include a trip to Galveston Island, home to Galveston State Park. Though the park is technically an hour outside of Houston, it offers a sweet escape from the city and takes visitors to soft, sandy beaches that are perfect for watching the sunrise or laying down a blanket for a family picnic. Also on the island is the Strand Historic District where beautifully restored structures from Houston's early days can be found.
A visit to the island is also a great option for people looking for free things to do outside in Houston and in the nearby area. The facility has showers, changing rooms, picnic areas, and plenty of room to spread out on the beach. It's a perfect spot for Houstonians and tourists looking for a day trip away from the noise of it all.
In Conclusion: Houston Rocks
There's a reason Houstonians love their city so much. It's full of diverse culture, a mouth-watering food scene, and showcases art on every corner. That also might be why U.S. News listed Houston as as "One of the Best Places to Visit in Texas." This is one of the fastest growing cities in the U.S., and it only keeps getting bigger and better. You'll never have to question which Houston attractions are worth seeing because at the end of the day, the entire city is worth exploring.
So what are you waiting for? Get yourself ready for authentic Tex-Mex and southern living – get cracking on checking off your list of free things to do in Houston, TX!
​Related Article: 10 Best Weekend Getaways In Texas