Heading out for your next vacation? Invest in one of the best nylon tote bags.
When you're traveling, we can't overemphasize how important it is to stay organized. A great way you can do that is to invest in one of the best nylon tote bags. Made from durable material and equipped with multiple storage sections, they have what you need to get the job done. Plus, they're stylish too.
To narrow down your selection, keep the type of bag you want in mind and why you want it. Are you looking for a small tote bag that is easily portable? Or are you looking for something larger that you can toss your accessories into when you're on the go? The type of brands you like, your style, and price points should also come into play. Are you more minimalist in style or do you like bold prints? How much money do you have to spend? If you save a little here, where else would you allocate that money?
Make sure you are shopping with a budget in mind. When you're picking up last minute travel items, you'd be surprised at how fast costs can stack up. Save some money for souvenirs, dining out, and exploring when you arrive at your destination. Our choices for the best nylon tote bags check all of the boxes.
Here Are Our Picks for the Best Nylon Tote Bags on the Market
The simple design and size of these nylon tote bags make them versatile for use on the daily. Take them along with you for a weekend getaway, pack it with gym gear, or bring it as a personal item on a long-haul flight. The best nylon tote bags have the added bonus of being not only water resistant but tear resistant as well. We've scoped out styles that will be sure to fit every taste and budget. Here are our favorites in no particular order.
1. AMOLAR Gym Bag
The AMOLAR Sport Gym Tote is the perfect travel companion. Whether you really are just heading off to the gym, work, or are going on a little trip, it's got you covered. Designed to get you through your every day, it opens wide to fit in all of your gear with ample storage. So, keep your gear organized on the go. You'll never have to rummage through your bag to find that one necessary item again.
To keep things separate, the roomy main compartment offers lots of zippered sections. In addition, interior pockets are well-placed to help you separate dirty gear from your clean stuff. On the outside, you will find additional pockets for your wallet, sunglasses, phone, and a water bottle holder. Even if you load this bag to the hilt, it's comfortable to carry. Thick nylon shoulder straps ensure equal weight distribution and won't cut in when you wear it.
Tech Specs:
100% nylon

Water resistant and tear resistant fabric

Spacious main compartment with pockets for organization

check

Front 2 mesh pockets and one zippered one for additional storage

check

100% money back lifetime guarantee
2. Victorinox Werks Traveler 5.0 WT Shopping Tote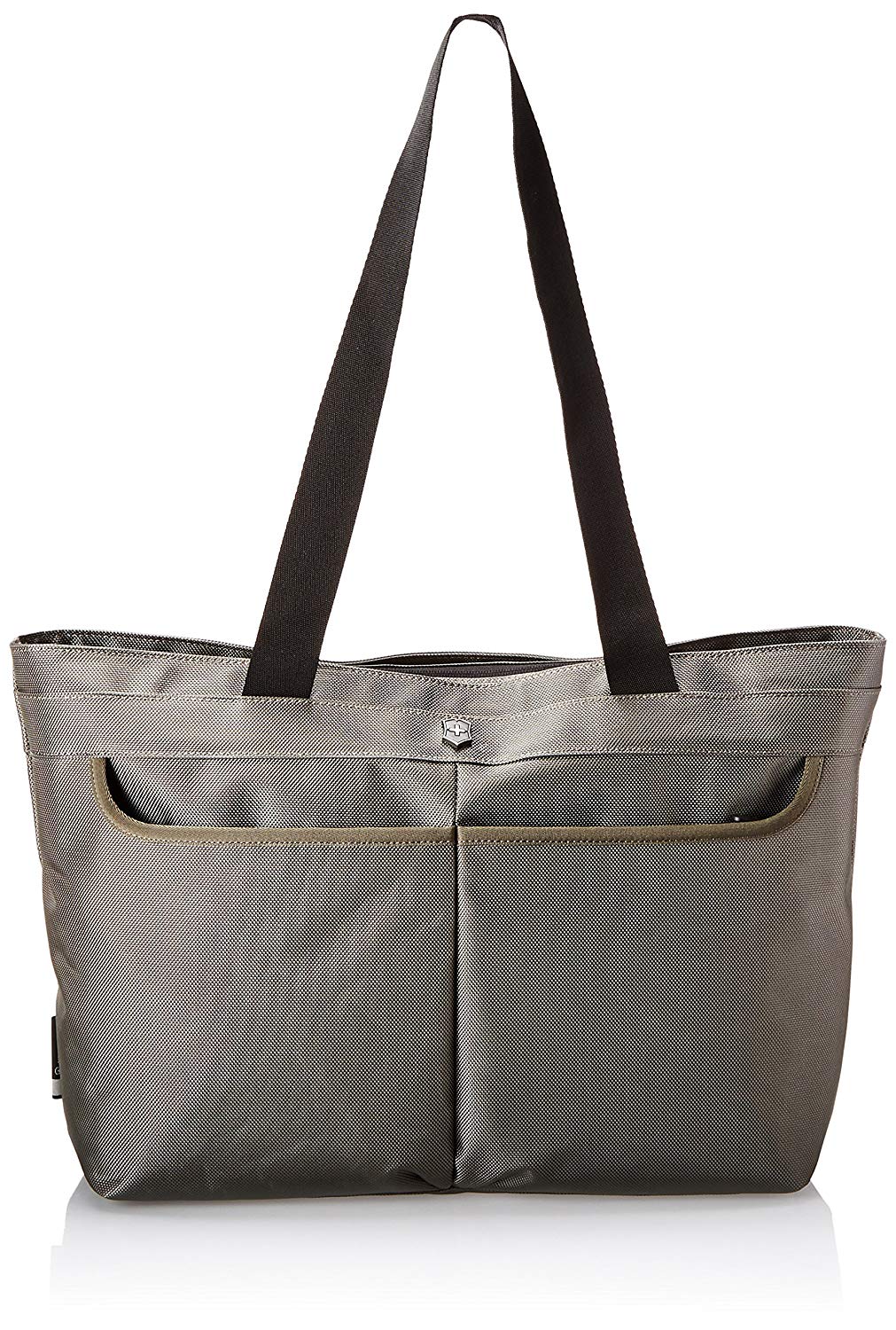 Of all the nylon tote bags on the market, this one from Victorinox Werks has to be one of our favorites. It's the perfect size for a carry-on and everyday bag. You'll find that it contains ample storage space for your essential items. Store your umbrella, water bottle, tablet, snacks, and more. Interior pockets provide easy access points.
There are also two peripheral pockets, a key fob, a water bottle and umbrella pocket, and a full-length zippered lining pocket. But here's our favorite feature of all…The rear pocket converts into a sleeve that can slide over the handle system of your luggage. Last but certainly not least, webbing straps allow you to carry it either by hand or over the shoulder.
Tech Specs:
Zip tote with webbing straps

Rear pocket converts to sleeve to slide over luggage handle

Ample storage space

check

Webbing straps; carry it by hand or over the shoulder
3. Crest Design Water Repellent Nylon Shoulder Bag Handbag
Crest Design has done it well. Offering a minimal design, this stylish nylon tote is the perfect bag to grab on the go. Constructed with a water-repellent fabric, you can rest easy knowing your items will be safe and dry. Thanks to its classic shape and exterior, this bag is perfect to use in all seasons. We appreciate its sturdy build.
While nylon is the main material in use, the detachable shoulder strap and handles are composed of a heavy duty cotton canvas. Push aside the handles and let's take a look at the interior. The lining is made of a polyester fabric and durable zippers ensure the bag won't have any trouble opening and closing when you need it to. There is one zippered main compartment and one padded compartment to protect your laptop or tablet.
Two interior slip pockets offer a safe space for items like your phone, headphones, wallet, charger, and keys. There are also four exterior front pockets and one back exterior pocket. They offer a great place to store small items and keep larger ones like documents organized and tidy.
Tech Specs:
Water resistant nylon fabric

Heavy duty material

Adjustable and detachable shoulder straps

check

Dimensions: 15″L x 11″H x 6.3″D

check

12 month worry free guarantee

check

Multiple pockets for organization
4. Crest Design Water Repellent Nylon Multipurpose Backpack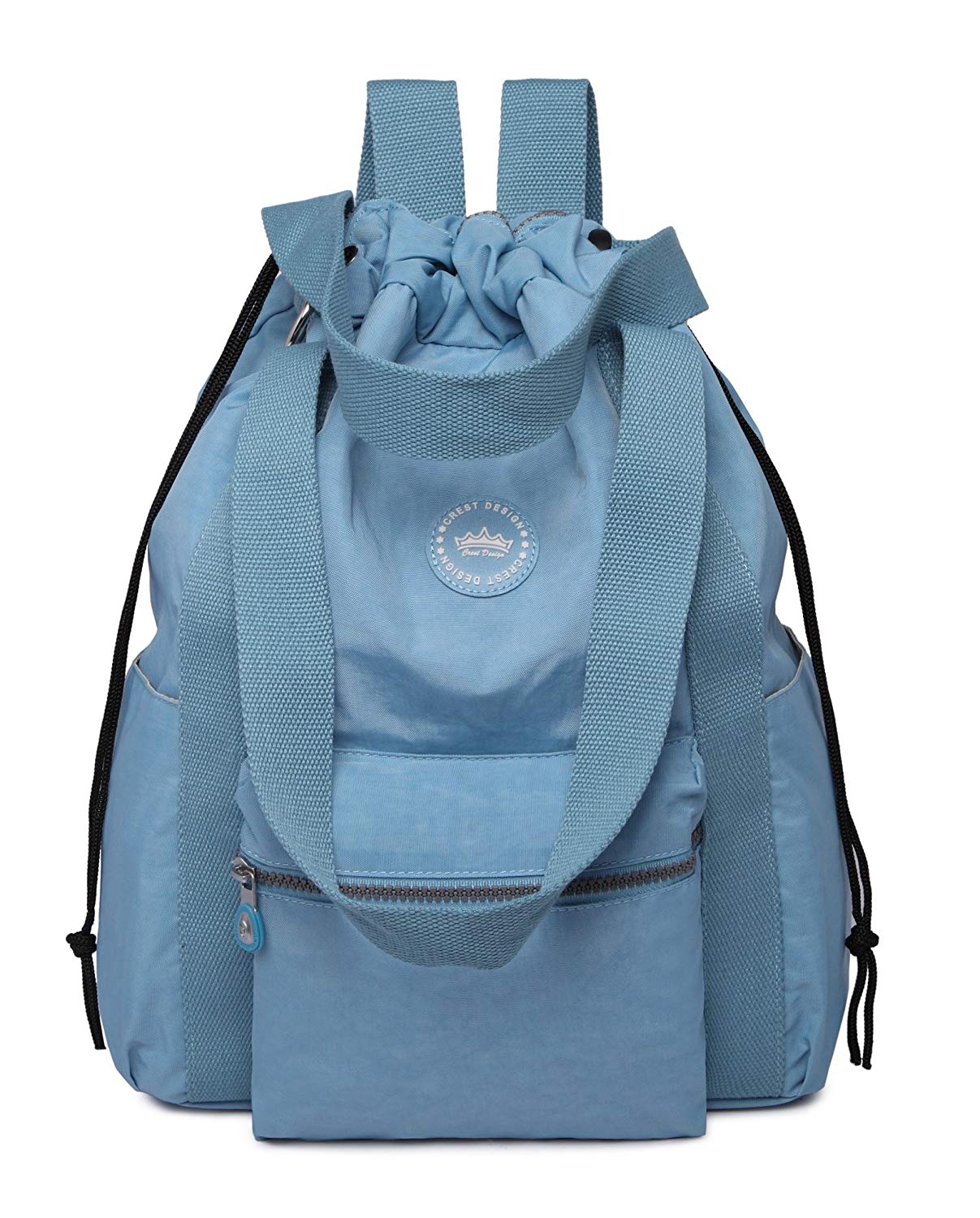 Crest Design has done it again. This casual yet attractive design offers everything we need out of the best nylon tote bags. When you're on the go, you can carry it any way you want. Hold it like a bag or wear or like a backpack or messenger style. Carefully chosen water-repellent fabric will keep all of your essentials safe and dry.
The unique shape and design make it perfect to use in all seasons. With all things considered, this style is reminiscent of a more affordable Fjallraven tote. What we love most about this bag though is that it's clearly designed to last. Nothing is more frustrating than purchasing a bag you love and watching it fall apart after only one month of use. The interior is lined with polyester fabric and the zippers will last for so long.
We also love how spacious the interior is. There is a primary zippered main compartment and three interior slip pockets. You can fit your tablet, cell phone, wallet, makeup, and other essentials in here. Exterior side pockets can hold your water bottle or umbrella, and a smaller zippered front pocket provides easy-to-reach access.
Tech Specs:
Convertible style for wear

Made with durable, lightweight, water-resistant nylon

Fully lined with polyester fabric in interior

check

Zippered main compartment

check

Three interior slip pockets and one interior zipper pocket

check

Zippered exterior front pocket and two exterior side pockets

check

One year worry-free warranty

check

12.6″L x 18.5″H x 5.1″D

check

Can fit a laptop up to 17"
5. Baggallini Avenue Tote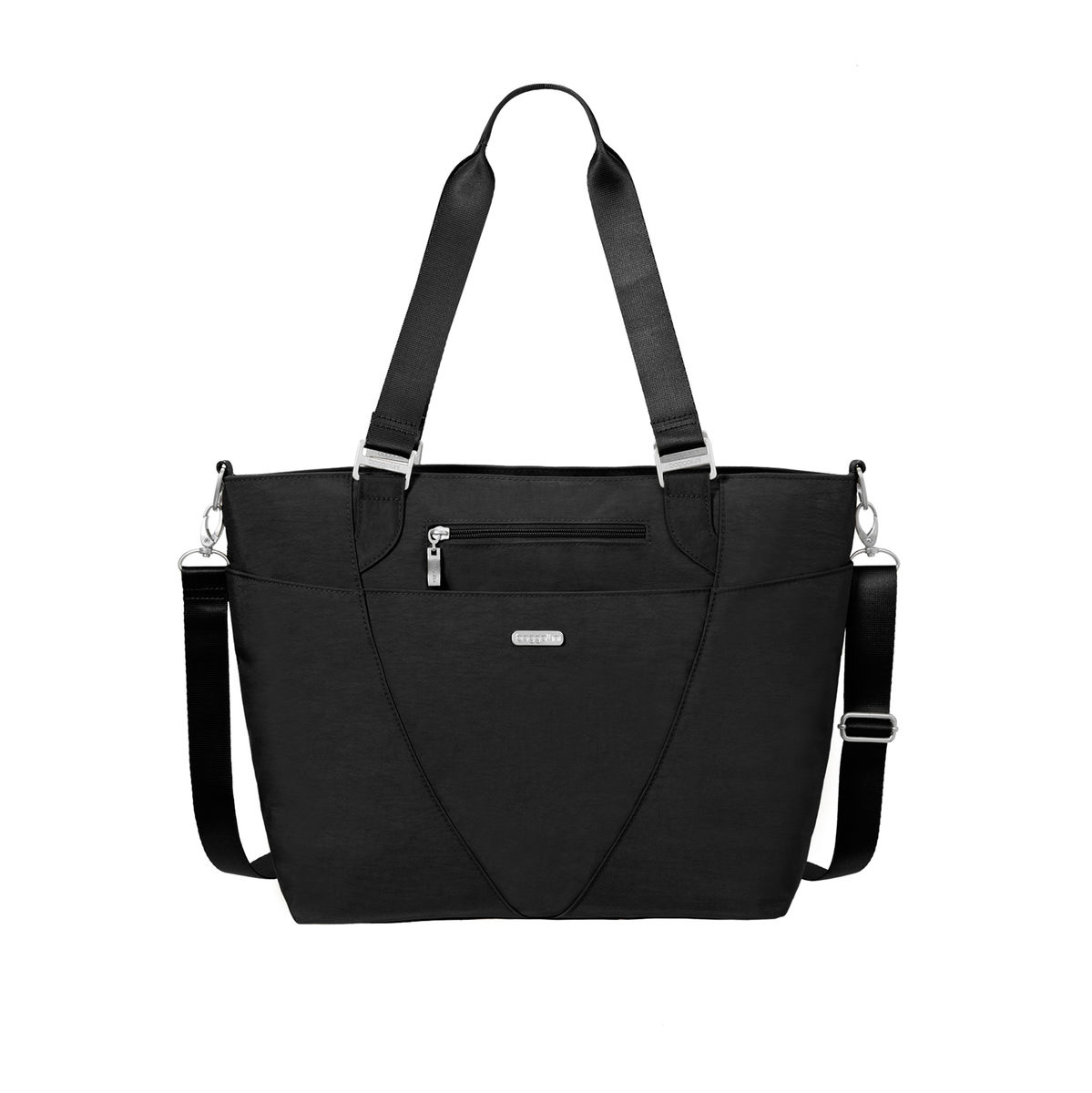 Traveling is both about the journey and the destination. Why not invest in one of the best nylon tote bags? This bag is stylish, lightweight, and organized. We really can't praise the Baggallini Avenue enough. First and foremost, we love the well-appointed pockets and compartments. They provide enough room to hold all of your essentials and leave plenty of room for adventure too.
Next, the lightweight material is worth mentioning. You won't feel weighed down carrying this bag around. But with that said, it has enough structure to support it. So, don't picture a sagging tote bag. Finally, did we mention that this bag is durable? The nylon material is made to last.
Tech Specs:
Nylon material

Imported

Wide array of colors to choose from

check

Zipper closure

check

8" shoulder drop

check

12" high structure

check

15.25" wide
6. YALUXE Women's Oxford Nylon Large Capacity Work Tote Shoulder Bag
This waterproof style is one of our favorite nylon tote bags. When it comes to fashion and quality, YALUXE never disappoints. With a spacious interior, it is made to store everything you need to bring and have on hand. Pack away your makeup, notebook, cell phone, umbrella, wallet, Macbook, snacks, and a little something else. Avoid the embarrassing situation of rummaging for your wallet and keys with the Women's Oxford Nylon style. It also comes with a large wallet to store some cash and other small items.
Tech Specs:
Fabric is composed of high density nylon

Waterproof

Zipper top closure

check

Can fit a laptop up to 14"

check

Comes with a detachable wristlet

check

10.43" handle drop

check

Lightweight and pliable

check

Minimal design
Invest in One of the Best Nylon Tote Bags for Your Next Trip
We hope you enjoyed reading our article on the best nylon tote bags. As you can see, these handy bags come in a variety of styles, materials, and prices. If you're looking to add a cute accessory to your look and get more organized, we highly suggest picking one up before your next trip. A great part of a successful trip is being organized. These totes offer a fun, stylish, and practical way to do just that. Which one of the totes on our list did you like the best? Let us know in the comment section below.
Related Article: The 6 Best Travel Tote Bags For Women We Just Can't Get Enough Of